Stuffed animals and dolls aren't just toys; they provide friendship and comfort for your child. Since your child spends so much time and close contact with their stuffed animals, it's really important to make sure they are free of toxins. The companies below are the best organic stuffed animals for your child.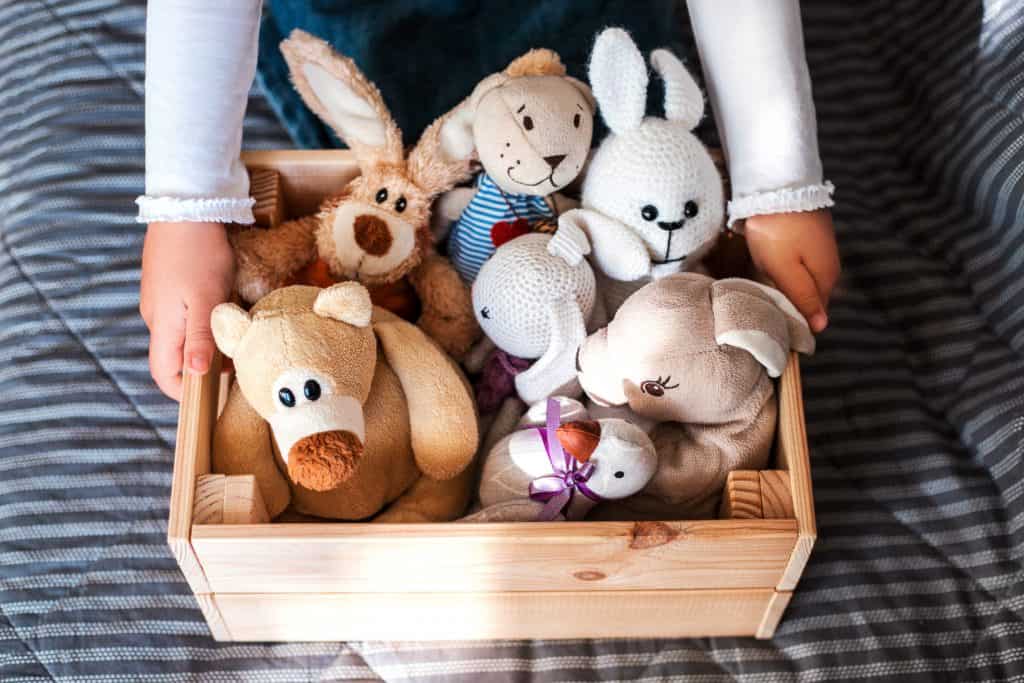 The materials in many stuffed animals are concerning and can contain cancer-causing and hormone-disrupting chemicals.
When I discovered that China's imported toys could contain flame retardants and dangerous amounts of heavy metals, I began to research and look for organic stuffed animals.
It turns out that teddy bears, dolls, and other stuffed animals are far from child-safe. In this guide, I'll explain why stuffed animals are toxic and show you eco-friendly, organic alternatives to unhealthy teddy bears and plastic dolls.
Take a look below for the top 5 stuffed non-toxic animals, and keep reading to determine why you should make the switch.
Is Your Child's Stuffed Animal Toxic?
Stuffed animals get lots of love. My kids take their stuffed animals to bed every night. They make tea parties with them and carry them around anywhere we go.
If you can't have an entirely non-toxic home, focus on the essentials. One or two safe, organic stuffed animals are better for your child's health than numerous unhealthy and toxic ones.
How do you know if your child's stuffed animal is safe? Here's what you should avoid.
1) Older toys were manufactured with fewer regulations than are enforced now (safety standards for chemical use are more restrictive now). They are likely to have heavy metals (antimony has been found in eye beads in older stuffed animals) or potentially banned flame retardants that are no longer allowed to be used due to cancer links.
2) Eco-friendly claims may be misleading. Stuffed animals made with corn or "bio stuffing" are often not organic and can be contaminated with pesticide residue.
You'll often find organic cotton stuffed animals that are filled with synthetic polyester fill. Meaning your organic stuffed animal is filled with plastic and microplastic fibers that your child is breathing.
3) Toys made in China have quality control concerns. They may be contaminated with heavy metals like lead and toxic flame retardant chemicals.
4) Synthetic fibers are often treated in the manufacturing process. The toxic chemicals come into contact with your child's skin and absorb quickly into the bloodstream. Synthetic fibers have direct links to cancer and hormone dysregulation.
Also, synthetic fibers shed microplastics that enter our airways, live in our dust, and enter our waterways, polluting our earth.
The 6 Toxins and Chemicals in Stuffed Animals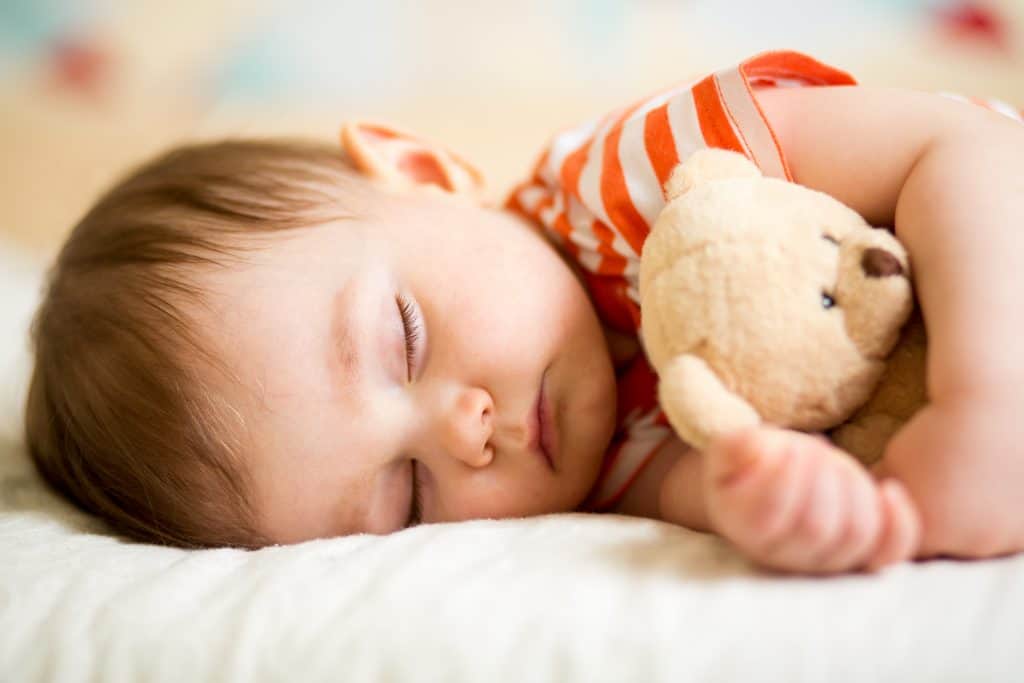 Research shows that children's exposure to toxins is greater and more dangerous than adults. Not all toxins are visible (like heavy metals), but they'll build up in your child's small body over time. When you invest in safe, organic toys, you're investing in a safer future for your child.
Since children don't have the same metabolic pathways as adults (to get rid of chemicals)–the toxins accumulate and lead to health problems later in life like:
Cancer
Developmental delays
Parkinson's
Delayed milestones
Other cognitive changes
These are the most common chemicals in children's stuffed animals and why you should avoid them:
1. Flame Retardants
Flame retardants are a group of chemicals meant to slow the spread of fire. Due to outdated rules, these chemicals are added to everything from children's pajamas and furniture to cushions and stuffed animals.
Babies and toddlers are more likely to chew on their stuffed animals, directly coming into contact with these dangerous chemicals. Flame retardants can also absorb into your skin and end up in the air you breathe.
2. Polyester
Polyester is one of the most common synthetic materials used in clothing and stuffed animals. It's also the most toxic. Polyester is made from oil.
Polyester is mixed with other synthetic and natural fibers like cotton and nylon to make it usable. Chemicals like ammonia (as a softener) and formaldehyde are also added to prevent shrinking.
Any of the toxic fibers and chemicals left over from the manufacturing process shed around your home. They mix with household dust to create irritants for your entire family.
A recent study found that nano microplastic particles from synthetics fibers could pass the brain barrier – meaning synthetic microplastic particles can not only enter your bloodstream but also get to your brain.
When natural-fiber options like those below are available, there's no reason to choose synthetic (plastic fabric) in your home.
3. Pesticides
When you think of pesticides, you probably think of eating organic to avoid pesticide residue on fruits and vegetables. But, did you know cotton uses more pesticides than any other crop? If your child's stuffed animal isn't made of polyester, it's probably genetically modified cotton treated with pesticides.
Choosing a stuffed animal with an organic certification like GOTS (global organic textile standards) ensures toys are pesticide and chemical-free.
4. Synthetic Dyes
Unless your child's toy specifically mentions plant or water-based dyes, they're probably not chemical-free.
AZO dyes are one kind of colorant used in toy products like children's toys and even dog toys. AZO dyes release aromatic amines and contain heavy metals, known carcinogens, which you want to avoid with close skin contact.
The EU bans these toxic dyes but not the US. With your child's stuffed toy so close to their face every night, it's not worth taking the risk.
5. Heavy Metals
Toys imported from China are often made with lax standards and contaminated with heavy metals or flame retardant chemicals.
In 2009, Health Canada found the heavy metal Barium in over 26,000 Melissa and Doug wood toys. When I tested my things for lead, everything from children's rain boots, wine glasses, and kitchenware had heavy metals.
Since current safety laws don't cover old toys, they're especially dangerous. For example, second-hand stuffed animals could have eye beads made from leaded glass.
6. Polyvinyl Chloride (PVC)
If you've read my blog, you know that PVC is the most common toxic plastic found in everything from lunchboxes and beach toys to rain gear.
Lead in PVC damages the nervous system, and cadmium causes cancer, kidney damage, and side effects to the child's developing brain.
Stuffed animals, especially those made for babies, contain plastic parts like crinkly ears and rattles to entertain them. Avoid words like 'PVC' or 'vinyl' in your stuffed animals (and all toys) to keep your children safe.
This post may contain affiliate links. Please see my full disclosure policy for details.
What Should You Look For in Stuffed Animals? 4 Tips
If most of the stuffed animals on store shelves are toxic, what should you buy? After finding out how harmful the materials and manufacturing process of stuffed toys was, I made a list of strict non-toxic guidelines for my children's toys.
I am sharing them with you to make choosing an organic stuffed animal as simple as possible. Here's what you should look for when buying a stuffed friend:
1. Organic Certifications
You might be surprised to find out that organic clothing certifications apply to toys, too. They make sure your stuffed animal is free of pesticides and toxic dyes.
GOTS certified stuffed animals are non-toxic, from the fabric to stuffing to the stitching, and even use environmentally friendly packaging.
You might find stuffed animals that don't carry a GOTS certification but have an Oeko-Tex label. Oeko Tex limits over one hundred toxic chemicals, but it's not as strict as the global organic textile standard.
2. Natural Materials
My best recommendation is always to read the attached label of any toy you buy. Avoid polyester and foam materials, especially those labeled as PU or polyurethane foam (which often contains flame retardant chemicals).
Organic wool and organic cotton are the most popular and safest choices for children.
3. Reputable Brands
Most of the stuffed animals on store shelves come from the same factories in Asia with poor working conditions and regulations.
Choosing European or US-made toys that are made (not just designed) in these countries is the best way to make sure your child's toy is safe.
I've found the best non-toxic stuffed animals are from trusted brands that adhere to the US and more strict European standards.
4. Handmade
Stuffed animals that are hand-sewn and handmade are less likely to use toxic glues (that release formaldehyde over the years).
When choosing stuffed toys, I also look for embroidered eyes for toxicity and safety reasons.
Do brands that meet all of these qualifications exist? Yes! And I've found them for you. Keep reading for the best non-toxic stuffed animals.
For a full list of non-toxic and eco-friendly toys, check out my Amazon storefront here.
The Best Organic Stuffed Animal Brands
With companies offering misleading claims like eco-friendly and organic but selling products that aren't non-toxic, it's difficult and confusing to find the best-stuffed animal for your little one.
Unfortunately, there aren't many companies that adhere to organic standards, especially those making stuffed toys.
I looked at dozens of stuffed toy manufacturers, and I found only five that are chemical and polyester free with organic materials and dyes.
I've contacted the manufacturers to make sure the stuffed animals and dyes have the best possible organic certifications. You (and your little one!) will sleep well knowing you have the safest, non-toxic stuffed friend possible.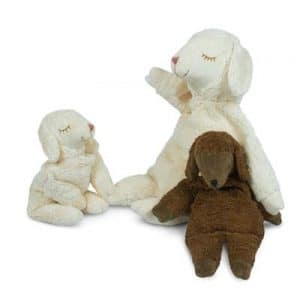 These German-made organic cotton filled stuffed animals are your child's new best friend. They're durable and safe for your child and the environment.
Wool is resistant to mold and mildew. It's also hypoallergenic, so it's a great choice for children with asthma or those sensitive to textiles.
Senger stuffed animals come in floppy and cuddly options. Some of the cuddly options include a removable cushion that can be heated or cooled for comfort.
Why Senger Stuffed Animals?
European Made
GOTS Certified
100% Organic Materials
Filled with pure lambswool
Machine washable (on wool cycle)
Hand embroidered
Made in Germany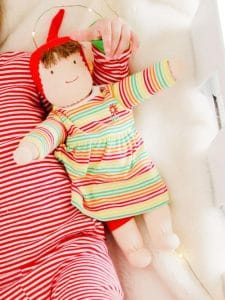 Under the Nile is a company making quality stuffed toys, loveys, and fruit and vegetable toys.
Founded by a mom looking for the most non-toxic options for her kids, Under the Nile prides itself in improving the environment and helping its workers.
They teach women in underprivileged villages how to make organic stuffed animals and give back to the land with biodynamic farming. Biodynamic farming goes a step above organic cotton without imported fertilizers or pesticides.
Why Under the Nile?
Fair Trade Made in Egypt
GOTS certified
Biodynamic Farming
Toddler and baby loveys
Train women in villages as toymakers
A German family owns Sigikid with over one hundred and fifty years of toy-making experience. The stuffy organic collection features magical friends like frogs, foxes, and raccoons.
Not all of the Sigikids toys are organic, so make sure to shop the organic collection for toxin-free stuffed animals.
Why SigiKids?
Made in the EU (Romania)
GOTS Organic
Organic cotton and lambswool
Classic designs with hand-stitched faces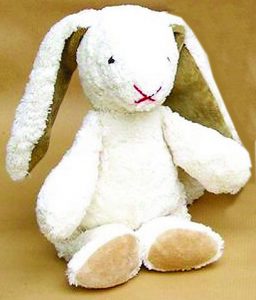 Kallisto is another German brand with whimsical stuffed animals made of organic wool and organic cotton.
They offer a wide range of stuffed animals other than the traditional bear design, like dragons, stars, and moon shapes. There are also hand puppets and stuffed animals with music boxes inside.
You won't find Kallisto on sites like Amazon. The Wooden Wagon has some Kallisto and Maman et Bebe (which offers shipping to the US at a flat rate).
Why Kallisto?
Made in Germany
Organic cotton and pure wool
Vegan, eco-friendly fibers
Washable musical stuffed animals
Other Popular "Organic" Stuffed Animal Brands
These are other popular "organic" stuffed animal brands. I have some reservations with each of these brands, and I'll tell you why below.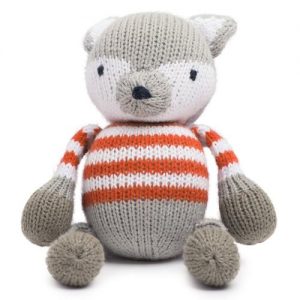 Finn + Emma have an adorable collection of knit stuffed toys for babies, toddlers, and beyond. There are animal rattle buddies, sailors, and 100% organic cotton pacifier holders in their collection.
Why Finn+Emma?
Handmade in Peru
GOTS Certified organic knit outter
Wide collection of heirloom quality toys
Phthalate-free rattle inside
Finn + Emma has moved over to using polyester stuffing from their previous versions that contained wool. For this reason, they are no longer in the best category.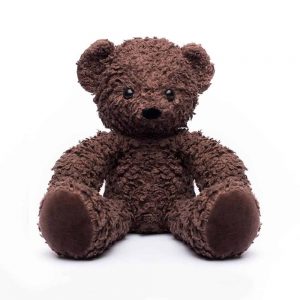 Bears for Humanity is a family-owned brand that is made in the USA.
They state they are GOTS certified with 100% organic cotton. However, they are using recycled PET for the filling (plastic).
With their being better options above, I would personally just buy elsewhere.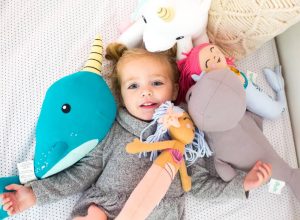 Elly Lu is a brand with adorable stuffed unicorns, mermaids, and narwhals made in Sri Lanka. Unfortunately, the stuffed animals aren't 100% organic. Only the outer fabric is organically grown. They do meet the Okeo-Tex standard.
Elly Lu used both polyester and corn fiber inside their stuffed toys, not organic cotton or wool. They previously used organic cotton for stuffing but have moved away from that.
Apple Park is another company that markets it's stuffed animals as made with 100% certified organic cotton but uses corn fiber for stuffing. They claim over email their corn is pesticide-free, but there is no way to confirm that.
Apple Park manufactures all of its stuffed animals in China. I personally avoid stuffed animals from China.
Final Thoughts on Organic Stuffed Animals
Stuffed animals should be washable, non-toxic, and easy for your children to love. There are plenty of great options for your children.
Other online stores that carry some of the brands mentioned above are: Bella Luna Toys, The Wooden Wagon, and Nest.
For a full list of non-toxic and eco-friendly toys and other non-toxic living products, check out my Amazon storefront here.
I hope you found this post helpful. Does your family have one of these stuffed toys? Leave your suggestions and comments below.
Related Posts to Organic Stuffed Animals
Pin it for later!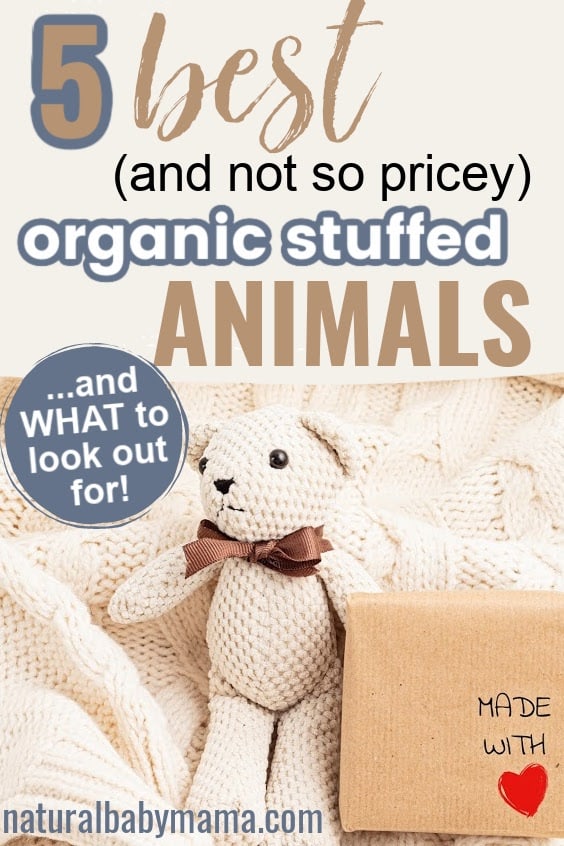 Sources:
1. Story and Barboza. "Mattel Recalls 19 Million Toys Sent From China." New York Times. 15 August 2007.
2. "China-made toys contaminated with fire retardants." Environmental Working Group. 11 May 2009. ewg.org
3. "Fibres from polyester clothes could be more damaging to marine life than microbeads." European Commission. 7 June 2018. europa.eu
4. "Flame Retardants." Connecticut Department of Public Health. ct.gov
5. Landrigan and Goldman. "Children's Vulnerability To Toxic Chemicals: A Challenge And Opportunity To Strengthen Health And Environmental Policy." Health Affairs. May 2011. Healthaffairs.org
6. "Good Reasons why Polyester shouldn't be in your bed." The House of Pillows. thehouseofpillows.eu
7. Nguyen and Saleh. "Detection of azo dyes and aromatic amines in women under garment." 5 May 2016. ncbi.nlm.nih.gov
8. J, Grigg. "Environmental toxins; their impact on children's health." March 2004. ncbi.nlm.nih.gov
9. Weeks, Carly. "Toy recall hurts company's 'green' image." 23 November 2009. theglobeandmail.com