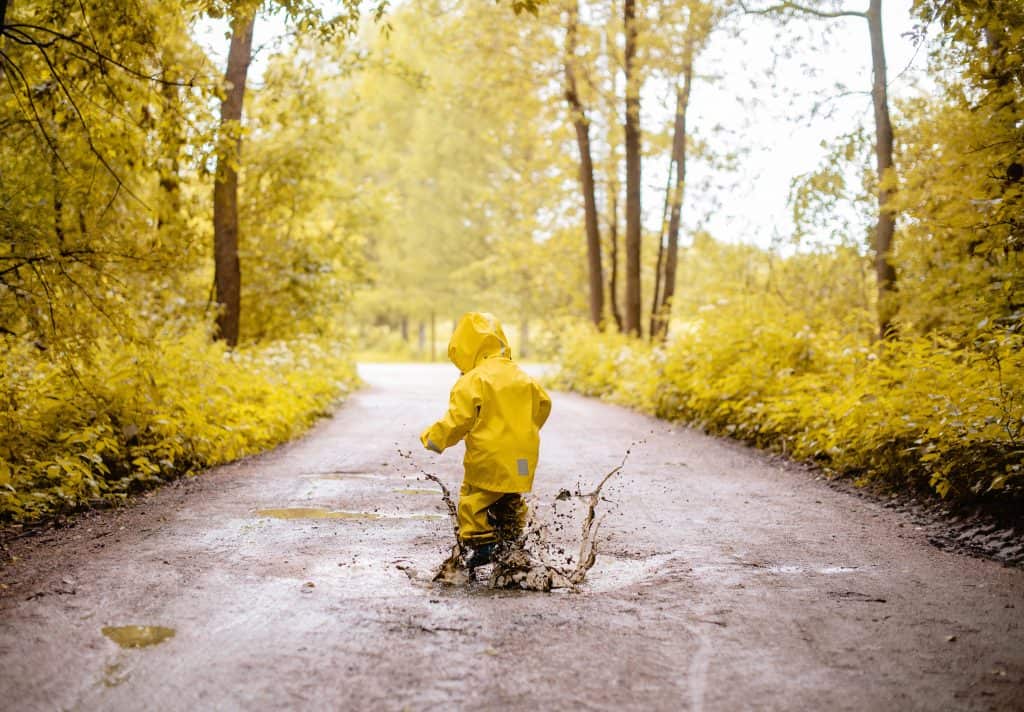 Living in the PNW, we experience a lot of rainy days. Unfortunately, rain gear often is made with many toxic materials including water repellents, heavy metals, and PVC. The best non-toxic and eco-friendly rain gear is chemical-free, easy for little hands to put on, and legs to roam in.
A while ago, I tested my son's Western Chief rain boots for heavy metals, and I was shocked that they came up at over 1,000 parts per million of lead. Lead is a brain and nervous system toxin, and while the safety limit is 90 PPM for children's toys no amount of lead is safe.
Luckily, many manufacturers are turning to non-toxic materials for rain gear and away from the use of chemicals. The rain gear in this guide is verified heavy metal free.
"There's no such thing as bad weather, only bad clothes"
Brave the elements with the safest non-toxic rain gear for your family this season (or 9 months of the year if you live in the PNW!).
This post may contain affiliate links. Please see my full disclosure policy for details.
Is Your Rain Gear Safe?
You shouldn't have to worry if your child's rain gear is healthy, but the reality is that most brands fail to provide families with safe, non-toxic rain gear.
When the EcoWaste Coalition tested thirty-three children's rain gear items, they found toxins like lead and cadmium.
Tweety and Mickey Mouse raincoats and Hello Kitty umbrellas were among some items tested.
These are the most common toxins in rain gear and why you should avoid them:
Vinyl or PVC (Polyvinyl Chloride)
PVC is often used in rain gear which allows the fabric to be flexible. PVC contains phthalates and heavy metals like lead.
Phthalates in PVC are harmful to the environment and people, especially developing children. Phthalates transfer easily to whatever they come into contact with including your children's clothing and skin.
Seattle Children's Research Institute found a clear connection between pregnant women's exposure to phthalates and genital anomalies. PVC is also linked to cancer.
DWR (Durable Water Repellent)
Perfluorinated chemicals (PFCs) like DWR repel water and are the most common chemical in rain jackets, suits, and waterproof gear for both kids and adults. The same chemicals are also in Teflon and food packaging.
Perfluorinated chemicals don't break down and are toxic to people and are very harmful to the environment. They are known as forever chemicals as they in our environment forever.
DWRs are linked to many health issues including cancer and reproductive effects.
DWR finishes on rain gear easily transfer to our bodies, and in our homes, making them especially dangerous to children.
Many brands turn to less dangerous versions of the same chemicals and have labels such as PFC-free. Unfortunately, PFC-free is still not fully toxin free.
The rain gear in this post is free of all DWRs.
What Rain Gear Should I Buy?
The best rain gear is made without chemicals and uses inert and natural materials like polyurethane or natural rubber.
I contacted each of the best rain gear brands directly to make sure they are DWR, PVC, phthalate, and heavy metal free.
Non-toxic rain gear can be more expensive, but it's made with your child's health in mind. Think of it as an investment in outdoor play. They are often made larger and adjustable, are high quality so they can be handed down, and can go over layers for cold winter days.
The Best Non-Toxic Rain Gear (Jackets, Pants, and Suits)
The Best Overall Non-Toxic Rain Gear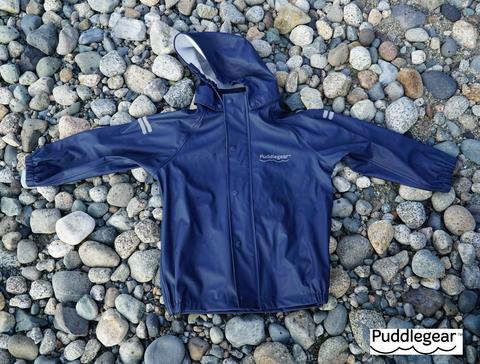 Puddlegear is a small mom-run business designed and made without chemicals.
Puddlegear is the only brand in this guide without a polyurethane coating that can wash off over time and is my top recommendation for non-toxic rain gear for kids. Puddlegear is:
Designed to last multiple children and seasons
Free of DWR, PVC, phthalate, lead, or flame retardants
Made of extra-thick polyurethane, 8000mm
Wind and waterproof
Heat-sealed, not sewn (sewn seams require additional waterproofing materials)
Reflective panel
Washable
Double knees for added durability
Made in China in an Oeko-Tex facility (Puddlegear does not have an Oeko-Tex certification to keep costs down).
Since Puddlegear uses 8000mm thick polyurethane instead of 3000-5000mm, no additional toxic coatings are applied, like other brands. The density of Puddlegear is what makes this brand unique and makes this the only brand that does not use waterproofing (non-toxic or not).
We have had, and loved, our Puddlegear for several years. I have two boys who play hard in their Puddlegear and we have not had a rip or tear. The generous sizing allows for wear for many years.
Puddlegear has rain jackets, rain bibs, and fleece lined mittens.
Buy Puddlegear rain jackets, pants, and mittens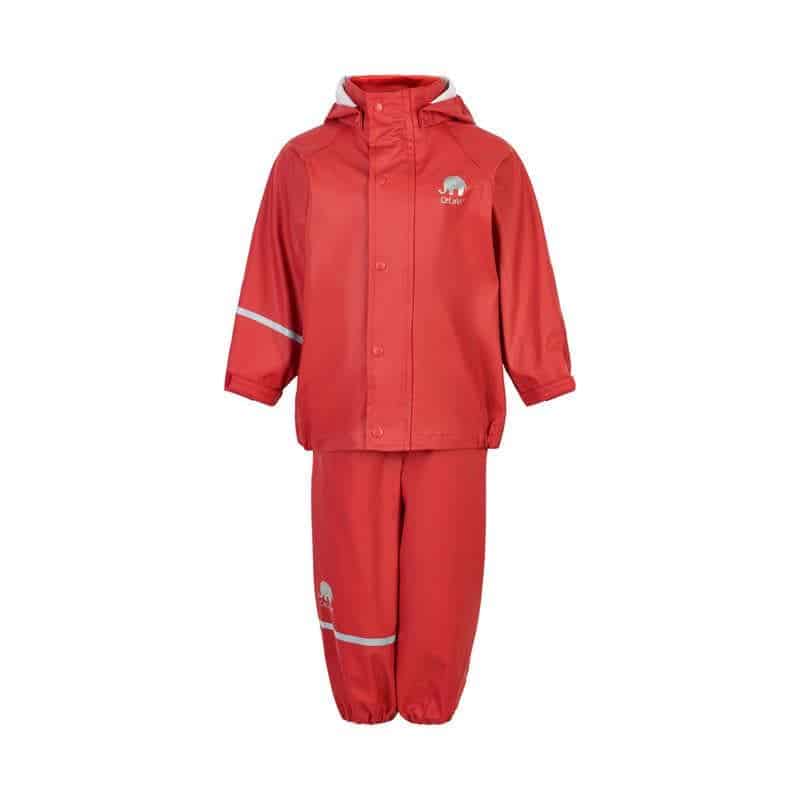 Danish brand CeLaVi is similar to Puddlegear but thinner material. The CeLaVi rain set is a great value and made of PVC and phthalate-free polyurethane with a traditional European design. CeLaVi is my 2nd top recommendation.
Free of DWR, PVC, phthalates, lead, and flame retardants
Made of polyester and polyurethane, 5000mm thickness
Polyurethane coating used for waterproofing
Wind and waterproof
Welded seams with polyurethane tape
Reflective panel
Made in China, Oeko-Tex certified
I have friends that have CeLaVi and are very happy with them. They look very similar to Puddlegear, the main two differences are that CeLaVi is not as thick and they use a PU spray on the outside for the waterproofing.
CeLaVi offers rain jackets, rain bibs, rain pants, and one-piece rain suits (for 5 and younger)
Shop for CeLaVi rain sets, pants, and jackets on Amazon
Oaki is well known and loved by many families. The one-piece rain suit is their most well-known rain essential, but they also offer rain pants and jackets. Size up on the rain suit since it has adjustable velcro straps on the wrist and ankles and a drawstring waist.
When I contacted Oaki, they told me they use Oeko-Tex II standard waterproof treatments on their products, including the:
Trail Suit
Trail II Pants
Snap Jacket
The waterproofing is achieved by using TPU (a form of polyurethane) with tapped seams on the interior of the suit for the Trail Suit and Trail II Rain Pants. The Snap Jackets and snowsuit are waterproofed with a polyurethane coating.
If you are looking for a one-piece suit for children over 5, I think this is the third-best choice.
The Best Non-Toxic Rain Boots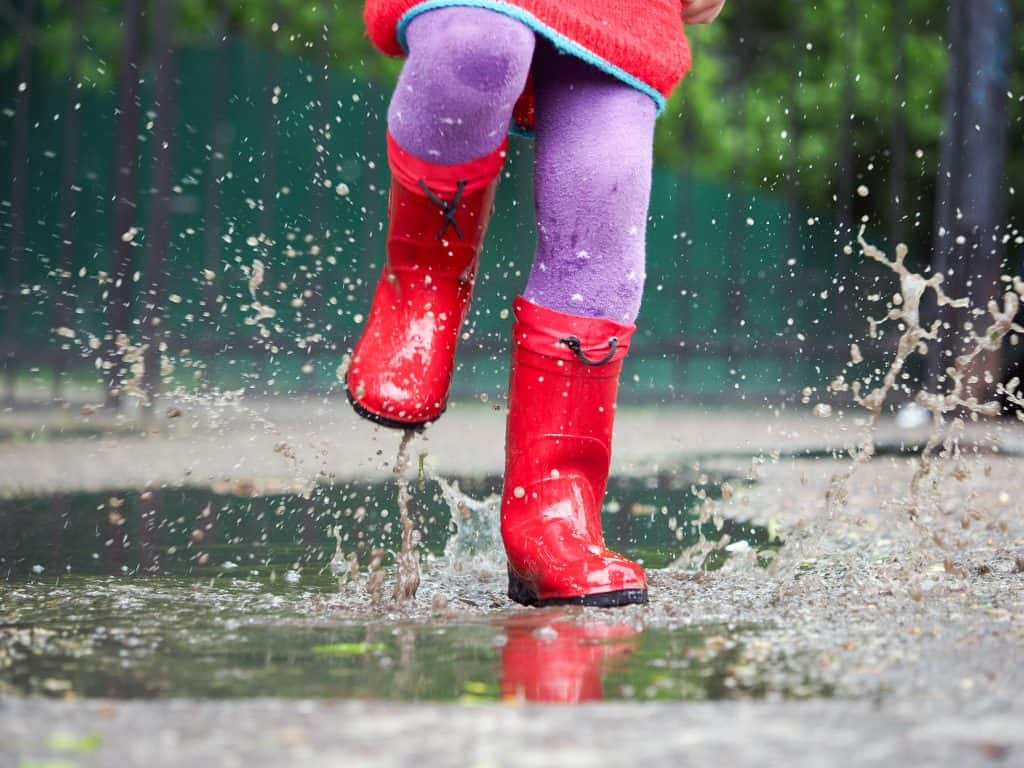 The most non-toxic rain boots are natural rubber. Like vinyl, synthetic rubber can be contaminated with heavy metals and phthalates. Some manufacturers add plasticizers that harm marine life, affect fertility, and are carcinogenic.
All the best non-toxic rain boots are free of heavy metals. Keep natural rubber boots out of the sun to prevent them from breaking down. Natural rubber boots do not last as long as synthetic rubber boots but are 100% worth it since they are free of harmful toxins!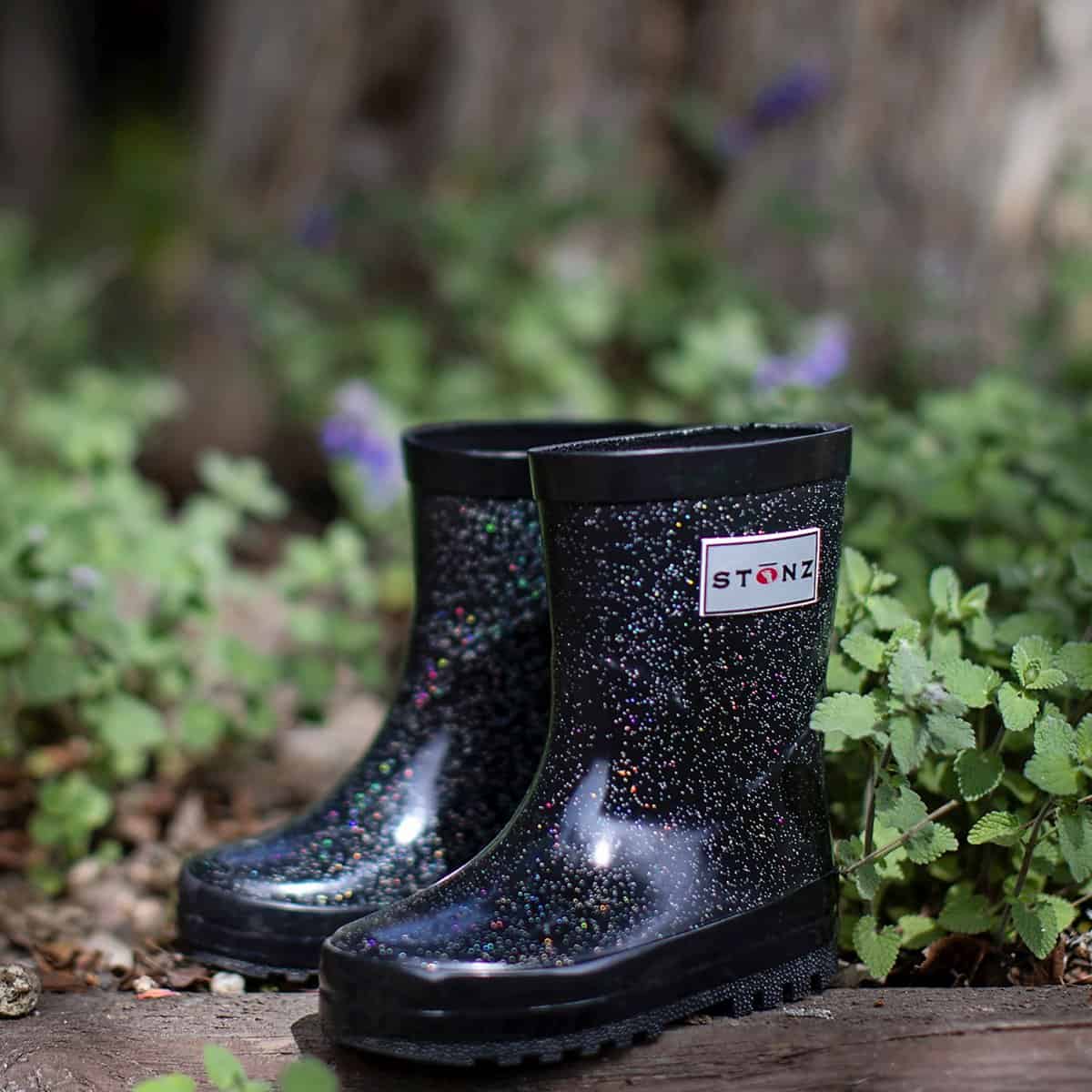 Stonz boots are zero drop, non-toxic, and 100% waterproof. They offer sizes from baby to toddler and kids up to six years of age.
Healthy foot development and wide soles are important, and Stonz is the only company with a certificate from the Canadian Podiatric Medical Association.
*I have tested Stonz rain boots to be free of heavy metals like lead.
Stonz test each batch of raw material and is committed to making non-toxic natural rubber rain boots.
Buy Stonz on Amazon or directly from Stonz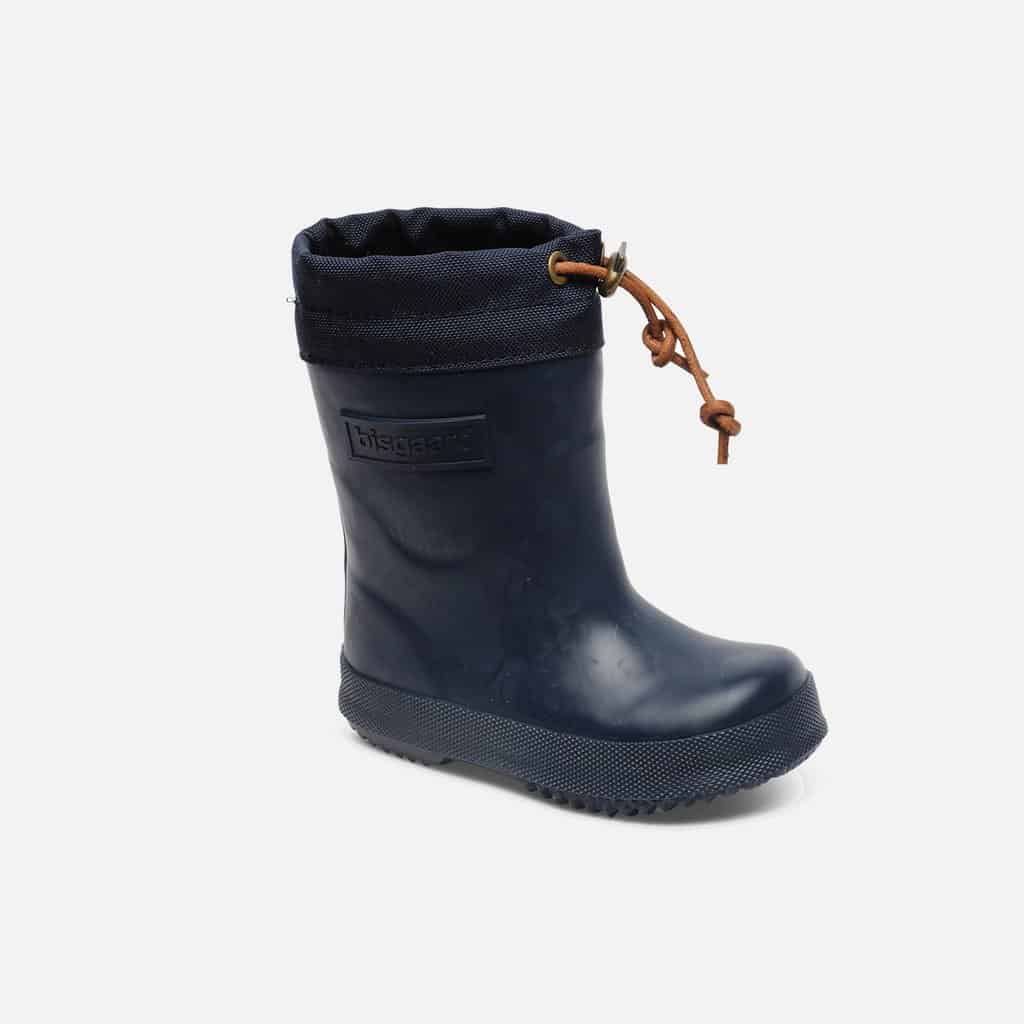 With Danish design and practicality, Bisgaard rain boots (and shoes) are my readers' favorite. Bisgaard boots are free of chemicals, chrome, and heavy metals (per their website) and are made of natural rubber.
The Bisgaard Thermo rain boot has a removable 80% wool insert and drawstring to ensure your child stays warm and dry. Adding a wool insert ensures a snug fit and makes rain boots last longer before your child sizes out.
Buy Bisgaard on Mama Owl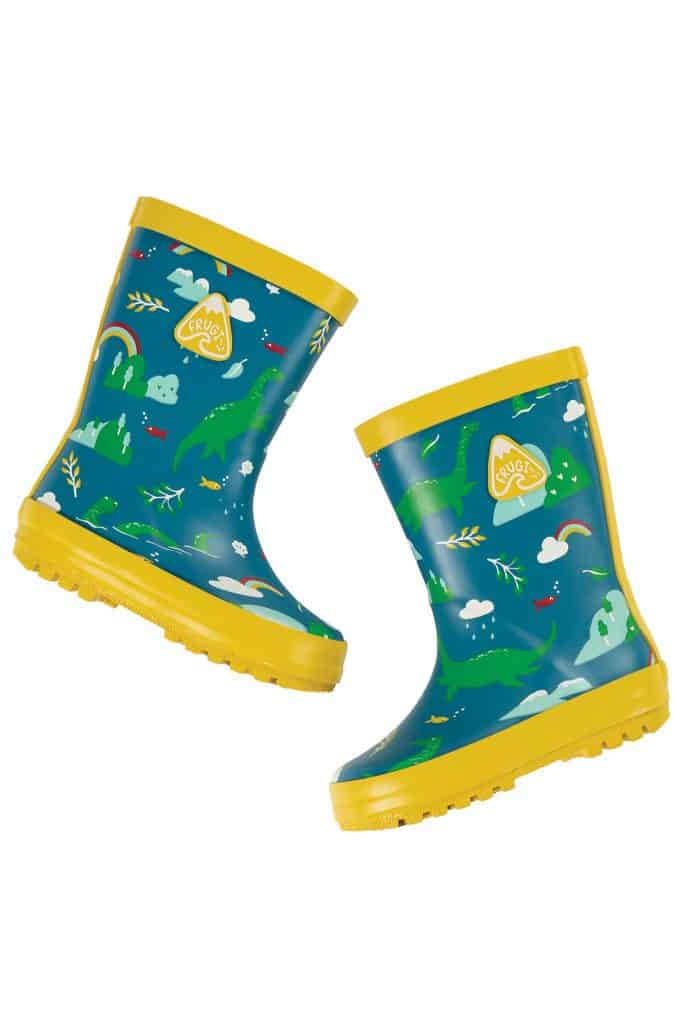 My family loves Frugi. Their organic clothes are thick and long-lasting, and their rain boots are made of 100% natural rubber. Frugi boots come in fun patterns like car and animal prints, unlike other brands.
*I have tested Frugi rain boots to be free of heavy metals like lead.
Buy Frugi
Wool Must-Haves for Rainy Weather
Depending on your climate, you may not need rain gear at all. Wool is a wonderful alternative to rain gear and one hundred percent organic. It's the perfect underlayer for heavy rains or snowy days, and a standalone staple in our wardrobe for mild spring and fall weather.
Wool absorbs up to thirty percent of its weight in water without feeling wet, and Its antibacterial and absorbent properties make it perfect for clothing and household accessories, like carpets. Wool fibers are naturally flame resistant, so there's no reason to add toxic flame retardants.
Disana brand wool is our family's favorite. It's made in Germany using local labor and without any toxic dyes or chemicals. Disana uses organic merino wool that is soft and gentle, and it is GOTS certified
Some of my favorites wool items are:
Wool Coat:
Disana Boiled Wool Coat – NBM favorite!
Wool Pants & Overalls:
Disana Organic Boiled Wool Overalls – NBM favorite!
Disana Organic Merino Wool Leggings
Disana Organic Knitted Wool Overalls
Hats:
Disana Organic Boiled Wool Hat
LANAcare Organic Wool Balaclava
Wool Under Layers:
Hocosa Organic Wool Under Layers
Wool Mittens:
Disana Boiled Wool Mittens  – these will get very wet and are not recommended for wet days. These are good for dry cold days. For rain, my top recommendation is the Puddlegear fleece-lined mittens.
Where to buy? The best places outside of Amazon to buy Disana organic wool (or other brands) for your children is: Jolie Kai, Sofee & Lenee, Little Spruce Organics, and Mama Owl.
For more of my favorite organic clothing companies, check out my Organic Clothing for Babies and Kids post OR Shop the complete list of favorite wool and organic clothing essentials on Amazon.
How To Dress For Rainy Days: 4 Tips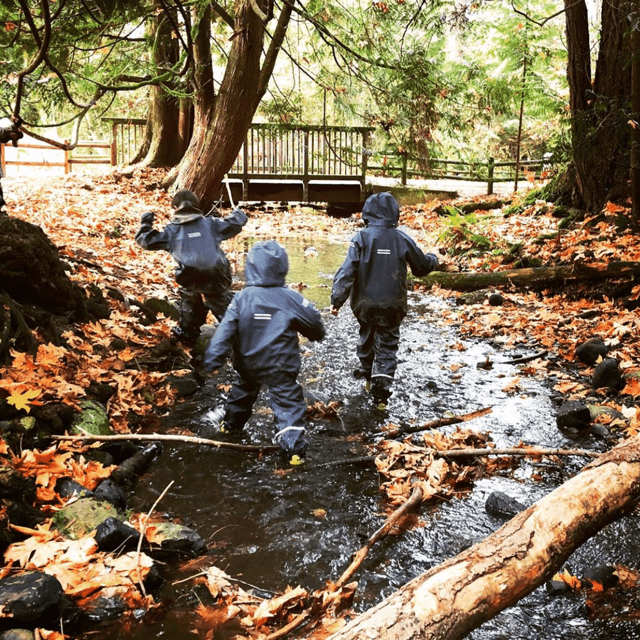 Aside from polyester and nylon materials, there are natural and organic alternatives to rain gear. These are my tips for staying dry in wet or cold weather for your entire family:
Avoid cotton. It absorbs moisture, and you'll be cold, wet, and miserable.
Layer with wool or silk (like Disana gear) to absorb moisture and add warmth.
Wool socks keep your feet warm. They're essential!
Don't forget to dress yourself for the weather, not just your kids.
What Rain Gear Does My Family Wear?
Choosing eco-friendly brands that are open about their manufacturing process is my main priority when dressing my family. For freezing days we love Puddlegear with wool base layers. Puddlegear mittens are also long-lasting and the only brand to keep my kids dry in rain or snow (we tried multiple other brands that never held up before getting Puddlegear mittens). We are also big fans of Stonz rain boots at our house.
Gear for Parents
I wear many of the same brands as my children for under layers, hats, scarfs, etc. If you are petite person you might be able to fit in the large size Puddlegear or CeLaVi.
I also really like Fjallraven for adults (some of their items, not all). They have some items that use a natural wax for water repellants (I have a pair of their natural wax pants that I really love), otherwise, they are PFC free.
Rains makes rain gear for adults that is DWR free and uses polyurethane for the waterproofing. This is a great non-toxic rain jacket and pant option for adults.
Final Thoughts
Now go outside and have some fun! Rain or shine, we are outside every day. When you are dressed for the weather both you and your children will have fun.
Keeping your kids dry and comfortable lets them focus on play. Keeping you dry and comfortable lets you enjoy your time in nature!
For all of your natural living essentials, visit my Amazon storefront where you can find:
Home and garden essentials
Plastic-free toys
Non-toxic Kitchen Items
Adult and children's shoes
Parenting and children's books
Pin it for later!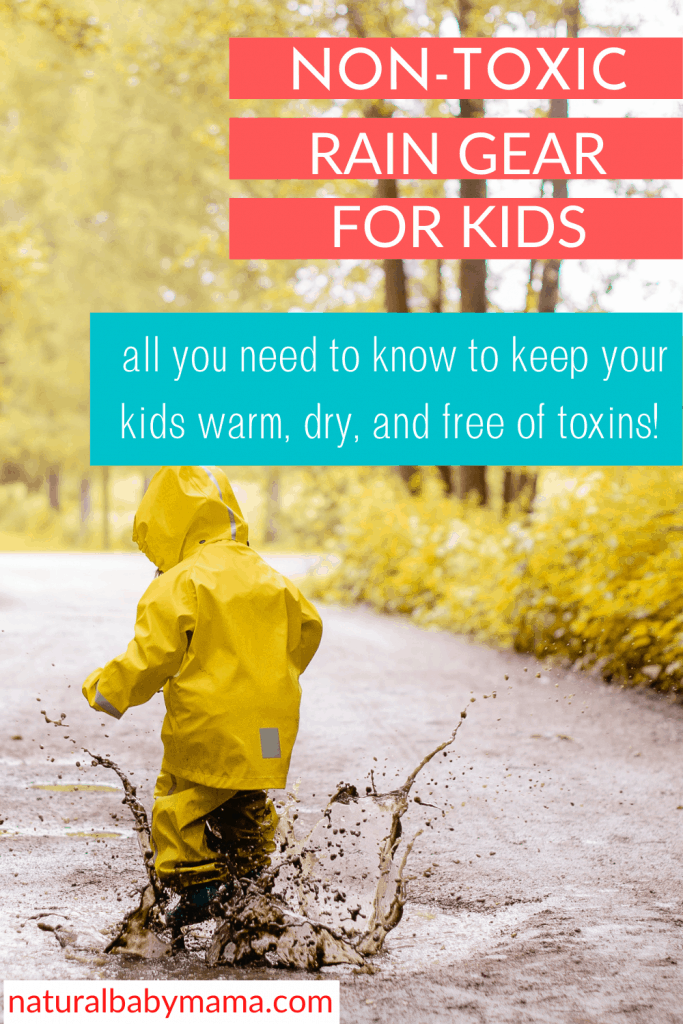 Sources
Phthalates. Environmental Working Group. www.ewg.org
Schade, Mike. "Hazardous chemicals found in children's rain gear." Safer Chemicals, Healthy Families. saferchemicals.org
"An Update on Our DWR Problem." Patagonia. www.patagonia.com
"Wool Fibre Properties." Science Learning Hub. sciencelearn.org.nz