Natural, Wood and Organic Toy Companies
My husband and I really didn't want a bunch of plastic toys littered all over our house. It was one thing that we both felt strongly about when I was pregnant. Then I started doing more research about toys and felt even stronger about our no plastic toys rule.
Plastic toys can have BPA, phthalates, and lead in them. There are studies showing that plastic, even if it is BPA free, still leaches harmful chemicals. After our son was born we made a second rule about toys – they can't be from China. There have been too many toys that have been found to have high levels of lead that have come from China. Even my pediatrician, unprompted by me, told me not to buy toys from China because of the potential for lead.
My son, like I'm sure every other baby in the world, LOVES to put things in his mouth. Lead isn't good in any amount (nor is BPA or phthalates). So no plastic and no toys from China for us. This does come with its challenges at times.
Sometimes manufacturers are really sneaky about saying the company is from Germany (for example) then in really small print somewhere else on the box it says made in China. As my son gets older I see that this is going to be more challenging but I love a challenge! I'm happy to say still to this day, he has no toys from China and no plastic.
Wood toys may be a bit more expensive than some plastic toys. We don't buy a ton of toys. We have a good stash going but I feel we probably have less than other people. I would rather spend my money on quality toys. Quality over quantity! Also, don't under-estimate the hours of entertainment a wood spoon and some measuring cups can provide.
This post may contain affiliate links. Please see my full disclosure policy for details.
Why Wood Toys?
The safest of all toys is unfinished wood. There are several toy companies that will finish toys in beeswax and an organic oil (like jojoba). This is a great option too. If you want to purchase some beeswax and organic jojoba oil for your toys (or other wood products like your furniture) this Three Beeauitful Bees All-Natural Beeswax Polish is great (note that this is the only one of their polishes that is made with organic oils – see below for more information).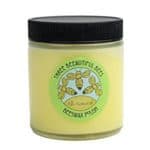 Three Beeauitful Bees All-Natural Beeswax Polish
They have 3 different types of polish but only the All-Natural is made with organic oil! The others are made with mineral oil (which is petroleum-based). Just a note, if a toy is finished with food-grade mineral oil that means it is a petroleum-based oil. You can decide if you want petroleum rubbed on your kid's toys. I personally don't. I also find it disturbing that food-grade oil is made from petroleum.
For wood that is painted, I always look for non-toxic water-based paints or, preferably, vegetable-dyed wood. I also really like to support local companies so if there is a choice I will buy something made in the USA first before other countries.
Below is a list of companies that I like, companies I think are ok, and companies that look like they might be good but I don't like. I just took some of the most popular wood/eco-friendly/organic toy brands out there otherwise this list could go on forever!
Wood Toy Companies I like: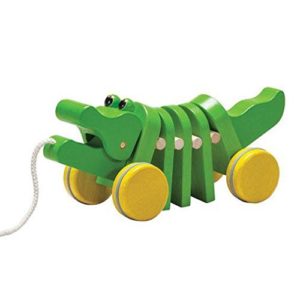 Plan Toys
I really like Plan Toys. They make all of their toys in a sustainable factory in Thailand. In my opinion, they are the best non-toxic commercially produced toy maker out there (hello, easy gifts for the person in your child's life that doesn't totally get the non-toxic toy thing!).
They are starting to make composite toys with their leftover sawdust. I don't love this (they use a non-toxic, formaldehyde glue) because it definitely loses the wood feel. However, from an environmental standpoint, I totally understand it – they are aiming to be zero waste (which is great!).
You can easily tell which is composite and which is wood just by looking at the toy (you can even tell when looking online – it looks fake for lack of a better word). I don't buy the composite toys often. I totally support the zero-waste concept that the company is going for, and it for sure is cheaper for them to make toys out of the leftover sawdust than buying wood, but I still prefer wood. We have quite a few toys from them.
Some of our favorite Plan Toys toys are:
Some of our favorites toys for a younger child are: the Happy Engine pull toy, the Dancing Alligator pull toy (my son still plays with this at almost 5 – a solid 4 years worth of playing time), the Punch and Drop, the Baby Car, the Oval Xylophone, the Roller, the Mini Recycling Truck, and the Drum. Also, their customer service is great. I needed a replacement drum mallet (because our dog ate ours) and they responded quickly and got one out to us for a small replacement fee.
For the older child, we love: the Plan Toys City Parking Garage, the Plan Toys trains and Roundhouse (we also have the tracks from when they were solid wood which they no longer make), and the Road Construction set.
For games, both my 18-month-old and my 4-year-old have a lot of fun with the Balancing Cactus!
Here is a statement from the Plan Toys website on where the toys are made and the quality: Q: Where are your toys made? A: Our toy factories are located in the city of Trang, which is located in the southern region of Thailand. The area is rich with rubberwood which we have successfully recycled for manufacturing toys. Our toys are produced entirely within our own facility, so we have complete control over every aspect of the manufacturing process. The wood we use is non-chemically treated; we use non-toxic, water-based dyes and non-toxic glue. Our facilities and our toys reflect our respect for the environment and our commitment to designing unique natural playthings for children. Q: How can I be sure that PlanToys® quality and safety is superior to other brands? A: You can always feel confident with PlanToys® because our wood is non-chemically treated and we use water-based colors that are safe for children of all ages. Our research teams have developed non-formaldehyde glue, which is non-toxic and totally free from unhealthy formaldehyde emissions.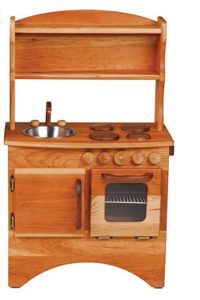 Palumba / Camden Rose
I LOVE them! – I am pretty sure they are my favorite toy company. Everything they make is beautiful! They use high-quality wood like cherry, maple, and walnut. They are made in the US (wood toys) or in Peru (soft toys) where they support two fair trade, non-profit organizations. You can read more about their mission on the Camden Rose website. Really, their toys are beautifully made. Each toy I have from them always gets compliments. You do need to ask which finish they use on their toys (the organic oil or the mineral oil) if you are concerned. Sometimes they can leave something unfinished or finish it in the All-Natural oil I linked above.
We have this hardwood stacker (my son loves this toys), the zoom car, wood eggs, and wood milk and cups.
We splurged for my son's first birthday and bought this wood toy kitchen. Yes, the kitchen is expensive and thankfully we had gift certificates to Amazon but even if we didn't it's worth it. It's so nice to look at and made really well. We have it in our living room and I wanted something that I didn't mind looking at every day. My son absolutely loves it and plays with it every single day. This wooden kitchen is one of our single highest played with toys for both of my chilren over the past 6 years. I looked at a lot of kitchens and this was the best option in my opinion. We also have these bookshelves, table and storage crates which is our craft table, and this amazing wood playstand.
Next up on my purchase list from Camden Rose is to get the matching fridge. We have slowly amassed quite a few things from Camden Rose. I can't get enough of the quality and beauty.
Camden Rose uses a beeswax and food-grade mineral oil (petroleum) polish on all of their furniture and toys. They use their All-Natural beeswax and organic jojoba oil polish, listed above, on all of their spoons, forks, bowls, plates, etc. I called them about this and talked to the owner in length. She told me the amount of food-grade mineral oil in the polish is a small amount compared to the beeswax. She also told me that it is non-toxic. From the quick research I did, I found the same to be true. There was a study done on rats and after 2 years of exposure to food-grade mineral oil, there was no difference in the rats. Camden Rose will ship any toy or piece of furniture you would like unfinished if they are making some at that point. I have started ordering unfinished and finishing it myself. I can not stress enough about the quality of their toys and how beautiful they are. We get compliments on all of his Camden Rose toys. I have also talked in length with the owner about either finishing it with the organic oil or leaving more unfinished. She uses the mineral oil because it's the one oil that people with allergies can use safely. If I can't get an unfinished item I've come to terms with finishing it again with an organic oil on top of what they have used.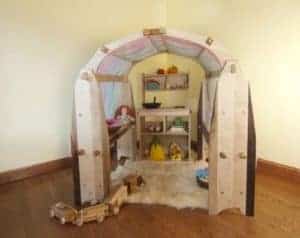 How amazing is this set up with the Playstand and Kitchen? It's even more amazing in person and it is our most played with furniture. It's great to play in and around plus it stores all the toys when we are done playing and clean up.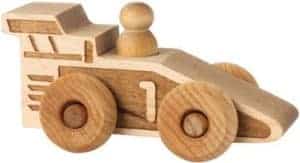 Maple Landmark Toys
They make wooden toys in the USA. They have a huge selection that can be found on their website. I first bought this wooden teether from them and since have bought a few more things. They have some great unfinished cars, buses, and trucks. I only buy unfinished toys from them as I don't love what they use to finish their toys with. I have several things on my want list too!
They also make unfinished train tracks. Now that Plan Toys doesn't have solid wood train tracks this is the place I would look to buy from.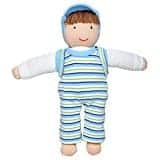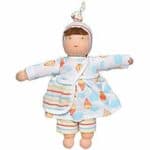 Under the Nile (organic, soft toys)
Under the Nile has organic, GOTS certified, soft, plush toys. It's very hard to find organic, GOTS certified plush toys and dolls and Under the Nile has a great selection.
We have so many of their toys now. Their dolls (Jack & Jill) are a great alternative to the toxic (PVC, vinyl) plastic dolls that are out there.
I really love the veggie toys they have. My son loves chewing on the carrot! We also have the dog, the giraffe, and the sleeping doll lovie.
I love that they are all non-toxic and GOTS certified to be free from harmful chemicals. GOTs is the highest certification you can get on orgnaic textiles. They make all their plush toys with leftover fabric from their clothes. Under the Nile is one of my favorite non-toxic clothing and toys stores. It's hard to find GOTS certified (on the final product) plush toys! I don't have to worry about any toxic chemicals when my kids are snuggling up with these toys. You really can't go wrong with any of their toys of clothes!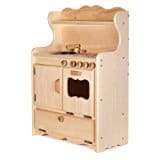 Elves and Angels
They make beautiful wooden toys, playstands, kitchens, house plan, doll furniture, and more. All made in the USA.
They are finished with linseed oil. They use the brand ried and True. I talked to them a lot before buying from them. I also talked with Tried and True. Some linseed oil can contain heavy metals to speed up the drying process so you need to be aware of what a company is using. Tried and True does not (I also tested one of our toys for lead and there was no lead).
For linseed oil for toys, I would only trust this brand (or other companies that use Tried and True). However, I still prefer organic oils. If I am able to buy unfinished from Elves and Angels I will.
They use pine for their toys. Pine is a lighter, softer wood than cherry or walnut. It could dent up a bit more but I have never noticed on the items we have from them. They have some similar items to Camden Rose – the main difference is the wood and finish. You can check out their beautiful toys here.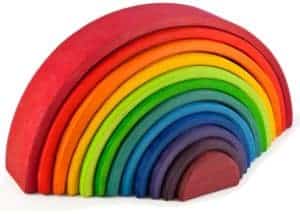 Grimms Wooden Toys
Grimm is made in Germany. They use a water based vegetable dye on their wood. They have an unlimited amount of opened ended toys which I love. Their toys aren't cheap but I am fixated with them. I really want this rainbow stacker but just haven't wanted to pay the $40 for it yet. The bigger size has even more versatility with it. You can use these for stacking, bridges, car ramps, balancing, or anything you can think of!
We just were in a toy store and my son was obsessed with a bus that they make. For some reason I thought the price was around $20 so I asked my husband to buy it. When we got home I saw the price tag and it was more than I thought it was! Oh well, my son loves his buses and he carries this bus around with him everywhere now. I'm not sure if there isn't anything that Grimm's makes that I wouldn't love to have. Their toys make my heart happy.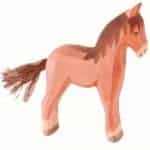 Ostheimer
Figurines and animals made in Germany. These are beautifully made with safe, non-toxic wood coloring. We have some of the farm animals and we love them. These are a great alternative to the plastic animals and figurines that are sold today.
North Star Toys
I purchased North Star's busy boat for my son's bath time. He LOVES it. It is now just a regular toy around the house. He loves the little people in the boat too. I did choose to have them make it unfinished which means that it can't stay sitting in water for hours on end. I just let it air dry on the side of the tub when we are done with bath time. They use a food grade mineral oil on all of their toys.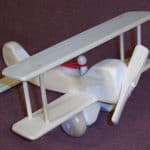 Maine Toys
Maine Toys has a great selection of unfinished wooden toys. We have a few of their toys including the fire truck and the airplane (it's a huge hit)! I like the simplicity and quality of these toys – they are made so well! We also have the ride on toy and it has been well loved and played with hard by two boys for several years and is still going strong!
Favorite Wood Toys on Etsy: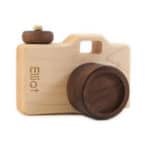 Little Sapling Toys
I really love Little Sapling Toys. Isn't this wooden engraved camera the cutest!? It's even cuter when your child holds up this camera to take your picture 🙂 They finish their toys with beeswax and an organic jojoba oil. Check out their shop to find a lot of great teethers, rattles, blocks and toys.
Little Wooden Wonders
My newest find! I was on a mission to find a wooden push lawnmower toy for my son that had a non-toxic finish (I found several wooden push lawnmowers from other companies which used a petroleum based finish). I found exactly what I was looking for at Little Wooden Wonders! They use beeswax and an organic jojoba oil to finish their toys. Check out their selection of wooden push toys, teethers, puzzles, and other toys on Etsy.. The push lawnmower is beautiful my son loves to play with it.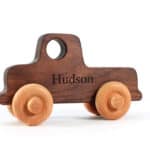 Smiling Tree Toys
I've ordered several things from Smiling Tree Toys and I am always happy. They use a homegrown organic camelina oil/beeswax finish on all of their toys. You can find all of their toys, teethers, step stools, and ornaments in their Etsy shop. . This old school truck is still a favorite around our house!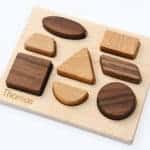 Manzanita Kids
We love the puzzles from Manzanita kids. They use an organic jojoba oil/beeswax finish on all of their toys. They have a great selection of adorable rattles, blocks and ornaments.
Bannor Toys
I haven't purchased from Bannor Toys but they use an organic finish and they have some cute stuff (I would buy the natural, polished toys not the painted ones personally but it sounds like they use a non-toxic paint).
Things to consider when buying wood toys on Etsy:
There are quite a few people making organic wooden toys on Easy. Here are some things you will want to find out or ask before buying (I have found out this information for you on the companies listed above!):
What type of wood they use (baltic birch is plywood – make sure any plywood used is formaldehyde free).
Find out if they use any glues. If they do you want to make sure it is formaldhye free. If they use Elmer's or Titebond (which most woodworker do) then it is formaldhyde free!
I don't buy painted toys from Etsy but if you do you would want to find out what type of paints are being used and if they are child safe. I would also make sure they are no VOC paints.
Finally, if you are buying toys that would be mouthed by babies or kids stick to safe woods! Maple is what I generally choose for teethers, cherry is also a safe wood. I avoid walnut for children who put toys in their mouths. Always avoid cedar for toys.
The Best Websites for Natural, Wooden and Organic Toys:
I buy a lot of toys from Amazon, Etsy, and a local toy shop but there are a few websites that have become my go-to sites.
Even though these websites make my non-toxic toy list, I still always make sure I know information about the toys companies I'm ordering from. Just because they are on a non-toxic toys website doesn't mean they are up to my standards!
Until I know and trust a toy brand, I always ask questions about the toys. I ask what type of wood is used and if any plywood (if so if it is formaldehyde free – I generally steer clear of plywood on most toys) and what type of glue is used and if it is formaldehyde free. If a toy is painted, I ask if it is lead free (it should be but lead is still used for boat paint and I've seen marine grade paint and varinsh being used on children's products from natural toy companies!!) and if they use zero voc paint. I mostly stick to unfinished wood toys with the exception of Grimms & Plan Toys.
If there is a toy company you love that isn't on this list please share it with me!
Wood Toy Companies that I think are ok:
Haba
Haba is a German company that has toys made in different parts of the world. A lot of the toys are made in China but they do have some that aren't. So read the box if you are concerned about buying toys in China. Here is a statement from Haba on their quality and where their toys are made.
Some of their toys have not rank very well for toxicity on Healthy Stuff over the years. Recently, in the past few years, they have really cleaned up their toys and I now feel comfortable buying Haba made in Germany toys (in fact we own several of their toys!).
We really love our marble run from Haba! It's also great to keep getting various add-on extensions for the marble run as gifts for them throughout the year. Easy gift ideas for the grandparents.
Holztiger
Holztiger is similar to Ostheimer above, animals and figurines made in Germany. I prefer Ostheimer. Holztiger uses more of a paint or thicker coloring where as Ostheimer looks more like a wood stain. Ostheimer is more expensive compared to Holztiger but they feel more solid and better made.
Wonderworld
Wooden toys made in Thailand. I've done very little research on this company but seem to be made of similar materials as Plan Toys. Since I'm comfortable with Plan Toys and there isn't any third part testing I've seen with Wonderwold I'm not purchasing them. It doesn't mean you shouldn't do more research on them. See below about toys made of Rubberwood.
Wood Toy Companies that I don't love (and won't buy):
Melissa & Doug
Melissa & Doug seems to be the most popular wooden toy company. They are made in China and for that reason, they are on my do-not-buy list. They had a lead paint scare multiple years ago. The results on Healthy Stuff are mixed as well.
I do buy some of their craft supplies on occasion when we are traveling. The ColorBlast and WaterWow (reusable color with water) are great for ease of use and keeping my kids occupied when we are on a long car trip or an airplane ride.
Hape
Wooden toys made in China. I've seen some of their reports with toxins that I'm not fully comfortable with.
Dandelion
Dandelion claims to be organic but aren't all organic. They use corn as a filling and I am not a fan of supporting Genetically Modified corn. I am making an assumption that they aren't using organic, non GMO corn here (based on the fact that 86% of our corn supply is GMO corn). According to their website they are also made in Asia (probably China) but they do state they have a new Florida warehouse. Just read your labels if you purchase from them. Made with organic cotton is not the same as 100% organic cotton.
MiYim
MiYim used to be all organic and use organic cotton filling in their plush toys. They have started using a poly fill on some of their toys. I would just read the labels before purchasing. I prefer an organic fill in the plush toys especially with a baby that is going to suck on toys. Without doing a ton of research on this it looks to me like they were possibly bought out. I don't buy their toys anymore so I'm not doing any research on this. Just read your labels on these toys before buying since they seem to be making some changes (not positive ones).
Wood Toys made of Rubberwood – Safety Concerns:
There are concerns around rubberwood and additives, Plan Toys specifcally tests for additives. I actually sent Plan Toys wood to a lab to test as well (it's a VERY expensive test) and they are free of additives. I was able to confirm what they were telling me was true.
I trust Plan Toys and their rubberwood. I would trust other rubberwood companies only after I fully researched their quality control. I do know there are quality control issues with rubberwood in general. Plan Toys has enough of what I need so I have never explored other rubberwood companies but I have rubberwood on my "to be cautious about" list.
Concerns about Buying Toys Made in China:
Quality control in China can be concerning. When you are looking to buy toys you want to make sure the quality is top notch. There are many incidenses of toys, shoes, dress up clothes, and baby bottles(!!) that are made in China and contain LEAD. Lead is a neurotoxin and can permanetly brain damage your child. Besides lead, toxins are used in manufacturing often in China. Things that are no longer allowed to be used in the USA can still be used in China. I choose to avoid toys made in China for these reasons.
I hope in this list you find some quality toys for your children and loved ones that can be cherished for many years to come!
Pin it for later!