Pots & Pans:
This is a big one! If you have non-stick toss those toxic suckers out! I am very particular about what I cook with and specific within each company so please read carefully about what I recommend below. Aluminum is another one to fully avoid. Aluminum is a neurotoxin and has no place in the kitchen (we avoid all aluminum in our house). I also avoid most cookware from China, too many potential toxins, too much risk for the kitchen. Lead in cookware, even if it is leach tested, is a no-go in my book. Lead is a neurotoxin that causes permanent brain damage. Cookware should be one of the cleanest places in your home.
I really feel that there isn't a clear answer on the best cookware. I've decided, just like food, rotation is key. Below are some of the cookware pieces I've researched and my recommendations if I would use them or not.
This post may contain affiliate links. Please see my full disclosure policy for details.
I've been using my Visions for a few months and generally like it. If I re-heat soup it can burn if I am not careful. For making pasta it works great.
I tested a brand new Visions Glass Cookware set for lead, cadmium and other metals with and Niton XL3T XRF. The old Visions I have been told contains heavy metals and I would never use it (and I recommend you stop using it if you have an older Visions cookware set you are using). The old version is about 10 years old. To see the exact set tested click here.
The new Visions cookware is free of lead, cadmium and any other metals. It is made of glass & ceramic material. It can be used to cook on the stove but you would want to avoid sudden temperature changes for chance of breaking. Cooking with glass does make me a tad nervous and there are reports of it shattering when cooking. Most of the reports seem to be on the older version of the cookware.
The cookware in made in France. The lids are made in China.
Pros: Probably one the cleanest cookware from a toxns standpoint
Cons: Potential risk of shattering but many do use it successfully and burns foods easily.
Update: I tested another two pieces. The pots & pans were free of heavy metals. One lid had trace cadmium which is not a concern.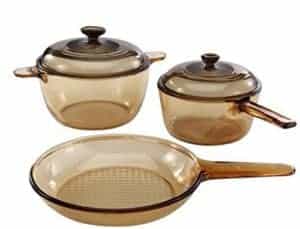 Cast Iron – Finex:
We recently bought a Finex cast iron and love it! It's made in the USA and seasoned with an organic flax oil. This was the tipping point for me. Lodge, for example, is also made in the USA but they use a soybean oil to season it which I have been told is not non-gmo. I never bought a Lodge for that reason alone, I can't cook my organic food in a GMO cast iron.
We are a vegetarian family so cooking in a cast iron is a great way for us to get more iron. We use ours daily but not for every meal.
Finex has a much higher price point than other cast irons but the organic oil is worth it for me. It's also quite beautiful to look at and has a stainless steel handle that does not get hot. The tip of the handle has a brass knob.
Finex 12 inch cast iron this is the one we use the most often. We also have the 10 inch but the versatility of the 12 inch is worth the extra cost if you are going to only buy one.
***** I recently tested my Finex when I was testing other items I own for lead using a Niton XL3T XRF. The pan was negative, the stainless steel handle was negative, but the brass knob had lead at 33,900 parts per million. I've been in touch with Finex and they are aware of the issue. They have tested the knob and researched risks and other materials. They sent the knob to be tested at a certified lab and it passed the stringent CA Prop 65 leach test (meaning no lead in the brass knob is leaching). There is no risk with the brass handle. ******
Pros: This really is an amazing pan. We love cooking on it and it's a great non-stick replacement
Cons: Cast iron pans in general, not specific to Finex only, leach iron (which is why a lot of people use them). Make sure you research cooking in cast iron if this is a concern for you.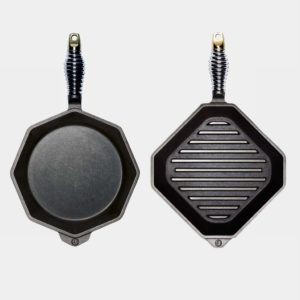 Finex Cast Iron (brass knob at end discussed above)
Enameled Cast Iron – Le Creuset:
In my opinion, not all Le Creuset is created equal. Le Creuset makes two types of cookware. Cast iron and ceramic stoneware. The cast iron is made in France. The stoneware is made in China.
Stoneware:
The stoneware has tested high for lead and cadmium on both the inside and the outside with a Niton XL3T XRF. I personally do not buy the stoneware based on the XRF readings and I typically avoid cookware made in China. However, Le Creuset has stated that they pass CA Prop 65 standards and that there is no risk of leaching. I personally just like to purchase goods that are made outside of China so I stick with the cast iron.
Cast Iron:
Not all the cast iron is created equal either in my opinion. Le Creuset says that their Dune (which is being phased out) and Palm colors are lead and cadmium free. Palm is now the only readily available color that Le Creuset claims is both lead and cadmium free. I do not buy kitchen items in general terms (no matter which company) that are red, orange or yellow as those colors tend to have lead or cadmium added to (in no means does this mean all red, orange, or yellow has heavy metals).
How do you tell where it is made?
Flip it over and look to see if it is made in France or China. You can not tell by the inside color. All are cream with the exception of the skillets which are a black enamel.
Other details:
The skillets that have the black internal are not cast iron on the inside, the black is an enamel.
That being said, I have the blue Marseilles color. All of mine have tested safe for lead and cadmium. These were all tested in my home by someone trained to use an XRF.
So what would I buy?
Dune or Palm cast iron. Dune is being phased out and is hard to fine.
Pros: Great to cook with, many different sizes, very durable if you take care of them.
Cons: You have to take care of these and not use metal spoons of they will scratch. I avoid scratching any cookware for the possibility of leaching. I use wooden spoons when we cook with our Le Creuset.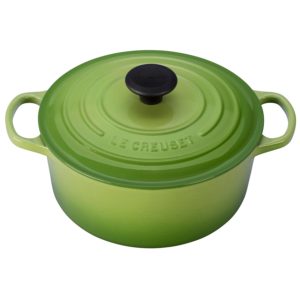 Stainless Steel:
I use to use stainless steel. I am no longer comfortable cooking with it every day. When it scratches it can leach nickel and chromium. Look at your stainless steel, is it scratched? Yep, thought so. It is so hard not to scratch it. I'm pretty sure mine scratches just when I touch it. I'm not comfortable knowing that nickel is leaching into my food and into the small bodies of my children and my family. Is nickel leeching that big of a deal? Yes it is and you can read more here.
There is nickel free stainless steel on the market now but I have not explored it any further as I'm limiting our metal cookware.
I'm only mentioning this because everyone is Instapot crazy right now. First, it's made in China and I generally don't buy cookware from China. Second, it has a stainless interior and pressure cooking has to potential to leach nickel at a greater rate than shorter stove top cooking. See above about my concerns with stainless steel. Third, while lead free in the interior, it does contain 1,400 parts per million of LEAD on or near the heating element. The lead does not come into any contact with your food and there is probably very little risk. For me personally, having lead near a heat source is less than ideal.
Pros: people love it for how easy and fast it is to cook their food
Cons: Potential nickel leaching and lead in heating element (which does not come into contact with food)
I reached out to Xtrema to discuss their ceramic cookware and to find out more about testing they have done. First, they are very transparent in their testing results which is very nice (and very rare). After several conversations with the owner, I realized that they are committed to making healthy cookware. I confirmed that they do not use any heavy metals nor is any added to their products. They pass the stringent CA Prop 65 leach test, and they will share those results with anyone. Xtrema is made in China in a factory that is dedicated to their cookware. They go a step further than what is required and test each batch that is shipped to the CA Prop 65 standards. I am going to purchase a pot and test it out to see how I like cooking in it. I will report back soon.
Pros: Non-toxic cookware, easy to clean and maintain, and each batch is tested and passes the stringent CA Prop 65 testing
Cons: It is fully ceramic so if you drop it, it could potentially break.
Clay: Do your research
I haven't researched clay enough to have an official stance on it; however, you have to be very aware of what you are buying. Clay and ceramic often times have lead. You will want to see lead and other heavy metal testing reports. There is lead free Clay cookware out there. Even if heavy metal free clay does still leach into your food. What you are ingesting is questionable to me. If I ever research this more I will update here. Often times I've seen it's needed mineral but there is no data that supports that claim and when I hear that it is generally from the companies that make such posts.
So what I am using?
As I mentioned above I think rotation is key. I use Visions glass cookware, my cast iron Le Crueset that I've tested to be free from lead and cadmium on the inside, and Finex. I am going to try a few more options and will report back if I add anything to our rotation. Do you have a favorite non-toxic cookware that I missed? If so, please let me know!
Disclaimer: I use affiliate links at times. It doesn't cost you any more but does help support my time running my blog and this page. Other affiliate links might get you a discount which is a win, win! I appreciate you supporting my links as a way to help me offset my time by bringing info to you. I will never be swayed financially, and I will only post products and companies that I would, and do, personally use for my family.
Other Posts Related to Non Toxic Pots
Pin it for later!