A good couch is essential when you have kids. I love all the cozy time I have had with my kids, snuggled on the couch with their favorite books! After I learned that most couches off-gas toxic chemicals, I started on a mission to find a non-toxic couch free of chemicals.
Below you will find the best organic couches and the best flame retardant free couches if you don't have the budget for an organic couch.
This post may contain affiliate links. Please see my full disclosure policy for details.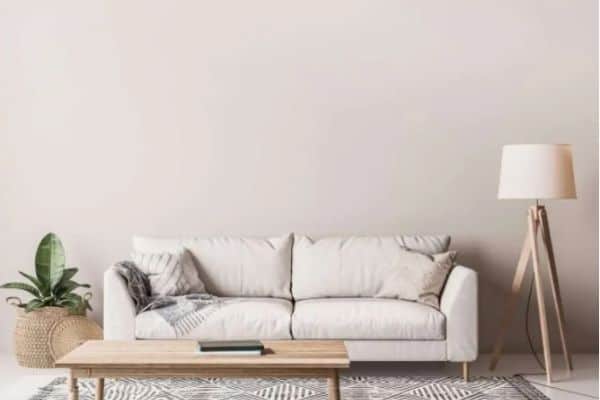 What to Avoid When Buying A Couch
Most couches are made with polyurethane foam and other synthetic materials.
They are typically treated with chemicals to repel water, dirt, and stains. Then there are flame retardants. All in all, there's a lot to make you uncomfortable in a regular couch.
Polyurethane Foam and Flame Retardants
Polyurethane foam petroleum-derived which means it is highly flammable. So, to meet fire safety regulations, manufacturers saturate their couches with toxic chemical flame retardants.
These chemicals have been repeatedly linked to increased cancer risk, thyroid disruption, delayed mental and physical growth and development, cognitive impacts and learning problems, and reduced fertility.
Children are at a greater risk than adults when it comes to flame retardants. This is due in part because their skin is thinner and absorbs more, and also because they tend to be closer to the ground which leads to increased inhalation of dust with flame retardants.
In addition, these chemicals have been directly linked to cancer in pets. Many pets spend a lot of time laying around on couches.
Some trisphosphate and polybrominated diphenyl ether (PBDE) flame retardants have been banned for use in the US. However, we often don't know the full effects of newer chemicals, and many imported couches are still treated with PBDEs and tris chemicals and then sold in the US.
What's more, some US manufacturers don't always know exactly what's in their couches if they buy the foam and other materials from foreign factories and then stitch everything together on home ground.
Regulations Changes
The US Consumer Product Safety Commission updated their fire safety regulations in 2014, acknowledging that most chemical flame retardants were ineffective and dangerous.
California removed the mandate for flame retardants for upholstered furniture in 2014, and in 2015 the state made it a requirement for any couches sold in the state to have a label indicating if they were made with flame retardants.
So, while some couches still contain these chemicals, they aren't required to do so by law anymore. If you have a couch bought pre-2015, chances are it contains flame retardants.
Even with these regulation changes, some couches still contain flame retardants today, so it is essential to verify if your couch is flame-retardant free.
Certipur Foam
What about Certipur foam? This foam is an internal certification created by the foam industry.
It is 'certified' by the industry to be free from chemicals that aren't even present in conventional foam, meaning it isn't healthier or different from non-certified foam.
Plant-Based Foams
Plant-based foams, like soy foam, are considered greenwashed. These are just regular foam with a bit of soy oil thrown in.
It's best to avoid all foam unless it's 100% natural latex foam and is certified as such.
Synthetic Fabrics
Couches often contain synthetic fabrics as these are usually cheaper and can be made to be wipe-clean and stain-resistant. Synthetic fabric is made from petroleum and often with toxic dyes.
Synthetic fabrics also don't biodegrade and also shed microplastics into your home and air. Microplastics also contaminate waterways and kill wildlife. Waterway contamination is not only from production but also when we wash synthetics in our washing machine. Also, microplastics accumulate in our bodies and have been found in the placenta!
Synthetic plastic fabrics are definitely best avoided as the chemicals in these materials have been linked to cancer, reproductive system issues, endocrine/hormone disruption that can affect childhood growth, and many more issues.
If you decide that you want a couch with synthetic fabrics, look for the Oeko-Tex Standard 100. This tests for hundreds of harmful chemicals. However, my recommendation is to avoid synthetic fabrics for all the reasons above.
Stain-Resistant Sprays
Couches are a prime spot for spills and stains. Whether it's sticky fingers at snack time, coffee or wine stains, or messy pets, paints, or marker pens, couches take a battering. A couch that's easy to wipe clean and resistant to stains can seem like a great idea, but this comes with a trade-off.
The most common way companies make their couches stain-resistant is to apply a Teflon-type spray like Scotchguard. These are made with perfluorinated chemicals (PFCs), which are linked to cancer, reproductive and immune system problems, birth defects, and issues with child development.
Plywood/MDF/Particleboard
Couches are big and heavy, so to make them a bit lighter and cheaper to manufacture, companies often use engineered wood or manufactured wood such as plywood, MDF, particleboard, and even cardboard! These are almost always glued together with toxic chemicals such as phenol-formaldehyde (PF) or urea-formaldehyde (UF).
Formaldehyde
Formaldehyde is highly toxic and can cause respiratory irritation, asthma, and irritation of the nose, eyes, and throat and skin irritation and allergies.
It is also a carcinogen that can cause cancer, and chronic exposure can cause damage to the nervous system. As with many chemicals, children are more susceptible to the negative health effects of formaldehyde.
Compared to hardwoods, or even solid softwoods, manufactured wood products contain far more formaldehyde and are more likely to release that formaldehyde too. The Healthy House of Institute found that compared to natural wood, PF-glued products typically emit 10 times the formaldehyde, and UF-glued wood can release at least 100 times more formaldehyde.
Solid wood naturally contains a little formaldehyde, but it is bound to the wood fibers, meaning it isn't likely to be released unless high heat is applied. Also, naturally occurring formaldehyde differs from phenol or urea-formaldehyde (which are man-made products) and is not considered harmful.
A manufactured wood couch frame is also more likely to break than a solid hardwood frame. This can make a couch unsafe, especially if you've got a vigorous jumping child really pummeling the couch day after day!
Down
I would avoid couches made with down or feathers. Feathers and down are often not cruelty-free, and many also have been cleaned with harsh chemicals like formaldehyde and bleach, which leads to VOCs that off-gas.
Leather and Faux Leather
If you're raising a vegan or vegetarian family, you're not likely to get a leather couch, but these remain popular because they're pretty easy to keep clean when you've got messy kids and pets in the house. Leather is almost always tanned using heavy metals (including lead) and toxic chemicals.
The process of turning animal hide into leather involves hazardous chemicals such as formaldehyde, mineral salts, cyanide-based dyes, and coal-tar derivatives.
Vegetable Tanned Leather
Leather isn't always quite that terrible. Some companies only use leather that is a genuine by-product and then preserve and color the leather using vegetable tanning or other less toxic methods.
This is a much longer and more expensive process, though, and isn't typical for larger leather pieces. It's more likely used in making smaller items of clothing or for wallets and belts. And even non-chrome vegetable tanning and aldehyde tanning uses hundreds of chemicals and can be rife with toxicity.
So, if you're considering a leather couch, you might want to reconsider or ask specific questions about leather tanning.
Vegetable tanning is a safer bet over traditional leather tanning!
Fake/Faux Leather
You might also be considering a fake leather couch, which seems better on the face of it, but is actually not so great when it comes to toxicity.
Fake leather is usually a synthetic material made with plastic polymers such as vinyl or PVC, polyurethane, or polyamide microfiber.
Like leather, fake plastic leather (pleather) has also been found to contain lead and other heavy metals.
Tests by the Center for Environmental Health in California found that a whole range of fake leather products contained levels of lead far higher than the state's allowable limits. In some cases, the levels were up to 90 times higher than lead levels allowed in paint! The biggest culprits tended to be fake leather that was yellow or tinted yellow.
Some faux leather alternatives are less toxic, such as those made using cork, pineapple, and even mushrooms! However, those are not options available for couches.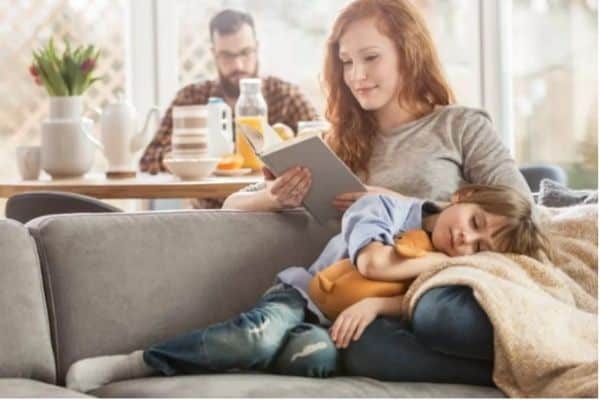 Buying Second Hand Couches
Buying second-hand is also tricky when it comes to couches, and not just because of worries about mold and bed bugs.
Old couches made of foam begin breaking down rather quickly no matter the condition. When this happens, the foam releases chemical-laced dust into the air. Part of that toxic dust is made up of flame retardants as well as chemicals meant to make a couch stain-resistant and water-resistant.
Just because it is older, it does not mean that it has off-gassed all the toxins. The opposite is true, toxins are breaking down faster, and the result is more toxins in your environment.
Unfortunately, this means people that get hand-me-down couches or that buy second-hand are at greater risk of breathing in toxic chemicals that harm health.
All in all, this puts a greater health burden on people buying used couches, especially those with kids (who are at higher risk because they have closer contact with dust!).
This post may contain affiliate links. Please see my full disclosure policy for details.
What to Look For in a Non-Toxic Couch
Thankfully, a lot more companies have made a move away from flame retardants in recent years.
Some have even switched out toxic foam for natural materials like organic latex, wool, and cotton. And, as luck would have it, many of those materials are naturally flame retardant, meaning no need for toxic chemicals in the first place!
The best way to avoid toxic chemicals in your couch is to avoid polyfoam entirely, even if the company claims it's 'eco-friendly and non-toxic'. Choose a solid wood frame, natural materials, and organic fabrics for your non-toxic couch.
Natural Couch Materials
Your non-toxic couch should be made of natural materials that are free of toxins, like the ones below:
Organic Latex
Organic Wool
Organic Cotton
Organic Kapok
Organic or natural fabric like organic cotton, linen, or hemp.
Solid Wood
No or low VOC stains
Steel Springs (recycled is a great option). These can make the couch lighter and are sustainable.
Flame retardant free
Free of stain and water repellants
Below, you will find additional details about most of these materials.
Solid Wood
Look for a couch that uses solid wood in all components. Ideally, Forest Stewardship Council (FSC) solid wood harvested from the USA or Canada. You also want to look for kiln-dried and not chemically treated.
Formaldehyde-Free Glue
Any glue that is used should be formaldehyde-free glue. The better companies use traditional twine tying methods to keep everything in balance and together. However, formaldehyde-free glue is perfectly safe and non-toxic.
Stains and Finishes
Look for no or low VOC stains and varnishes like these:
Linseed oil (Tried and True is free of heavy metals). Some linseed oils can use heavy metals to accelerate the drying time. I would verify the brand used.
Other drying vegetable oils like walnut oil or refined hemp oil
Rubio Monocoat
A company might use something different than the above. You can always ask for more details about the stain or finish to determine if it is non-toxic and low or no VOC.
Additionally, you can always ask for the wood to be left unfinished. We chose unfinished walnut for the legs of our couch. If you want to darken them up a bit, you can finish yourself with organic walnut oil easily at home.
Organic and Natural Fibers
Organic Latex
Many non-toxic couches are now made with natural latex. This doesn't always mean what you might reasonably expect it to mean, though!
'Natural latex' isn't a protected term, meaning this material could be synthetic rubber and have various toxic fillers.
Look for Global Organic Latex Standard (GOLS) Dunlop latex or ask companies what kind of latex they use, where it comes from, and how it is processed.
If you see the GOLS certification within the description, then you can be assured it is certified organic.
Natural Fibers and Fabric
Look for natural and organic fabrics like organic cotton, linen, and hemp. These not only are durable, but they look great. In addition to the natural fibers, make sure you are getting fabric that is certified (more on this below).
As for fabrics, we are big fans of the fabrics from Two Sisters Ecotextiles. This company offers GOTS–certified fabrics and OEKO-Tex fabrics, including hemp, organic cotton, wool, and linen blends, among others.
Companies such as Ecobalanza use these fabrics, but you can also buy the fabrics yourself if you're looking to upholster a couch.
Natural Cushion Fill
There are several great natural materials to fill cushions:
Organic Latex
Organic Wool
Kapok
If you want a really squishy couch cushion, look for those made with kapok, a plant fiber similar in loft and softness to down and feathers.
Some companies may use down that is certified to the Responsible Down Standard. This is a better option than traditional down, but I would still verify how the feathers were cleaned and sterilized since you want to make sure it won't be off-gassing.
It's best to talk with the manufacturer to determine which type of fill would best meet your needs.
GOTS & Oeko-Tex Certifications
You will want to look for these certifications for your fibers as well as your fabric. This ensures that you are getting truly non-toxic and organic materials.
As far as the fabric goes, the processing and dyeing of fabric involves numerous toxic chemicals. To avoid toxins from the manufacturing process on your couch fabric, look for either the GOTS certification or the Oeko-Tex certification.
If you wonder why this all matters, it is because your skin is your largest organ and will absorb these toxins.
GOTS is the highest standard for organic fibers. It means that everything from seed to finish is free of toxins. Only organic fibers can have the GOTS certification.
Oeko-Tex allows for both organic and non-organic fibers (including synthetic fibers). It limits hundreds of toxic chemicals but not as many as GOTS. For example, some flame retardants are still allowed to be used, pesticides on the growing of the cotton, and lower levels of formaldehyde. None of these are allowed within the GOTS certification.
Flame-Retardant, Water Repellent, and Stain Resistant Chemical Free
Clearly, a non-toxic couch will also be a flame-retardant-free couch and be free of water repellents and stain-resistant chemicals.
After all, what's the point in using certified organic cotton, wool, linen, hemp, or other natural fabrics to douse everything in chemicals?
If you do opt for a foam couch, make sure it is flame retardant-free but still fire safe. This means looking for a natural flame-resistant barrier such as wool as part of the design.
The Best Non-Toxic Couches
A handful of companies make genuinely non-toxic couches. Some offer custom options, while others are a little less customizable but less costly.
Be sure to check the specifications of individual models. Some companies such as Cisco, Couch Seattle, Medley, and others also make polyfoam-filled couches with options to switch to natural latex.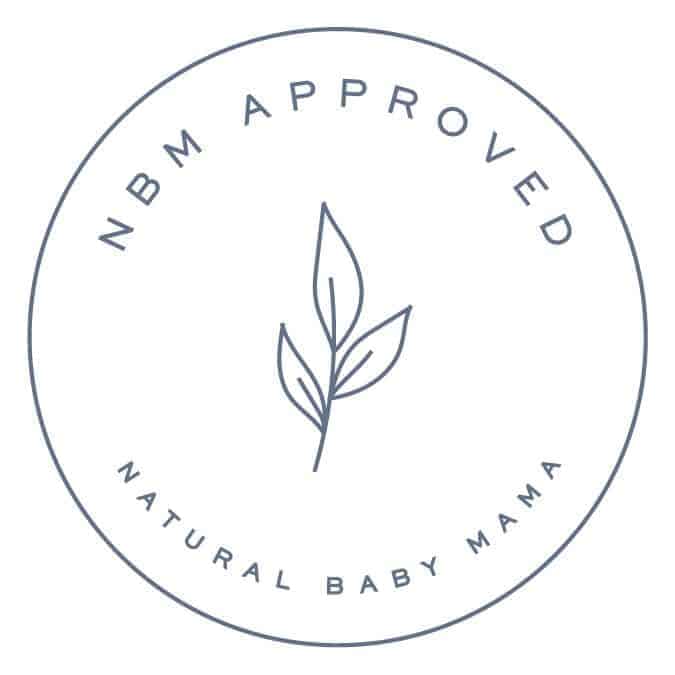 Ecobalanza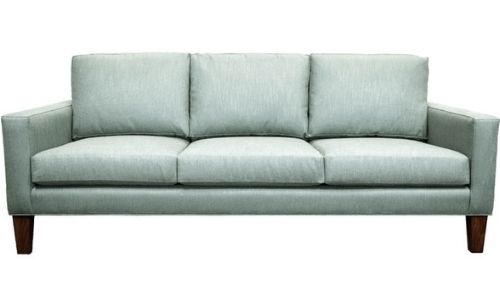 Ecobalanza is a Seattle company making boutique non-toxic couches, loveseats, sectionals, headboards, and more.
They use natural and non-toxic materials including:
GOLS organic Dunlop latex
GOTS organic cotton, linen, and hemp
Certified organic merino wool
Kapok
Vegetable-tanned leather free from heavy metals
Recycled polyester
Cotton/linen/viscose blends that are OEKO-Tex Standard 100 certified
Hardwoods (sustainably sourced FSC certified Alder and Western Maple)
Hand-tied steel coils for stability.
What you won't find in these couches:
Chemical flame retardants (they use wool as a natural flame barrier)
Polyfoam
Composite wood
Toxic dyes, stains, varnishes, or stain repellents.
Ecobalanza offers an Essential collection, a Couture Collection, and can custom design upholstered items to meet your exact needs.
So, if couches always feel a little too deep, narrow, squishy, or hard for your tastes, or if you've got a weirdly shaped space that most regular couches won't fit, give Ecobalanza a call!
Our family loves our Ecobalanza furniture!
---
Pure Upholstery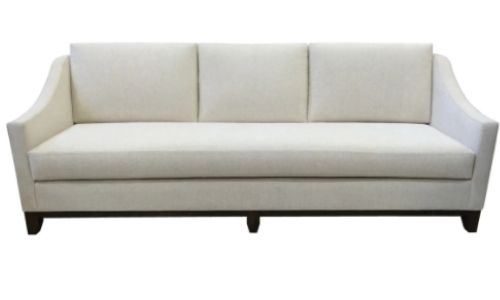 Pure Upholstery makes non-toxic sofas with organic materials including:
Organic GOLS latex, wool, and cotton
Forest Stewardship Council (FSC) certified maple hardwood frames
Recycled steel springs (which can be 8-way hand-tied on request).
GOTS or Oeko-Tex natural fabrics
Natural low VOC stains
Pure Upholstery doesn't use polyfoams or chemical flame retardants.
They offer at least 35 fabric choices, all of which are either GOTS certified (Winthrop) or OEKO-Tex 100 certified (Orcas and Palouse). They carry O Ecotextiles, which I am a huge fan of.
These couches are all handmade by the same folks behind The Organic Mattress Inc., so you can tell they're super committed to being toxic chemical-free. Their workshops are in Massachusetts, North Carolina, and California, and Pure Upholstery is a member of the Sustainable Furnishings Council.
The cushions on these couches are made with GOLS certified organic latex, and this is also used to wrap the solid hardwood frames. There's no engineered or composite wood or particleboard in these couches and no synthetic batting, just organic wool with an organic cotton canvas barrier cloth.
Pure Upholstery uses Rubio Monocoat Natural Oil Plus 2C Finish for the wooden legs, a plant-based finish that is far less toxic than regular finishes. It doesn't contain:
Formaldehyde
Aromatic hydrocarbons
Ammonia
Acetone or solvents
Preservatives or heavy metal drying agents.
Instead, this finish is made with organic pigments, plant oils and waxes, non-aromatic hydrocarbons, and lead-free catalytic dryers. You could also ask them to leave the legs unfinished and use linseed oil yourself.
Prices start at around $2900 for sofas from Pure Upholstery.
---
Medley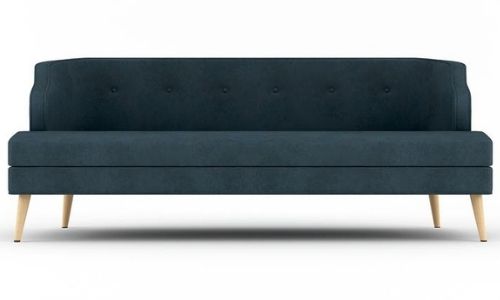 Medley's non-toxic couches are made in California and are free from flame retardants, azo dyes, heavy metals, and many other toxic chemicals. For the frames and legs, the company uses:
Kiln-dried FSC certified hardwood from domestic forests as well as bamboo
GOLS Organic Latex
Oeko-Tex Organic Wool
GOTS Organic fabrics in some designs
Water-based glues with zero VOCs
Wood or steel legs
Natural furniture polish made from just beeswax, carnauba wax, and olive oil.
You can choose between Certipur polyfoam cushions or organic natural latex cushions and frame. Medley uses OEKO-Tex 100 wool to wrap the latex and fill the back pillows.
Their fabric options include polyester and a polyester blend, natural and organic fibers, and almost all fabrics used inside and out, either GOTS certified organic or Greenguard Gold or OEKO-Tex 100 certified.
They don't offer fully customized couches, but they can do a lot to accommodate different needs.
Prices start at around $2300 for a sofa made with latex instead of polyfoam and a little less for loveseats.
Overall, Medley is a great option for a more affordable non-toxic couch.
---
Couch Seattle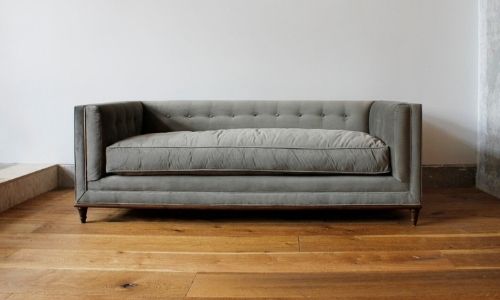 There's something about Seattle and organic couches. Couch Seattle is another great choice for non-toxic couches.
They can custom make a couch to meet your family's needs. You can even draw them a picture and have them make your dream sofa! To clarify, though, while they are based out of Seattle, the company actually makes their couches by hand in their new factory in Los Angeles.
Their standard collection includes traditional, transitional, mid-century, and modern styles of chairs, sofas, and sectionals, as well as sofa-chaises, banquettes, sleepers, and beds.
These couches are made with a few things as standard, including:
Sinuous springs, 8-way hand-tied coils, or European style webbing for suspension
Kiln-dried alder frames – Couch Seattle doesn't use softwoods or particleboard
Low VOC wood glue and water-based stains
2.4 lb. per cubic foot Certipur polyurethane foam free of formaldehyde and tris and PBDE flame retardants
Dacron polyester batting
Alder, oak, or walnut legs
Goose down or Trillium down substitute for cushions.
They offer customization to include using all-natural materials (organic latex, wool, organic cotton).
Your best bet is to ask them to make an all-natural, non-toxic couch using 100% latex, wool batting, and either organic cotton, wool, and linen fabric. This means no polyfoam, a flame retardant-free couch, no down or down substitute, and natural fibers for the exterior.
---
Savvy Rest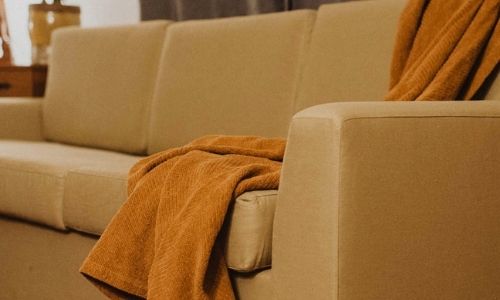 Savvy Rest isn't my top choice for a non-toxic couch, but they do offer some good options that are free from:
Flame retardants
Formaldehyde glue
Veneers
Plywood and particleboard
Polyurethane and polypropylene
Dacron (polyester) batting
Feathers and down
Toxic stains
Metal coils.
Instead, Savvy Rest's couches are made with:
FSC certified solid maple hardwood
Cradle-to-Cradle Gold certified Natural Talalay latex foam blended with coconut fiber or firmer Dunlop foam (which I would recommend)
GOTS organic hemp and cotton
GreenGuard certified glues
Zero-VOC linseed oil and water-based finishes.
Prices start at $3,799 for a sofa from Savvy Rest, and they have minimal options in terms of style (just one model, the Verona) and fabrics.
---
Cisco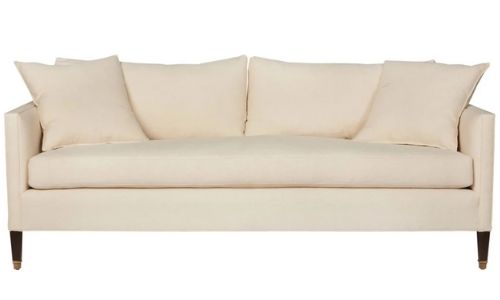 Cisco sofas are available at ABC Carpet & Home and are less toxic than regular sofas but not as good an option as some of the others I've already talked about. They offer:
The Paloma sofa – made with natural latex foam and feathers, FSC certified wood, and a linen cover and is free of flame retardants. There is little else in the way of materials and safety info.
The Henry sofa – also made with latex foam and feathers, non-toxic adhesive, no flame retardant chemicals, and has a linen and cotton cover.
All in all, these couches are a step up from the usual but because prices start at around $4,700. I'd personally spend that money on a truly non-toxic couch elsewhere.
---
Flame retardant free couches
These companies make couches that are flame retardant free but not totally non-toxic. They often use polyfoam and synthetic fabrics as well as glues, stains, and other chemical treatments.
They are sometimes a more affordable option than a totally non-toxic couch (not always, though!) and are a little less toxic than conventional couches.
IKEA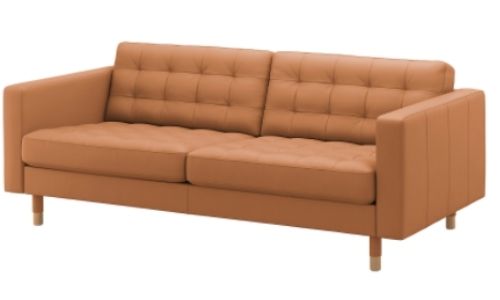 IKEA is arguably your best option for a much more affordable, flame retardant free couch. They are not considered fully non-toxic since they are made with plywood, low (but not no) formaldehyde glues, polyfoam, and synthetic fabrics.
---
Crate and Barrel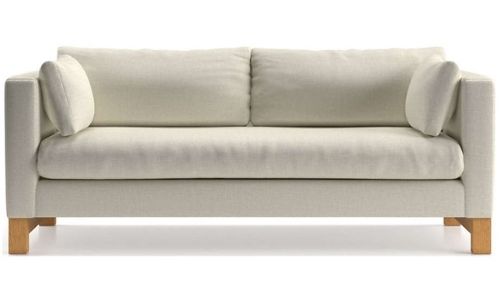 Crate and Barrel ditched flame retardants a few years ago, but they still use polyfoam. Their frames are usually kiln-dried sustainably sourced hardwood (FSC), and they use water-based glue and recycled cotton on some models.
---
West Elm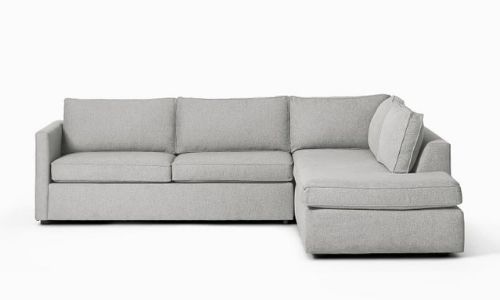 West Elm makes flame retardant free couches but uses mostly polyester (some of which may be recycled) or other synthetic or heavily processed fibers. They also use down, feather, and polyester cushions.
Some West Elm couches have engineered kiln-dried hardwood legs and frames seemingly built using joinery rather than glues. The company doesn't seem to use stain repellents on fabrics, but it is always good to verify that information.
---
Pottery Barn Eco Sofa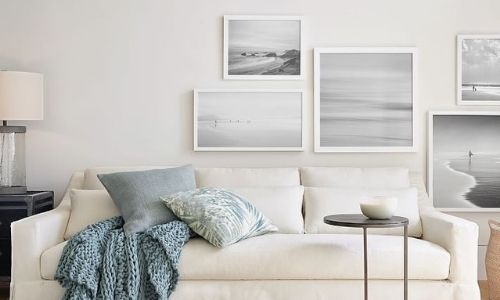 Pottery Barn Eco Sofas are made with kiln-dried hardwood frames and an option to use organic fabrics. These couches are flame retardant free but are still made with polyfoam and polyester-wrapped cushions.
The company's website currently lists more than 200 couches as 'Certified Nontoxic', or 'tested for harmful chemicals and VOCs'. However, this seems to be a Pottery Barn certification and not third-party tested. Many of these couches are made with soy-based foam (i.e., polyfoam) cushions and stain-resistant fabrics.
They offer some organic fabrics, but some do have water-repellants, so you will need to verify that you are buying untreated organic fabric.
Pottery Barn Eco Sofas are more expensive than some of the fully non-toxic options using all organic materials.
---
What if Your Current Couch Has Flame Retardants?
The best thing you can do is to replace your couch with a non-toxic couch. If buying an organic couch is not in your budget, then look at the flame retardant-free couches listed in this post as the next best option.
If you cannot replace your couch at this time, you will want to vacuum and damp dust frequently. Studies have shown these two simple steps reduce the number of toxins you are exposed to from furniture and mattress off-gassing.
Final Thoughts on Non-Toxic Couches
Using natural, organic, and non-toxic materials means that you can rest assured that your couch is free of toxins.
It also means your couch will be heavier than your current couch. Solid wood and organic latex are heavier materials than plywood and polyfoam.
It can be hard to find a truly non-toxic couch, especially in a style and color you like. Doing all this research certainly made me want to lie back on a comfy couch for a long nap, so I hope it has helped you find your new favorite piece of furniture for your non-toxic home!
It can be hard to find non-toxic products for your home. Simplify your life – check out the Natural Baby Mama Amazon Storefront with vetted non-toxic living products.
Other Posts Related to Non-Toxic Couches
Pin it for later!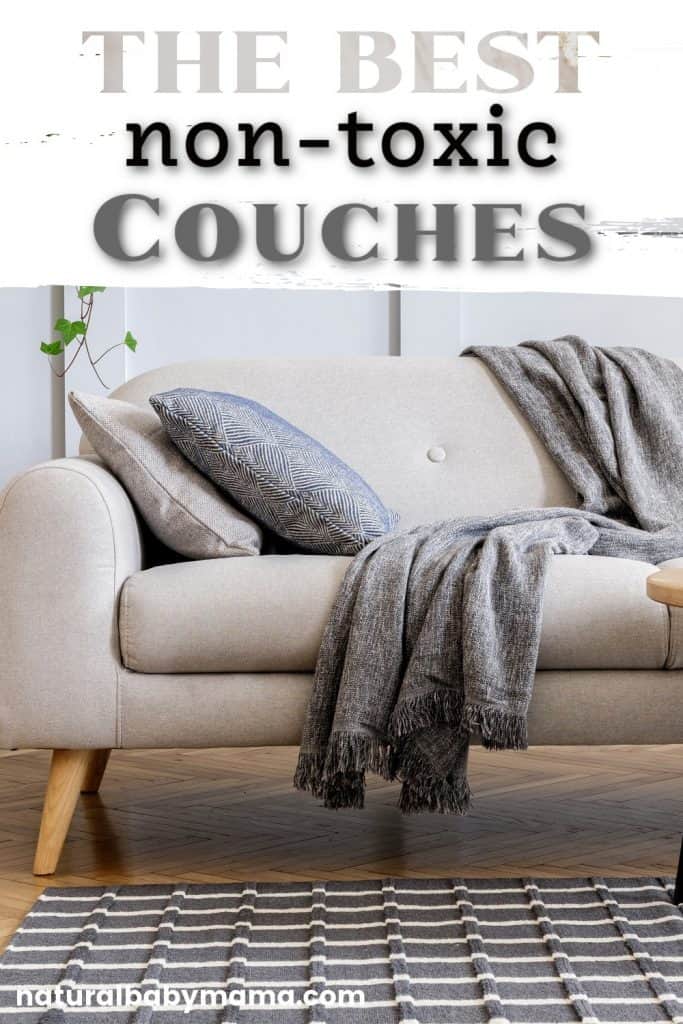 ---