This post may contain affiliate links. Please see my full disclosure policy for details.
The best organic, non-toxic mattress and crib mattress:
After all my research it came down to a few companies for a truly non-toxic, organic mattress.  Naturepedic, LifeKind,  Savvy Rest, Soaring Heart and Holy Lamb Organics.  Soaring Heart and Holy Lamb Organics are smaller, independent companies who I found after we purchased our Naturepedic crib mattress.  I love how transparent both Soaring Heart and Holy Lamb Organics are (they use three materials – organic wool, organic cotton and / or organic latex).  Lifekind and Savvy Rest are both transparent as well. Soaring Heart is 100% certified organic and is a GOTS certified facility which is HUGE! 
Why buy an organic mattress:
Most mattresses contain toxic flame retardants.  These flame retardants are linked to a host of issues ranging from cancer to a reduction in IQ.  Organic mattresses are still flame resistant but without the use of toxic chemicals. Natural fibers such as wool provide fire resistance.  
We all spend a lot of our lives sleeping in our beds.  Children spend even a greater percentage of their days sleeping and having a healthy mattress is one of the best things you can do to reduce your toxic load in your home.  
Organic mattresses are made of natural materials instead of synthetic materials like foam (which have VOCs and toxins).  Organic mattresses are made often of organic wool, organic cotton, and organic latex. You can also find latex-free organic mattresses.  No synthetics, no chemicals, no toxins. Switching out your conventional mattress for an organic mattress is one of the easiest switches you can make in your home to reduce your exposure to toxins. 
Organic crib mattress:
When we bought our crib mattress we decided to go with the Naturepedic quilted (non waterproof) mattress.  We have a Naturepedic waterproof crib cover.
After doing all my research, we decided on the Naturepedic quilted mattress for our crib mattress, mostly because we had a local, non-toxic baby product store here and they carried it. As far as why I didn't go with one of the waterproof mattresses – it's made with 100% polyethylene which they also state meets food contact standards.  That doesn't make me feel any better. I don't feel we have the best standards in our food industry (GMOs, anyone?). 
Right after my son was born and I started getting into this the more I wished I had purchased one from the other brands.  They use natural materials, like wool, to make it flame resistant. I'm a big fan of wool and keeping things simple and easily understandable.  However, Naturepedic's mattresses are GOTS certified. I always feel 100% comfortable when I see this certification. It's the certification I always look for, the most stringent certification out there for textiles.  Naturepedic doesn't use wool to make their mattresses flame resistant. According to Naturepedic's website "At Naturepedic, we take a different approach. Organic cotton is a far superior filling material and is significantly less flammable to begin with,  allowing for more creative solutions. Our exclusive fire protection system is based on the unique fire-retardant properties of baking soda and hydrated silica permanently bonded to cellulose."
What I wish I had bought:  A certified organic, absolutely no chemicals, crib mattress from Soaring Heart.  We have since purchased our mattress from Soaring Heart and I'm a huge fan!  Everything is certified organic and I don't have to worry about seconding guessing anything.  They use the best materials and I truly don't think there is a better company out there that makes mattresses.  Soaring Heart offers my readers a 5% discount by mentioning Natural Baby Mama blog.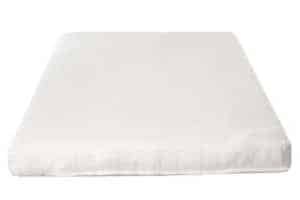 Natural mattress protectors:
We have wool covers for waterproofing for our mattresses.  We purchased ours from Holy Lamb Organics.  Soaring Heart also carries organic wool mattress pads and you can use the 5% off code "Natural Baby Mama" on the mattress pads as well.
Wool mattress pads are amazing and has worked well for us for many years! 
We also had the Naturepedic waterproof crib cover.  When we bought it I was less educated about this stuff and trusted the salesperson when they said it was all organic cotton.  Turns out there is a plastic liner between the two layers of organic cotton but for me, for now, that's ok. The nice thing about Naturepedic though is that it has the GreenGuard, GOTS and other certifications on all of their products.  Like I said above, I always feel 100% comfortable when I see the GOTS certification. However, I like the simplicity of the wool mattress pads.  
What to look for in an organic mattress:
Don't be misled by the many different choices of organic mattresses out there (crib or otherwise).  They can have some organic material and be labeled organic. They can also have organic cotton in them then be covered in nasty plastic or vinyl (which is very toxic).  To be labeled organic is one thing and to truly be organic, certified and non-toxic is another. Why do you even want an organic mattress? Because if it's not organic it's filled with toxic chemicals, including flame retardants, and synthetic materials. Since this is one of the places you and your children spend the most time, investing in a certified organic mattress is top priority!
The Top Organic Mattress companies:
When looking where I would buy a mattress for my family, these are my top choices:
When you get your mattress, you can purchase organic pillows from these same companies!  Sleep well!
Posts Related to Non Toxic Mattress
Pin it for later!