Did you know most of the pollution in your home comes from inside?

Growing research shows biological pollution is in your home from asbestos to mold. If your home is new, it's off-gassing building materials with toxins that have nowhere to go. Even if it is not new, our indoor air quality is 2 to 5 times worse than outdoor air (and in some cases as much as 100 times worse). Below are the best home air purifiers for chemical sensitivities, allergies, bacteria, viruses, mold, VOCs, and other bio pollutions.
This post may contain affiliate links. Please see my full disclosure policy for details.
The health of your family begins with the air you breathe. You may have read my guides on toxic chemicals in clothing or choosing a car seat without cancer-causing chemicals. You may even follow my lead-prevention strategies or water filter guidelines. While these are all important, having clean indoor air and a quality air purifier is one of the most important steps you can take to protect your family.

One study found children exposed to air pollution have lower test-scores and suffer permanent brain damage (1).

To ensure my children get plenty of fresh air, we aim for at least several hours of outdoor time daily. Even with that, having clean indoor air in your home is extremely important. The time outside is great but it does not combat poor indoor air quality. Think about the number of hours per day we sleep, that alone is a huge amount of time.

Once I became aware of the harm of air toxins, I didn't want my children crawling or playing in toxic particles—some small enough to enter their bloodstream within minutes.

That's why I searched for the best (and non-toxic) air purifiers for my family. I have done the research for you. Below you'll find out how IQAir and Austin Air purifiers are an investment for your health and why a standard HEPA filter isn't enough. These are the two air purifiers that I purchased for our home.

I've partnered with IQAir and Austin Air to offer a substantial discount for my readers. It's part of my mission to partner with non-toxic manufacturers to provide you healthy products for your home.

This post may contain affiliate links. Please see my full disclosure policy for details.
For IQAir and Austin Air discounts, go here.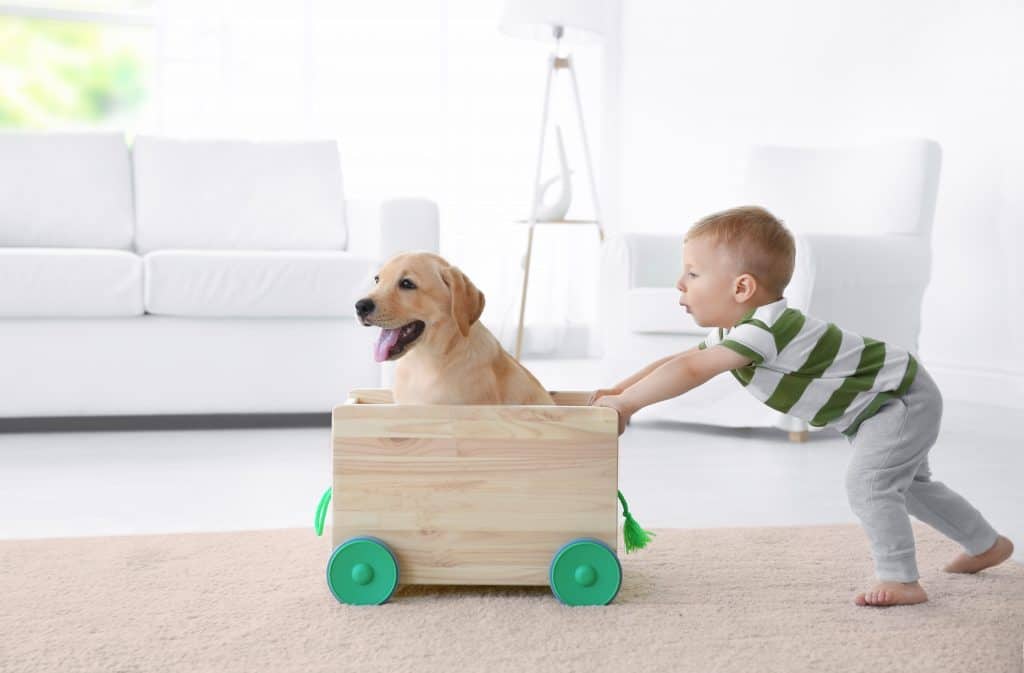 Do You Really Need an Air Purifier?
The average person takes 1,200 breaths every hour. What if there's pollution in your air? What is that pollution doing to you and your family?

In the last several years, a growing body of scientific evidence has indicated that the air within homes and other buildings can be more seriously polluted than the outdoor air in even the largest and most industrialized cities.

-The U.S. Protection Agency
In other words, there is a good chance the air in your home isn't as clean as you think it is. You can't control pollution outside of your home, but you can take steps to minimize it inside your home. Here's why you need a high-quality air purifier:
Air Purifiers Kill Airborne Bacteria and Viruses
The IQAir Purifier uses a Hyper HEPA technology to trap viruses like the SARS and COVID-19 virus. Austin Air claims to filter particles as small as 0.1 microns in size (the coronavirus is larger at .12) microns. Both of these are great options to buy for your home or for your child's classroom if you are concerned about your kids going back to school.

Other air purifiers don't capture particles this small and aren't held to both U.S. and E.U. standards when it comes to particle testing—like the IQAir. Other types of biological pollutants lead to serious health problems like:

Toxic Mold Spores
Pet Dander
Dust Mites
Flu Viruses
Household Cleaners
Street or Highway Traffic
Items from my Health and Wellness shop and these home air purifiers will keep your family healthy year-round.

For IQAir and Austin Air discounts go here.
Air Purifiers Filter Cancer-Causing Chemicals
Chemicals used in homes release toxic gases into our air. You're probably familiar with the new car smell, or the fresh scent of laundry detergents. These are VOCs. They can be found in everyday products like:

Air Fresheners
Cleaning Supplies
Laundry Detergents
Dryer Sheets
Wall Paint
Carpet
Furniture
Glue
Art Supplies
Printers
One chemical pollutant, urea-formaldehyde, is especially toxic. If you own any furniture with glue or a newer home, there is likely urea-formaldehyde in your air. Even with living the healthiest lifestyle, only the best air purifiers mitigate the damage these toxic chemicals cause. For most of us, toxic exposure is unavoidable.

Why should you be concerned? The health effects of these chemicals are different for everyone.

One study found long-term exposure to high levels of urea-formaldehyde leads to cancer in both people and animals (2), says the CPSC.

Chemicals can take years to off-gas. In addition, toxins like urea-formaldehyde while they smell in the beginning, they stop smelling but continue to off-gas for many years. You can't always rely on your nose as a guide to let you know if something is still off-gassing or not.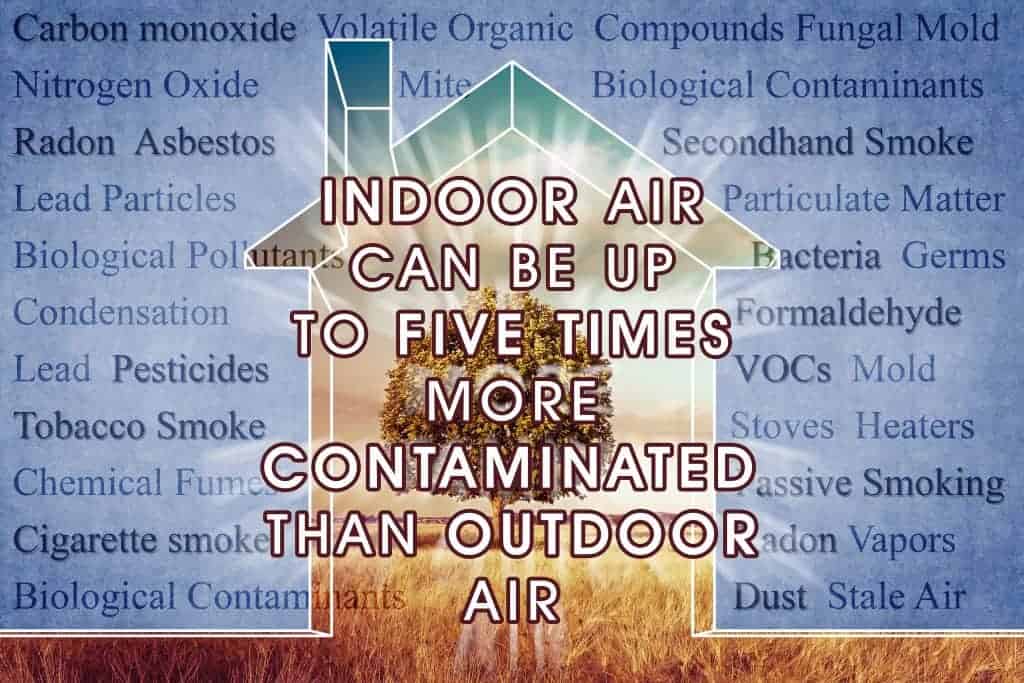 Air Purifiers Beyond HEPA
When looking for the best air purifier, you need more than a standard HEPA. In my research, I found that air purifiers you can find at the hardware store like the highly-rated True HEPA Honeywell HPA300 aren't nearly as effective as either the IQAir or Austin Air.

HEPA Is a buzzword. Per the U.S. Environmental Protection Agency "There is no widely accepted definition of HEPA performance in consumer products."

In other words, there is no regulation around the use of the term HEPA and there is no required testing. This is not to say that companies aren't choosing to test, but there are no regulations requiring them to do so.

IQAir and Austin Air are both tested and are used in hospital, military, government, or laboratory settings. To be used in these settings testing is required to ensure they meet their standards.

Types of Standard HEPA Filters
A HEPA-type filter has a 99% efficiency rate of capturing particles as small as 2 microns.
A True HEPA filter has a 99.97% efficiency rate at particles as small as 0.3 microns.

What Do IQAir and Austin Air Filter Down To?
IQAir
IQAir has created its own Hyper HEPA filter which filters 99.97% of all particle sizes larger than 0.3 microns and 95% of all particles larger than 0.003 microns. IQAir filters particle sizes 100 times smaller than a True HEPA filter.

Austin Air
Austin Air combines HEPA technology with Carbon and Zeolite minerals to remove 99.97% of VOCs, odors, and particles larger than 0.3 microns and 95% of all particles larger than 0.1 microns. Austin Air filters particle sizes three times smaller than a True HEPA filter.

Indoor Air Pollutants Particle Size
Below is a breakdown of different pollutants and their particle sizes. You can see that standard HEPA filters are not capturing all of the fine particles, and they are not capturing any of the ultrafine particles. A standard True HEPA filter only filters down to 0.3 microns. At this level, you are only capturing approximately 9% of all air pollutants.

Ultrafine particles are so small that once you breathe them they move from your lungs into your bloodstream. Once in your bloodstream, they are carried wherever blood travels (major organs and your brain).

This is why having an air purifier that is beyond the standard HEPA filter is so important. For a healthy home, and to protect your family from air pollutants, you need to capture the fine and ultrafine particles.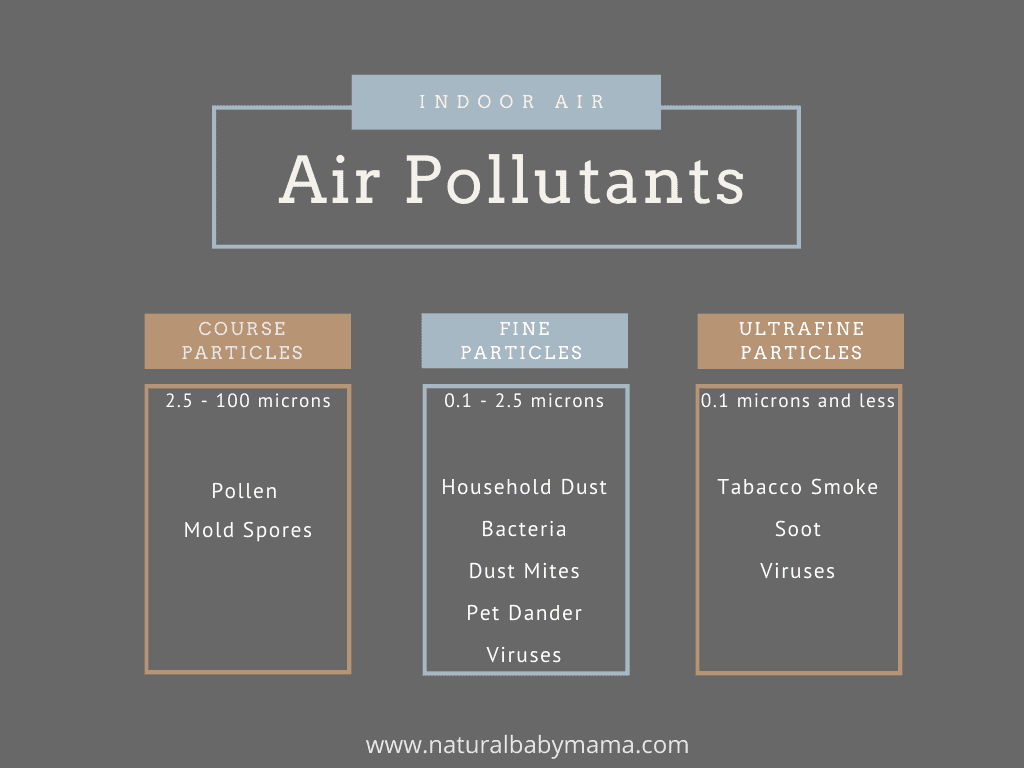 I partnered with Austin Air and IQAir to offer a special discount to my readers. Check here for your discount codes.
IQAir: The Best Air Purifier For Chemical Sensitivity and Allergies
The IQAir is the best air purifier on the market. The manufacturer makes the units in Switzerland, and quality tests each unit before it leaves the factory.

This filter is an investment but truly worth the price to secure your family's health. IQAir:

Filters particles ten times smaller than a virus.
Absorbs gases, chemicals, biologicals, and the smallest particles possible.
It is trusted by hospitals worldwide—Dentists use this filter when removing toxic mercury from patients.
Ranks as the #1 filter for Allergy and Asthma sufferers
Includes a hand-signed Certificate of Performance with your filter's efficiency.
Made of non-off-gassing ABS plastic.
10-year warranty
Readers say: I bought the IQAir using their easy payment plan option. Both my son and husband have allergies. As soon as I turned on the filter, I could smell fresh, clean air. We've had it on 24/7 for the last two years and only replaced one of the filters once. I couldn't be more pleased that it turned out to be the health investment I was hoping for.

IQ Air Purifier Details
Price range: $799 – $1299 (before discount)

HealthPro Plus*: IQAir's best selling room air purifier. It features four advanced filtration technologies, including HyperHEPA filtration of particles of all sizes, plus V5-Cell advanced filtration of gases and odors. Excellent all-around filtration for allergens, bacteria, dust, viruses, and common VOCs.

HealthPro: Features the same advanced HyperHEPA filter technologies as the HealthPro Plus, however without the gas and odor filter (V5-Cell). The HealthPro can be upgraded to include the V5-Cell at a later date.

HealthPro Compact: Features the same advanced HyperHEPA filtration technologies as the HealthPro and HealthPro Plus, but comes in a smaller housing. Because there is no gas and odor filtration, airflow is maximized. (Not upgradeable to include V5-Cell)

GC MultiGas*: For control of a wide range of gaseous organic and inorganic chemicals. The GC MultiGas system offers powerful, full-spectrum protection, with the highest quality carbon, alumina pellets with potassium permanganate, and HyperHEPA filtration of particles of all sizes. This is recommended for people with Multiple Chemical Sensitivities and for in-home smokers.

*Natural Baby Mama picks for IQAir. All IQAir machines are great, these are just my top picks.

Austin Air: The Best Air Purifier For Everyday
Austin Air is an excellent air purifier. Austin Air is the only American made air purifier on the market. They were the first domestic air purifier manufactured in the 1990s.

US organizations like the FEMA and the American Red Cross recognize Austin Air's medical-grade filters as the best available.
In 2000, the US government extensively tested Austin Air Purifiers and confirmed Austin Air Purifiers are the most effective at removing chemicals and VOC's from the environment.
Removes Volatile Organic Compounds (VOCs), formaldehyde, benzenes, chemicals, gases, and odors.
Austin Air uses a unique 360-degree intake system. Drawing air into all sides of the filter like this ensures maximum cleaning capacity.
Austin Air is also the only air purifier constructed using solid steel and a non-toxic powder-coated paint. No plastic, no polystyrene, no off-gassing.
5-year warranty

My favorite part about this purifier is the five-year replacement guarantee for the filter. For some, the filter will last up to 5 years. For others, it can be less than a year due to the indoor air quality of their home. Austin Air offers a generous discount if you need a filter change before five-years, and they are the only air purifier on the market to offer this.
The Austin Healthmate Plus is perfect for smaller spaces, like apartments or bedrooms but it also works efficiently in larger spaces as well. It has a smaller profile than IQ Air.

[The Austin Air] Removes indoor pollutants including nicotine and Nitrogen Dioxide (NO2) from gas stoves—according to studies done at John Hopkins University.

Readers say: We got our Austin Air Healthmate Plus today. The tree pollen is skyrocketing here, and my husband has been miserable. After running the machine for an hour in our main living/dining/kitchen area, my husband is feeling much better. Thank you so much for ordering it for us. We appreciate the discount.
Austin Air Purifier Details
Price range: $415-$845 (before discount)
Austin Air has quite a few air purifiers. I will highlight the features and the most popular options. Additional details and a full product list can be found on my website.
Austin Air sells junior size models that are for smaller living spaces as well. Many of the products listed below are available in both standard and junior sizes.
HealthMate Plus*: Designed to effectively remove chemicals, gases, VOCs, and formaldehyde. Designed specifically for people with asthma.
HealthMate: Protects against everyday indoor air pollutants. Their original unit.
The Bedroom Machine*: Their most comprehensive unit. Designed to help people with sleep-related problems. This is a combination of the HealthMate and the Allergy Machine. Not available in a junior-sized unit.
The Allergy Machine*: Provides maximum protection for people with asthma and mold problems.
The Pet Machine: Designed to filter unwanted pet odors, ammonia, and dander.

*Natural Baby Mama's Austin Air picks. All Austin Air machines are great, these are just my top picks.
Differences Between IQAir and Austin Air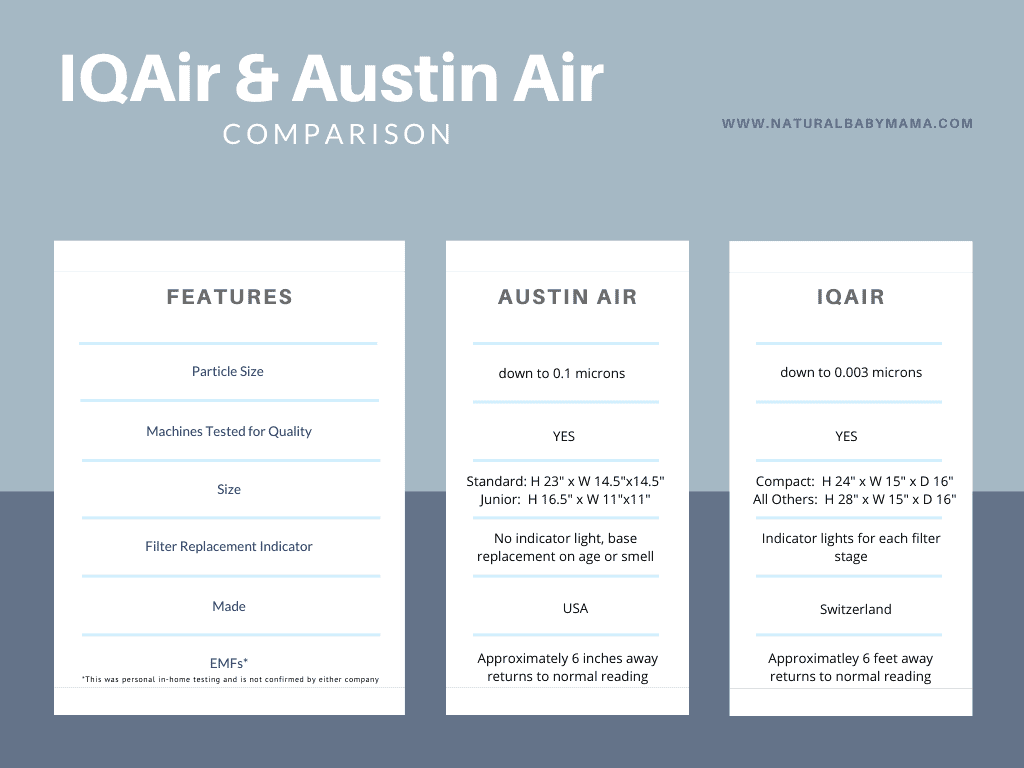 Are Air Purifiers Worth It?
You filter your water, then why not your air? The air we breathe affects our families as much if not more than the water we drink. With Austin Air and IQAir, you don't have to worry about the poor quality of overseas manufacturing. You won't have to wonder if your filter is working. Both of these filters meet strict government requirements for medical use.

An air purifier is an investment in your health, both physical and psychological. I feel better knowing my entire family breathes the healthiest indoor air possible.

Both of these units pay for themselves as an investment into your family's healthy future.

If you're on a budget, IQAir offers a payment plan of nine monthly installments. In addition, the Austin Air Junior units are a more affordable option.

After loving the clean indoor air in my home, I reached out to these companies for a discount that makes their purifiers more accessible.

Both companies make high-quality air purifiers, and you can feel confident in your decision with either company!
Get your IQAir and Austin Air discount codes below!
Sources

Chen, Yulong. "Air Pollution and Academic Performance: Evidence from China." Iowa State University. 2018 November.
"An Update On Formaldehyde." U.S. Consumer Product Safety Commission.
"Indoor Air Pollutants and Toxic Materials." Centers for Disease Control. www.cdc.gov
"Residential Air Cleaners, A Technical Summary." United State Environmental Protection Agency. Page 20.
"The Inside Story: A Guide to Indoor Air Quality." United State Environmental Protection Agency. www.epa.gov
Pin it for later!