Melamine tableware was introduced in the 1950s and '60s and quickly became all the rage. When Corningware/Corelle appeared in the early '70s, though, melamine became pretty passe, at least until the last decade or so. Now, melamine is hot again, in part thanks to all the fun colors, patterns, and shapes available for picnicware and dishware for babies and kids. But what is melamine, and is melamine safe?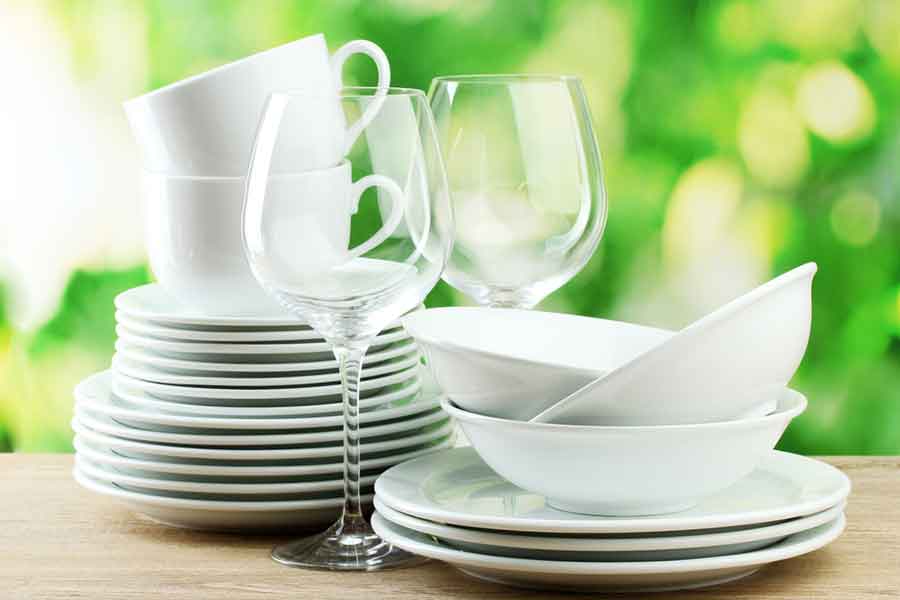 These are questions I asked myself when my kids were little, and chances are you're wondering the same things, especially if you're about to start your baby on solid foods or are looking for fun summer picnicware.
Let's start with the question of what melamine actually is and where you might find melamine in household products.
This post may contain affiliate links. Please see my full disclosure policy for details.
What is Melamine?
Melamine is a nitrogen-based compound that is used in the manufacture of:
Dishware
Utensils
Countertops
Dry-erase boards
Paper and card products
Adhesives
Industrial coatings
Fertilizer (although it's not approved for use as a fertilizer in the US).
Melamine is used in a wide range of dishware, including cups, plates, bowls, and utensils, because it makes these very durable and crack-proof. In addition, it is super cheap to produce and makes products dishwasher safe.
You will often find that dishwasher-safe 'bamboo' dishware, for instance, is made with melamine. Similarly, many baby items are made with melamine to minimize breakages when these inevitable get thrown on the floor.
These products are made with melamine resin, a moldable substance created by combining melamine with formaldehyde. Formaldehyde is a known carcinogen and not something we want around our kids (or ourselves).
Melamine itself was to blame for tainted baby formula that killed at least six babies in China in 2008 and for the deaths of thousands of pets in 2007 after melamine was used as a food additive.
The FDA has approved melamine for use in the packaging of food products in the US, but it cannot be used directly in human food or animal feeds. This is because there are known health concerns with melamine.
Melamine Health Concerns: Is Melamine Safe?
As I just mentioned, there was a big melamine scare back in 2007 and 2008 when pet food and infant formula from China was found to contain melamine. Melamine was illegally added to formula to artificially increase the protein content, resulting in the deaths of several infants and sickness in many more.
Similarly, pet food made in China but distributed in North America led to the deaths of thousands of pets. A staggering 60 million dog food products were recalled as a result of this 'contamination.'
Given these horrors, why is melamine still being used to make products? The short answer is that there's a big difference between deliberately using melamine as an ingredient in foods and using it as a substance to make food packaging, dishware, and other items that aren't ingested.
The official line, from the FDA and others, is that melamine is safe when used appropriately as dishware and in other approved purposes.
This is because high heat is used to mold melamine products, with most of the melamine used up in the process. Only a small amount remains in the products themselves. While this can be released if melamine is subjected to high heat and acidity, the risk of toxic exposure is considered very low.
That said, because infants are more susceptible to melamine poisoning, it's best to avoid using these products to serve formula. The FDA also adds the great big caveat that melamine shouldn't be used to heat food, especially acidic food. Which means you definitely don't want to microwave with melamine.
What Are the Risks of Melamine Exposure, and What Symptoms Should You Watch Out For?
Thankfully, acute melamine poisoning is extremely rare. It can, however, lead to kidney stones and kidney failure, as well as death. Melamine poisoning can lead to symptoms and signs including:
High blood pressure
Urgent need to urinate
Little urine production, or no urine production
Blood in urine
Pain in the flank and/or lower back
Irritability.
If you experience any of these or observe them in your child or other loved one, seek immediate medical attention.
As I said, though, acute melamine poisoning is rare, and we don't fully know what effects chronic melamine exposure can have on the body.
Chronic Melamine Exposure
Chronic exposure to low levels of melamine has been linked to an increased risk of kidney stones in children and adults, especially when melamine is ingested alongside cyanuric acid. Stones can form with high melamine exposure even without cyanuric acid in infants, though, because infants have higher levels of uric acid excretion.
Unfortunately, clinical signs and symptoms of melamine poisoning are nonspecific in infants, and kidney stones aren't easy to see on ultrasounds, which can delay diagnosis.
As if this wasn't worrying enough, melamine appears to be toxic to the reproductive system too. Specifically, melamine exposure has been linked to damage in the ovaries and follicles.
This appears to be connected to reduced antioxidant capacity in the body, meaning fewer antioxidant enzymes to protect the ovaries from melamine-induced oxidative stress – kind of a double whammy!
More recently, researchers have started to look at the possible neurological effects of melamine exposure. In one study using rats, scientists found that chronic melamine exposure was linked to spatial learning defects, likely due to changes in levels of acetylcholine, a key neurotransmitter. Essentially, melamine seems to stop the different parts of the brain from being able to communicate with each other.
In another study, daily melamine exposure was compared in 683 children with kidney stones and 6,498 without the condition. In general, the greater and more prolonged the daily melamine exposure, the higher the risk of kidney stones. Premies were also at higher risk, as were infants with urinary malformations and those whose parents had a history of kidney stones.
The thing I find most interesting from this study, though, and most troubling, is that even children exposed to melamine levels of less than 0.2 mg/kg of body weight per day had 1.7 times the risk of kidney stones compared to infants with no exposure at all. What that suggests, as noted by the authors, is that "the risk of melamine-induced nephrolithiasis in young children starts at a lower intake level than the levels recommended by the World Health Organization."
Is There a Safe Level of Melamine?
So, is there a safe level of melamine exposure? Maybe, but it's really hard to quantify as we're talking about tiny amounts here. It's also tricky because different products can leach different amounts of melamine, and how you use those products also affect melamine leaching.
One often-cited study, published in 2013 in JAMA Internal Medicine, looked at a small sample of people, six of whom ate hot noodle soup from melamine bowls for breakfast and six who ate the same soup out of ceramic bowls. The researchers measured urinary melamine excretion every two hours for 12 hours after soup consumption and found higher melamine levels in those using the melamine bowls versus the ceramic. Levels peaked at 4-6 hours after eating the soup, and to make sure the melamine wasn't already in the participants' systems, they tested levels before soup consumption too.
All of this leads to the question, are melamine plates safe?
Are Melamine Plates Safe?
The FDA has said that plastic tableware, including melamine plates and tableware, is safe. But what we see from research carried out more recently than the FDA ruling is that there's a chance no amount of melamine exposure is safe, especially for vulnerable infants and children.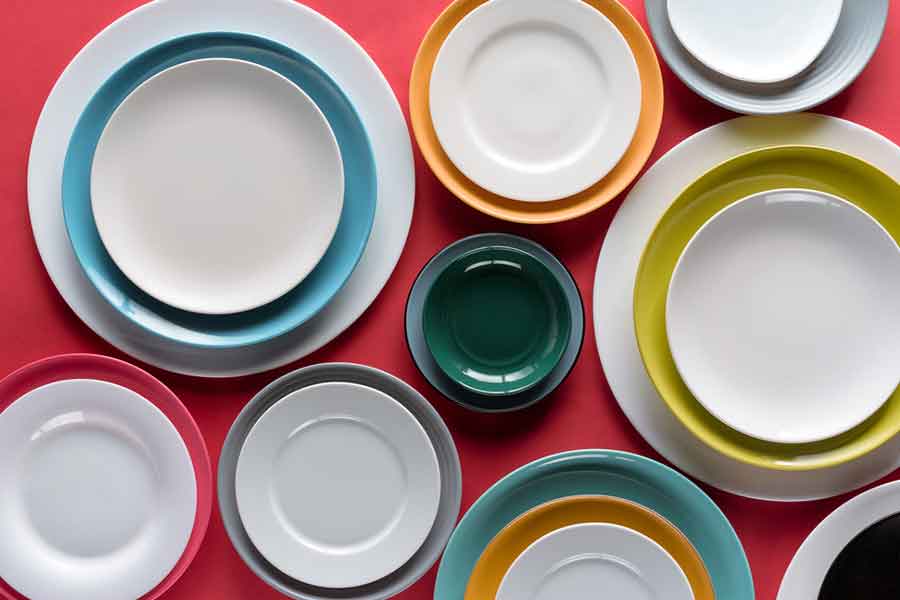 The FDA's tolerable daily intake (TDI) for melamine is set at 0.063 milligrams per kilogram of body weight per day. This is based on the idea of a worst-case scenario where if half of a person's daily diet is contaminated with melamine at a level of 2.5 parts per million it would still result in exposure that is 10 times less than the TDI.
That means that the FDA considers any exposure to melamine below 2.5 ppm not to present a health concern aside from in infant formula.
The trouble is that it's very hard to tell how much exposure you and your family might be getting from melamine dishware.
For instance, the Taiwan Consumer Foundation found that tableware manufactured with melamine-formaldehyde resin contained melamine at a level of 20,000 parts per billion. This doesn't mean that all of that melamine leaches into every meal, however. In fact, in most migration tests, very little melamine leaches into food, with some exceptions.
In one study, melamine tableware was filled with either distilled water or 3% acetic acid at a range of temperatures. The scientists tested melamine migration levels and found high levels from all samples exposed at a temperature of 90 Celsius for 30 minutes. Levels ranged from 6.97 to 19.03 micrograms per mL. Cheaper melamine tableware had higher levels of melamine migration.
Another study, this time initiated by the Ministry of Health, Malaysia, looked at 41 types of melamine ware available in the country. Samples were again treated with distilled water or 3% acetic acid under several temperature conditions for 30 minutes. And again, melamine migration was found from all samples. For the water test, at 25 C, 70 C, and 100 C respectively, levels were 22.2, 49.3, and 84.9 nanograms per mL; for the acidic solution, migration was 31.5, 81.5, and 122 ng/mL at the same temperatures. These numbers are still well below the limit of 30,000 ng/mL set out by the European Commission Directive 2002/72/EC.
Finally, another investigation found that increasing exposure time from 30 minutes to 90 minutes significantly increased melamine migration. The same study noted that older tableware increased melamine migration in 41% of cases, as did 'non-standard' tableware.
This research suggests that, yes, melamine does migrate from tableware into food, but that the levels are generally quite low and well below any known safety threshold.
The FDA notes that "When adjusted for actual-use conditions (cold orange juice held in the tableware for about 15 minutes), the migration would be less than 10 parts of melamine per billion parts of juice."
How to Minimize Your Risk From Melamine
If you already have melamine tableware, there's no need to throw these out immediately. After all, that's not great for the environment because melamine isn't recyclable! Consider repurposing melamine items as plant pot holders or storage for parts and pieces in your garage.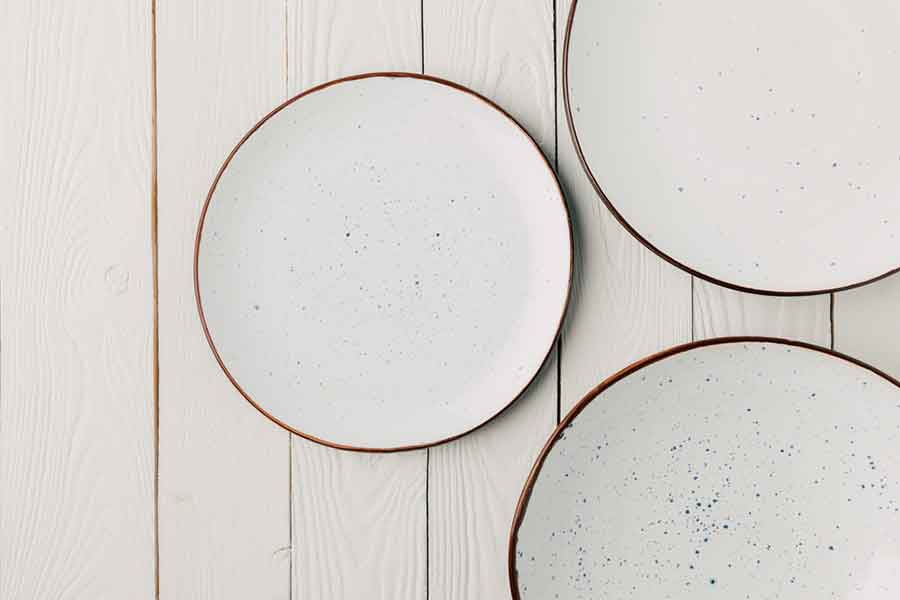 If you do decide to use melamine as tableware, here are some tips to minimize your risk from melamine:
Never heat food or drinks in melamine tableware – use ceramic or glass and then transfer once the food is cooled slightly.
Avoid using melamine tableware for very young infants and children.
Avoid prolonged contact between highly acidic foods and melamine tableware, and don't heat these foods (i.e., avoid serving hot tomato soup or pasta sauce in these bowls).
Serve cold or room temperature drinks, dips, and other foods using melamine.
Continue using melamine trays to carry other serving bowls, plates, and glassware.
Using tableware at room temperature and avoiding using it for excessively hot foods or for reheating food or drink helps minimize exposure, as does avoiding old melamine tableware.
To simplify, giving your toddler some water in a melamine cup is highly unlikely to expose them to a harmful level of melamine, nor is serving them juice in the same cup. However, this isn't something I would personally do regularly.
Just don't reheat soup or other foodstuffs in a melamine bowl. Although manufacturers might state that melamine can be used in a microwave, melamine is not microwave safe in the sense that heating it in this way can drastically increase melamine migration into food.
Melamine tableware is convenient, durable, inexpensive, and generally regarded as safe for use. However, we can see that toxins are used and studies show that those toxins do migrate to us when using melamine.
Due to the toxins in manufacturing, I would not consider melamine dishes non-toxic. In addition, there are other durable, truly non-toxic tableware options.
What to Use Instead of Melamine
There are many options for tableware made without melamine. Stainless steel plates and cups are a good choice for little ones as these are also durable and difficult to crack (don't use them in the microwave!).
Wood or bamboo bowls and plates are another good option. Look for solid wood, and avoid products that use glue. If you are interested in bamboo, be sure to check these haven't been formed with melamine. These are not microwave or dishwasher safe as it will damage them.
Silicone tableware is easy to care for, not breakable, and great for the outdoors. You want to look for cadmium-free silicone. Kiddiebites makes heavy metal-free kid's silicone plates. Silicone is not safe for the microwave, but you can serve hot foods safely on silicone.
Glass is also an excellent tableware choice for older children and adults, especially as these can be used to store, reheat, and serve food, saving you time and effort. Tempered glass is also an option for some younger children as these items are harder to break. Look at Anchor Hocking, Duralex, or Corelle which are all lead-free and non-toxic. Corelle is also very durable!
Final Thoughts: Is Melamine Safe
It's common to wonder if melamine is safe, especially if you're starting your baby on solid foods or are planning a family picnic. Many people see it as having many advantages.
And according to the FDA melamine isn't going to pose a problem. However, you can see there are health links and concerns to melamine.
Since humans have lived many thousands of years without melamine tableware, and many good alternatives are also lightweight, durable, attractive, and non-toxic, I see no reason to buy melamine.
To make things easier for you, I have added a range of safe, non-toxic products to my Amazon Storefront for vetted kitchen and home items.
Pin it for later!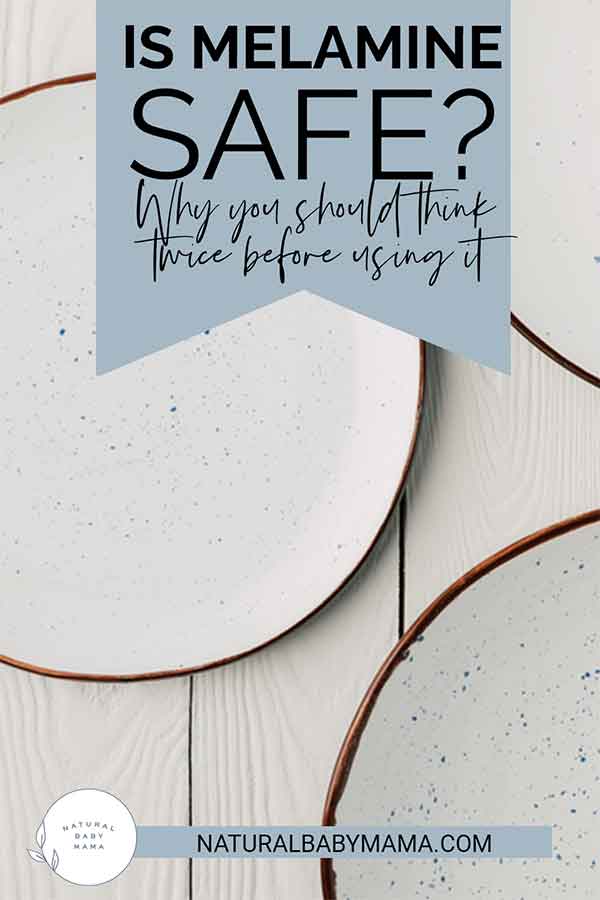 Other Posts Related to Melamine Plates