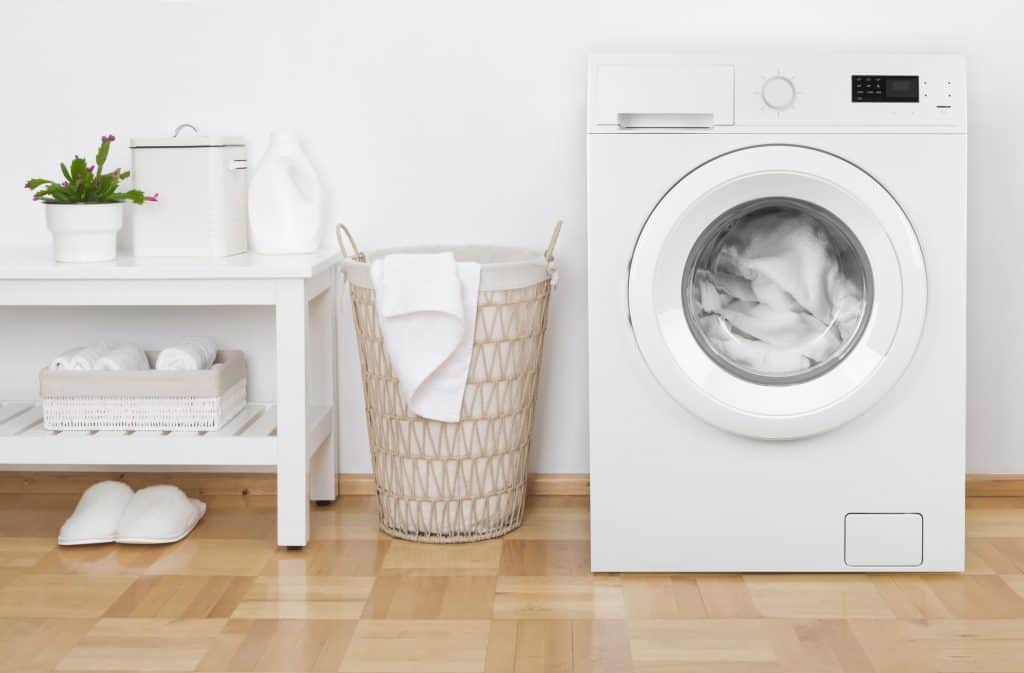 When you think of clean laundry, does the smell of fresh bedsheets or bright whites come to mind? The just washed feeling comes at a price. Using toxic laundry soaps, detergents, and powders instead of eco-friendly cleaning options hurts your health and the environment. In this guide, you'll find the best non-toxic laundry detergents that work just as well as your favorite brands.
This post may contain affiliate links. Please see my full disclosure policy for details.
Your skin is your largest organ—weighing at between 7 and 20 pounds—it's also the biggest absorber of chemicals and toxins from the environment, skin-care, and cleaning products.
Conventional laundry detergents don't necessarily clean better than natural alternatives, this is an easy switch to make. Unfortunately, many are misled by claims of eco-friendly laundry detergents that aren't natural and contain toxins and ingredients that can irritate your family's skin.
I'm on a mission to find the best laundry detergent for my family and yours.
In this guide, I break down why common detergent brands like Tide are dangerous and why not every natural brand is safe (hello greenwashing). You'll learn what to look for, and what to avoid, on your next shopping trip.
You can check out the best non-toxic laundry detergent and essentials on my Amazon Storefront. I recommend you continue reading first so that you are fully informed about your buying decisions!
Why Switch to Non-Toxic Laundry Detergent?
There are no regulations to guarantee the safety of household cleaners, including laundry detergent. Laundry detergent doesn't fall under home products meant for ingestion, so manufacturers hide information and chemicals in labels.
The United States Federal Drug Administration's FD&C law requires the disclosure of ingredients in cosmetics, food, and drugs, but not cleaning supplies. So why not cleaning products?
One organization found undisclosed hormone-disruptive fragrances and reproductive toxins in all-purpose cleaners, laundry detergents, and Clorox bleach. Manufacturers don't have to disclose these chemicals on product labels, says the non-profit organization Women's Voice For the Earth.
What goes in and on your family is essential to a healthy life. Using non-toxic laundry detergent is an easy switch that makes a big difference in your overall exposure to chemicals and irritants.
Toxins in Laundry Detergent
Conventional laundry soaps, detergents, and powders have toxic chemicals and whitening agents that disrupt hormones, cause skin irritation, and links to cancer. When you use conventional laundry brands, toxins from the detergent are left on your clothing which your skin then absorbs.
Even online, most companies provide vague or incomplete information, listing broad chemical or functional groups instead of individual ingredients. Many others keep customers completely in the dark.

—Environmental Working Group
Below are the most common chemicals in laundry detergents and products. This list is an overview of the widespread use of toxins in laundry detergents, even those marketed as eco-friendly.
1,4-dioxane
A possible human carcinogen. This chemical causes tumors in rats. It's a byproduct of the manufacturing process and not listed on product labels.
Found in: Tide Liquid Laundry Detergent, Tide Free & Gentle Liquid Laundry Detergent, Dreft Baby Laundry Detergent.
Quaternium-15
Formaldehyde releasers like Quaternium-15 are known to cause skin irritation, allergies, and impact the immune system.
Found in: Arm & Hammer Plus Oxiclean Detergent, Xtra Detergent
Sulfates
Sulfates are toxic to aquatic life and irritating to the skin, but the US uses them widely in cleaning products and cosmetics.
The plant-based coconut sulfate, SCS, is marketed as an eco-friendly alternative to SLS, but SCS is made of SLS. Instead of deriving lauryl alcohol from synthetic sources, SCS uses coconuts.
In either case, 1,4-dioxane is a byproduct of SLS production, making it even more toxic and raising questions about its safety for both eco-friendly and conventional laundry detergents.
Found in: ECOS Laundry Detergent, Honest Laundry Detergent, Earthy Laundry Detergent
Preservatives
European agencies declared there are no safe levels of the preservative methylisothiazolinone, but both common and natural brands use it. Studies find preservatives like MIT toxic in-utero and highly allergic to humans.
Found in: The Honest Co. Laundry Detergent, ECOS Laundry Detergent, Mrs. Meyer's Laundry Detergent, and most common brands
Phthalates
Phthalates are a group of chemicals hiding in children's toys, cleaning products, and more. Phthalates in laundry detergent are common. They're especially dangerous to pregnant women, affecting neurological and hormonal development.
Found in: Most laundry detergents using synthetic fragrances as diethyl phthalate
Toxic Fragrances
Allergies to fragrances are common. Personally, I can't stand the smell of synthetic fragrance after switching to non-toxic laundry soap. Studies link fragrance ingredients to a host of skin issues, headaches, and even asthma.
Found in: Seventh Generation, Gain, Kirkland Signature Laundry Detergents and more
Clean Fragrance, Dirty Air Pollution
The impact of good smelling laundry detergent is far-reaching, both inside your body and home. In addition, allergies to fragrance products occur all the time. It's common for my readers to share stories of their or their children's contact allergies, even with natural detergents.
Allergens like linalool and limonene make laundry detergent smell good but compromise the immune system. Even detergents labeled as free and clear and fragrance-free may contain allergens.
When Women's Voices for the Earth tested laundry detergent, they found chemicals in brands like Tide Free & Gentle Liquid Laundry Detergent and Bounce Free & Sensitive Dryer Sheets.
Choosing fragrance-free and vetted eco-friendly laundry detergents is the best way to avoid toxins and skin reactions.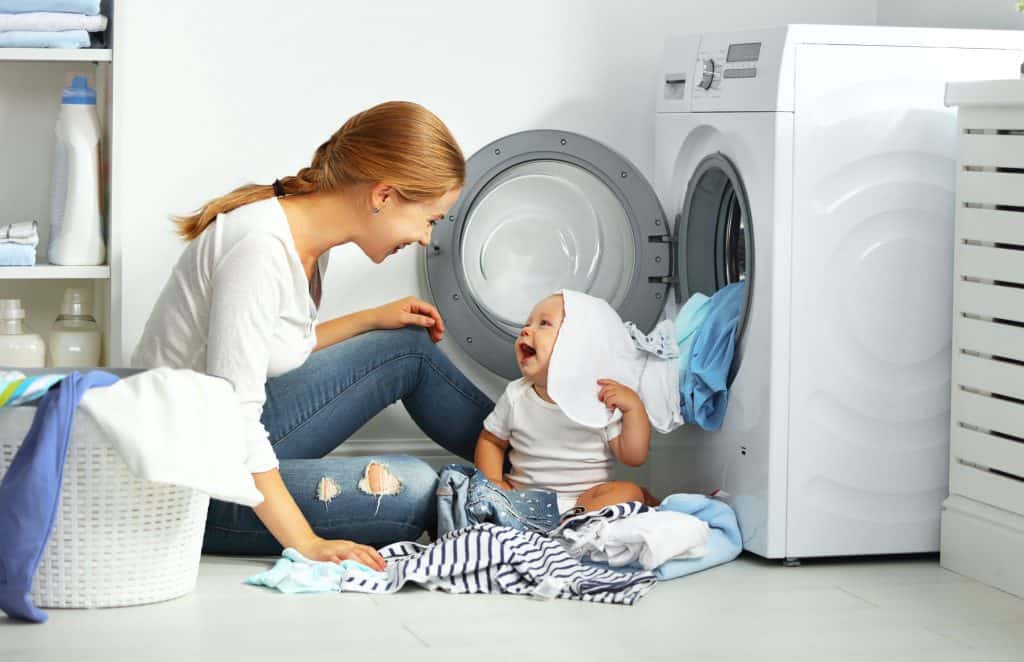 Indoor Air Pollution
Not only is exposure to chemicals in clothing constant, but laundry detergent fragrances contaminate indoor air. A University of Washington study found more than 25 VOCs, or Volatile Organic Compounds, coming from dryer vents. Some health concerns caused by VOCs include:
Headaches
Nausea
Skin, nose, and throat irritation
Lungs, kidney, and nervous system damage
Tip to increase your indoor air quality: Open your windows frequently, and look at my guide to indoor air quality and purifiers for ways to protect your family against VOCs.
Eco-Friendly Laundry Detergent: What to Look For
If free and clear detergents contain chemicals and allergens, how do you know what to look for? The first step is to look for smaller brands focused on healthy living and quality ingredients. The laundry detergents and essentials on this list meet all or most of these criteria:
No toxic chemicals, fragrances, or allergens
Hypoallergenic
USDA Organic
Biodegradable or compostable
Fragrance from essential oils, if any
EWG Laundry Detergent Ratings
To compile this list of non-toxic laundry detergents, I researched each company and ingredient as well as the Environmental Working Group guidance. The EWG is a non-profit organization that provides hazard ratings on product ingredients from 1-10. They rate products from A-F based on their ingredient disclosure and certifications.
Since companies don't always disclose their ingredients, the EWG uses staff scientists and researchers to complete safety data based on material safety data sheets, product labels, and disclosure documents.
I've also researched every ingredient for you to choose a non-toxic laundry detergent that is cost-efficient and EWG safe.
Greenwashing Laundry Brands: What to Avoid
Natural is not a claim regulated by the US Federal Drug Administration. Many brands take advantage of buzzwords like plant-based, eco-friendly, and all-natural while using toxic chemicals. This is greenwashing.
Some of these formulas are a mix of natural ingredients but use sulfates, like ECOS, while others use dangerous toxins in their entire recipe.
Watch out for these products:
Dreft Baby Detergent: EWG F
Kirkland Laundry Detergent, Free & Clear: EWG F
Tide Free and Gentle: EWG F
Babyganics Detergent, Fragrance-Free: EWG F
Whole Foods 365 Everyday Value Liquid Detergent: EWG F
Arm & Hammer, Free of Perfumes and Dyes: EWG D
Seventh Generation Detergent, Baby, Free & Clear, Scented: EWG C
Mrs. Meyer Clean Day Scented Detergent: EWG C-D
Honest Co. Detergent: EWG C
Simple Truth Laundry Detergent: No EWG ranking but ingredients like SLS and Preservatives
Note: Some of these brands might sell other products that are 100% safe for your family. That's why I research every single product for you before it's Natural Baby Mama approved.
The Best 8 Non-Toxic Laundry Detergents
I looked through the greenwashing, confusing ingredients, and false labels. Here are the best non-toxic and eco-friendly laundry detergents for your family and the earth.
The first 5 recommendations are the cleanest laundry detergents and what I use in my home. The next 3 still make my best list but I have information for you to consider, in each of those recommendations, to determine if it is right for your home.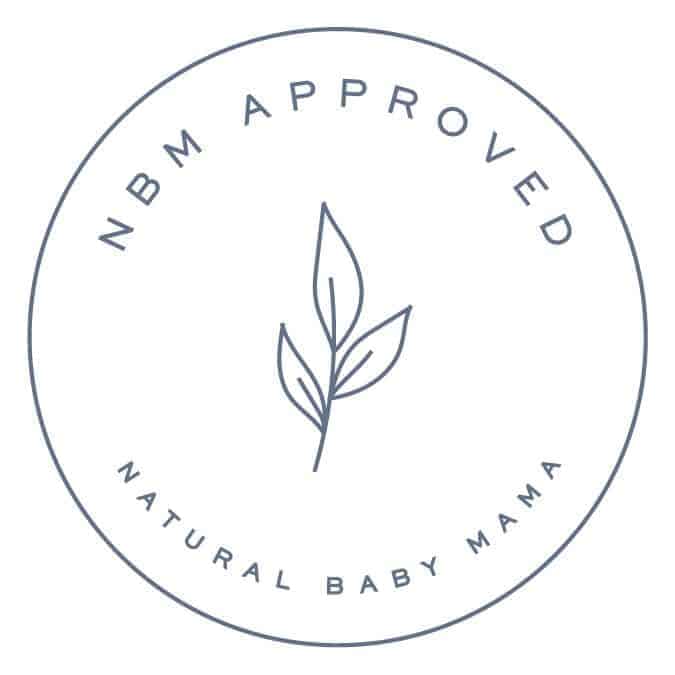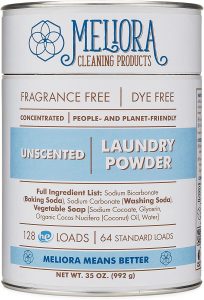 Meliora laundry powder is non-toxic and eco-friendly. There are zero toxic ingredients, and it comes in a large reusable and recyclable tin-plated steel tub or cardboard canister. Refill options come in paper bags for a low waste option.
NBM approved for:
EWG Rating: A
3 ingredients: baking soda, washing soda, and vegetable soap
Buy without a plastic scoop for a 100% plastic-free option
Organic, essential oil fragrances or unscented
Family-owned, made in Chicago, Illinois
Certified B Corp, Leaping Bunny Cruelty-Free, and MADE SAFE Certified
Buy Meliora on Amazon, MightyNest, or directly at Meliora.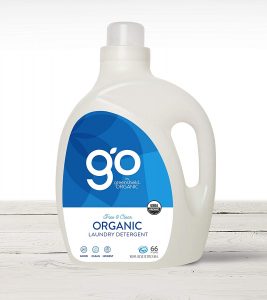 Go by Green Shield (formerly known as Green Shield Organic Laundry Detergent) uses liquid soapberries, aloe vera, and oils to clean residue and remove stains. It's the easiest replacement for your conventional laundry detergent.
NBM Approved for:
EWG Rating: A
USDA Organic with no GMO oils.
Fragrance, dye, and chemical-free.
Easily available—at Walmart stores and online.
Buy Go by Green Shield Laundry Detergent on Amazon or Walmart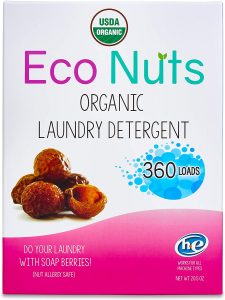 Made with one ingredient—soapberry nuts! Since it is 100% non-toxic, it doesn't appear in the EWG database, but EWG mentions it's an excellent alternative to conventional detergent. Eco nuts release saponin, a natural cleaning agent, to clean your clothes without any chemicals or fragrances.
To use you put the Eco Nuts in the cotton bag provided in your laundry. You can reuse the Eco Nuts for multiple washes. You simply throw the used Eco Nuts away and add more to your cotton bag when needed.
NBM Approved For:
One ingredient: soap nuts
2-in-1 laundry detergent and laundry softener
USDA Organic, biodegradable, and compostable
Cost-effective and reusable: Use one soap nut up to 10 times.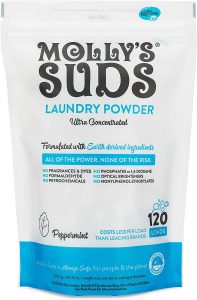 Add one tablespoon of earth-friendly and non-toxic Molly Suds laundry powder or use it for pre-treating stains. We love Molly's as a cost-friendly and concentrated alternative to detergents.
NBM Approved for:
EWG Rating: A for 5 simple ingredients
Formulate for hard water
Perfect for sensitive fabrics like wool and cloth diapers
Sourcing baking soda from Wyoming, USA
Uses Epsom salts to remove fibers and gunk from the washing machine
Certified Vegan and Leaping Bunny Cruelty-Free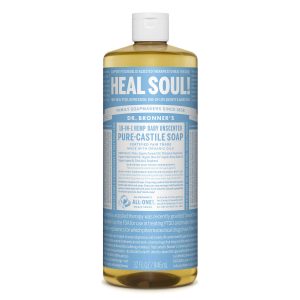 Dr. Bronner's is a multi-use concentrated soap with organic essential oils. My family uses this product for the laundry and cleaning.
NBM Approved for:
EWG Rating: A
Multiuse: replace your cleaning and body products with one
Cost-effective diluted formula: one bottle lasts forever!
Earth-friendly. Dr.Bronner's partners with farms to encourage organic farming
USDA Organic, Certified Vegan, Leaping Bunny Cruelty-Free, Non-GMO Project Verified
Buy Dr. Bronner's All in One Liquid Soap
The Next Best Non-Toxic Laundry Detergents
The top 5 non-toxic laundry detergents are above. These are all 100% safe and toxin free. These next 3 are all good options but do use one one of the questionable ingredients in small quantities. They still make my best list but not in the top 5 cleanest options.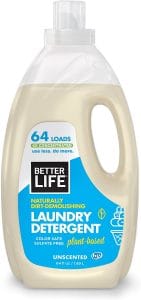 Better life uses an enzyme blend of amino acids to remove tough stains. They use more cleaning agents than the brands above but are still a solid option, especially if you're first making the switch to natural products.
NBM Approved for:
EWG Rating: A
Citrus oils for scent
Biodegradable: ingredients break down
If you want a detergent with surfactants
Available in a one-gallon refill bottle
Buy Better Life Laundry Detergent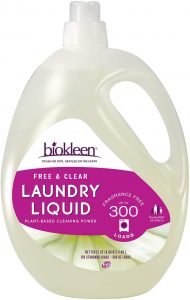 BioKleen has a simple main ingredients list but uses sulfates in small quantities as foaming agents to clean your clothes. Many of my readers love and use BioKleen. While it's not as non-toxic as other options, it's a good alternative.
NBM Approved For:
EWG: A
Transparent ingredients
No phosphate or chlorine
If you want a detergent with surfactants
Buy BioKleen Laundry Detergent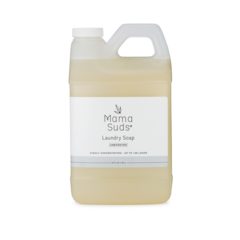 Mama Suds was created by a mom looking for the safest option to clean cloth diapers. This Laundry is great for clothes diapers and general clothes. Mama Suds Cleaning Soap is made with or without Borax. She recommends the borax version for those with well-water and claims the borax completely washes out of her formula.
EWG ranks this poorly for the use of borax. Some people are fine with borax in situations where it is not making direct skin contact and some are not. Those on city water have had good experiences with the borax free compared to those that are not.
NBM Approved For:
Non-borax options available upon request
Transparent Company and Ingredients
SLS, Dye-free
Fat-free soap won't leave residue in your washing machine
What if the Brand I Use Was Not Mentioned?
Some products are left off the list for containing chemicals of concern linked to 1,4-dioxane or other questionable toxins, sulfates, or fragrances. Their main ingredients are safe, but I still wouldn't consider these options for your family:
Charlie's Soap
Ecover Zero Laundry Liquid
Ecos Laundry Detergent
Honest Co Pods and Detergent
Grab Green Laundry Pods and Powders
Non-Toxic Dryer Sheet Alternatives
Dryer sheets are filled with toxins and synthetic fragrance. If you are switching out your conventional laundry detergent you also want to stop using dryer sheets. I've personally never been a dryer sheet person but for those that are:
Use wool dryer balls as a replacement
If you miss having a fragrance, use a small amount of organic essential oil on the wool dryer balls. I love that Plant Therapy has a kid-safe life, their USDA organic kid-safe Germ Destroyer can be used in cleaning products. If you want a soothing scent their organic, kid-safe Lavender is always nice for laundry.
Add vinegar to the fabric softener section on your washing machine
I promise your body will thank you for ditching the dryer sheet and you won't miss them!
Non-Toxic Living Tip: toxins accumulate in your dryer lint. Wash your hands after cleaning out your dryer lint.
Final Thoughts
I hope you feel empowered to make the switch to non-toxic laundry detergent. It's one of the easiest things you can do for a healthy home.
A simple change in purchasing habits will reduce your exposure to toxins immediately.
Check out most of these laundry recommendations as well as many other non-toxic product recommendations in my Amazon Storefront.
Whether you are beginning your journey into non-toxic products or have been at it for years, subscribe to my newsletter to stay up-to-date on non-toxic product guides for your family.
Is there a brand you'd like me to add to this list? Drop a comment below for me to consider more Natural Baby Mama approved products.
Pin it for later!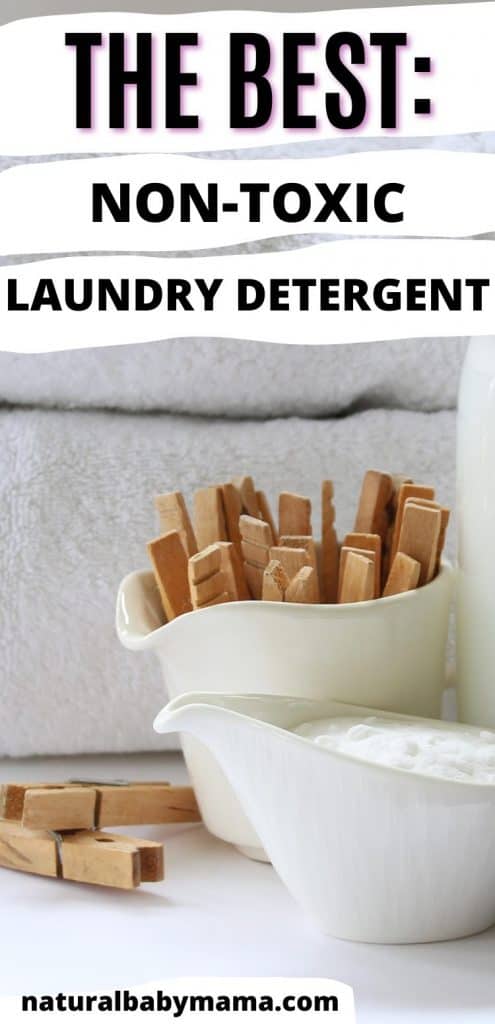 Sources
1. "How Does Skin Work?" NCBI. 28 September 2009. ncbi.nlm.nih.gov
2. Scranton, Alexandra. "What's Hiding in Your Cleaning Products?" Women's Voices For the Earth. November 2011. womensvoices.org
3."1,4-Dioxane." EPA. epa.gov
4. "About EWG's Guide to Healthy Cleaning." EWG. ewg.org
5. "Indoor Air Quality: Volatile Organic Compounds (VOCs)." Healthlink BC. healthlinkbc.ca
6. Hickey, Hannah. "Scented laundry products emit hazardous chemicals through dryer vents." University of Washington. 24 August 2011. washington.edu
7. "Cleaning Supplies: Secret Ingredients, Hidden Hazards." EWG. ewg.org
8. "Sodium Lauryl Sulfate." USDA. ams.usda.gov