I have a lot of people ask me if it is worth it to buy organic cotton clothes. What about used clothing that isn't organic? Then there is hemp, bamboo, soy, and wool. There are so many options it can get confusing. Then throw in there the types of dyes, and other toxic chemicals, that are used that potentially can make your organic clothing toxic and it gets really confusing. So let's dig in and see if organic clothing is worth buying!
I've been doing a lot of research on this, talking to fabric manufacturers, emailing with companies, and reading up on everything from fibers to processing to manufacturing.
I've dug deep on certifications of raw cotton, fabrics, and final pieces that clothing can have. Unfortunately, I now know more than I wish I did! I will never look at clothing the same.
First I'll go over the environmental and social aspects of each of the types of fabrics, then some information on dyes, then the certifications, and finally my opinion if buying organic is worth it.
The reason this is so important is that your skin is your largest organ. Everything you put on it gets absorbed into your bloodstream.
If you don't want to read all of this you can skip to the bottom for the link to the list of recommended clothing companies (but I do recommend reading this so you are an educated consumer!).
This post may contain affiliate links. Please see my full disclosure policy for details.
Clothing Fiber Types
Conventional Cotton (Non-Organic):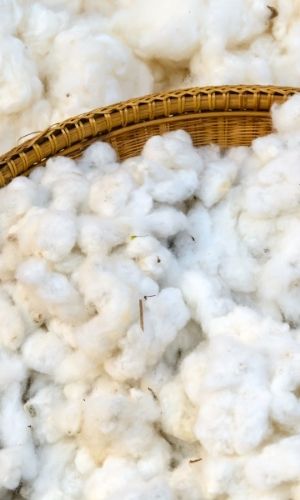 For every 1 pound of cotton produced, about 1/3 of a pound of chemical pesticides and fertilizers are used. Just to give you an idea of how much cotton that is, it takes just under 1 pound of raw cotton to make a t-shirt.
16% of the world's pesticides are used on cotton crops where only 2.5% of the world's land is cotton fields. Cotton is the most pesticide-intensive crop grown on the planet. $2.6 billion worth of pesticides are used on cotton worldwide each year. That is a huge percentage of toxic chemicals used to grow conventional cotton! Think of the overspray, which can travel up to 2 miles, that is in the air (that you breath) and getting on other crops (your food) just from cotton.
The Environmental Protection Agency considers 7 of the 15 pesticides used on conventional cotton as possible or known carcinogenic (cancer-causing) agents.
Cotton is considered the world's dirtiest crop due to its heavy use of insecticides, the most hazardous pesticide to human and animal health.
According to the World Health Organization, 20,000 people die every year from accidental pesticide positioning in conventional cotton agriculture, and 1,000,000 people a year suffer from long-term pesticide positioning (Pesticide Action Network).
100 million conventional cotton farmers, from Russia to South Africa, are living in conditions of abject poverty and near starvation. Conventional cotton subsidies (funded by American taxpayers) are causing poverty in the developing world as they lower the world price for cotton.
Cotton is an extremely water-intensive crop
Most conventional cotton being grown is now GMO cotton a whole other post could be written about GMOs!
Most cotton clothing is now being produced in China in sweatshops where women & children are being exploited and are working well below the minimum wage. How do you feel about your new shirt or pants when you think a child might have made it? Looking for clothes not made in China is a big challenge too. I've found several companies that I will share with you.
Sadly, the suicide rate for conventional cotton farmers is high (especially in India). Some say it is no higher than it always has been. Some say it is higher now that cotton farming is GMO. Either way, it is a sad situation.
Organic Cotton: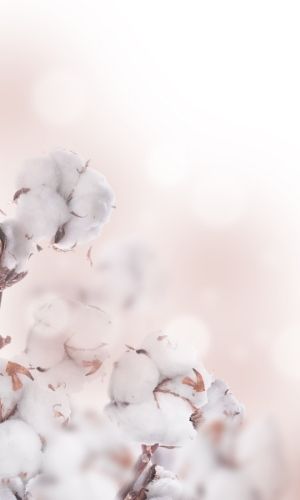 No pesticides, fertilizers, or other chemicals are used when growing organic cotton
To be certified organic the soil must be free from chemicals for at least 3 years
The land, and soil, benefits from crop rotation
Cotton is an extremely water-intensive crop
A lot of organic cotton is grown in other countries so it requires shipping to the US. However, there are several states in the US that grow organic cotton.
Look for the GOTS certification to make sure the clothing is organic and non-toxic from field to finish. You can buy organic cotton, that is not certified, that has been finished with toxic dyes or chemicals (I find this very sad but it is true).
Hemp: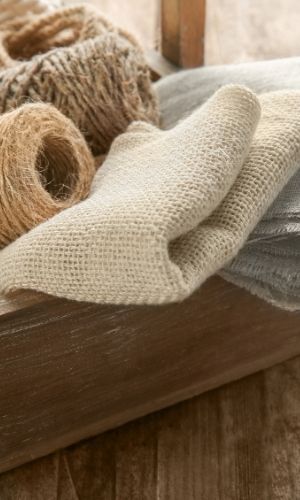 No pesticides, fertilizers or other chemicals are needed to grow hemp
The traditional way to get to the hemp fiber in Europe is to leave the stalks out in the fields and have the weather brake the stalks down. Then the farmers can harvest the hemp. In China, some of the farmers are now using chemicals to break down the hemp stalks to speed up the process of harvesting. This is very sad that such a great, natural fiber, is having chemicals added to it for no reason other than speeding up the harvesting time. Another reason to avoid things made in China!
Bamboo: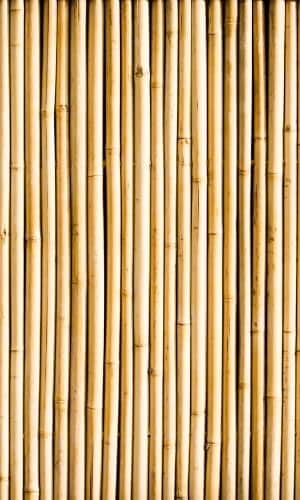 Is being touted as a "green" material. It is true that it is hearty, grows very easily, and can be cultivated quickly. From that standpoint, it is green.
Getting bamboo into a usable form can be a very chemically invasive process that uses harsh chemicals. Bamboo must go through several chemical processes to get into a usable form. The human exposure to toxins and damage to the environment surrounding the factories make bamboo not as green as everyone is saying it is.
Most all fabric and clothing that is bamboo, is bamboo rayon or bamboo cellulose, which is made using the chemically intensive process described above.
Bamboo linen is generally made without the use of chemicals but since it is such a labor-intensive process there is very little bamboo linen on the market.
Very little water is needed to grow Bamboo
Raw bamboo lets most UV rays through the clothing (unlike cotton) and there have been talks about adding chemicals to the clothing for UV protection.
Bamboo is very soft which makes it appealing for clothing.
Soy: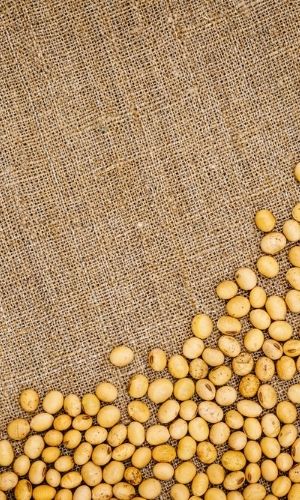 Soy is one of the largest GMO crops worldwide.
It requires a lot of water and pesticides to grow.
Soy is biodegradable and has minimal impact on the environment – non-GMO, organic soy that is!
Soy fiber is not as durable as cotton or hemp
Soy fiber is made from the byproduct of the soy industry (tofu, soybeans, etc) so it is not grown specifically for clothing. It's nice that it is a dual purpose.
The process to turn soy into clothing is a very chemically intensive process. The same chemicals are used repeatedly so at least chemicals aren't be dumped as often. However, those chemicals are still being applied to the clothing you will be wearing.
Wool: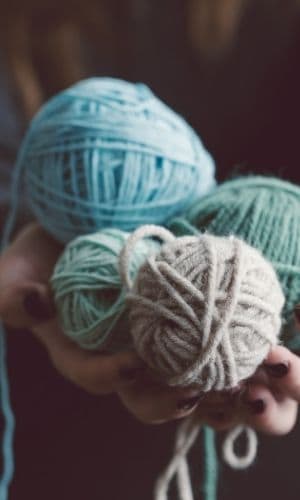 Wool is a great renewable fiber.
Wool keeps you warm in the cold months and cool in the warm months.
Wool is naturally flame resistant.
It tends to be both dust mite and mold resistant.
Wool is lightweight.
Lower quality wool can be itchy but most wool is not itchy at all.
Some people can be allergic to wool. In most cases, it is very rare for someone to be allergic to organic wool. Most people have a reaction to what the wool was treated with if it wasn't organic.
There can be inhumane practices associated with wool, like mulesing, in Merino wool. Mulesing is cutting out strips of skin near the sheep's rear to prevent pests, some places will kill a sheep for the wool and some sheep farmers pack in the sheep like you would see on a factory farm. If you Google mulesing just be prepared to see some grotesque and upsetting pictures. I would say that these practices aren't the norm, and if you look for certified wool you won't have to worry about contributing to inhumane practices.
Sheep can be sprayed with pesticides.
Organic wool and Zque certified wool do not allow inhumane practices (like the ones mentioned above) or pesticides to be used. Another reason to buy organic!
Synthetic fibers: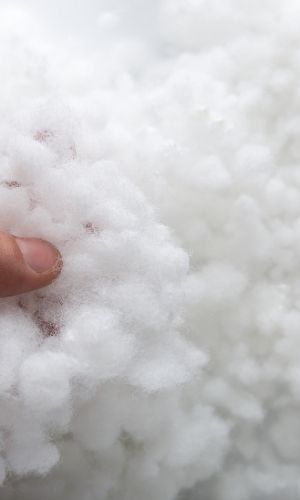 Synthetic fibers are a petroleum (i.e., oil) by-product. Synthetic fibers have been linked to many health issues, including cancer. Also, they release microplastics in your home (which you then breathe) and into the waterways polluting the earth. Avoid synthetics!
Common Chemicals, and Toxic Dyes, in Conventional Clothing:
Formaldehyde. This keeps clothing from becoming wrinkled during shipment and prevents mildew. It also increases stain resistance and is used for color fasting. It is a known carcinogen. The US does not regulate formaldehyde in clothing.
Nonylphenol ethoxylate (NPE). This chemical is very toxic and is banned from being used, except for some factories in China and Southeast Asia. This has hormone-disrupting properties and can be hazardous at low levels. 14 major brands in the USA have their clothing made in factories that use NPE. From what I could find, these companies had clothing that was tested to have NPEs – Calvin Klein, Abercrombie & Fitch, Adidas, Ralph Lauren, Nike, Puma, and H&M. Another reason to not buy clothing made in China!
Perfluorinated chemicals (PFCs). This makes clothes wrinkle-free or no iron. This is the same chemical used in Teflon and is known as a forever chemical (because it never breaks down). It is used a lot of times to make clothing water repellant, like outerwear. This chemical has been linked to cancer and kidney disease.
AZO dyes use heavy metals, including lead. They are extremely toxic and are still used in clothing made in China. The use of AZO dyes has been banned in the USA, but they are still imported.
There are many other chemicals in clothing, including phthalates, which are very toxic. Let's discuss ways to protect your family.
Clothing Certifications: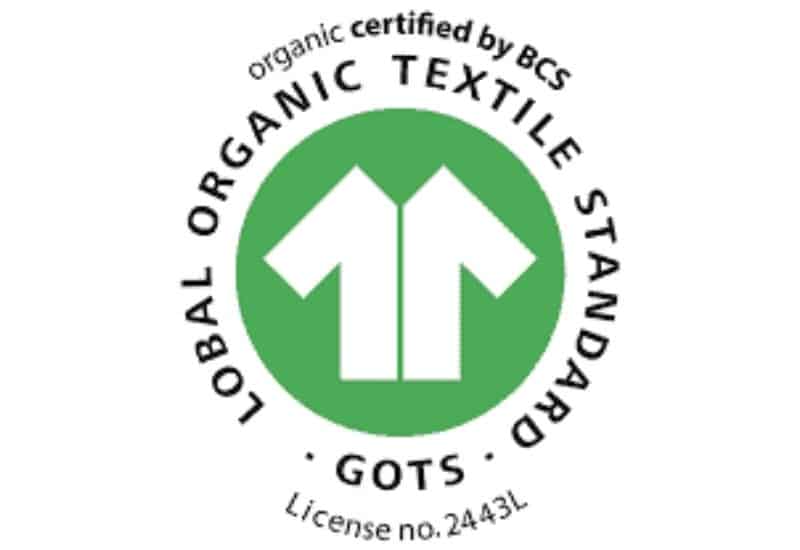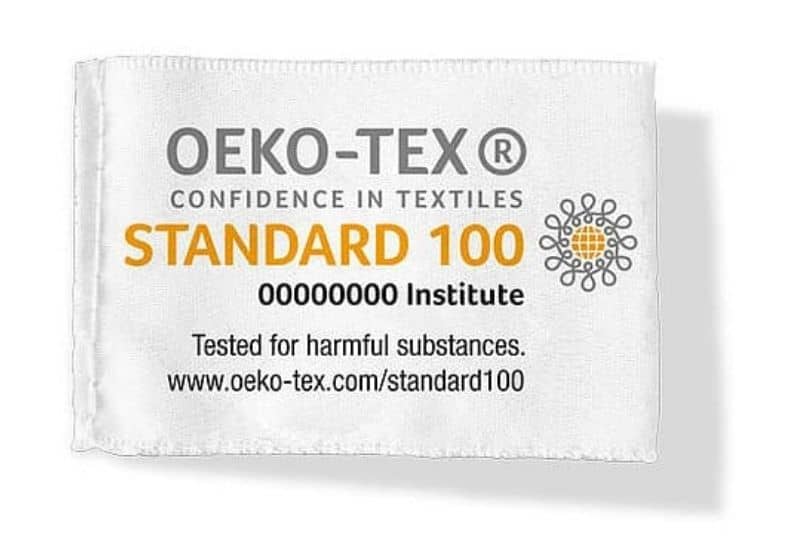 GOTS – Global Organic Textile Standard – is the leading certification for organic, non-toxic fibers and clothing. This certification is the most stringent certification for clothing. No flame retardants are allowed, no AZO dyes using heavy metals, no formaldehyde, no pesticides, no phthalates, no PVC, no PFCs, no NPEs, no chlorine bleach to list a few. There is also a social aspect to it as well, employees must have fair working conditions and be paid a fair wage. There can be no animal cruelty. It really is the best certification out there. Pretty much all GOTS certified clothing will have a logo on the inside of the clothing stating it is GOTS certified. You can have GOTS certified organic cotton but if the final product wasn't produced in a GOTS certified factory then that company is not allowed to use the GOTS logo. When you see the logo you can be rest assured that the entire product is GOTS certified.
Oeko-Tex – is a certification that doesn't allow hundreds of toxic chemicals in clothing. Clothing does not need to be organic to receive this certification (pesticides are allowed to be present on clothing to pass this certification) Also, some chemicals, like flame retardants (that are deemed to be the least toxic), are allowed to be used. If you are buying Oeko-Tex clothing or baby products check to see if they are using flame retardants.
For additional details and other certifications please read my post on Clothing Certifications.
So, What Should I Buy?
GOTS certified organic cotton or wool is the best, and safest, clothing to buy. I found out early on that just buying organic cotton doesn't mean that the safest dyes or no toxic chemicals are being used.
The organic clothing industry is growing by leaps and bounds and some companies are trying to cash in by using organic cotton but not truly making an "organic" piece of clothing. I also buy organic cotton that is Oeko-Tex certified but it is my second choice. Currently, I just buy Oeko-Tex organic pajamas for my son.
If I can buy used GOTS certified clothing I do. However, I'm picky about it. I've purchased a few things on eBay only to have them reek of laundry detergent or dryer sheets that have toxic chemicals. Side note – wash your clothing in non-toxic laundry detergent. Most commercial brands are toxic! I felt like buying used, washed in chemicals, defeated my purpose. So I'm specific when I buy used, so specific that I started a Natural Baby Mama buy/sell/trade group on Facebook only for natural and organic items!
I know not everyone wants to buy new organic clothing. The order I would buy clothes in is:
Used GOTS certified organic (cotton or wool) clothing
New GOTS certified organic (cotton or wool) clothing
Used or new hemp, verifying if it's organic would be ideal, clothing
Used conventional cotton clothing. Side note – I personally would try and buy Oeko-Tex certified used cotton first before buying non-certified conventional cotton. At least then you will know that the dying and finishing process isn't toxic. However, pesticide residue and flame retardants are allowed in the Oeko-Tex certification.
Doesn't Washing Your Clothes Wash Away the Chemicals?
Maybe some but there is no way to know. Some toxins do wash other, others are designed to last the life of the product. I have read reports that it can take 50 washes to get all the chemicals out.
Regardless, you should wash all clothing before wearing it. Even GOTS certified. One issue I have with buying used non-certified clothing is you don't know if it's been washed once or 50 times. If it's toxic to start with you aren't guaranteed buying used will make it any less toxic. Buying used is no doubt good for the environment.
Are There Children's Clothing Brands That I Avoid?
Some of the worst brands from a toxicity standpoint that I wouldn't buy (even used) are:
The Gap / Baby Gap
Old Navy
J. Crew
Disney
American Apparel (they do make GOTS certified organic clothing so that would not apply)
Burberry
Nike
Adidas
Puma
One thing all of these companies have in common is that the clothing is made in China (except American Appeal). Toxic clothing is coming out of China.
Further Reading on Organic Cotton Clothing:
Pin it for later!