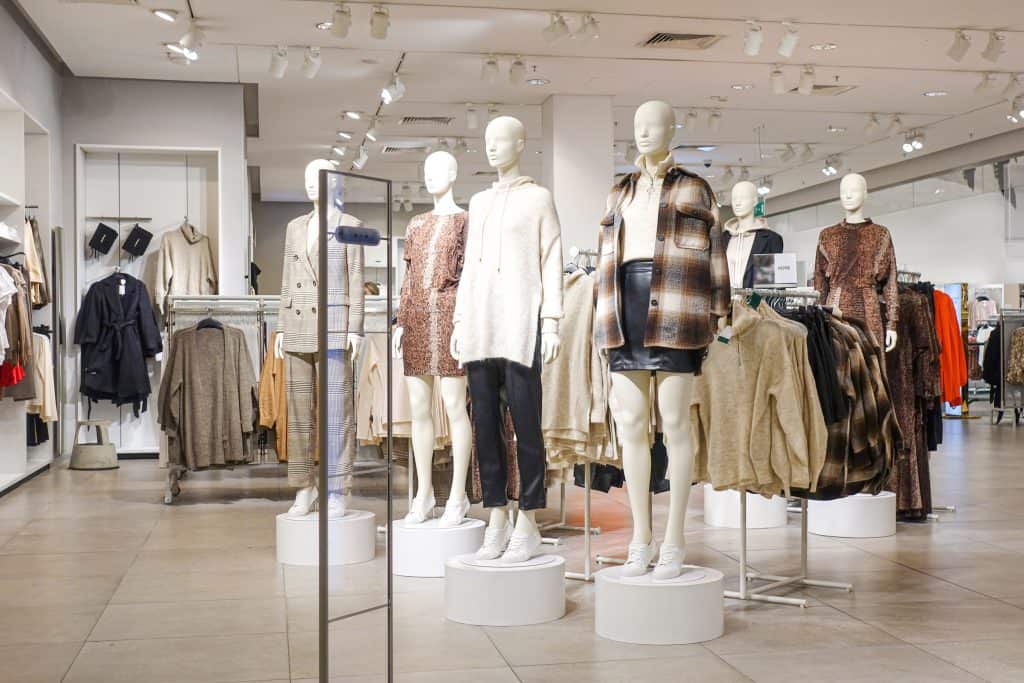 Fast fashion has many problems as well as environmental impacts. Shopping is so common-place we rarely stop to consider the impacts of our choices. How and where we shop can affect not only the environment but also the health of our families.
In addition to the environmental impacts of fast fashion, there are human-rights and ethical issues as well. Fast fashion has been at the forefront of environmental, health, and ethical discussions in recent years.
Have you stopped and wondered why your shirt is so inexpensive? Thinking about the entire supply chain and what it means when we purchase inexpensive, fast fashion clothing will make you realize that can't be the true cost for ethical, fair-trade products.
So at what cost are we willing to continue supporting the ethical and environmental impacts of fast fashion?
This post may contain affiliate links. Please see my full disclosure policy for details.
What is Fast Fashion?
Fast fashion is a term used to describe the mass production of cheap, trendy clothes that quickly go out of style and break down. Companies like H&M, Forever21, and Zara are fast-fashion examples.
Fast fashion is very affordable, but our planet and workers pay the price. Because fast fashion goes out of style and wears out so quickly, clothing ends up in the landfills after an average of only seven wears.
This makes fast fashion a massive source of waste and pollution, but that's not the only reason to avoid it.
Why is Fast Fashion a Problem?
Fast Fashion problems can include everything from water runoff pollution to textile workers' health. Below are the impact of fast fashion on the planet, your health, and the lives of others.
Labor
Fast fashion is mass-produced quickly to meet the changing demand in trends. This leads companies to often produce their clothing in sweatshops in third-world countries.
H&M, Forever 21, and Zara continue to outsource production to factories in countries that have minimal worker's rights. These factories are often sweatshops that employ hundreds of people, including children, to work in unsafe conditions for a meager wage.
Garment workers are often forced to work 14 to 16 hour days, 7 days a week to keep up with the fast fashion demands. Child-labor is often used in the garment industry because it is a low-skilled job.
Workers are exposed to harsh chemicals for long hours, and there are several instances of workers falling ill or dying from exposure to factory substances.
50 workers died, and another 5,000 fell ill after inhaling blasted sand in Turkey's denim factories.
In 2013, over 1,100 workers were killed when a textile factory collapsed in Dhaka.
Another 114 people were killed in a factory fire in Bangladesh due to unsafe working conditions.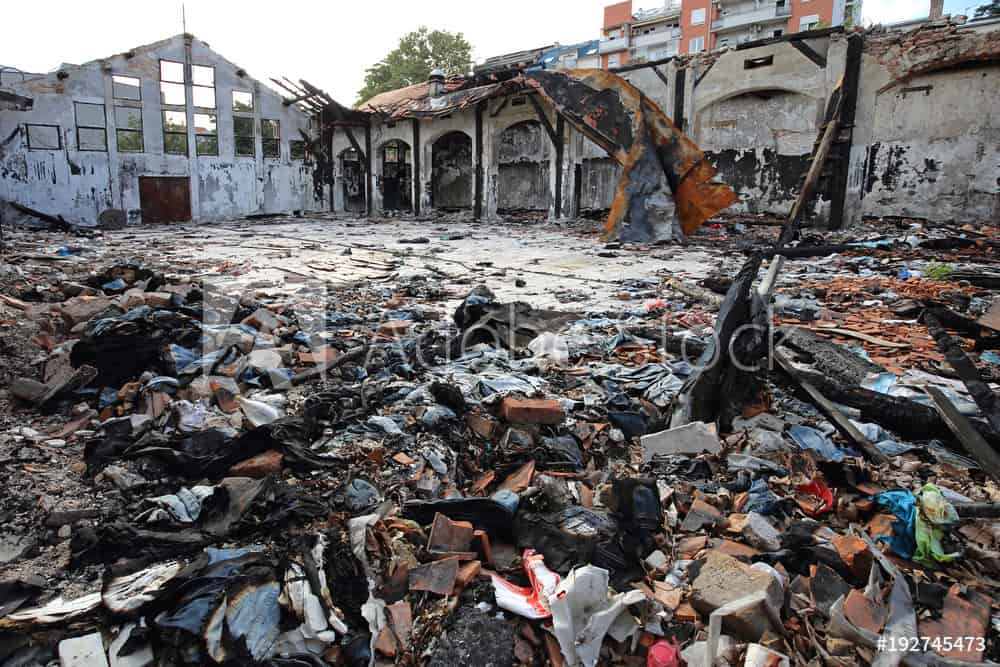 Some textile workers are even working against their will. Cotton from China makes up a fifth of all cotton used globally, and a recent story from BBC suggests China is forcing hundreds of thousands of ethnic minorities into manual labor on cotton farms.
Unfortunately, these facts only scratch the surface of the hardship for textile workers in the developing world.
Toxins
It's obvious the fast fashion industry cuts corners with labor, but they also cut corners with materials, as well.
20% of industrial pollution comes from fast fashion. Over 8,000 different chemicals are used to produce textiles, most of which are toxic.
Chemicals like AZO dyes, NPEs, and many more carcinogenic substances are common in textile manufacturing. Workers are at high risk for health problems stemming from these chemicals, but workers aren't alone in the risk.
Buying fast fashion means taking these chemicals home with you. Specifically, wrinkle-resistant clothes, flame resistant, or odor wicking pose the most significant risk to consumer health. Toxic dyes and synthetic material made from petroleum (like polyester and nylon) also pose a threat to the end-user.
Water Pollution
Fast fashion contributes to water pollution and unsustainable use of water during the manufacturing process.
It takes two tons of water to produce 1 ton of dyed fabric. Water used to dye textiles is often dumped in ditches and streams where the dyes collect. This negatively impacts the ecosystem in regions of the world that house textile factories. These communities rely on these waterways for food, water, and farming.
Synthetic clothing commonly made in fast fashion factories contains microplastics that come out in the wash and further pollute our waterways. Environmental Science and Technology conducted a study that shows a synthetic garment can shed over 1,900 fibers during one cycle in your washing machine.
Air Pollution
CO2 emissions from textile factories make up 10% of global CO2 emissions every year.
CO2 is emitted by transporting textiles, shipping, and purchasing. The production of synthetic fibers uses large amounts of petroleum, further polluting the air. But factories aren't the only place toxins enter our ecosystem.
Cotton farming uses 16% of all pesticides used worldwide, which affects the farmers, nearby wildlife, and our waterways. Cotton is often used in fast fashion, which directly supports toxic pesticide use.
Waste
Because trends come and go so quickly, fast fashion is produced to be thrown away. This led to more than 16 million tons of textile waste being discarded in 2017.
Most of this waste is made with synthetic fibers like nylon and polyester, which takes thousands of years to break down. This leaves metric tons of textiles to sit in landfills or be transported elsewhere, further increasing the CO2 emissions and fast fashion environmental impacts.
Since fast fashion manufacturing focuses on quantity over quality, garments are wearing out faster and are harder to repair. This, along with the rapidly changing trends, leads to exponential fast fashion waste.
Slow Fashion: The Solution to Fast Fashion
Even though it seems impossible to get away from fast fashion, there is an alternative solution: slow fashion and sustainable fashion.
Fast fashion focuses on quantity over quality and the turn of profit, slow fashion does the opposite. Slow fashion focuses on the sustainable production of textiles that last for years.
This means no toxic dyes, chemicals, or pesticides. It also means no cutting corners in textile factories for the safety of workers and the environment.
Slow fashion is all about consuming less and consuming mindfully. Below we will discuss the ends and outs of slow fashion and what you can do to make a difference.
What is Slow Fashion?
Slow fashion combines sustainability with awareness. Instead of outsourcing textile manufacturing to third-world country sweatshops, slow fashion encourages small scale production of non-toxic, long-lasting garments.
Slow fashion is about striking a balance between fashion expression and "timeless," quality textiles.
As the name suggests, slow fashion doesn't put a strict timeline on textile manufacturing. By taking away the time constraint, fashion companies will have the opportunity to work with manufacturers to create safe and sustainable fashion for everyone involved.
By doing this, the price of clothes will increase, and one could argue to the true cost, but the lifetime of garments increases too. The seasonal purchasing and discarding of clothes will be a thing of the past, making room for more sustainable choices.
Some companies have already made the jump from fast fashion or slow fashion, and this is how to find them.
Look for Certified Organic Companies
Instead of heading over to GAP, Urban Outfitters, or H&M, look for certified organic clothing companies.
Organic clothing certifications, like GOTS, ensure that your clothes are made from organic cotton on sustainable farms without pesticides harming you or the planet. The GOTS certification covers the entire textile process, including dyes, fair labor, and environmental concerns. GOTS is the highest standard for avoiding toxins in clothing.
Oeko-Tex certification covers organic and non-organic textiles to ensure no harmful substances have been used in manufacturing. Both of these certifications ensure you are purchasing textiles that are as safe as possible for you and the planet.
Buy Higher Quality
Buying higher-quality clothing means it will last longer and won't end up in the landfill. Purchasing high-quality clothes may be more expensive, but it will allow you to shop less and keep your clothes for longer.
High quality clothes are also easier to repair than cheaply made clothes. So, if you find wear and tear in your high-quality garments, you can fix them yourself or speak to the store you purchased them from about repairs.
Either way, well-made clothes are better for the planet and your bottom line!
Buy Less
Purchasing fewer clothes is another excellent way to avoid the fast fashion problems. Instead of buying new clothes every season, purchase well made, timeless pieces that you can wear year after year.
Don't buy a piece of clothing unless you truly need it. Repurpose your existing clothes with the help of a friend or sites like Pinterest.
Lengthen the life of your clothing by washing less and going by the washing instruction on the tag.
There are movements like the capsule wardrobe that support this ideology while still allowing you to be a fashionista. It's easy to fall into the trap of what's trending in fashion, but some pieces never go out of style.
Finding the balance between trends and sustainability is possible if you purchase fashion mindfully.
Buy Used
Buying used is a great way to minimize the effects of fast fashion. Thrifting is an effective way to reuse clothing instead of sending it to the landfill. It's also a great way to find high-quality fashion for a fraction of the price of a new item.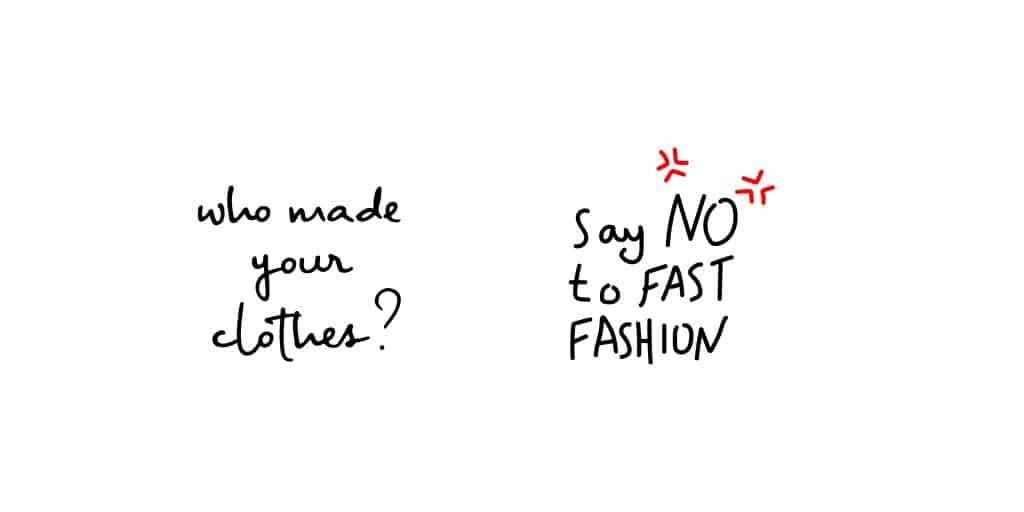 Final Thoughts
Fast fashion has dominated the textile industry for far too long. The suppression of human rights, inhumane working conditions, and environmental impacts of fast fashion as too much to ignore.
The more awareness raised about fast fashion problems means the less impact it will have on our society and environment.
It can be challenging to move away from fast fashion, but with patience and a bit of planning, you can change your perspective on fashion and make sustainable clothing choices that keep you and your family healthy.
The environmental impacts of fast fashion as well as the detailed fast fashion problems are something we should all be taking seriously. The move away from consumerism to mindful, impactful purchases is one that we can all start implementing right away.
It can be overwhelming to find truly safe and sustainable clothing. Below you will find posts on organic clothing.
Is Organic Cotton Worth Buying?
Organic Clothing Certifications
Check out the Natural Baby Mama Amazon Storefront for vetted non-toxic fashion and consumer goods.
Pin it for later!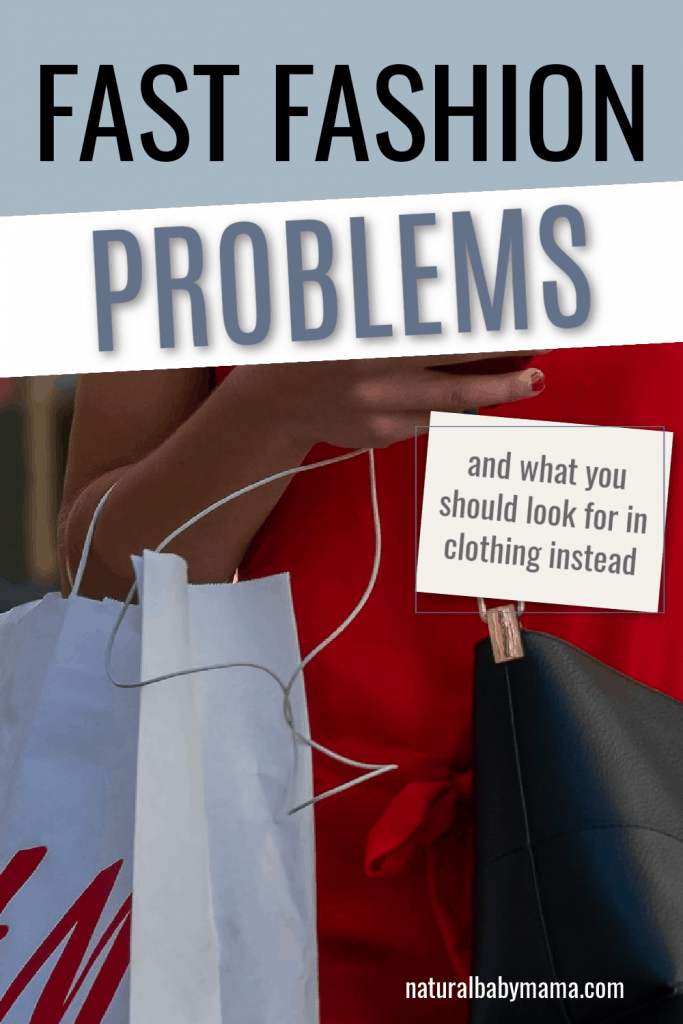 Sources:
"Inhumane Working Conditions" Sustain Your Style. www.sustainyourstyle.org
"The risks of cotton farming" Organic Cotton. www.organiccotton.org
"Toxic Textiles" Green America. www.greenamerica.org
"The Monster in our Closet: Fast Fashion & Textile Waste on the Rise" Center for EcoTechnology. www.centerforecotechnology.org
"THE ENVIRONMENTAL CRISIS CAUSED BY TEXTILE WASTE" RoadRunner Smarter Recycing. www.roadrunnerwm.com
"Accumulation of Microplastic on Shorelines Woldwide: Sources and Sinks" ACS Publications. https://pubs.acs.org
"Slow Fashion" The Ecologist. https://theecologist.org
"Fast Fashion: Its Detrimental Effect on the Environment" Earth.org. https://earth.org
"How Ethical Is H&M?" good on you. https://goodonyou.eco
"China's 'tainted' cotton" BBC. https://bbc.co.uk