A reliable deodorant is an absolute necessity. We love the spike of freshness a deodorant gives on a hot summer day, but have you thought about the list of ingredients on a typical deodorant container and the potential health effects of these substances? Let's take a look at the best non-toxic deodorants out there!
This post may contain affiliate links. Please see my full disclosure policy for details.
---
Why You Should Use a Non-Toxic Deodorant
Most conventional deodorants include harmful ingredients like parabens, phthalates, and fragrances with undisclosed formulas. Let's dive into the reasons for switching to a non-toxic deodorant and explore some health-friendly deodorant brands.
---
Toxins Found in Deodorants
Here's just a partial list of toxic ingredients you'll find in most deodorants on supermarket shelves.
Parabens. Often used as preservatives in deodorants and other cosmetic products, parabens may cause skin irritation, disrupt hormonal function, and increase cancer risk.
Phthalates. Phthalates act as solvents in cosmetics. These harmful substances may damage the lungs, reproductive system, and internal organs like the liver and kidneys.
Aluminum. Aluminum, a common ingredient in deodorants with an antiperspirant effect, literally blocks your pores to prevent sweating. Several studies hint at a link between aluminum and breast cancer.
Fragrance. Most deodorants list "fragrance" without actually specifying what goes into their fragrance formula. Typically, commercial deodorants owe their enticing scent to a blend of toxic chemicals.
Triclosan. A widely used preservative and antibacterial agent, triclosan started out as a pesticide. Triclosan can get absorbed through the skin and may cause allergies and hormonal disruption.
Propylene glycol. Propylene glycol is a commonly used moisturizer and skin conditioner. It is also an irritant that may induce dermatitis in sensitive individuals.
Polyethylene glycol (PEG). Polyethylene glycols act as emulsifiers, surfactants, and cleansing agents in cosmetics. The main problem with PEGs is their frequent contamination with 1,4 dioxane, a known toxin and carcinogen.
TEA and DEA. DEA (diethanolamine) and TEA (triethanolamine), emulsifiers and pH adjusters, are linked to toxicity, bioaccumulation, and carcinogenic concerns.
---
What to Look For in a Non-Toxic Deodorant
When you're researching non-toxic deodorants, the first thing to look into is transparency. Study the ingredient list and ask yourself – are you familiar with all the components? Look up unknown ingredients to verify they are safe, natural compounds. Beware of nonspecific terms like "fragrance" or "emulsifiers".
---
Organic and Natural Ingredients
Here are some ingredients you'll often encounter in non-toxic, natural deodorants:
Magnesium hydroxide, a naturally occurring, safe molecule that battles odor-inducing bacteria and serves as a non-toxic alternative to aluminum.
Coconut oil, which has amazing moisturizing, antibacterial, and anti-inflammatory properties. 
Activated charcoal, which absorbs sweat and binds bacteria and toxins.
Corn or tapioca starch, safe food-grade moisture absorbers.
Candelilla wax, a binding agent that keeps liquids and oils together while also nourishing the skin.
---
Baking Soda
Many non-toxic deodorant formulas include baking soda, a common food-grade ingredient. While baking soda acts as an effective and non-toxic antibacterial agent, its alkalinity may strip the skin of its natural moisture barrier, which may cause dryness and irritation.
People may react differently to deodorants that contain baking soda – while some may use such deodorants without any issues, others will experience dryness, rash, redness, and skin damage. If you've never used baking soda in skincare products, you may try a baking soda-based deodorant with caution and stop using the product at the first sign of irritation.
---
Natural, Transparent Scent Formulas
Most non-toxic deodorants owe their scent to natural essential oils, like lavender, tea tree, grapefruit, bergamot, and peppermint. Although essential oils have many beneficial properties, some individuals may experience adverse reactions, like rashes or allergies, to specific oils. If a skincare product contains an essential oil you've never used before, pay attention to any unusual symptoms when you first start using the product.
---
Non-Toxic Deodorant Recommendations
Some people go the DIY route and concoct their own natural deodorants using ingredients like baking soda, corn starch, coconut oil, and various essential oils. But if you want a ready-made, vetted non-toxic deodorant that delivers proven results, you have many terrific brands to choose from. Let's dive into some of them.
---
Pure Pitz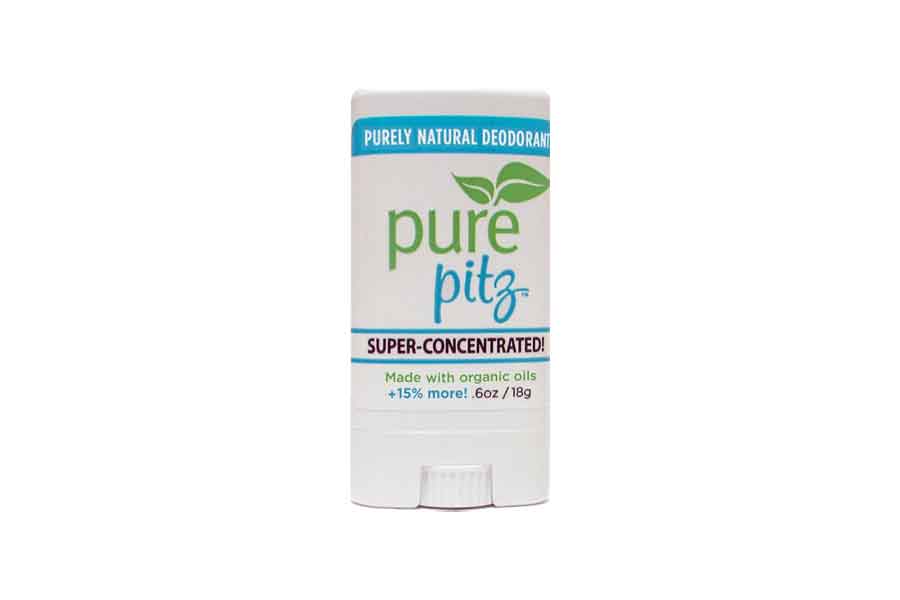 Pure Pitz is a certified organic, cruelty-free, U.S.-manufactured deodorant distributed in BPA-free packaging. Don't let the small size of this product deter you; it's a compact, highly concentrated stick deodorant that, according to the Pure Pitz website, may last up to five months for shaved armpits. Many Pure Pitz users praise this deodorant for its supreme efficacy and gentleness.
Pure Pitz's ingredients include aluminum-free baking soda, organic coconut oil, beeswax, shea and cocoa butter, organic jojoba oil, organic cornstarch, Vitamin E, and organic essential oils. One qualm I have about this ingredient list is that Pure Pitz doesn't disclose its exact composition of essential oils, but rather defines it as a "proprietary blend". This may be a problem for people with sensitivities to specific oils.
Pricing: $18.95 for a single 0.6oz package or $49.50 for a 3-pack.
---
Pretty Frank
Pretty Frank, formerly Primal Pit, offers a line of deodorants and other products for sensitive skin. Pretty Frank's deodorants come in both baking soda-containing and baking soda-free varieties. All the brand's products are free from aluminum, parabens, and synthetic ingredients. You can choose between jarred and stick deodorants, unscented or in various attractive scents. Pretty Frank handcrafts its products in Austin, Texas.
I love the short and straightforward ingredient lists in Pretty Frank's products. Here's what a few of their most popular deodorants contain:
Unscented baking soda stick: Aluminum-free baking soda, organic shea butter, organic coconut oil, organic beeswax, organic arrowroot powder, Vitamin E.
Jasmine-scented baking soda stick: An ingredient list virtually identical to the unscented stick but with an addition of ylang-ylang, jasmine, gardenia, and bergamot essential oils.
Charcoal Seaside, baking soda-free: Organic arrowroot powder, activated charcoal, caprylic/capric triglyceride, organic coconut oil and shea butter, magnesium hydroxide, candelilla wax, zinc oxide, brassica alcohol (natural thickener), Vitamin E, and a blend of essential oils for scent. Bonus point: this deodorant comes in plastic-free paperboard packaging.
Reviewers praise Pretty Frank for its reliable, non-irritating effect, but apparently, some users have experienced sensitivity to some of the essential oils in specific products.
Pricing:
Baking soda sticks: $14/2.7oz (save 10% with a subscription option)
Charcoal Seaside in plastic-free packaging: $14/2.7oz
Bestseller trio of 2.7oz sticks: $38
---
Schmidt's Fragrance-Free
Schmidt's fragrance-free non-toxic stick deodorant uses a safe, natural formula that wicks away moisture and helps neutralize sweat odors. Schmidt's boasts a 100% satisfaction guarantee policy with reliable customer support and hassle-free returns and exchanges.
Although Schmidt's EcoCert-certified deodorant has garnered some prestigious awards and glowing recommendations, some Amazon reviewers have reported adverse effects after using the product. A few reviewers have also complained of the deodorant's effect not living up to their expectations.
Ingredients: Magnesium hydroxide, coconut oil, arrowroot powder, coconut oil-derived triglycerides, shea butter, candelilla wax, jojoba seed oil, and sunflower-sourced Vitamin E.
Pricing: $9.99 for a 3.25oz package
---
Green Tidings
The all-natural, certified cruelty-free deodorant by Green Tidings is available unscented or in a variety of natural fragrances. Green Tidings is a woman-owned business by Jenny Benford, a clean skincare products advocate. All products are made in Southern California in a solar-powered facility, and a nonprofit that employs disabled people handles the packaging.
Green Tidings' commitment to 100% natural ingredients sets this company's products apart from other non-toxic deodorants on the market. The sodium bicarbonate (a.k.a baking soda) and magnesium chloride in the deodorants are in their natural mineral form, directly mined and unprocessed apart from purification.
Ingredients:
Lavender-scented deodorant: Tapioca starch, coconut oil, baking soda, unrefined shea butter, pure magnesium chloride, candelilla wax, lavender essential oil
Baking soda-free deodorant for sensitive skin (calendula & sage): Coconut oil, tapioca starch, candelilla wax, shea butter, organic Saccharomyces ferment (natural probiotic), organic calendula flower, Vitamin E, jojoba seed oil, sage oil, magnesium hydroxide.
Pricing: $15.99/2.7oz for most products. Some economy packs are 15% off, and there's also a subscription option that can save you 5-10%.
---
Poofy Organics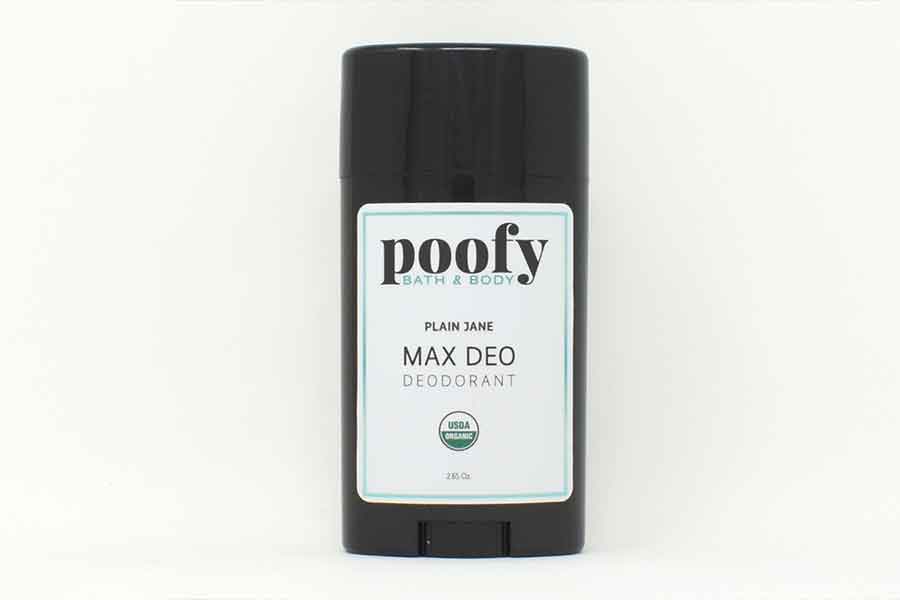 Poofy Organics offers two varieties of USDA-certified organic deodorant: stick and spray. The latter is fantastic news for anyone who has a strong preference for spray deodorants – there's a minimal choice of non-toxic spray deodorants on the market. Naturally, the spray deodorant is also free of baking soda.
Poofy Organic also carries a range of other terrific clean body products, including toothpaste, lip balms, dry shampoo, and more.
Ingredients (all organic):
Stick deodorant: Arrowroot powder, virgin coconut oil, beeswax, unrefined shea butter, cocoa butter, baking soda, and various combinations of organic essential oils depending on the scent.
Spray deodorant: Distilled water, grain alcohol, vegetable glycerin, and a blend of clove, lemon, patchouli, and tea tree essential oils.
Pricing: $15 for a 2.5oz stick or 2.8oz spray bottle.
---
Wellnesse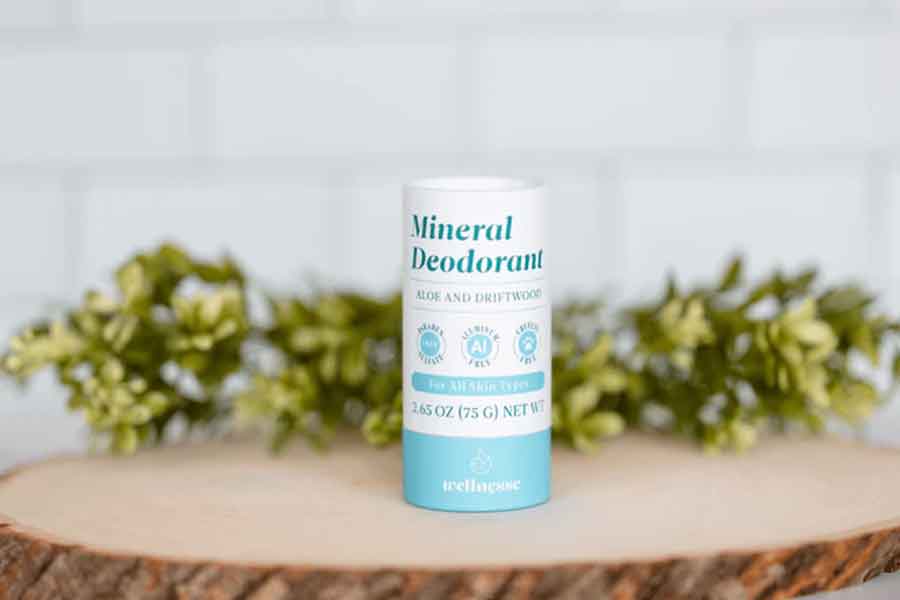 The Aloe and Driftwood mineral deodorant by Wellnesse contains safe ingredients with low EWG ratings (meaning that they pose no known health risks). Like other products by Wellnesse, their mineral deodorant is non-toxic, GMO-free, and cruelty-free. Wellnesse itself is a woman-owned certified B-Corp with a commitment to using sustainable and/or recyclable packaging.
Wellnesse's mineral deodorant has a somewhat longer list of ingredients than other natural deodorants mentioned in this overview. Specifically, this deodorant contains zinc ricinoleate, an odor-absorbing natural zinc salt of ricinoleic acid (a fatty acid that occurs in castor oil), and bisabolol, a calming agent derived from chamomile.
Ingredients: Caprylic/capric triglyceride, tapioca starch, coconut oil, baking soda, sunflower seed wax, shea butter, jojoba esters, stearyl alcohol, triethyl citrate (citric acid derivative), aloe leaf juice, zinc ricinoleate, bisabolol, Vitamin E, soybean oil, Palo Santo extract.
Pricing: $14.40/2.65oz
---
Earth Mama
Non-toxic certified organic deodorants by Earth Mama come in four varieties: unscented and in lavender, citrus, and ginger fragrances. The website advises users to keep their deodorant at room temperature since the stick can get oily when it's too hot or harden up too much when it's cold.
Earth Mama deodorant is cruelty-free, NSF (National Sanitation Foundation) certified, and Plastic Neutral certified, which means that the manufacturer commits to eliminating as much plastic as it uses. Reviewers praise this deodorant for its efficient, gentle action, although some mentioned issues with sensitivities or product texture.
Ingredients in lavender-scented deodorant: Organic coconut oil, organic corn starch, candelilla wax, baking soda, organic beeswax, magnesium hydroxide, arrowroot powder, Vitamin E, organic lavender oil, organic calendula flower extract.
Pricing: $10.99 for a 3oz package or $4.99 for a 0.6oz travel-size pack.
---
Little Seed Farm
Little Seed Farm offers baking soda-free cream deodorants, both unscented and in a range of enchanting fragrances like cedar vanilla, jasmine green tea, and rosemary patchouli. This deodorant has thousands of overwhelmingly positive reviews on Amazon.
LSF is a family-owned, family-run small business that carries sustainably made, cruelty-free, non-GMO skincare products with clean, transparent ingredients. They use 100% solar power to run their farm and business and commit to sustainable packaging.
Little Seed Farm's organic deodorant creams come in a recyclable glass jar with a metal lid. Each full-size package includes a free wooden applicator. Bonus point: you can add two free deodorant samples to your order to try out additional scents.
Ingredients (all organic except for magnesium hydroxide): Arrowroot powder, food-grade magnesium hydroxide, coconut oil, jojoba oil, beeswax, vegetable glycerin, and a blend of essential oils specific for each fragrance.
Pricing: $13.99/2.4oz jar, with a subscription option that gives 10% off.
---
Meow Meow Tweet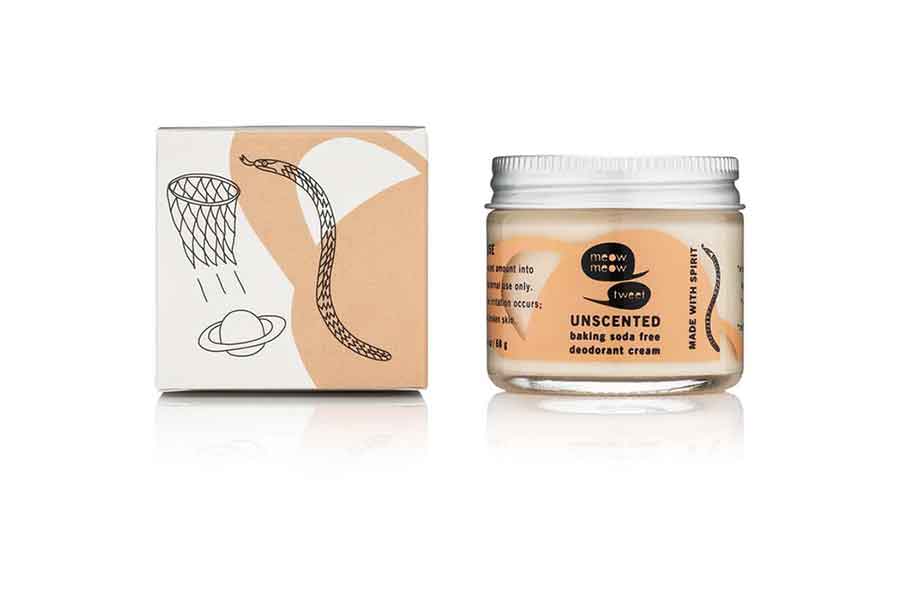 Meow Meow Tweet offers a range of cream and stick deodorants (the latter come in biodegradable packaging), both with baking soda and baking soda-free. Most of the ingredients in their products are certified organic. You may choose between unscented deodorant and refreshing fragrances like grapefruit, lavender bergamot, and eucalyptus lemon.
Ingredients:
Rose geranium stick, baking soda-free: Coconut oil, arrowroot powder, magnesium hydroxide, cacao seed butter, shea fruit butter, sunflower seed wax, palmarosa oil, rose geranium oil.
Unscented cream deodorant, baking soda-free: Arrowroot powder, magnesium hydroxide, coconut oil, shea fruit butter, jojoba seed oil.
Pricing: $14 for a 1.8oz stick or a 2.4oz jar, with a 10% off subscription option
Meow Meow Tweet also offers a bulk purchase option with 15% lower costs per ounce and free shipping for purchases of $50 and up. As part of the company's zero waste policy, users can send back empty containers (free of charge), which Meow Meow Tweet repurposes to keep them out of landfills.
---
Noniko Stainless Steel Refillable Deodorant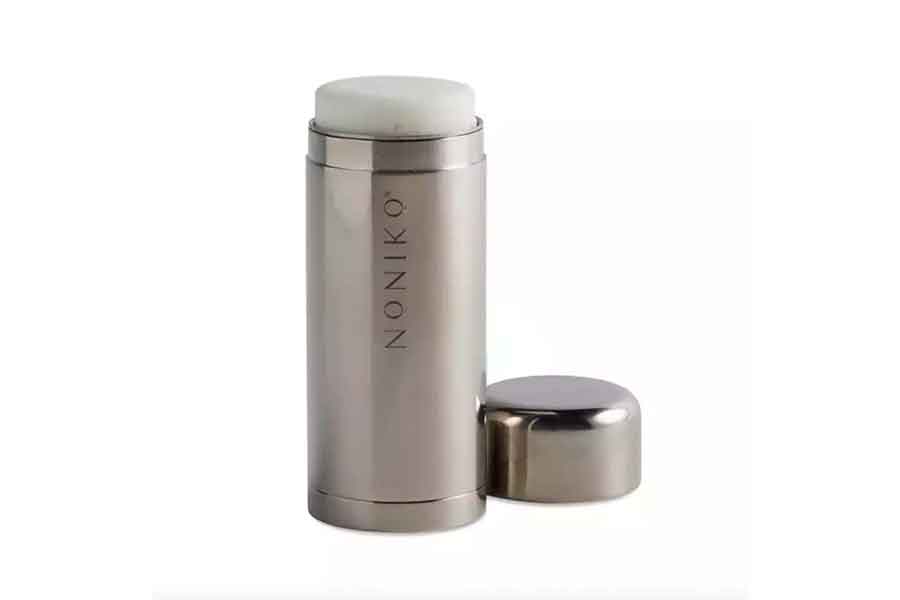 Noniko's stick deodorant comes in a handy, refillable stainless steel container. This woman-owned small company also added a recyclable metal container option for those who prefer to avoid bothering with refills. Noniko's deodorants come in three scents – bergamot and grapefruit, lavender and mint, and green mandarin – the last of which is baking soda-free.
Ingredients (baking soda-free version): Coconut oil, arrowroot powder, magnesium hydroxide, beeswax, green mandarin essential oil, noni fruit seed oil (nourishing and moisturizing element), Vitamin E.
Pricing:
Refillable container: $40/2.3oz for a first-time purchase, $18 for doorstep refill delivery subscription
Recyclable push-up container: $14/2.3oz
---
Toups & Co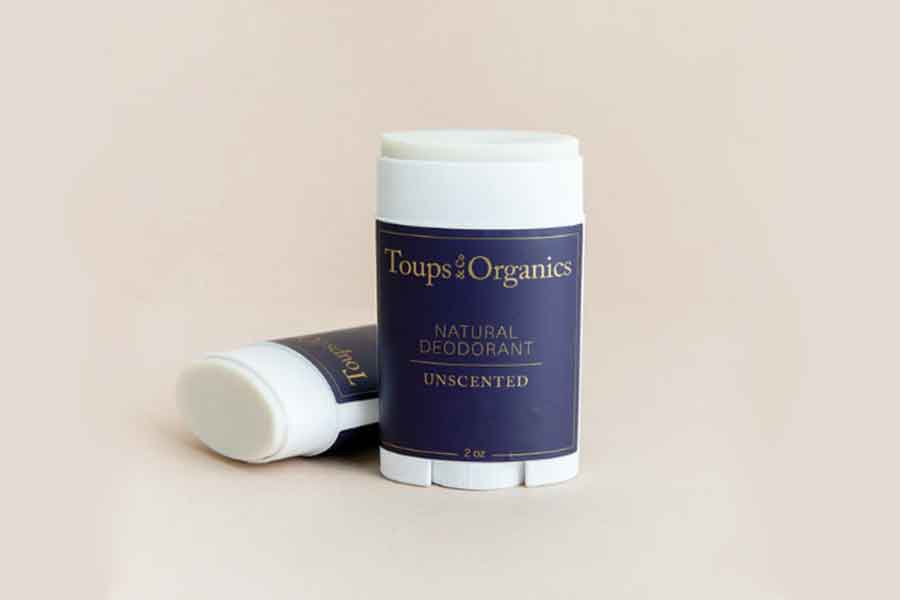 Toups & Co carries two stick deodorant varieties: Natural and Natural Extra Strength. Both versions include an unscented option and lavender, balsam fir + cedarwood, lime + bergamot, and lemongrass + mint scents.
The main difference between Natural and Extra Strength appears to be an addition of baking soda, which packs a little extra punch when it comes to odor absorption.
Toups & Co deodorants include very few ingredients, the first of which is tallow from grass-fed animals. If you aren't looking for a vegan product, tallow can be a sustainable option for skincare products, since it reduces waste in the meat industry.
Ingredients:
Natural (unscented): 100% grass-fed tallow, organic arrowroot powder, magnesium hydroxide, organic virgin coconut oil.
Pricing: $16/2oz stick, or subscribe, save 5%, and enjoy free shipping
---
Earthley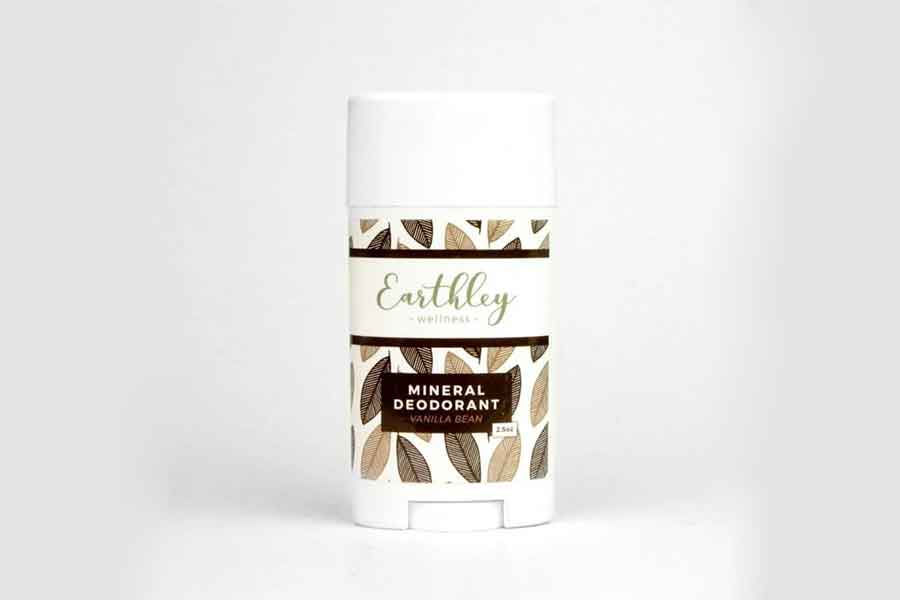 Earthley's natural mineral deodorant is 100% vegan, cruelty-free, non-GMO, hypoallergenic, and baking soda-free. The company is a family-owned business that makes its products in the U.S. Earthley's stick deodorants include an unscented option and fragrances like lavender, citrus, and vanilla bean.
Earthley's deodorant also comes in a Plus version, which includes the addition of French green clay for skin detox.
Ingredients: Certified organic apricot oil, candelilla wax, magnesium chloride flakes, arrowroot powder, certified organic mango butter, essential oil blends (in scented varieties).
Pricing: $11.99/2.5oz, $3.49/0.5oz (travel size)
---
The Safest Non-Toxic Deodorant
All of the brands listed above are safe, non-toxic deodorants. What works best for one person doesn't always work best for the next. If you try a brand and it doesn't work for you, don't give up! Just try another brand. You can feel rest assured that you are buying a safe product with any of the above brands.
---
Conclusion
Most conventional deodorants contain phthalates, parabens, triclosan, and other toxic chemicals you want to avoid putting on your skin. Thankfully, switching to a non-toxic deodorant is easy and convenient. You can choose from many vetted, trustworthy brands that offer natural deodorants and other clean skincare products.
Subscribe to Natural Baby Mama to get regular non-toxic living updates and tips for the whole family.
Pin it for later!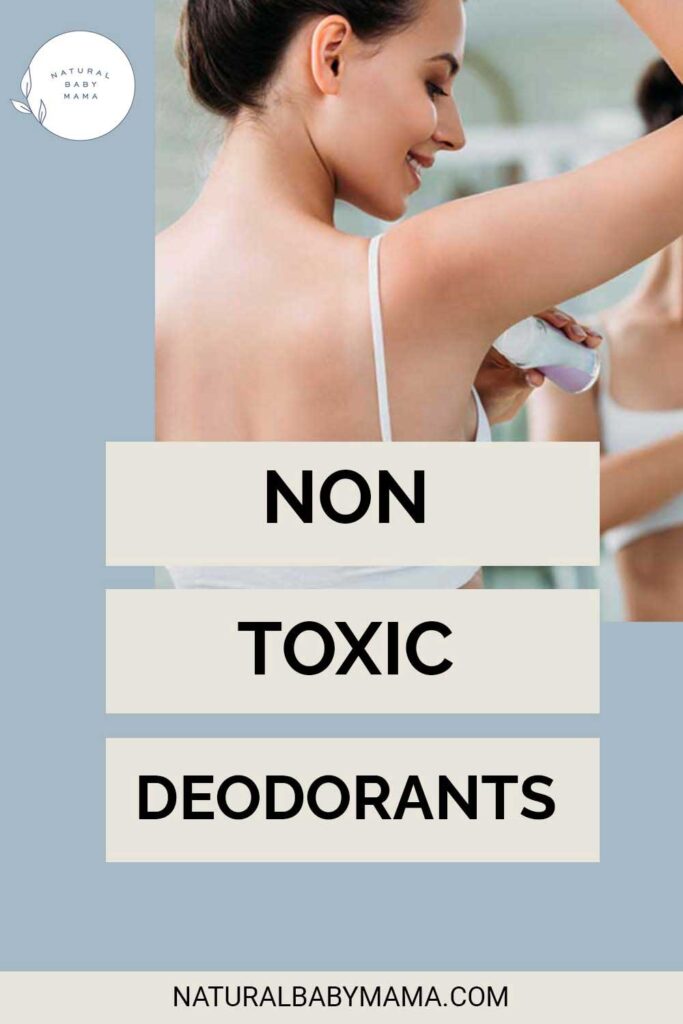 Posts Related to Non Toxic Deodorant