Recently we brought a new four-legged family member into our home, and while it's been both challenging and joyous, I wanted her to have a clean, toxin-free sleeping environment. Unfortunately, like so many human beds, dog beds are generally made with chemical-filled foams and plastics that can off-gas harmful toxins. So naturally, we wanted our new puppy to have every opportunity at a long, healthy life. So I added: "find an organic dog bed" to my to-do list. After some research, I've found the best non-toxic, organic dog beds of 2022.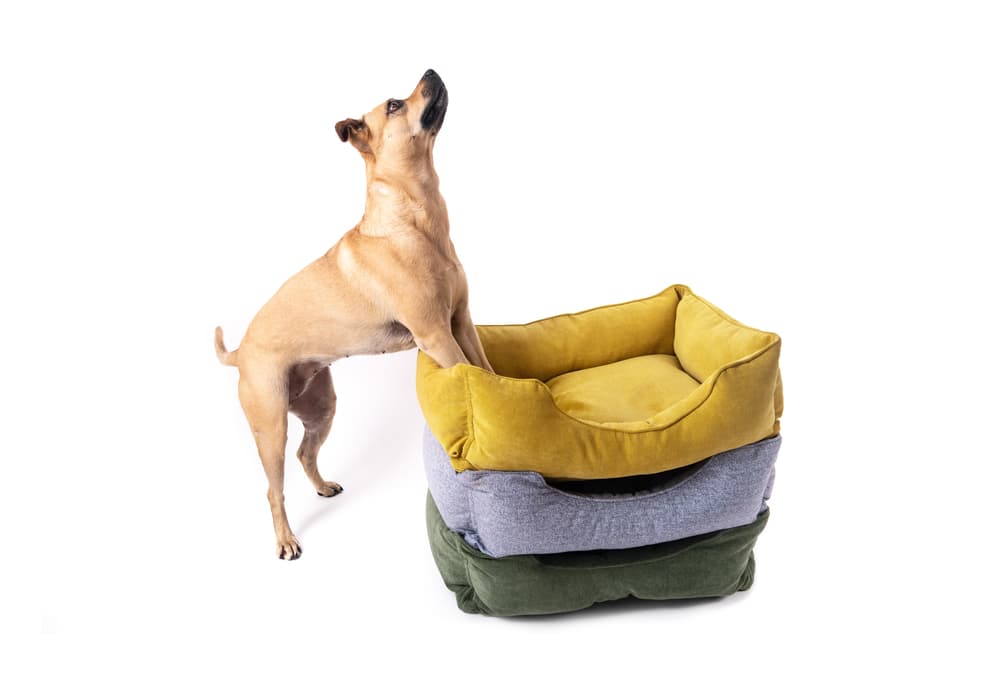 All of the natural dog beds on this list are an easy choice, but I was surprised by the variety of options available for our pup. Now, there are so many more options than when we shopped for an organic dog bed for our previous dog.
Dogs are part of our family, and they deserve to sleep soundly without harmful toxins like formaldehyde and VOCs affecting their health. Read on to learn more about natural dog beds and how to choose the right organic dog bed for your pup.
This post may contain affiliate links. Please see my full disclosure policy for details.
What to Look for in Natural Dog Beds
There are several things to look for when shopping for a natural dog bed. First, make sure there are no harmful chemicals used to make the dog bed. For example, avoid flame retardants and petroleum-based materials like acrylic or nylon. We'll talk more about toxic dog bed materials later in this post.
Dog beds made with natural fibers make the safest sleeping environment for your fur baby. But, first, let's talk about the different natural fiber options available.
---
Organic Cotton
Organic cotton is a timeless, durable fiber commonly found in bedding, including in natural dog beds. Organic cotton will keep your fur baby warm in cool weather and cool in warm weather. It's very insulative and has good durability.
It's important to look for organic cotton, bonus points if it's certified organic cotton. The difference between organic cotton and conventional cotton is the number of pesticides used in conventional cotton.
Because cotton is such a popular fiber, the demand for it is high. As a result, the United States is the world leader in cotton exports, exporting 35 percent of the world's raw cotton.
Unfortunately, most of this cotton is considered conventional, meaning it was grown with a myriad of pesticides that don't always stay in the field. To avoid these harmful chemicals, look for organic cotton. By choosing organic cotton, you're choosing the health of your home and the environment.
---
Wool
Wool is another excellent natural fiber. Like cotton, wool is naturally very insulative, meaning it will keep your dog's temperature regulated regardless of the season. Wool is also very durable because it's naturally resistant to mold, mildew, and allergens. This is due to wool's natural water resistance. You can also count on wool to be super breathable, making it ideal for both warmer and cooler climates.
Finally, looking for organic wool is an excellent way to ensure the animals which produced the wool were not treated with any chemicals, and often it means they were fairly treated as well. An organic dog bed made with wool will last for years to come, and it's perfect for dogs of any age, shape, or size.
---
Organic Latex
Organic latex is ideal for an organic dog bed because it's naturally supportive and durable. Organic latex is different than synthetic latex made in a lab. Organic latex, or Dunlop latex, is sourced from the rubber tree.
Synthetic latex is made from petroleum-based materials and other chemical fillers. Petroleum (i.e., oil) is clearly not ideal, but the chemicals needed to make the petroleum materials safe are even worse. For example, petroleum-based materials are very flammable, so often, they require fire retardants that can be incredibly detrimental to your health.
Look for GOLS-certified Dunlop organic latex made from the rubber tree for your organic dog bed. Organic latex is ideal for bedding because it can support the joints while remaining cool and breathable. In addition, you often find organic latex packaged with organic cotton and wool, which makes your organic dog bed extra comfy.
---
Certifications
Finding a natural dog bed with organic certification is more challenging than finding human bedding with organic certifications, but not impossible. So it's essential to look for an organic dog bed, but bonus points if you find one with a certification!
---
GOTS
The Global Organics Textile Standard is the gold standard in textile certification. It certifies that the organic cotton you're looking at was grown and manufactured without harmful chemicals and pesticides (from seed to finish). It also means that the product is fair trade. Seeing this certification on a natural dog bed or any textile product is a good sign that you're purchasing a non-toxic, safe fabric for your home.
---
Oeko-Tex
The Oeko-Tex certification ensures that your product is free from hundreds of toxins. Unlike the GOTS certification, Oeko-Tex allows for conventional cotton, some flame retardants, and some toxins (often at low levels). Regardless, an Oeko-Tex certification indicates that your textile is safer than non-certified textiles and healthy for humans and pups.
---
GOLS
Seeing the Global Organic Latex Standard certification lets you know that the latex you're purchasing was harvested from the rubber tree without harmful chemicals. In addition, the GOLS certification ensures that at least 95 percent of your latex product is organic latex. Remember, synthetic latex is made in a lab using petroleum, so look for the GOLS certification before purchasing your latex dog bed.
Why You Should Buy an Organic, Non-Toxic Dog Bed
Purchasing an organic, non-toxic dog bed will ensure your pup is sleeping on natural, healthy material that will support their health and longevity. Many materials commonly used to make dog beds for a cheap price contain toxic chemicals that can negatively impact your dog's health. Because our dogs are family members, they deserve to sleep comfortably without breathing in chemical dust.
---
Toxins Found in Conventional Dog Beds
There are numerous toxins found in conventional dog beds, but we're going to talk about the most common. But, first, keep in mind that all synthetic, petroleum-based materials like nylon, acrylic, and polyester can be harmful to your dog. Both because the material itself is dangerous and because these materials are often treated with toxic fire retardants.
---
Lead
The Ecology Center tested over 400 pet beds and found that 25 percent of them contained lead, while seven percent contained over the limit allowed in children's toys. Lead exposure in dogs can cause lack of appetite, weight loss, kidney damage, blindness, and vomiting.
---
Arsenic
I know it's hard to believe that conventional dog beds contain actual arsenic, but arsenic is used as a preservative and pesticide on many cheap, conventional dog beds. Exposure to arsenic can cause your dog to experience internal organ dysfunction like kidney failure, blindness, vomiting, and diarrhea.
---
Bromine
Bromine is one of the most common toxins found in conventional dog beds. Bromine is a flame retardant often used to decrease the flammability of petroleum-based products. Unfortunately, bromine (and other flame retardants like Antimony, formaldehyde, and chlorine) can cause a host of health issues for your furry friend in the long run. Some health issues include pancreatitis, muscle spasms, stomach irritation, vomiting, constipation, cancer, and in some cases, death.
---
Water Resistance
Avoid dog beds that state that they are water-resistant. Often the chemicals used to make items water-resistant are per-and poly-fluoroalkyl substances (PFAS) which are part of the Durable Water Repellant family. PFAS are linked to health issues, including thyroid dysfunction, some cancers, and liver enzyme changes, to name a few.
What to Consider When Buying a Dog Bed
The first thing you want to consider when buying a natural dog bed is what material is used to make it. If you're in the market for a natural dog bed, look for organic materials like organic cotton, wool, and organic latex.
You should also consider the size of your dog over its lifetime to make sure you're purchasing a dog bed that will last them.
Next, consider the durability and cleanability of the organic dog bed before purchase. Does it come with a removable cover that you can pop in the washing machine? An easily cleanable dog bed is ideal for young puppies and older dogs.
It's also important to consider whether the organic dog bed will fit in your dog's crate, so measuring is essential.
The Best Non-Toxic, Organic Dog Beds of 2022
Finding a non-toxic dog bed can be time-consuming and frustrating. So many products are greenwashed or positioned to be healthy for you and the planet when they actually aren't.
Finding quality, organic dog beds takes research and patience. The good news is that I've already done the work. Read on to find the best recommended organic dog beds on the market.
---
Soaring Heart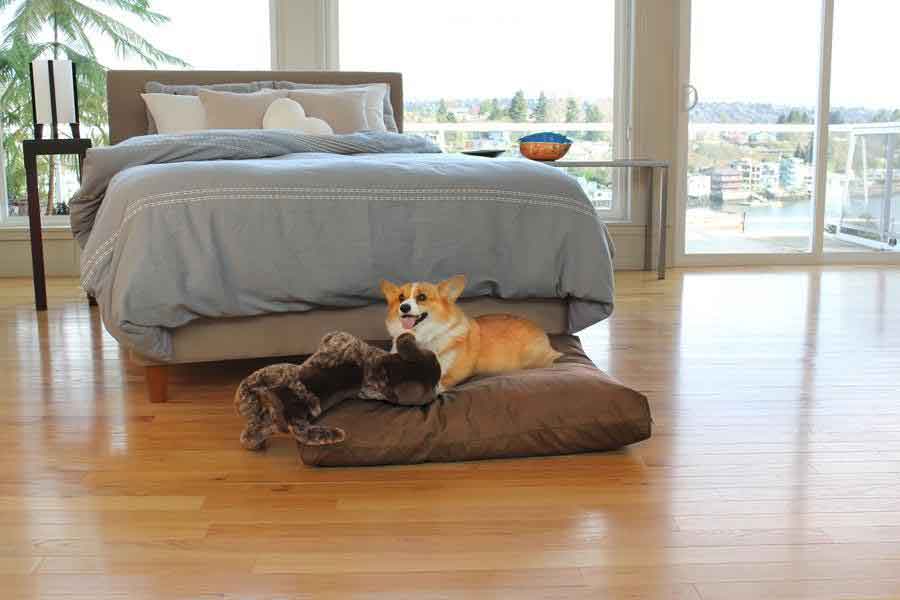 Soaring Heart provides a range of non-toxic bedding, including organic dog beds. All of their products are handcrafted in Seattle, Washington, where they have been supplying healthy, non-toxic bedding for years.
As a result, their natural dog beds are just as healthy and eco-friendly as their other products. Plus, they're super durable and easy to clean.
The Doggie Dream Organic Dog Bed by Soaring Heart is made with shredded, organic Dunlop latex, organic cotton, and wool. Soaring Hearts sources their organic materials from trusted suppliers like organic wool farms in New Zealand and GOTS certified organic cotton fields in Texas. This comfy dog bed comes with a removable, washable cover in seven different color choices. This natural dog bed is perfect for furry friends with allergies or sensitive skin since the materials are all-natural, unlike foam or plastic-based beds.
Price: $199.00
Size: 3 x 3
Certifications: GOTS, GOLS
Discount Code: Natural Baby Mama for 5% off
---
Rawganique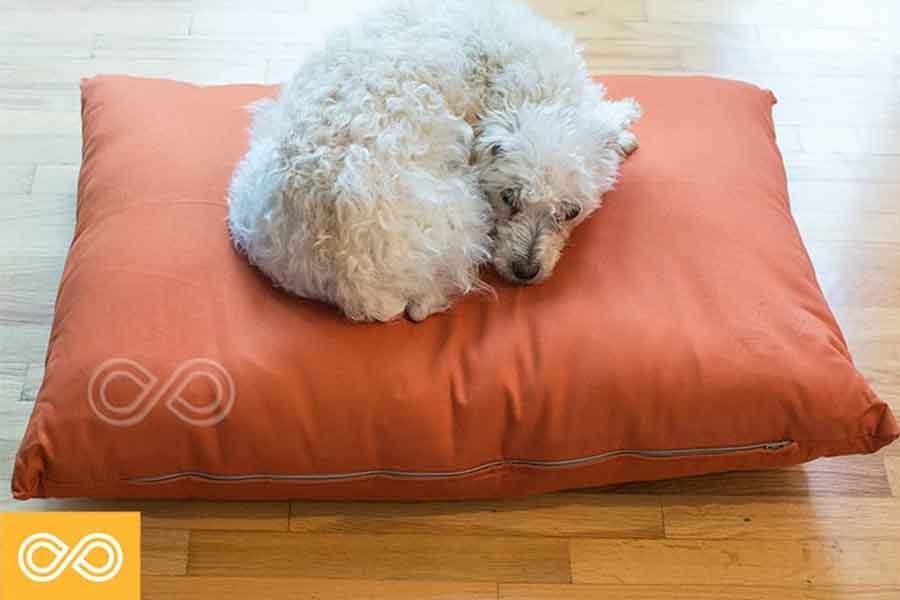 Rawganique provides top-quality organic bedding for the whole family, including that of the canine variety. Their non-toxic products are made in the USA, Canada, or Europe. They source their materials from certified organic farms, and they work to ensure their manufacturing process is fair to farmers and workers alike.
They are a small company, so they know exactly what goes into their natural dog beds and other products.
Rawganique offers a non-toxic dog bed made with certified organic cotton. In addition, you have the option of adding a certified organic twill cover to this organic dog bed to make washing easier. Even better, it comes in twelve different colors to match any decor. This four inch thick natural dog bed is dye and chemical-free, letting your fur baby sleep easier. It comes in multiple sizes ranging from small to large.
Price: $148.00 – $259.00
Size: 21 x 14 x 4 – 27 x 40 x 4
Certifications: GOTS
---
Avocado Green Mattress
The Avocado recommendation is on hold temporarily while the details of the class action brought forth against Avocado are being disclosed.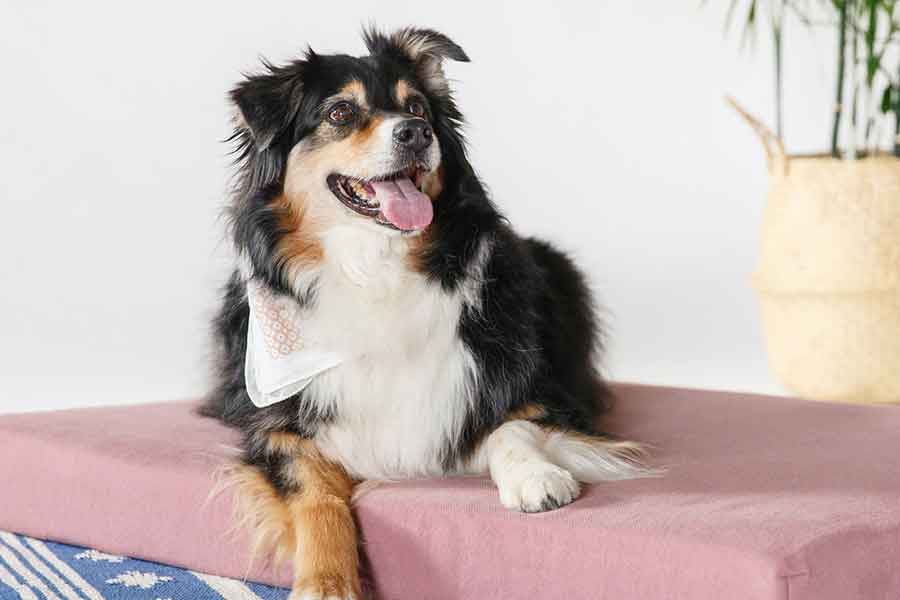 Avocado Green Mattress has been making waves in the non-toxic bedding industry for years, and their organic dog bed is no different. They have an entire line of dog sleeping products, which are all non-toxic and chemical free. Avocado makes its products in the USA and sources their materials from certified organic farms.
Not only does Avocado Green Mattress offer a natural dog bed, but they also offer a dog bed frame along with a dog pillow. So, if you're looking to spoil your four-legged friend, Avocado has you covered.
The organic dog bed by Avocado Green Mattress is stuffed with certified organic cotton with an inch of Dunlop Latex to support your pup's orthopedics. It's supported by eco-friendly coconut husk to ensure it doesn't squish flat over time.
It also comes with a waterproof, non-toxic organic cotton liner and an organic cotton cover to ensure the longevity and cleanliness of the dog bed. The waterproof liner contains 5% polyurethane to create the waterproof barrier, and the liner is GOTS certified.
The Avocado dog bed comes in four adorable colors and two sizes.
Price: $238.00 – $288.00
Size: 34 x 24 x 4 – 42 x 32 x 4
Certifications: GOTS, GOLS
---
White Lotus Home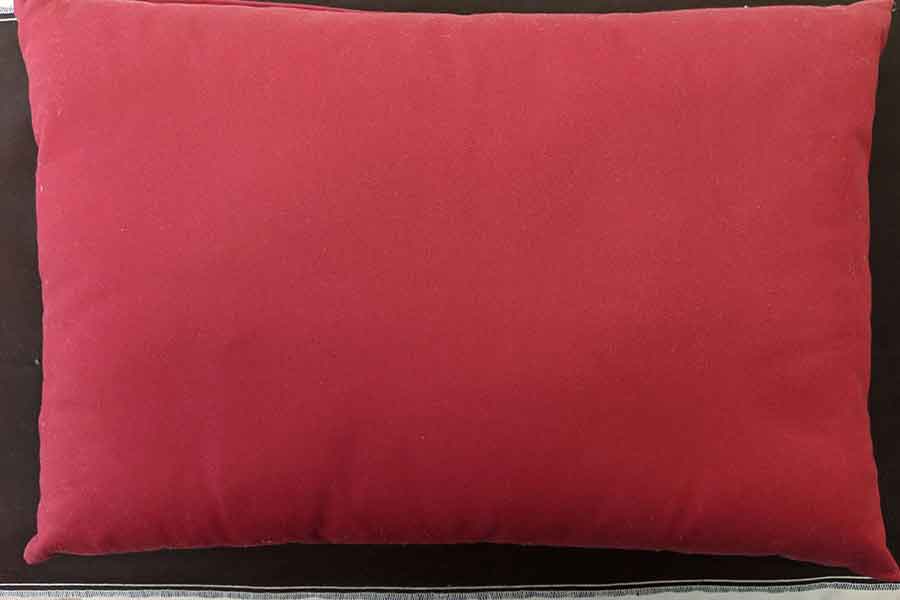 White Lotus Home is known for its non-toxic bedding and fair manufacturing processes, extending to its organic dog bed. They make all of their products in Brunswick, New Jersey, and they source their materials from ethical, certified organic farms. As a result, their comfy, non-toxic dog bed will ensure your doggo is sleeping soundly for years to come.
White Lotus offers their Pure Cotton Pet Bed with Cover, and it's made the same way their non-toxic mattresses are made: with organic cotton sourced from ethical farms. The White Lotus Home natural dog bed comes with a removable cover for easy washing, and it also comes in a vast variety of colors to match any aesthetic. They come in a size range of small to large, but you can also order them in custom sizes, as well.
Price: $174.00 – $312.00
Size: 21 x 14 x 4 – 27 x 40 x 4 (custom sizes available)
Certifications: GOTS
---
My Essentia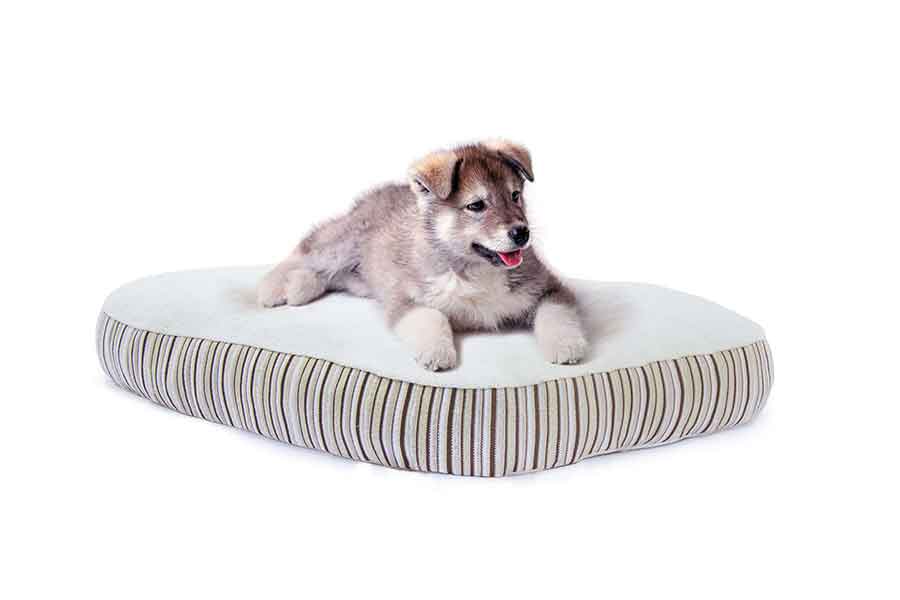 My Essentia is one of the few companies that offer an all natural, non-toxic "memory foam" mattress along with other memory foam products, like their non-toxic dog bed. Their memory foam is made from organic, natural latex and made in their GOTS and GOLS certified organic factory in Canada. My Essentia creates comfortable, healthy bedding products for the whole family, including those with four legs.
My Essentia offers a non-toxic dog bed called the Kingston. This luxurious dog bed is technically memory foam, but it's made with organic latex to give your pooch a comfy place to snooze. In addition, it comes with a certified organic cotton sherpa cover that can be removed and washed. It also comes in small, medium, and large sizes to accommodate any pet.
Price: $149.00 – $239.00
Size: Small, Medium, and Large
Certifications: GOLS and GOTS
---
Naturo Pet Dog Bed
The Naturo Pet Dog Bed is made with organic cotton and natural wool harvested and manufactured in the USA. This comfy, organic dog bed comes with a removable cotton cover with a zipper that you can easily remove and machine wash. You have several different color options and sizes to choose from with the Naturo Pet Dog Bed. Plus, you know your dog is sleeping on quality materials free of harsh chemicals that could affect their health and the health of your home over time.
This non-toxic dog bed is also one of the most affordable organic dog beds on this list. With sizes ranging from small to medium to large, Naturo Pet Dog Bed can accommodate any furry friend. You can find the Naturo Pet Dog Bed on Amazon, where the positive reviews speak for themselves!
Price: $94.99 – $184.99
Size: 36.22 x 30.79 x 5.43 34 x 26 x 4 36 x 31 x 5.5
---
Bean Products Organic Hemp Dog Bed
The Bean Products Organic Hemp Dog Bed is another awesome Amazon find. It's made with consumer recycled natural latex foam, organic cotton, and organically grown hemp fabric. It comes with a removable cover with a zipper, so cleaning is a breeze. It also comes in an extensive range of sizes, making it perfect for any pet, big or small.
The Organic Hemp Dog Bed also has several color choices so that you can match your organic dog bed to any decor. In addition, it is made without fire retardants, formaldehyde, or heavy metals. You can find the Organic Hemp Dog Bed on Amazon, making it one of the most affordable non toxic dog beds on this list! With the large size and color range, this non-toxic dog bed is a no-brainer!
Price: $59.95 – $269.95
Size: XX Small – 18 x 12 x 4, X Small – 24 x 18 x 4, Small – 30 x 20 x 4, Medium – 36 x 24 x 5, Large – 42 x 28 x 5, X Large – 48 x 30 x 5, XX Large – 54 x 36 x 6
---
The Futon Shop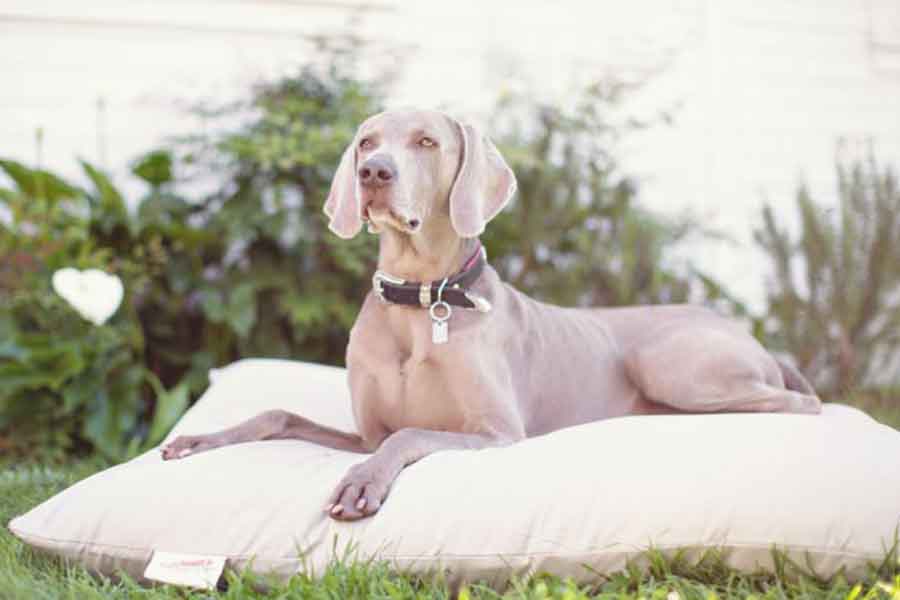 The Futon Shop has been providing a line of non-toxic, organic mattresses for years, and they've decided to extend their line to dog beds. The Futon Shop focuses on making their bedding comfortable, durable, and toxin-free, which doesn't stop with their dog bed collection.
They make everything at their San Fransisco location and use materials like GOLS certified latex and GOTS certified wool along with Oeko-Tex coconut and hemp quire.
Their Natural Dog bed is made with either coconut and wool, latex and wool, organic cotton, or pure wool filling. It comes with a polyester water-resistant case and removable cover to ensure the cleaning process is stress free. This is the only dog bed on this list that has polyester in the removable cover.
It also comes in sizes ranging from small to large in order to accommodate any furry best friend. This non-toxic dog bed is durable and comfortable enough to treat your dog to a good night's rest for years to come.
Price: $73.60 – $121.60
Size: 20 X 26, 34 X 26, 44 X 34
Certifications: GOLS, GOTS, Oeko-Tex
---
Savvy Rest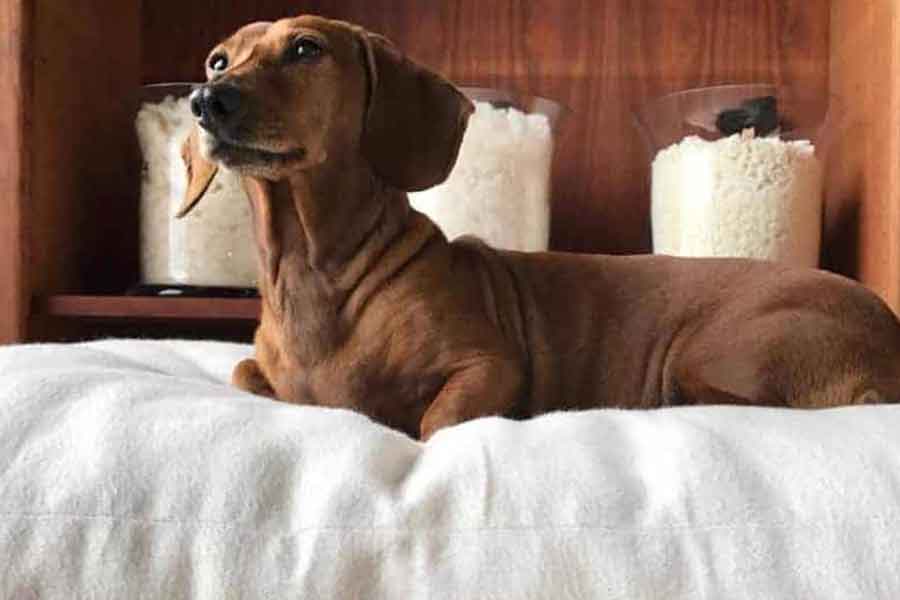 Savvy Rest offers a line of non-toxic bedding, perfect for those looking for a chemical-free sleeping experience. Savvy Rest was started by a couple who had always put their health above everything else. So when they realized their mattress was beginning to affect them, they dove into the world of organic mattresses head first. They have several stores in the USA and work to ensure everyone has a healthy sleeping environment, including your doggo.
Savvy Rest offers the Natural Latex Dog Bed. It's made with natural latex, and you can choose between formed latex or shredded latex. It also comes with an organic cotton casing that's soft to the touch and easy to clean. Regardless of what size dog you have, Savvy Rest offers their organic dog bed in three sizes to accommodate everyone. You can also choose between either black or natural color.
Price: $109.00 – $169.00
Size: 20 X 30, 26X 37, 37 X 47
Certifications: GOTS
---
Final Thoughts
Dogs are an essential part of so many families and just like us. They deserve a toxin free environment that supports their health and the health of your home. Unfortunately, conventional dog beds are often made with harmful chemicals like fire retardants, lead, and bromine that can negatively impact their health.
Choosing an organic, non-toxic dog bed can alleviate the worry of exposing your dog and your home to toxic chemicals. Look for materials like organic cotton, wool, and organic latex to ensure your dog sleeps soundly. Bonus points if you find one with a GOTS, GOLS, or Oeko-Tex certification.
Make sure to consider the size of your dog over its lifetime, the size of your dog's crate, and the material you prefer before choosing an organic dog bed.
It can be overwhelming to find truly safe products. So, I have created my Amazon Storefront for vetted, non-toxic living products, including dog beds and natural dog toys!
Pin it for later!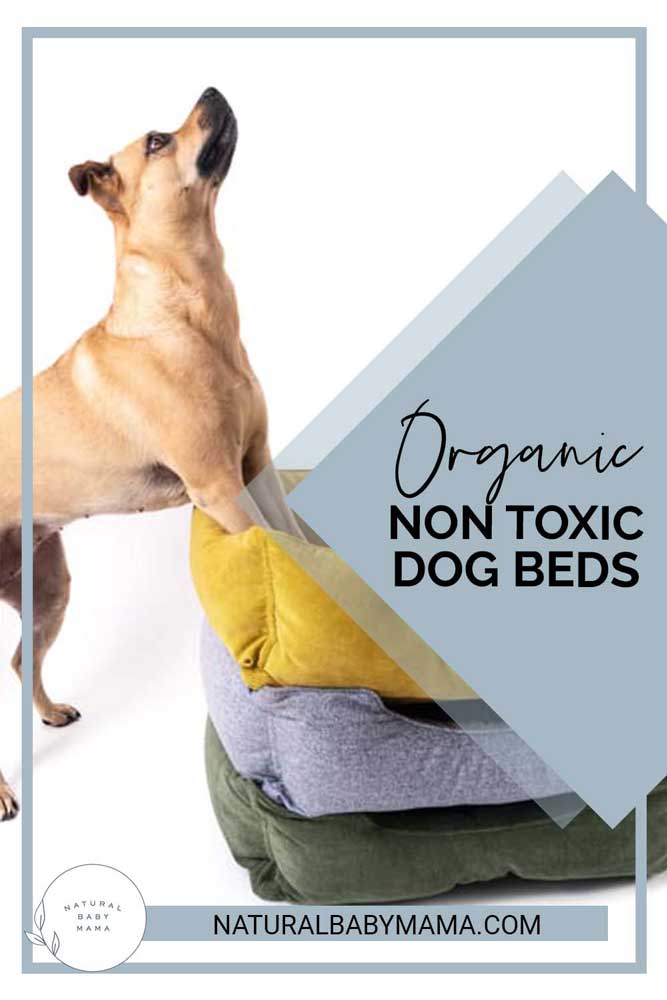 Posts Related to Organic Dog Beds
Sources: