This post may contain affiliate links. Please see my full disclosure policy for details.
Summer is in full swing, so I've compiled a list of eco-friendly, creative beach toys that will delight your kids in summer and beyond. Instead of conventional, toxic sand pails and shovels, these USA and European made beach toys inspire hours of both indoor and outdoor play for children.
Unfortunately, beach toys for kids aren't equal. PVC (the poison plastic) is the most dangerous plastic in the world because it releases chlorine-based toxins—it's present in beach toys, especially inflatables. Many beach toys don't meet both US and EU safety standards. In 2007, several high profile recalls revealed dangerous levels of paint in children's toys from China which is why meeting safety standards is so important. It's also important to look for companies that are making safe, toxin-free beach toys.
My choices for eco-friendly beach toys are PVC, BPA, and phthalate-free. Made from rubberwood, recycled milk jugs, or food-grade plastic, the eco-friendly brands in this guide are safe for your family and the environment.
To jumpstart your journey into non-toxic living this summer, check out my guides on non-toxic sunscreen and safe swimsuits.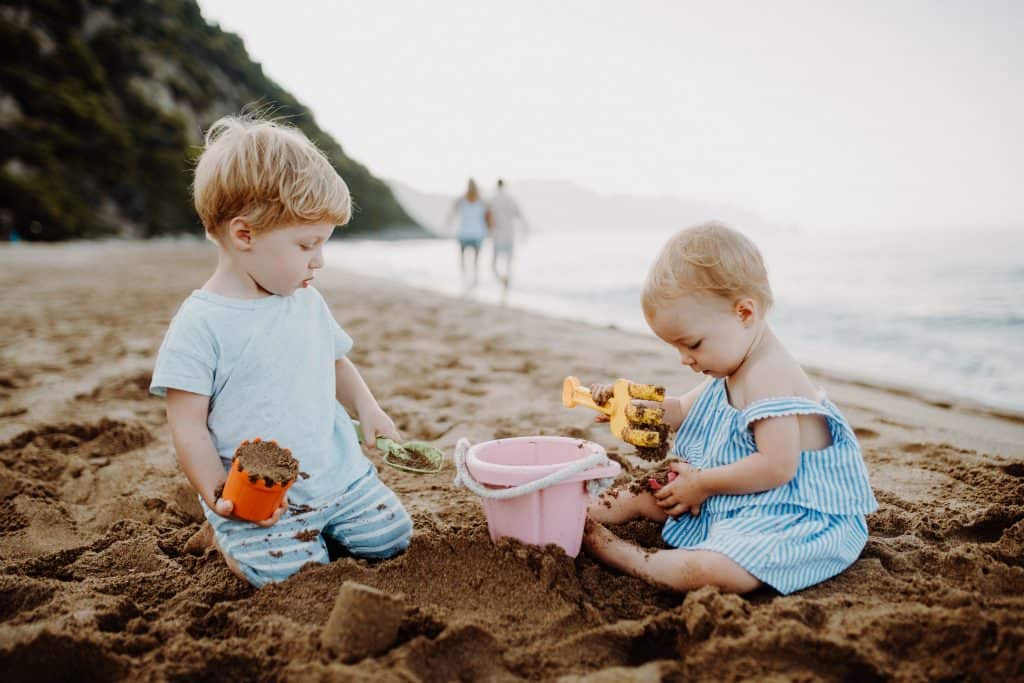 Choose Eco-friendly Beach Toys
If you're choosing conventional beach toys instead of eco-friendly, the expense is your family's health. The CPSC doesn't regulate every phthalate in beach toys and allows some in small concentrations.
Toys for children above the age of twelve don't require any third-party testing in the US. For children over six, the CPSC doesn't test any toys for heavy metals (like lead) if they're not meant for mouthing or ingestion.
Toxic chemicals in beach toys (and toys in general) are linked to several health effects. Phthalates soften plastics but disrupt hormones, and BPA is a hard clear plastic linked to cancers. There are other health effects of exposure to chemicals in beach toys not just for kids but pregnant and nursing women, too. BPA, PVC, and phthalates:
Mimic or block hormones
Lower sperm count
Birth defects
Link to miscarriage
Impact height and obesity levels
Testicular cancers
Delay motor skills
It's hard to say what one exposure to a toxic toy does, but it's highly likely that prolonged exposure every summer to chemicals in toys and sunscreen causes health issues.
The Environmental Impact of Beach and Sand Toys
The best environmental impact comes from toys without plastic. Toxic, conventional plastic beach toys break easily and are a mix of non-recyclable toxic plastics. They harm your family and the environment.
Unlike biodegradable plastics that break down in a few months or years, conventional plastics photodegrade. Sunlight breaks down the plastic parts into smaller pieces—a process that takes 600 years or more. Unfortunately, plankton mistake the plastic pieces as food and contaminate other marine animals further up the food chain.
The eco-friendly beach toy alternatives in this guide made of stainless steel and rubberwood are a plastic-free alternative to fight the environmental impact of toxins.
Biodegradable Beach Toys
Bioplastics are growing in popularity as an eco alternative to cheap plastic toys, but are they safe? Mirel—a plant-based bioplastic is a popular alternative to more toxic petroleum plastics. Instead of hundreds of years, biodegradable beach toys take two to three years to dissolve.
Beach toys made from bioplastics like Zoe B take a short time to decompose, but only in soil and water, NOT landfills. These beach toys release enormous amounts of methane gas into the environment if not disposed of correctly.
If you don't plan to compost or leave your toys on the beach (which I wouldn't recommend doing), these bioplastic toys will not decompose.
There is also growing research that is stating that bioplastics are quite toxic. Some studies are stating that bioplastics are as toxic as PVC.
Until there is further research done I would error on the side of caution and avoid bioplastic and biodegradable beach toys.
I don't recommend plastic for children under two. Instead, collect shells in a metal bucket and use wooden utensils for creative and eco-friendly play.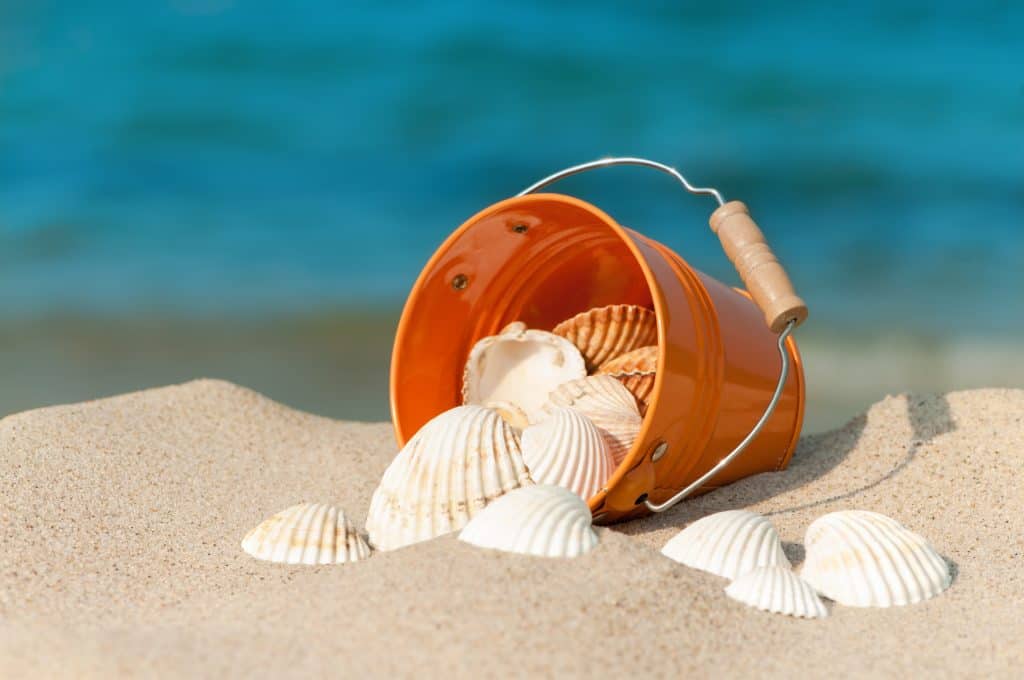 Eco-Friendly Beach Toy Reviews
I've done the research for you to choose the best eco-friendly beach toy brands this summer. I own or have used these brands, and they stand up to multiple years of play.
The best eco-friendly beach toy is one that doesn't end up in the landfill. Here's the list.
Plan toys is a pioneer in safer toys for kids. This eco-friendly brand uses rubber trees to make sustainable and eco-friendly products. Their other toys, like the submarine and speed boat, double as both beach and water toys.
This European made steel set is an investment that will last forever. We use it to collect rocks and seashells at the beach and sticks on nature walks. Bella Luna is a small, woman-owned business that doesn't sell plastic toys with a commitment to eco-friendly practices.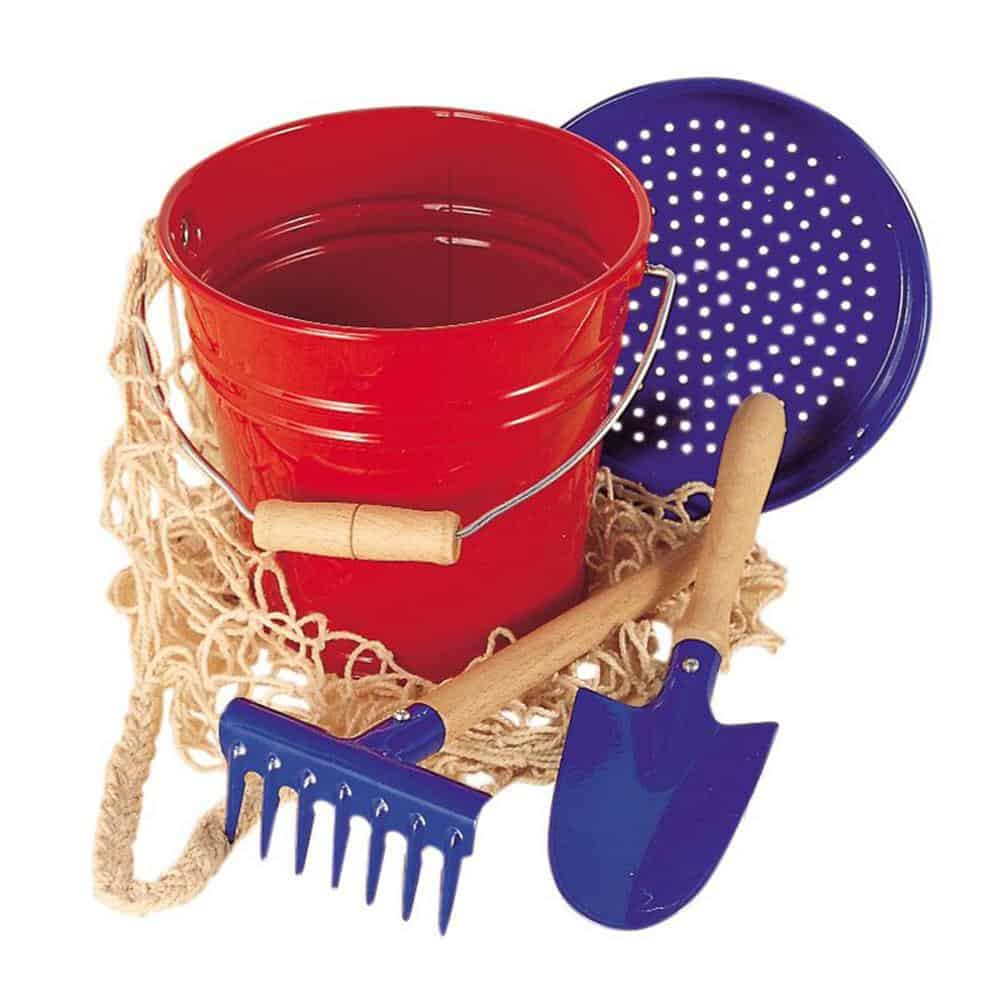 Made in the USA, Green Toys is the original 100% recycled toy. This brand uses milk jugs and yogurt cups to produce beach toys (and more) that exceed both US and EU safety standards. They've kept almost one hundred million milk jugs out of landfills with their eco-friendly mission.
—–
We use their multifunctional tea set for kitchen play indoors, mud pies outside, and sand pies at the beach.
—–
Green toys also have a line of vehicles, boats, and airplanes perfect for water and sand play. I've owned several of their toys and they've held up to five years of play.
Food safe and indestructible, Spielstabil beach toys will last a lifetime. ABS plastic is lead, PVC, BPA, and phthalate-free. These beach toys use no glue or chemical adhesives that break down in the sunlight. Instead, they are welded together. With a ten-year warranty and affordable price point, this beach set is a staple in our family.
Finally, before you head to the beach, grab a GOTS organic cotton tote to keep all of your toys, nature finds, and snacks in one place.
Have you tried the beach toys on this list? Share your favorites in the comments below!
---
Sources:
1. "Toy Safety Business Guidance & Small Entity Compliance Guide." Consumer Product Safety Commission. www.cpsc.gov
2. "Phthalates and Children's Products." National Center for Health Research. center4research.org3. Cho, Renee. "The Truth About Bioplastics." Earth Institute, Columbia University. 13 December 2017. blogs.ei.columbia.edu
Pin it for later!