Your breastfeeding pillow will likely become one of your most-used (and loved) baby items. A quality non-toxic, organic breastfeeding pillow means more comfort for both you and your baby during feedings. It will help you avoid back, shoulder, and arm pain as you sit back and nurse your precious little one.
You are going to spend many, many hours using this pillow – especially in the first few months of your baby's life. Therefore, it's important to choose a practical, safe, and non-toxic nursing pillow. This isn't easy, as many nursing pillows are made of hazardous synthetic material stuffed with poly fiber.
If you are currently shopping for a non-toxic nursing pillow, this guide is for you. Keep reading for tips on what to avoid, what to look for, and what brands of organic nursing pillows to check out.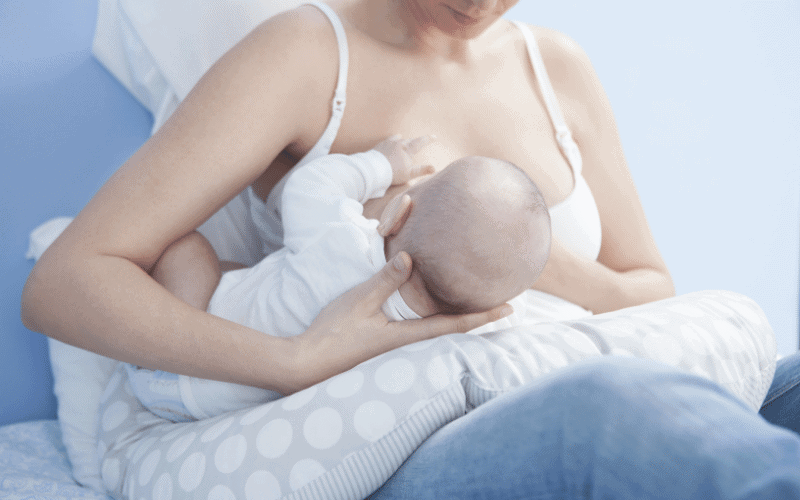 This post may contain affiliate links. Please see my full disclosure policy for details.
What to Avoid in Nursing Pillows
The skin is our largest organ. What comes in contact with our skin – especially thin, delicate new baby skin – may get absorbed into the bloodstream. The last thing you want is to expose your baby to an onslaught of toxins while you breastfeed. Beware of:
Synthetic Fabric
Synthetic fabrics are inexpensive and readily available, but they come with a heavy price tag for our health, well-being, and ecology. The manufacturing of synthetic materials involves toxic and carcinogenic substances that may affect the immune, nervous, respiratory, and gastrointestinal systems.
The shedding of microplastics while washing exacerbates the long-term hazards of synthetics.
Poly Fiber Stuffing
Some nursing pillows boast of an organic cover, but once you dig in a little deeper, you discover that the pillow is stuffed with petroleum-based, nonrenewable polyester fill.
The main component in these types of stuffing is ethylene glycol, which may enter the body through skin contact or inhalation and cause problems in the kidneys and nervous system.
Furthermore, polyester releases toxic volatile organic compounds like benzene and formaldehyde.
Polyurethane Foam
Polyurethane foam is petroleum-based and contains toxins that may wreak havoc on the immune and nervous system, causing autoimmune and neurological disorders, allergies, asthma, and cancer. Testing requirements by the U.S. Environmental Protection Agency do not assess the full extent of health effects.
Non-Organic Cotton
You may think you're safe if you're opting for cotton, but in fact, conventionally grown cotton uses a high amount of pesticides, especially insecticides (roughly 1/3 pound per every pound of produced cotton) laden with toxic chemicals.
Conventional cotton farming is water-heavy, ecologically unsustainable, and often shamefully exploits workers.
What to Look For in Organic Breastfeeding Pillows
When shopping for an organic nursing pillow, look for one made from natural materials processed through sustainable procedures. It may cost more, but the investment is truly worth it for your family's health and the planet's well-being.
Here are several materials you can safely choose for you and your baby:
Organic Cotton
Unlike conventionally grown cotton, organic cotton does not utilize fertilizers, pesticides, or other chemicals. Organic cotton farming uses sustainable crop rotation that benefits the soil.
It's important to check that the cotton is not just organic, but GOTS-certified (more on this in a bit). Unfortunately, some cotton products are labeled organic, but their manufacturing process involves hazardous chemicals and toxic dyes.
Organic or Eco-Wool
Wool is a fantastically versatile, renewable fiber. It is lightweight and flame-resistant. It has excellent thermoregulation properties and tends to repel mold and dust mites. Contrary to popular opinion, quality wool doesn't itch or irritate the skin.
Very rarely, people can have wool allergies. However, many people who believe they are allergic to wool are actually sensitive to chemicals used in the manufacture of conventional, non-organic wool.
Sadly, wool farming may involve inhumane practices. Look for ZQ certification or GOTS certification, which ensures that the wool was produced ethically.
Buckwheat
Buckwheat hull filling gives non-toxic nursing pillows a delightful beanbag feel with just enough springiness to provide comfortable, firm support. The hulls are hypoallergenic and don't attract dust mites.
The uneven shape of buckwheat hulls aids ventilation and helps keep the pillow fresh and fluffy. Organic buckwheat is a sustainable, renewable, and environmentally friendly resource.
Kapok
Kapok, one of the most sustainable plant fibers in the market, has earned the name "vegetable cashmere" thanks to its silky sheen and wonderful thermoregulation. Kapok comes from the seed pod of Ceiba pentandra, a tree native to West Africa, Central America, and the Caribbean.
Light, compression-resistant, and hypoallergenic, kapok makes an ideal organic nursing pillow filling.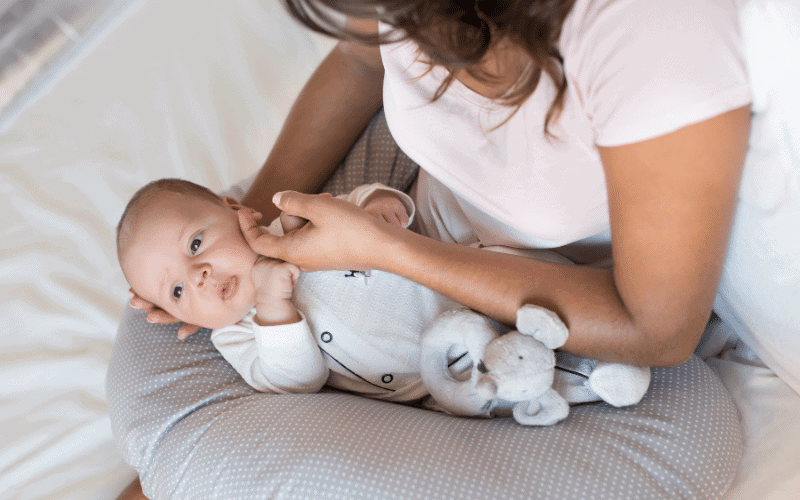 Fiber and Fabric Certifications
To make sure you choose a safe and ethically produced organic breastfeeding pillow, see if the product has at least one of these two certifications:
GOTS (Global Organic Textile Standard) certifies that the fabric has been produced without any flame retardants, dangerous AZO dyes, formaldehyde, phthalates, or other hazardous substances. It also states that the manufacturing process was ethical, with no cruelty to animals or worker exploitation.
Oeko-Tex is less stringent than GOTS certification, but it still means that the non-toxic nursing pillow is free of most of the hazardous compounds present in conventional fabrics. Oeko-Tex certification does allow the use of pesticides and some flame retardants. It also does not mean that the fabric is organic.
Oeko-Tex ensures your organic newborn clothes are free from hundreds of toxins. Look for the Oeko-Tex certification on the tag or packaging.
Oeko-Tex allows for synthetic fibers, low levels of formaldehyde, and some flame retardants. It's important to read the labels of what you are buying to ensure you are buying 100% organic cotton baby clothes with this certification.
How to Decide Which Nursing Pillow is Right for You?
With the array of nursing pillow brands on the market, it can be difficult to narrow down your choice. Consider the following qualities for an easier decision:
Shape
Some organic breastfeeding pillows have a plump crescent or U-shape, while others are longer and can wrap around your waist. A few things to consider:
shaped pillows work especially well for moms who combine breast and bottle feeding
A long wraparound design can provide extra support for both baby and mom
Crescent-shaped pillows are excellent for baby head support
Ease of Maintenance
Every baby item needs to be easily washable. Your nursing pillow will get drool, spit-ups, and milk leaks on it – and if you also have older kids, it might get dragged around the living room through puddles of water and food (ask me how I know). So go for a nursing pillow with a durable, easily removable, machine-washable cover.
Versatility
If you invest in a quality organic nursing pillow, you'll want to use it beyond the first couple of months of your baby's life.
Is the pillow suitable for older babies and toddlers? Can you use it for more than breastfeeding?
Ways to Use a Nursing Pillow
Depending on the size and shape of the nursing pillow, it can:
Provide a secure hold for a sibling who wants to hold the baby
Serve as an aid during tummy time: prop up your baby to give her extra comfort and a little more height
Work as a seat support for older babies
A word of caution: always, always supervise your baby while she is having tummy time, propped-up sitting time, or snuggle time with an older sibling.
Finally, a good nursing pillow is way more comfortable than most throw pillows. I love to use mine during catnaps or just for a cozy curl-up on the couch.
The 4 Best Organic Breastfeeding Pillows
The organic breastfeeding pillows in this section are all non-toxic and wonderfully comfortable. I wouldn't hesitate to recommend any of them to a new mom.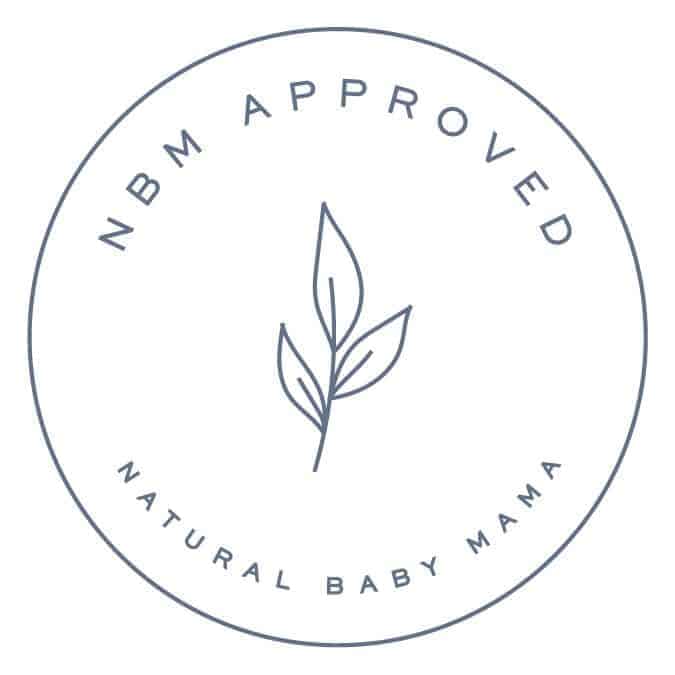 1. Holy Lamb Organics
This organic breastfeeding pillow is my personal favorite. I loved my squishy U-shaped Holy Lamb Organics nursing pillow both during breastfeeding and for putting behind my babies while they were learning to sit.
The Holy Lamb Organics nursing pillow is 100% GOTS certified, with an organic cotton cover and GOTS certified organic wool filling.
Holy Lamb Organics also makes a natural nursing pillow that uses eco-wool instead of GOTS certified wool and is less expensive. Both non-toxic nursing pillows are made in the USA.
Starting price: $137
---
2. Nesting Pillow by Blessed Nest
The crescent shape of the Blessed Nest organic breastfeeding pillow is ideal for placing the baby on your lap. It has a heavy, firm feel thanks to its filling of organic buckwheat hulls.
This pillow has an easily removable and washable slipcover of US-milled, 100% organic cotton canvas.
Starting price: $94
---
3. Lifekind Nursing Pillow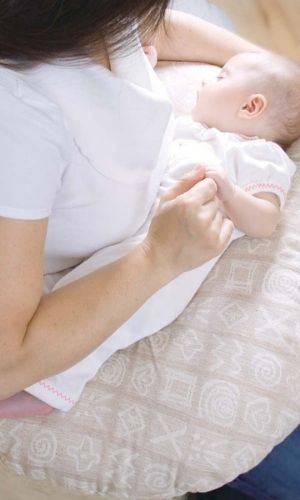 The Lifekind U-shaped organic nursing pillow is a wonderful breastfeeding pillow and also makes a great pillow for when your baby is learning to sit.
It is made entirely from GOTS-certified organic cotton. The cover is made from color-grown organic cotton keeping your baby safe from toxins that can be found in dyes. Handmade in the USA.
Starting price: $189
---
4. MoonWomb from The Sustainable Baby Co.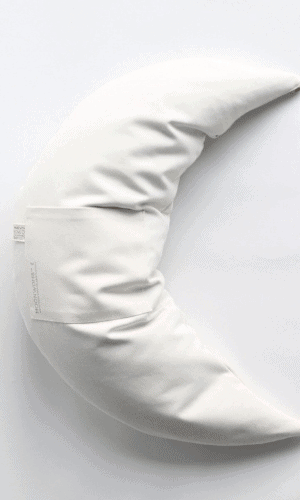 The MoonWomb is a stylish crescent-shaped organic nursing pillow that also works great as a pregnancy pillow.
It has an organic cotton canvas cover and organic buckwheat hulls filling. A removable sachet of chamomile and lavender flowers adds a nice touch. Locally made in Pagosa Springs, Colorado.
Starting price: $145
---
5. Nursing Nest by Magnolia Organics
The Magnolia Organics Nursing Nest is a C shaped organic breastfeeding pillow.
The 100% organic cotton cover is GOTS certified. It is filled with buckwheat hulls that are grown without pesticides or herbicides in North Dakota. The buckwheat hulls are air-washed to remove all debris.
Starting Price: $40
---
Final Thoughts on Organic Breastfeeding Pillows
With a variety of materials, features, and prices, there is an increasing number of fantastic organic nursing pillow options for families who are committed to non-toxic, eco-conscious living.
Still, it can be overwhelming to find a truly safe, comfortable, and practical organic nursing pillow. I have created my Amazon Storefront for vetted non-toxic nursing pillows as well as other non-toxic living products for your entire family – check it out!
Other Posts Related to Organic Nursing Pillows:
Pin it for later!