Putting together your nursery is one of the most enjoyable and exciting tasks in preparing for a new arrival. As you theme-paint the walls and stack adorable newborn clothes, you imagine the tiny human who will soon be sleeping in the crib with the color-coordinated bedding, and you can't wait to hold your new baby in your arms. Creating a non-toxic nursery is one of the most important things you can do.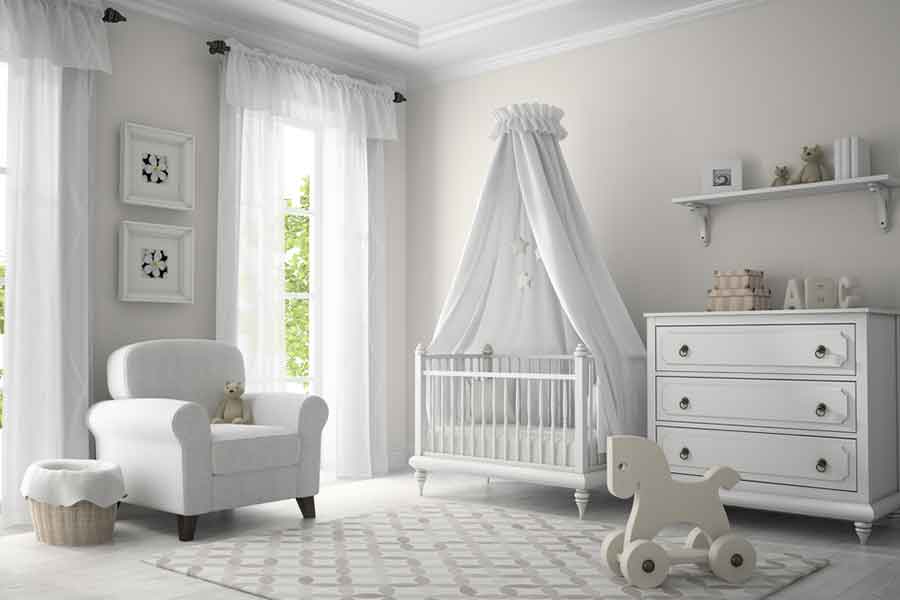 Unfortunately, many babies are exposed to dangerous toxins in the place that is supposed to be the safest of all – their nursery. Paint, textiles, crib materials, and carpeting are potential sources of formaldehyde, VOCs, and other hazardous materials.
Keep reading to find out how to avoid the pitfalls of conventional baby products and create a safe, non-toxic nursery.
This post may contain affiliate links. Please see my full disclosure policy for details.
Why Babies Are So Sensitive to Toxins
While the toxins lurking in your home are bad for the whole family, your precious baby is especially vulnerable.
Pound for pound, babies absorb more toxins than adults.
Their detoxification system, mainly the liver, is still developing, so their tiny bodies are less able to deal with dangerous compounds and heavy metals.
Furthermore, the blood-brain barrier, which prevents chemicals from reaching your brain through the bloodstream, isn't fully developed yet in babies and children. For these reasons, you should be extra careful to avoid exposing your little ones to toxins.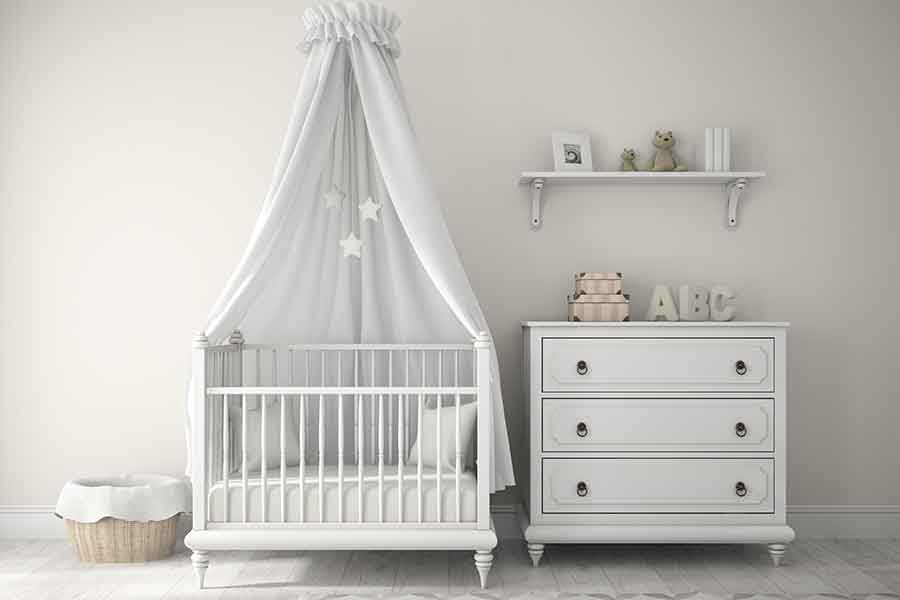 Non-Toxic Nursery Materials
A baby's nursery should be not just pretty, but first and foremost safe and toxin-free. So here is how you can unleash your creative side without compromising on your little one's health.
Safe Nursery Paints
When you step into a newly painted room and take a sniff, you actually smell VOCs (volatile organic compounds). These hazardous substances can cause respiratory system irritation, nausea, headaches, and even central nervous system damage.
While the level of VOCs will drop substantially after the paint dries, they have a stubborn presence – according to EPA, conventional paints lead to VOC levels 2-5 times higher indoors than outdoors.
There are several VOC-free paint brands on the market, but no VOC paints can still contain other harmful chemicals. My favorite brand is ECOS, offering a stunning palette of premium quality, non-toxic paints you can safely use in your home.
Solid Wood
Solid wood is the safest non-toxic choice for cribs and all baby furniture – it may be a bit more expensive, but it is worth it. Other commonly used materials like MDF, plywood, and particle board contain formaldehyde which can off-gas for many years.
Formaldehyde is a known carcinogen and has direct links to reproductive and developmental disruption.
Carpeting and Rugs
Carpets and rugs feel wonderfully cozy, but they are often a hotbed of harmful substances. Even if you avoid toxic polyester-based, VOC-emitting synthetic carpeting, carpets can still accumulate dust, dead skin cells, pet hair, bacteria, mold spores, and other allergens you don't want near your baby.
A machine washable, padded organic cotton quilt spread on the floor is, in most cases, a healthier choice for a baby's playtime. Another great option is the organic cotton rug from Under the Nile. This is more like a thick blanket than a traditional rug. This was our favorite rug for playtime.
If you really must have a carpeted area, opt for an all-natural GOTS-certified rug like those from Organic Weave. Their soft, plush rugs are hand-crafted from 100% organic fibers using a high standard of fair employment.
Above all, if you have a rug or carpet, clean it frequently with a HEPA-filter vacuum.
Vintage and Antiques
While a vintage baby crib or dresser can add a touch of style to your nursery, I recommend avoiding all vintage and antiques because of the risk of lead exposure. Any item made before 1978, even those with a clear varnish finish, could contain lead, a neurotoxin.
Non-Toxic Nursery Equipment
Many products boasting a "baby safe" label actually have zero regulation and may contain a slew of health-compromising chemicals. Below you will find my recommendations for cribs, bedding, and clothing that are truly safe for babies.
---
Solid Wood Crib
The most non-toxic crib you can buy is solid wood and unfinished. However, if you want a finished crib and nursery furniture, there is one recommendation below.
IKEA
If you need a safe and affordable unfinished, solid wood crib for your baby, IKEA is the go-to choice. Depending on your location, the basic, lightweight solid wood IKEA Singular crib may cost you under $100.
Green Cradle
Looking for a high-end, beautiful baby crib with a traditional look and a smooth finish? Check out Green Cradle. Their products are made in the U.S.A with no VOC oils or other harmful toxins. They also offer organic mattresses and bedding.
Romina
Romina offers finished, eco-friendly, and sustainably manufactured beautiful furniture. Their cribs are stunning, but you'll have to be prepared to invest over $1,000. They also have 4-in-1 convertible cribs, which give more value since they can convert to a full-size bed.
---
Organic Mattress
When you're shopping for a mattress for your little one, look for the two following certifications:
· GOTS: GOTS, or Global Organic Textile Standard, is the top certificate for organic fabrics confirming the absence of contaminants like pesticides and toxic dyes throughout the manufacturing process. A GOTS certificate also ensures fair conditions for all workers involved in the supply chain.
· GOLS: GOLS (Global Organic Latex Standard) is similar to GOTS but refers to latex. When you buy a GOLS-certified latex mattress, you can be sure you're getting a 100% organic, ethically manufactured product.
Here are my personal favorite organic mattress brands:
Naturepedic
Naturepedic offers lovely organic crib mattresses, 100% baby-safe from day one. In addition, their GOTS- and GOLS-certified products are environmentally friendly and free from all toxic chemicals like polyurethane and flame retardants.
Naturepedic's baby mattresses include several options: classic with a wipe-clean waterproof surface ($259) and more expensive breathable models with a removable, washable cover. They also make mini and oval crib mattresses.
Naturepedic offers a 15% discount to Natural Baby Mama readers, use code: NBM15
My Green Mattress
My Green Mattress makes its products from sustainably grown and processed organic materials like cotton, wool, and latex.
Their GOTS- and GOLS-certified organic crib mattress ($259) is firm, breathable, and offers excellent support for babies and toddlers. They also offer an organic cotton protective cover and sheet set.
My Green Mattress offers a discount to Natural Baby Mama readers, use code: NBM for $125 off all mattresses size twin or larger and 15% off their crib mattress.
Avocado
The Avocado recommendation is on hold temporarily while the details of the class action brought forth against Avocado are being disclosed.
Although Avocado's organic crib mattress is on the pricey side compared to its competitors (a whopping $1249), its hybrid two-sided baby and toddler design meaning you can use it for years – until your little one turns four, according to the company's website.
Avocado's premium crib mattresses are expertly hand-crafted in their Los Angeles factory with great attention to detail. What's more, a large part of their source materials, namely latex, and wool, come from family-run farms and ethically raised animals.
Soaring Heart
Soaring Heart's organic latex crib mattress ($449) is handmade in Seattle from the finest organic Texas-grown cotton, New Zealand wool, and pure rubber tree sap latex. They use extra firm latex for safe, long-lasting support and offer free shipping and a 20-year warranty.
The mattress's cotton cover is non-removable, so the company recommends using a protective pad to keep moisture and spills off the mattress.
Soaring Heart offers a 5% discount to Natural Baby Mama readers, use code: Natural Baby Mama
---
Organic Crib Sheets and Baby Blankets
Once you've got your solid wood crib and comfy organic crib mattress, it's time to shop for some organic baby bedding and blankets. I have some great options in my organic crib sheets post, all holding GOTS, and Oeko-Tex certifications. Here's a brief recap of my two favorites:
Coyuchi
Coyuchi offers some solid options for basic crib sheets (starting price: $38) and organic baby blankets (starting price: $48). Their lightweight cotton blankets are perfect for layering, and the pastel and light earthy colors will fit any nursery theme.
Burt's Bees
Burt's Bees has a lovely selection of GOTS-certified baby bedding, including crib sheets, bassinet sheets, and quilts and blankets.
They offer a range of solid colors, patterns, and cute prints, for very affordable prices. What is great is that you can stock up on organic cotton crib sheets for as little as $14.99.
---
Organic Baby Clothes
Clothes stay right next to your baby's skin, day and night, and our skin is our largest organ. So, it's very important to choose outfits that aren't just soft and cozy, but free of toxic dyes, pesticide residues, and other dangerous chemicals.
I dive deep into organic clothing for babies and kids. As with mattresses and bedding, look for organic clothing with the GOTS label (top choice) or Oeko-Tex (second best) labels. Some of my favorite brands are Frugi, PACT Organics (Be sure to save 15% off with the code NATBABYMAMA15.), and Finn & Emma.
In addition, I also have an entire post dedicated to organic newborn clothing.
Don't forget when washing your baby's clothing that you use non-toxic laundry detergent. Don't be fooled by the marketing gimmicks that claim you need baby laundry detergent. You don't, and often those are loaded with toxins. Your best is sticking with the vetted brands listed in the post above.
---
Other Baby Essentials
Here are some other items you might look into as you set up your non-toxic nursery:
Nursing pillows
A good-quality nursing pillow will likely become one of your most used and appreciated baby accessories. Look for a GOTS-certified nursing pillow with an organic cotton cover and a fill of organic wool, buckwheat hulls, or kapok.
My absolute favorite is the pillow by Holy Lamb Organics, but you find additional recommendations in my post on organic nursing pillows.
Breast pumps
A quality breast pump can be a lifesaver if your little one has trouble nursing or you must be away from your baby for more than a couple of hours. But, unfortunately, many breast pumps contain phthalates, industrial chemicals you don't want near the breast milk you're saving for your baby.
Check out my recommendations for choosing a non-toxic breast pump.
Formula
Even if you plan on breastfeeding, many babies and toddlers will consume at least some formula at some point. It's always a good idea to have some formula on hand in case an emergency arises.
Many parents are understandably concerned about growth hormones, synthetic preservatives, excessive sugars, and other unhealthy ingredients in baby formula. You'll find all the details you need to know in my vetted list of organic baby formula brands and goat milk formula posts.
Diaper cream
Whether you cloth diaper your little one or go for disposables, keep some safe, hypoallergenic diaper cream on hand. Most diaper rash creams contain dangerous toxins like phthalates, parabens, petroleum-based oils, and more.
Luckily, there are some excellent all-natural, non-toxic baby diaper creams on the market, such as Earth Mama and Green Goo Baby Balm. For a complete list of recommended brands, read my post on natural diaper rash creams.
Mobiles
A mobile can enhance your nursery décor and give your little one something to look at while they are in the crib. Our Green House has some lovely items like this felted wool sheep mobile.
Toys
As your child begins to explore the world, you will want to make sure you offer her safe, eco-friendly toys that stimulate her imagination and enhance her development. As with furniture, solid wood is the king of non-toxic toys.
Avoiding plastic, especially for babies and toddlers that mouth toys, is important.
For a comprehensive list of non-toxic toy recommendations, read my post on plastic-free, non-toxic toys.
---
Baby Gifts
People love to give baby gifts, and it can be tricky to explain why you never use the toxic stuffed animal they bought or the cute little blanket they crocheted from petroleum-based acrylic yarn.
To those who have never researched the health hazards concealed in everyday items, your commitment to a non-toxic nursery may seem strange. As a result, some people won't listen to your request or may get defensive.
To navigate these difficult situations, I suggest letting other people know about your gift preferences with maximum sensitivity, well before the baby arrives, especially if you plan on having a baby shower.
Providing them with a well-thought-out gift registry always helps. You can build out your gift registry with the recommendations in this post and by using my Amazon Storefront with vetted non-toxic products for the entire family.
Final Thoughts on Creating a Non-Toxic Nursery
When you commit to creating a non-toxic nursery, it may seem as though health concerns are lurking everywhere. However, taking a few simple steps will reduce the toxins in your nursery. These steps will help welcome your baby into a safer world for them with less exposure to toxins in their formative early years.
To make product choices easier for you, I created my vetted Amazon storefront. Browse it for a selection of safe, non-toxic baby products.
Other Posts Related to Non-Toxic Nursery
Pin it for later!