The best toys inspire imagination and endless hours of play. I've created a natural and eco-friendly gift guide for your children, family, and friends in anticipation of the holiday season. Below are some of the best natural toys for kids.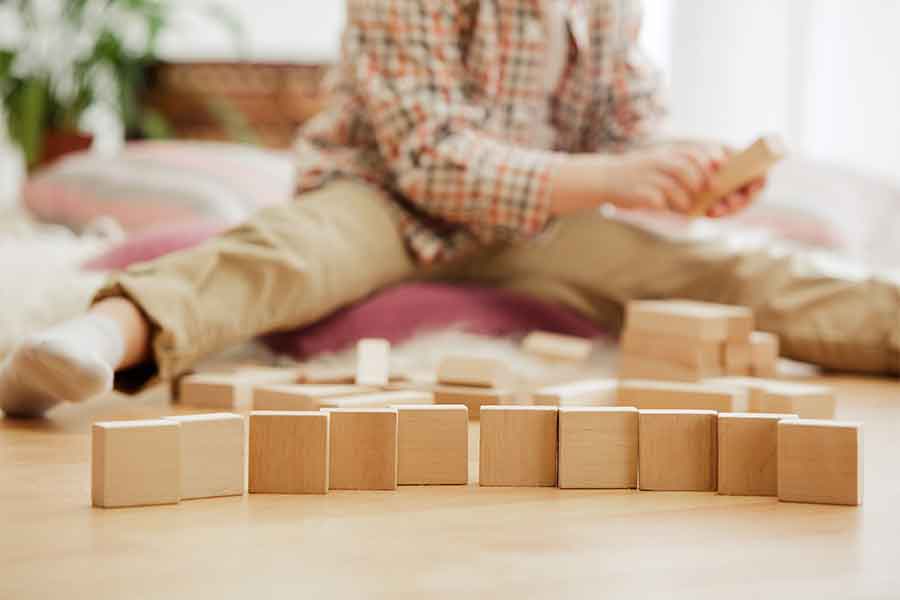 Natural toys are longer-lasting, safer, and provide increased developmental benefits. In our family, we are huge fans of choosing toys that last years and are multi-use. If you're wondering what eco-friendly toys are worth the price, this gift guide is for you.
This post may contain affiliate links. Please see my full disclosure policy for details.
Choose Natural and Eco-Friendly Toys for Kids
Most mainstream toys are full of harsh sounds and colors. Some plastic toys are so loud that they've been linked to hearing loss and language delays.
Natural toys are better for your child's development and the environment. Instead of ending up in landfills after a short-time, open-ended toys are passed down through siblings (even generations!) and inspire hours of play like:
These play clips that double as a gate, plane, car, or even clothespins.
Play silks for dress-up, making forts and landscapes
Wooden blocks make castles, garages, and more, encouraging hand-eye coordination and spatial development.
Tips for Choosing Natural and Eco-Friendly Toys
The best natural toy brands use eco-friendly materials, like wood, cotton, or wool. I've contacted most of the brands in this gift guide to make sure they use the best materials like GOTS organic cotton and non-toxic finishes.
Recently, there have been increases in companies selling wood toys from China that are replicas of German brands like Grimms. You can read about why I avoid toys from China in my plastic-free toy brands guide here. Make sure to choose reputable brands like the options below to avoid health hazards (avoid the replicas!).
The Best 40+ Natural Toys for Kids
Below you'll find gift suggestions and toys my children use and love. Natural toys are an investment that pays off–you'll find yourself buying less and your kids enjoying what you buy more.
You can find the many of these natural toys for kids in my Amazon Storefont!
Natural Toy Essentials
If you're new to non-toxic and natural toys, choosing a few essentials that your children will play with daily is a great place to start. Below are my top picks.
1. Wood Blocks
A set of wood blocks is a timeless toy that makes a great gift for a child of any age. Uncle Goose blocks are non-toxic and made in the USA.
They're certified to US, EU, and Japanese safety standards and third-party tested for heavy metals. Uncle Goose will even replace missing blocks for one dollar each.
---
2. Play Silks
Children can easily tie play silks to make forts and capes. They're used as blankets, landscapes, and even doll carriers in our home.
Unlike polyester imitations, Sarah's silks are 100% silk without chemicals or pesticides.
---
3. Peg Dolls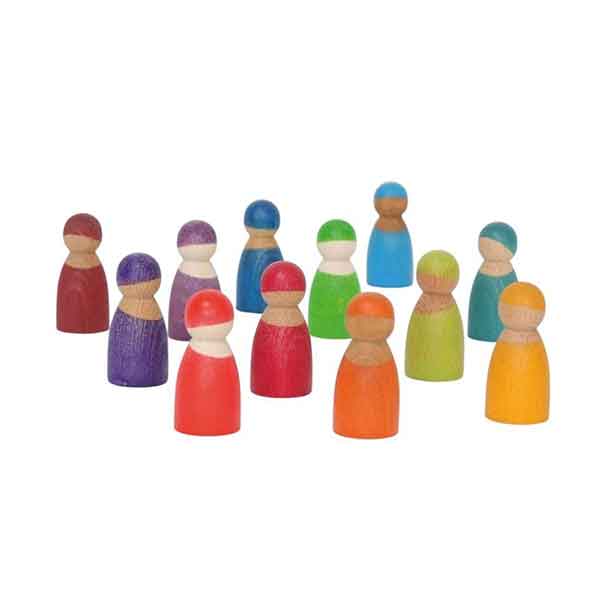 Peg dolls inspire hours of open-ended play. Children use them as train conductors, family members, farmers, and more.
They're a great addition to add on to play with wood blocks or trains. Grimm's is my favorite German toy brand making non-toxic, organic toys finished with natural oils.
---
4. Play Clips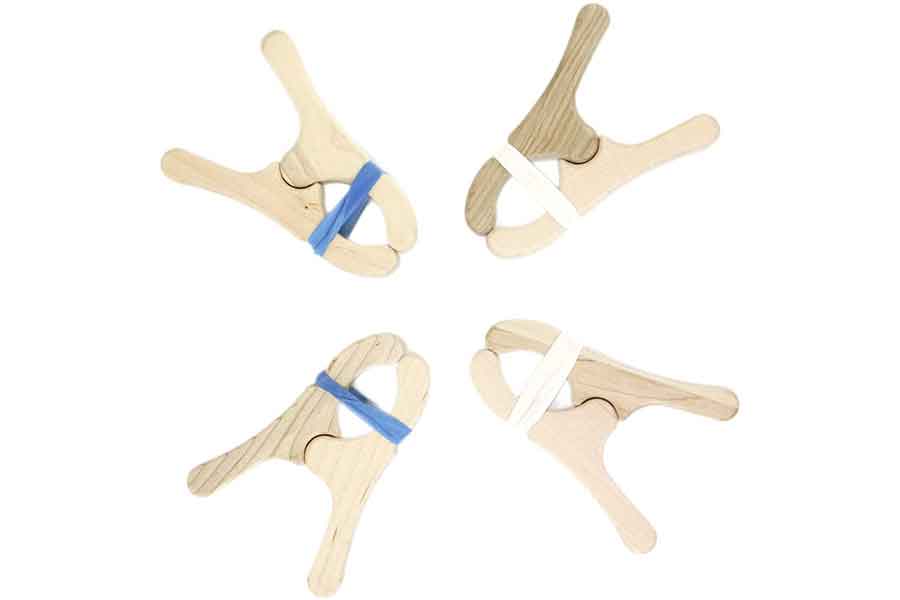 A set of wood clip inspires so much imagination both inside and outdoors.
The Camden Rose play clips are large (so they're perfect for little hands to hold) and perfect for fort building, hanging artwork, and even making a pretend plane.
---
5. Dress Up Doll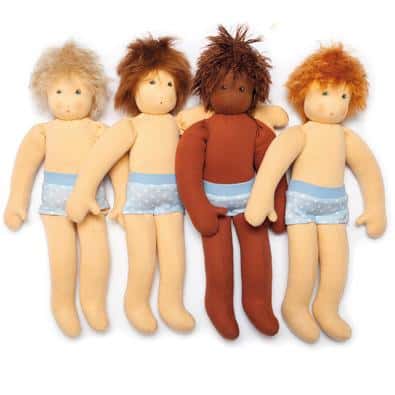 A dress-up doll is a must-have for any child. Made in Germany, this one has a simple face for more creative play and is filled with wool. You can find organic clothes for this doll or knit your own with older children.
SHOP ORGANIC DRESS UP DOLL AT BELLA LUNA
---
6. Rainbow Stacker
The Grimm's rainbow stacker is another one of our favorites and one of our most used toys. Small children use it to develop spatial awareness, and older children can count, sort colors, or use it in imaginary play. They can be stacked and balanced in some very creative ways, are used as tunnels, fences, and even pretend seatbelts on the couch!
This is an investment, but I started with some smaller Grimm's stackers, and they do not get the same use this large rainbow stacker does. My only regret was not buying the Large Grimm's rainbow stacker first.
---
7. Organic Stuffed Animals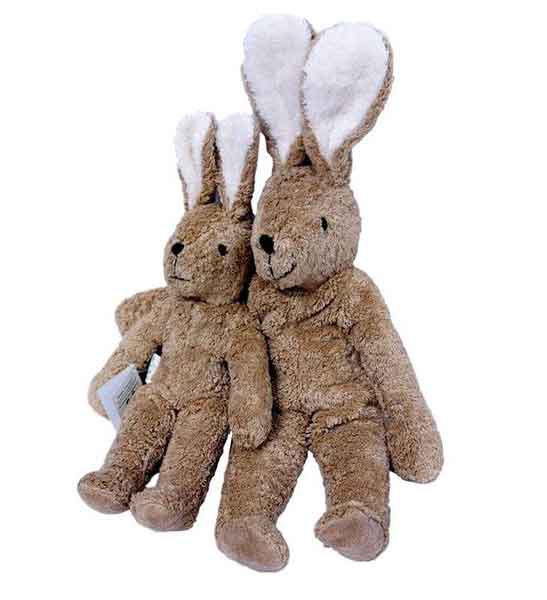 Organic stuffed animals are not only better for the environment but they are better for your children when they are snuggled up close to them. Most conventional stuffed animals are made of synthetic materials like polyester.
Look for certified organic stuffed animals where the filling used is also natural like organic cotton or wool. My two favorite brands are Senger and the Sigi-Kids organic line. Sigi-Kids also sells non-organic stuffed animals so look for the organic collection.
---
Natural Toy Gifts for Babies and Toddlers
When it comes to smaller children, keeping the toy box simple with gentle, tech-free toys is the best choice.
Wood toys are durable, so they'll last being chewed on and thrown around. Your special someone will appreciate a thoughtful gift that can grow with their child.
---
8. Toy Keys
Babies love keys. But, did you know that keys, like house and car keys, contain dangerous amounts of lead? When I tested common things around my house for lead, I realized what a problem it is.
Lead is especially dangerous for babies and toddlers who are constantly mouthing what's around them. These Kleynimals stainless steel keys are a safe alternative as they are lead-free and made in the USA.
SHOP KLEYNIMALS STAINLESS STEEL KEYS
---
9. Pull Along Toy
My children loved all of the Plan Toys pull along toys, especially the Dancing Alligator. Pull toys develop walking and running skills and strengthen hand grip.
SHOP PLAN TOYS DANCING ALLIGATOR
---
10. Hammer and Ball
Babies and toddlers like to hit and throw, making the Plan Toys Punch and Drop an instant hit in our household.
Plan toys are made from sustainably sourced rubberwood trees with formaldehyde-free glues. They are my favorite widely available non-toxic toy brand on the market.
---
11. Wood Xylophone
Perfect for toddlers, the Plan Toys Oval Xylophone comes with a wooden mallet for your favorite toddler to hit it with to their heart's content. Our xylophone has endured almost five years of play and is still used frequently.
---
12. Stuffed Octopus Teether
Instead of plastic teethers that leach dangerous chemicals into baby's mouth opt for an organic cotton stuffed toy. The Under the Nile octopus makes a perfect gift for a first birthday or baby shower.
SHOP UNDER THE NILE STUFFED OCTOPUS
---
13. Organic Cotton Doll
A doll is a great gift for both girls and boys to develop their nurturing side or prepare children for siblings. Under the Nile has a a great selection of both boy and girl dolls. Organic clothes are eco-friendly and healthy for you and the environment.
The Under the Nile doll is made with the same fabric as organic clothing. It's chemical-free and so soft that your child will never want to let it go.
---
Natural Gifts for Movement and Outdoor
The open-ended movement gifts below are multi-use and perfect for a large celebration, like Christmas or birthday.
If you're looking to splurge on a larger gift for your child or a loved one, the choices below are a great place to start.
14. Pikler Triangle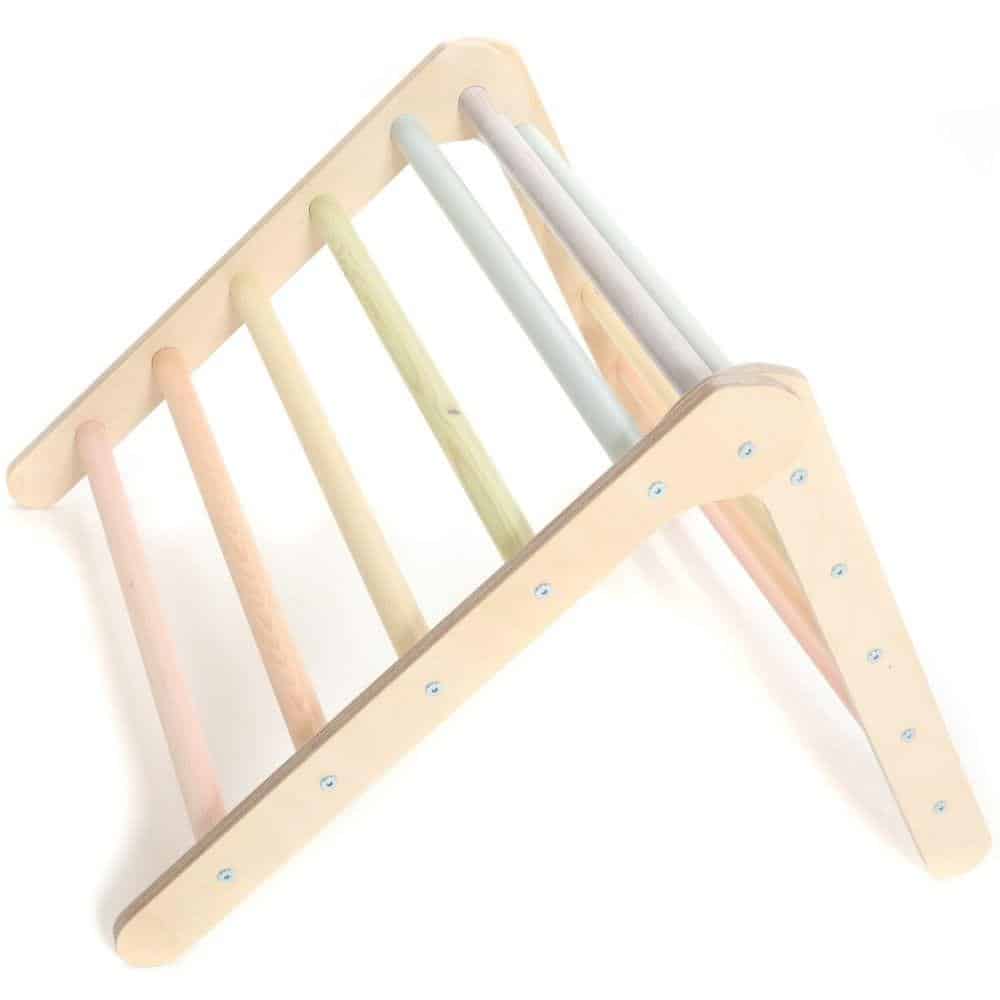 The Pikler climbing structure has recently become trendy, with more parents looking to give their children freedom in movement.
Suitable for children from six months up to five years, the Pikler triangle allows a child to meet developmentally appropriate milestones like standing up independently and climbing.
SHOP THE PICKLER TRIANGLE AT BELLA LUNA or WIWIURKA
---
15. Rocker Board
Rocker boards help build coordination, but they also make great bridges, tunnels, and slides. This is the ultimate open-ended toys and one of the most used things in our house. I recommend three companies for rocking boards.
Elephant Playthings makes the only solid wood rocker board and uses wood naturally fallen in the forest. They are handmade in limited qualities in the USA. This is the rocker board we have.
Open Ended Creations is made of maple plywood and is made in California. Their plywood is not formaldehyde-free but the process for curving the plywood includes heat. After the heat treatments, trace formaldehyde is left (less than 0.003%). All curved plywood is exempt from California's Carb2 compliance since the levels are known to be so low. Use this link for 15% off for NBM readers!
Palumba makes baltic birch, formaldehyde-free, balance boards in the USA.
SHOP ELEPHANT PLAYTHINGS, OPEN ENDED CREATIONS OR PALUMBA
---
16. Balance Bike
The Wishbone 3-in-1 bike is the ultimate gift. Children from one to five years can learn to walk, balance, and glide with the adaptable design. The bike comes with an adjustable frame and wheels that you can remove as your child grows.
Wishbone makes silicone seat covers which I would highly recommend buying as well.
---
17. Mud Toys
I'm not a fan of plastic toys, but for outdoor play, we love Green Toys. They're made of the safest plastic possible (recycled from milk jugs!)
Stainless steel measuring cups, bowls, and pots and pans—like the kitchen set from IKEA—are other washable and non-toxic options for outdoor play.
SHOP GREEN TOYS SAND SET and SHOP IKEA STAINLESS STEEL BOWLS
For a full list of outdoor-friendly gifts, take a look at my eco-friendly beach toys guide
---
18. Wood Wagon
The Berlin Flyer wagon is Amish made with non-toxic paints. My favorite part is the large, wide wheels that can be used on both smooth and rocky roads.
A wagon is a great alternative to a stroller for older kids and doubles as a pretend play gift. Children will love carrying around their dolls and wrapping the wagon in play silks or filling it with blocks or mud toys.
---
19. PVC-free Ball
Many balls use toxic plastic, phthalates, and even heavy metals in manufacturing. The Senda soccer ball is PVC-free and Fair-Trade.
---
20. Rainbow Jump Rope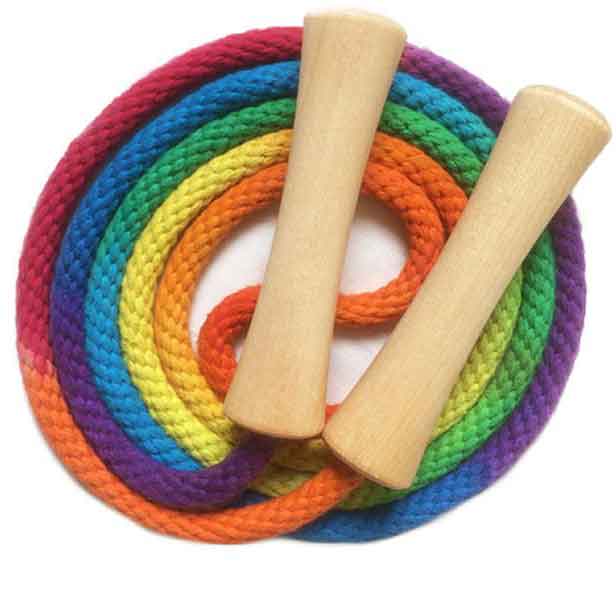 This cotton jump rope is not only made with natural materials, it is beautiful. The high-quality wood handles and rainbow cotton rope are made in the United States. This jump rope has a great weight to it as well.
---
21. Scooter
While the Micro Mini Scooters might not be considered non-toxic, being outside and moving is essential. We love the Micro Scooters, they are stable, light, and made well.
---
22. Lightweight Bike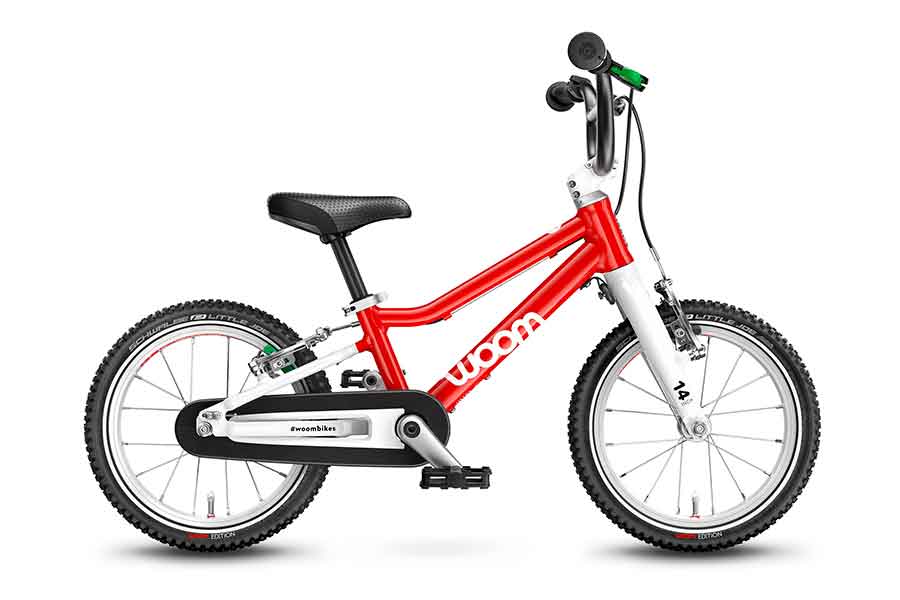 Woom makes high-quality, lightweight bikes that are easy for kids to handle and fun to ride. They are free of toxins as well.
---
Natural Wood Cars and Transportation
Both of my boys love playing with cars, but instead of hot wheels or other plastic cars, I found eco-friendly wood alternatives that will last their entire childhood.
23. Wood Mini Trucks
These wooden mini trucks are great as a small token of appreciation or stocking stuffer. Since they're so small, they'll easily fit on top of and in between wooden blocks, and they're a perfect travel toy for road trips.
SHOP PLAN TOYS WOOD MINI TRUCKS
---
24. Train Set
A train set is a staple of every childhood. The IKEA set is extremely affordable and durable. The tracks fit other brands of trains like Brio.
Maple Landmark sells these adorable NameTrains that are made in the USA.
SHOP IKEA TRAIN SET and SHOP MAPLE LANDMARK NAME TRAINS
---
25. Wood Cars
Wood cars are more durable than plastic. Maple Landmark makes wood cars and trucks in Vermont. This car is made of unfinished solid wood
SHOP MAPLE LANDMARK MINI-MONSTER CAR
---
Eco-Friendly Gifts for Pretend Play
Studies show that pretend play helps your child develop important social and problem-solving skills.
Activities like kitchen, dollhouse, and grocery play help engage children to use planning, concentration, and communication skills. Below are just a few gift ideas to foster the love of pretend play in your child or a loved one.
26. Play Kitchen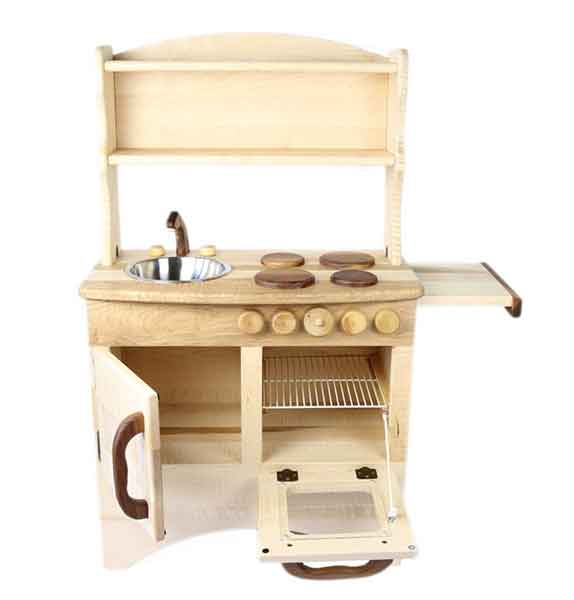 Most play kitchens are made in China with toxic plastic. The Camden Rose kitchen is not only beautiful but well made. Solid wood kitchens are an investment that's passed down over the generations. We have had our Camden Rose kitchen for 7 years and it still gets played with and looks new!
The IKEA play kitchen is wood and plastic, but a more affordable choice. It's made with plywood and fiberboard (which potentially give off toxic formaldehyde fumes). IKEA has given me mixed answers if they use urea-formaldehyde in their glues, at a minimum they are low formaldehyde. It wouldn't be my first choice, but the IKEA play kitchen is safer than other plastic or wood play kitchens made in China.
Pair your kitchen with the Plan Toys wood tableware, fruit, or beverage playsets for hours of fun!
SHOP THE CAMDEN ROSE KITCHEN, THE IKEA KITCHEN, and the PLAN TOYS FOOD AND BEVERAGE PLAYSETS
---
27. Playstand
Wood play stands aren't just for play; they're beautiful pieces of heirloom furniture. Many Waldorf schools use play stands to inspire kitchen, store play, and puppet theatres.
Made in the USA of solid hardwood, the Camden Rose play stand will be the center of your child's indoor or outdoor play.
SHOP CAMDEN ROSE WOOD PLAY STAND
---
28. Wood Dollhouse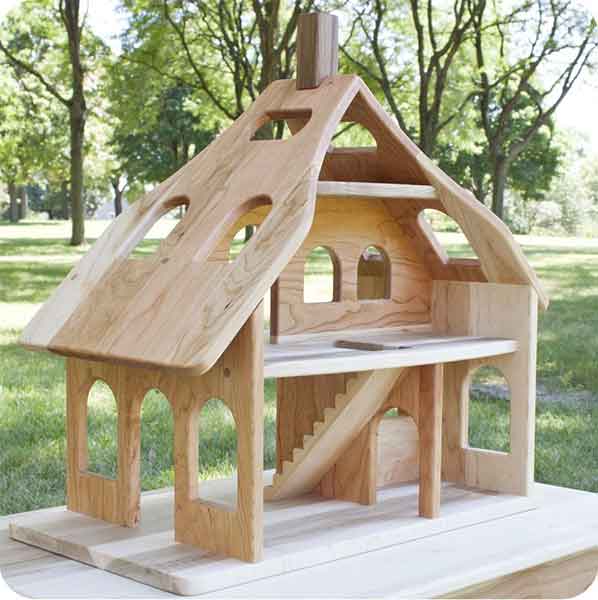 Dollhouses are a staple of pretend play. They're great for both girls and boys to act out scenes from everyday life. Both Elves and Angels and Camden Rose make spacious and sturdy wood dollhouses in the USA. Plan Toys also makes a more affordable dollhouse.
Plan Toys also has a great selection of wood dollhouse accessories.
SHOP THE CAMDEN ROSE DOLL HOUSE
---
29. Wood Figures
Wooden figures of animals, people, and landscapes are a safe and fun way for children to develop their imagination. We use wooden figures to tell stories and sing.
Instead of hard plastic edges, wood figures grow with children. They're safe for babies and toddlers and will last until they outgrow them. Ostheimer and Holztiger figures are my favorite brands. They're made in Europe with non-toxic paint and sealed with water lacquer.
---
30. Wood Barn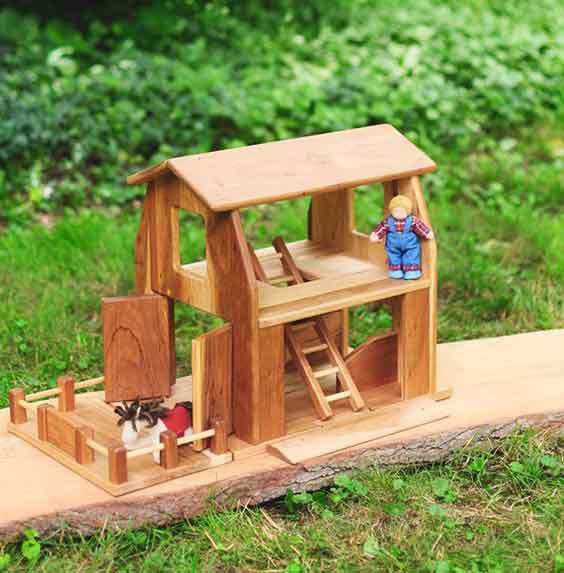 Wood barns are so versatile and can be used for so many things. When our barn isn't being used for animals, it is used as a house for our trains. Both Camden Rose and Elves and Angels make solid wood, beautiful wood barns that are made in the USA.
The wooden animals by Holztiger and Ostheimer are perfect for your wood barn.
SHOP CAMDEN ROSE WOOD FARMHOUSE
---
31. Wooden Fairy Tree House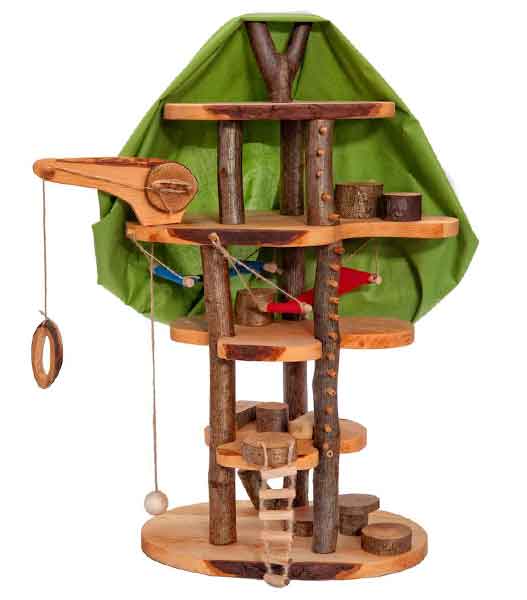 The Wooden Fairy Tree House is a great alternative to a traditional dollhouse. Fill it up with fairies or gnomes for a magical adventure!
---
Costumes made from natural fabrics like cotton and silk are more durable for outdoor play, and your loved one will appreciate a high quality, eco-friendly gift.
My children cherish their capes, crowns, and wings from Sarah's silks. We use the crown and silks to dress up for special occasions, like birthdays. Our costume favorites are:
---
33. Magnetic Blocks
Tegu magnetic blocks are made with sustainably sourced wood with a water-based finish. These blocks are great for open-ended play and creating anything from cars to animals to buildings. You can start with a basic set and continue to add-on over the years.
---
34. Wood Log Building Sets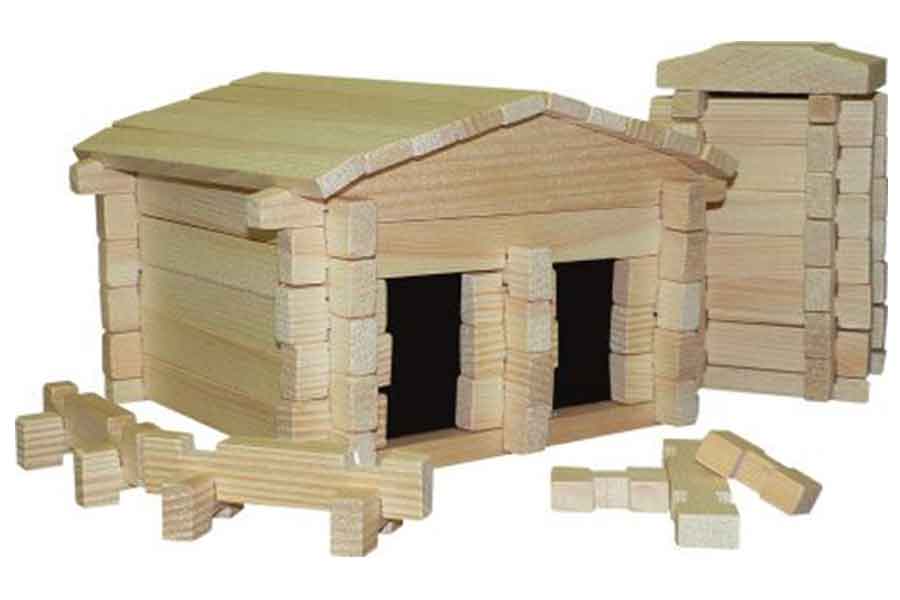 Roy Toy wood log building sets will provide hours of entertainment for your kids. These wood log building sets are made of natural, unfinished wood in the USA.
SHOP ROY TOY WOOD LOG BUILDING SETS
---
35. Wood Construction Set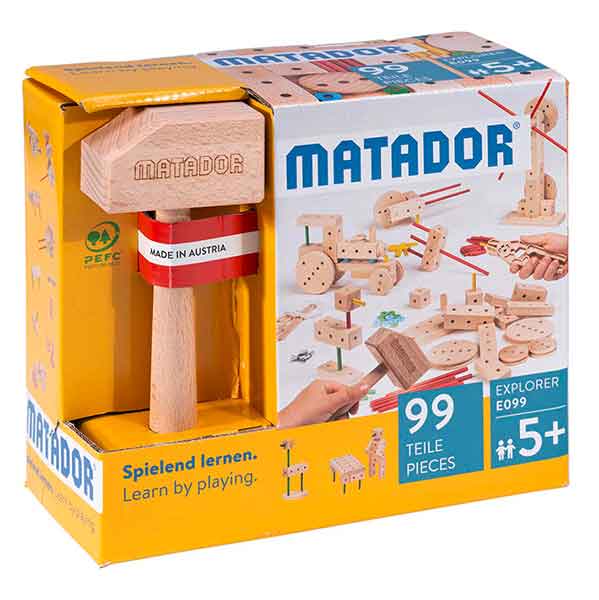 The Matador wood construction set is made of Austrian beechwood. Children can create and build vehicles and structures with the hammer and different pieces included in the set.
SHOP MATADOR WOOD CONSTRUCTION SET
---
Games and Puzzles
Our favorite games are made in the US or Germany and are developmentally appropriate without being too competitive. They make great stocking stuffers and gifts for friends' birthdays.
36. Ravensburger Puzzle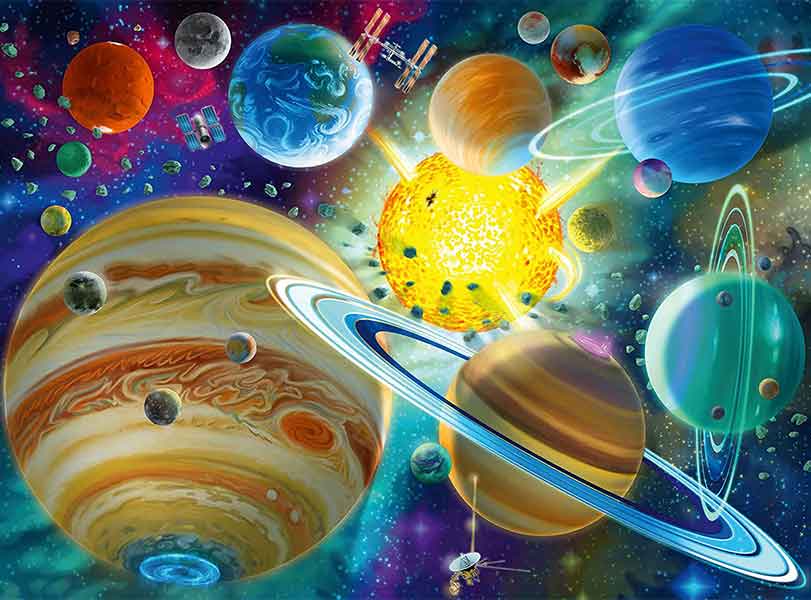 Ravensburger is a German company that makes acid-free, eco-friendly puzzles. They're made of extra-thick cardboard, and each piece is unique, so they're easier for kids to solve.
SHOP RAVENSBURGER PUZZLES
---
37. HABA Games
Board games build leadership and teamwork skills. The Orchard game by HABA has eco-friendly pieces made of solid wood and will be passed down through generations. Haba games are made in Germany.
---
38. Cooperative Games
Peaceable Kingdom has wonderful cooperative games where you all work together to win. It's a great way to introduce games to younger children. You are all playing together and everyone ends up having fun! Race to the Treasure is one of our favorite Peaceable Kingdom games.
Wildcraft is a cooperative herbal adventure that not only is fun but teaches children uses for medicinal plants for common ailments.
SHOP PEACEABLE KINGDOM COOPERATIVE GAMES or WILDCRAFT
---
Books
We love books with sweet stories that aren't commercialized, scary, or unkind. These are some of our favorites.
39. Brambly Hedge
Brambly Hedge is beautifully illustrated with wonderful stories. You'll love reading these books as much as your children love listening to them.
SHOP BRAMBLY HEDGE
---
40. Heartwood Hotel
The Heartwood Hotel is a great read-aloud chapter book that is heart-warming and charming. It's also a great, safe book for your children that can read.
---
41. Tiptoes Lightly
Follow on the adventures of Tiptoes Lightly, Jeremy Mouse, Pine Cone, and Pepper Pot through a series of books. Many of the stories are seasonal so you can read them for the season you are in. You'll children will love these magical stories.
---
What's your family's favorite natural toy wish list for your kids? Leave a comment below and add in your favorites.
Check out the Natural Baby Mama Amazon Storefront for vetted non-toxic living products!
Source:
"The Impact Noisy Toys have on Children." JCFS Chicago. Jcfs.org
"Why social pretend play should be promoted in preschools." Open Access Government. 17 September 2020. openaccessgovernment.org
Pin it for later!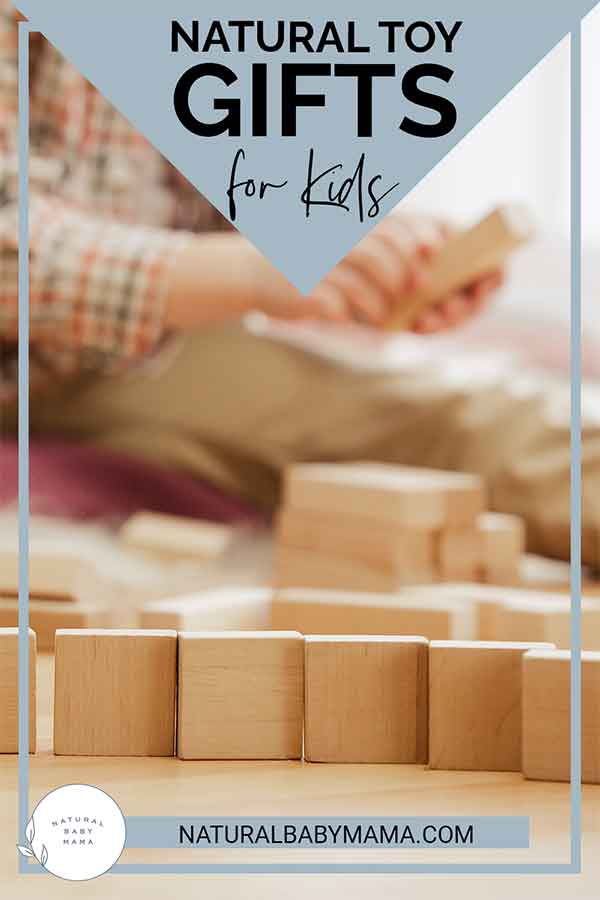 Other posts related to Natural Toy Gifts for Kids