Today, we're talking breast pumps! These manual or electric devices can be a luxury or a necessity, depending on your personal circumstances. And, given how much exposure you're going to get to a device you could be using for many hours a day, finding a non-toxic breast pump is best.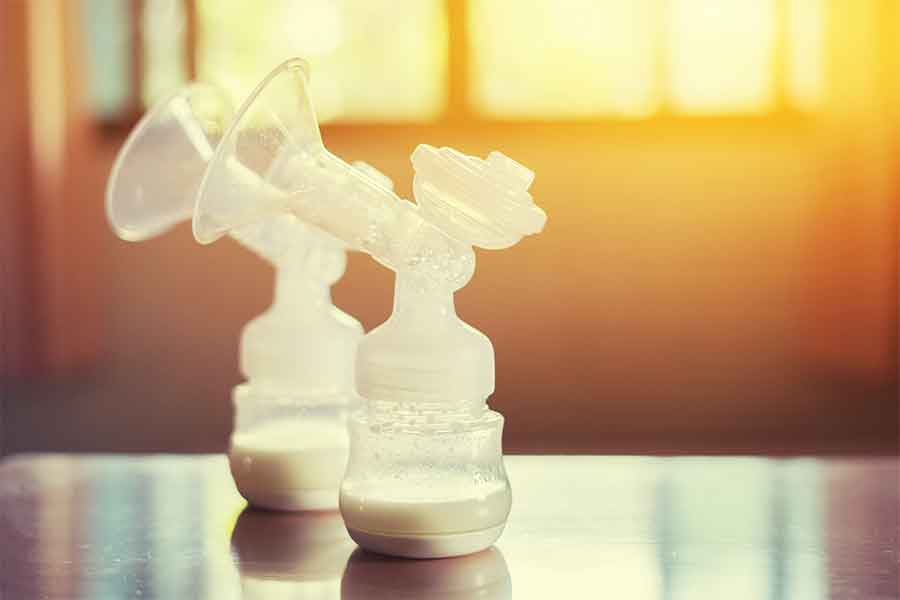 This post may contain affiliate links. Please see my full disclosure policy for details.
Why Might You Need a Breast Pump?
For many new parents, breast pumps are an absolute must for helping you build your stash of stored milk for if/when you return to work, but that's not all breast pumps are good for.
Some choose to use a breast pump to help encourage milk supply and help establish supply during initial (or later!) feeding troubles when your baby struggles to feed at the breast.
Having the ability to pump means you can still give your baby milk and maintain your supply if direct feeding is re-established later.
A good breast pump can also allow other people to feed your baby and allow you to 'pump and dump' if you have to take any medications that could be harmful to your baby.
Breast pumps can also be helpful if you're experiencing hyperlactation, engorgement or would rather express milk and then bottle feed.
And, finally, a breast pump is also helpful if you've chosen to share your milk supply with a milk bank or friend, or family member who isn't able to directly nurse their baby for whatever reason.
Types of Breast Pump
There are two main types of breast pump: manual and electric.
Manual Breast Pumps
Manual breast pumps use suction power to help encourage milk flow into an attached collection bottle or bag. These pumps don't rely on power from an outlet or batteries and instead have a trigger button or sliding/priming action, or work by creating a vacuum seal that mimics constant gentle sucking on the nipple.
Manual breast pumps are typically more affordable, quiet, portable, and simple to use, but they're less powerful. Some women like these as a backup option should your electric pump suddenly die or as a quiet and portable option.
Electric Breast Pumps
Electric breast pumps are usually much faster at draining the breast and can, in some cases, be more comfortable than a manual pump. In addition, they're efficient, have various suction modes and massage modes, depending on the model, and can feel more secure than manual pumps.
Of course, these run on batteries or outlet power, so they are more expensive, heavier, and less portable in many cases. They're also noisier and may be too powerful for some users who prefer the gentler manual pump.
Electric breast pumps are either single pumps or double pumps. This means they have either one attachment that you can use on a single breast or two attachments to pump from both breasts. The latter makes for much more efficient pumping!
Electric pumps are also available as wearable, hands-free models now, which is exciting for those who need to pump on the go.
There are also suction-type pumps and milk-savers or milk-catchers for letdown, and I've included a recommendation for one of those below in addition to electric pumps. I haven't included any recommendations for true manual pumps as I haven't found even close to non-toxic.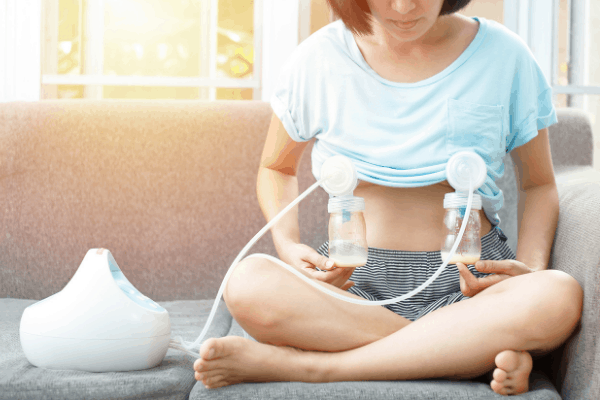 What to Look for in a Non-Toxic Breast Pump
The magical world of breast pumps can seem totally alien at first, making it really hard to figure out what is best for you. To find the right non-toxic breast pump for your needs, consider the following questions:
How Often Will You Need to Pump?
If you plan on pumping several times a day, an electric pump is very likely the smart choice. However, if you only pump once a day or less, perhaps to ease engorgement or build up a small stash, a manual pump or suction pump may be just fine for your needs.
Is the Pump Going to be Noisy?
Noise might not matter, and you might not care about a noisy pump, but if you're going to be pumping in public and are liable to feel self-conscious, you might want to prioritize a quieter model or a manual pump.
How Bulky or Heavy is the Pump?
A lightweight manual pump like the Haakaa might be all you need, which fits easily into a purse without adding much weight. If you're looking at other manual or electric pumps, though, consider whether you'll need to carry the pump to and from work or when out and about.
Is it Concealable and Hands-Free?
If your day job involves long hours on your feet or in meetings with little opportunity for regular breaks to discretely pump, a hands-free and concealable pump might be the only way you can maintain a supply.
Many nurses, for instance, swear by the Freemie for this reason as it can be worn under clothing and has no obvious wires or tubing to get in the way and get tangled while responding to crises and helping others.
Is it a Closed System?
Some breast pumps (like the Spectra) have a closed system, meaning that the unit is easy to clean and keep hygienic and has excellent resale value, helping you recoup some of the cost.
Will the Pump Work with your Chosen Baby Bottles?
Not all pumps fit all bottles or bags. Adaptors do exist, though, so combinations of, say, Spectra and Freemie pump and bottles/collectors can work together. You can even convert a regular electric breast pump to a hands-free pump using the Freemie collection cups but check for compatibility first.
Is the Breast Pump Covered by your Health Insurance?
Some insurance plans cover certain makes and models of breast pumps. The Medela breast pump seems to be covered by several plans, for instance, while a few only cover the Spectra. However, many people have had success using Aeroflow to find breast pumps covered by their particular insurance plan.
Is There a Breast Pump Rental Program Near You?
Some pharmacies, clinics, and other health care providers offer rentals of breast pumps. This can help you keep your costs down and is also a great way to take a pump home for a few days and see if it works for you before buying your own to keep longer-term.
What to Avoid in Breast Pumps
When looking for a non-toxic breast pump, the big three to avoid are BPA/BPS, phthalates, and PVC.
BPA/BPS
Most baby bottles and many of the tubes, flanges, cups, and so on are all BPA-free these days, but the replacement chemicals for BPA, such as BPS, may still be present.
PVC & Phthalates
As for phthalates in PVC, there's plenty of research showing that exposure to these plasticizers is a serious danger for infants, especially premise. In addition, fatty substances, such as breast milk, have a higher chance of leaching phthalates from PVC than non-fatty substances.
Some phthalates are known endocrine disruptors and act as anti-androgens, with prenatal or perinatal exposure to phthalates associated with testicular dysfunction. Phthalates are also associated with male infertility due to lower semen quality, volume, and motility and increased damage to DNA.
Phthalate exposure may also be associated with diabetes, breast cancer, obesity, metabolic disorders, and immune function. And where infants are exposed, this has been linked to ADHD and autistic behaviors in children.
Unfortunately, many of the tubes and other parts of breast pumps are made with phthalates, and it's not terribly clear if the use of breast pumps increases the presence of phthalates in milk.
In one small study, researchers who ran breast milk through a breast pump with phthalates in component parts did not find a significant increase in phthalate levels in milk.
In another study, however, the real-life use of mechanical breast pumps was associated with significantly higher levels of phthalates. And, interestingly, the same researchers in this study carried out their own lab tests to see if exposing breast milk to a common breast pump altered phthalate levels and found that it didn't. So, this may be a case that real-life conditions aren't well reflected in laboratory studies.
It's also worth noting that research suggests that higher levels of phthalates in breast milk and urine seem to be more the result of things like vinyl or PVC in home flooring, plastic drinking bottles, and food containers.
As with any toxic chemical, it's best to avoid phthalate exposure wherever you can, especially when these exposures are additive. And that means checking that the parts of a breast pump exposed to milk are free from all phthalates, not just the handful that are regulated in the US, such as DEHP (di-2-ethylhexyl phthalate).
Many companies only list their products as being free from DEHP and don't actually mention phthalates at all. And di-butyl phthalate (DBP) has been linked to many of the same negative effects as DEHP!
Ease of Cleaning
You'll also want to avoid breast pumps that are overly complicated to take apart and put back together.
After all, you may need to clean some parts of the pump several times a day and replace parts like valves, flanges, and tubing if you use it regularly and long term.
The Best Breast Pump Recommendations
These are the best breast pumps broken down by category. If you choose a silicone pump, make sure the silicone is food-grade or medical grade and check that any accessories are also non-toxic.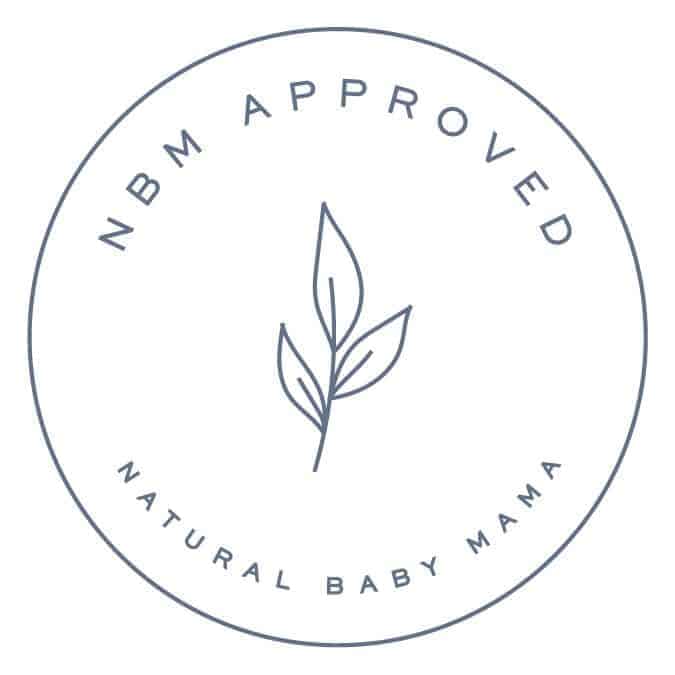 Best Non-Toxic Breast Pump
Willow Generation Wearable Double Electric Breast Pump
The Willow is possibly the best non-toxic breast pump currently available, but this wearable double-breast pump costs a cool $499.99, putting it beyond the reach of many parents.
All of the parts of the Willow that come into contact with milk are free from BPA. This includes the flanges, Flextubes™, container, and milk bags. These are made with food-safe materials:
The Flextubes™ are made of silicone
The bags are made of polyethylene material
The flanges are made of polypropylene (a type of plastic).
The Willow contains no formaldehyde, phthalates, or latex, and the bags are recyclable.
Similar to the Freemie (more on this below), the Willow is a discrete, quiet, hands-free option that boasts spill-proof cups. The major difference is that there are no cords or attachments. Even the motor is inside the pump cups! And you can pump and store your milk in the same bag (the kit comes with 24 bags).
The Willow also has an app that keeps track of the number of pumping sessions, length, and output, so this is a great choice for data nerds. The app works via Bluetooth, though, so bear that in mind if you want to minimize Electric Magnetic fields (EMFs). However, Willow does provide instructions for turning off the Bluetooth.
It's also a bit inconvenient that you can't pump and charge at the same time.
Another potential downside is that the Willow isn't covered under most insurance policies because it's still fairly new. Some financing options and rebates may be available to offset the cost, though. Unfortunately, the bags are also quite pricey, and you can't transfer milk from one bag to another or reseal the bags, which is a pain.
If you have quite large breasts (above an H cup), the Willow is also unlikely to be a good fit.
Still, the makers of the Willow are far more transparent about materials than many companies making breast pumps, and those materials are much better than anything else out there currently (aside from the Haakaa).
---
Best Low-Tech Non-Toxic Breast Pump
Haakaa
Made from 100% medical-grade silicone, the Haakaa offers a manual breast pump as well as a milk-catcher.
A milk catcher means you attach it to one breast while your baby feeds from the other (or while you use a pump), and you can easily catch any letdown instead of it simply soaking into a breast pad!
Many moms manage to 'catch' a good 3-5 ounces per breast while feeding their baby, and this milk can be easily transferred to a freezer bag or Mason jar for storage.
The manual breast pump uses its design to create a suction, and then suction draws your milk. This can also be used to catch letdown if you are nursing on the other side.
The Haakaa is a gentle, totally silent, super-portable way to add to your milk stash and minimize leaks and waste. There are no tubes or motors, or complicated pieces to take apart and clean or replace. It is dishwasher safe, easy to clean by hand, and really lightweight.
Haakaa is great for not letting any milk go to waste in nursing pads! It's also so easy to use on one breast while you are nursing your baby on another.
The downside of the Haakaa is that it's not a typical manual breast 'pump,' given that there's no electrical or manual suction power. It can work for some without nursing a baby on the other side. However, for those with low supply, the Haakaa manual pump might not be a good fit (the milk catcher would be, though!).
The good news is that the Haakaa isn't a big investment as it only costs about $15. And because it's so easy to clean, you can easily pass it on after you're done or if it doesn't work out for you.
The Haakaa may also be a good option if you're wary of being hooked up to an electric pump and aren't comfortable with a manual pump but still want to have a bit of an emergency milk stash on hand.
SHOP HAAKAA on AMAZON or at TARGET
---
BelleMa Effective Pro Double Electric Breast Pump

$129.99
The BelleMa is a relatively quiet, dual control, double electric breast pump that is BPA-free and has a closed system. It has a dual-phase mode (stimulation and expression) to get the most milk in the shortest time, and it's lightweight and portable, too, with no reduction in suction when both pumps are operating.
The BelleMa offers 9 adjustable suction levels and registers at less than 50 decibels. This makes it a good choice for the office, travel, or home in the early hours, when trying to get a baby to sleep, or when you just want to hear the TV!
All BelleMa collection kits, storage containers, and other parts that come into contact with milk are BPA-free, with a silicone cushion on the breast shield (which is also more comfortable than hard plastic) and a silicone diaphragm.
SHOP BELLMA or at BED BATH & BEYOND
---
Quietest Best Pump
Spectra Baby USA S2 Double/Single Breast Pump
The Spectra is a firm favorite with many moms, and for a good reason. I've heard many stories of folks using a Medela for their first baby or the first few weeks and then switching to the Spectra and being so much happier.
The Spectra also has a big fan base in those with low supply, with higher outputs reported than other pumps. And it's also arguably the quietest electric pump around, at just 45 decibels. It even has a night light and timer, making the whole process of timing early hours pumping so much easier. And it weighs just 3 lbs. – that's less than half the weight of the Medela. It also keeps your pumping settings, which makes everything so much more convenient, and it can be used with the Freemie collection cups (you'll need a conversion kit).
Importantly, the Spectra S2 looks to be a mostly non-toxic breast pump. All of the parts of the pump that come into contact with milk are free from the most egregious phthalates and BPA. It also has a closed system, meaning no backwash of milk that can lead to bacterial contamination.
Although several insurance plans don't seem to cover the Spectra, some do. So, if cost is holding you back, be sure to call your insurer and check or look for pumps through aeroflow.
Note that while the S2 needs an outlet, the Spectra S1 can be battery operated (the battery is rechargeable), so it may be a better fit if you like to walk and pump, say.
SHOP SPECTRA S2 or at TARGET
---
Best Portable Breast Pump
Spectra S1 Plus Electric Breast Pump
$199.00
The Spectra S1 shares many characteristics of the Spectra S2 but has a rechargeable battery for wireless pumping. The battery lasts up to three hours, which is impressive given that this is a hospital-strength breast pump.
Also impressive: the Spectra is surprisingly non-bulky and relatively quiet, despite its power. It only weighs 3 lbs. You get a lot of flexibility in suction and speed, so you can feel more comfortable using the machine.
The S1 has a closed system to keep milk from backwashing, which helps keep the pump itself hygienic and performing well. In addition, there's a nightlight and timer, which is great for late-night feedings when low light is a must to help keep baby (and you) sleepy.
SHOP SPECTRA S1 or at BUYBUYBABY
---
Best Portable Breast Pump (Runner-Up)
Medela Pump in Style Advanced Breast Pump
$159.99
The Medela is another very popular breast pump and is often covered by insurance, making it a great choice for keeping costs low.
It's not as quiet as the Spectra, and there are some issues with loss of suction over time, which may be remedied by replacing valves. Unfortunately, this also means it's not a great choice to buy second-hand unless you're okay changing out various parts to restore good suction.
The parts of this almost non-toxic breast pump that come into contact with breast milk are, according to Medela, "extensively tested and made without BPA, natural rubber latex and phthalates," and are also made without BPS. That said, the Freestyle Flex tubing is made from PVC, so it isn't my top choice. However, I've reached out to Medela to ask about the PVC, as this suggests that phthalates are actually used in some parts of the pump.
One of the real pluses for the Medela is that it can be run on batteries. This makes it super convenient for pumping when, say, camping! Or if you just need to pump somewhere where electrical outlets are hard to find, like in a car. (The Spectra S1 can also be run on batteries, though.)
The Medela Pump in Style comes with an on-the-go tote that can hold up to four bottles and has a removable cooler and ice pack. Set-up is easy, and the double-pump and convenient tote makes for speedy pumping, perfect for if you need to pump during quick breaks at work.
It has two-phase pump technology that mimics natural nursing, beginning with a faster, pumping rhythm to encourage milk to start flowing and then a slower, pumping rhythm to encourage expression of milk. You can adjust the speed too, but the Medela doesn't save your preferred settings, unlike the Spectra.
On the negative side, the Medela is loud (about 60 decibels), and the pump is quite a bit heavier and more cumbersome than other electric pumps, largely because it is contained within its own tote (all in it weighs about 7.4 lbs., or twice the weight of the Spectra S2). It also has lots of parts to clean, including the tubes. There is also a backpack version of this pump system and a Metro Bag version that's much lighter.
On the plus side, because the Medela is so popular, replacement parts are easy to come by. And you will need to replace various parts if you use this breast pump several times a day for many months. Also, this pump is dual voltage, meaning you can use it on 110-240 V supplies – a must if you're traveling outside the US!
SHOP MEDELA or at TARGET
---
Best Concealable Breast Pump
Freemie Liberty Wearable and Concealable Breast Pump
$199+
Beloved by busy professionals, the Freemie is a concealed, hands-free breast pump that some users forget they're even wearing as it's so quiet and efficient!
The Freemie is free from BPA, latex, and at least one type of phthalate (DEHP). The Next Generation Cup sets feature silicone valves (these will need replacing at least every 2-3 months to maintain performance), while the rest of the parts are more durable and will last up to a year if properly cared for. In addition, the hard plastic cup parts are recyclable and likely phthalate-free, given that they're quite hard plastic.
Like the Willow, the Freemie is totally hands-free and wearable, but it does have a pump that needs clipping to your belt.
Unlike with the Willow, the Freemie doesn't have storage bags built into the system.
Instead, you will have to transfer the milk from the special cups to a separate bottle or bag for storage. Each cup holds up to 8 ounces of milk without spilling, and the whole system weighs less than 5 lbs.
---
Best Double Electric Breast Pump
Philips Avent Comfort Double Electric Breast Pump
$269.95
The Philips Avent Comfort Double Electric Breast Pump is a firm favorite with many moms. It boasts BPA-free silicone nipples for the bottles and a BPA-free bottle made with polypropylene. The pump parts that come into contact with the milk are also BPA-free, but there's no mention of phthalates or PVC.
As such, I wouldn't consider this a non-toxic breast pump, though it is much cheaper than some of the other options here. Given how little time the milk actually spends in contact with the plastic components, you may feel comfortable using this manual pump and immediately transferring the milk to glass jars or another non-toxic storage container. Still, you will have repeated contact with the plastic parts on your breasts, so don't forget your exposure as well as your baby's!
SHOP PHILIPS BREAST PUMP or at TARGET
---
Final Thoughts on the Best Breast Pumps
Whether you plan to pump or not, it's a good idea to know your options for non-toxic breast pumps in advance. There are a lot of good options out there, with good choices available for those who want to pump several times a day, those who might only pump once a month or so, and everyone in between.
In addition to figuring out all the other things for your baby registry, figuring out which breast pump is right for you can be truly overwhelming.
Once you have picked out the best breast pump for your needs, don't forget to purchase non-toxic baby bottles!
And finding a non-toxic breast pump is even more of a challenge. This is why I have created my Amazon Storefront for vetted non-toxic breast pumps and non-toxic living products.
I hope it helps make this decision easier, so you can focus on the more fun things to buy during pregnancy, like cute onesies!
Other Posts Related to Best Breast Pumps
Pin it for later!