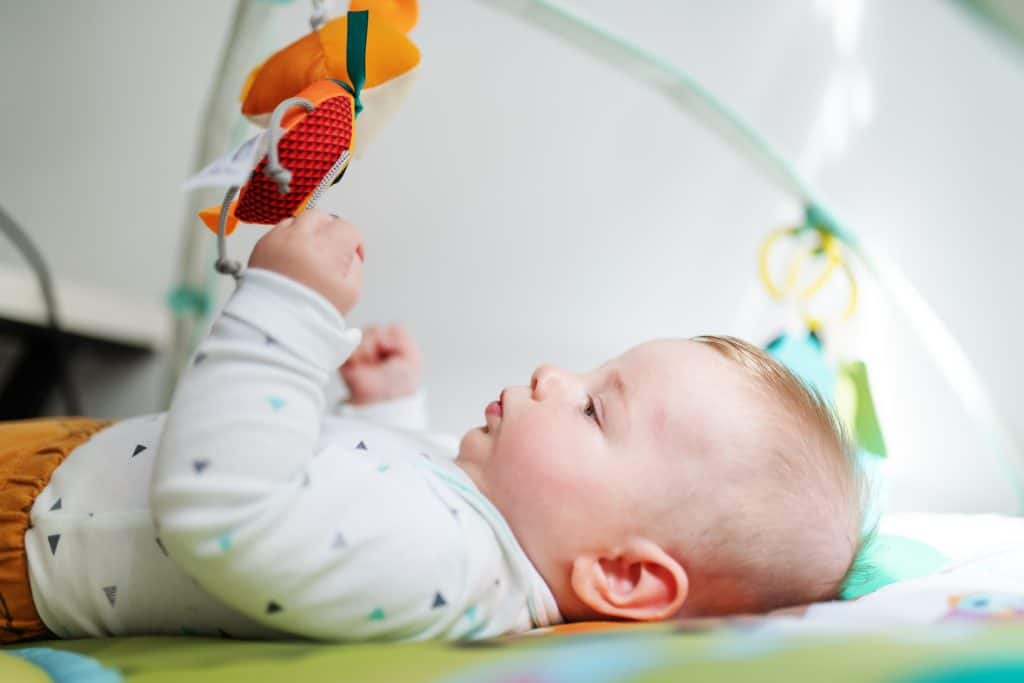 Baby play gyms can be a great source of entertainment for your little one. It also provides a safe place to put your baby when you have other things to tend to. For a safer alternative to plastic baby gyms, you'll want to buy a non-toxic wood baby play gym.
Plastic baby play gyms are almost always made with PVC, toxic dyes and glues, synthetic fibers, and other potentially harmful chemicals.
Ideally, a play gym will be designed in a way that encourages visual and cognitive development. This is where an organic, non-toxic wood baby play gym can really shine.
Wood baby play gyms are great for independent playtime and hand-eye coordination in addition to visual and cognitive development.
This post may contain affiliate links. Please see my full disclosure policy for details.
What to Look For When Choosing a Non-Toxic Wood Baby Play Gym
Materials and Design Considerations
Unfinished, unpainted wood baby play gyms are the safest option and often the most beautiful too. If you can, find a wood play gym made locally using solid wood sourced sustainably (look for Forest Stewardship Council certification). Hardwoods that are sanded smooth and left unstained or are finished with organic food-grade drying oils or beeswax and organic oil are the best options.
Rubberwood from rubber trees that are done producing latex is another environmentally friendly and safe option. It is the material used by Plan Toys, one of my recommendations for the best non-toxic wood baby play gyms. Not all rubberwood is equal so stick to big names like Plan Toys.
In terms of design, look for a wood baby play gym made from a single piece of solid hardwood, cut and sanded into shape. This kind of construction means manufacturers can avoid using glue (which can contain urea-formaldehyde) and minimizes the risk of a play gym falling apart and creating a safety hazard.
If solid wood isn't an option, a formaldehyde-free plywood is a good second choice.
If you are leaning towards a painted wood baby play gym, check to see if the manufacturer uses exclusively water-based, non-toxic paint. Some recalls still happen for painted toys found to contain excessive levels of lead and other contaminants. Using a trusted brand, such as the ones I've recommended below, is also very important.
A company should be able to offer proof (a certification) that the gym is free from heavy metals and volatile organic compounds (VOCs).
Where is it Made, and How?
I also recommend choosing a wood baby play gym made by a reputable company manufacturing its products in the US or Europe, wherever possible. Toys made in China or other countries where toxicity safety standards aren't as robust can be imported to the US even if they've been treated with polybrominated fire retardants (PBDEs).
That said, many play gyms are manufactured in China, so if these are your only realistic options, look to the company that there are no toxic chemicals in any part of the finished product.
In some ways, the same goes for products made in the US. Even toys that meet Consumer Product Safety Commission (CPSC) rules can still contain hormone-disrupting bisphenol-A (BPA), polyvinyl chloride (PVC), toxic dyes, lead, and other heavy metals. What's more, not all parts of a toy have to be tested, meaning that the frame of a play gym might meet those rules, but the toys hanging from it could present a risk of exposure to toxic chemicals.
In fact, here's where manufacturers start to get a bit sneaky. There are no end of great-looking wood-frame seemingly non-toxic baby gyms out there that are teeming with plastic and polyester toys – which is something you want to avoid.
Don't Forget the Baby Play Gym Toys!
Let's face it, at some point, your baby will figure out how to grab the toys hanging from their wood play gym and stick these in their mouth. That means you're going to want to check the toy materials too. Look for (and avoid) toys made with polyester, PVC, and plastic, as these can expose your baby to BPA, BPA alternatives such as BPS and BPAF, and phthalates (even phthalate-free allows low levels of multiple different phthalates).
Be sure to check the stuffing as some toys are made with an organic cotton cover but are stuffed with synthetic fibers. Polyester, and other synthetic fibers, are linked to hormone disruption as well as other issues. Also, microplastics from polyester are a real issue and have contaminated our waterways. Microplastics also end up in our dust and our airways.
The best non-toxic play gyms toys are made using wood, natural rubber (unpainted), and GOTS certified organic cotton or wool for both the exterior and the stuffing. Again, some companies will use organic cotton for the outer fabric but polyester or even polyurethane foam (!) for the stuffing. If it doesn't state clearly on a label what is in each toy, ask the company for clarification.
Finally, if it's not immediately obvious from the materials used to make the play gym, check for GOTS or Oeko-Tex for the fibers. These offer reassurance that the company limits the use of toxic chemicals in the product.
What's Age Appropriate for Play Gyms and Toys?
Some play gyms are way too busy for babies. Too many bright, shiny, noisy toys can be overstimulating for babies.
Avoid play gyms packed with hanging or loud toys, and choose a play gym that is easy to put together with a simple process to add new toys as your little one learns and grows.
Start with a wood baby play gym with just a couple of organic baby play gym toys. Child development experts suggest positioning toys slightly to the side of the center. That way, your baby turns their head to look at the toys, which helps strengthen their neck muscles.
Simple black and white toys are best for the first few months as babies can't see color yet and are drawn instead to clear black and whites.
Play Mats and Rugs
Many baby play gyms come with their own play mat, but I tend to veer away from these as the mats are almost always made with polyester or other synthetic fibers and toxic dyes.
In fact, only a few years ago, play mats contained toxic flame retardants. So be wary when offered a used play gym for your baby.
Your best bet for a mat beneath your play gym is an Under the Nile Big and Small Rug, made with GOTS certified organic cotton.
You can also use a baby-safe rug or blanket you already own. You don't need to shell out for a special playmat with all the bells and whistles when you can get a simple wood baby play gym and place it over a blanket you already have.
The Best Non-Toxic Wood Baby Play Gyms
Here are my recommendations for the best non-toxic wood baby play gyms.
$60
PlanToys is a favorite in our household. Their toys are made from rubberwood from 'retired' natural rubber-producing trees. All their non-toxic toys are manufactured in a purpose-built, eco-friendly factory in Thailand powered with solar power.
I really love that Plan Toys makes sure to stop fertilizing the soil around the rubberwood trees three years before they harvest the wood, making sure no unwanted chemicals are lurking in the end product.
Instead of curing the wood chemically, PlanToys kiln-dry the rubberwood in a chemical-free process. This also helps improve the wood's durability, so it's less likely to splinter or crack.
PlanToys only use glues free from formaldehyde, non-toxic dyes free from heavy metals, and even their packaging is made with recycled paper and soy ink.
This wooden baby play gym is mostly made with unfinished wood and has some lovely pastel-colored accents created using water-based, non-toxic dyes.
The PlanToys Play Gym is super easy to put together as the pieces twist into place. It includes two toys to start, a rocket rattle and a grasping toy in the shape of a planet. These are easy to remove and switch out as your baby develops.
The gym measures 18.7 x 18.7 x 22.01 inches, weighs just 2.31 lbs., and has four legs to help it stay steady even when grabby hands get grabby.
Some of you might be a bit wary of the PlanToys play gym because their gyms were actually subject to a CPSC recall back in 2017. That was because the company itself had already recalled some gyms out of an abundance of concern over the side rope crossbars that could be a potential hazard for a baby.
There were no reported incidents or injuries with the gyms. It's actually reassuring to see that a company doing its own in-house safety testing took steps to alert consumers and make changes to the design even without government intervention.
Their wood baby gyms now feature wooden bars in place of the side ropes, so be sure to check you're getting the newer version if buying second hand. To note, many of the wood play gyms on Etsy contain the same rope style that PlayToys recalled.
Buy on Crate & Barrel or Buy on Amazon
---
$79
The Haba Color Fun Play Gym is simply designed with an easy screw-in mechanism that allows you to alter the height of the top bar as needed. It's also fun! The package contains a hanging click-clack wooden disk toy with a frog figure at the top and more clacking wooden disks at the sturdy base of the gym.
As with Plan Toys, Haba use only solvent-free paints or water-based stains for their toys.
They make their wood baby play gym in Germany and Bulgaria from beechwood, which is a hardwood. The wood is certified PEFC, a European label meaning that it is sustainably harvested from reforested areas.
The Haba Play Gym measures 23.4 x 18.7 x 2.6 inches and weighs 2.2 lbs. It's pretty simple to disassemble and reassemble, so it's a great option for traveling.
The only downside to this one is its green, orange, and yellow color scheme, which might not be to everyone's taste!
Buy on Walmart or Buy on Amazon
---
The Next Best Non-Toxic Wood Play Gyms
These wood play gyms are the next best because they are all made in China. In addition, I mention any material concerns.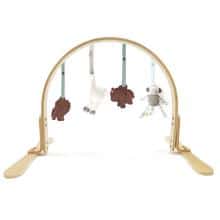 $69-$135
Finn & Emma doesn't disappoint with their height-adjustable wood baby play gym made from birch wood and finished with non-toxic stains and lacquers. These finishes are free of lead, phthalate, nickel, mercury, and VOCs.
If you choose the Natural or Dark play gym, you'll also get toys made with untreated Indian hardwood and finished with vegetable seed wax or knitted by hand in Peru by women artisans using GOTS certified organic cotton.
The Macrame version has the same frame but features hanging toys hand-knotted in India by artisans using organic cotton rope. This option is great if you're trying to reduce noise.
All of the toys are removable, which is great because they also make fantastic stroller toys!
The wood arch is made in a certified factory in China, the knit toys are hand-knit by a women's collaborative in Peru, and the wood hanging toys and macrame is made in India.
---
$140
The Lovevery Play Gym has also been getting quite a bit of attention recently. While it wouldn't be my top choice because it does contain a polyester pad (and that is something I personally avoid), I am mentioning it because otherwise, it is mostly made with sustainable, non-toxic materials.
The Lovevery Play Gym has fold out sides and activities that can keep your baby enthralled through many developmental stages up to a year old. It even comes with an expert guide to stage-appropriate play!
When all the play zones are open, this play gym measures about four feet across, and even when they're all closed, it still spreads out to three feet long, so expect it to take over a room.
The gym is made with FSC certified wood and non-toxic water-based finishes, and the toys include an organic cotton Montessori ball, BPA-free silicone teether, and a wooden batting ring.
Easy to set up, this play gym also features flashcards printed with soy inks, mirror cards, and other fun finds in the different learning zones.
All of this helps you to control levels of stimulation and help teach your baby about sounds, colors, and shapes while having fun exploring. It's pretty much an all-in-one, so despite the size, it might actually help keep your home mercifully clutter-free for a while!
Once your baby becomes a toddler, this can easily become a space-fort! It's also machine-washable if you remove a few items from the learning zones.
Lovevery is made in Hape's factory in China.
Buy at Lovevery or Buy on Amazon
---
Made with FSC certified wood, non-toxic dyes and inks, PVC free, and with undetectable levels of heavy metals, the Monti Kids Play Gym is a great choice for supporting your little one's development in those first few months.
This wood play gym is adjustable, and it's easy to hang Montessori mobiles and toys at just the right height to keep your baby's attention.
The gym comes with a guide including how-to videos and articles and access to a moderated Montessori mom's community. There are 9 Montessori attachments for use with the gym, including 5 reaching, grasping, kicking toys, and 4 classic mobiles for visual development. There's also a crochet ring with a rattle.
The baby play gym is designed by Montessori experts and is made with sustainably-forested wood and non-toxic paint. It also comes in 100% recyclable packaging.
Recommended for babies aged 0-3 months, this gym measures 33 inches by 32 inches by 39 inches tall.
Monti Kids is made in China.
Buy on The Tot or Buy on Amazon
---
Final Thoughts
Non-toxic wood play gyms are a great source of entertainment for you and your baby. The trick is finding a simple, solid, well-designed frame that you can easily add toys to as needed. That way, if your baby has a favorite stroller toy already, you can snap it onto the play gym.
I know it can be overwhelming to find truly safe products. So, to make things easier, you'll find my favorite vetted non-toxic wood play gyms, as well as other non-toxic products for the entire family, in my Amazon Storefront. Check it out!
Let me know if you and your baby have a favorite wood play gym or a must-have hanging toy!
Pin it for later!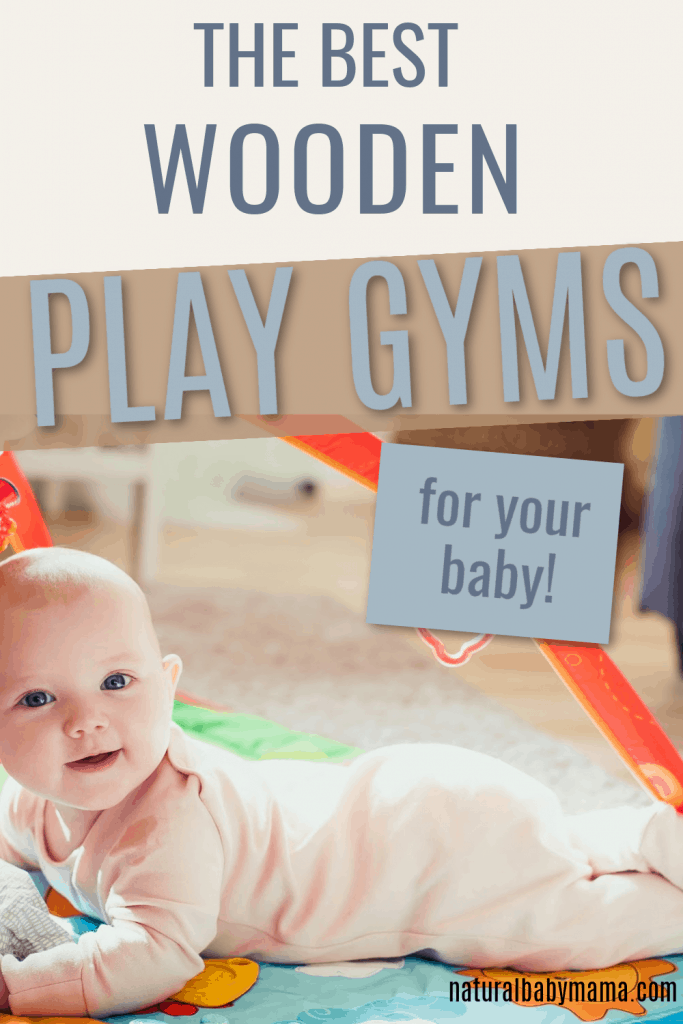 Sources
1. "WSU researchers see new plastics causing reproductive woes of old plastics." Washington State University. 13 September 2018. news.wsu.edu