Baby monitors can save you a lot of legwork and anxiety, but modern baby monitors are now so sophisticated that they have created a whole new thing to worry about! EMF radiation, or electromagnetic frequency radiation, is a growing concern for many parents and parents-to-be, and baby monitors are a major culprit. The good news is that you can choose a low EMF baby monitor and still get the peace of mind you want when your baby is in their crib in another room.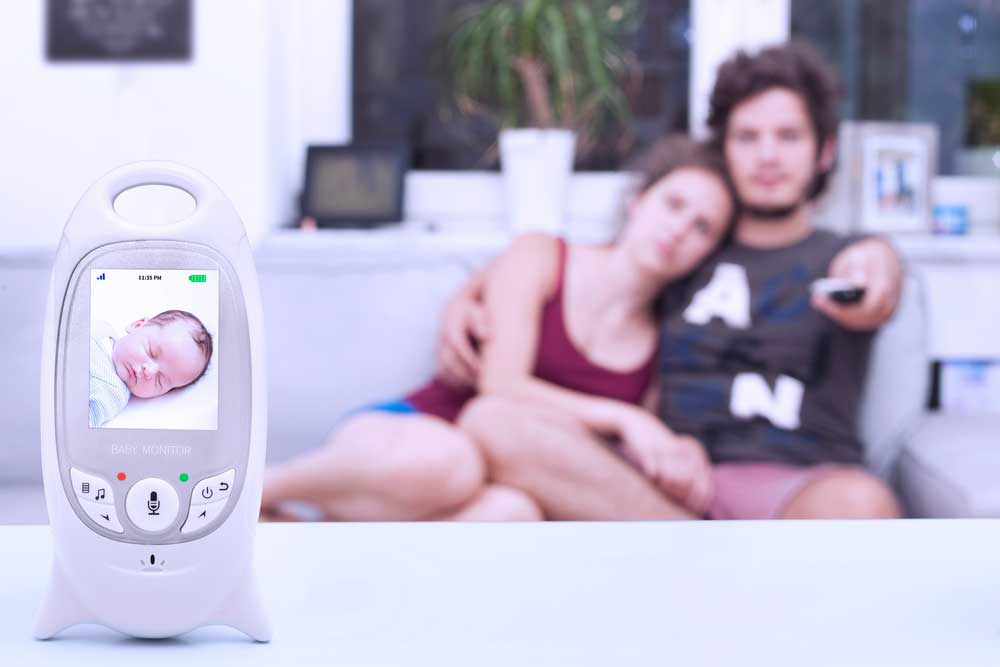 This post may contain affiliate links. Please see my full disclosure policy for details.
The Dangers of Baby Monitors for Babies and Kids
In broad terms, there are three types of baby monitors available: analog, digital, and WiFi-enabled.
There are pros and cons to all three types, including different risks of the monitor being hacked, enabling someone outside your home to see the camera feed, and even send sound into the nursery where your baby is sleeping. Creepy? Yes! But extremely unlikely and largely avoidable, thank goodness.
Aside from your baby monitor being hacked, what else are parents concerned over? In short, the dangers of EMF for babies and kids.
EMFs and Baby Monitors
Baby monitors all emit EMF radiation, even the analog monitors. But some of the WiFi-enabled monitors emit far more EMF radiation.
Still, the amount of EMF emitted by baby monitors in the US is restricted to levels below those established in 1998 by the International Commission on Non-Ionizing Radiation Protection (ICNIRP).
There are some baby monitors that claim to emit much lower levels of EMF radiation, though, and even some so-called no EMF baby monitors (though this isn't actually possible if there's an electrical current running through the device, because… physics).
Some low EMF baby monitors are also marketed as being designed so the EMF radiation isn't blasted out towards your baby but in a different direction to dissipate. The problem is that companies don't offer any actual research to back up their claims about EMF mitigation.
There are also EMF 'shields' that are marketed as keeping the radiation away from your baby. Again, these claims are not backed up by third-party tests and may well be a waste of your money. In addition, shields can make things worse or just push it all out in another direction.
Why does it matter how much EMF a baby monitor pumps out? In short, because there are concerns that EMF exposure may be detrimental to an infant's health.
Health Effects of EMF on Babies and Children
Electromagnetic fields (EMF) are divided into two categories:
Extremely low frequency (ELF) EMF at 3-3,000 Hz – associated with high-voltage transmission lines and in-house wiring
Radiofrequencies (RFs) at 30 kHz to 300 GHz – from cellphones, smart devices, base stations, WiFi, and 5G technologies.
In the home, ELF EMF is usually at the frequency of 50 or 60 Hz and is associated with wiring in your home and some basic household appliances. Your TV, hairdryer, and computer all produce ELF EMF, for instance, but at such low levels that this is not thought to be a significant health hazard.
The trouble arises with acute exposure to high levels of ELF EMF. This is usually associated with medical applications or specific occupations, not with typical ELF EMF levels in the home. There is no clear, robust evidence linking ELF EMF to long-term effects on health, but the biggest concern is carcinogenicity.
According to the International Agency for Research on Cancer (IARC's), ELFs and RFs are possible human carcinogens (Group 2B). However, the World Health Organization (WHO) has not confirmed (or denied) this view of EMFs.
There is some epidemiological evidence (i.e., from population studies) that living close to powerlines or other sources of significant electrical activity is associated with higher rates of childhood leukemia, but this association is undermined by methodological issues with the research (such as other factors affecting children's health). No mechanisms or credible theoretical processes have been established for such an association.
That said, more research is underway to look at the potential effects of ELF EMF on infants, whose rapidly developing bodies, with thinner skulls and less body mass overall, are more vulnerable to the effects of radiation on DNA, for instance.
EMF Resources
Here are a few links to more information on ELF and EMF from credible organizations:
It's extremely unlikely we will ever see well-controlled EMF experiments in children (thankfully!), but this makes it hard to know exactly what the risks are.
Until we have more evidence, it seems smart to take a precautionary approach, meaning minimizing your baby's exposure to EMF. This means keeping smartphones and other EMF emitting devices away from your baby and choosing a baby monitor that is low or (practically) no EMF, and placing that at a distance just to be sure.
Types of Baby Monitors
There are 3 basic types of baby monitors: Analog, Digital, and Hardwired (non-wifi) baby monitors.
Analog Baby Monitors
Choosing an analog model is the easiest option for a low EMF baby monitor. These also avoid WiFi and internet hacking concerns, although analog monitors are actually incredibly easy to 'hack' even by accident.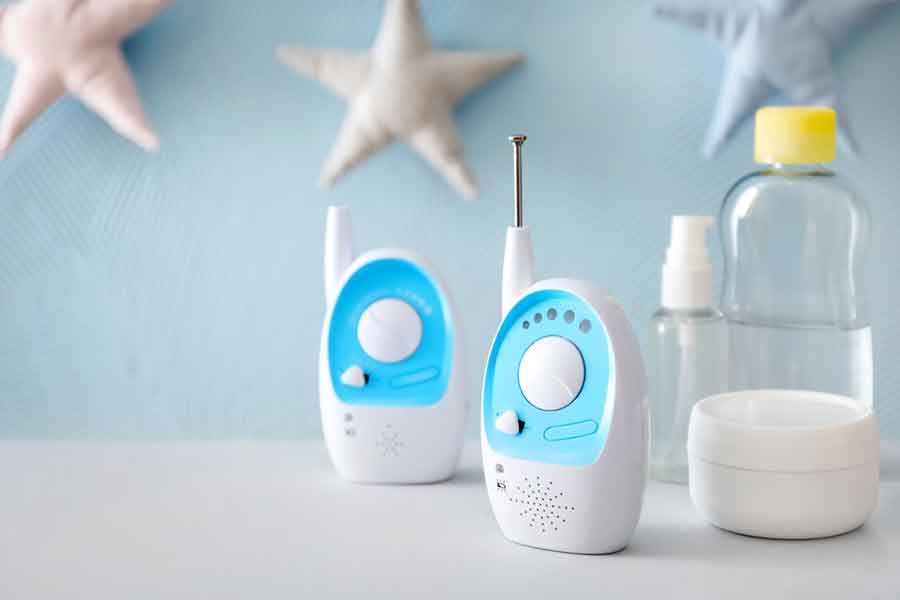 That's because these monitors transmit sound and video signals on one of the main radio frequencies (49 MHz or 900 MHz typically), so anyone else using that frequency can send and receive signals from and to your monitor!
If you live at a fair distance from any neighbors, chances are your baby monitor signal won't be strong enough to be intercepted. But, if you're in a tightly packed apartment complex, you might want to choose a more secure option such as a digital monitor.
In general, the lower the frequency of radio wave, the less likely it is to cause harm to your baby. There's a big difference between a 49 MHz (0.049 GHz) analog baby monitor and a digital monitor with all the bells and whistles operating at 2.45 GHz.
Some analog baby monitors are marketed as low EMF baby monitors just because they're analog and not digital. Not all analog monitors are the same though. The truly low EMF baby monitors are those that operate at close to 49 MHz, not those operating at nearly 1000 MHz (1 GHz, and the same as microwave radiation).
Digital Baby Monitors
Digital baby monitors use encrypted digital feeds – FHSS, or Frequency Hopping Spread Spectrum, or Digital Enhanced Cordless Communications/Telecommunications (DECC/T) – to send and receive signals. This means that your monitor jumps around frequencies, which makes hacking nearly impossible.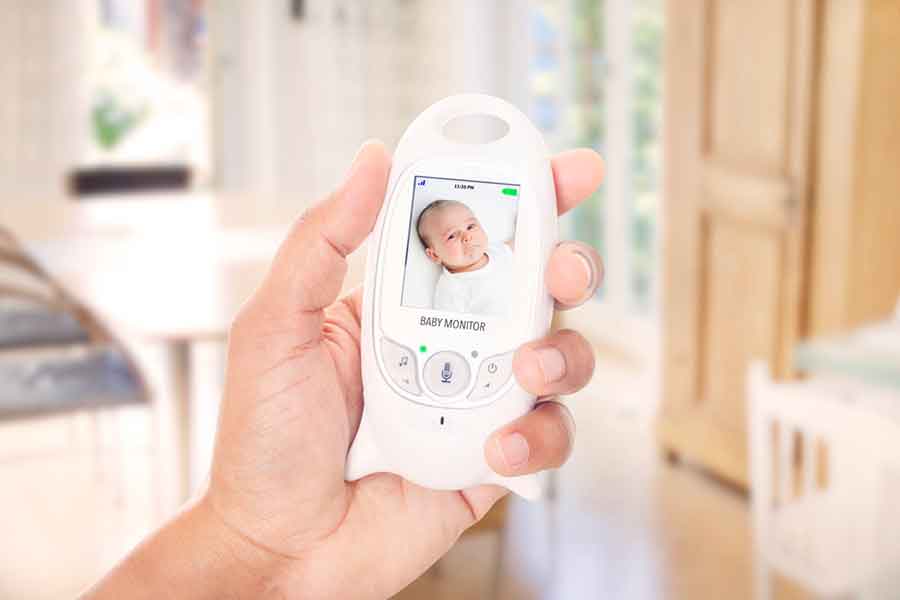 That said, digital baby monitors can suffer from interference from other household devices also operating at 2.45 GHz, such as your cellphone, wireless router, Bluetooth speakers, computers, and even smart TVs or smart refrigerators!
Digital baby monitors can be internet-enabled too, so you (or whoever has the right access information) can see and hear the feed even if they're in another city or even country. With most models, you can choose to turn off the internet connectivity if you're worried about privacy and/or power consumption, interference, or increased EMF.
Some monitors have a feature where they only activate when the sound around them reaches a certain level, typically 50 decibels. Use this feature! That way, the monitor is only maxing out EMF when your baby is making noise, not all through the night as they (hopefully!) sleep peacefully.
Wired Baby Monitors (Non-Wifi Baby Monitors)
One of the best options if you have the right wiring is to hardwire a digital baby monitor and achieve a genuine no EMF baby monitor. Some models hardwire into the AC in a building, but this may have drawbacks of its own.
Instead, what you want is to hardwire the monitor to fiber-optic or ethernet cables and run the signal through the internet that way. This avoids EMF entirely, assuming you turn off the monitor's WiFi and Bluetooth functions (some do this automatically when plugged into a cable).
If you don't have fiber optic or ethernet ports installed in your home, you can also run your own into the nursery from your router. Use a few wall-tacks for cable safety, or a cable cover, and no one need be the wiser!
The D-Link DCS 5030L Camera is a good option for hardwiring a baby monitor, but be careful – not all D-Link monitors have ethernet ports. The Arlo Q wired HD security camera is another excellent choice even though it's not marketed as a baby monitor.
Safest Low EMF Baby Monitors
Here are some of the best low EMF baby monitors currently available, ranging from analog monitors to hardwired digital monitors or security cameras with audio capability. This is not an exhaustive list, and model specifications can change, so be sure to check listings and contact the manufacturer if necessary.
---
Analog Baby Monitors
All analog meters currently are not being sold in the United States. If you can find one of these on eBay or used, that would be your best bet. Analog monitors don't last forever, so buying used you do run the risk of the monitor not lasting long.
If you can find an analog meter, these are my top choices.
Safety 1st Crystal Clear Audio Monitor
This inexpensive audio-only analog baby monitor is one of your best options for going low EMF. It operates at just 49 MHz but still has a 600-foot range or so. Sure, you'll get some static with this one; the sound isn't really 'crystal clear,' and there's a decent chance other devices in your neighborhood will be operating on the same frequency.
Still, if it works for your set-up, the Safety 1st Crystal Clear baby monitor is a top choice that can let you know when your baby needs attention. This is a plug-in baby monitor, not battery-operated, so be sure it will work where you want it.
---
Sony BabyCall Baby Monitor
The Sony BabyCall Baby Monitor is another analog choice but runs at 900 MHz, so is close to the microwave range. It's also able to be plugged in or battery-operated, which means more flexibility in where it's placed (so, you can position it farther away from your baby perhaps). The batteries are also rechargeable.
This baby monitor is also water-resistant, though I wouldn't test that claim too hard. The BabyCall can operate on 27 channels, meaning you can toggle to find a channel with a clear signal and minimal static or interference. The sensors will let you know when the receiver goes out of range, when it is low on battery, or when your baby makes a noise above the trigger level.
Again, this one is quite high in terms of EMF, but still technically in the low EMF range. Just be sure to place it at least three to five feet away from your baby's crib or bassinet.
---
First Years Crisp and Clear Audio Monitor
The First Years Crisp and Clear Audio Monitor is another analog option and is audio only (no video). Both the receiver and transmitter can be plugged in or battery-operated, and you don't need to worry about turning off WiFi or Bluetooth, though you might struggle with some interference depending on where you live. The range on this one is about 600 feet, so fairly standard and all you really need in most homes.
One nice feature of this model is that it has a sound-sensitive light display, meaning you can tell how intense the sound is just with a glance (handy for when vacuuming, listening to a podcast, or watching TV). The First Years monitor has alarms for when it's out of range too.
---
Digital Baby Monitors
Audio Baby Monitor TimeFlys
$42.99
The TimeFlys Digital Audio Baby Monitor is another good choice to minimize EMF as it has a 'zero emission' Night Mode when everything is calm and peaceful, only activating when triggered by sound (50 dB, when it runs at 2.4 GHz on FHSS). To activate this, quickly press the ON/OFF button on the parent unit three times, and an orange light should come on.
This device boasts two-way audio (with lullaby option) and a temperature gauge with an audio alert if the room temperature drops below or goes above a certain range. There's also a night light that can be controlled remotely or from either unit and an alert for low-battery or out-of-range.
This monitor is plug-in for the baby unit and plug-in or battery-operated for the parental unit. The built-in lithium-ion rechargeable battery can operate for up to 15 hours having charged for only a few hours.
The parental unit has a belt clip, for convenience if walking around the house or yard, and the vibration alert is great if you're doing noisy chores.
---
Phillips Avent DECT Video Baby Monitor
$49.99
The Phillips Avent DECT Video Baby Monitor is a great choice for when you want the option of video and audio but doesn't need the video all the time. This is one of the less expensive baby monitors too and has a range of just 330 feet, which is plenty for most families and helps cut down on emissions overall.
Unlike many digital monitors, this one uses DECT technology, which means you're far less likely to suffer interference from other devices and the emissions overall are lower than for a 2.5 GHz model (DECT uses 1880-1900 MHz). There's a smart ECO mode, which helps you save energy and, more importantly, seriously cuts down on EMF exposure.
The Avent has 5 sound-activated LED lights to help you see the sound level at a glance, has a comforting nightlight, and the parent unit can be plugged in or battery-powered (with rechargeable batteries).
---
Hardwired Options for Baby Monitors / Non-Wifi Baby Monitors
If you have the wiring installed or can install it yourself, a hardwired baby monitor is the way to go for the lowest EMFs.
Arlo Q Wired HD Security Camera
$64.47
The Arlo Q wired HD security camera offers another way to set up a no EMF baby monitor. It doesn't have WiFi capacity or Bluetooth and instead works through an ethernet cable.
The Arlo Q offers two-way audio, night vision, and motion sensors, and can connect to an app on your smartphone to send you alerts and let you see and hear what's happening in the nursery. It's also excellent to repurpose as a general security camera or use for senior home care, at a later date.
---
D-Link Indoor Full HD WiFi Security Camera
$99.17
The D-Link Indoor Security Camera is an excellent hardwired option for a baby monitor as it offers a pan tilt zoom, motion detector, night vision, and two-way audio. You can use it over WiFi, but the better, low EMF, the choice is to plug the camera into an ethernet port and turn off the WiFi entirely.
The D-Link also offers SD and cloud recording, should you want it, and is compatible with Alexa and Google Assist. This would be a great indoor security camera after you're done using it as a baby monitor.
The pan tilt zoom is also a nice function as you can do this 'manually' or can use saved viewpoints, making it especially helpful if monitoring more than one baby in the same room! The camera sends alerts as push notifications to your smartphone whenever it detects motion or sound.
---
Baby Monitors to Avoid
Some baby monitors are known to have security flaws and are best avoided:
D-Link's Digital Baby Monitor Day/Night Cloud Camera and Wireless N Network Camera
WiFiBaby (WFB2015)
Withing (WBP01)
iBaby M6 and iBaby M3S
Philips In.Sight B120/37
Summer Baby Zoom WiFi Monitor & Internet Viewing System
Lens Peek-a-View
Gynoii
TRENDnet WiFi Baby Cam TV-IP743SIC
I would also avoid the BabyMoov Zero Emission Video Monitor, which claims to be no EMF. It is a digital, internet-connected, plug-in baby monitor that offers a wide range of features, including a nightlight and temperature sensor, motion detector, video recording, and two-way communication, so you can soothe your baby back to sleep (hopefully) without having to get out of bed. This monitor even allows you to play preloaded lullabies or any music in your music library, and the rainbow nightlight can be adjusted both for color and intensity (in case you want to treat your baby to a disco in their crib, maybe?).
The monitor is compatible with both Android and iOS, but the app seems a bit hit and miss, as do many of the other features. There are also complaints about the accuracy of the temperature gauge and the clarity of the video seems pretty poor. All in all, this is probably one to avoid, given how much it costs and the very poor reviews. The only reason I'm mentioning it is that it is one of the few claiming to be a no EMF baby monitor. So, buyer beware!
BabyMoov has stopped selling in the US market but is still selling its baby monitors in Europe.
What if You Already Have a Baby Monitor?
If you already have a baby monitor, and it emits high levels of EMF, you have two main options going forward.
First, you could just choose not to use it! Instead, stay within earshot of your baby and pass the monitor onto another family that needs it.
Second, if it's a digital monitor, see if it can be hardwired. This means plugging it into an ethernet port in the nursery or running an ethernet cable into the room.
If neither of these are options, look for an eco-mode on the monitor and any other features that can help cut EMF radiation, so your baby isn't being bombarded with EMF while they are soundly asleep.
Final Thoughts on Low EMF Baby Monitors
Baby monitors are one of the more expensive nursery gadgets, so you would be right to think twice about buying one. If you live in a smaller home you might not even need a baby monitor.
And even in a larger home, if you're going to be close by your baby's room most of the time, chances are you won't need a monitor with more than just a basic camera and microphone.
If you do go for a fancier baby monitor that is internet enabled, be sure to have automatic firmware updates to keep the monitor as secure as possible (and remember to have a secure WiFi password too!).
And only turn on the monitor when absolutely necessary. If it has an eco-mode, activate it; this will save energy and can keep EMF to a minimum.
All in all, my recommendation for a baby monitor is to only use one if you really need one and then go for an old school radio analog monitor or a hardwired/networked digital monitor.
It can be overwhelming to find truly safe products for you and your family, which is why I have created my Amazon Storefront for non-toxic baby and home products.
Other Posts Related To Low EMF Baby Monitors
Pin it for later!