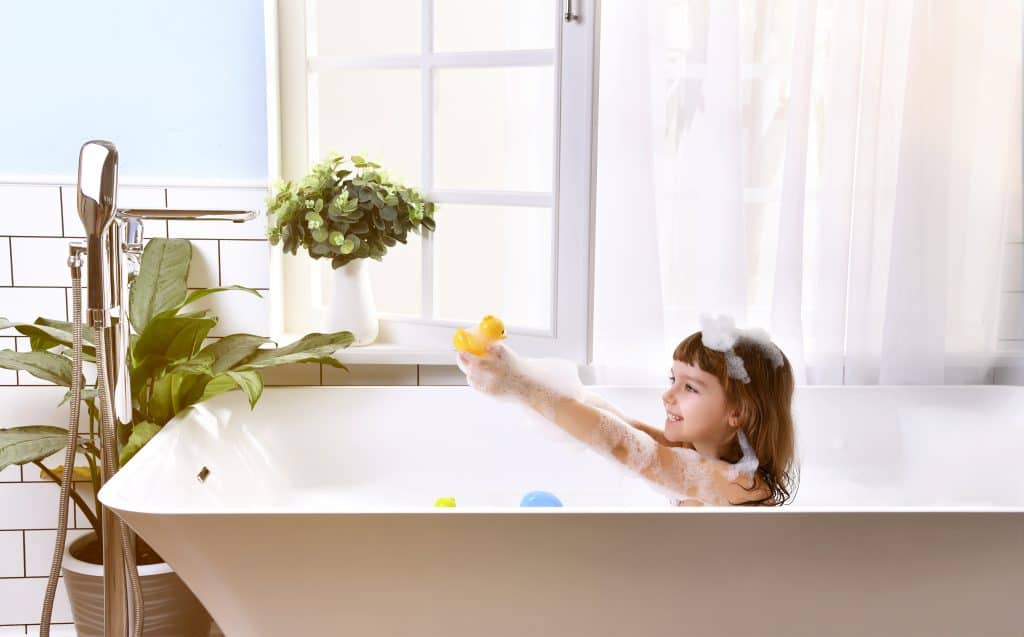 Bath time can be so much fun, and it's a great way to end the day by spending some one-on-one time with your child. It's also important to make sure non-toxic bath toys are being used.
Sadly, many bath toys are filled with toxins. These non-toxic bath toys will provide endless bathtime entertainment.
In practice, non-toxic bath toys mean choosing plastic-free bath toys, which can make it a little tricky if you don't know where to look.
To help you skip the research, I've laid out what to avoid when looking for safe, non-toxic bath toys, what to look for, and which toys I recommend as the best non-toxic bath toys for 2021.
What Bath Toys to Avoid
In short: Plastic bath toys (and a few other things!).
The heat and water makes your baby's skin more likely to absorb toxic chemicals.
The bath is probably the worst place to expose your child to plastic. This warm, moist environment offers plastics the perfect conditions to start breaking down and leaching phthalates and other chemicals into the bathwater (and onto your baby's skin).
You know the cute rubber ducky that everyone associates with baths? Well, that is a toxic landmine. If you have one that you are using, please throw it out. They are made from PVC, which contains phthalates and heavy metals like lead. I tested a rubber duck I had years ago, and it was around 1,400ppm lead in certain areas.
Toxins in Bath Toys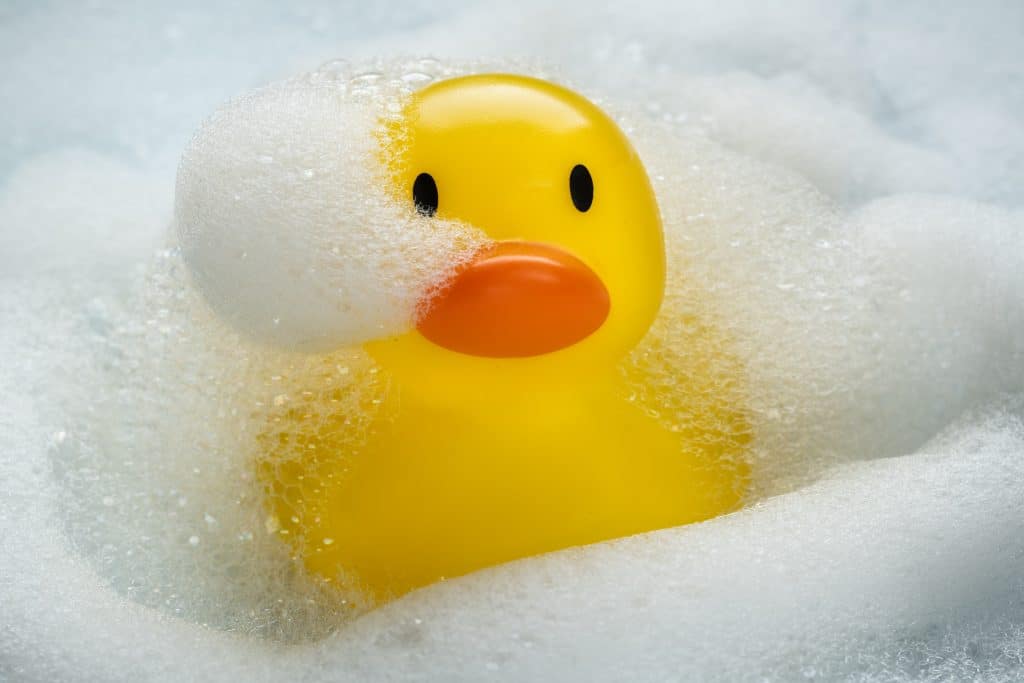 Phthalates
Phthalates are chemicals that make plastics more flexible. They can be absorbed through the skin, inhaled, or swallowed when a baby mouths a toy or drinks contaminated bathwater.
Phthalates are active inside the body and are harder for a baby to get rid of than adults. Phthalates can affect your baby's cognitive and emotional development, motor reflexes, hormonal balance, and reproductive system development.
All toys sold in the U.S. are regulated by the Consumer Product Safety Commission (CPSC), but even the CPSC hasn't banned all phthalates in toys. There are currently only eight specific phthalates restricted in toys made in the U.S., which means other phthalates can be used in the making of plastic toys. Even those that are 'banned' can still be present, albeit at very low levels.
The ban also refers to each specific phthalate, so you could still state phthalate-free while containing eight different phthalates below each allowable limit; however, the cumulative effect of each phthalate is much higher (and that is allowable!). So, while the CPSC restrictions have helped reduce the likelihood that a bath toy manufactured in the U.S. contains phthalates, this isn't foolproof.
If plastic toys are a must, make sure they're totally phthalate-free, not just 'phthalate-safe' (which again just means they don't contain banned phthalates above the threshold).
There's only one company I'd recommend for plastic bath toys, and that's Green Toys. They make plastic toys from recycled milk jugs and other post-consumer plastics that are phthalate-free and much better for the environment than toys made with virgin plastic.
BPA, BPS, Lead, and Others
Similarly, while there are CPSC restrictions on levels of lead or certain flame retardants in toys made in the U.S., toys can still be imported, including from China, where flame retardants and lead paint are still in use.
Toys that meet CPSC criteria can also still contain bisphenol-A and alternatives, and polyvinyl chloride (PVC), as well as heavy metals and toxic dyes, stains, and paints.
With bath toys, there's also the problem that toys not designed for use in warm water have not been tested under these conditions.
This means that it's best to avoid putting any toys in the bath unless they're bath-specific.
Mold
One other point of concern: toys that can harbor water and, therefore, mold and bacteria.
Plastic 'rubber' ducks are notorious for molding after just a few uses. They contain holes that allow bath water to get inside the toy and make it impossible to dry out. This creates a perfect breeding ground for mold and bacteria, which then leach back into bathwater at bathtime.
Avoid toys with holes or with shapes that make it hard to properly dry the toy after each use.
Hermetically sealed natural rubber toys with no holes are the best replacement for conventional plastic rubber ducks. Hevea makes great toys that can be opened up to dry after use.
What to Look For in Non-Toxic Bath Toys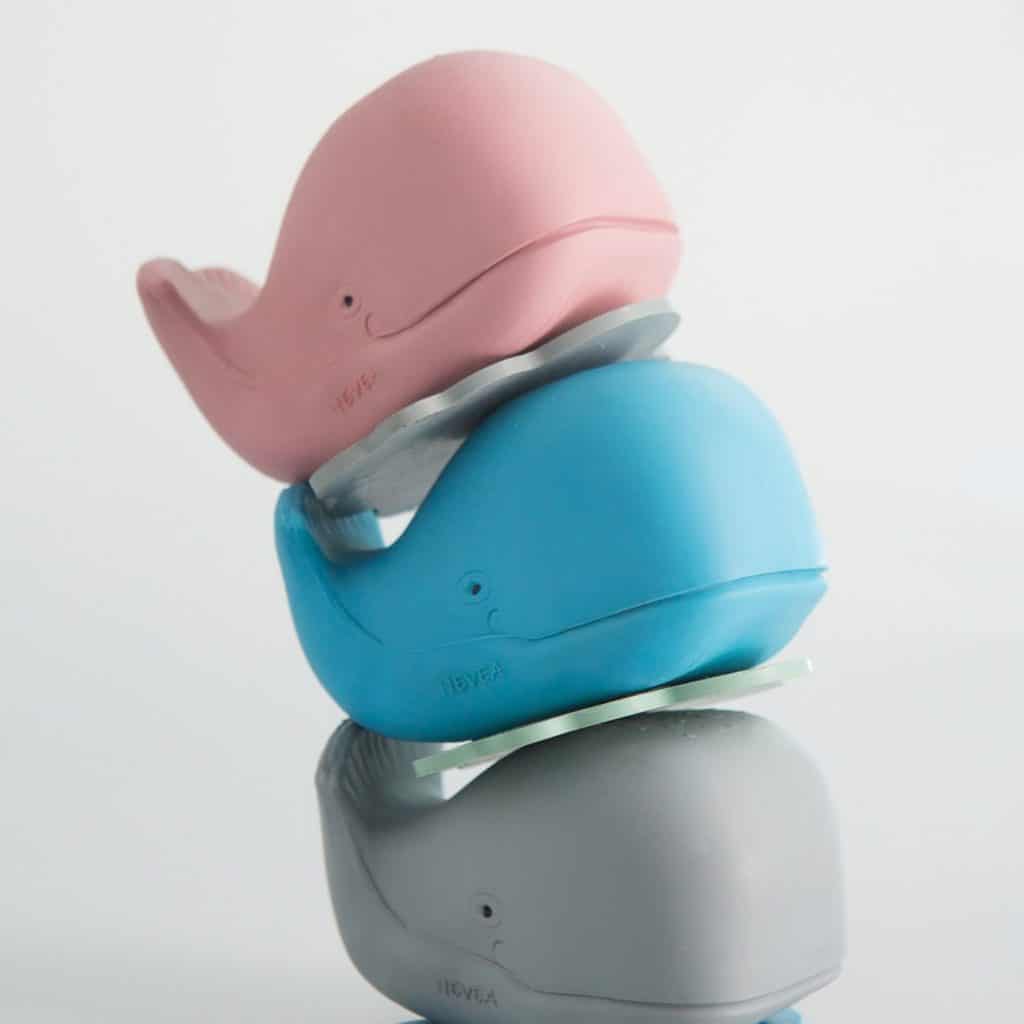 The best bath toys are those made with sustainably sourced natural materials and with only natural finishes.
Mold and bacteria grow fast in toys immersed in warm water, which is why it's best to use only toys designed for bath time (rather than, say, Sophie la Giraffe, which has been known to mold).
Natural rubber and stainless steel are good choices for bath toys. You'll definitely want to make sure toys dry out properly between uses and try to avoid toys with holes in them that can trap water inside.
Wood Bath Toys
For wooden bath toys, go with those that are naturally finished with vegetable oil. If you prefer, you can also look for unfinished toys that you can add a natural finish to yourself.
Look for the Forest Stewardship Council (FSC) label and/or see if local craftspeople make toys with sustainably sourced local wood that is kiln dried and not chemically treated or stained.
Avoid painted wooden toys unless you can be sure the paints are non-toxic. Instead, choose hardwood toys finished with linseed or jojoba oil.
Make sure to dry wood bath these thoroughly after every use and refinish them regularly as needed.
Natural Rubber
Natural rubber is another good option for plastic-free, non-toxic bath toys. The rubber tree produces rubber sap that is then used to make everything from natural rubber toys to bedding.
If you're wary of latex allergies, that's understandable, especially because warm and wet conditions can make the skin more absorbent. Natural latex allergies are rare. If you are concerned, you can minimize allergy risk by using latex toys infrequently rather than every day.
Stainless Steel
Stainless steel can also work for bath toys. It's plastic-free, easily recycled, free from BPA, phthalates, dyes, and other toxic chemicals, and relatively inexpensive.
You might already have figured out that your set of stainless steel measuring cups make great bath toys!
This post may contain affiliate links. Please see my full disclosure policy for details.
The Best Non-Toxic Bath Toys:
If you're looking for natural rubber bath toys, Hevea is a must. They have rubber duckies (that won't harbor mold and are free of toxins) and a range of delightful bath toys and other baby items.
Harald the Whale is a great splash toy with a closing mechanism that prevents mold (you can open the whale's belly and let the toy dry before sealing it back up again).
The toys are colored using natural dyes approved for food contact by the FDA, and all of Hevea's toys are PVC-free and free from phthalates, BPA, and synthetic materials.
They don't squeak (thank goodness) and are soft and fun for little hands to hold.
Hevea also sustainably produces the toys and uses recycled, biodegradable packaging materials and soy inks.
Hevea also makes a baby bath mat from natural rubber.
Made in: Malaysia.
oli and carol make fun bath toys like the Origami Boat and the H2ORIGAMI. They also have more traditional bath toys like rubber ducks.
They use 100% natural rubber hand-painted with natural pigments. To achieve the base color, they inject pigments into the mold. For the coating, they paint the pigment on by hand. In both cases, the paints are water-based pigments mixed with plant-based-pigments and rubber. These may fade over time but don't peel like conventional paint and are non-toxic and safe.
oli and carol designs are all hole-free, making them hygienic and mold-free. Perfect for chewers and older kids, oli and carol have other fun bath toys like their Beetle Car, Fruits and Vegetables, and Elvis the Duck in various colors.
Made in: China (DIY toy kits are made in India)
Meet Nalu the Seahorse, La the Butterflyfish, Mele the Sea Turtle, and Kala the Whale. Caaocho makes these 100% natural rubber toys free from BPA, PVC, phthalates, and nitrosamines and are non-toxic and baby-safe.
They're hermetically sealed one-piece toys, so no mold or bacteria can lurk inside the toys, and they're painted with food-grade paints.
The rubber used to make Caaocho bath toys is sourced from plantations in Malaysia, with the company committed to responsible sourcing.
I have tested Caaocho in the past and they were lead free.
Made in: China
PlanToys bath toys are made in Thailand in a sustainable toy factory powered by solar energy. The company uses natural rubberwood trees at the end of their latex-producing life. It ensures that the trees are not exposed to any chemical fertilizers for at least three years before the wood is harvested. They kiln-dry the wood to avoid chemicals, reuse sawdust to create PlanWood, and then use formaldehyde-free e-zero glue and water-based dyes and finishes for the toys. PlanToys also use recycled paper and soy inks for packaging.
One of our favorite bath toys is Submarine Bath Toy by PlanToys. The Fountain Bowl Set is another great pick, including three PlanWood cups with different sized drainage holes, so your kids can have fun seeing which bowl will drain first. PlanToys even has a super cute sailboat with a seal toy, which is sure to inspire some fun adventures on and under the water!
Made in: Thailand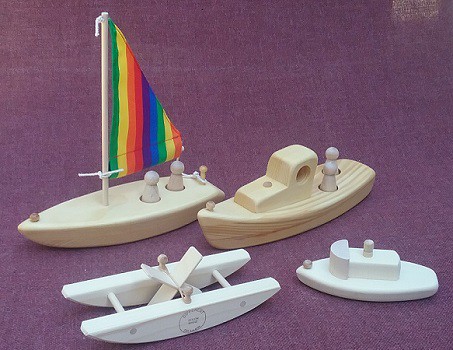 Maine Toys are another great option for handcrafted wooden bathtub boats. This home-grown, family-owned company offers several models, most of which are unfinished. They finish a few of their toys with varnish; I recommend asking for an un-varnished hull when ordering and then use a food-grade oil at home to finish.
The other boats include the Tug Boat, Lobstah Boat, and Paddle Boat, all of which are handmade and unfinished. The Paddle Boat is powered with a replaceable rubber band.
If you order one of these boats, I'd recommend finishing it yourself at home with organic food-grade oil. This will help provide a bit of extra water protection, but as it's not durable, you'll need to reapply the finish every so often.
Make sure you remove these from the bathtub and let them fully dry to prevent mold.
Made in: United States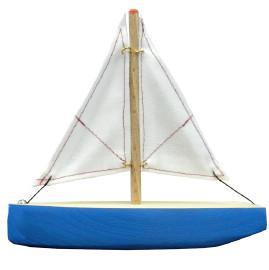 If you have a budding sailor in your family, check out Ogas wooden boat bath toys. These boats have been handmade in Germany since 1898. The craftsmanship is fantastic, with all of the rigging and knots done by hand.
Ogas use spruce wood from managed forests in Europe, metal for the keels, cotton for the sails, and water-based, eco-friendly pigments and finishes. The company has even won the Spiel Gut award for safety and environmental friendliness, and they have a canoe too!
Suitable for kids 4+
Made in: Germany
These chubby crayons are easy for little hands to hold, much more difficult to snap, and are made in New Zealand using locally sourced beeswax, a plant-based emulsifier, soy wax, and non-toxic pigments.
These water-soluble crayons are petroleum-free, smell amazing, and are available in packs of 7 or 12, with either a recyclable tin (which has drainage holes and doubles as a bath toy itself!) or a recycled cardboard package. The crayons measure 3.9″ long and 0.8″ in diameter, and all new works of art can be wiped clean from non-porous surfaces, such as the bathtub and tiles.
One thing to note: I had my Honeystick crayons tested for heavy metals with an XRF machine. The test showed low levels of cadmium in some red and pink Honey Sticks (which was well below the safe and allowable limits). After that testing was done, I reached out to the company. They provided me with their third-party certificate showing cadmium was non-detect with the testing detection limit of 10ppm. I do trust the third-party testing and have no concerns with Honeysticks.
Made in: New Zealand
Based in the U.S., Kleynimals make stainless steel toys, including a rattle and keys. While not traditional bath toys, these can be fun for your baby to play with in the bath and are dishwasher-safe, non-toxic, and free from phthalates, BPA, lead, and cadmium.
I love that Kleynimals was set up by a mom and donates a portion of revenue to environmental non-profit organizations.
Made in: United States
Measuring cups, tea strainers, and mini colanders!
Some of the best non-toxic bath toys are already in your kitchen, just waiting to be repurposed. Think stainless steel measuring cups and slotted spoons.
Just verify any markings are etched on instead of painted on. There have been reports of lead paint being used on painted on marking on kitchen items (like the red measuring lines on Pyrex glass measuring cups). This shouldn't be a problem with stainless steel as it is mostly etched on.
If you can't do without plastic bath toys, Green Toys is the safest plastic toy on the market and the only one I would recommend.
Personally, I use only natural rubber and wood toys, but I know many people are looking for safer plastic, so I've included this option as it's the best option for plastic.
Green Toys are made in the U.S. from 100% recycled plastic, typically yogurt containers and milk jugs. The plastic is #2 high-density polyethylene (HDPE), #4 low-density polyethylene (LDPE), and #5 polypropylene. These are used to make food-safe containers, and the toys made from these recycled plastics are free from BPA, phthalates, and PVC. They're also dishwasher-safe, inexpensive, and pretty darned cute.
The stacker cups are a good choice for bath time, and general playtime. Green Toys also offers a Tugboat, Paddle Boat, Ferry Boat, Submarine, OceanBound Tide Pool Set (which is also great for the beach), Seacopter, a Rescue Boat & Helicopter, Seaplane, and a Fire Plane (with a portion of sales going to support Fire Relief).
Made in: United States
Final Thoughts on Non-Toxic Bath Toys
It's totally understandable if your mind goes straight to plastic when you think of bath and beach toys. The good news is that there are some fabulous alternative options for plastic-free, non-toxic bath toys.
To make things even easier for you, I have added a range of safe and fun products in my Amazon Storefront for vetted non-toxic bath toys (as well as other non-toxic living products)
Pin it for later!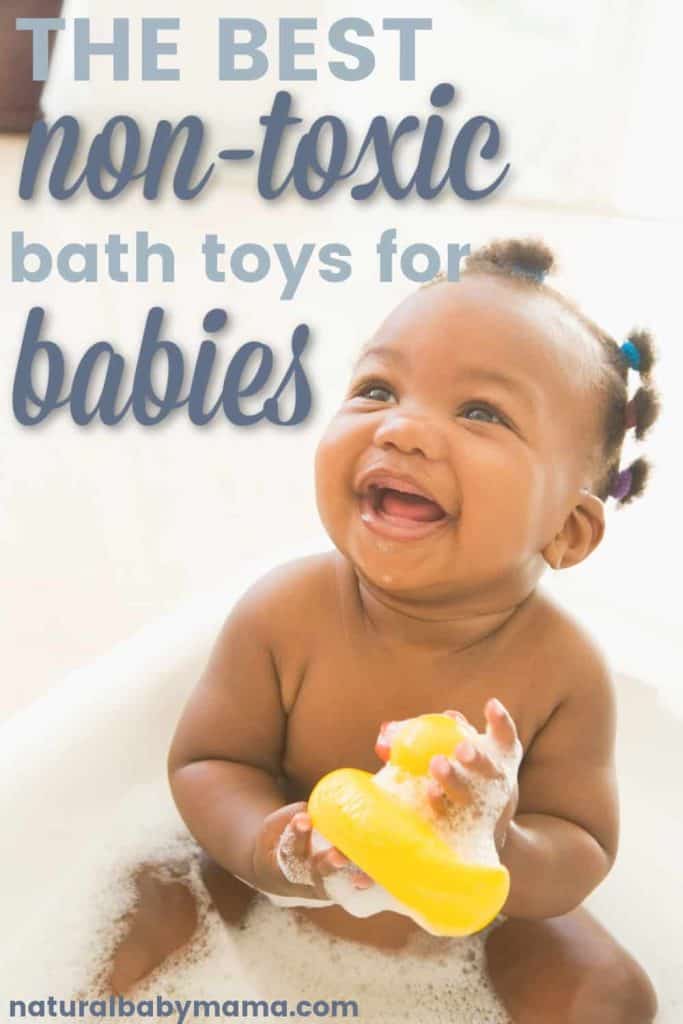 Other posts related to Non-Toxic Bath Toys