This post may contain affiliate links. Please see my full disclosure policy for details.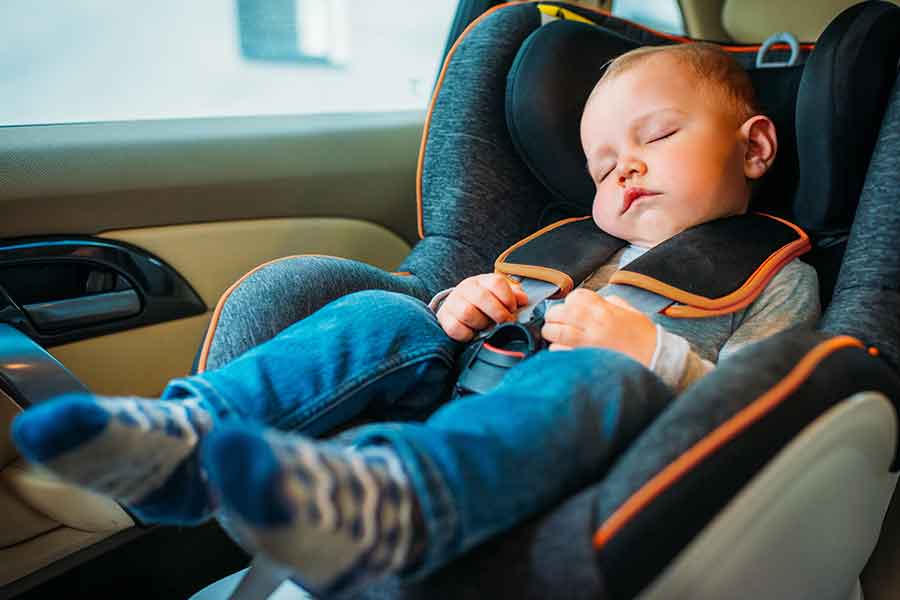 The most up to date post car seats: Non-Toxic Flame Retardant Free Car Seats.
See my latest car seat post as a follow up to all of the information below!
UPDATE 4/8/14: Recently Orbit has made some changes to their car seat and the Oeko-Tex certification. They use to be the only car seat manufacturer to have both the fabric and foam Oeko-Tex certified. They no longer use the same company for the foam. I was told that the foam company went out of business. Orbit will not disclose any information about what flame retardant is being used in their foam. I read a report that a third party tested the foam and it contained brominated flame retardants. Orbit still claims that they don't use brominated flame retardants. They will not give me any information about when this change was made. I am sending a sample of the foam from my car seat away to get tested to find out what flame retardants they use. Until we have more information I personally would not buy the Orbit. I don't have an answer about which one I would buy though. I will update this as soon as I know more.
4/30/14 – I had the foam on my Orbit tested and the foam inside the fabric came back positive with TDCPP flame retardants. The Stryofoam attached to the car seat came back showing no flame retardants. I no longer recommend Orbit. I will update more soon.
What is TDCPP?
TDCPP, or tris (1,3-dichloro-2-propyl) phosphate, is an organophosphate flame retardant that is being used to replace PentaBDE. TDCPP, which is used as an additive flame retardant in resins, polymers, latexes, and foams, is most widely used in the US (annual estimations are 4,500-22,700 metric tons).1 There is evidence that TDCPP is a probable carcinogen and a developmental neurotoxicant2, as well as an endocrine disruptor in fish.
I have spent many of months agonizing over my son's car seat. I know that they have chemical flame retardants sprayed on the foam, the cover and the sun shade and it bugs the crap out of me each time I put him in the car seat. It's so, so bad for him. Obviously, I'm aware that the car seat is keeping him safe and safety is my first priority which is why I keep using it. I've gone back and forth and done tons of research trying to find the perfect car seat. Here in the US there isn't a car seat sold without the use of flame retardants (since it's a federal law requiring it). The thing I don't understand is that wool and cotton are natural flame retardants – why don't car seat manufacturers use those?
Before our son was born we went to a big box baby store and bought a car seat that rated well, and well frankly, we ended up buying the one with the fabric we liked the best. We have the Chicco Keyfit 30 in Cubes. As I was learning more about toxic items that my son was using when he was little I learned about how toxic a car seat can be. I stumbled across the Environmental Work Group's database and searched our car seat. You can search your car seat here. It ranked low for toxic chemicals which made me feel better. Then of course I kept researching and realized that the EWG, while great, isn't testing for everything. Even though my car seat ranked "low" it actually just had a different chemical flame retardant used in it than what they were testing for. When I looked up that chemical online I wanted to cry when reading the symptoms it can cause and the organs it affects. So I began the search for the convertible car seat we would need to use since he was bigger. I kept wanting to find one that didn't use any chemicals which lead to many months of procrastinating. This now makes me sad since my son continued to use his chemical filled car seat BUT we don't even use the car seat daily (at least that is how I am rationalizing the continued use). I also read that the sun shades are loaded with fire retardants so I took that off right away. My search kept bringing me back to Orbit. They are the ONLY car seat manufacturer to be Oeko-Tex 100 certified. This means that they are the only car seat on the market in the US that tests for, and does not use, 100 toxic chemicals including most flame retardants and lead. You can read more about Oeko-Tex 100 standards here. You can also read more about Orbit's safety here.
There has been a lot of talk about companies not using flame retardants in car seats anymore since so many parents are upset about it. I've seen that Brittax is saying this (which from everything I've read is that they are using some of the worst chemical flame retardants still on their car seats). From what I understand, they are NOT removing chemical flame retardants from their car seats but instead no longer will be using the chemicals they are currently using and will just be using new ones. It's a federal law to make sure the car seats are fire proof so the ONLY natural way around this is using wool and cotton. There isn't one company that is moving that direction, not even Orbit.
So what it comes down to is picking the least toxic car seat you can find with good safety ratings. My choice for our convertible car seat is Orbit. I know that they have to be tested according to Oeko-Tex and that makes me feel better. I wish I had known all this information before our son was born and I would have started with the Orbit. When you know better you do better.
If you want to go even a step further you can replace your car seat cover. On Etsy The Sassy Stork makes some organic car seat covers. She doesn't have covers for every car seat brand. This does remove the warranty on your car seat so if you are comfortable with that then go ahead. Nollie Covers also makes organic car seat covers for most all brands of car seats. They aren't cheap but it may be worth it to you. I have heard that using Nollie Covers doesn't not void your warranty as she is the only car seat cover that is approved by the car seat companies. I HAVE NEVER VERIFIED THIS. I would verify this information before purchasing though. Update: I've purchased from both. Nollie Covers was horrible to work with. Major delays, lack of communication and not make all that great. Sassy Stork has been great to work with, better quality and better price!
A lot of people think that if they wash their car seat that will remove most of the chemicals which is not true. The flame retardants are meant to stay in there and not be easily removed. Using regular detergent will not remove the flame retardants. I've read that using soap flakes can remove the flame retardants over time and many, many washes. Using soap flakes is not recommended by car seat manufacturers and I believe it voids your warranty as well. If you are trying to remove some of the chemicals that your baby is touching soap flakes may work. Update: It does not work to remove them completely. My car seat still tested positive for Tris after I washed it many times.
UPDATE: There are a lot of comments on this post related to Diono and if they use flame retardants in their car seats (fabric and foam). They have told many commenters, and myself, repeatedly that they do not use flame retardants in the Radian car seat in several fabric colors. I literally called Diono at least 10 times trying to get to the bottom of this but they kept saying that they didn't use FR. It came out today, months after they were telling us they didn't, that they actually DO use flame retardants in their foam. They won't disclose which FR either. There is no way to pass federal flammability legislation without the use of chemical flame retardants while using foam in a car seat.
Good luck in finding a solution that works for you and your family!
PS – I decided I should have a disclaimer. The disclaimer is this: this is a decision you should make for your family. These opinions are my own. I am not being paid to have these opinions. You need to factor in the safety of any option that you choose. I am not responsible for any decision you make with regards to which car seat you choose.