Strollers are one of the more expensive items for your baby, so you definitely want to do your research before you buy. Along with figuring out the right configuration and features for your growing family, it's also essential to avoid toxic materials, coatings, and other components of strollers. After all, your child will spend a lot of time here in the next few years! Below you will find the best non-toxic strollers of 2021.
In this guide we'll go over what you need to look for and what should you avoid when buying a non-toxic stroller.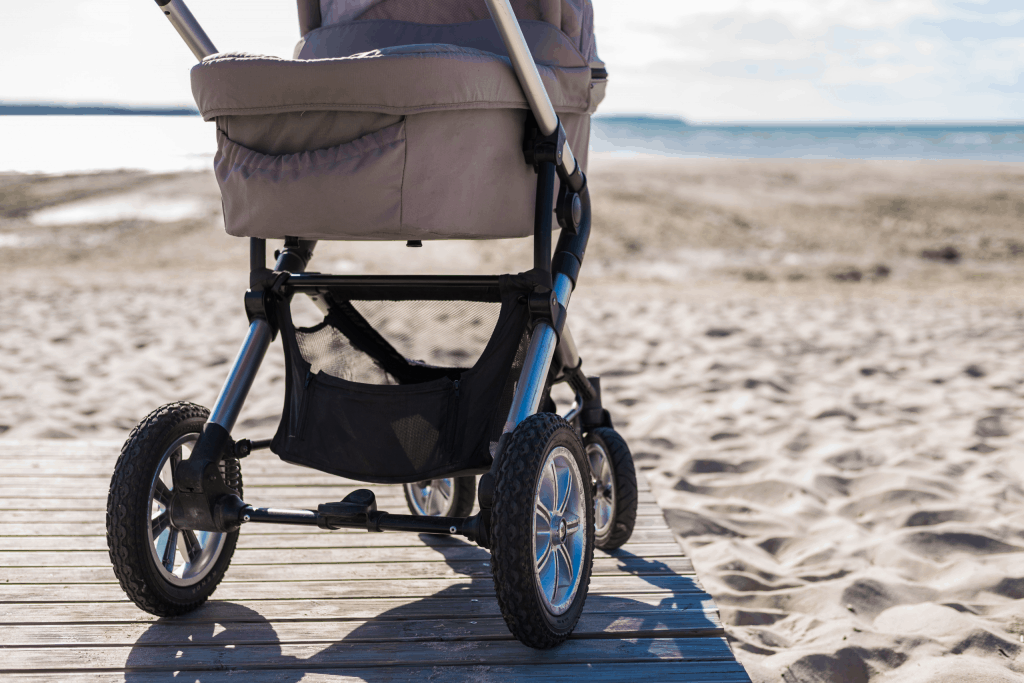 This post may contain affiliate links. Please see my full disclosure policy for details.
What to Avoid: Toxic Chemicals in Strollers
There's no shortage of toxins lurking in strollers. In fact, it can be incredibly hard to find a stroller that is free from toxins like flame retardants, polyfoam, DWRs, and PVC. We'll get into each of these below.
Flame Retardants
Before 2014, strollers sold in the US had to pass very stringent flammability tests. TB 117 required strollers to be able to survive an open fire for 12 seconds, which led to manufacturers dousing stroller fabrics with harmful flame retardants.
After strollers became exempt from these flammability requirements, manufacturers could (and arguably should) have stopped using flame retardants in their strollers.
Unfortunately, while many manufacturers did stop treating their strollers with these chemicals themselves, they didn't require their materials suppliers to do the same. This means that polyurethane foam and fabrics such as polyester may well still be treated with flame retardants before they make it into the finished stroller.
What's the problem with flame retardants? Well, in short, these chemicals have been linked to:
Hormonal (endocrine and thyroid) disruption
Reproductive health issues and infertility
Increased risk of cancer
Neurological damage
Hazardous effects on fetal development
Hazardous effects on child brain development (as noted by the American Academy of Pediatrics).
Brominated Flame Retardants
Some of the worst flame retardants are polybrominated diphenyl ethers (PBDEs). These are no longer produced in the US and are illegal in some states. However, PBDEs are still used by manufacturers in countries such as China and India, where most strollers are made. There's no clear regulation on the import of products doused with PBDEs into the US, even for baby products such as strollers, car seats, bouncers, and baby carriers.
Even trickier, many manufacturers don't even know if their products contain these chemicals because different batches of their materials may have been treated differently by suppliers. I've seen this play out several times where companies who state their products were free of brominated flame retardants were found to in fact have those flame retardants by independent testing.
When reaching out to stroller companies, many declined or were unable to satisfactorily answer the simple question of whether their strollers were free from flame retardants.
As always, the more of us who ask for accountability on these questions, the more likely companies are to feel the pressure to have a secure, transparent supply chain that prohibits hazardous chemicals.
Polyurethane Foam
Polyurethane foam is almost entirely unavoidable when shopping for strollers. Most manufacturers use this foam to provide cushioning in the seats and sides and even in handles and tires. Made from petroleum products, polyurethane foam is highly flammable, meaning it is very often treated with flame retardants.
In addition to potentially being laced with flame retardants, polyurethane foam breaks down over time to release toxic dust and volatile organic compounds (VOCs). VOCs can cause respiratory irritation, skin irritation, and other health issues.
While foam is common in strollers, your best bet is to look for strollers where at least the seat is foam-free. Foam in tires and handles poses less of a risk to your baby's health than foam in a stroller seat, head rest, or in play gyms, change mats, and crib mattresses.
Look out in particular for strollers with bassinets. These commonly have a polyurethane foam mattress.
As with flame retardants, many manufacturers don't like to reveal whether their strollers contain polyurethane foam. One way to get at least some reassurance is to see if a stroller has Oeko-Tex or EcoInstitut certification.
This isn't a guarantee that a stroller is free from polyurethane, but it does mean the stroller has been tested and found not to emit VOCs at a level above what is currently deemed harmful.
DWRs
Durable water repellents (DWRs) are coatings added to fabrics to make them water-resistant. Strollers often include textiles treated at the factory with DWRs, many of which are fluoropolymers (per- and polyfluoroalkyl substances, or PFAs) that are thin, often fairly ineffective, and that don't last all that long before retreatment is needed.
In the past, DWRs were typically sprayed onto fabric as a chemical solution, or the fabric was dipped in the chemicals. This involved the use of chemical solvents.
More recently, chemical vapor deposition has replaced this process, helping to eliminate the use of harmful solvents during DWR application. This process also requires less of the DWR.
PFAS
PFAS are increasingly recognized as toxic to humans and other animals. They are even considered potentially hazardous to human health by the US Environmental Protection Agency (EPA).
PFAS are called forever chemicals because they persist in our environment forever. They end up in our waterways, drinking water, and our bloodstream.
Some of the more widely acknowledged health effects of PFAS include:
increases in cholesterol levels
effects on immune function
impacts on infant birth weight
cancer
thyroid hormone disruption.
So, are DWRs and PFASs essential in strollers and other products? In a word, no. Many companies have phased these out without affecting the performance of their strollers.
Some use fabrics that are naturally water repellent, while others use silicon- and hydrocarbon-based finishes instead, with plant-based waxes and treatments also increasingly popular. This is what you want to look for!
The best way to see if a stroller contains potentially harmful DWRs is to ask the company directly as many don't advertise the material make-up of their fabrics.
Some, however, do clearly state that their strollers are 'PFC-free' (or perfluorinated chemical-free), though you'll still want to check to see which waterproofing chemicals if any, they use in place of PFC as these are only one type of PFAS.
PVC
PVC is the world's third most common synthetic plastic, so it's no surprise it's present in many strollers. Typically, PVC is used in rain covers as well as in storage mesh and other thinner fabric components of a stroller.
To make PVC flexible, manufacturers often use phthalates, or plasticizers. Only a handful of these are banned in the US, leaving a loophole for manufacturers.
Adherence to Consumer Products Safety Commission (CPSC) standards is not a guarantee that a stroller is free from PVC or phthalates. Instead, a company needs to explicitly say that their strollers are PVC-free and phthalate-free, not 'phthalate-safe.'
Exposure to PVC and phthalates has been linked to various health effects including:
increased risk of cancer
birth defects
disruption of the endocrine system.
As with PFAs, the production of PVC is also harmful to workers, so if you care about all families, not just your own, this is a material to avoid.
Leatherette
Leatherette is a fake leather which is generally made of vinyl or plastic. Due to potential toxins (heavy metals including lead) commonly found both conventional leather and fake leather I personally avoid.
A few stroller companies below offer leatherette options on the handlebars for both children and adults. These brands have non-leatherette options as well.
Buying Used Strollers
You do need to be very careful with hand-me-down or used strollers. If you are buying one of the brands recommended here make sure the manufacture date was after the flame retardant regulation changes in 2014.
What to look for in Non-Toxic Strollers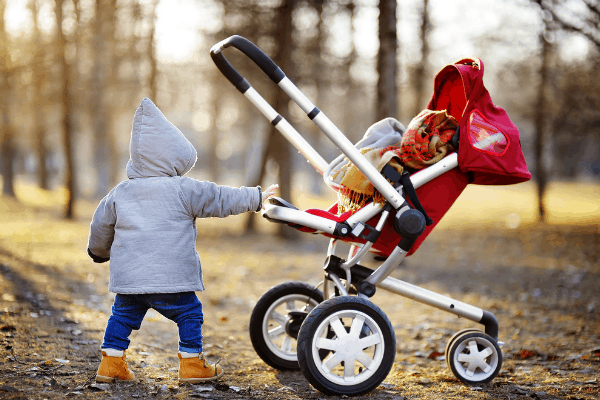 When deciding on a non-toxic stroller, it's a good idea to look for certifications such as OEKO-Tex, REACH, RoHS, Bluesign, and GOTS and GOLS (if materials include organic cotton or latex).
Organic & Natural Materials
Organic, natural materials are rare in strollers as companies favor hardwearing, synthetic materials such as tightly woven polyester or nylon.
As such, OEKO-Tex tends to be the main certification to look for. OEKO-Tex will test to ensure low or no presence of 100 hazardous chemicals.
Only a small number of manufacturers go to the effort and expense of obtaining and maintaining OEKO-Tex certifications, but a good rule of thumb is to look for strollers companies based in Europe, where they are subject to the REACH regulations governing the use of toxic chemicals.
Bumbleride and Greentom, use OEKO-Tex certified fabrics.
Free of Toxins and Heavy Metals
Few manufacturers state comprehensively that their strollers are free from PVC, phthalates, BPA (and alternatives), flame retardants, and PFCs or other PFAs. If they do make these claims, be sure they apply to the entire stroller, not just one part.
In my opinion, companies should also be testing regularly for heavy metals and other contaminants and should release the results of those tests for full transparency.
Sadly, this just doesn't happen consistently, though one company, Bugaboo, has demonstrated that they regularly test their products and were proactive in recalling a potentially hazardous component.
Safe Water-Proofing
PFA free waterproofing either from polyurethane-coated polyester fabric (600D) or plant-based oils is preferable. Both options are considered non-toxic, with plant-based oils being the most non-toxic option.
Other Considerations When Buying a Stroller
The materials used to make a stroller aren't the only things to think about when making your non-toxic stroller, of course. If you already have kids, you'll want to consider the potential for a ride-on board at the back, or a double (triple, or quadruple!) stroller. Other things to consider include:
Car Seat Capability
Not all stroller frames work with every detachable car seat, though some adaptors are available that can help you combine products from different companies
How Easy it is to Break Down and Set-Up
Do you have somewhere to store the stroller without folding it down first? Will you be traveling a lot with the stroller? Will it fit in your vehicle?
There is nothing worse than struggling to get a stroller opened or closed while also juggling your baby. I can't tell you the number of times I had a baby screaming in the car seat while I couldn't get my stroller broken down. It's always a stressful situation. When you have a stroller that is easy to breakdown you realize the value in that!
Size / Width
Some strollers are far wider than others and can be difficult to get through tiny spaces, such as in older buildings or single doors (I'm looking at you double BOB!).
Stroller Use
You'll also want to consider how you'll use the stroller. If it's for occasional use for a slightly older child and you're happy to carry your essentials, a lightweight umbrella stroller might be just right.
If you tend to take the whole nursery with you when you head out, look for a stroller with lots of (well-balanced!) storage options as just hooking things onto handlebars can be very dangerous and may tip the stroller.
If you're hoping to take your baby on your morning runs or bike rides (once they're old enough for it to be safe), a jogging stroller or bike stroller is essential. And if you're planning on taking your baby on forest walks on uneven terrain, consider the wheels and suspension on a stroller – most won't be able to tackle anything rougher than a bumpy sidewalk.
The Best Non-Toxic Strollers of 2021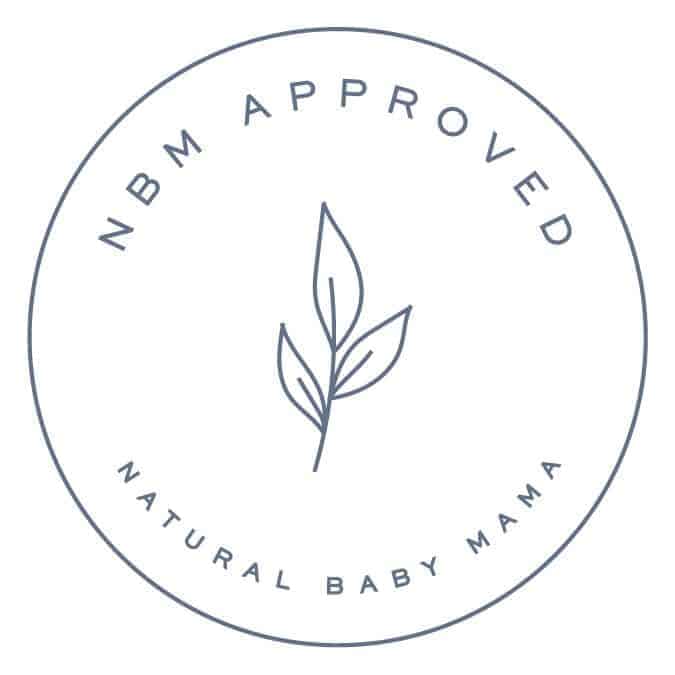 The good news is that some stroller companies are starting to take the idea of using non-toxic materials more seriously. The bad news is that many are not. So, what follows is a round-up of the best non-toxic strollers and the ones least likely to expose you and your baby to any toxic chemicals.
Bumbleride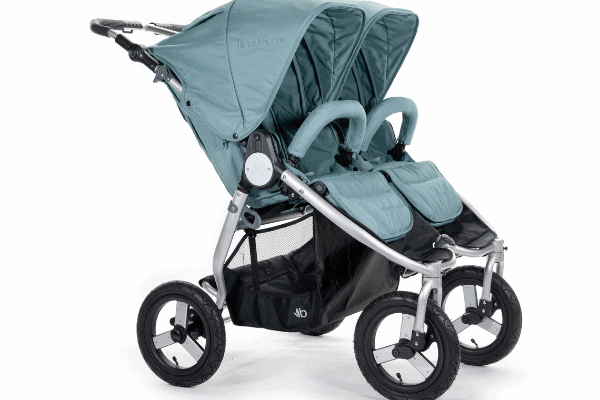 In top place is Bumbleride – a company that uses recycled plastic bottles (PET) for the fabric on their strollers and has an ISO 14001 certified, family-run factory in Taiwan that uses solar power for energy, has clear water treatment policies, a recycling program, and helps keep plastic waste out of the landfill.
Bumbleride strollers are:
Free from chemical flame retardants (except in the UK, where they're required by law)
Made with thermoplastic rubber (TPR) handlebars and frame – durable, recyclable, lower energy to produce
Free of polyurethane foam
Available in the Era model which has a cork handlebar and up to 25% recycled plastic
PFC-free, using a plant-based oil for water repellency instead
Bluesign® certified
Zero Discharge of Hazardous Chemicals (ZDHC) certified
Free from PVC, phthalates, and BPA
OEKO-Tex 100 certified
Bumbleride offers an organic cotton seat stroller liner (which I LOVE!), an organic cotton infant insert for their strollers, a PVC-free rain cover, and a stroller board for older children.
Bumbleride currently makes these models:
Bumbleride Era City Stroller

The Bumbleride Era City Stroller is the best of the bunch. This is a reversible single stroller that is lightweight, adjustable, easy to use and is slim for access in and out of doors, with a convenient canopy and a cork handlebar instead of plastic.
Bumbleride Indie Stroller and Indie Twin Stroller

If you're looking for a stroller that will work for the urban environment and trails, the Bumbleride Indie Stroller, and Indie Twin Stroller, is it. The tires are filled with air, not foam, and can handle weights up to 90 lbs. A large cargo pocket is also at the bottom of this stroller for all your gear.
Bumbleride Speed Jogging Single Stroller

The Bumbleride Speed Jogging Single Stroller boasts a host of safety features. This jogging stroller has a lightweight aluminum frame with 5-point breakaway harness, a canopy for sun protection, and a parent wrist-strap to prevent runaway strollers on those downhill stretches.
Bumbleride Adaptor
If you're in need of an adaptor to make your existing car seat work with a Bumbleride stroller, the company offers a car seat adaptor that works with many other brands. Check to make sure the adaptor works for the car seat you have.
SHOP BUMBLERIDE OR SHOP BUMBLERIDE ON AMAZON
---
Zoe Strollers

Zoe specializes in lightweight strollers and umbrella strollers and, like Bumbleride, typically don't use polyurethane foam in their strollers.
Zoe strollers:
Are free of flame retardants
Are free from polyurethane foam
Made in China
Have a 5-point harness made of plastic
Do not contain phthalates
Use 600D coated fabric (i.e., polyester coated with polyurethane for waterproofing) for the seat and canopy
Use EVA plastic for the wheels and have an aluminum frame
Carry JPMA certification and meet ASTM safety standards
Zoe offers strollers from singles to quads to fit your families needs.
In some models, they offer a leatherette upgrade on the handlebars for you and your child. I have linked below the strollers which are free of leatherette.
The Traveler

The Zoe Traveler is the ultimate lightweight stroller and can be collapsed with one hand. This can be carried as a backpack and can fit in the overhead compartment on an airplane.
The Tour+

The Zoe Tour+ Classic is lightweight, compact, everyday stroller. You can expand this stroller from a single to a double if you have another addition in your family.
The Twin+ Classic

The Zoe Twin+ Classic is a lightweight double stroller that fits through a standard doorway with ease! You can also expand this stroller for your growing family into a triple or quad with an add-on seat.
Other Zoe Strollers
Zoe also makes these strollers:
The Tandum+ Classic which is a tandum stroller that can go from a double to single in seconds.
The Trio+ Classic which is great if you have 3 under 5. You can also turn this into a double or upgrade to quad stroller.
The Tribe+ Classic is a quad stroller that can easily be adjusted to a double stroller. You can also turn it into a triple stroller with a seat add-on adjustment.
SHOP ZOE OR SHOP ZOE ON AMAZON
---
The Next Best Non-Toxic Strollers
Nuna

Nuna's entire line of strollers is REACH regulated. Nuna also leads the way with their non-toxic flame retardant free car seats.
According to Nuna, their line of gear:
Consists of best in class materials
Made in an eco-friendly and ISO 14001-certified factory
They strive to eliminate the use of potentially harmful substances in all of their products.
Follows the European REACH Standard, the European EN71 Standard, and the US Consumer Product Safety Improvement Act (CPSIA) to ensure the highest quality and safety in our products. These standards were implemented to improve product quality, product safety and are very specific in regard to absence and limitations of potentially harmful substances in products.
They do not use flame retardants in their strollers and heavy metal testing is part of CPSC testing, which they pass.
Some of Nuna's stroller do contain leatherette on the handlebars. They have plenty of options without though!
Overall, Nuna seems to be ahead of the pack when it comes to chemicals of concern.
However, they would not respond to my questions on their use of DWRs within their stroller line after multiple emails requesting this information. Since I am unsure what Nuna uses for DWR, and can not be sure it is PFA-free, they are on my next best list.
---
Greentom
Greentom are one of the most eco-friendly stroller companies as their stroller frames are entirely made of recycled plastic. All materials in the design can be reused or recycled with ease.
However, they don't explicitly state that their strollers are free from flame retardants, and they didn't respond to this question in my several attempts via email.
Their Carrycot mattress is made of GOTS certified organic cotton, wool and flax, while other components are made of recycled synthetic materials.
Greentom strollers are:
Free of phthalates, PVC, and BPA on all components
The fabric is made from recycled drinking bottles
OEKO-Tex 100 certified
According to Greentom, they are non-toxic
Currently, Greentom is only available in Europe.
---
Britax and BOB strollers

Britax, who also own BOB, make strollers that adhere to:
The BOB stroller is one of the most popular jogging strollers for good reason. They are easy to use while running and provide good support for your child.
The materials used in the strollers vary between models, but a spokesperson said the company hasn't applied for OEKO-Tex certification for any of their strollers. They also said that "Britax requires its Britax & BOB Gear suppliers to eliminate certain chemical flame retardants containing bromine, chlorine or other halogens, in components used in car seats and all other products. Strollers do not have flammability standards. Therefore, Britax and BOB strollers are not treated with any chemical flame retardants."
They declined to provide further information on the presence of polyurethane foam, PVC, phthalates, BPA, DWR, and so forth.
They are being recommended since they do not use flame retardants. However, the undisclosed DWR is concerning. I also called prior to posting, and they told me it's proprietary.
SHOP BOB OR SHOP BOB ON AMAZON OR SHOP BRITAX
---
The Best Non-Toxic Jogging Strollers
These brands are discussed above but the best options for non-toxic jogging strollers are:
Bumbleride Speed Jogging Stroller

If you want the most non-toxic jogging stroller you can get then the Bumbleride Speed Jogging Stroller is your choice! It is free of harmful toxins, Oeko-Tex certified, and you can get an organic cotton stroller seat cover that is washable! At this time, it is only available as a single stroller.
Bumbleride is free of flame retardants and uses a plant-based oil for waterproofing. You can read more about Bumbleride above under The Best Non-Toxic Strollers section.
SHOP BUMBLERIDE OR SHOP BUMBLERIDE ON AMAZON
BOB

The BOB is what many runners use and love (and you can re-sell these pretty easily). They offer single and double joggers.
BOB is flame-retardant free, but there was no response on the waterproofing used after several emails. I followed up by calling them and they told me the waterproofing was proprietary and they will not release what they use.
Due to not knowing if the waterproofing is PFA-free or not, BOB is recommended as the second-best non-toxic jogging stroller.
SHOP BOB OR SHOP BOB ON AMAZON
---
The Best Non-Toxic Bike Strollers / Trailers
These options may not be fully non-toxic, you will need to weigh out the pros and cons of each.
Thule

If you're looking for a stroller or trailer to use with your bike, Thule is a good option. Their strollers are made in Europe, the US, and Brazil, aiming to use 100% renewable energy in their factories by the end of last year (2020).
Thule bike trailers convert to strollers and are great to use. It's the perfect stroller for biking and you easily can pop down the stroller wheels if you need a stroller at your destination.
Thule stated in an email that they are free from any carcinogen or toxic materials, and they are members of Bluesign®, which aims to eliminate harmful substances from textile production.
Per emails from Thule, there are no flame retardants in the Urban Glide 2 strollers. Thule didn't offer comment on whether other strollers in their range use are flame retardant free or not after several email attempts. Or whether any of the strollers are free from polyurethane foam, phthalates, PVC, DWR, or other things to avoid.
Thule did not respond to my two emails requesting confirmation on flame retardants or DWRs. I did follow up with a phone call and they stated on the phone their entire line of strollers are flame retardants free but I did not get this information in writing.
Burley

Burley strollers are made with water-resistant 600D polyester covers and seat fabric and adhere to REACH regulations governing third-party testing and compliance with chemical restrictions on phthalates, lead, and many other concerns.
Burley did not confirm the absence of flame retardants in their strollers.
They responded to my email by stating that they were busy with the holidays and were declining to comment. I followed up twice after the holidays with no response.
---
Stroller Companies With Lacking Information (Not Recommended)
Bugaboo
Bugaboo makes their strollers in their own factory in China and their Bugaboo Ant stroller won the Baby Innovation Green Award 2020 as 80% of it can be recycled at end of life. The outer lining of the dark navy Classic Collection is made from 50% recycled PET bottles, as are the premium melange fabrics for the Bugaboo Ant.
The Bugaboo Fox Complete stroller is TuV Sud / GS mark certified which uses the chemical testing in line with the Oeko-Tex 100 guidelines.
Interestingly, Bugaboo obviously conducts their own regular in-house chemical testing as they found a potential issue with lead contamination in the label of a wool seat liner and blanket themselves and issued a recall. No other recalls or safety concerns have been associated with the company though.
Bugaboo did not respond to several emails regarding their use of flame retardants, DWRs, PVC, BPA, etc. For this reason, they are not being included as a recommended non-toxic stroller as there is no information about their use of flame retardants (Oeko-Tex allows the use of some flame retardants) and DWRs at a minimum.
I would love to include Bugaboo as they seem like they are doing some great things; however, flame retardants and PFAs are an automatic no in my book and there is no information available to me to determine if they use these chemicals or not.
---
MaxiCosi (Dorel Juvenile Group, DJG)
MaxiCosi strollers are arguably a bit better than most standard strollers as the company has banned the use of some toxic chemicals, such as some brominated and 'tris' compounds including pentaBDE, octaBDE, decaBDE, TCEP, TDBPP, TDCPP, and TCPP. That said, they did not explicitly state in our email correspondence that their strollers are free from flame retardants, suggesting that some other chemicals may still be used in place of those chemicals just listed.
The fabric on MaxiCosi strollers is typically a cotton and polyester blend and handles are made of either a foam-like substance of textured 'vegan leather'. The frames are either aluminum or plastic and the wheels are either plastic, foam-plastic, or rubber, depending on the model. The strollers are not made in the US, but the company wouldn't state where they are made and wouldn't offer any further information on the presence of phthalates, BPA, BPS, DWR, or other chemicals of concern.
---
Other Stroller Companies
I also looked into many other companies making strollers, scrutinizing their online materials, and contacting the companies. The following either did not respond to repeated requests for comment or had no meaningful information to share on the use of potentially toxic materials in their strollers, on top of not having any helpful information about the composition of their strollers available online.
I emailed each of these companies more than once and some three times with no response.
· Uppa
· Jogger Brand / City Mini
· Chicco
· Joovy
· Stokke
· Baby Trend
· Maclaren
· Mountain Buggy
If any of these manufacturers are interested in providing more concrete details about their materials and processes, certifications, in-house testing, and such, I would love to hear about it!
Even better, make these things easily available for everyone by being far more transparent online.
Final Thoughts on Non-Toxic Strollers
It's such a shame that there's so little information available from a majority of companies about one of the biggest purchases a parent makes. And it's only by contacting manufacturers over and over again that we can start pushing them to be more transparent.
Bugaboo was the most transparent and responsive company followed by Zoe.
If there's a stroller you're interested in that I haven't mentioned here, let me know and I can contact the company again to ask for answers.
In the meantime, if you need to make a decision fast, my recommendation is to go with Bumbleride or Zoe for the best non-toxic strollers around.
Whichever stroller you choose, be sure to register it with the manufacturer. This means they can contact you right away if there's a safety issue or recall.
I have included many of these non-toxic strollers in my Amazon Storefront. You can find these products as well as many other vetted non-toxic living products here. Check it out!
Posts Related to Non-Toxic Strollers
Pin it for later!