Traditional diaper creams contain a host of toxic chemicals, and because your baby's skin is much thinner and more delicate, these chemicals are often absorbed at a higher rate than it would be in an adult. Since diaper creams are used often, toxic chemicals can quickly accumulate. Below are the best organic, natural diaper rash creams for your baby.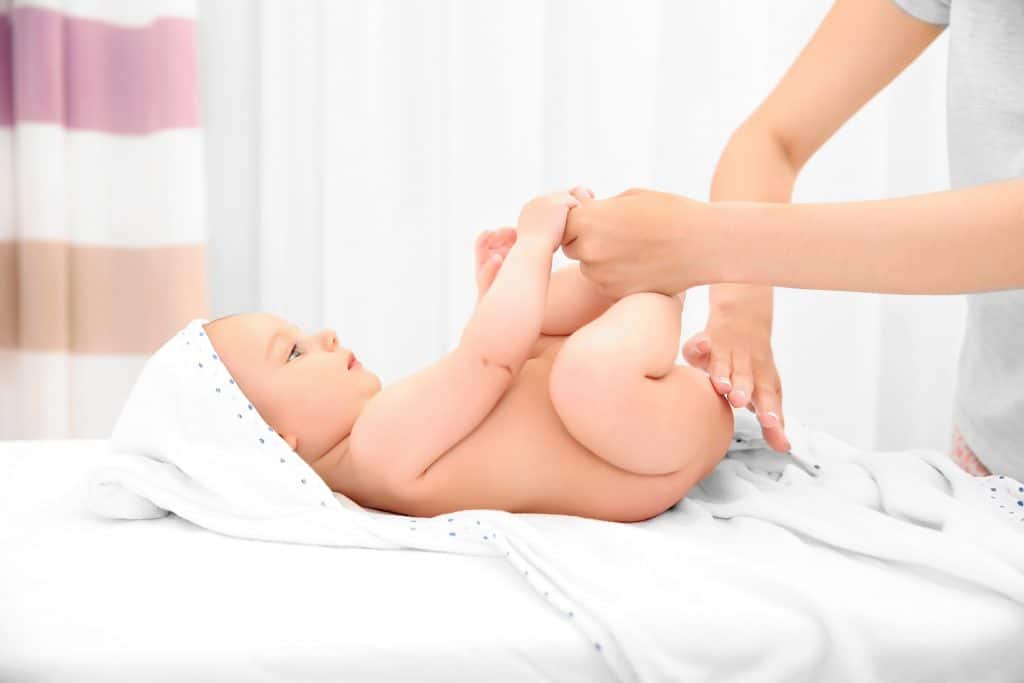 Besides the toxins, conventional diaper creams are also bad for the environment. The chemicals used often aren't safe for marine life and they bioaccumulate and persist, meaning they stick around to keep causing damage. There are good reasons to avoid just grabbing the first diaper cream you see.
Thankfully, there are many organic, natural diaper rash creams available that are baby-friendly, soothing, and gentle.
This post may contain affiliate links. Please see my full disclosure policy for details.
Toxins in Diaper Rash Creams
Just like with diapers, there are plenty of toxic chemicals in diaper creams that can irritate your baby's skin. Some of the more common toxic chemicals in diaper creams include:
Fragrance
This catch-all term can cover many toxins, including parabens, phthalates, and super irritating chemicals that have no place on anyone's skin, let alone the most sensitive baby skin.
1,4-dioxane
A byproduct of manufacturing processes, this is a known carcinogen and is found in ingredients like PEG, PPG, and Ceteareth-20 to name a few.
Unspecified Preservatives
As with fragrance, this term can include a variety of chemicals, artificial and natural. These can be very irritating to the skin, even if they keep a product itself from spoiling. Some preservatives contain formaldehyde, another known carcinogen.
Petroleum/petrolatum/mineral oil
Derived from fossil fuel, these ingredients are common in diaper creams as they're used as moisture barriers. Definitely not planet-friendly, these are also liable to be contaminated with all manner of chemicals, can block pores, and can seal in irritants, and actually make diaper rash worse.
Lanolin
Naturally found on the skin of sheep, this fat can be irritating to some babies. I'd recommend avoiding it entirely in very young babies and doing a patch test when they're older to see if they're sensitive to this ingredient.
Sulfates
These surfactants and detergents aren't typically found in diaper creams but may pop up here and there. They routinely cause skin irritation and sensitivity
Nano Zinc Oxide
Zinc oxide is a common ingredient in diaper creams as it acts as a physical moisture block because it isn't absorbed into the skin. Be sure that this is non-nano zinc oxide though as the nanoparticle type can be absorbed and it's not yet clear the harm it might do once it enters the bloodstream.
These are all ingredients you do not want on your baby's delicate skin. In some cases, they might even be the reason for diaper rash!
Switching out the toxin for a natural, organic diaper cream can help calm irritated and angry skin. In addition, it will help your baby feel happier.
Things to Look For
You'd think choosing a diaper cream would be pretty simple, but brands like to throw in buzzwords to differentiate themselves from the crowd. The truth is that an effective diaper cream only needs a few basic ingredients that provide a moisture barrier, nourishment for the skin, and some healing herbs such as calendula. Everything else is often just clever marketing with added ingredients at such low levels that they probably have little to no effect.
Organic and Natural Ingredients
Look for a diaper cream where the ingredients are all-natural and mostly organic (with certification).
Organic cera alba (beeswax) is another common ingredient in natural diaper rash creams and balms. While it's not vegan, beeswax is great for keeping skin smooth and soft and allowing it to breathe. It's a natural emollient, creating a moisture barrier for skin protection. This tends to be used in diaper creams and balms that are zinc-free.
Other useful ingredients in the best diaper creams include argan oil, sourced from the nuts of the argan tree. This oil is a rich source of nourishing fatty acids including oleic, linoleic, and palmitic acids but won't clog pores, and it absorbs quickly without a greasy residue. Olive oil, shea butter, coconut oil, and sunflower oil are also good ingredients that are baby-safe and nourishing for skin.
Non-Nano Zinc
If you're struggling to control diaper rash, a cream with non-nano zinc oxide might be helpful. This insoluble natural mineral compound is found in natural sunscreens and creates a useful moisture barrier to prevent skin irritation.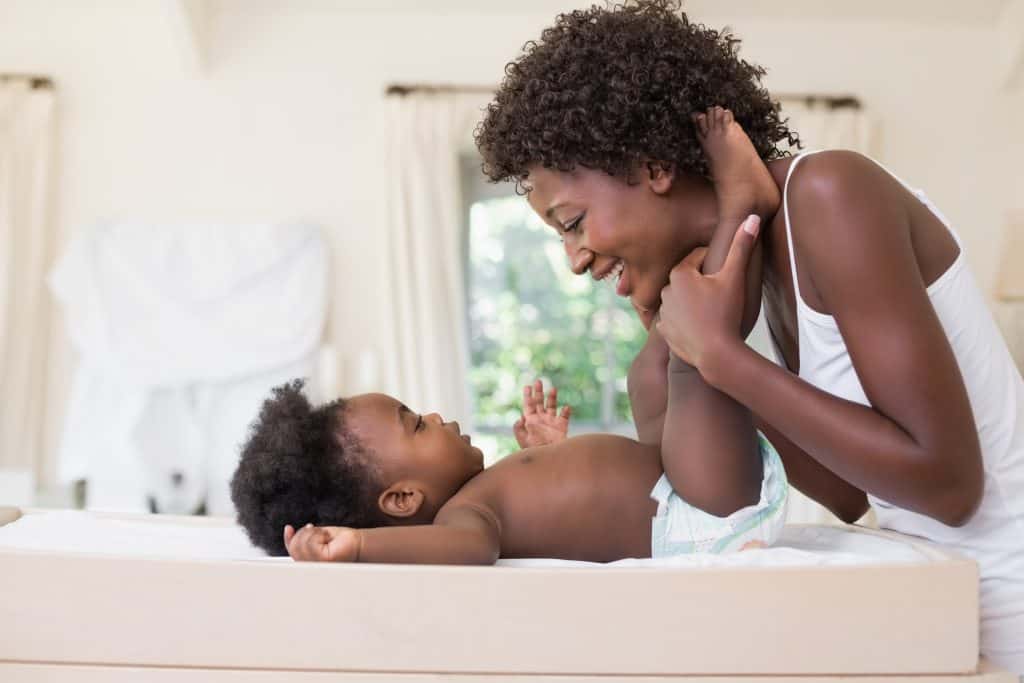 The Best Organic, Natural Diaper Rash Creams
Here are my favorite non-toxic, natural, and mostly organic diaper rash creams. The best natural diaper rash cream by far, and my personal favorite, is Earth Mama's Organic Diaper Balm. I also recommend Goo Green, Motherlove, Babo Botanicals, Badger, Maty's, Made Of, Poofy Organics, and a couple of others (with caveats).
Easily my favorite natural diaper rash cream, Earth Mama's cruelty-free Organic Diaper Balm features soothing calendula and no petroleum products, parabens, or artificial fragrances. It is EWG Verified and the only non-vegan ingredient is beeswax, which the company says they source in a bee-friendly manner.
The formula features antibacterial and antifungal herbs to help tackle any lingering yeast that could cause diaper rash.
Whenever we had diaper rash issues in our house this was our go-to diaper rash cream. It healed things quickly. I love that it is organic and effective!
My one word of warning with this one is that it does contain St. John's Wort, an herb that can make skin more photosensitive. If you do use it on skin that might be exposed to sunlight, make sure it's in winter and not at the height of summer, or just cover-up.
What's in it?
Organic Olea Europaea (Olive) Fruit Oil, Organic Butyrospermum Parkii (Shea) Butter, Organic Beeswax, Organic Simmondsia Chinensis (Jojoba) Seed Oil, Organic Lavandula Angustifolia (Lavender) Flower Oil, Organic Calendula Officinalis (Calendula) Flower Extract, Organic Hypericum Perforatum (St. John's Wort) Extract, Organic Stellaria Media (Chickweed) Extract, Organic Plantago Major (Plantain) Extract, Organic Melaleuca Alternifolia (Tea Tree) Leaf Oil
Buy directly at Earth Mama or on Amazon
---
Green Goo Baby Balm is another great choice for a natural, organic diaper rash cream. This one-stop-shop for all your skin-soothing needs is great for relieving diaper rash, baby acne, chapped skin, cracked skin, cradle cap, baby eczema and psoriasis, and more. It's made with all-natural and mostly certified organic ingredients.
Available in a 4 oz har, a 1.82 oz tin, and as a 0.6 oz jumbo stick, this balm is a great fit for the diaper bag, your purse, and for school-age kids who need a safe and easy to apply soothing balm for sore hands.
Green Goo is also woman-owned and a B Corporation with a whole host of planet-friendly initiatives. They are a 1% for the Planet partner and donate to Mercy in Action and Keep a Breast. They're also a cruelty-free, Leaping Bunny certified company.
What's in it?
ACTIVE INGREDIENTS (*ORGANIC):
*Achillea Millefolium (Yarrow) Extract, *Calendula Officinalis (Calendula) Flower Oil, *Chamomilla Recutita (Matricaria) Flower, *Symphytum Officinale (Comfrey) Leaf Powder.
INACTIVE INGREDIENTS:
*Olea Europaea (Olive) Fruit Oil, *Cera Alba (Beeswax), *Helianthus Annuus (Sunflower) Seed Oil, *Simmondsia Chinensis (Jojoba) Seed Oil, Tocopherol (Vitamin E), Lavandula Angustifolia (Lavender) Oil.
Buy Green Goo Baby Balm or on Amazon
---
Cloth diaper safe and available in 1, 2, and 4 oz jars, Motherlove Diaper Balm is an organic, all-natural, soothing diaper rash cream.
This formula is free from zinc oxide and petroleum products and is instead made with simple, certified organic ingredients.
Made with antifungal and antibacterial herbs such as Oregon grape root and myrrh gum, this natural diaper rash cream helps keep some common causes of diaper rash in check. And it does its job without being greasy!
What's in it?
Extra virgin olive oil*, beeswax*, Oregon grape root*, myrrh gum*, yarrow herb*, and calendula flower.*
* USDA Certified Organic ingredient
---
Badger Baby Balm, Chamomile & Calendula
Available in 0.75 oz and 2 oz tins (and with a subscription to save 10%), Badger's Baby Balm is USDA Organic certified and made by a certified B Corp that uses solar power to run their factory.
This balm is cruelty-free and great for sensitive baby (and adult!) skin. Use it as a diaper balm, for cradle cap, as a post-shave balm, and for any patch of dry or irritated skin that could use a little soothing.
What's in it?
Organic Extra Virgin Olive Oil, Organic Castor Oil, Organic Beeswax, Organic Chamomile Oil and Organic Calendula Flower Extract.
---
The Best Zinc Oxide Natural Diaper Creams and Balms
Poofy Organics Happy Tush diaper cream contains no synthetic fragrance, parabens, triclosan, PEGs, Triethanolamine, Oxybenzone, or GMOs and is instead made with natural and entirely organic ingredients.
I love that the company is family-owned and operated, never test on animals, and use recyclable and biodegradable packaging including cornstarch packing peanuts!
What's in it?
Organic Beeswax, Organic Sunflower Oil, Organic Cocoa Butter, Organic Unrefined Shea Butter, Organic Virgin Coconut Oil, Zinc Oxide (non-nano), Organic Lavender (Lavandula Angustifolia) Essential Oil, Organic Roman Chamomile (Anthemis Nobilis) Essential Oil, Organic Tea Tree (Melaleuca alternifolia) Essential Oil.
---
Made Of Organic Diaper Rash Cream is a super affordable option for a high-quality organic diaper cream. A 3.4 oz tube currently costs just $14 and if you get a subscription, you'll save 15% on top of that. This cream is made up of organic oils including avocado and argon, alongside non-nano zinc oxide to protect against wetness and irritation.
This diaper cream is EWG Verified and Made Of is another B Corp, this time with a serious commitment to transparency in labelling. This means that they show the origin of each ingredient, provide product certifications and independent laboratory results, and list where the product was manufactured.
A product has to be made of at least 70% organic ingredients to satisfy the NSF Organic standards; this diaper cream comprises 81% organic and 19% natural ingredients. The product is free from GMOs, SLS, parabens, phthalates, sulfates, synthetic fragrances, dyes, pesticides, BPA, chlorine, and more. And it goes through rigorous testing including for heavy metals, microbial contamination (including under 'in-use' conditions), sulfate analysis (it contains no sulfates), 26 allergens, soy, and nuts.
Made Of even put their products through RIPT or 'Repeat Insult Patch Test.' This is carried out using adult volunteers who apply a product repeatedly to the inner elbow (usually) to see if there's a reaction over multiple applications. This is pretty key for diaper cream that you might apply several times a day.
What's in it?
Non-nano zinc oxide, Organic argania spinosa (argan) oil, Organic cera alba (beeswax), Organic cocos nucifera (coconut) oil, Organic helianthus annuus (sunflower) oil, Organic lavendula angustifolia (lavender) oil, Organic persea grattisima (avocado) oil, Organic theobroma cacao (cocoa) seed butter
Buy directly at Made Of or on Amazon
The Next Best Natural Diaper Rash Creams
The diaper rash creams in this section while good are listed here because of their ingredients. Either they are not organic or have additional ingredients that are not as clean as the best diaper creams above.
If the best natural diaper rash creams aren't available to you or are out of your budget, then these companies are the next best.
Babo Botanicals (vegan-friendly!)
If you're looking for a totally plant-based, vegan-friendly diaper cream, Babo Botanicals Sensitive Baby Zinc Diaper Cream is perfect. This fragrance-free cream is very affordable, contains 25% non-nano zinc oxide, is free from artificial preservatives, and is cloth diaper friendly. It's also EWG Verified and made by a B Corp!
Rich and creamy, this product provides a protective moisture barrier for the most sensitive of skin and can soothe irritated skin thanks to the colloidal oatmeal, shea and cocoa butters, and calendula.
Babo Botanicals Fragrance-Free Diaper Cream is certified cruelty-free by Leaping Bunny. Be sure to order the fragrance-free product as there's unspecified 'natural fragrance' in the regular formula.
One note of caution: you'll probably want to stand this one on its head when it arrives (like with peanut butter!) as the oils can separate and may need to settle back into the formula. Or open it carefully and give it a good stir with a clean spoon!
This is also a non-nano zinc oxide natural diaper cream.
What's in it?
Helianthus Annuus (Sunflower) Oil, Zinc Oxide (non-nano), Hydrogenated Vegetable Oil, Coconut (Cocos Nucifera) Oil*, Butyrospermum Parkii (Shea) Butter*, Euphorbia Cerifera (Candelilla) Wax, Rosmarinus Of Cinalis (Rosemary) Extract*, Lecithin, Theobroma Cacao (Cocoa) Seed Butter* Nutri-Soothe™ Complex [Calendula (Calendula Officinalis) Flower Extract*, Vegetable Glycerin, Chamomile (Anthemis Nobilis) Flower Extract*, Watercress (Nasturtium Officinale) Leaf Extract*, Calendula (Calendula Officinalis) Flower Extract*, Kudzu (Pueraria Lobata) Root Extract*; Meadowsweet (Spiraea Ulmaria) Extract*.
*Certified Organic Ingredients
Buy directly at Babo Botanicals or on Amazon
Maty's All Natural Multipurpose Baby Ointment
Maty's Multipurpose Baby Ointment works great as a diaper cream and for cradle cap, chapped lips, and any area of dry or irritated skin. It provides an effective moisture barrier, is safe for cloth diapers, and is made with simple ingredients.
The downside with this one is that the ingredients are not organic. It is all-natural, though, and is a lot more affordable than some of the organic options, with a 3.75 oz pot costing just $9.99 and a 10 oz pot retailing at $16.99 (the same price as for 1 oz of some other diaper creams!).
Wondering if castor oil is safe for babies? In general, topical application seems to be okay, though I wouldn't use it regularly. I would also be careful to avoid exposure to broken skin as well as skin around openings like eyes, lips, anus, and genitals.
What's in it?
Olive Oil, Jojoba Oil, Coconut Oil, Castor Oil, Sunflower Wax, Vitamin E
Buy Maty's
---
Super affordable and mostly organic, this NSF-certified diaper cream has non-nano zinc and soothing butters and oils including shea, jojoba, coconut, and tamanu. Designed for sensitive skin, this is EWG rated 1 and contains 14% zinc oxide to protect skin from wetness.
It does, however, contain a small amount of linalool, which can be an irritant and allergen for some babies, so I'd do a patch test first or consider this one as a back-up if you can't track down the other, better, options.
Honest Company makes a lot of fairly eco-friendly products. They're not perfect, but they're better than many, and they're a company that gives back. They're a certified B Corp and actively advocate for better government regulation of toiletries and personal care items in the US.
What's in it?
Zinc Oxide 14%, Helianthus Annuus (Sunflower) Seed Oil*, Beeswax*, Ricinus Communis (Castor) Seed Oil*, Butyrospermum Parkii (Shea) Butter*, Cocos Nucifera (Coconut) Oil*, Olea Europaea (Olive) Fruit Oil*, Vitis Vinifera (Grape) Seed Oil, Simmondsia Chinensis (Jojoba) Seed Oil*, Calophyllum Inophyllum (Tamanu) Seed Oil*, Tocopherol (Non-GMO†), Salvia Sclarea (Clary) Oil, Geraniol, Linalool
*Organic Ingredient †Made Without Genetically Engineered Ingredient
---
Tips For Avoiding Diaper Rash:
As hard as we try to prevent it, diaper rash will probably strike at some point in your baby's life. While there's no foolproof method for preventing diaper rash, here are some tips for avoiding it:
1. Change wet and soiled diapers ASAP – pee and poop can be very acidic and irritating to skin
2. Pay special attention when your baby is teething – teething poops can be acidic for some infants, so they'll need to be changed right away.
3. Use the right kind of absorbency diaper – some cloth diaper inserts aren't as absorbable as others, and they need to be washed right to maintain that all-important wicking activity
4. Make sure your baby's bum is actually clean – use natural DIY baby wipes to really clean folds. If necessary after explosive poop, give your baby a gentle bath
5. Make sure to pat and air dry before applying diaper cream
6. Avoid disposable diapers, wipes, and diaper creams that contain artificial fragrances, preservatives, and other harsh chemicals that can cause irritation – diaper burn is real!
7. Watch out for new food reactions or rashes triggered by any medication or infections
8. Consider a probiotic if yeast infections seem to be a persistent problem – Candida is a major cause of diaper rash as this yeast loves to live in warm, moist folds of skin
9. Treat diaper rash right away – a small irritation can quickly spread if not addressed
10. Use a diaper cream with natural antifungal and antimicrobial properties that will help heal and hydrate skin – apply at every diaper change to ensure a protective barrier against wetness
11. Finally, if you're dealing with a really uncomfortable rash, consider having some diaper-free time. Outdoors is best!
Final Thoughts
Most parents change a whopping 2,000 or more diapers in the first year of a baby's life. That's a lot of diaper cream. Don't be afraid to try a few of these natural diaper rash creams to see what works for you and your baby.
Because it can be overwhelming to find truly safe products, I've made things a little bit easier with my Amazon Storefront for vetted natural diaper rash creams as well as many other non-toxic living products. Be sure to check it out!
Pin it for later!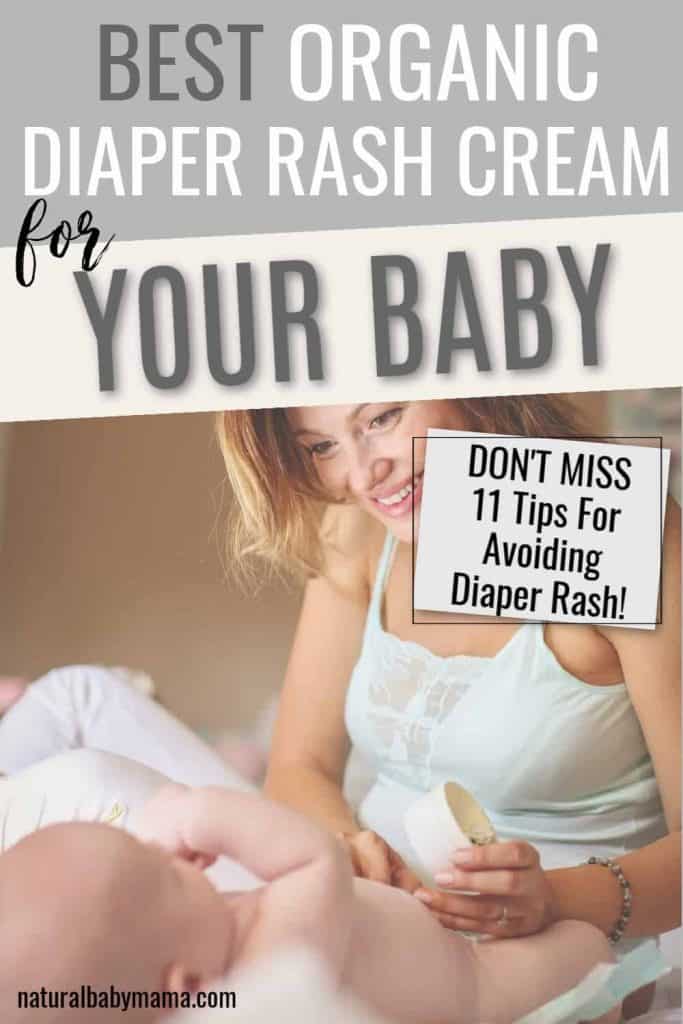 Other Related Posts to Natural Diaper Rash Creams