Making homemade baby wipes doesn't have to be hard or require a bunch of different ingredients. These DIY natural baby wipes are so easy and quick to make. It's also a very gentle solution that will be soft and soothing for your baby.
Traditional baby wipes have a host of toxins in them. Baby's skin is so much thinner than ours, and these toxins absorb directly into their skin from repeated use.
In addition, most baby wipes are not earth-friendly. They are not safe for marine life (so please don't flush baby wipes!) and do not break down quickly.
Experts warn that baby wipes can take up to 100 years to decompose.
Of course, there are more bio-friendly baby wipes on the market but none are as cheap, easy, or non-toxic as this simple DIY natural baby wipe recipe. Plus you are skipping the plastic wrapping they come in. Also, just because something is bio-friendly it does not make it necessarily non-toxic.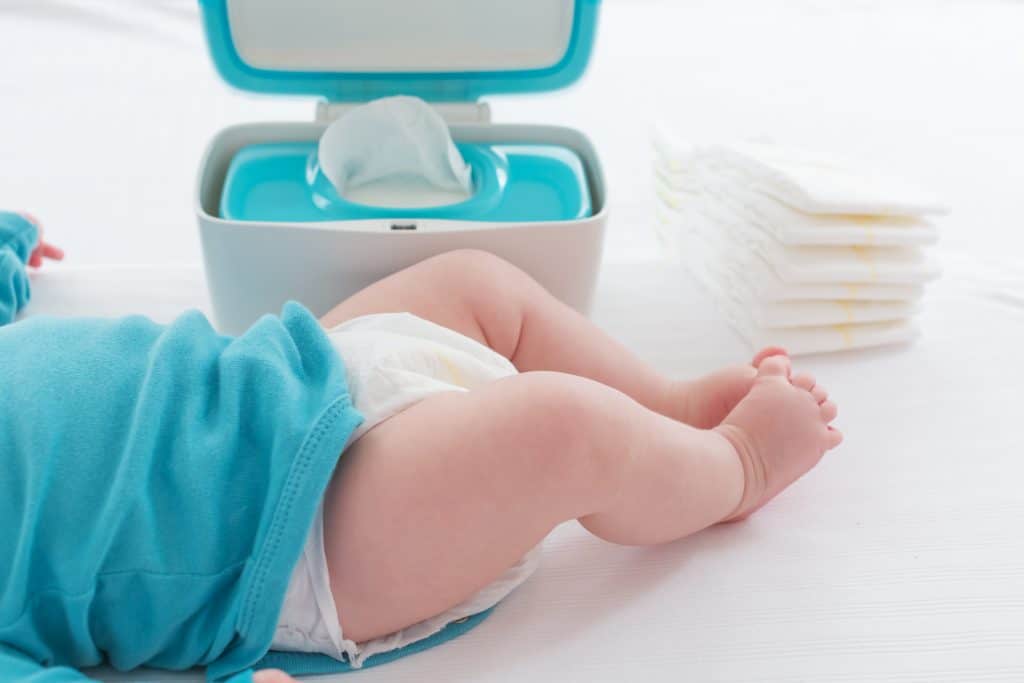 This post may contain affiliate links. Please see my full disclosure policy for details.
Toxins in Baby Wipes
Some of the more known toxins in baby wipes are below. These are all ingredients you do not want near your baby's delicate skin.
Fragrance has a host of unknown toxins. Fragrance often has toxins like parabens and phthalates.
1,4-dioxane which is found as a byproduct in manufacturing and is listed as a carcinogen. It is found in ingredients like PEG, PPG, and Ceteareth-20 to name a few.
Preservatives
Formaldehyde which releases from preservatives and is also a known carcinogen.
Petroleum from the plastic and polyester wipes themselves.
DIY Natural Baby Wipes With Reusable Wipes
I used this homemade baby wipe solution for my kids for years. I started with more complicated recipes and learned it really was not necessary at all.
The best part about this baby wipe recipe is that is gentle on their skin and very easy to make!
For reusable baby wipes, I love the Under the Nile wipes. They are thick and the perfect size. I kept these in the uppermost drawer in the dresser where we had our changing pad.
A printable version of the instructions is at the bottom of this post!
Some people recommend boiling the water to reduce the risk of bacterial growth. I personally never did this as we used the solution quickly enough but it doesn't hurt.
I do recommend making smaller batches and using this within a week or so to avoid mildew or mold growth. Especially if you plan to pour over the towels in advance.
What I found that worked best for us was to make the solution and keep it in a spray or squirt bottle next to the changing table. I would then grab an Under the Nile wipe, give the homemade baby wipe solution a quick shake, and then put the solution on the wipes as needed (or I would prepare a few at a time). Tip: do this BEFORE taking off their diaper not after.
If you want your wipes pre-soaked then use a food storage container and put your reusable wipes inside the container. Pour your homemade baby wipe solution over the wipes so that they are moist but not soaking, and then seal with the lid.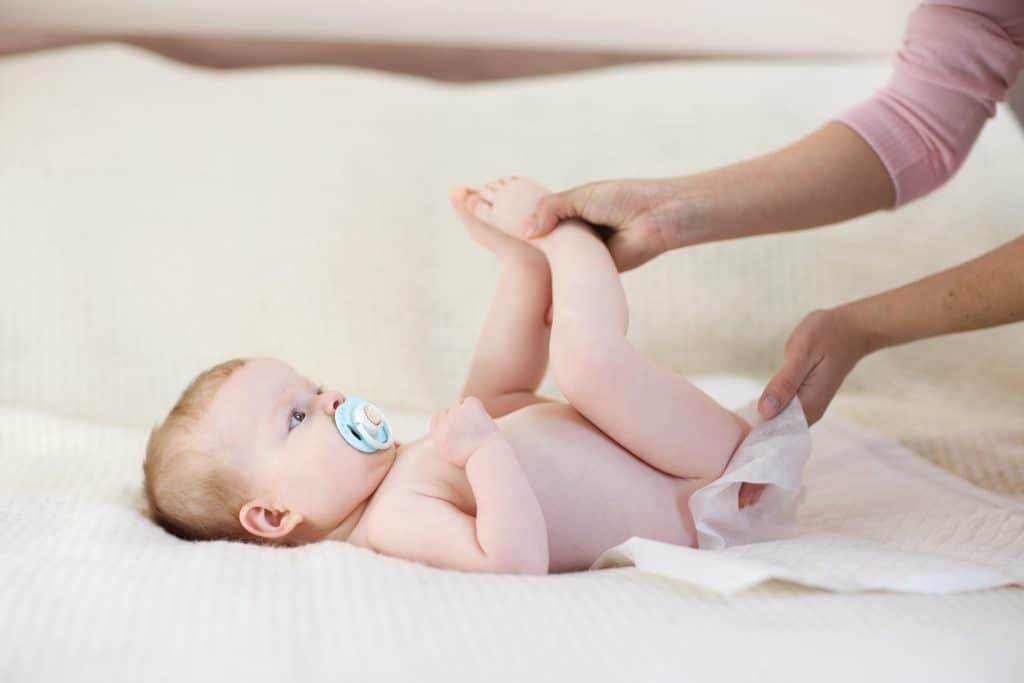 DIY Natural Baby Wipes With Disposable Wipes
If reusable cloth wipes are just not your thing then you can make the above recipe using paper towels by:
Get a roll of paper towels
Use a knife to cut the paper towel roll in half
Get a reusable food container and put the paper towels inside with the cut side facing up
Pour DIY natural baby wipe solution over the paper towels. You want it to be damp but not soaking.
Let sit for around 30 minutes, then pull the inside cardboard out.
Start using by pulling from the inside
Cover with a lid
Another option is to use organic cotton rounds for smaller, quick cleanups. You would apply the solution to the rounds before each use.
Since this homemade baby wipe solution does not use preservatives this will not last for long periods of time, I would recommend making enough for about a week at a time.
Ingredients to Avoid in Your Homemade Baby Wipe Solution
There are two ingredients I would avoid when making a baby wipe solution:
Baby oil which is petroleum-based and not natural!
Essential oils: not all essential oils are safe for children and especially babies. They can cause issues from skin irritation to risks from inhaling them. There is no need for essential oils in your baby wipes so I just avoid them.
Other Diaper Changing Essentials
We used and loved the totally non-toxic Naturepedic changing pad and organic cotton changing pad cover with our kids. It's a great purchase when looking to reduce toxins in your home.
The best natural, organic diaper cream is Earth Mama Diaper Cream. Anytime we had the start of diaper rash, this would clear it up right away!
If you are interested in cloth diapering, check out my favorite natural and organic cloth diapers and cloth diaper covers.
Ubbi steel odor locking diaper pail – totally plastic-free!
Non-toxic laundry detergent for your reusable wipes (and all your other laundry too!)
Final Thoughts
I hope you find this homemade baby wipe solution to be easy and useful for your family. It's a great way to minimize toxins commonly found in traditional baby wipes.
Navigating toxins in baby products can be hard, I've created guides to help simplify that process for you. Check out my guides on organic clothing for babies and kids, non-toxic car seats, and my Amazon Storefront that is full of vetted, non-toxic products for your family.
Print Recipe Below:
DIY Natural Baby Wipes | Natural Baby Mama
This easy and gentle natural baby wipe solution can be quickly made up for resuable or disposable wipes.
Materials
2

cups

Water

(can boil if you prefer, but then let cool before using!)

2

Tablespoons

Dr. Bronner's Baby Mild castile soap

1

Tablespoon

Organic olive oil

(optional)
Instructions
Add all ingredients to a spray or squirt bottle. Give a quick shake and apply it to your wipes before each use. OR

Use a reusable food storage container, add wipes of your choice (reusable cloth or paper towels as described in the post), and add the baby wipe solution until damp but not soaking.

Use the solution within a week as there are no preservatives.
Pin it for later!