Fed is best, but what can you do if breastfeeding hasn't worked out or wasn't for you and your baby can't tolerate cow's milk formula? Goat milk formula can be a healthy choice for many babies (as can plant-based formulas made with soy and peas). In fact, many parents choose to use goat milk formula even if there are no known allergies or intolerances to cow's milk.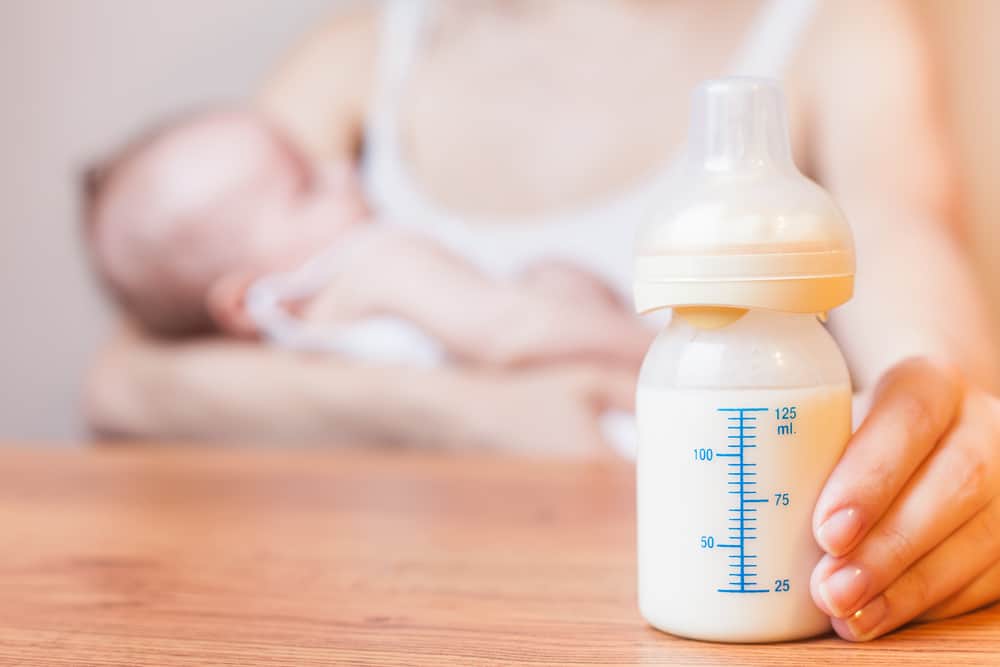 Before we dig in, a quick note to say that goat's milk itself is not appropriate in place of cow's milk formula for infants under 12 months old (just as you wouldn't feed an infant cow's milk versus cow's milk formula).
To properly meet your baby's growing needs, goat's milk formula is the way to go. These formulas are fortified with necessary nutrients and are easier on the digestive system than plain milk.
This post may contain affiliate links. Please see my full disclosure policy for details.
Why Goat Milk?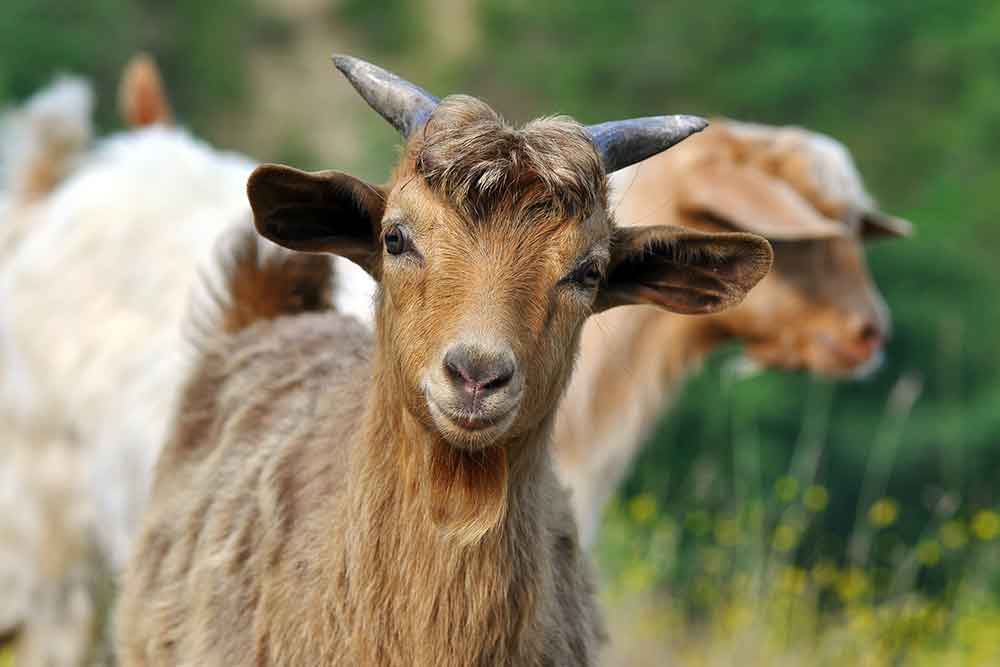 Milk from goats and cows are quite similar in many respects, but there are some important nutritional differences between the two. As always, it's best to talk to your pediatrician or other health care provider to figure out how best to feed your baby, especially because not all brands of formula are the same nutrition-wise.
Sensitivity to Cow's Milk
Many people go the goat's milk route for formula because of allergies to cow's milk. It's super important to know that babies with a true cow's milk protein allergy will still struggle with goat's milk formulas (in almost all cases), largely because both goat's milk and cow's milk contain a key allergen called beta-lactoglobulin.
If your baby has a sensitivity to cow's milk, though, but not an allergy, they may be fine consuming goat's milk. Some of the same potential allergens in cow's milk are also present in much smaller amounts in goat milk formula.
Cow Milk Vs. Goat Milk
Protein
Goat's milk naturally contains more A2 casein protein and about half of the A1 casein protein found in cow's milk. The A1 protein is often the cause of cow's milk-related digestive issues such as bloating, constipation, wind, and pain in babies.
Some companies alter the natural 20:80 ratio of whey to casein in goat's milk to make a formula with much more casein, even getting to 50:50 in some cases (Kabrita, for example). This makes it more like cow's milk formula, which has a much higher whey content.
The proteins (including casein) in goat's milk make for a softer curd than cow's milk, which means the formula doesn't clump so much and is easier to move through a newborn's digestive system.
Whey is harder to digest than casein, which is one of the reasons why goat's milk is closer to human milk in terms of digestibility, as seen in this 2017 study.
These differences don't matter for most babies, but the slight increase in digestibility can be a gamechanger for those with very sensitive tummies.
Lactose
Goat's milk also has far less lactose than cow's milk. So, if your baby is lactose intolerant (which is quite rare in babies!), goat's milk is a good choice.
Fat Content
Goat's milk also contains slightly more fat and protein than cow's milk, but these molecules are smaller and likely more easily digested than their equivalent in cow's milk. There's a higher proportion of short-chain and medium-chain fatty acids in goat's milk, while cow's milk has more long-chain fatty acids.
Other Nutritional Differences between Goat's Milk and Cow's Milk
Other important nutritional differences between cow's milk and goat's milk include more calcium, potassium, selenium, and copper in goat's milk, as well as more vitamin A.
In contrast, cow's milk has higher amounts of other nutrients, including folate and vitamin B12.
If your baby is struggling with their iron levels, or if you were especially anemic in pregnancy, goat's milk formula can be a particularly good option. This is because goat's milk appears to improve the body's ability to absorb iron (cow's milk can actually hinder iron absorption).
Goat's milk is also more alkaline than cow's milk and much richer in prebiotics to support healthy gut development.
These oligosaccharides are protective prebiotics that also supports immune system development, and a 2019 study suggests that, for this reason, goat's milk-based formulas may be a closer match for human breast milk. It's noteworthy that the prebiotics in goat's milk were also found to be effective at promoting the growth of beneficial bacteria that help protect against infection with E. coli, a key cause of diarrhea in children.
Farming Methods
Goat's milk also has the advantage of typically being more 'natural' than cow's milk. Farmers are always tinkering with the treatment of cows, including breeding cows to produce vastly more milk than they would otherwise and using artificial hormones and antibiotics.
In contrast, goat farmers tend to follow more traditional farming practices, leading to happier, healthier goats and a healthier environment. Goat milk is usually free from artificial hormones, antibiotics, and genetic modification while being packed with beneficial nutrients and easier for infants to digest.
Environmental Considerations
Goat's milk is also much more environmentally friendly than cow's milk, given the conditions in which cows are kept. Goats need less space, less food, and produce less methane than cows, so if you're not just concerned about your baby's immediate health but also the health of the planet they're inheriting, goat's milk formula can be a great choice!
Goat's Milk Taste
All that said, goat's milk formula can have a distinctive taste that some babies do not appreciate. If your baby consistently refuses goat's milk formula, this might be why.
Fed is best, so if your baby can not tolerate cow's milk formula and doesn't like the taste of goat's milk formula, then choosing an alternative such as soy or pea-based formula might be necessary to ensure your baby gets what they need.
---
What to Look for in a Goat Milk Formula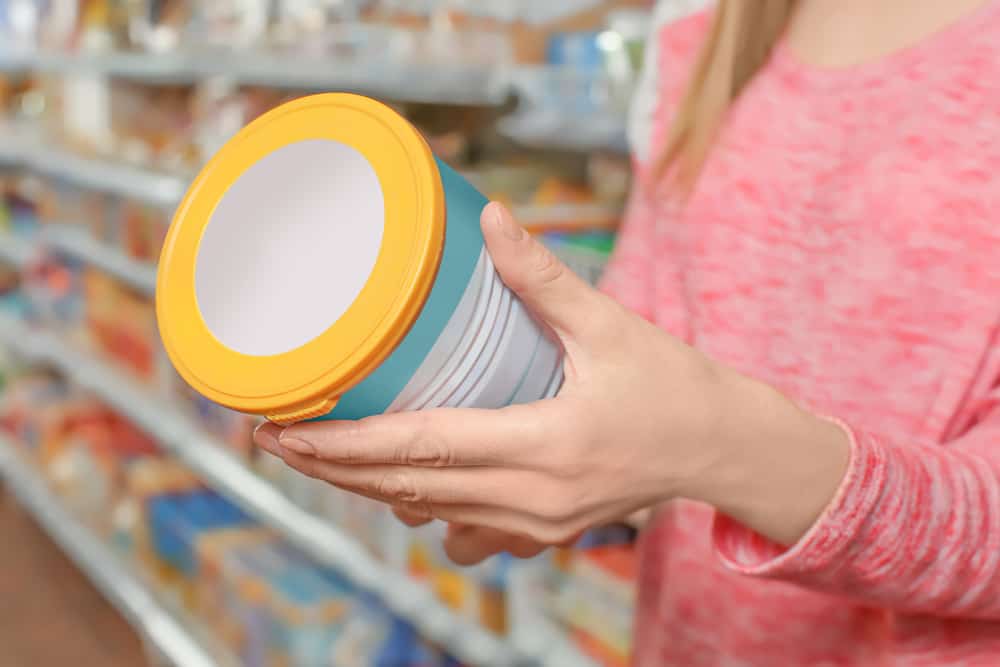 Goat milk infant formula is far less common in the US than in Europe, so it's good to know who regulates what before buying any formula. In the US, the Food and Drug Administration regulates goat's milk infant formula.
In Europe, the European Commission is in charge of regulating formula and has stricter standards than the FDA.
It probably won't come as much of a surprise that many parents choose to buy European brands of goat's milk formula. Given storage and transport times, though, you're going to want to check the use-by dates for anything you buy from overseas.
While it might seem like a good idea to reduce shipping fees and the risk of running low by hoarding a year's worth of formula, this could compromise the freshness and lead to wasted formula. Instead, consider setting up a buyer's club with local parents to cut costs (and provide a handy backup if anyone runs short between deliveries!).
Organic Goat's Milk Formula
As always, organic formula is the best way to go when choosing a goat's milk formula. This offers a good degree of assurance that the formula is free from some of the worst things to avoid.
Generally, if you buy a non-organic infant formula in the US, there are going to be some genetically modified ingredients as well as pesticides, antibiotics, hormones, and other troublesome chemicals.
---
What to Avoid in Goat Milk Formulas
Just as some cow's milk formulas have been found to contain high levels of dangerous heavy metals that can profoundly affect infant brain development, among other things, so too can unvetted goat's milk formula.
Fortunately, the risk of such contamination is likely lower with goat's milk, given that the raw milk comes from animals with less exposure to pesticides, herbicides, fungicides, antibiotics, or other such chemicals. If you choose an organic goat's milk formula, there's little need to worry over the presence of GMOs, artificial hormones, or antibiotics.
Still, you're going to want to choose a goat's milk formula that doesn't contain:
Hexane-extracted oils
Genetically modified soy
Some forms of DHA (with caveats, see below)
Synthetic nutrients
Synthetic preservatives
Processed, refined sugars
Heavy metals
BPA
You can read more about all of these in my guide to the best infant formula.
Please take note that while I'd normally advise avoiding palm oil, it is sometimes used in goat's milk formula, mixed with vegetable oils, and processed using enzymes to create a more biosimilar fat blend that is easily absorbed and used to help nourish young babies. Kabrita's Goat's Milk formula uses palm oil in this way, for instance.
Goat's milk formula also tends not to contain synthetic nutrients, largely because these aren't allowed in organic formulas in the European Union, and much of the goat's milk formula available comes from there. Goat's milk formulas made in the US must, by law, contain certain levels of nutrients, which means that regulators allow even organic baby formula to contain several synthetic forms of nutrients.
If you buy a US-made goat's milk formula, check for synthetic lutein, lycopene, taurine, and others and ask the company if you don't see information on their extraction processes.
One important thing to watch out for when buying goat's milk formula from abroad is the risk of recalls going unnoticed. Fake products and irradiated products are also an issue, so be sure to find a reputable seller and stay aware of recalls (following your chosen brand on social media can help with this, as can joining online groups where other parents help sound the alert).
---
Recommended Goat Milk Formulas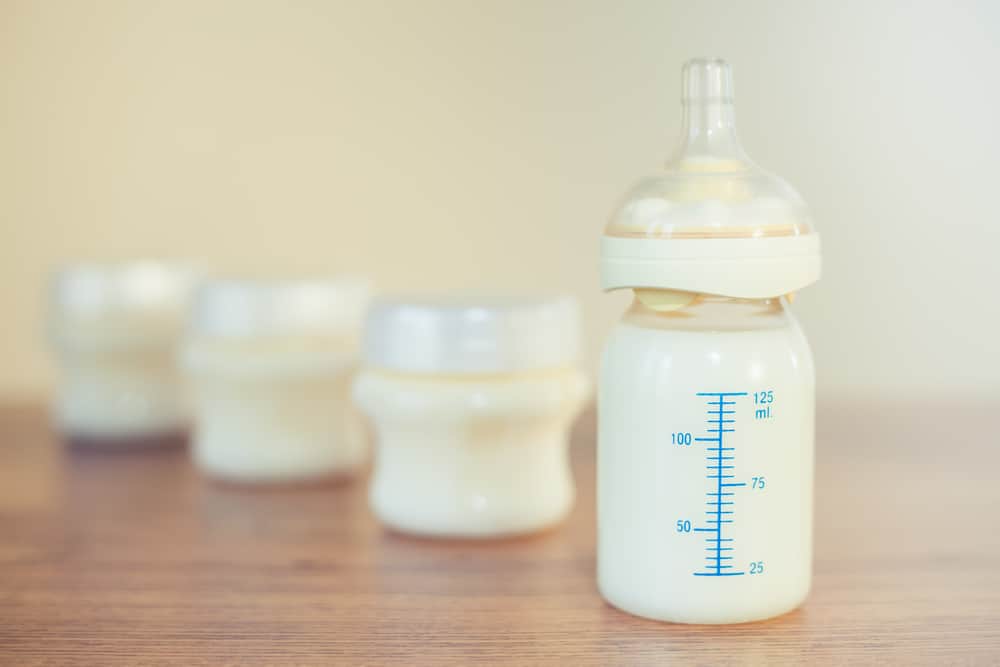 There aren't many goat's milk infant formulas available in the US, but I'm happy to say that there are some excellent options, including imported formulas from Europe.
Some of these formulas are for infants up to six months old while others are for older babies. It's important to use an age-appropriate formula as nutritional needs do change quite a bit during the first couple of years of life.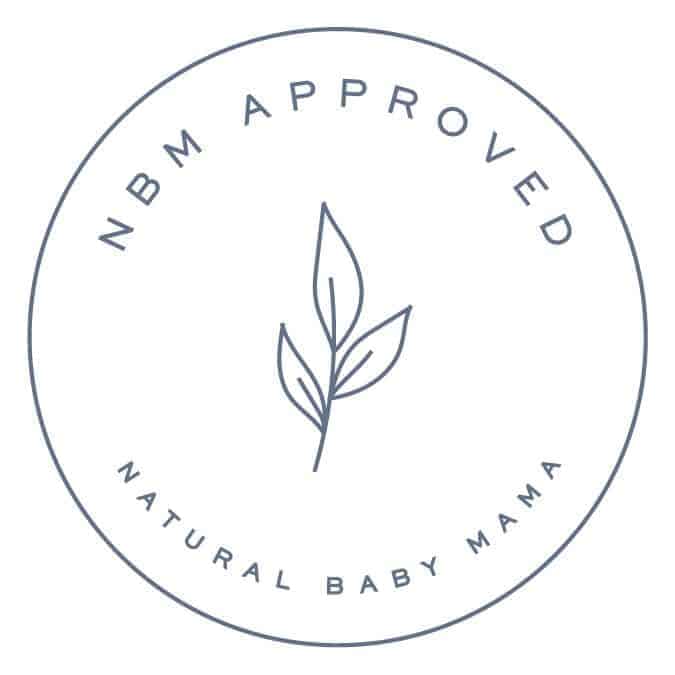 Best Goat Milk Formula from Birth to Six Months
Holle Goat Organic Milk Formula Stage 1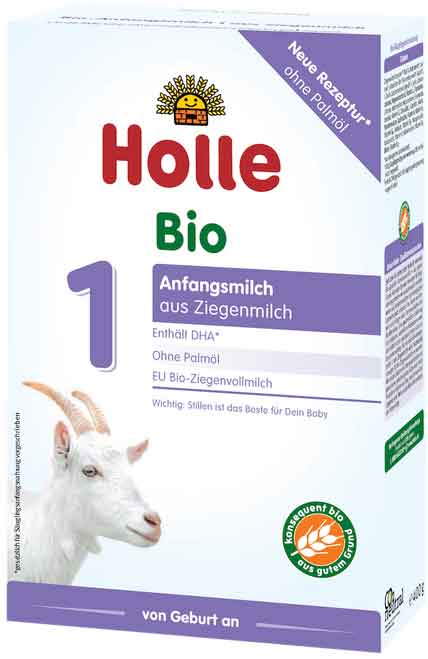 Holle offers a three-stage line of baby formulas made with organic goat milk. The European brand has been around for more than 80 years and is associated with high-quality products, certified organic and biodynamic formulas, and high standards for animal welfare.
The formula meets the EU Organic requirements and is available for babies aged 0-6 months, 6-12 months, and 12 months and older.
The Stage 1 formula is one of the few organic goat's milk formula options made without palm oil. It does have DHA added, though, to support vision and cognitive development. HOWEVER, this DHA isn't from fish oil, and the formula isn't processed with animal enzymes, making this goat's milk formula suitable for some vegetarian families, depending on where you draw that line.
These formulas are free from pesticides and chemical fertilizers, GMOs, added sugars, soy, corn, and synthetic preservatives or nutrients.
The milk proteins in Holle's goat milk formulas are hydrolyzed, meaning they have been processed to make them easier to digest. And because the goats are grass-fed, their milk is naturally rich in vitamin E, beta-carotene, and healthy omega fatty acids, meaning Holle doesn't add many nutrients (making this a super clean formula).
Holle Organic Infant Goat Milk Formula does contain some maltodextrin, which is organic, along with lactose.
It also has a whey to casein ratio of 20:80 as Holle doesn't add any whey. This makes it quite different to breast milk (which has more whey) but not necessarily inferior to cow's milk as the casein and whey it does contain are likely more digestible.
Ingredients: Goats Whole Milk Powder*1 38.6%, Maltodextrin*, Lactose*, Vegetable Oils* (Sunflower Oil*, Rapeseed Oil*), L-Choline, Calcium Hydroxide, Algae Oil2, L-Cystine, Calcium Carbonate, Magnesium Chloride, Vitamin C, L-Tryptophan, L-Tyrosine, Sodium Citrate, Sodium Chloride, Iron Lactate, Inositol, Vitamin E, Zinc Sulfate, L-Carnitine, Niacin, Pantothenic Acid, Copper Sulfate, Vitamin A, Vitamin B1, Vitamin B6, Folic Acid, Vitamin B2, Manganese Sulfate, Potassium Iodate, Vitamin K, Sodium Selenate, Vitamin D3, Biotin, Vitamin B12 * From Organic Farming 1 100g Infant Formula Are Made From 285ml Whole Milk 2 Contains DHA (Required By Law)
---
The Next Best Goat Milk Formula from Birth to Six Months
Kabrita Gold Stage 1 Infant Goat Milk Formula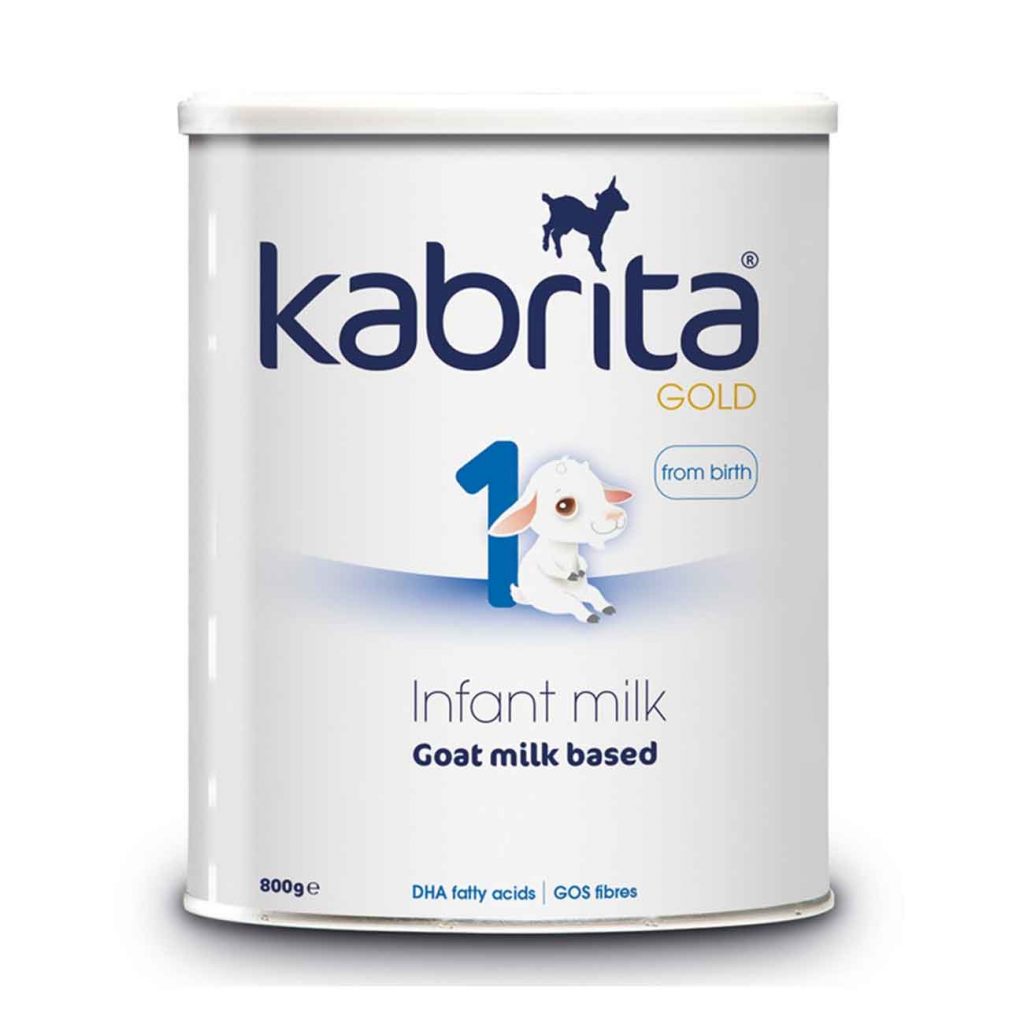 Kabrita Gold Stage 1 Infant Goat Milk Formula is made in the UK using goat's milk from animals raised in the Netherlands and Missouri. It is a great choice for those first six months of life, although it is not FDA-approved for sale in the US (the company is working on getting approval).
This formula is non-GMO, certified glyphosate-free, pesticide-free, and contains no hormones or antibiotic residues. It is also made without coconut oil, and Kabrita uses a specialty type of palm oil and vegetable oils processed to mimic the fats in breast milk. This may also help reduce some of the potential constipation associated with formulas that use palm oil.
Kabrita also adds extra goat milk whey to this formula, making for a whey/casein ratio more like the ratio in breast milk. Research suggests that extra whey can be beneficial for cow's milk formula, but there's no real research on goat's milk whey. As it's very similar to cow's milk whey, however, chances are it could be a good thing for some infants.
This formula is enriched with prebiotics and DHA and ARA from fish. It is also fortified with all the minerals and vitamins required by the FDA.
Ingredients: Lactose (Milk), Vegetable Oils (High Sn-2 Palmitic Acid Oil, Soybean Oil, High Oleic Sunflower Oil, Palm Kernel Oil, Sunflower Oil), Skimmed Goat Milk Powder, Goat Whey Protein Concentrate (Milk), Glucose Syrup Solids, Gos (Milk), Minerals (Tri Calcium Phosphate, Calcium Carbonate, Magnesium Carbonate, Ferrous Sulphate, Zinc Sulphate, Manganese Sulphate, Copper Sulphate, Potassium Iodide, Sodium Selenate), Marine Oil Containing DHA (Fish), Aa-Oil, Choline Bitartrate, Vitamins (Ascorbic Acid, Dl-Alpha Tocopheryl Acetate, Nicotinamide, D-Calcium Pantothenate, Thiamine Hydrochloride, Riboflavin, Retinyl Acetate, Pyridoxine Hydrochloride, Folic Acid, Phytomenadione, Biotin, Cholecalciferol, Cobalamine), Choline Chloride, Taurine, Meso-Inositol, L-Carnitine. Allergen Information: Contains milk, fish ingredients may vary between countries and regions in order to comply to local legislation.
---
Nanny Care First Infant Goat Milk Formula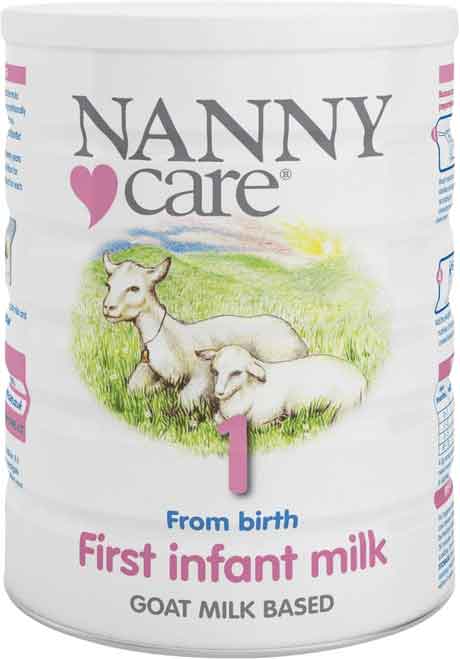 Made in the UK, Nanny Care Goat Milk Infant Formula is suitable for use from birth and has a reputation for being gentle on sensitive stomachs. It is completely palm oil-free, using sunflower and rapeseed oils instead, along with goat milk cream. This means it has a different (arguably better) fat profile to other goat's milk formulas (though Holle also includes goat cream).
Like Kabrita, Nanny Care uses 100% lactose as the carbohydrate in this formula. And they don't tinker with the whey to casein ratio (20:80). There's also no DHA or ARA added to this formula, nor any additional prebiotics or probiotics. This makes it a cleaner formula but also means your baby should have a supplemental source of DHA in addition to their formula.
You'll have to order Nanny Care from specialty sites, though, as it's not widely available in the US nor approved by the FDA. It's also pretty expensive compared to Kabrita and Holle and others.
Nanny Care is a well-established company and was involved in a variety of research into goat's milk formula for babies.
Ingredients: Pasteurised whole goat milk, lactose (from milk), vegetable oil blend (high oleic sunflower oil, rapeseed oil, sunflower oil, antioxidants (sunflower lecithin, tocopherol-rich extract, pasteurised goat milk powders, marine fish oil powder (source of docosahexaenoic acid), Mortierella alpina oil powder (source of arachidonic acid), minerals, choline chloride, L-tyrosine, L-tryptophan, L-cystine, vitamins, L-isoleucine, taurine, L-carnitine.
VITAMINS: dl-α-tocopheryl acetate, L-ascorbic acid, nicotinamide, cholecalciferol, retinyl acetate, calcium D-pantothenate, cyanocobalamin, phytonadione, thiamin hydrochloride, riboflavin, pyridoxine hydrochloride, folic acid, D-biotin.
MINERALS: Sodium citrate, calcium citrate, calcium hydroxide, potassium chloride, ferrous sulphate, zinc sulphate, copper sulphate, manganese sulphate, potassium iodide, sodium selenite.
---
Best Made in the US Goat Milk Formula
Designed by Nature Goats Milk Formula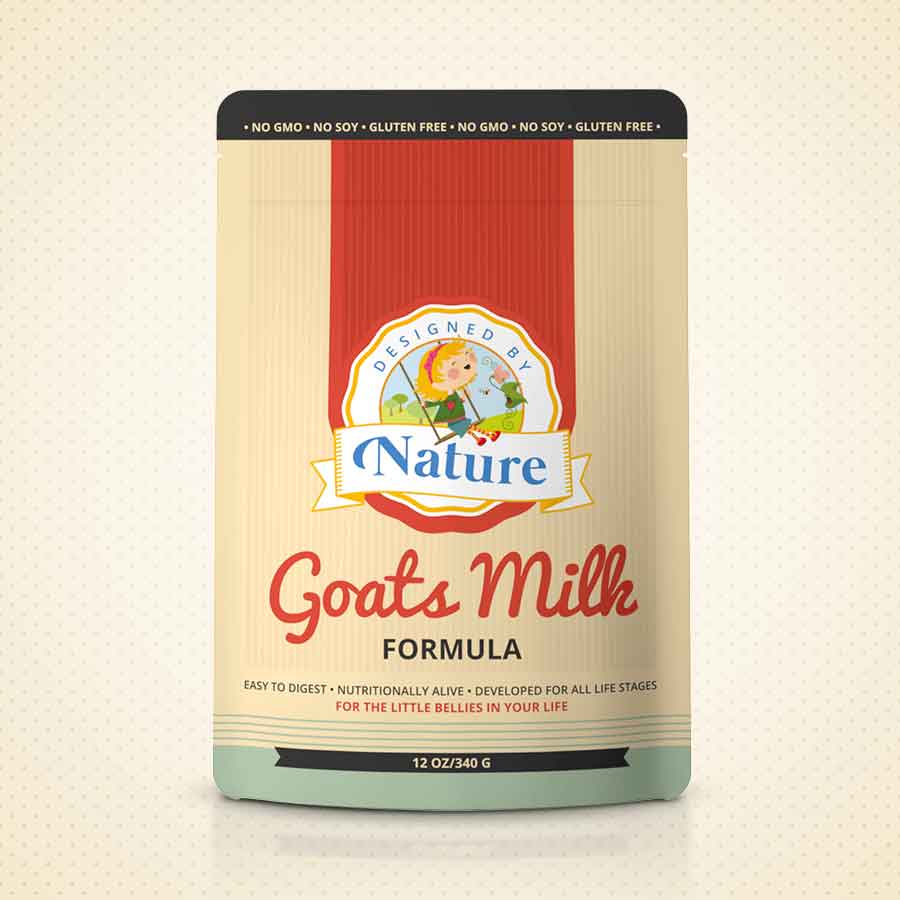 If you don't want to go to the hassle and expense of importing formula from Europe, Designed by Nature is a great choice. This Goats Milk Formula is organic and non-GMO, is FDA approved, and is popular with parents in the US.
It contains no gluten, soy, or corn, or palm oil. This formula features organic coconut oil, organic sunflower oil, organic olive oil, and organic cod liver oil for added fats.
One key advantage to this formula is that it's designed for all stages, meaning you won't have to transition your baby to another formula once they reach 6 months, 12 months, or beyond.
That said, this formula can be a bit grainy and comes in a pouch-type package that is rather tricky to handle if attempting to mix formula while holding your baby.
Ingredients: Organic Goat Milk Powder, Sweet Dairy Whey, Organic Coconut Oil, Organic Cod Liver Oil, Organic Olive Oil, Organic Sunflower Oil, Acerola Powder, Lactose, Gelatin, Nutritional Yeast, Protease Enzyme Complex.
---
Best Toddler Goat Milk Formula
Kabrita Goat Milk Toddler Formula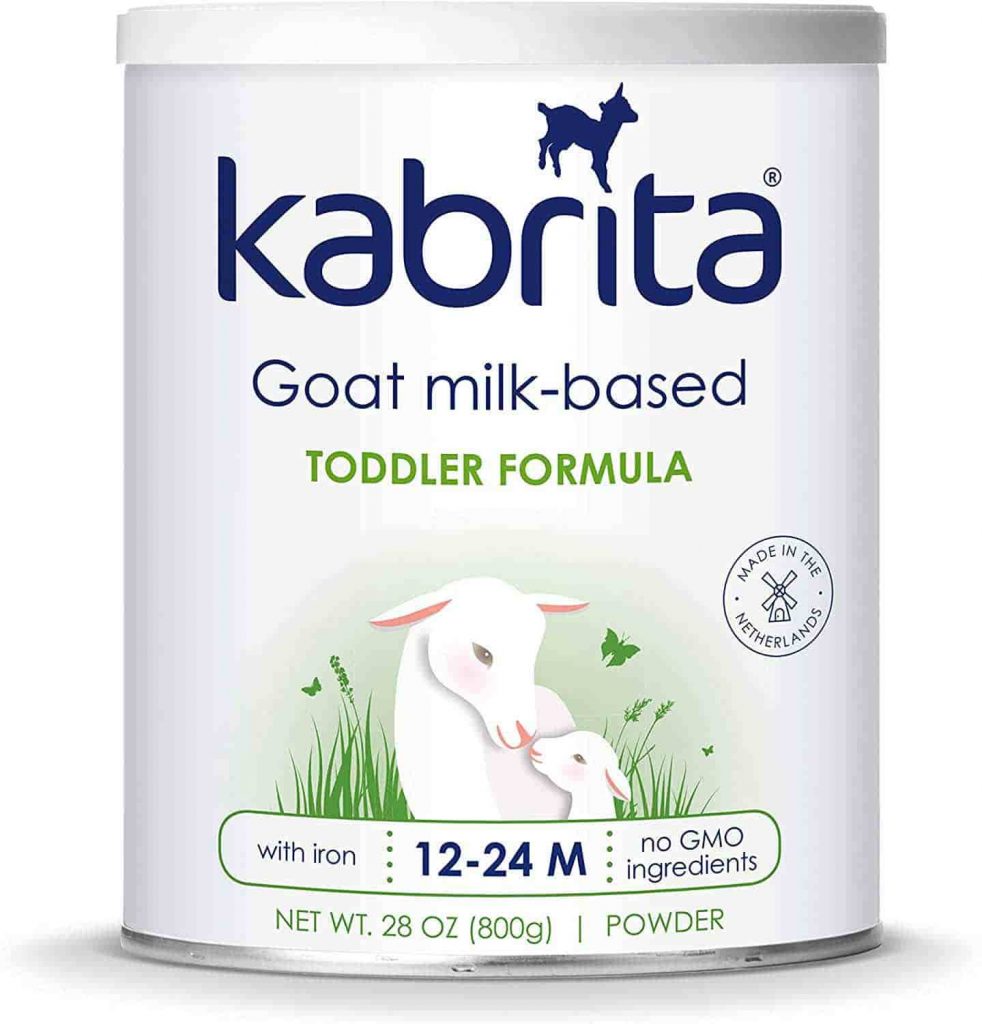 Kabrita USA sells FDA approved Goat Milk Toddler Formula intended for babies older than 12 months. Kabrita claims it meets FDA nutrition standards for infant formula for babies under 12 months old but it is not approved for that use in the US. However, they have a specific Stage 1 Infant Formula available for import (see above).
Kabrita's Goat Milk Toddler Formula has equal amounts of whey to casein, and the formula includes lactose as the main sweetener.
Kabrita Goat Milk Toddler Formula is certified glyphosate-residue-free. This toddler formula also meets strict EU non-GMO requirements, including restrictions on pesticides and synthetic additives.
Many parents have told me that Kabrita's goat milk formulas taste great and is a hit with their babies. Some goat's milk formulas can have an off-putting taste some babies don't take to, but Kabrita seems to have avoided that potential problem while also being more widely available and easy to use.
Kabrita USA is also 100% women run!
Kabrita USA follow-on formula ingredients: Lactose (milk), Vegetable oils (High sn-2 palmitic acid oil, Soybean oil, Palm kernel oil, Sunflower oil), Skimmed goat milk powder, Goat whey protein concentrate powder (milk), Glucose syrup solids, Galacto-oligosaccharides (GOS) (milk), Minerals (Tri calcium phosphate, Dicalcium phosphate, Tri sodium citrate, Tri calcium citrate, Calcium carbonate, Potassium hydroxide, Ferrous sulphate, Zinc sulphate, Copper sulphate, Manganese sulphate, Potassium iodide, Sodium selenate), Docosahexaenoic acid-rich oil (DHA) (fish), Arachidonic acid-rich oil (AA), Choline bitartrate, Vitamins (L-ascorbic acid, Sodium L-ascorbate, DL-alpha tocopheryl acetate, Calcium D-pantothenate, Nicotinamide, Thiamin hydrochloride, Retinyl acetate, Riboflavin, Pyridoxine hydrochloride, Folic acid, Phytomenadione, D-Biotin, Cholecalciferol, Cyanocobalamin), Choline chloride, Taurine, L-carnitine, Inositol.
SHOP KABRITA OR ON AMAZON
---
The Next Best Toddler Goat Milk Formula
Sammy's Milk Goat Milk Formula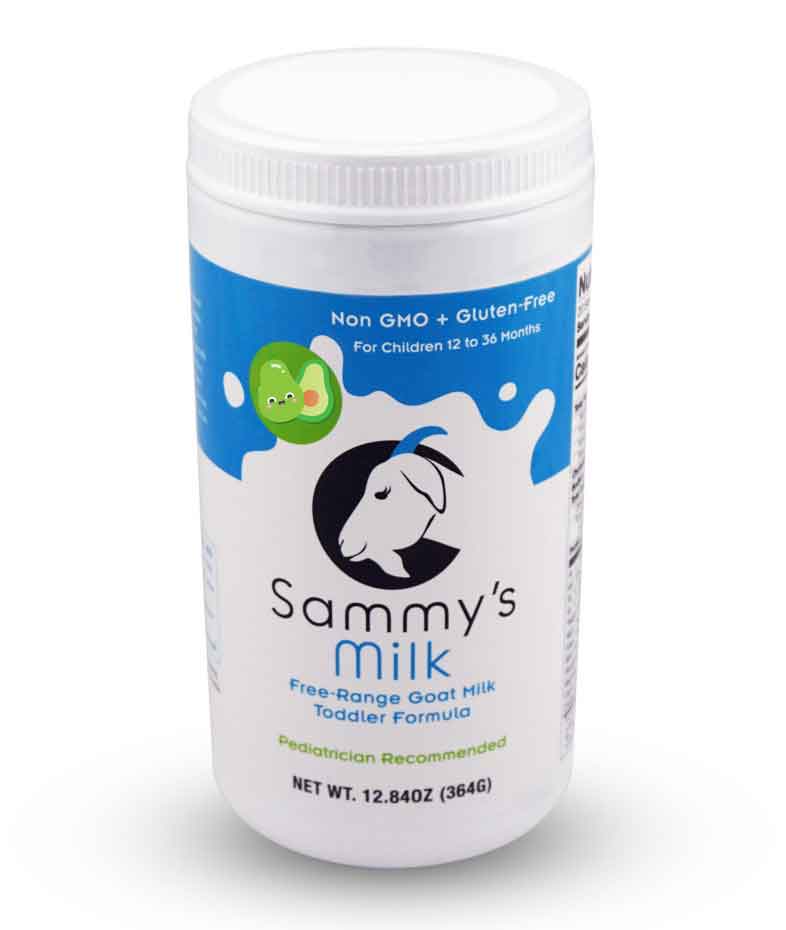 Designed with just six ingredients plus a blend of 23 vitamins and minerals, Sammy's Milk toddler formula is a good option if you're in the US.
It isn't certified organic, but it is non-GMO and free from artificial additives. The milk comes from free-range goats that feed on grass and other plants and are supplemented only with organic feed.
This formula includes molasses as a carbohydrate source, which also provides a good source of iron. It also uses avocado oil instead of standard vegetable oils, which means more natural nutrients like lutein and other antioxidants.
Sammy's Milk also includes fish oil from wild-harvested fish and (following some concerns a few years ago about contaminants) Sammy's is adamant that the formula is free from heavy metals such as mercury. However, they don't offer any third-party testing to back this up.
Sammy's is also a female-owned company based in the US, and the formula was created in cooperation with a board-certified pediatrician.
---
Other Goat Milk Formula to Consider
LittleOak Goat Milk Formula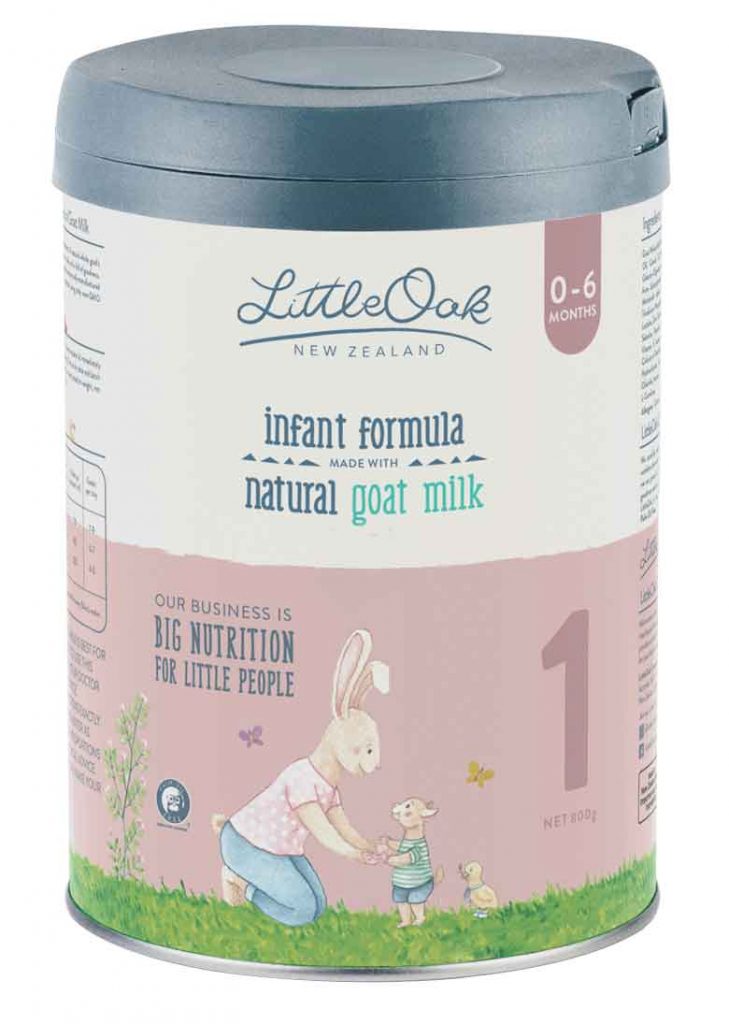 LittleOak is non-GMO and Certified Palm-Oil Free (by POFCAP) and is available as infant formula for 0-6 months, follow-on formula for 6-12 months, and toddler formula from 1 year onwards.
These formulas combine the natural nutrients and prebiotics in goat's milk with a selection of healthy omega-3 fatty acids, including cold-pressed flaxseed oil, vitamins (including vitamin K, biotin, and pantothenic acid), and minerals (including manganese and selenium).
While the LittleOak formulas are not certified organic, they claim to use whole goat milk almost exclusively farmed using organic practices. They also try to source their ingredients naturally and sustainably, including using DHA and ARA from algal sources (clay and steam extracted, not using hexane) and using cold-pressed flaxseed oil from the South Island in New Zealand.
LittleOak is a New Zealand company, but they ship to the US and other countries (it takes about 7-10 days after ordering).
The company recently updated its ingredients for its formulas, moving away from canola oil to use a New Zealand source of flaxseed oil.
Ingredients: Goat Whole Milk Powder [42%], Lactose, LittleOak Proprietary Oil Blend (Sunflower Oil, High Oleic Sunflower Oil, Pressed Coconut Oil, Pressed Flaxseed Oil), Galacto-oligosaccharide (GOS), Minerals (Calcium, Sodium, Phosphorous, Potassium, Chloride, Magnesium, Iron, Zinc, Copper, Manganese, Iodine, Selenite ), DHA Powder (Docosahexaenoic Oil from Schizochytrium sp.), ARA Powder (Arachidonic Acid Oil from Mortierella alpine), L-Tyrosine, Choline Chloride, Vitamins (Sodium Ascorbate, Vitamin E, Niacinamide, Vitamin A, Vitamin D3, Calcium-d-Pantothenate, Vitamin B1, Vitamin B6, Riboflavin, Folic Acid, Vitamin K1, Biotin, Vitamin B12), Inositol, L-Cysteine, L-Tryptophan, Antioxidant (α-Tocopherol), L-Carnitine.
---
Final Thoughts
If you're thinking of using goat's milk formula for your baby, the bad news is that there aren't many options in the US. The good news, however, is that the formulas available are actually good options!
If you want to go the import route, Holle is a top choice.
Whichever formula you turn to, remember that you might need to try a few different ones to find a good fit for your family.
It can be overwhelming to find truly safe, non-toxic products, I have created my Amazon Storefront for vetted non-toxic organic baby, kids, and home products.
Other Posts Related to Goat Milk Formula
Pin it for later!