Your pads or tampons come in close contact with the most intimate areas of your body. But have you ever stopped to think what pads and tampons are actually made of? Here you will find the best organic pads and tampon brands.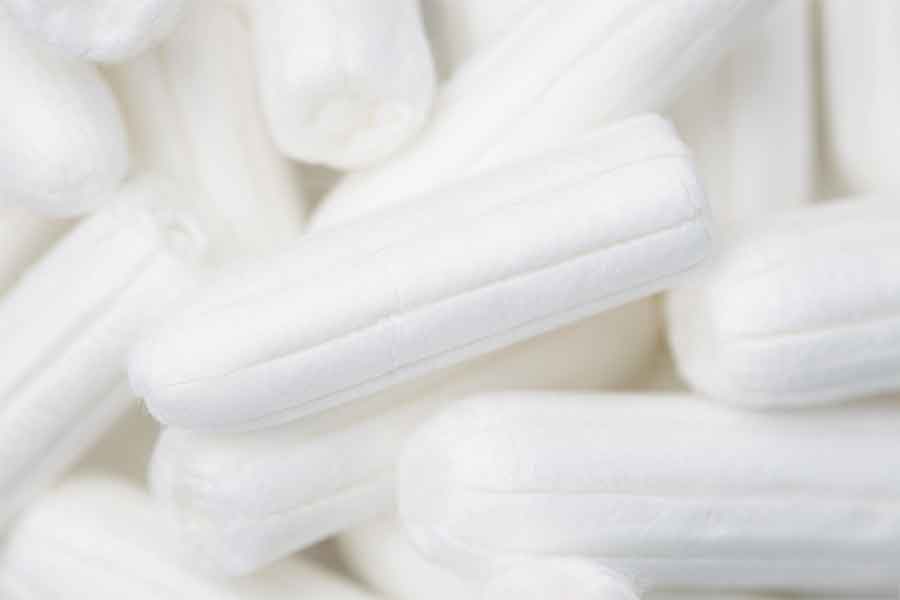 Unfortunately, most conventional pads and tampons contain harmful toxins you don't want near your skin, like plasticizers, synthetic fragrances with undisclosed formulas, dioxins, and parabens, to name a few. These toxins have been linked to many health issues in women, from skin irritation to cancer.
The answer: start using certified organic feminine hygiene products. Once you make the switch, you will never look back.
This post may contain affiliate links. Please see my full disclosure policy for details.
What's the Problem with Standard Pads and Tampons?
Many of the chemicals in pads and tampons, like various plastics and dioxins, are known endocrine disruptors and carcinogens. In addition, products that contain conventionally grown cotton usually also come with traces of harmful pesticides.
Additionally, most of the tampons and pads you can find in the feminine hygiene aisle have negative environmental impacts. Based on nonrenewable, petroleum-derived materials, they contribute to the wave of plastic and chemical pollution that threatens to drown our planet.
But here's the worst part, the skin around your intimate regions is highly absorbent. As a result, toxins can cross this delicate barrier and reach your bloodstream directly, without the additional protection of a digestive system and metabolic detoxification.
Do You Know What's In There?
When you pick up a cereal box, you only need to look at the label to read the full list of ingredients. Food brands must list everything they put into their products.
Companies who make feminine hygiene supplies, on the other hand, are under no obligation whatsoever to disclose what they use to make those innocent-looking pads in the pretty flowery package.
Most pads and tampons contain:
Plastics and plasticizers: endocrine disruptors and carcinogens
Dioxins and furans: known reproductive toxins, endocrine disruptors, and carcinogens
Phthalates: industrial chemicals that can cause damage to the liver, kidney, lungs, and reproductive system
Parabens: hormone disruptors with a link to reduced fertility (often found in fragrance)
Bisphenols: extremely toxic hormonal disruptors with a mutagenic and carcinogenic link
VOCs (volatile organic compounds): skin irritants that may also damage the liver, kidney, and central nervous system
SAPs, or super-absorbent polymers: dried gel powder, usually sodium polyacrylate, which can absorb 300-500 times its weight. SAPs are non-biodegradable and may irritate the skin because their manufacturing process leaves an acrylic acid residue.
Why Buy Organic Feminine Hygiene Products
More and more women are awakening to the fact that they have been using toxic pads or inserting toxic tampons into their bodies during the most sensitive time of the month. Maybe you are one of them. But, on the other hand, perhaps you already give a great deal of thought to the food you eat, the clothes you wear, and the kitchen essentials you cook and eat with.
Choosing safe, non-toxic period products is the next logical step. You want a health-friendly, sustainably made, eco-conscious tampon or pad. Casually browsing the vast array of feminine products reveals some that claim to be "green" or "eco-friendly," but should you trust every claim embossed on an attractive package? How do you find genuine organic feminine hygiene products?
What to Look for in Organic Pads and Tampons
When you come across a product that boasts of being "organic" or "sustainable," don't let soothing declarations and cleverly designed packaging with a nature vibe lull you into an unwarranted sense of security.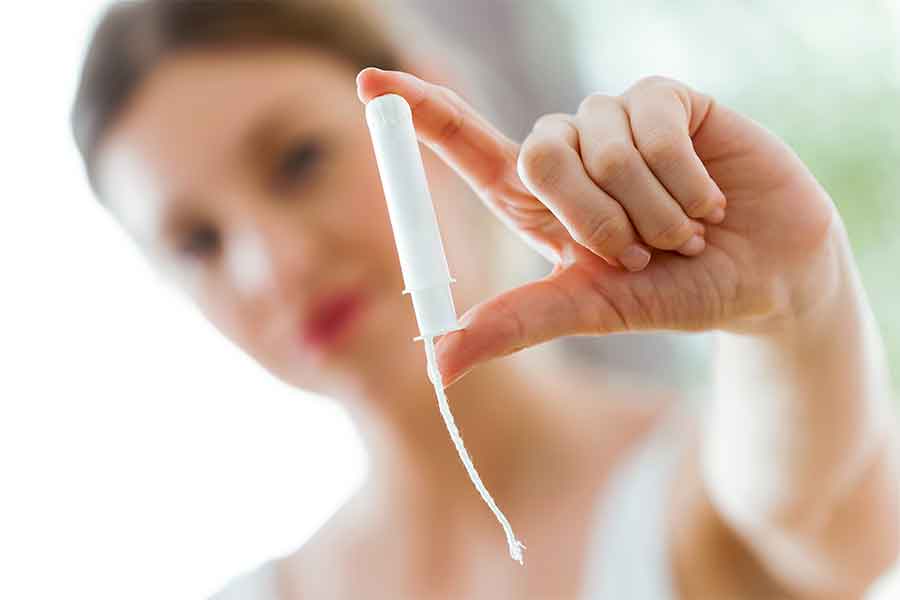 Unfortunately, many companies use a tactic called greenwashing – they remove one harmful ingredient or include one organic component and build a whole network of false claims around it while covertly continuing to use harmful chemicals or unsustainable materials.
Here is what you should look for in organic feminine hygiene products:
Organic Fibers
Conventionally grown cotton is a hugely unsustainable crop that involves tremendous water waste, tons of pesticides, and often exploitative conditions for the workers.
Instead, look for USDA or GOTS certified organic, ethically produced unbleached cotton or hemp.
No Fragrances
You can never know precisely what a synthetic fragrance contains, but many fragrance formulas are highly allergenic and contain a whole range of harmful chemicals, including parabens.
Sustainable Packaging
Choose plastic-free packaging whenever possible. If a company states its packaging is "biodegradable," follow up on those claims. Many bioplastics don't break down under standard conditions and will continue sitting in a landfill for many years, just like conventional plastic.
Full Disclosure
Choose brands that are 100% transparent about the materials they use to make their products, their manufacturing practices, and their employment ethics. Companies that are unwilling to share information usually have something to hide.
Reliable Certifications
Here are some trusty certifications that can help you choose a safe, sustainably produced, and non-toxic product.
A USDA Certified Organic seal means that any fiber (usually cotton) in the product is free of pesticides, herbicides, insecticides, and other harmful chemicals.
A GOTS (Global Organic Textile Standard) certification verifies that the cotton was grown under sustainable conditions without any toxic pesticides and that all workers involved in its production enjoy fair wages and safe employment.
ICEA (The Ethical and Environmental Certification Institute) is a seal brands may gain if they answer a high standard of environmental awareness, ethical employment, and positive global impact.
Organic Tampon and Pads Recommendations
Below, you will find a list of brands that offer organic pads, tampons, and panty liners. I have divided them into three broad categories: The Best, The Next Best, and Hesitate to Recommend.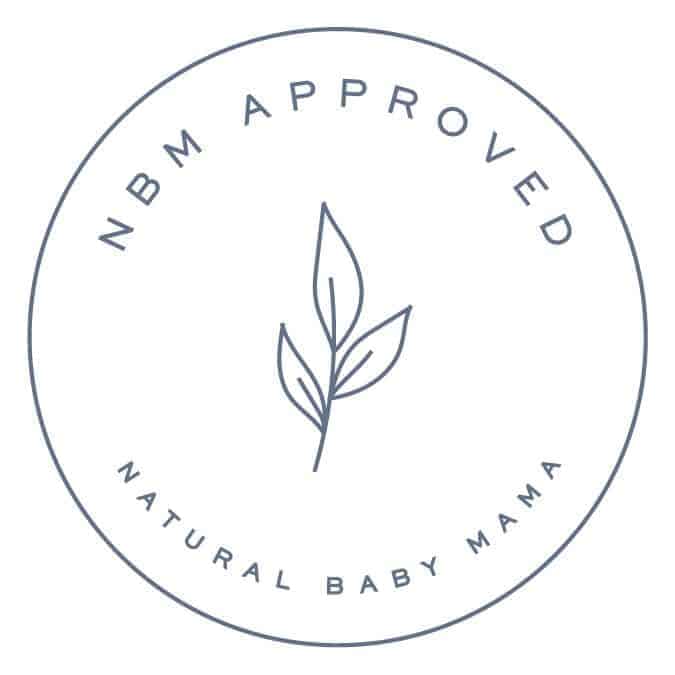 The Best Organic Pads and Tampons
The brands in this section use zero plastic and 100% natural, non-toxic materials in their feminine care products. In addition, they practice environmental consciousness and provide full and ready disclosure of their product ingredients.
---
OI (Organic Initiative)
Oi is a wonderful New Zealand brand that carries pads, tampons, panty liners, and menstrual cups. I especially love their girls' product line, designed specifically for smaller sizes and lighter periods.
Oi's pads contain:
A GOTS-certified organic cotton top sheet
A GOTS-certified organic cotton core
Cornstarch-derived sustainable backing and wrapper
The brand also carries Mini, Regular, and Super paper-wrapped tampons made of 100% certified organic cotton, with and without an applicator. The applicators, like the tampon and pad packaging, are made of biodegradable cardboard.
Apart from GOTS, Oi boasts of the BioGro New Zealand organic certification. In addition, the brand claims all its products and packaging can biodegrade within five years under the right conditions.
Oi manufactures its products in Spain and Italy.
---
The Tampon Tribe
The Tampon Tribe offers a range of pads, tampons, and panty liners made from 100% GOTS and ICEA certified organic cotton. They source their cotton from small-scale sustainable farmers, mainly in Italy. The Tampon Tribe's period care products are made in Europe.
The Tampon Tribe uses no SAPs, plastics, or harmful adhesives. Their breathable ultra-thin pads consist of:
100% ICEA- and GOTS-certified organic cotton for both the top sheet and the absorbent core
A biodegradable polymer adhesive strip
Individual biodegradable starch film wrap for each pad
Their organic tampons come in three sizes: Regular, Super, and Super Plus. The tampons include:
An absorbent core and safety layer made of 100% GOTS and ICEA certified organic cotton
A biodegradable cardboard applicator
The Tampon Tribe offers convenient monthly subscriptions and free shipping anywhere in the U.S.
SHOP THE TAMPON TRIBE ON AMAZON or EARTH HERO
---
Top: The Organic Project
Top offers organic day and night pads, tampons, and panty liners. Their pads consist of:
100% GOTS-certified organic cotton top sheet and absorbent core
A biodegradable, breathable polymer backing
100% biodegradable cornstarch wrappers
Top's tampons are made of pure GOTS-certified organic cotton, including the outer layer, absorbent core, and string. They carry two tampon varieties: a biodegradable cardboard applicator and a bioplastic applicator sourced from sugarcane.
The cardboard applicator tampons are a more eco-friendly choice as both the applicator and the tampon paper wrappers are 100% biodegradable. The wrappers of the plant-based applicator tampons are plastic, but the company plans to phase out all plastics and change them to a cornstarch wrap by the end of 2021.
Top also sells a first period kit for girls with a selection of pads and tampons.
Top's menstrual care products are made in Europe.
Discount code: 25% off directly at Top's website with code NBM
SHOP TOP: THE ORGANIC PROJECT DIRECTLY ON TOP, AMAZON or WALMART
---
Natracare
Natracare makes organic pads, tampons, and panty liners. They also have a lovely maternity product line that includes nursing pads, 100% organic cotton wipes, and ultra-thick postpartum pads. The maternity pads are an excellent find for new moms who need a wide, long, and absorbent pad to take care of extra heavy flow.
Natracare uses USDA-certified organic cotton and manufactures its products in the EU.
Their pads include:
A soft organic cotton cover
An absorbent core made of wood pulp fluff from trees sustainably grown and harvested in Finland
A bio-polymer backing
The brand also markets Regular, Super, and Super Plus tampons with and without an applicator. Their tampons are 100% organic cotton, and the applicator is made of biodegradable cardboard. The tampon packaging consists of recycled cardboard and individual paper wrappers.
Natracare products carry the Made Safe, Plastic Free, Soil Association Organic, and Vegan Approved Certifications.
SHOP NATRACARE ON AMAZON or EARTH HERO
---
The Next Best Organic Pads and Tampons
The brands below do use some plastic and SAPs in their products and packaging but are still a much better option compared to most conventional menstrual care products you'd find on a supermarket shelf.
Cora
Cora's feminine care product line includes tampons, pads, and liners, as well as reusable menstrual care items (cups, pads, and period underwear).
Cora pads contain:
A 100% GOTS certified organic cotton top sheet
Wood pulp and super absorbent polymer core
Polyethylene back sheet and polypropylene wings
Thermoplastic polymer adhesive
In other words, under the certified organic cotton layer, you'll find standard problematic SAPs and environmentally harmful plastics.
The tampon components are even more problematic: while the core and string are made of GOTS-certified organic cotton, the outer security veil consists of polyethylene and polyester – which means that the tampon layer closest to the body is actually plastic. Cora states that this security veil makes up about 3% of the total tampon. Cora's tampon applicators are also made of BPA-free plastic.
While a company representative stated that Cora "has partners both in the U.S. and abroad," I did not get a clear answer regarding the company's manufacturing locations.
While Cora is better than other conventional brands, I would opt for tampons that do not have plastic closest to your body. Their pads and liners are a cleaner product.
Cora makes additional feminine hygiene products but this recommendation is for their tampons, pads, and liners only.
---
Rael
Rael offers a selection of menstrual products, including organic cotton tampons, disposable and reusable organic cotton pads, panty liners, and period underwear. The cotton they use has an OCS (Organic Content Standard) certification. However, OCS is a somewhat weaker certification than GOTS and does not include environmental protection or ethical manufacturing.
While Rael pads and tampons are free of most of the harmful chemicals you'd typically find in conventional menstrual products. However, the company uses a small amount of plastics and polyurethane (namely in tampon applicators and pad backing) and SAPs as their pads' absorbent core.
Rael's organic cotton pads consist of:
Top layer: OCS, non-GMO organic cotton from Texas
Absorbent core: chlorine-free wood pulp and super absorbent polymers
Backsheet: polyethylene and polypropylene
Adhesive: unspecified material that the company claims is "non-toxic"
Rael's 100% cotton tampons include three applicator varieties: cardboard, plant-based, and BPA-free plastic. I give this brand bonus points for using paper wrappers for the tampons.
Rael manufactures its pads in South Korea and its tampons in Israel.
---
Sustain
The Sustain brand appears as part of the product catalog on Grove Collaborative, an online retailer that is a bit tricky to navigate and carries products that aren't 100% natural and organic. There is a very limited selection also on Amazon.
Sustain pads are made in Italy and consist of:
100% GOTS-certified, USA-grown organic cotton top sheet and an absorbent core
Polymer back sheet
Styrene adhesive
I could not obtain any additional information about the pad back sheet, either from the company website or through a direct inquiry, other than the word "polymer," which makes me suspect it's probably plastic. Styrene, the chemical they use for adhesive, is a known skin irritant.
Sustain pad and tampon wraps are plastic, but a company representative stated that the brand is exploring the possibility of transitioning to paper wrappers.
Sustain uses 100% GOTS-certified organic cotton for the tampons' outer layer and absorbent core, but their applicators are a blend of conventional plastic and bioplastics (the latter aren't necessarily more eco-friendly or sustainable). In addition, Sustain tampons are made in Slovenia under fair employment conditions.
Interestingly, Sustain's co-founder's family started Seventh Generation.
SHOP SUSTAIN AT AMAZON or THE GROVE COLLABORATIVE
---
Honest
The Honest brand used to offer pads, tampons, and liners but now has minimized its menstrual care line to tampons only. Their tampons contain 100% GOTS- and ICEA-certified organic cotton sourced from various locations, including the U.S., Pakistan, and Turkey.
I could not find any information about the tampon applicator, either on the Honest website or by inquiry. Still, other reviews mention that the applicator contains a blend of bio- and conventional plastics.
The tampon wrappers are plastic, which according to a company representative, is necessary to pass FDA regulations. However, other brands (like Natracare and Rael) successfully use plastic-free tampon packaging.
---
Organyc
The Organyc brand carries a selection of tampons and pads, from thin panty liners to maternity pads for extra heavy flow. Their feminine care products are made with GOTS-certified cotton and have ICEA and Made Safe certifications.
Pad composition:
A 100% nonwoven organic cotton top sheet
100% absorbent organic cotton core
Protective backing of a biodegradable cornstarch polymer
Adhesive strips of industry-standard glue
Each pad is individually wrapped in a biodegradable cornstarch-derived pouch.
Organyc's tampons include two variations: with and without an applicator. While the tampons are 100% organic cotton, the applicator is made of bioplastics and conventional plastics combined. The tampon wrappers are also plastic.
If I had to rate Organyc pads separately, I would probably bump them up to the "The Best" list. However, their use of plastic in tampons and tampon applicators made me place them in the Second Choice category. Still, nevertheless, they offer high-quality products made with safe, ethically sourced materials.
This review is for their pads, tampons, and panty liners only. They make additional products as well.
SHOP ORGANYC ON AMAZON or WALMART
---
Seventh Generation
Seventh Generation's period care products include pads and tampons designed for Light, Regular, and Super absorbency.
While the brand's product descriptions emphasize their chlorine-free manufacturing process, the pads' ingredients won't satisfy someone looking for 100% organic, sustainably made feminine care products.
Seventh Generation pads contain:
Top layer: cellulose of an unspecified source
Absorbent core: wood fluff pulp with an addition of sodium polyacrylate for the more absorbent pads, like Overnight and Super Long
Moisture barrier: polyethylene
Liner: polypropylene
For its tampons, Seventh Generation uses GOTS-certified organic cotton. While the tampon applicators used to be made of 95% sugarcane-based bioplastic, during the COVID-19 pandemic, the company switched to petroleum-based applicators due to supply shortages.
Seventh Generation manufactures its tampons in Germany and its pads in Quebec, Canada.
SHOP SEVENTH GENERATION ON AMAZON or WALMART
---
The Honey Pot
The Honey Pot feminine care products include tampons, menstrual cups, and pads in several degrees of absorbency, including postpartum pads.
The brand's most notable feature is the essential oil infusion they use in pads. Their essential oil formula includes lavender, rose, mint, and aloe vera. While many women appreciate the soothing, cooling sensation of Honey Pot's herbal pads, essential oils may cause sensitivity and irritation in some individuals. So, following customer feedback, The Honey Pot also released a line of non-herbal pads.
Although The Honey Pot claims its products are "natural" and "organic," I found no certifications on their website. I contacted them with an inquiry about their cotton's organic certification, the ingredients of their pads and tampons, their packaging materials, and their manufacturing locations but received no answer to date.
SHOP THE HONEY POT ON AMAZON or TARGET
---
LOLA
LOLA is a brand that offers menstrual pads (ultra-thin, Regular, and Heavy absorbency), panty liners, tampons, and menstrual cups, in addition to other feminine wellness products. They also have a PMS relief line that includes heating patches, an essential oil blend, and vitamin supplements.
LOLA pads are made of:
· 100% organic cotton top sheet
· 100% organic cotton core
· Plant-based bioplastic back sheet
· Non-toxic adhesives
LOLA tampons come in three options: no applicator, cardboard applicator, and plastic applicator. The tampons themselves, core and string, contain 100% GOTS-certified organic cotton and also boast an ICEA certification.
However, LOLA's pads and liners do not have an organic certification. Upon my inquiry, a company representative asserted that the pads and liners were made from 100% organic cotton, but did not specify a reason why these products did not have a GOTS or another recognized organic certification.
LOLA's cardboard applicator tampons have paper wrappers, but the company uses polyethylene wrappers for their non-applicator and plastic applicator tampons. The pads and liners have individual recyclable sugarcane-derived polyethylene wrappers, and the cardboard boxes are made from 80% recycled material.
LOLA manufactures and packages its pads in the USA. The brand's tampons and liners are made in Europe and packaged in the USA.
---
O.B. Organic
Ladies who prefer tampons might want to check out O.B.'s organic line. The well-known established brand offers organic tampons in two degrees of absorbency: Regular and Super, with or without an applicator.
The tampon itself is 100% GOTS-certified organic cotton, while the applicator is "up to 92%" sugarcane-derived bioplastic. I surmise conventional plastic makes up the rest of the blend. The tampon wrappers are made of polypropylene.
O.B. manufactures its organic tampons in Germany.
SHOP O.B. ORGANIC ON AMAZON or WALMART
---
Bon
Bon is a New Zealand company that only offers applicator-free organic tampons in three degrees of absorbency: Light, Regular, and Super. In addition, Bon's tampons come in convenient, stylishly minimalistic biodegradable cardboard packaging.
Bon's tampons have a GOTS certification and are manufactured in Slovenia but unfortunately packaged in China.
While the brand currently uses plastic for individual tampon wrappers, a company representative told me Bon plans to switch to bioplastic wrappers in the near future.
SHOP BON
---
Brands I Hesitate to Recommend
I have hesitation about recommending these brands, among other reasons, because they don't share enough information about their ingredients and manufacturing processes.
In a pinch, I would probably still pick their products over a package of conventional feminine hygiene products, but the sections above offer far better options for women looking for truly organic pads and tampons.
---
L. Organic
L. Organic has a line of feminine care products, including tampons, pads, and panty liners.
Although the company website states that the pads and tampons are "made with GOTS-certified organic cotton," they don't share a full ingredient list. However, the product descriptions do disclose that the tampon applicators are made of BPA-free plastic.
I sent an inquiry hoping for more precise information about product ingredients. Still, instead of giving satisfactory answers to specific questions (such as what the pads' absorbent core and backing consist of), a support representative directed me to SmartLabel. Unfortunately, this generic tool didn't provide any additional useful information.
Since the company's reply was evasive and was not transparent, I would hesitate to recommend L. Organic products.
---
My Box Shop
My Box Shop ended up on the list of brands I can't recommend simply because the company doesn't provide enough information about its products, either on its website or through customer help inquiries.
My Box Shop's feminine care products include pads in various degrees of absorbency, tampons with and without an applicator, light, and regular liners, and menstrual cups. In addition, they prominently display a GOTS certification and emphasize that their pads have a 100% certified organic cotton top sheet.
However, I have not been able to find out what materials My Box Shop uses for their pads' absorbent layer, backing, or packaging. Their tampons' applicators are "BPA free," which means they likely are plastic.
A company representative who answered my direct inquiry provided no additional meaningful information. I followed up with another email and received no response back.
---
Veeda
Veeda is a brand that offers pads, tampons, and panty liners made with "natural cotton." However, the cotton they use is not organic, which the company website explains by stating that "there's simply not enough organic cotton available to meet our goal of making better, safer tampons accessible and affordable for all women."
Essentially, Veeda claims to be as good as organic but cheaper. According to their website, Veeda products "are laboratory tested for over 250 harmful chemicals and are completely pesticide-, herbicide-, and dioxin-free."
I contacted the company hoping to find out what Veeda pads have as an absorbent core and backing. However, I got no reply to my inquiry and suspect that the company uses conventional SAPs and plastic backing for the pads.
While Veeda's individual pad wraps are made of biodegradable film, their tampon wraps and applicators are plastic. And although it's good to know that the company uses no dyes, chlorine, or synthetic fragrances in its manufacturing processes, women looking for 100% organic and sustainably made menstrual products should probably check out some of the other brands I mentioned above.
---
Final Thoughts on Organic Tampons and Pads
When you start looking for healthy, sustainably made, 100% non-toxic feminine care products, it is easy to get lost among all the "green," "natural," and "eco-friendly" labels. I hope that the information I covered in this post can help you choose safer, healthier pads and tampons.
Once you make the switch over to organic pads and tampons you will realize it is just as easy as buying the products you already were using. The bonus is that these are better for you and the environment.
Check out my Amazon Storefront for organic feminine hygiene products and non-toxic living products for your entire family!
Pin it for later!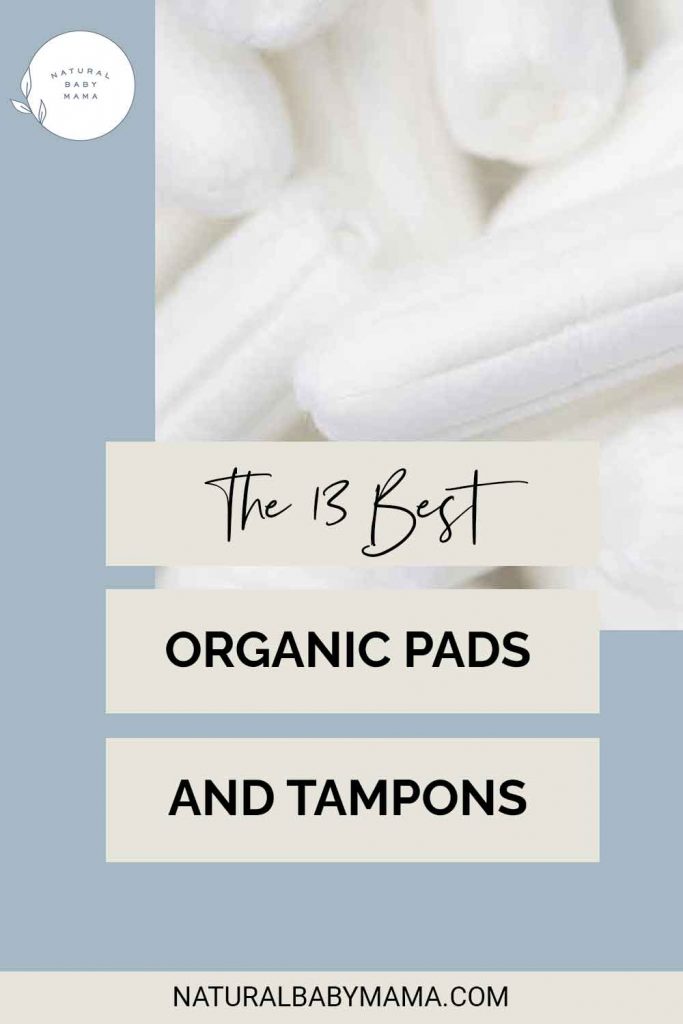 Other Posts Related to Organic Tampons and Pads