Given the day and age we're living in, most people are pretty aware that plastics pose certain health hazards, not to mention the negative effect on our planet and environment. However, because there are many different types of plastics, it can be pretty tough to avoid, considering just how many products it's used in.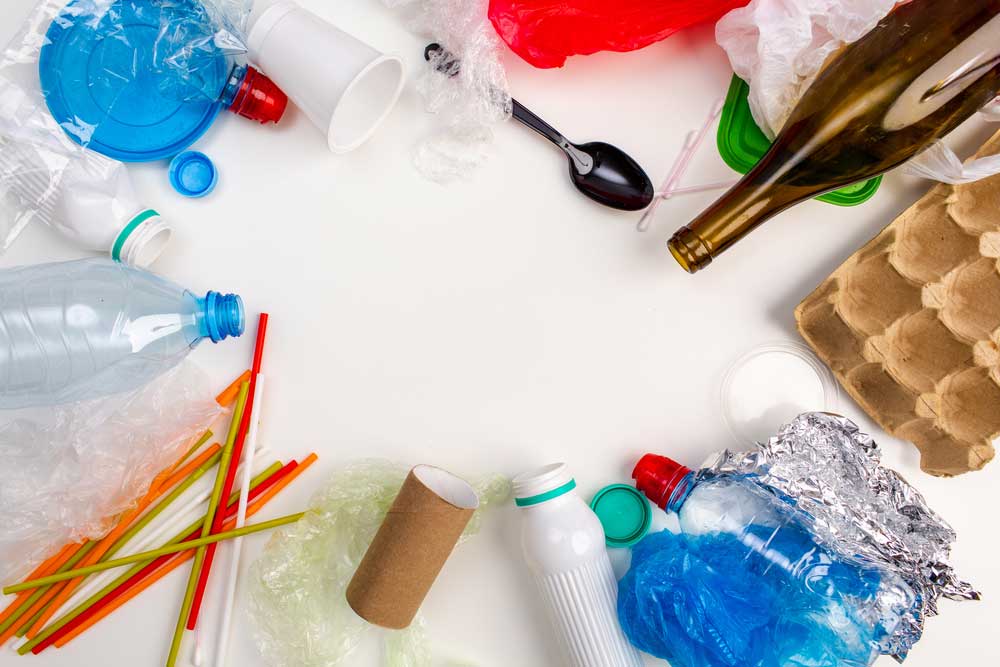 Of course, there are some that are deemed to be "safe plastics," but how do you differentiate one that's safe from a plastic that's wreaking havoc on your health?
In this article, I'll give a breakdown of the 7 most common types of plastics, along with plastics to avoid if you want to ensure that you're living as eco-friendly and non-toxic of a lifestyle as possible.
I'll also highlight plastic that is considered safer; even when reducing the amount of plastic you buy, you inevitably will be buying plastic at some point.
This post may contain affiliate links. Please see my full disclosure policy for details.
The 7 Common Types of Plastics
Use this chart as a quick reference guide whenever you need to know which types of plastics are considered safer. If you can remember that 2, 4 & 5 are considered safe, it will help while shopping.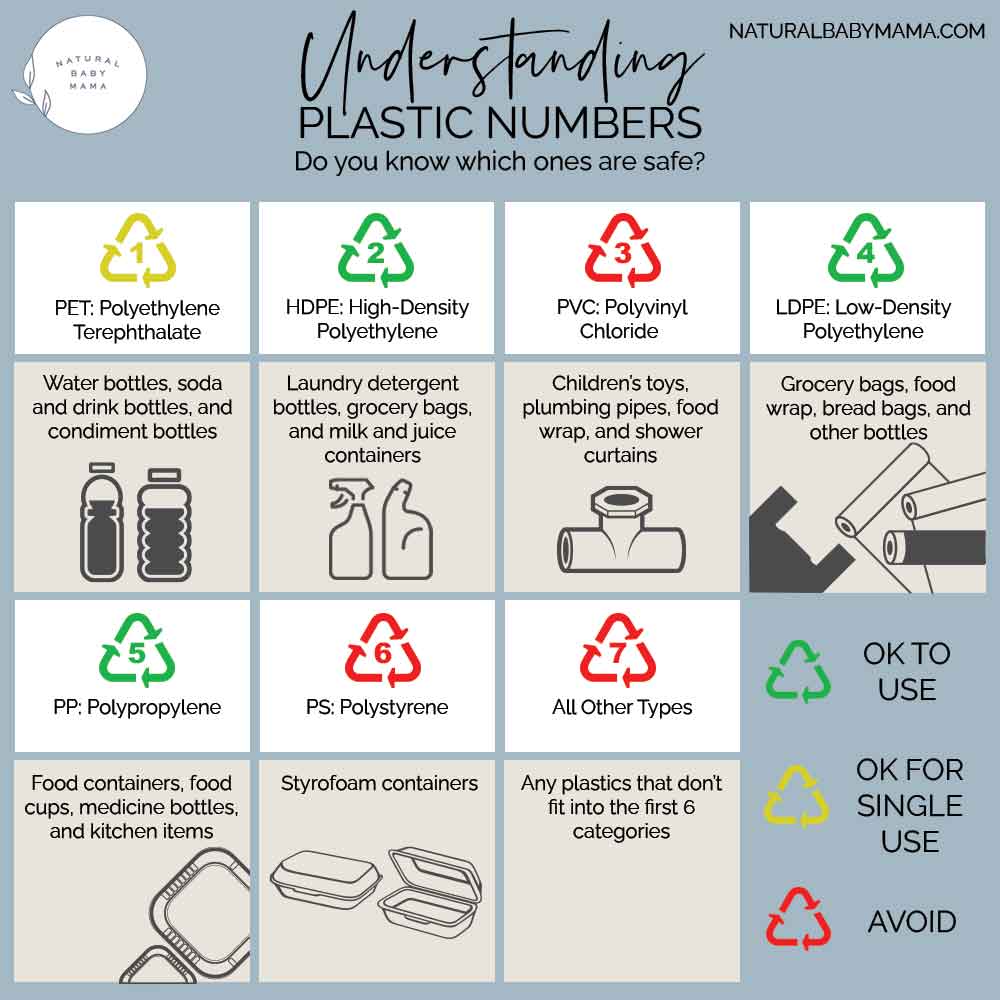 1. PET: Polyethylene Terephthalate —
This type of plastic is commonly used in water bottles, soda and drink bottles, soap containers, and condiment bottles. Since it's BPA-free, it's considered a safer plastic. However, it is a single-use plastic that can degrade and leech toxins like antimony.
2. HDPE: High-Density Polyethylene —
HDPE plastic is used to manufacture things like laundry detergent bottles, packaging for personal care and beauty products, grocery bags, and containers for milk and juice. It's also considered safe plastic.
3. PVC: Polyvinyl Chloride —
This is the plastic-type that's used to make children's toys, plumbing pipes, some food wrap, and shower curtains. It is not safe, especially when used for cooking or when heated.
PVC is linked to a variety of health issues including hormone disruption.
4. LDPE: Low-Density Polyethylene —
This is another safe plastic. It's used to make grocery bags, food wraps, bread bags, and other bottles that you can squeeze.
5. PP: Polypropylene —
This is a heat-resistant plastic that's used to make food containers, food cups, medicine bottles, and kitchen items. It's considered safe to use because of the heat resistance.
6. PS: Polystyrene —
This is where styrofoam containers come into play. It's used in a lot of other food packaging as well. PS is considered unsafe, namely because it is not biodegradable and is not sustainable to our environment.
7. All Other Types —
Any plastics that don't fit into the first 6 categories are grouped into this category. Since there is no way to know exactly what these plastics are made of, they are not considered safe, and it's best to avoid them at all costs.
Often you will find BPA in category 7.
A Bonus Plastic Type – #8
8. ABS: Acrylonitrile Butadiene Styrene —
This is another plastic label you may come across, as it's used for electronics and even LEGO toys. While it's generally considered safe and non-toxic, it does have a low melting point and should not be introduced to heat.
Safe Plastics: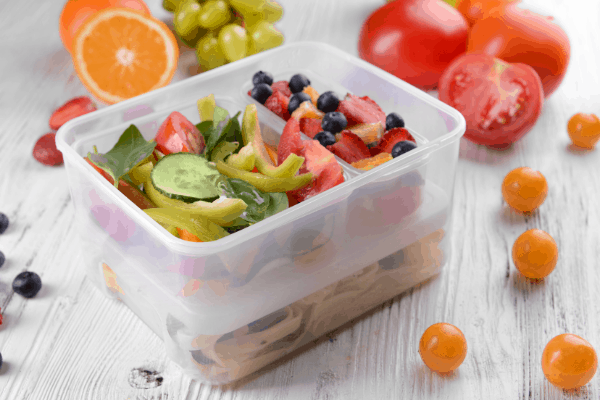 HDPE: high-density polyethylene #2 — HDPE is one of the safest types of recycled plastic, and it's also very common, given how many household items it's used for. While it does have a low toxicity level, it does contain chemicals that could potentially have a negative effect on hormones.
Plastics made from HDPE are typically recycled into toys, outdoor furniture, and playground equipment.
LDPE: low-density polyethylene #4 — LDPE is one of the safest plastics out there. It has a low toxicity level and can be recycled into trashcans, plastic lumber, and even floor tiles. There are studies that suggest that LDPE can also release estrogen-disrupting chemicals like other plastics, but it's generally considered very safe.
PP: polypropylene #5 — PP can sometimes be recycled, and it also has a low toxicity level. Heat is also not a concern with PP, as it can reach a maximum temperature of 275 degrees Fahrenheit as a melting point, so it has a much less likelihood of releasing chemicals.
ABS: Acrylonitrile Butadiene Styrene — Even though this plastic does contain styrene, which is an endocrine disruptor, as long as the product is not introduced to heat, it's generally considered safe. Since it's used for things like LEGOs and electronics, there's not a high probability of heat being introduced during use.
Plastics To Be Cautious Of:
PET: polyethylene terephthalate #1 — While PET is considered a safe plastic, it's important to reiterate that it should not be heated, as this increases its toxicity level. When heat is introduced, it can release a toxin called antimony, which can be ingested while drinking from the plastic bottle.
Antimony is listed as possibly carcinogenic to humans, and it can lead to stomach problems such as vomiting and diarrhea. The toxin can also be released if the bottle sits on the shelf for a long period of time and is possibly exposed to sunlight.
While bottled water and other drinks are great in a pinch, it's always best to carry along your own stainless steel water bottle.
It's also important to know that PET is recyclable.
Types of Plastics to Avoid: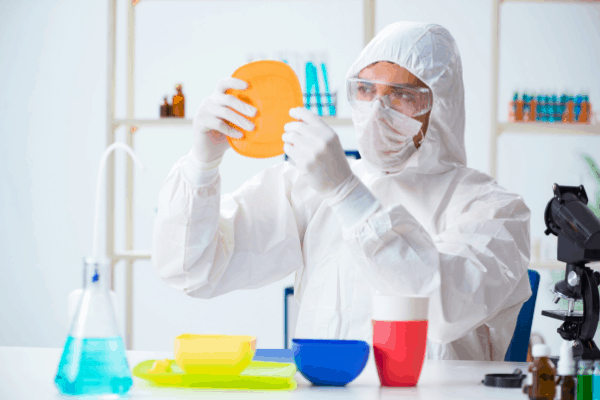 PVC: polyvinyl chloride #3 — Out of all of the types of plastic, PVC is considered to be the most toxic. It contains a variety of toxins, including lead, phthalates, BPA, and mercury, all of which can be released over a period of time. These chemicals have been linked to cancer, asthma, and other health conditions.
PVC plastic is not biodegradable, and it can't always be recycled. It's actually estimated that less than 1% of PVC is recyclable. Particularly when it comes to children's toys, it's best to try and avoid toys containing PVC plastic. Wooden toys and those made from other natural materials are a great alternative.
PS: polystyrene #6 — PS is a highly toxic plastic, and it's usually found in the form of styrofoam. It's very difficult to recycle, and it contains harmful chemicals such as benzene, ethylene, and styrene. Styrene has been shown to cause cancer, and it can also have a negative effect on organs such as the lungs and liver.
It's also important to note that PS plastic is very sensitive to heat, so when used to consume warm beverages, there's a much higher chance of ingesting toxins. I would advise avoiding styrofoam at all costs to protect your health and choose materials that are not detrimental to our environment. Styrofoam takes 50 years to break down.
All other Types of Plastic #7 — When plastic doesn't fit into one of the other six categories, it's grouped into a seventh category. These plastics contain BPAs and BPS, which are both known endocrine system disruptors.
These plastics can rarely be recycled, though if they are marked with the PLA label, they are able to be composted.
Final Thoughts on These 8 Types of Plastics
As much as we'd all love to live 100% plastic-free lives, it's impossible to avoid coming into contact with it, especially when it comes to things like our smartphones, laptops, iPads, and the like.
As long as you're taking extra measures to avoid plastics when it comes to eating, drinking, and personal care, you really shouldn't worry too much about it having negative effects.
However, even though some plastics are considered "safe," we should still limit and reduce our consumption of plastics, both for our own health and for the health and sustainability of our ecosystems and planet. Always seek out and aim to use natural, recyclable, more sustainable materials whenever possible.
It can be overwhelming to find truly safe products. I have created my Amazon Storefront for vetted non-toxic products, including safer alternatives to plastic.
Posts Related to Types of Plastics
Pin it for later!