There's a lot of buzz about regenerative farming these days, and no wonder. This approach to agriculture is not only good for bees, but it's also good for people and the planet. So, what is regenerative farming? And is this new ROC™ – Regenerative Organic Certificate – we're starting to see on products something to get behind?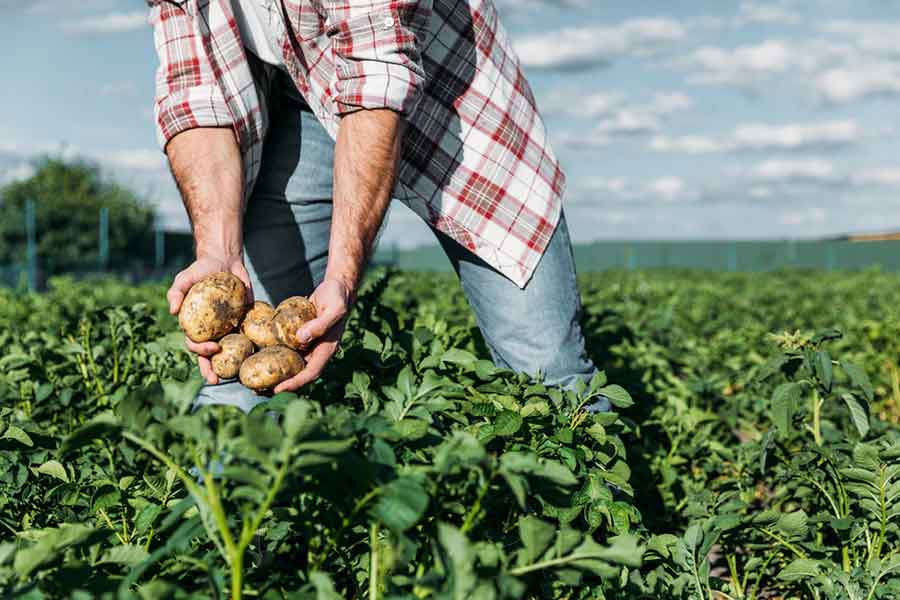 At its core, regenerative farming looks to improve or restore the health of soil, which helps support water quality, vegetation, and the productivity of the land. It can also enhance biodiversity and even play a role in tackling climate change.
Those are some pretty lofty goals, so how does it work? Is regenerative farming just organic farming? Not quite.
This post may contain affiliate links. Please see my full disclosure policy for details.
What is Regenerative Farming?
One way to look at regenerative farming is to start with sustainability. For example, the Rainforest Alliance says, "We consider sustainability to be a journey—and for us, the final destination is regeneration."
This organization sees sustainable farming as a harm-reduction approach. Farmers use fewer harsh chemical pesticides (or none, depending on certifications) and other processes that damage the soil and biodiversity.
Sustainability is just the first step towards a more holistic system, though. The true goal is to nourish and enrich the land, to regenerate what has been lost. This means addressing the damage done by focusing on short-term gains, where the bills (loss of nutrients, loss of habitat, and biodiversity) are now coming due.
Instead, a regenerative farm can help enhance yields and the health of those crops while also sequestering carbon in the soil and supporting greater biodiversity.
The trouble is, there's no agreed-upon definition of regenerative farming. Some advocates focus on processes and some on outcomes, with a few combining the two. Too much focus on processes ignores the need for farms to be financially viable, while too much focus on outcomes leaves the door open to unhealthy processes.
Regenerative organic farming might be the hallowed middle ground where processes and outcomes are given equal weight.
What is Regenerative Organic Farming?
Robert Rodale came up with the term 'regenerative organic' many years ago to describe a holistic approach to farming that encompasses continuous improvements in environmental, social, and economic conditions through ongoing innovation.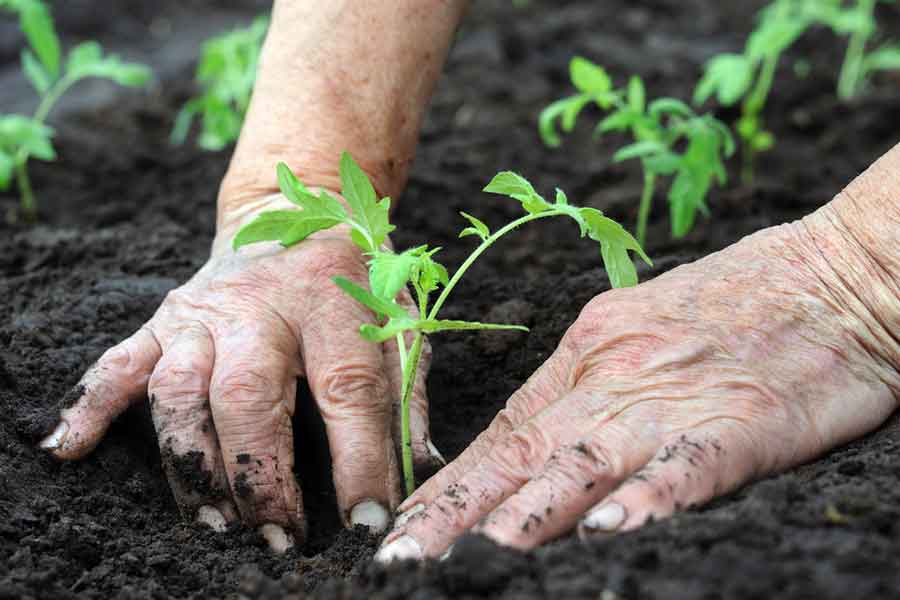 What's the Difference Between Certified Organic and Regenerative Organic
The major difference between organic and regenerative organic is that programs such as USDA Certified Organic focus on what is and isn't allowed on a farm. In contrast, regenerative organic farming includes the idea of continuous improvement with a focus on what farmers can do to benefit people and the planet.
There's also little focus on animal welfare and soil health in the USDA Organic program. Proposed improvements to animal welfare standards were scrapped in 2018, despite being years in the making.
The watering down of the program is part of what prompted the creation of the Regenerative Organic Certification (more on that below) by the Regenerative Organic Alliance. That and the thought that certified organic is a static standard – once certified, there's little if any, an incentive to go beyond organic and keep improving.
As I mentioned above, there's no single definition of regenerative farming, nor regenerative organic farming, that everyone agrees on. So, to make things a bit easier, I'm going to look at how the term is defined under the first regenerative organic farming seal: the Regenerative Organic Certificate™ (ROC™).
There is another certification program in the making called the Ecological Outcome VerifiedTM program. Under this program, farmers must demonstrate improvements in particular outcomes such as soil health and biodiversity over time, potentially losing certification if they stop improving.
Arguably, the Ecological Outcome VerifiedTM program will be more robust, with clear expectations for outcomes along with processes. However, it's not yet fully established, so we'll look instead at the ROC™.
What is the Regenerative Organic Certificate?
The ROC™ is overseen by a non-profit called the Regenerative Organic Alliance. It is a certification that encompasses food, textiles, and personal care ingredients, with the overall aim being to help build and maintain environmentally and economically resilient ecosystems and farming communities.
The ROA established the ROC in 2018 and ran a pilot program in 2019 with a select few participants worldwide. Through feedback from these real-life farmers, the ROA made improvements to the certification program and expanded access to allow more brands to be certified.
As a result, the first ROC products made it to market in 2020, including food, fiber, and personal care items from Apricot Lane Farms, Dr. Bronner's, Lotus Foods, Nature's Path, Patagonia Provisions, and others.
---
ROC Levels
The ROC is a tiered system, allowing applicants to achieve different levels of certification (bronze, silver, and gold). Consumers can see the certification level reflected in the ROC label color or spelled out below the seal.
To qualify for the GOLD ROC™ seal, a product must contain no less than 95% Gold material and no more than 5% Silver, Bronze, or non-ROC™ material.
To qualify for Silver, the product must contain no less than 95% Gold material and no more than 5% non-ROC™ material.
To qualify for Bronze, the product must contain no less than 95% Gold or Silver material and no more than 5% non-ROC™ material.
What do these levels mean, though?
In short, the Bronze level is the minimum certification for ROC. It is the first step where producers are beginning to phase in more regenerative organic practices over time (with at least 10% of food- or fiber-producing land certified initially and at least 50% by year five).
Silver level certification is the core level of ROC. It requires producers to adopt key regenerative organic practices (with at least 50% of food- or fiber-producing land certified, rising to at least 75% by year five).
Gold level is reserved for pioneering, model regenerative organic farms where 100% of fiber-or food-producing land of an operation is certified. You can find more info on these levels in the ROC Framework document.
---
Baseline Requirements
Meeting the National Organics Program requirement is a baseline for all levels of the ROC, with added measures accounting for soil health and land management, animal welfare, and farmer and worker fairness.
This gives existing USDA Organic certified producers a headstart for ROC certification.
A framework provided by the ROA offers a 4-year transition plan to support producers wherever they are on their journey. This might mean starting out from a pesticide-heavy farming practice, an already certified organic farm, a farm in transition to organic, or a regenerative farm without specific organic practices.
The nice thing about the ROC is that it meets people where they are at and brings together a lot of the existing certification standards.
The ROC is arguably the highest standard for organic agriculture in the world today, helping consumers know that a farm employs best practices for workers, animals, soil, and the climate.
Unlike the USDA Organic program, the ROC includes the idea of social fairness, i.e., how farmers, farmworkers, and the local community are treated or affected by farming practices.
---
Regenerative Farming Techinques
As a quick summary, applicants to the ROC are assessed on the following measures:
Soil Health
Builds Soil Organic Matter
Conservation Tillage
Cover Crops
Crop Rotations
No GMOs or Gene Editing
No Soilless Systems
No Synthetic Inputs
Promotes Biodiversity
Rotational Grazing.
Animal Welfare
Five Freedoms
Freedom from discomfort
Freedom from fear & distress
Freedom from hunger
Freedom from pain, injury, or disease
Freedom to express normal behavior
Grass-Fed / Pasture-Raised
Limited Transport
No CAFOs
Suitable Shelter.
Social Fairness
Capacity Building
Democratic Organizations
Fair Payments for Farmers
Freedom of Association
Good Working Conditions
Living Wages
Long Term Commitments
No Forced Labor
Transparency and Accountability.
The CEO of Patagonia, Rose Marcario, said in an interview, "Think of ROC as an organic plus." Similarly, the CEO of Dr. Bronner's, David Bronner (also a board member of the ROA), said that "The ROC standard was created to fill the gaps left behind by current organic certification standards."
So, is regenerative farming just organic farming?
ROC goes beyond organic in soil health, animal welfare, and social fairness. In addition, it is intended to help fight climate change.
---
How Does Regenerative Farming Help Climate Change?
As we all remember from introductory biology class, plants use the sun to fuel their growth. This process of photosynthesis also involves water, nutrients from the soil, and carbon dioxide from the air. As plants grow, the carbon helps build leaves, stems, roots, and other parts of the plants, but some are also stored in the soil in a process called carbon sequestration.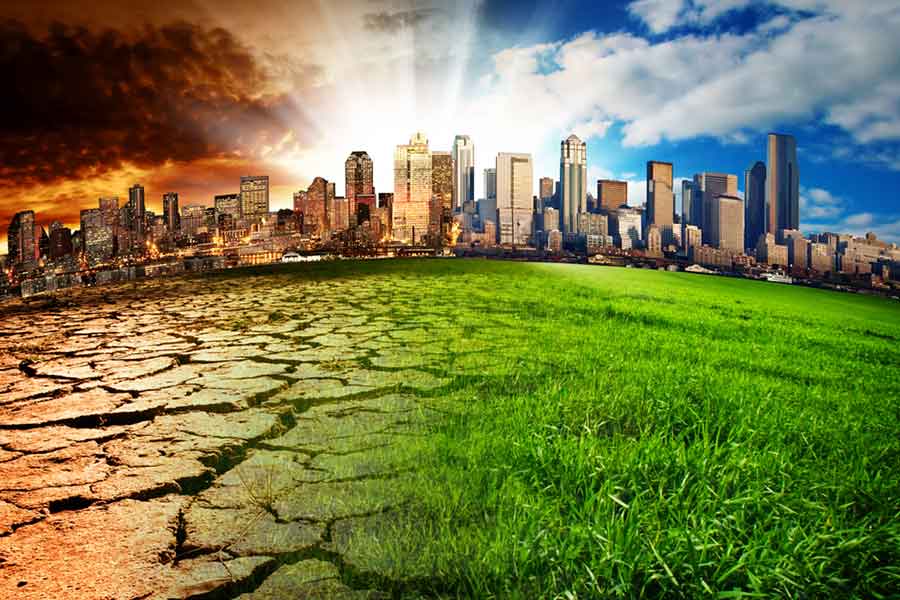 All that stored carbon helps to feed fungi and microbes that, in turn, provide nutrients for plants. The stored carbon also gives soil structure and helps it retain more water.
Depending on how the soil is treated, this carbon can remain stored for thousands of years. It helps prevent soil erosion, flooding, and other problems and was, for many thousands of years, the natural cycle helped with Earth's climate control.
Things flipped about 10,000 years ago as agricultural practices changed to include more intensive farming methods. Nowadays, carbon stored by plants during growth is often quickly released back into the atmosphere thanks to common farming practices like mechanical digging, plowing, and heavy turnover of soils.
Adding fossil fuel-powered machines to the mix, overprocessing, and transporting food long distances all added to our climate woes. So much so that agriculture is thought to be responsible for about 15% of global greenhouse gas emissions.
Regenerative farming practices hold the potential to pull greater amounts of carbon from the atmosphere and safely sequester it, thus helping in the fight against climate change.
For example, a 2014 report by the Rodale Institute estimated that 100% of annual global CO2 emissions could be sequestered in the soil if all current agricultural land moved to regenerative farming practices.
How To Support Regenerative Farming
So far, only a handful of companies have achieved ROC status. Supporting these companies is one of the best ways to support the principles of regenerative farming as it demonstrates to other businesses that this is what consumers want. It's also a great way to encourage more farms to seek out ROC.
To make it easier for conscientious consumers to find regenerative farmers and the brands they help supply, PatagoniaProvisions.com now serves as the definitive e-commerce source for ROC products, ROC pilot products, and products that are on their way to becoming certified.
A few of the brands and products that have achieved ROC status already include:
Other farms and businesses that received certification with products forthcoming:
I'm not wholesale endorsing these products but I would encourage you to check them out. I hope that more fiber products, like household textiles and clothing, will be ROC in the future, as this certification isn't just for food and personal care!
Finding Regenerative Farmers
There are farmers all over the world practicing regenerative farming techniques. I highly encourage you to reach out to these farmers to find out more about their practices as well as to support them by purchasing from them.
And on a more local level, next time you're at your local farmers market or farm stand, ask the sellers if they know about ROC and if they're working on certification. It might prompt a fun discussion about what they're already doing on the farm to support soil health, carbon sequestration, social fairness, and animal welfare!
There is a lot of support offered to farmers as well who are wanting to farm with regenerative farming methods.
Regenerative Home Gardening
If you would love to learn more to apply regenerative gardening techniques to your home garden, Kiss the Ground has an Introduction to Regenerative Gardening online course. This 8 module course will help guide you from soil health to planting to harvesting for your home garden.
Once you have the basics down for your garden, Kiss the Ground also offers an Advanced Regenerative Farming online course.
Regenerative Farming Resources
If you want to know more about regenerative organic farming and its potential benefits, check out the following:
Rodale Institute – White paper on Regenerative Agriculture and the Soil Carbon Solution
Kiss the Ground – a nonprofit organization devoted to sustainable farming practices that improve soil health – check out the movie, narrated by Woody Harrelson, officially selected for the 2020 Tribeca Film Festival and streaming on Netflix!
Regeneration International – a nonprofit with members worldwide, established to "promote, facilitate and accelerate the global transition to regenerative food, farming, and land management for the purpose of restoring climate stability, ending world hunger and rebuilding deteriorated social, ecological and economic systems" – offers excellent guides to regenerative farming practices!
Organic Council of Ontario – arguably a rival to ROA, but offers an interesting comparison of longstanding organic certification and the newer ROC.
PatagoniaProvisions.com – the eCommerce site for ROC products, with new products added regularly.
Final Thoughts on Regenerative Farming
Supporting regenerative farmers is supporting the planet beyond what current organic farming standards are doing. Look at supporting local farmers as well as brands that are practicing regenerative farming techniques or that have achieved ROC status.
With small changes in our purchasing habits, we can not only support farmers doing the right thing, we can also help capture carbon which will lead to a healthier earth. It seems like an easy win-win!
Is there a regenerative farmer or brand that you love supporting?
Finding non-toxic products can be hard, the Natural Baby Mama Amazon Storefront is filled with vetted non-toxic products – check it out!
Pin it for later!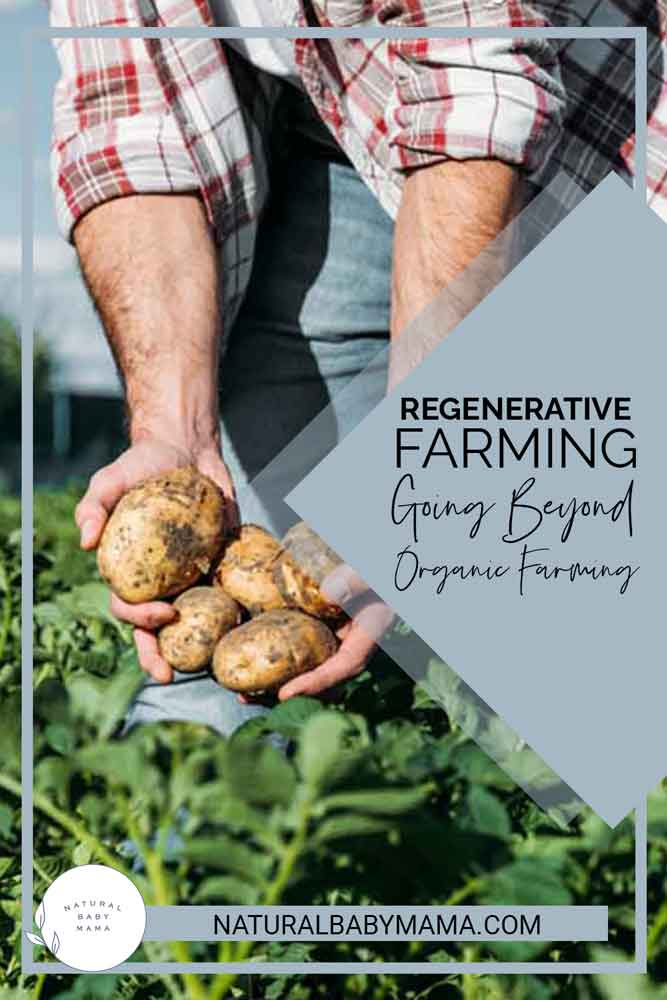 Other Posts Related to Regenerative Farming