Many conventional kitchen products such as plastic containers, food wrap, non-stick cookware, and cleaning agents carry toxicity hazards – and that's before we begin to talk about what goes into your food, like pesticide residues, food coloring, and harmful additives. Creating a non-toxic kitchen doesn't have to be complicated!
If you are looking for ways to make your kitchen safer and healthier, you might wonder where to start. A complete drastic makeover may feel overwhelming, so I recommend taking baby steps and moving steadily towards your goal of a non-toxic kitchen.
Keep reading and get ready to detox your kitchen with a list of practical, easy-to-implement tips.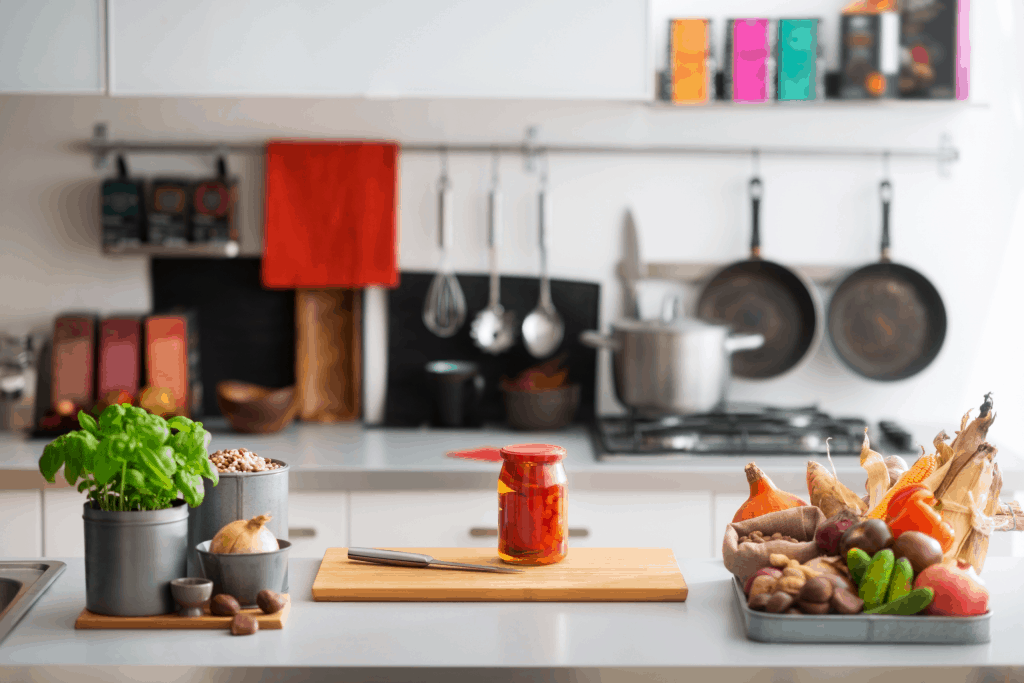 This post may contain affiliate links. Please see my full disclosure policy for details.
How to Create a Non-Toxic Kitchen
These 9 steps will leave you with a healthy, non-toxic kitchen. Remember to do what you can and that it doesn't all have to be done overnight! Whether it takes a few weeks or a year to make these changes, you can look back at all the progress you made and the life-changing impacts you are making for your health and the health of your family.
1. Ditch Your Teflon Non-Stick Cookware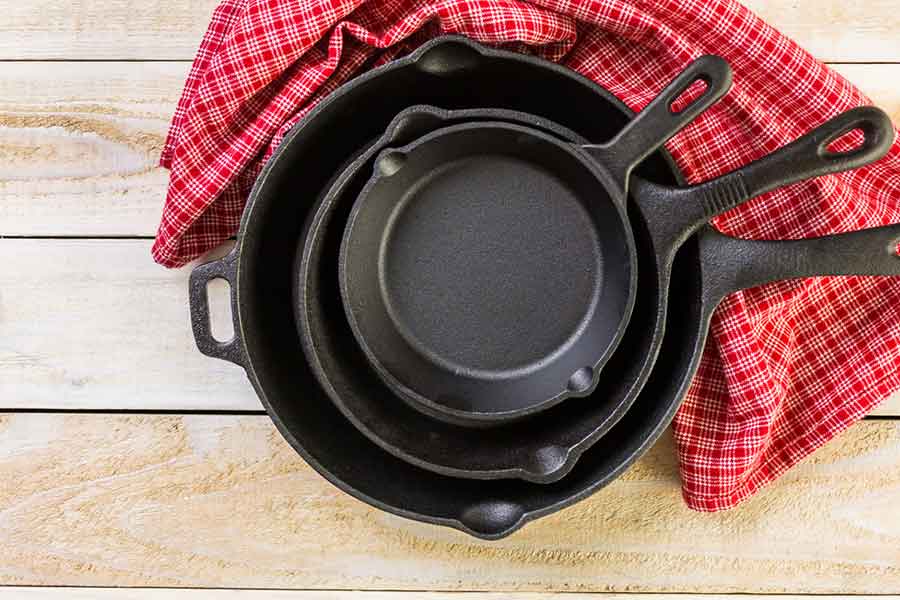 Although Teflon cookware is extremely popular, thanks to its non-stick and water-repellent properties, you should be aware of the health hazards of Teflon, especially in scratched pots and pans.
What you know as Teflon is actually the chemical compound PTFE (polytetrafluoroethylene). Until 2015, Teflon cookware manufacture involved perfluorooctanoic acid (PFOA), a chemical linked to breast, prostate, and liver cancer.
While PFOA is no longer used in non-stick cookware production, Teflon is still toxic and may cause polymer fume fever when heated pans release gases. And once a non-stick pan inevitably becomes nicked and scratched with use, you consume minuscule Teflon parts in every meal.
Glass and cast iron are much safer cookware choices.
My Personal Recommendations for a Non-Toxic Kitchen are:
Vision Cookware freezer, oven, and stovetop-safe, stain-resistant glass cookware. Starting price for 5-piece set: $169.99 on Amazon.
Finex cast iron skillets, grill pans, and dutch ovens. Finex products are pricey but it's high-quality, versatile cookware made in the USA. Note: some Finex have a brass handle tip. It has been tested independently for lead with an XRF. In fact, mine was the first Finex tested. It was positive for lead. I reached out to the owner of Finex and he sent the brass handle in for prop 65 testing and the handle passed the prop 65 test showing no measurable leaching.
---
2. Swap Plastic for Glass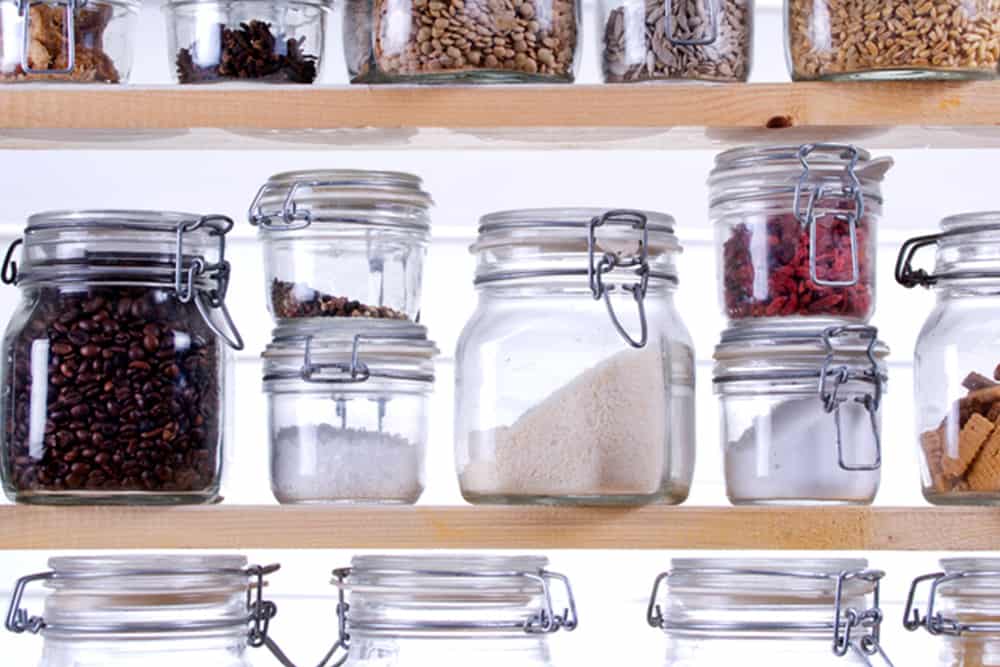 Plastic containers may be convenient and non-breakable, but they can also be extremely toxic, especially at high temperatures. Even if you choose BPA-free plastics, they may contain and leach other harmful components, such as phthalates, dioxins, and heavy metals.
Glass is a much better choice for food storage. Glass containers are food-safe, durable, pretty, and a lot easier to clean compared to plastic.
Moreover, glass doesn't absorb odors the way plastic does.
My two favorite glass container brands are Pyrex and Anchor Hocking. Both Pyrex and Anchor Hocking are lead-free, freezer- and oven-safe, and available in a range of shapes and sizes.
You can get the Simply Store 10-piece container set by Pyrex or the 16-piece Round and Rectangle set by Anchor Hocking for as little as $29.99. Although both of these sets include plastic lids, you can forego the lids in favor of an alternative cover option as you detox your kitchen. I personally keep the lids and just make sure I wash them by hand. Heat breaks down the plastic so I avoid putting them in the dishwasher.
---
3. Choose Toxin- and Lead-Free Dishware and Glasses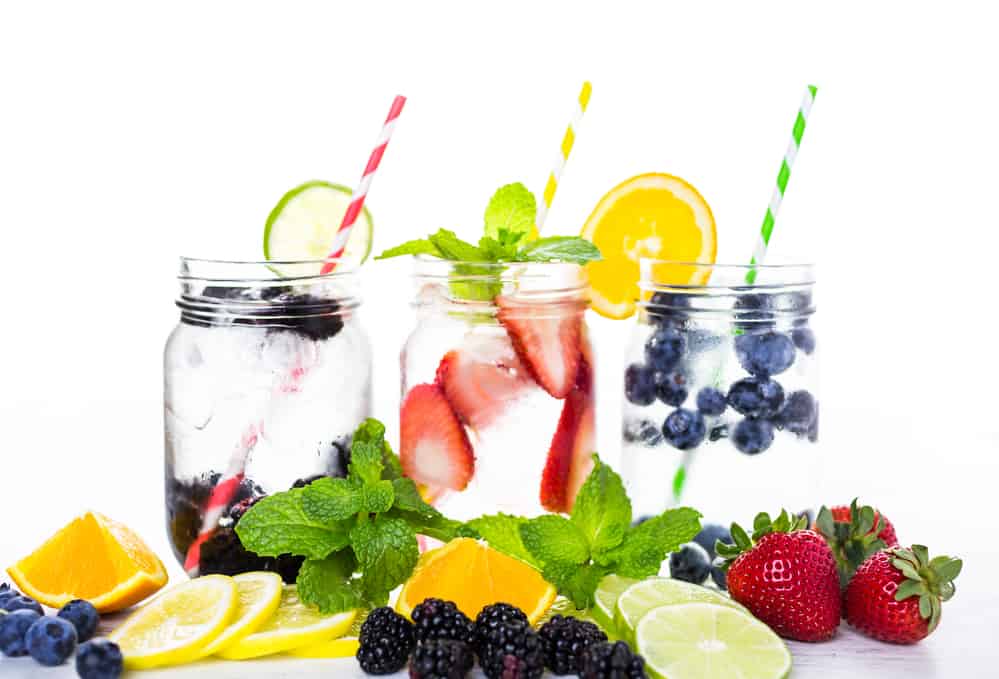 Plastic is not the only pitfall you'll have to bypass as you work towards a non-toxic kitchen.
I highly recommend avoiding all aluminum kitchenware due to the possibility of leaching. I don't recommend most ceramic or porcelain dishes either, as they may contain lead or cadmium, especially if you have a vintage china set made before modern regulations were in place.
Your safest dishware choice is glass that had tested lead-free.
Here are Some of My Glassware Favorites:
---
4. Replace Plastic Wrap and Tin Foil with Reusable Food Wrap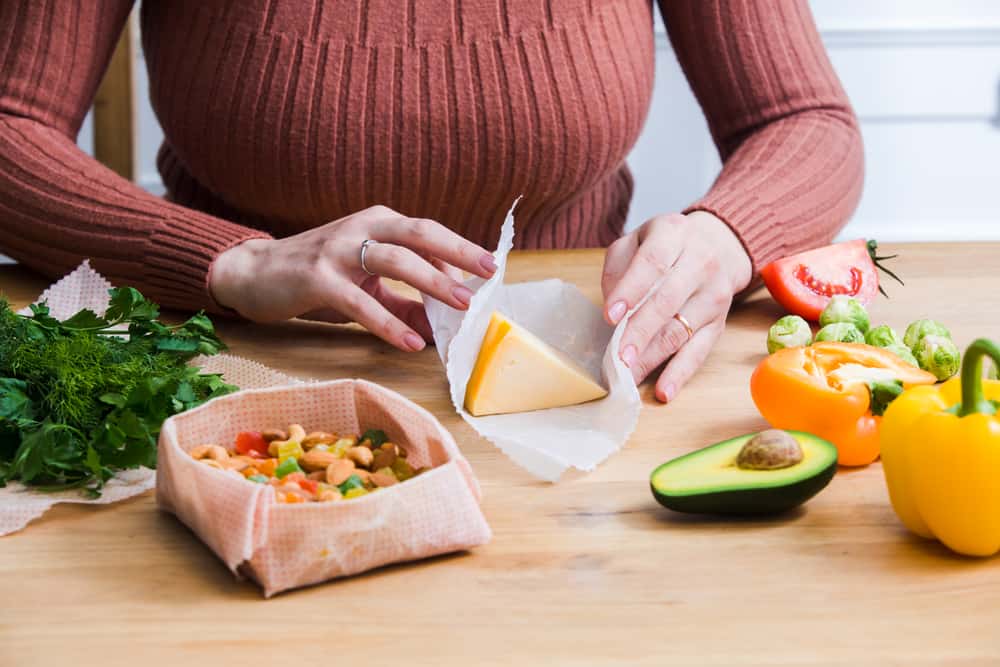 Although plastic wrap and tin foil are handy, using them for food storage is highly inadvisable. Tinfoil can lead to aluminum contamination, while PVC-based plastic wrap releases potential carcinogens and endocrine disruptors such as vinyl chloride, phthalates, and DEHA (diethylhexyl adipate).
Reusable food wrap can take the place of plastic wrap and tin foil in your non-toxic kitchen. While reusable wrap doesn't have the clingy, stretchy qualities of conventional wrap, it is pliable and self-adhesive enough to fit over containers or around sandwiches.
I have two personal favorites among reusable wraps:
Bee's Wrap: made of certified organic cotton coated with organic beeswax, jojoba oil, and tree resin. You can get a set of reusable wraps in S, M, and L sizes for $13.99.
Plan B Planet: a vegan, non-toxic food wrap made of certified organic cotton, organic apple tree wax, organic jojoba oil, and tree resin. In addition, it is USDA-certified organic. A set of S, M, and L wraps will cost you $10.81.
Both Bee's Wrap and Plan B Planet can last for many months if you handle them carefully and rinse them gently in cold water.
---
5. Keep Your Air Clean
You should always use your fan when you cook. A fan will help remove combustion products, airborne grease, smoke, fumes, and other emissions you don't want to breathe.
I also recommend getting an air purifier for your home. Clean indoor air is among the first and most important steps toward a healthier lifestyle.
Not sure you need an air purifier? Consider this sobering fact: scientific evidence indicates that indoor air is often 2-5 times more polluted than outdoor air, even in large, industrialized areas.
A high-quality air purifier can filter bacteria and viruses, cancer-causing chemicals, and many hazardous volatile compounds.
My top two purifier choices are IQAir and Austin Air, both far more effective than standard HEPA filters. There are discounts available for Natural Baby Mama readers for both IQ Air and Austin Air.
IQAir has a Hyper HEPA filter that catches 95% of particles larger than 0.003 microns and 99.7% of particles larger than 0.3 microns.
Austin Air removes 95% of particles larger than 0.1 microns and 99.97% of VOCs and particles larger than 0.3 microns.
---
6. Filter Your Water
In many areas of the U.S., tap water may become contaminated from fertilizer runoff, animal and human waste, heavy metals, discharge from coal-powered plants, and other pollutants that regional water treatment facilities aren't sufficiently equipped to deal with.
Even if tap water looks and smells fine, it sadly may still not meet safety standards.
Toxic waste in the water supply has been linked to a host of cancers and birth defects, so if you are pregnant or have young children you should be especially careful about the quality of your drinking water.
If you are considering a water filter, I recommend the kitchen sink option by Pure Effect. This filter deals highly effectively with any microorganisms, fluoride, heavy metals, micro-sediment, and radiation. It comes with a 2-year warranty and requires filter replacement every 6 to 12 months.
---
7. Eat More Organic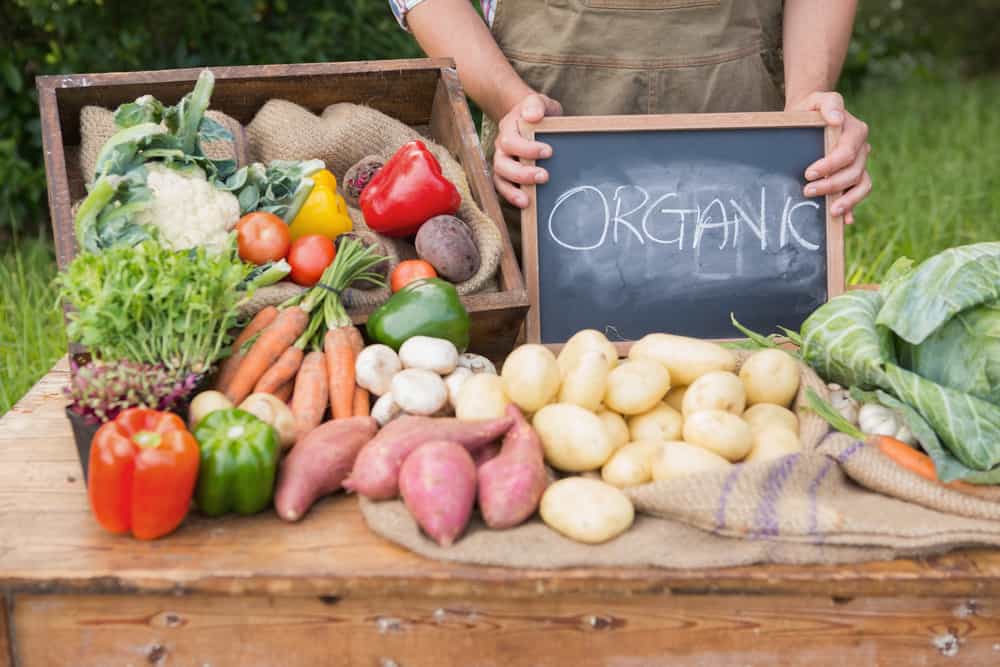 Prices of organic food may seem daunting, but eating organic is a long-term investment in your family's health. Organic foods not only contain fewer pesticides and dangerous chemicals, but often have more to offer in both nutrients and taste.
I also prioritize locally grown food to support small farmers in my area.
If you search beyond the confines of conventional supermarkets, you'll discover many wonderful sources for real, nutrient-dense food, including CSAs, your local farmer's markets, and organic food delivery services.
Here are my preferred organic food deliveries:
Thrive Market: Enjoy the convenience of your favorite organic brands straight at your doorstep for a very reasonable annual membership fee.
Azure Standard: Choose between doorstep shipping and picking up your items at a drop point to save money.
Misfits: Buy imperfect-looking but perfectly good produce that would otherwise end up discarded.
---
8. Cut Down on Fragrances
Scented candles may make your kitchen smell great, but they also release VOCs such as formaldehyde, petroleum byproducts, esters, and alcohols. These chemicals can trigger allergic reactions, headaches, and respiratory tract infections.
Scented soaps are likewise loaded with toxic chemicals you don't want anywhere near your skin.
Instead, try organic, all-natural soaps by Moon Valley or Dr. Bronner.
Moon Valley offers wonderful soap bars and liquid hand soap.
Dr. Bronner's pure castile soap is amazingly versatile and fits any purpose, from hand washing to dishes and laundry.
---
9. Start to Clean Green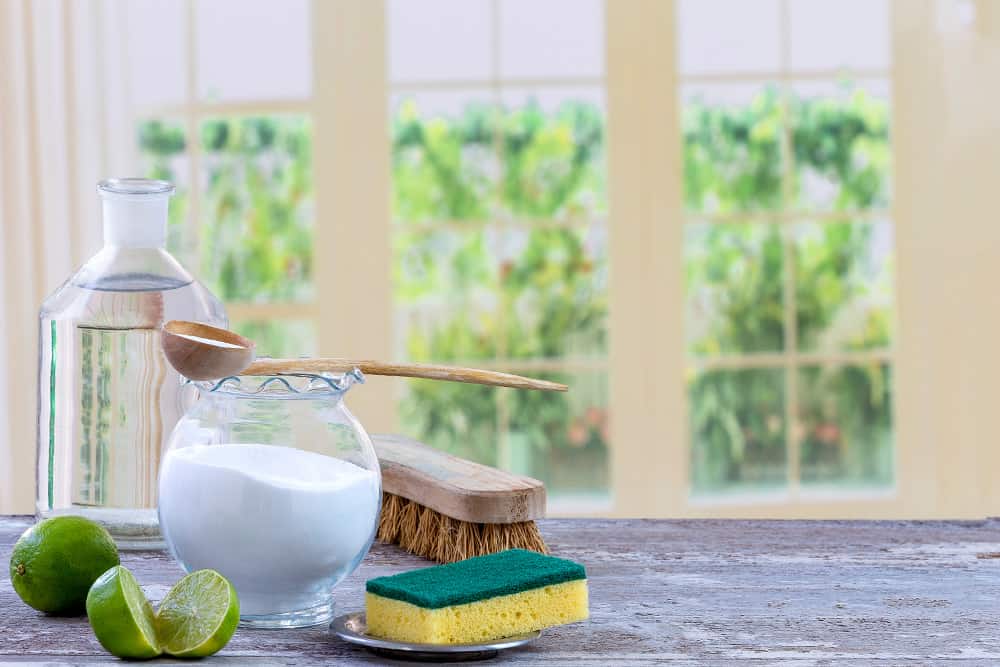 And while we're talking about dishes and laundry, every kitchen needs a good clean at the end of the day. You'll want to avoid all commercial detergents – they are loaded with toxic pollutants like perchloroethylene and formaldehyde, which may cause allergies, neurological symptoms, and even cancer.
Apart from Dr. Bronner's castile soap, a fantastic all-purpose detergent, you can also clean with safe household staples like baking soda, white vinegar, and lemon juice. Some tips:
Use baking soda as a gritty, slightly abrasive cleaning scrub
Apply vinegar to dissolve grease, clean windows, and get rid of limescale
Combine baking soda and vinegar for a fizzy chemical reaction to loosen up gunk
You can find recommended cleaning supplies in the Natural Baby Mama Amazon storefront.
---
Final Thoughts on How to Create a Non-Toxic Kitchen
Creating a non-toxic kitchen may require some thinking outside the box, but the effort pays off as you and your family begin to enjoy a healthier and more eco-friendly environment. Once you start making some changes, you'll realize how easy it is to do so!
If you have young children eager to help in the kitchen, you will feel more secure letting them work with safe, non-toxic materials. Moreover, your everyday choices can become a valuable lesson for them as you all work to detox your kitchen together.
Choosing safe, non-toxic kitchen supplies can be overwhelming. I invite you to browse my Amazon storefront for vetted, family-safe products.
Other Posts Related to Creating a Non-Toxic Kitchen
Pin it for later!