I think I have a love for testing things for lead and other heavy metals. When the opportunity arises I just can't not. When I first tested several years ago I was shocked at how much lead was in my home and the products I used.
Since then I have revamped my standards and products I buy (see my Amazon Storefront for vetted non-toxic items). I trust certain companies after testing several times and emailing with them. Each time I buy a new product I research and reach out to the companies. The drawback to this is sometimes the buying process is slow. The benefit to this is that I do not impulse buy ever. Here is the complete list of the 120 items or so that I tested.
Disclaimer: These statements are my opinions. I am not a doctor, contractor, scientist or certified in lead containment. These views below are based on my research and testing. I am not responsible for any outcomes you have based on this article and this is not considered medical advice. Please always consult with the proper professionals when seeking guidance.
This post may contain affiliate links. Please see my full disclosure policy for details.
Testing for Lead
Each test was performed by using a XRF with a 30 second reading. I have follow up posts that will give recommendations on brands that I recommend after doing this and several other rounds of testing.
All values I give are in parts per million (ppm). If I give a range of levels like 32-41 that means it was tested twice and those were the readings. Safe levels of lead are zero in my opinion. Toys have to be under 90ppm lead. Keep that in mind when looking at levels. Cadmium is a very under-discussed but toxic metal.
Most all of these items were new when tested. I tested a few items from my house and I will note which items those were (i.e. not new).
Also to note, this does not tell us if it leaches from a product. Only that it is in the product. I'm would like to start doing leach testing research to see how concerned we should be about cadmium in certain consumer goods for example. See the end of my post for more information on how concerned you should be.
What is Lead and Cadmium?
Lead is neurotoxin that causes brain damage. It is especially dangerous for young kids but also affects adults. There is no safe level of lead in my opinion. The level considered safe in toys is 90ppm.
Cadmium is toxic metal that is linked to dermatitis, heart disease and cancer to name a few. 40ppm is the threshold for cadmium in consumer products.
Lead Test Results
I had some SHOCKERS in here. I also was happy about a lot of the results.
If you find this list helpful and want to support future testing please consider using my Amazon affiliate links to shop through. You can click on any item but you do not need to purchase that item. Whatever you add to your cart after you click on an items in my Amazon shop will send a very small dollar amount to me. It does not cost you anything more but will allow me to continue funding future testing. Doing this test and reporting all this information took about 10 times longer than I had thought, it was a huge effort. Thank you for your support!
See below for my full list. I took pictures AFTER testing and it starting raining on me so the pictures are marginal at best. I had hoped to take pictures during testing but it wasn't possible with how busy it was during testing.
Kitchen:
Cookware: See my post of what cookware I recommend here!
Visions Cookware – free of lead, cadmium and any other metals. Old Vision cookware is NOT free of all heavy metals. Only buy new, don't use the old.
DeMinerals Pan – inside the pan 131ppm lead +/- 76, 20ppm cadmium +/- 6 in handle. We were shocked by this result. LEAD inside the pan. No lead in the handle though. Possibly the lead is in the coating that is on the inside of the pan or possibility the pan is made of a different material than the handle.
Le Creuset Red – no lead inside or outside, cadmium 13,700 – 18,900ppm +/- 1,400-1,500 on the outside and 27- 49ppm +/-13 on the inside. To note, the XRF can not pull cadmium numbers from the outside of the pan to the inside with material like this – so this is representative of what is actually on the inside or outside. That being said, it can for materials like wood and other more porous items but it not cast iron pull through metals like cast iron or stainless steel. I have multiple LC pieces that are lead and cadmium free on the inside. See my cookware post to find out more about which LC are suppose to be heavy metal-free!
Le Creuset Marseilles blue – outside 76ppm lead, 27ppm cadmium, no other metals, inside no lead or cadmium
Le Creuset Dune – outside no lead, 25ppm cadmium, inside no lead or cadmium.
Le Creuset Caribbean – outside 81ppm lead, 24ppm cadmium, inside no lead, 26ppm cadmium
Finex cast iron – inside the pan 99.3% iron, no lead, no cadmium. Stainless handle no lead, cadmium or any other metals. Brass knob 33,900ppm lead, no cadmium. This was a big surprise for me. I contacted them a year before buying about their brass. I asked if it was lead free because often times brass has lead. They said yes after asking their manufacturer. Everything was lead free. This brass knob kept me from buying for a year. I saw them at a local store and decided to go for it. I love their pan. I am disappointed. I've emailed them the results, let them know my disappointment, and asked them to replace with a lead free knob. They responded and short term provided stainless steel replacement knobs (they no longer off this). They did CA prop 65 leach testing on these brass handles and it passed – meaning it is not leaching.
Calphalon Stainless Steel pot – no lead, cadmium, or any other metals on the pot or handle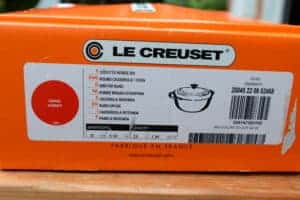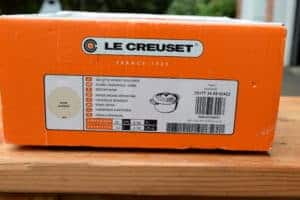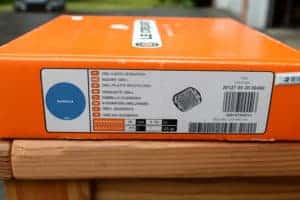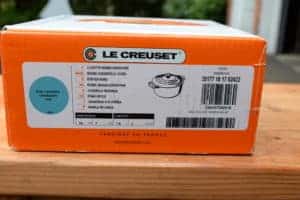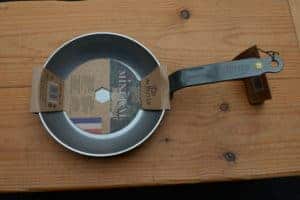 De Buyers Mineral – lead inside the pan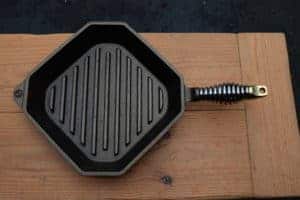 Finex – high levels of lead on the brass handle (later they CA prop 65 lead tested for leaching and they passed).
Insulated Water Bottles:
Glass Jars:
Weck – 139pp +/- 32 lead, no cadmium. This is the third time I've tested Weck over the last several years. They all have been positive in the 139-150ppm range. I no longer use Weck which is a huge disappointment because an all glass food storage and canning jar would be amazing.
Le Parfait glass jar – 101ppm lead, 9ppm +/- 6 cadmium
Ball Mason jelly jar – no lead, cadmium or any other metals in the glass or lid. See my Non-Toxic Dishes Post here.
Popsicle Molds (items we owned and were not new):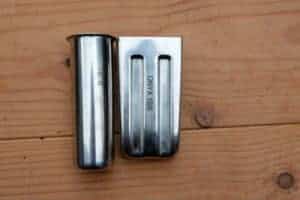 Food Storage:
Anchor Hocking True Seal Glass Storage with green lid. Glass was clean, no toxins. The green part of the lid had 11ppm +/- 5 of cadmium. This is a low level but when coming into contact with food it is not. This was disappointing to me but I don't think it's a risk.
Glass Lock (tested by a reader). I own these and talked with her after finding cadmium in the lid of the Anchor Hocking. The glass and lid are lead and cadmium free.
Dishes & Utensils (items we owned and were not new):
Anchor Hocking new presence bowl – no lead or cadmium. See my Non-Toxic Dishes Post here.
Henckels knife – 430/40 Stainless Steel – no lead or cadmium
Klean Kanteen Stainless cup – no lead or cadmium. We've owned these for year. I'm a fan of glass now but we still use these occasionally.
Stainless tongs – no brand listed – no lead or cadmium
Dansk child's stainless steel spoon – no lead or cadmium. This wasn't mine, I was testing for a friend.
Other Kitchen Items: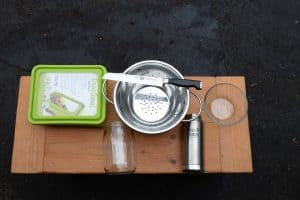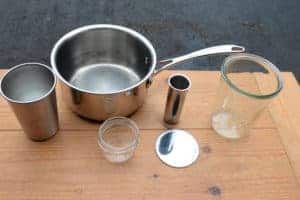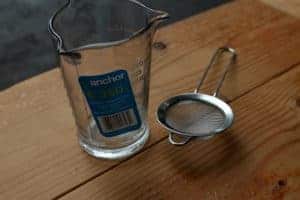 Kid's Shoes:
Keens – brown boots with fur. No lead, cadmium, or any other metals
Boggs boots – no lead but cadmium in the 23-24ppm range +/- 8-9
Agile Red Rain boots – 46ppm lead +/- 17, Cadmium 28ppm lead +/- 9
See Kai Run Blue Shoes – no lead, cadmium, or any other metals
Keens Grey, black and red shoe – no lead, cadmium, or any other metals
See Kai Run Black and Red shoe – no lead, 18ppm +/- 7 cadmium, no other metals
Umi blue shoe – no lead, cadmium, or any other metals
Bobux shoe – no lead, cadmium, or any other metals. This is interesting to note. Previously I had tested two of their shoes and had lead on the sole for both pairs. Bobox didn't offer testing or take responsibility. They claimed we must have stepped in lead dust. However, we had other shoes that had zero lead so I never believed that to be true. I wish I had tested two pairs of their shoes this round. Maybe they found their issue and fixed it. I see this as a positive but I am also not 100% sold.
Converse – tested the sole, uppers, and grommets. The sole had 14ppm of cadmium. Everything else was clean.
Stonz purple rain boot – no lead, cadmium 21 +/- 17, no other metals
Hunter yellow rain boots – no lead, cadmium 32 +/- 7
Hatley anchor rain boots – lead 21ppm +/- 13, cadmium 12 +/- 7. The sole had 12ppm of lead +/- 7
Kid's Toys:
Please see my Toys Post for safe, vetted recommendations. I personally look for zero lead and cadmium in our toys. Under 90ppm of lead and 40ppm of cadmium is considered safe.
Caaocho Mele the Sea Turtle – no lead
Caaocho Sensory Ball – no lead
Crocodile Creek Red Ball with dogs – no lead, cadmium 33ppm
Crocodile Creek green ball – no lead, cadmium 24ppm +/- 9
Hatley Umbrella – no lead, cadmium, or other heavy metals. I haven't vetted the waterproofing they use on this yet.
Honeystick crayons – the purple crayon had 21ppm of cadmium. All other colors were clean of any metals (pink, green, white, brown, red, yellow, dark blue, dark green, blue and tan). I followed up with Honeysticks and they insist the test their crayons and have not found cadmium. I would like to investigate lower levels of cadmium by comparing a lab test with an XRF test.
Filana crayons (these were our crayons that had been used) – red, yellow, black, green – no lead, cadmium or any other metals.
WeeCan Too green square crayon – no lead, cadmium or any other metals
Haba Nail Game – made in China – tested the nails, cork, hammer, green, yellow, red and blue pieces – all were free of any heavy metals. I'm not promoting or advocating for toys made in China. Quality control issues still exist there. I just wanted to test one toy from Haba made in China & one made in Germany.
Haba clutching toy – made in Germany – no lead, cadmium or any other metals
Veggie Sidewalk Chalk – all colors were free of all heavy metals including lead and cadmium.
Hevea Rubber Bath toy – no lead, cadmium or any other metals
Grimms small rainbow stacker (not every color tested) – no lead, cadmium or any other metals
Grimms blue boat with people inside – no lead, cadmium or any other metals
Ostheimer figures:

Brown pig – no lead, cadmium or any other metals
Chicken – no lead, cadmium or any other metals
Cat – no lead, cadmium or any other metals

Holztiger:

Mushroom – no lead, cadmium or any other metals
Dog – no lead, cadmium or any other metals

An old basketball from when I was a kid – lead 49-67ppm +/-22-24, 22ppm +/- 10 cadmium, no other metals
Cone (soccer cone our neighbor brought over for my kids) – 58ppm +/- 16 lead, no other metals. I was suspect of this cone, turns out my gut was right. I am returning the cones to our neighbors.
Kid's guitar from China (one of the 2 toys from China in our house). I've been suspect of this guitar since day one. It was gifted to my child by someone we see often and my son LOVES it. It broke earlier this year and I saved it to test one day. The base of the guitar was fine. The knobs which hold the strings in place had 28,000ppm lead and 1,032 ppm cadmium. In the metal on the handle there was 236ppm +/- 32 mercury. Going to start trusting my gut and getting rid of toys that I don't feel right about.
New kid's ukulele – I bought the last one that I had been eyeing for a year. It's made in the USA by a company that went out of business. It was totally lead and heavy metal free.
Old leather soccer ball (by old I mean prob 75 years old) – 79-86ppm lead, no other metals. This was my grandfather's soccer ball. It's old leather ball that I use to have my son play with in our house. I thought it was better than the toxic version today (and before I found my non-toxic soccer balls). Vintage/antiques and children do not mix. This hasn't been used in at least a year and I'm not bringing it back out.
Rock climbing wall steps from our Cedar Works playlet – no lead, cadmium or any other metals. Very happy about this one!
Wooden top – no lead or cadmium
Wooden top with dice – no lead, cadmium 27ppm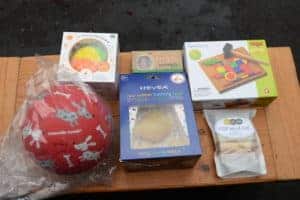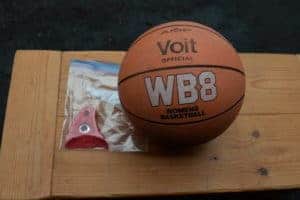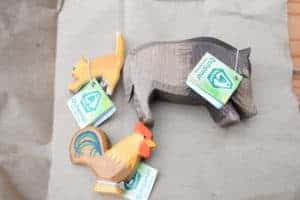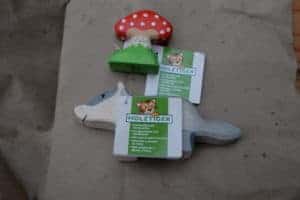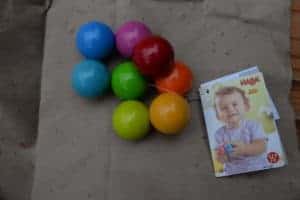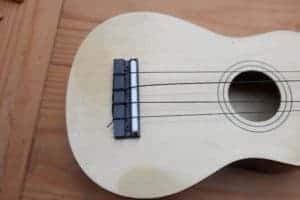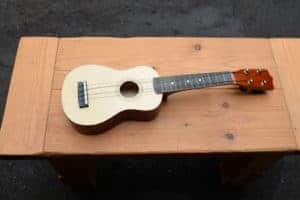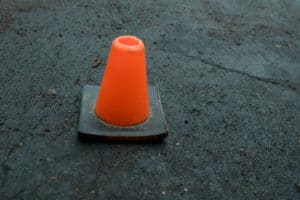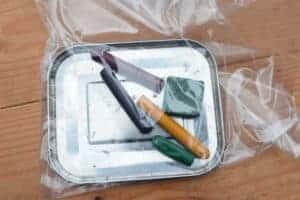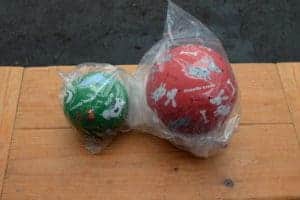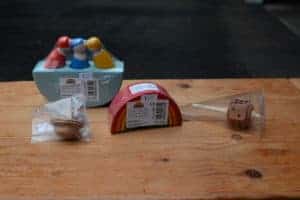 Women's Shoes:
Boggs – toe had no lead but 20 +/- cadmium and no other metals, the leg had 36ppm lead +/- 18, 28 +/- cadmium and no other metals, the grommets were copper & zinc, the sole had 19ppm lead +/- 10. I tested Boggs previously and they had lead at higher levels. At the time I reached out to the company. They then shared with me a spreadsheet that showed their testing. Some were completely lead free. Others had decently high levels of lead (in the 200ppm range). They offered to send me a free pair of LEAD FREE Boggs but I declined because how could I make a purchasing decision about Boggs in the future. It seems like there are some that still have lead and others that don't. It's not a gamble that I am willing to take. We avoid Boggs.
Hunter black rain boots – 24 +/- 8 cadmium on the leg. The leg, logo, grommet, and buckle were all lead, cadmium and other metal free.
Cliff Dweller leather shoe – no lead, cadmium or any other metals. These are really expensive shoes. I only have this pair but wanted to test them because of the price tag!
Feel Goodz Flip Flop – on the logo lead was 189ppm, on the flip flop material no lead, cadmium was 17 +/- 7. I will be contacting them about the logo. Seriously disappointing. I didn't test my son's flip flops but now wish I did. A reader of this blog tested her flip flops and there was no lead on the logo. Our logos are different. See below to see the difference in the logos.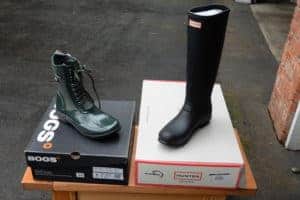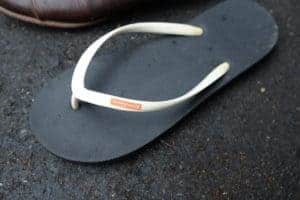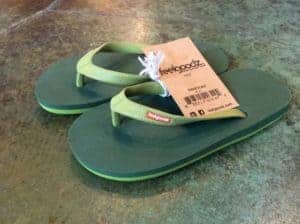 Random Items:
Penn Tennis Ball – no lead, cadmium or other heavy metals. I still don't consider this non-toxic but at least I won't stress when my kid picks one up occasionally.
Mountain Valley Spring Water in green glass – no lead, cadmium or any other metals
Mountain Valley Spring Water Sparkling in green glass – no lead, cadmium or any other metals
Water Right 500 series hose – the hose and stainless metal spout were both lead, cadmium and other metal free.
Brass hinge on our kitchen cupboards – 950ppm lead. Changing these out pronto!
IKEA screw – 213ppm mercury, no other metals
Dice – no lead, 32 +/- cadmium in one spot. In another no cadmium.
Environmental Lights Christmas Lights – no lead, cadmium or any other metals. I was very happy to confirm their lead free claims.
Golf ball – no lead, cadmium or any other metals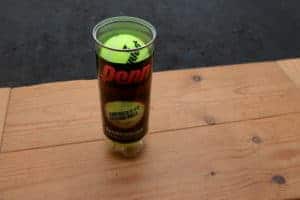 Health & Wellness:
Ancient Minerals Magnesium bath flakes – no lead, cadmium or any other metals. Interesting to note, no magnesium was detected either. I'm not an expert on the XRF so I don't know if since it is magnesium sulfate if it would detect that or not.
Dr. Teals Epsom Salt – no lead, cadmium 14 +/- 5, no other metals
Bentonite clay – lead 46ppm +/- 14. Cadmium 14ppm. No other metals. This one is HUGE. People ingest bentonite clay for detoxing, toothpaste, etc. It's used widely on the body and come in a powdery / dusty form. You have to mix with water for it to become a paste. Consuming lead at 46ppm is a VERY BAD IDEA. This is toxic. There are lots of natural people out there promoting bentonite clay. My advice STEER CLEAR OF ANYTHING WITH BENTONITE CLAY. I'll have a more detailed post up later about this.
Door Knobs:
I had a doorknob in my house test for 27,000ppm lead. This has lead me on a search for a lead free doorknob. I was happy to find some options! These results are specific to each knob, this does NOT mean that each knob by this company is lead free.
Karsher – Stainless Steel – no lead or cadmium
Inox – claim to be Stainless Steel – no lead or cadmium
Valli & Valli – ranged from 933 to 10,300ppm lead
Emtek – 3,351 to 27,500ppm lead
Omnia – Stainless Steel – no lead or cadmium
Amerock pull knob – no lead or cadmium
Top Knobs – no lead or cadmium
Baldwin, Schlague, Kwikset, Defiant nickel – no lead or cadmium
Liberty hinges – no lead, cadmium or any other metals
Home Goods:
Pottery Barn Chandelier (purchased in 2012 or 2013) – no lead, cadmium or other metals in the crystal drops or the frame (the frame was 95% iron and the rest zinc). This was SO surprising. I emailed pottery barn about this chandiler and they told me not only did the crystals have lead but the entire thing including the metal frame had lead.
House key, car key & post office box key all had 5,000 – 8,000ppm lead. Never let your kids play with your keys, wash your hands after touching your keys, and keep them in a place to limit contact with other items!
Restoration Hardware: I got approval from my local store to go in and test a few things. I was really interested in some lighting they had in their 1920's Odeon Lighting Collection. They claimed that it was lead free through our 20 or so emails. I wanted verification – which I got – woo hoo for lead free lighting! We also tested a few other items as well. A random faucet we tested, a dresser, a dining room table, and a coffee table were all lead free (and cadmium free too). A dining room table centerpiece tested at 15,900ppm of lead!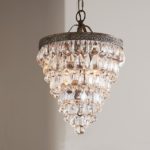 How Concerned Should You Be By This Lead Testing?
I aim for lead free because I do not think the risks are worth it. Especially when there are lead free alternatives that I share on my blog. Take my kid's guitar, it was well above the safe limits for lead & cadmium (and mercury!) but it is sold and marketed as a child's product. This should absolutely not be happening but it does happen all the time. This is why I continue to test and continue to offer safe products. You can decide for you if you want a zero tolerance policy or if you want to just use products that are below the recommended levels set by our government.
It's also worth noting that just because it is there doesn't mean it leaches. It can, and does, leach from some products but not all. This is how I prioritize, if you have a lead paint issue or live in an older home you should strongly consider hiring someone to test your house so you know exactly where your risks are. You can more about Lead Prevention Strategies here.
If you are going to do a remodel, in a newer house or older house, you should have someone come test before you remodel. Lead in tiles is totally unregulated in this country. You could be removing tile that has lead creating a huge lead dust issue. I've tested at least a dozen different tiles, new and old, and some have lead and some don't.
After that, I focus on my kid's products and products in my kitchen. I'm less concerned if my rain boots have lead on the bottom of the rubber and more concerned if my kid's toys have lead in them. Hope this helps with some perspective!
Feel free to share any items you have had tested below!
Interested In More Lead Testing Results? Check Out My Other Lead Testing Results Page!
Pin it for later!