There is no doubt plastic wrap is handy. What can be more convenient than quickly wrapping a sandwich and heading out of the door? However, health- and eco-conscious consumers are rightly concerned about the implications of using plastic wrap for food packaging. You'll find some great plastic wrap alternatives here that will make you not miss your plastic wrap!
Most plastic wrap types in the U.S. are made of PVC (polyvinyl chloride) combined with DEHA, a phthalate-like compound that gives the wrap its characteristic stretch, PVDE (polyvinylidene chloride), or polyethylene.
Like all plastics, conventional plastic wrap is non-biodegradable and contributes to the tide of plastic pollution suffocating our planet. In addition, when plastic wrap ends up in incinerators, it releases dioxin, an extremely toxic chemical.
Studies show that most plastic products, even those marked BPA-free, can leach chemicals mimicking the sex hormone estrogen. But, so far, the full effect of estrogenic chemicals on human health is unclear.
Nevertheless, one thing is obvious: it's better to minimize the amount of plastic that comes in contact with your food for your health and safety.
Luckily, there is a variety of safe, practical, and affordable alternatives to plastic wrap.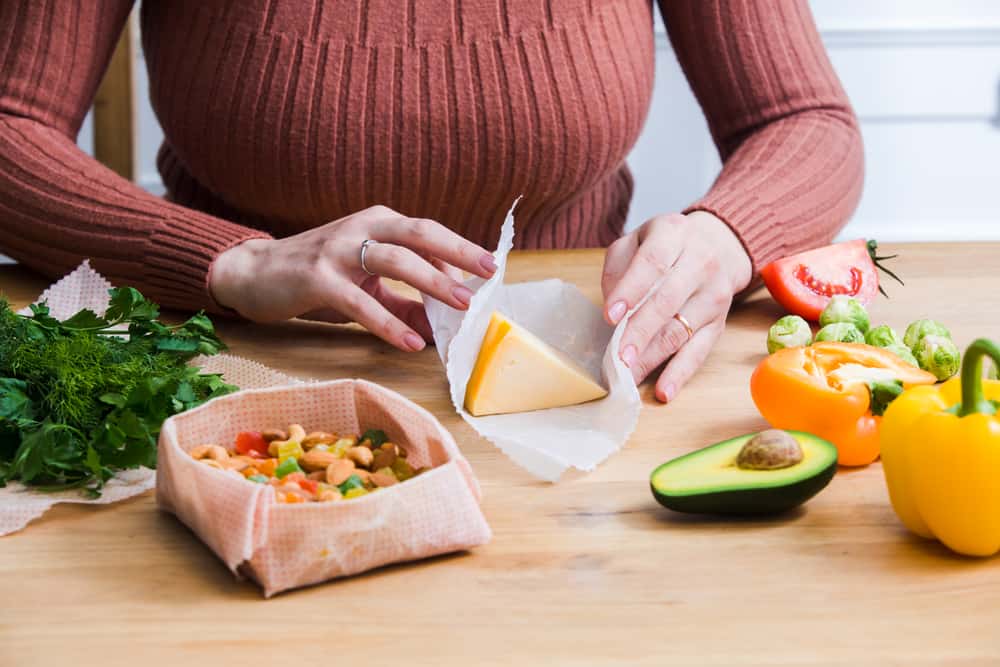 This post may contain affiliate links. Please see my full disclosure policy for details.
What's So Bad About Plastic Wrap?
Let's get into the nitty-gritty of what you avoid when you banish plastic wrap from your kitchen cabinets:
PVC
PVC, or polyvinyl chloride, is among the most toxic plastic materials for human health and the environment.
PVC production releases hazardous chemicals such as phthalates, vinyl chloride, ethylene dichloride, and heavy metals such as lead and cadmium. Vinyl chloride is a known human carcinogen linked to leukemia and brain, liver, and lung cancers.
Phthalates are no longer used in plastic wrap; however, DEHA is now used as the plasticizer replacement.
PVDC
PVDC is similar to PVC, the main difference is the chloride composition in each molecule.
DEHA
DEHA (diethylhexyl adipate) is a plasticizer, which is used to make wrap stretchier and more self-adhesive.
Unfortunately, it is also a potential carcinogen and endocrine disruptor.
LDPE
Low-density polyethylene (LDPE) is now being used by many manufacturers in an effort to reduce the toxicity of plastic wrap.
LDPE is considered a safer plastic (#4) but the environmental impacts are still the same.
LDPE plastic wrap is not actually that clingy, so you end up with plastic wrap that doesn't fully stick unless a plasticizer is used.
Many LDPE plastic wrap brands are using a plasticizer to make it more clingy. There are reports that DEHA may be found in some LDPE plastic wrap brands.
In brands that don't use DEHA, they likely are using other plasticizers. For example, Saran Wrap uses LDPE along with polybutylene to give its wrap that cling.
Heating Plastic Wrap
Plastic wrap leaches hazardous chemicals most intensively when used while heating food in the microwave.
Therefore, the FDA strongly advises against using any plastic wrap in the microwave unless it carries a "microwave-safe" label. Even then, heating plastic is never a good idea.
Food-Safe Alternatives to Plastic Wrap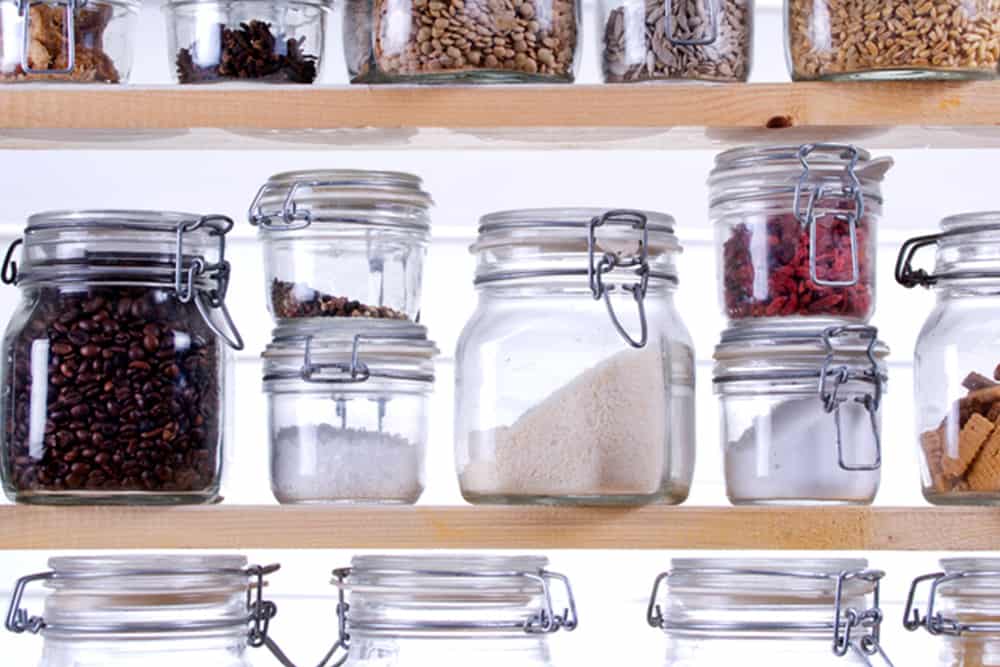 Below are some materials you might want to consider as safe, non-toxic alternatives to plastic wrap. Please note, however, that none of the options I discuss here mimics the clingy, stretchy nature of plastic wrap.
While there are some biodegradable wrap products on the market, they still come with potential issues of toxicity and unsustainable practices. It is best and safest to explore other methods for storing and carrying food.
Glass
Often, a container is a much more effective food packaging option than clingy wrap. It not only preserves food freshness but also keeps your lunch from squishing.
Glass food containers are non-toxic, reusable, recyclable, and attractive-looking. As a bonus, glass is extremely easy to clean, even with cold water – it doesn't tend to acquire the oily, sticky residue plastic often gets.
Silicone
Although silicone is not exactly a natural material, but a polymer made mostly from silica, it is a safe, food-grade material that doesn't leach toxic chemicals.
Silicone is reusable and suitable for freezing. However, there isn't enough data to support that heating silicone is safe.
Check out reusable silicone sandwich bags and stretchy silicone lids as part of your food storage options.
Warning: some silicone products have been found to contain cadmium, a toxic heavy metal. It's best to make sure any silicone that comes in touch with your food is cadmium-free.
Stainless Steel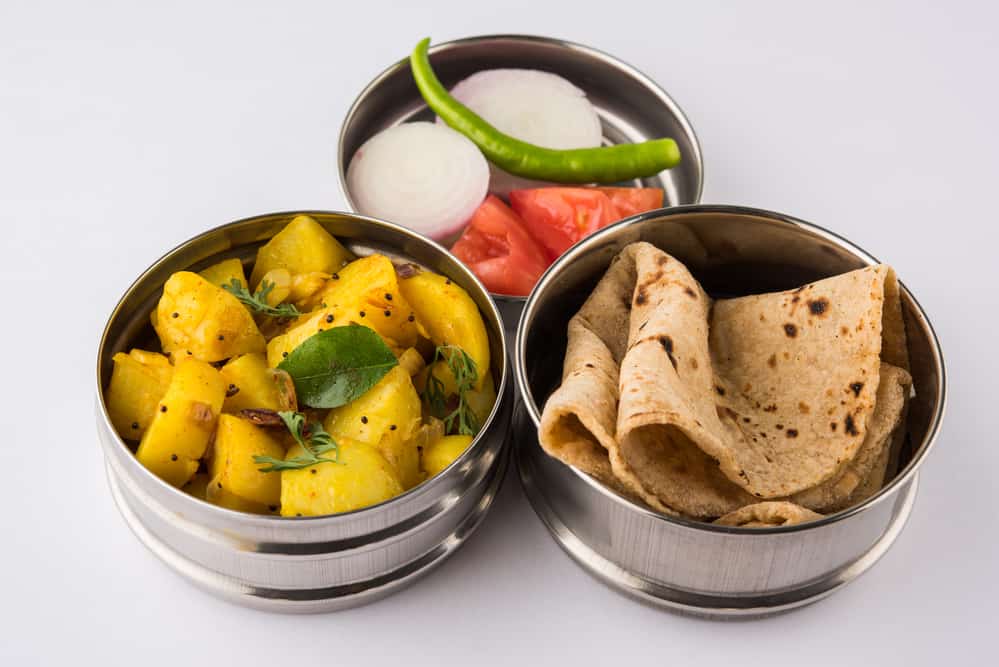 Antibacterial, non-porous, and non-staining, stainless steel is a great option for food storage. Like glass, stainless steel doesn't leach toxins and is easy to clean.
Stainless steel does have one advantage over glass: it's non-breakable, so you don't have to worry about keeping stainless steel containers out of small children's reach.
Paper
Before plastic became commonplace, people used paper for wrapping lunches and snacks. Sustainably harvested paper is a renewable, eco-conscious resource – and unlike plastic, it allows your food to breathe, keeping it fresher.
You can find food-grade paper bags that are greaseproof and microwave-safe.
Organic Cotton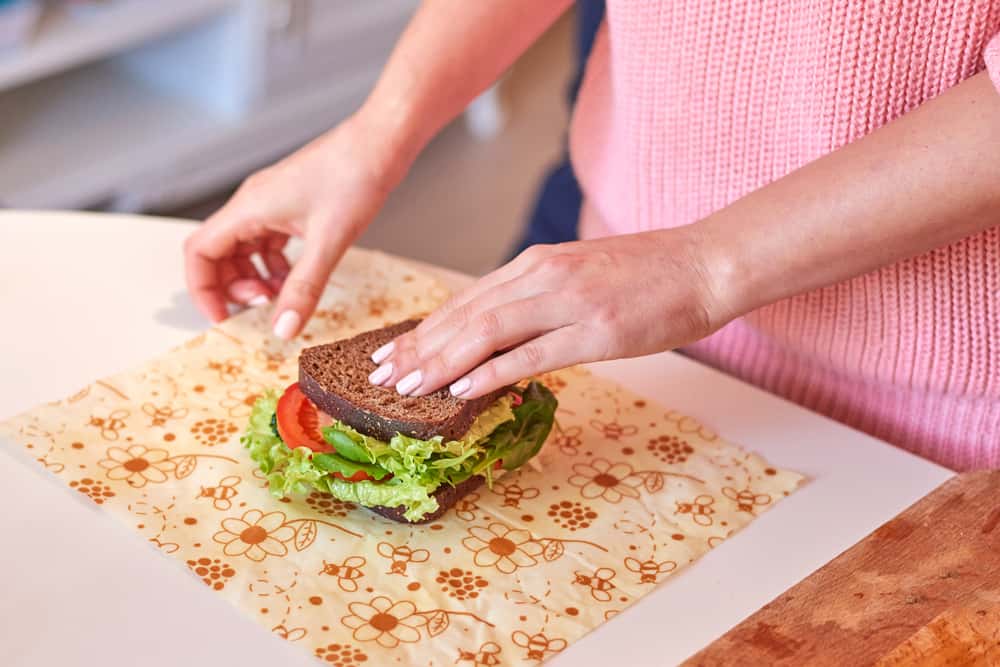 Organic cotton food bags have the advantage of being washable and reusable. This all-natural option is great for people who hate to throw food packaging away, even if it's biodegradable.
To make sure your organic cotton baggie is truly sustainable, look for a GOTS certification. This certification guarantees that the cotton has been grown and manufactured using planet-friendly practices and ethical employment.
Keep in mind, however, that some organic cotton bags are infused with beeswax or soy wax to make them greaseproof. The wax coating can come off when it contacts hot food or while washing with hot water.
Recommended Plastic Wrap Alternatives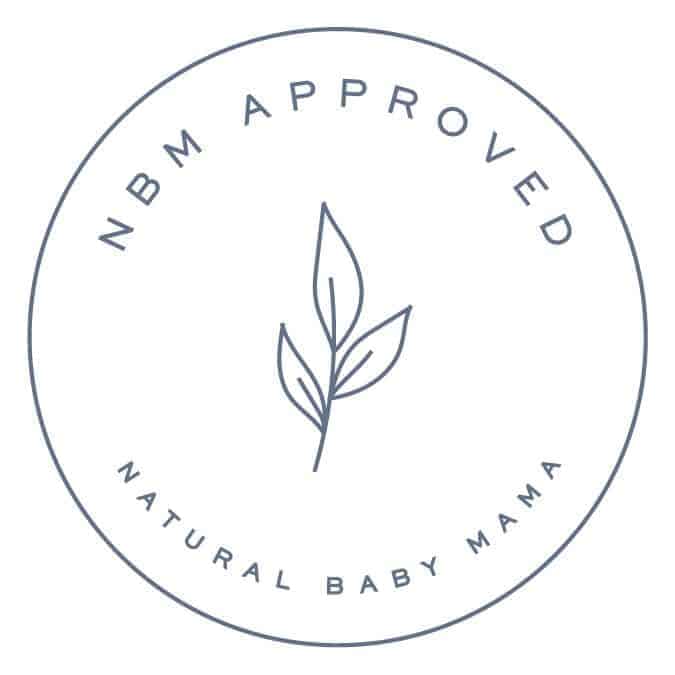 Let's get into specifics! Below you will find some alternatives to plastic wrap I recommend for storing leftovers, packing lunch, or gearing up for a picnic.
Wax Food Wraps
Bee's Wrap
Bee's Wrap is a reusable food wrap made of certified organic cotton fabric covered with organic, sustainably sourced beeswax, jojoba oil, and tree resin. The result is a pliable, self-adhesive food wrap that conveniently fits over every container.
The reusable food wrap is washable and can last for many months with careful handling and gentle cold-water rinsing. This product comes in three sizes: small (7"x8"), medium (10"x11"), and large (13"x14")
Starting price: $18 for a set of three reusable food wraps in S, M, and L.
---
Plan B Planet Food Wraps
If you are more into vegan products, check out Plan B Planet's non-toxic, vegan, biodegradable, eco-friendly reusable food wraps. These wraps are made from certified organic cotton, USDA-certified sustainably sourced organic apple tree wax, organic jojoba oil, and tree resin. Like Bee's Wrap, these reusable food wraps and washable in cold water.
Starting price: $10.81 for a three-item set of S, M, and L wraps.
---
Glass Food Containers
Pyrex
While historically, Pyrex dishes have contained lead, today Pyrex containers are lead-free and safe to use for food storage. These containers are oven- and freezer-safe, non-porous, don't absorb odors, and are a snap to clean. You can find a wide selection of round and rectangular Pyrex containers in a range of sizes.
Starting price: $29.99 for the Pyrex Simply Store 10-piece container set. While this set comes with plastic lids, you can simply remove the lids and use a non-toxic cover option if you would like.
---
Anchor Hocking
Like Pyrex, Anchor Hocking is lead-free and safe for your family's health. It's durable and resistant to abrupt temperature changes, so you can take Anchor Hocking containers out of the refrigerator and pop them straight into the oven.
Starting price: $16.99 for Anchor Hocking's 12-piece round set. It comes with plastic lids, which you can forego if you wish. Anchor Hocking also has some products with silicone lids.
---
Mason Jars
Sturdy and attractive, Mason Jars are a great option for storing everything from dry beans to dinner leftovers. For replacement stainless steel lids, silicone jar rings, and other accessories, check out EcoJarz, a company committed to healthy, toxin-free products and 100% recyclable packaging.
Mason Jar lids are no longer made with BPA but now use BPS, which some are saying could be as bad as BPA. I love using the stainless EcoJarz lids to avoid BPS exposure.
Starting price: $17.99 on Amazon for a pack of six 16oz Mason jars with lids. $2 for a stainless steel storage lid on EcoJarz.
---
Wean Cubes
A product by Wean Green, Wean Cubes are 4oz glass jars with leak-proof silicone seals. Their convenient cube shape makes them highly space-efficient and perfect for stacking. Although Wean Cubes were designed for storing baby food, they are also handy for lunches, leftovers, condiments, and smaller snacks.
Starting price: $20 for a set of four Wean Cubes.
---
Silicone Products
Stasher bags
Stasher offers a variety of reusable, dishwasher-safe, freezer-friendly, leak-proof storage bags. All Stasher bags are made of durable premium silicone 100% free of cadmium, lead, BPA, and phthalates. The reusable bags come in various sizes, including half-gallon, sandwich, and snack bags. They also offer convenient stand-up bags.
Although the price per bag may seem a tad high, Stasher bags can endure thousands of uses and will likely serve you for years. In addition, Stasher is free from toxins like cadmium that can be found in some silicone products.
Starting price: $9.59 for a 15oz Stasher sandwich bag
---
Silicone Stretch Lids
Stretchy, flexible silicone lids are a great alternative to placing plastic wrap over food bowls, various containers, and the occasional half-watermelon you want to keep fresh and crisp. You can find a set of multiple-sized True Nature stretchy silicone covers on Amazon. These covers are made of 100% reusable, durable, dishwasher-safe silicone free of lead and phthalates.
Although I haven't personally affirmed that this product is cadmium-free, it still appears reasonably safe, especially for cold storage.
Starting price: $14.99 for a set of 12 True Nature silicone covers.
---
Stainless Steel
If you use plastic wrap for your lunch, by the time midday rolls around, your sandwich may become unappealingly squished. However, with a durable stainless steel box, your lunch is safe and toxin-free.
LunchBots Cinco
The stainless steel lunch containers from LunchBots are designed with five convenient sections for secure and handy food storage or open with no dividers.
Made from high-quality lead-free stainless steel, this lunchbox will endure for years without denting or bending.
You can use these both for lunches and food storage while at home.
Starting price: $19.99
---
Owlet Home Bento Lunch Box
If you are looking for an affordable stainless steel lunch box, you might want to check out the leak-proof lunch container from Owlet Home. This roomy lunch box has a classic three-compartment design and a leak-proof silicone seal.
Starting price: $25.00
---
Tavva Kitchen
Sometimes, all you need is a mini-box for snacks, small amounts of leftovers, or various condiments. Tavva Kitchen answers this need perfectly with a selection of various-sized, non-toxic, durable, and safe stainless steel containers with leak-proof silicone lids.
Starting price: $25.00 for a set of three 1.5oz stainless steel containers.
---
Reusable Sandwich Bags
No Trace Organic Cotton Sandwich Bags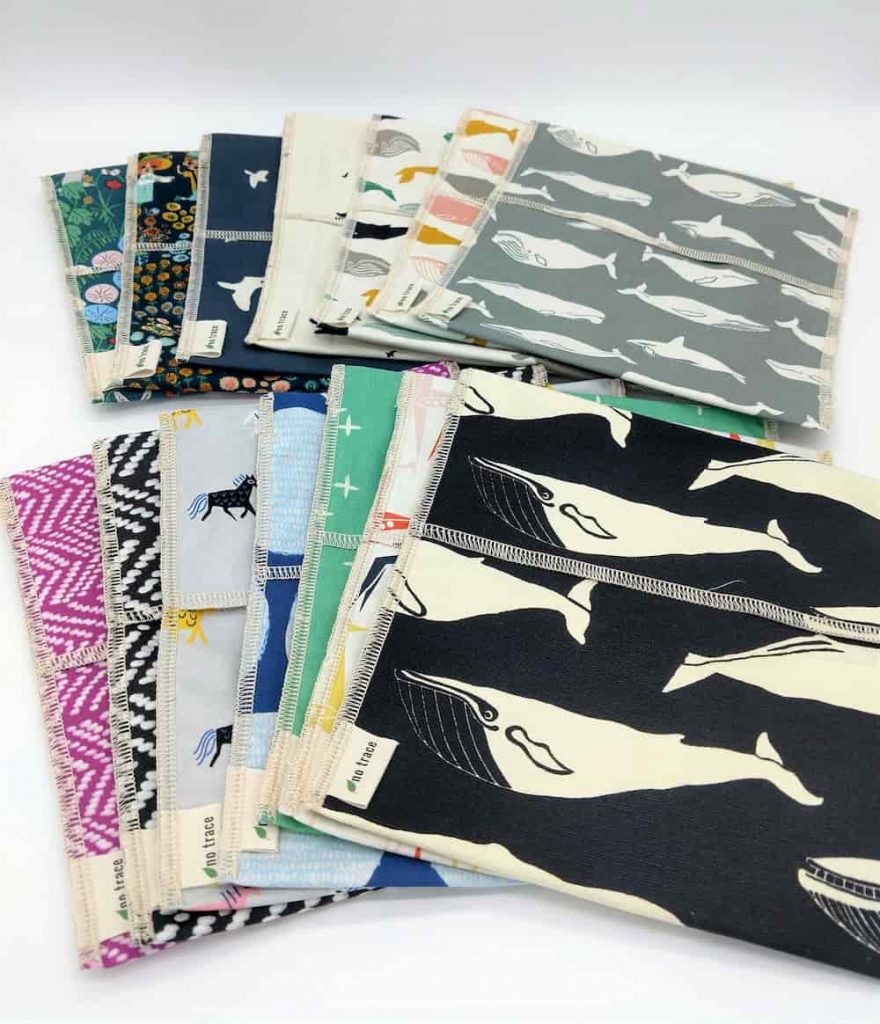 For a long-term reusable sandwich bag option, you could check out the handmade zero-waste organic cotton bags from No Trace. Made from sturdy 100% organic GOTS-certified cotton, they come in a variety of fun prints. Dimensions: 11" X 7.5".
Starting price: $9.50
---
If You Care Sandwich Bags
If You Care makes paper sandwich and snack bags that are so thick and sturdy, you can easily use each bag multiple times as long as it doesn't get wet or greasy. If You Care bags are made of 100% compostable unbleached paper. They work great for keeping bread and baked goods soft but not soggy.
Starting price: $6.21 for 48 bags
---
Parchment Paper
Sometimes, you don't need an elaborate container or fancy sealable silicone bag. Folding a sheet of parchment paper around a sandwich or snack could be an effective quickie solution.
For such occasions, it's useful to have a pack of If You Care parchment paper baking sheets. These fully compostable parchment paper sheets are unbleached, chlorine-free, and greaseproof. Unlike most conventional parchment papers that have a Quilon coating, If You Care uses silicone coating that can safely touch food.
Of course, If You Care parchment paper isn't only good for wrapping sandwiches and leftovers. It's also perfect for baking, roasting, or reheating.
Starting price: $5.49
---
Fabric Bowl Covers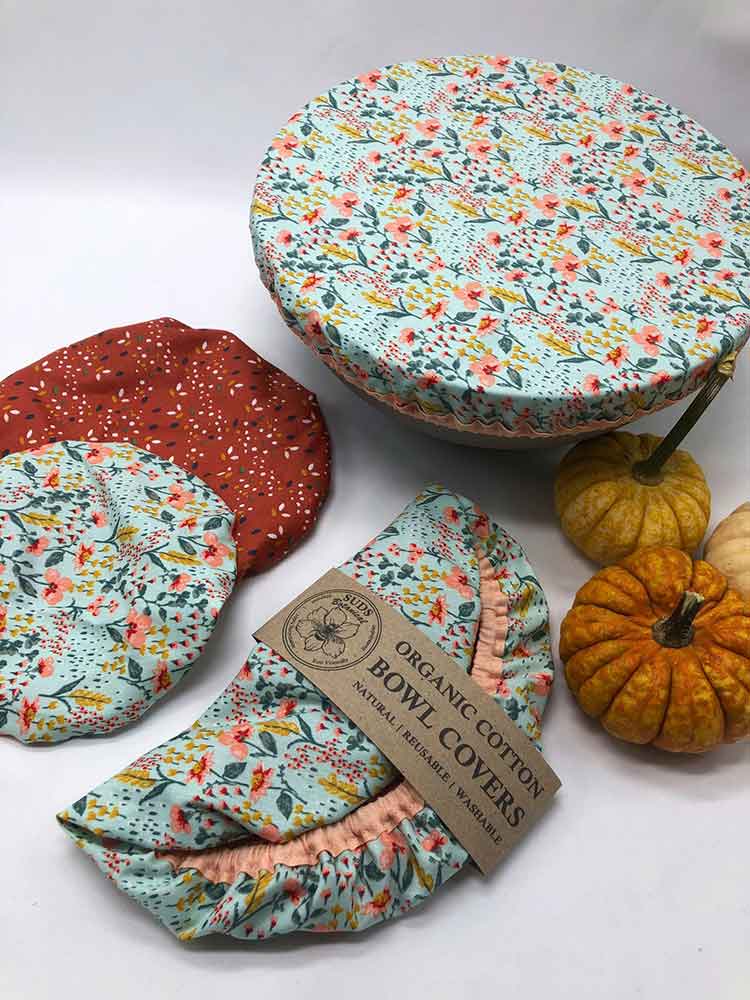 Fabric bowl covers are a simple but ingenious solution in the arsenal of plastic wrap alternatives. Typically, such a cover is simply a round piece of cotton fabric with elastic edging that fits over a bowl.
There are several fabric bowl cover brands on the market, but my favorites are the organic cotton bowl covers by SUDSBotanical with their snug fit edging. SUDSBotanical is made in the United Kingdom.
Starting price: $10.36 for a large
---
You Can Also Try to DIY a Fabric Bowl Cover
If you are into a bit of sewing, you could try making your own fabric bowl covers with the help of an easy tutorial such as this one. The advantage of a DIY cover is in fully customizable size and materials.
You could buy organic cotton by the yard and quickly whip up as many fabric bowl covers as you like. I love buying organic fabric from Sew Organic Fabric. One of my favorite organic GOTS certified fabric brands is Birch Fabrics which Sew Organic Fabric has a wonderful supply of.
---
Dish Towels
One of your alternatives to plastic wrap can be as simple as a cotton dish towel thrown over a bowl or container. A dishtowel provides a breathable cover that is perfect for proofing dough. If you are in the habit of stretching plastic wrap over a bowl of dough, you'll notice that your dough rises much better when you let it breathe.
I recommend the Honest Weave brand. Their dishcloths are made of 100% GOTS-certified organic cotton. Sturdy and durable, they will serve you for years.
Dimensions: 20" X 30"
Starting price: $32.99 for a 6-piece set
---
Final Thoughts
Although plastic wrap can be handy, the toxic chemicals used in its manufacture make it an extremely unhealthy food packaging option. Additionally, plastic wrap is unsustainable and contributes to pollution.
Luckily, there is a whole range of safe, eco-friendly alternatives to plastic wrap you can use for packing lunch or storing leftovers.
To make the choice easier for you, I have created my vetted Amazon storefront, which you can browse for healthy, sustainable plastic wrap alternatives as well as non-toxic living items for the entire family.
Other Posts Related To Plastic Wrap Alternatives
Pin it for later!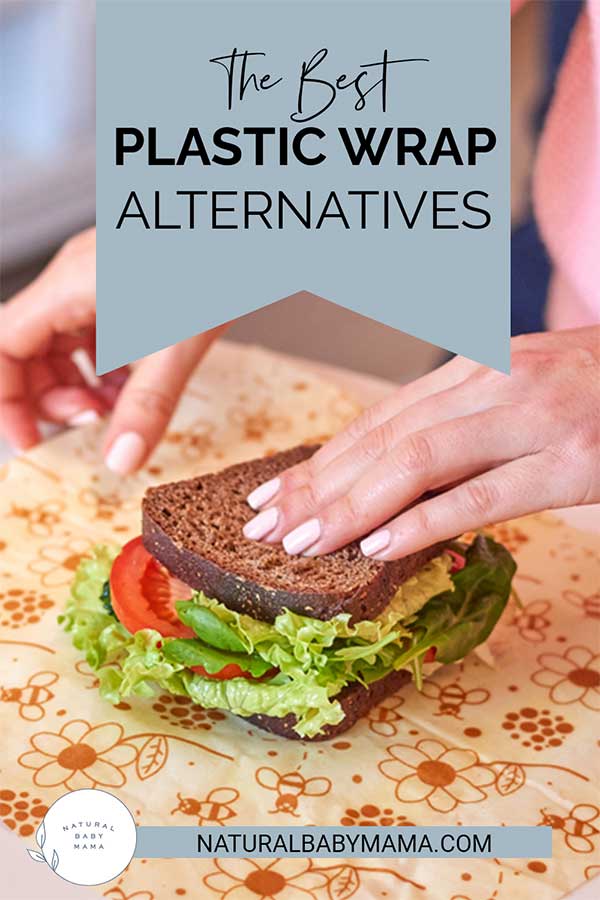 SOURCES:
Plastic Wrap and Plastic Food Containers: Are They Safe?, National Center for Health Research
The Sticky Problem of Plastic Wrap, National Geographic
Migration Regularity of Phthalates in Polyethylene Wrap Film of Food Packaging, Journal of Food Science
Migration of Phthalates, Alkylphenols, Bisphenol A and di(2-ethylhexyl)adipate from Food Packaging, Food Control