As you prepare to give birth to your new baby, you will naturally focus on the last stretch of pregnancy and delivery. You will practice relaxation techniques, make sure your hospital bag contains all you need, and go over your birth plan a hundred times. However, after the glorious moment when you first hold your little treasure in your arms, come physically trying and emotionally taxing days of postpartum recovery. The right postpartum care kit will help you regain your strength and health.
Trust me: when you're home with a newborn, you'll be glad you got everything lined up beforehand. Let's dive straight into the natural postpartum essentials you and your baby will need.
This post may contain affiliate links. Please see my full disclosure policy for details.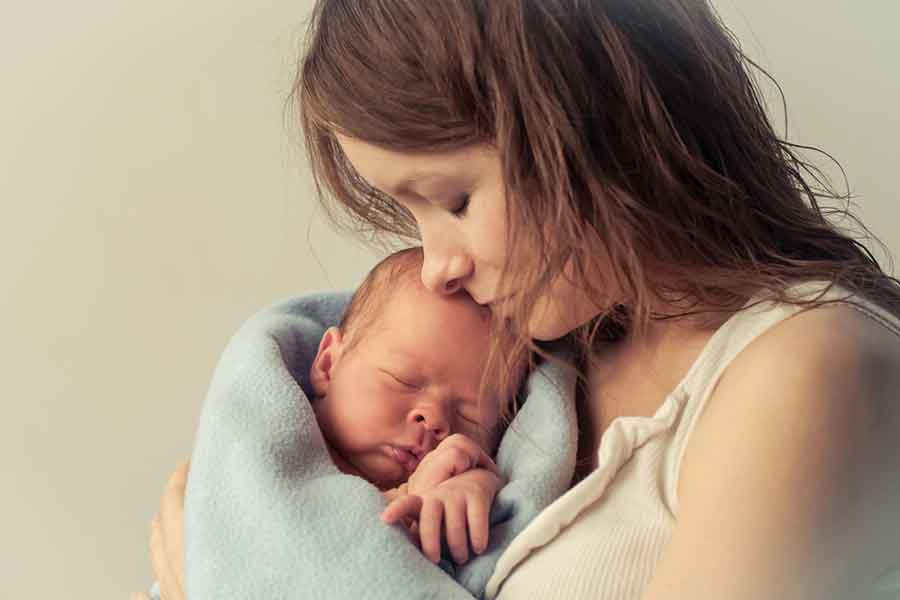 After Ease
After-birth contractions can be so brutal they knock you off your feet, especially if this is your second (or more) baby. Postpartum cramps are usually most painful while you nurse your baby during the first few days.
Physiologically, these contractions have an important function of getting your uterus back into its proper position – but it's hard to rest or even hold your baby when you're in excruciating pain.
After Ease is a natural, non-GMO herbal formula that can soothe afterbirth cramps. It is safe and effective to use for breastfeeding moms. The formula contains:
Crampbark (Viburnum opulus): a traditional herb used for uterine cramps, inflammation, and pain
Black Haw bark (Viburnum prunifolium): a relaxing herb that can ease cramps and uterine pain
Motherwort aerials (Leonurus cardiaca): an anti-inflammatory herb with powerful antimicrobial and antioxidant effects
Yarrow aerials (Achillea millefolium): a herb that helps stop uterine cramps
After Ease contains some organic alcohol to extract the active components of the herb. However, the amount of alcohol per serving is negligible. Many customer reviews describe After Ease as a lifesaver for bad postpartum cramps.
---
Arnica for Pain
Arnica is a wild-growing herb that serves as the basis of many natural and homeopathic pain medicines, in the form of creams, gels, sprays, and chewable tablets. The active chemicals in Arnica can reduce pain, swelling, and inflammation.
Please note that ingesting undiluted Arnica could be fatal, but approved homeopathic formulas should be safe. If in any doubt, consult your health care provider.
Of course, in the first days after having a baby, you may want a painkiller with a little more edge, and that's perfectly fine. Advil should be safe to use during breastfeeding – just make sure you use dye-free Advil to avoid an allergic reaction.
---
Organic Maternity Pads
In the first few days after giving birth, you'll experience heavy bleeding (and often some massive, scary-looking clots). Please contact your health care provider for anything that looks out of order. The postpartum lochia will gradually dwindle into spotting and disappear within 6-8 weeks.
Heavy-duty maternity pads are high on the list of postpartum care kit essentials. Unfortunately, most feminine hygiene products contain plastics, dioxins, phthalates, parabens, and other potential carcinogens and endocrine disruptors.
For the first days, I recommend Natracare's extra thick natural maternity pads, which are plastic-free and fully biodegradable, and compostable. Organyc's ultra-soft and absorbent maternity pads are also a good option. After the heaviest flow subsides, you could also use Rael's Organic Cotton Cover Overnight pads, which are wide and long enough to absorb any excess leaks.
---
Padsicles
Do you commonly use your freezer to make popsicles? Well, it's time to free up room for some padsicles. These freezer-chilled pads can be a lifesaver when things get really, really sore down there and you need some quick, effective relief.
Frozen pads can reduce pain and swelling, help with bruising, and relieve the discomfort of vaginal stitches or hemorrhoids. I recommend making a bunch as you prepare for delivery, around the same time you pack your hospital bag.
Padsicles are easy to make. Simply take a bunch of overnight or maternity pads and apply unscented aloe vera gel. Pure aloe vera is safe to use even on extremely sore areas, and it has lovely anti-inflammatory properties. Top the aloe vera gel with alcohol-free witch hazel. Just make sure you don't oversaturate the pad, or it won't work for its main function – soaking up postpartum discharge.
Wrap each padsicle in wax paper, stack them in a container, and pop them into the freezer. When you need one, use it as a regular pad.
---
Earth Mama Spray
If you've already given birth at least once, you'll be dreading those first postpartum bathroom forays. Even if you're lucky enough to pass through the birthing experience with no stitches and no hemorrhoids, your perineum will be so sensitive that sitting down to pee may make you gasp in pain. And let's not even start talking about constipation.
When everything down there is raw and sore, Earth Mama's herbal perineal spray can provide some welcome relief (and is a must have in your postpartum care kit!). This easy-to-use herbal mist, based on witch hazel and organic essential oils, will fit easily in a side pocket of your hospital bag for easy access and instant comfort during and after bathroom visits.
If your perineum needs extra care, also check out Organic Perineal Balm by Earth Mama.
---
Earth Mama Nipple Cream
The degree of soreness in your nipples as you and your baby adjust to breastfeeding might surprise you. Organic Nipple Butter by Earth Mama will protect your nipples from drying, cracking, or oversensitivity. Apply liberally after every feeding or as needed.
Unlike other nipple creams, Earth Mama's nipple butter is free of any harmful or potentially irritating ingredients like parabens, petroleum, or lanolin. It contains organic olive oil, ethically sourced beeswax, cocoa seed butter, shea butter, mango seed butter, and soothing calendula extract. This organic butter also works great on dry lips, heels, and elbows.
Earth Mama's nipple cream is fully dermatologically tested and safe for mothers and babies – it absorbs easily and there's no need to wash it off before breastfeeding.
Please note that, while some soreness at the start of breastfeeding is normal, your nipples shouldn't bleed, crack, or feel very painful. If nipple sensitivity grows more severe rather than subsiding, there is likely a problem with your baby's latch or another issue like a tongue tie. See a lactation consultant as soon as possible to rule out a wrong latch and avoid any milk supply issues down the road.
---
Frida Peri Bottle
Getting back to that sore perineum, the Frida peri wash bottle is another useful product to add to your list of postpartum essentials. If you've never used a peri bottle before, nothing could be easier: you simply fill it with warm or tepid water and squirt on your perineum area while you are on the toilet seat.
Right after you've given birth, urinating can feel like you're dousing your lady parts with acid. A constant stream of warm water directed towards the area will dilute the urine and soothe the burning.
Some hospitals hand out peri bottles to new mamas, but these bottles often have a clumsy design and are uncomfortable to use. In contrast, the Frida peri bottle boasts an ergonomic grip and an angled spout that was specifically designed for squirting upside down.
This bottle is like a portable bidet that comes with a waterproof water bag for travel situations. An absolute lifesaver if you have stitches or C-section incisions you need to clean gently and without applying pressure.
---
Sitz Bath
After you've delivered your precious bundle, you'll soon discover there's no such thing as too much perineal relief. Whether you've had an episiotomy, stitches, fissures, hemorrhoids, or are simply extra sore down there, a sitz bath will provide gentle care for your nether regions.
"Sitz bath" may sound fancy, but in reality, it's just a shallow warm water bath that new moms can use to cleanse and soothe the perineum area. "Sitz" literally means "sit" in German. This type of bath may only require a few inches of warm water to cover sore areas.
You can have a sitz bath in your bathtub, but it's often more convenient to invest in a specialized sitz container that fits over your toilet seat. This type of container is convenient and portable, and provides a great solution if you don't have a bathtub in your home.
To enhance the effect of a soothing sitz bath, you can add Epsom salts, baking soda, or herbal solutions like the one by Birds & Bees Teas. However, most importantly, keep your sitz container properly cleaned and disinfected to avoid the buildup of harmful bacteria.
---
Witch Hazel
Witch hazel, also known as Hamamelis Virginiana, is a plant with many wonderful health properties. Notably, it is a powerful astringent and anti-inflammatory agent. When used externally, the leaves, bark, and twigs can all provide relief for pain, swelling, inflammation, irritation, and hemorrhoids – all the lovely attributes of the postpartum experience.
Many brands offer pure witch hazel extract – just make sure you choose a certified organic product from a sustainably harvested crop.
Witch hazel has many versatile uses postpartum. You can add a few drops of witch hazel extract to your peri bottle for extra relief, use it in your sitz bath, or add it to padsicles. You can soak round pads in witch hazel and use them along with your maternity pads. And when you move beyond the postpartum care kit stage, you can keep witch hazel as part of your skincare repertoire – its natural tannins are wonderful for keeping oily zones under control.
---
Epsom Salt
Epsom salt is a naturally occurring mineral salt – magnesium sulfate, to be exact. While it's not the kind of salt you'd sprinkle on a dish, Epsom salt can have wonderful health benefits when used right. Dissolved in bathwater, the salt releases magnesium ions, which can relieve pain, relax muscles, and reduce inflammation.
You can add Epsom salt to a bath or sitz bath, several times a day if you need to. Add about ½ cup for a sitz bath or 2 cups for a regular bath, or however much your health care practitioner recommends.
A word of caution: healthcare providers do not recommend Epsom salt baths for open wounds. So if you have severe tears or are recovering from an episiotomy, consult with your doctor or midwife before using Epsom salt.
---
Natural Wipes
As you prepare to receive your little bundle of joy, you are probably looking up natural, gentle wipes suitable for newborn skin. However, disposable wipes can also be extremely handy for mamas. Use them when you need a bit of extra refreshment on the go, or even to mop up little messes like spit-ups and spills.
When you start looking for natural disposable wipes with organic ingredients, you'll realize that these products are nearly as rare as unicorns – too many brands, even those that boast being "organic" and "green", use irritating and harmful chemicals in their formulas.
I recommend Water Wipes, pure baby wipes with minimal liquid ingredients – just water and a drop of grapefruit seed extract. Water Wipes are hypoallergenic and work well for even the most sensitive skin. However, these wipes are not biodegradable. If you're looking for environmentally friendly wipes, check out Natracare. These wipes, though on the pricier side, are just about the only wipes on the market that use 100% pure certified organic cotton.
---
Organic Nursing Tank
When you sit down to nurse a hungry baby, the last thing you want is to fumble with buttons or deal with uncomfortably tight fabrics. What you need is a couple of light, stretchy, easy-access nursing tops in your natural postpartum care kit – actually, make it more than a couple, because you'll be dealing with milk leaks and spit-ups multiple times a day.
Any fairly loose and stretchy T-shirt should work well for breastfeeding or pumping, but when you need extra comfort and a smooth fit, check out the maternity and nursing tanks by Boob Design. This brand makes lovely organic cotton tank tops that look great both during pregnancy and in the postpartum period. They have a long bodice for a good fit and look great under a jacket or a sweater.
Boob Design make their maternity tank tops from GOTS-certified organic cotton with a small addition of elastane. They also carry ethically manufactured nursing bras, tops, T-shirts, leggings, and other comfy garments made from sustainably sourced fibers, organic wool, and recycled materials.
---
Cozy PJs
When you have a newborn, many days pass in a blur. One moment, you're telling yourself it's time to get dressed. Then, before you know it, dinnertime rolls around and you're still in your pajamas.
If you're going to spend a whole day in pajamas (nothing wrong with that!), you might as well opt for maximum comfort. Hanna Andersson offers matching family pajamas in a variety of cute prints and sizes to fit everyone from newborns to adults. Their organic pajamas are GOTS certified.
Or, if print PJs aren't quite your thing, check out Coyuchi's solid color pajamas, nightgowns, robes, and rompers.
---
Big Underwear
Remember all that faded and stretched-out underwear that you meant to toss away but never got around to it? Save it for the postpartum days when, no matter how often you change jumbo pads, you will still end up with a heap of stained underwear.
When the flow slows down a bit and you are no longer afraid to ruin good underwear, you can switch to comfy boy shorts by PACT, made with 95% GOTS-certified organic cotton in a fair trade factory. Or you may prefer high-rise hipsters by the same brand – they are extra comfy and provide some support for the lower belly.
If you still end up staining your underwear, a quick cold water rinse or soak, followed by washing on a cold cycle, can help get rid of the stain. Washing on a hot cycle will disinfect the underwear, but the stain will set forever.
Disposable Period Underwear
You could also stock up on some organic cotton disposable period underwear by Rael, to wear overnight or when you just don't feel up to dealing with underwear stains. Anything that saves work and frees up more self-care time is a good idea.
---
Nursing Pillow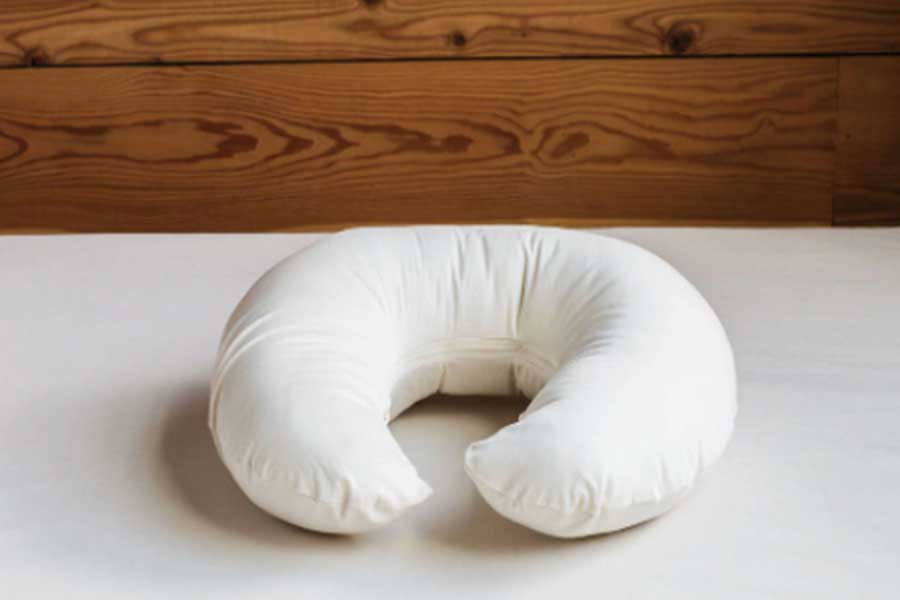 A high-quality, supportive organic nursing pillow is a real treasure for breastfeeding mamas. In the first days and weeks, you may spend up to 8 hours a day nursing your baby – that's the equivalent of a full-time job! A nursing pillow can provide support for your shoulders, arms, and back, and help you position your baby for an optimal latch.
When you're shopping for a nursing pillow made of natural materials, you have two main options: organic cotton and organic or eco wool. While wool has excellent thermoregulation properties, if you live in a hot climate or have a summer baby, you might want to choose an all-cotton pillow for its cooler feel.
Whatever nursing pillow you choose, opt for one with an easily removable, machine-washable cover. A nursing pillow will get its fair share of milk leaks and spit-ups, so a sturdy, low-maintenance cover is a must.
My personal favorite nursing pillow is Bo Peep by Holy Lamb Organics. This delightfully squishy U-shaped pillow has a 100% GOTS-certified organic cotton cover filled by sustainably sourced eco wool. It is great not just for breastfeeding, but also to provide back support for babies as they are learning to sit.
---
Premade Food
You might not think about food prep as something you would need in a postpartum care kit. But, in the weeks following your baby's birth, you will need nutritious food to regain your strength and keep up your energy. Additionally, for exclusive breastfeeding, you will need about 400-500 extra kilocalories a day. But how can you maintain a balanced and nourishing diet when you don't have the time or energy to cook?
Some lucky new moms have the advantage of a supportive extended family or a community that brings over ready-made meals. However, if you don't have a robust support system, it's a good idea to stock up your freezer with premade meals in the month or so before your due date. Frozen food will keep for months without losing its nutritional value. You'll be glad when, at the end of an exhausting day, all you need to do is pop dinner into the oven and heat it.
Some foods go soggy when frozen and thawed, like potatoes, fried foods, and anything with a high water content. However, you can safely cook, freeze, and defrost rice, grains, beans, meat, chicken, pasta sauce, soups and stews, and many other foods.
---
Snacks
A new baby wreaks havoc on one's schedule. There are times when an afternoon whizzes by and you still haven't had lunch because you're busy dealing with colic, reflux, diaper changes, or pediatrician's appointments.
When you're too busy to sit down for a proper meal, or even if you just need something small to tide you over when you sit down to breastfeed, nutritious snacks can be a lifesaver. Fresh fruit is always great, but it's best if you have something quick and non-messy you can grab one-handed. Here are a few snack ideas to add to your natural postpartum care kit:
A healthy trail mix with nuts, seeds, and dried fruit
Pre-sliced fruit and vegetables
A platter of cheese slices or cubes with olives
Chia seed pudding (you can let it sit overnight)
Dates stuffed with nuts or nut butter
Baked apple chips (store these in an airtight container for a few days)
If you have a little prep-ahead time, you can also make easy granola bars, oatmeal cookies, muffins, or nut butter balls and freeze them for later. Just make sure you don't use a lot of refined sugar – high-sugar snacks lead to an insulin spike and only make you hungrier. A limited amount of maple syrup, natural date sugar, or honey should be enough to satisfy sugar cravings.
I also highly recommend adding smoothies to your breakfast and snack repertoire. A thick, creamy, nutritious smoothie is almost as satisfying as ice cream, and you can make it in minutes if you have some frozen fruit, yogurt, and a good food processor. Or try dairy-free smoothies with coconut, oat, or almond milk.
---
A Support System
A support system can be as simple as enlisting your partner or older children to help with laundry and dishes. However, if your extended family, friends, or neighbors ask what they can do to help, consider taking advantage of the offer. When you feel like you're drowning in diapers and burp cloths, it can be amazing to send away a hamper of dirty laundry and get it back clean, dry, and folded.
Of course, you may not feel comfortable letting people outside the family take care of your dirty dishes or floors. Do only what feels right for you, and remember that no one has died from smudged windows yet. When you have a new baby, it's time to relax housekeeping standards in favor of rest and sanity.
During this time, reliable hired help can be a lifesaver. Even if you normally like doing everything yourself, consider hiring someone to come once a week and do the heavy work, like deep-cleaning bathrooms or mopping the floors. When you have a new baby, help around the house isn't a luxury – it's an absolute must.
---
A Lactation Consultant
Breastfeeding is full of surprises. Even if you've successfully breastfed before, you may experience unfamiliar issues such as tongue-tie, an incorrect or weak latch, over- or under-supply, blocked milk ducts, and more.
It's always best to have a good lactation consultant lined up just in case you need one. You don't want to start looking for recommendations a day after you get discharged from the hospital, while you drip milk and try to soothe a restless newborn.
The basic requirement for a lactation consultant is an IBCLC certification. Apart from that, look for an understanding and patient consultant that makes you feel comfortable. Connecting with other breastfeeding moms in your local community can help you source solid recommendations for a lactation consultant.
---
Final Words on Postpartum Care Kit
When you bring your baby home, pay close attention to your mental state. In the postpartum blur of exhaustion and hormonal swings, it can be hard to draw the line between normal tiredness and postpartum depression, especially if you're a first-time mom.
Baby blues – an overall state of overwhelm and mood dips – should go away within a few days to a couple of weeks with proper rest and self-care. If mood swings morph into unrelenting fatigue, emotional withdrawal, or extreme sadness, please reach out for help. Postpartum depression is real and requires medical attention as does postpartum anxiety.
One last tip: Take it easy for at least 6 weeks. The better you care for yourself, the faster your body will heal. This is a unique and precious time of bonding with your new baby, so just soak it up and enjoy it.
Even if you are the type of supermama who cooks everything from scratch and keeps an immaculate home, please remember that a newborn tosses all the rules out of the window. Naps for mom are more important than spotless shelves and homemade four-course meals.
Above all, congratulations on the new addition to your family! I hope the information above helps you compile a natural postpartum care kit.
Pin it for later!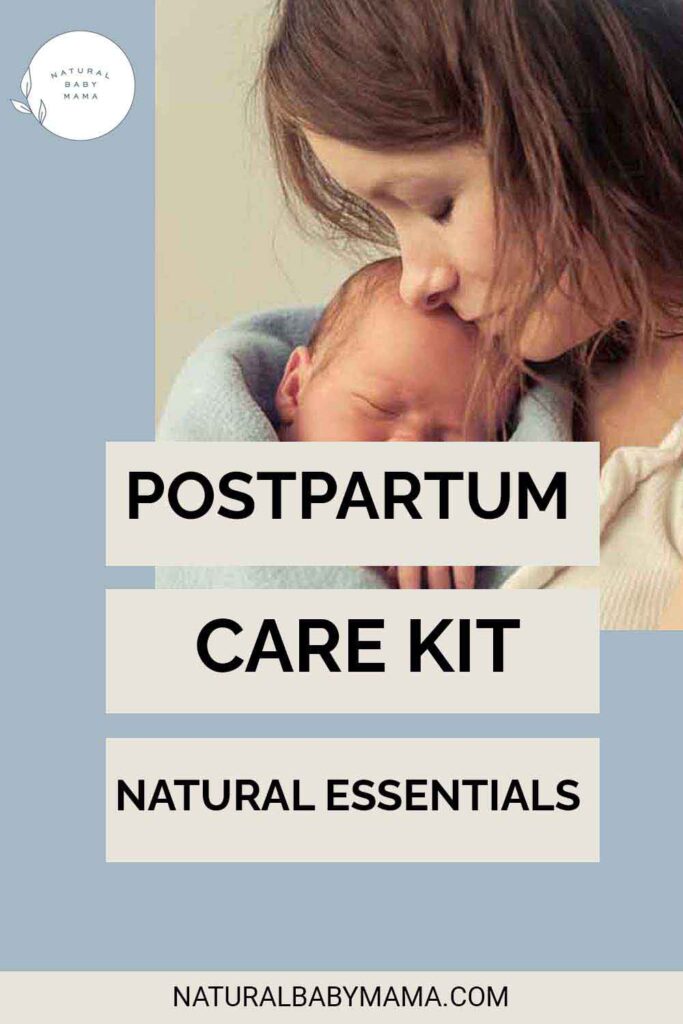 Posts Related to Postpartum Care Kit