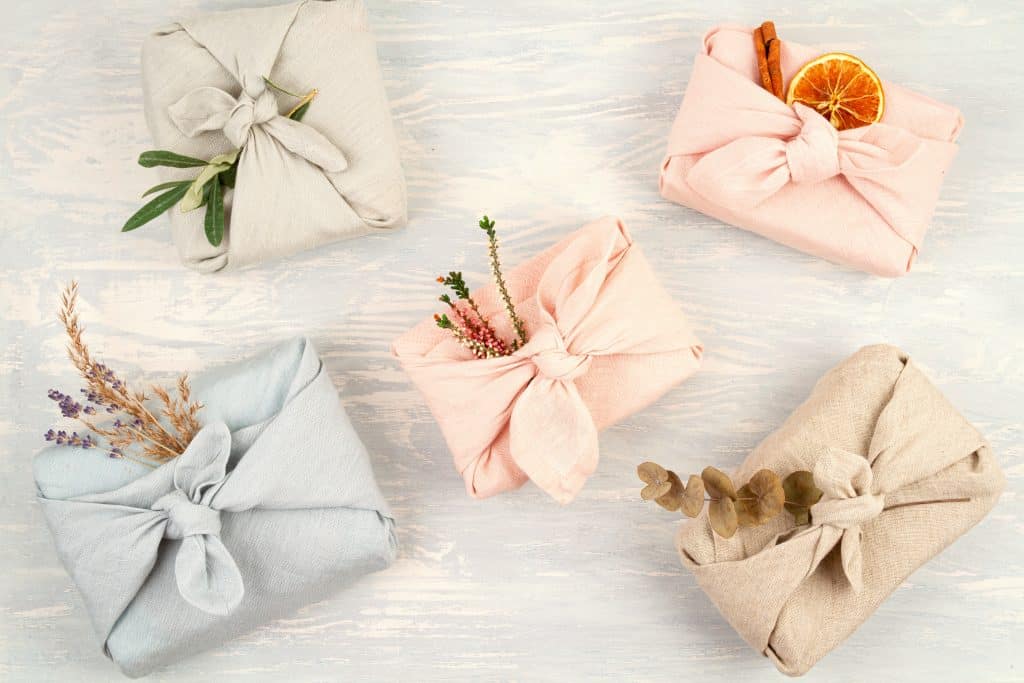 Going out and buying wrapping paper always seems to be a hassle. Then there is the time you are certain you have gift wrap and you have minutes before you need to leave with your gift, only to find out it's the wrong type for the occasion. Having reusable gift wrap means that you never have to worry about that again! Not only that, some wrapping paper contains toxins and it is bad for the environment. Below you will find eco-friendly gift wrap ideas.
People worldwide spend billions of dollars on gift wrap meant to be opened, torn, and thrown away within minutes.
You may be surprised to find out that eco-friendly gift wrap is so much easier. When you are done you can just fold it up and store it away for the next time you need it. Not only is it better for the environment, but it also saves you money and time.
No more piles of crumpled up wrapping paper surrounding you at Christmas or birthdays. It's time to ditch the one-time gift wrap for non-toxic gift wrap solutions.
Why Switch to Eco-Friendly Gift Wrap?
We could save enough paper to cover 45,000 football fields if every family wrapped three presents in eco-friendly packaging, says Stanford University.
If you're still unsure why you should ditch traditional gift wrap this year, here's why:
Instead of using traditional wrapping paper, there are eco-friendly gift wrap ideas and solutions.
This post may contain affiliate links. Please see my full disclosure policy for details.
14 Sustainable and Eco-Friendly Gift Wrap Ideas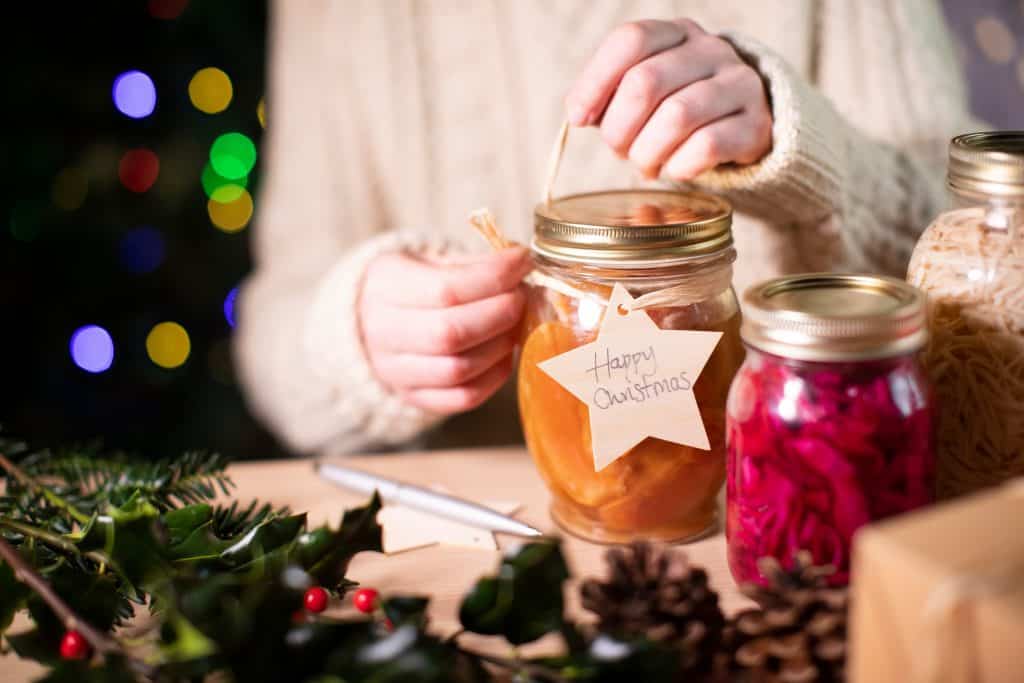 When you use natural materials and eco-friendly gift wrap ideas, it encourages your entire family to re-think their environmental impact.
Over the years, I've found sustainable and creative ways to wrap gifts for my family. We've created new traditions to give gifts that I hope you find helpful.
Here are the best eco-friendly gift wrap, gift bag, and ribbon alternatives for all of your gift giving needs:
Reuse These Eco-Friendly Gift Wrap Ideas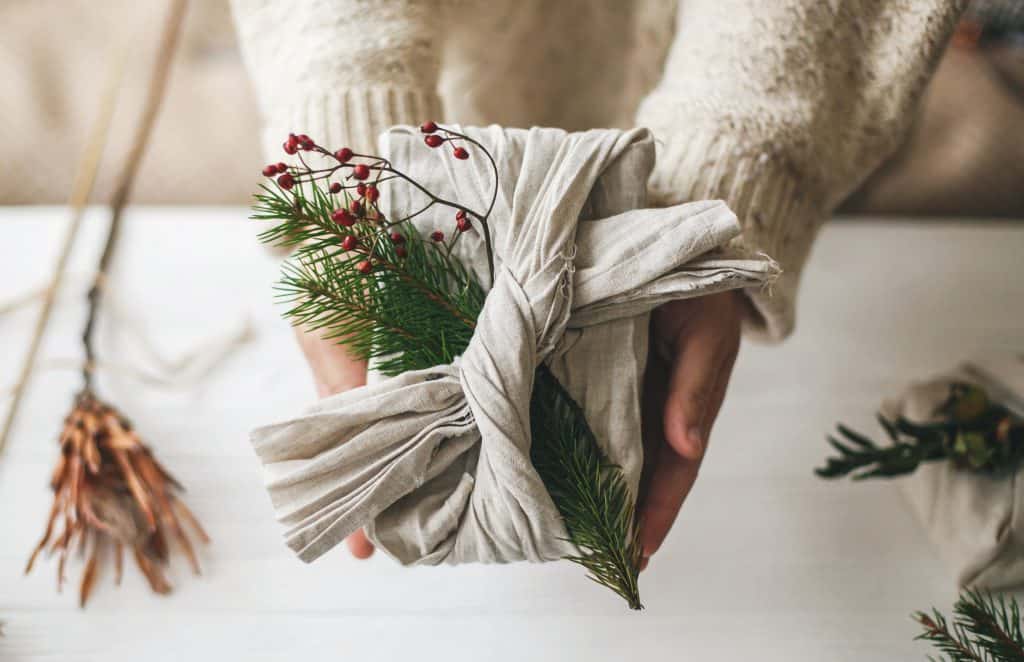 My favorite eco-friendly way to wrap gifts is with reusable, non-toxic materials. Instead of the landfill, your loved one can use their gift wrap all year or pass it on.
It's also completely acceptable to take your reusable gift wrap back home with you after the gift has been opened.
A few years ago, I bought fabric that became our dedicated eco-friendly gift wrap stash. Of course, if you already have fabric you aren't using in your home use that. I love that it's mess-free and folds away to use the next time.
I prefer certified organic cotton since it has less impact on the environment and is better for our health.
If you're looking for specific patterns of organic fabric, I like Birch Fabrics and Cloud9 which you can find at SewOrganicFabric (Etsy) and Organic Cotton Plus (Etsy).
I purchased multiple yards of fabric and then cut it down. Sewing the edges will keep them from fraying. I decided to not sew my edges and just trim off any fray as needed.
Cloth Fabric Gift Wrap
If you are looking for fabric gift wrap that is already pre-cut and sewn for you, take a look at:
Frugi's Christmas cloths are a festive organic way to wrap your gifts. Frugi is one of my favorite organic clothing brands for children.
Willaby sells organic cotton gift reusable gift wrap.
If you're gifting organic clothes or wood toys, I recommend GOTS organic cloth. Even 100% cotton fabric contains pesticide residue.
How To Wrap Gifts Using Furoshiki Style Wrapping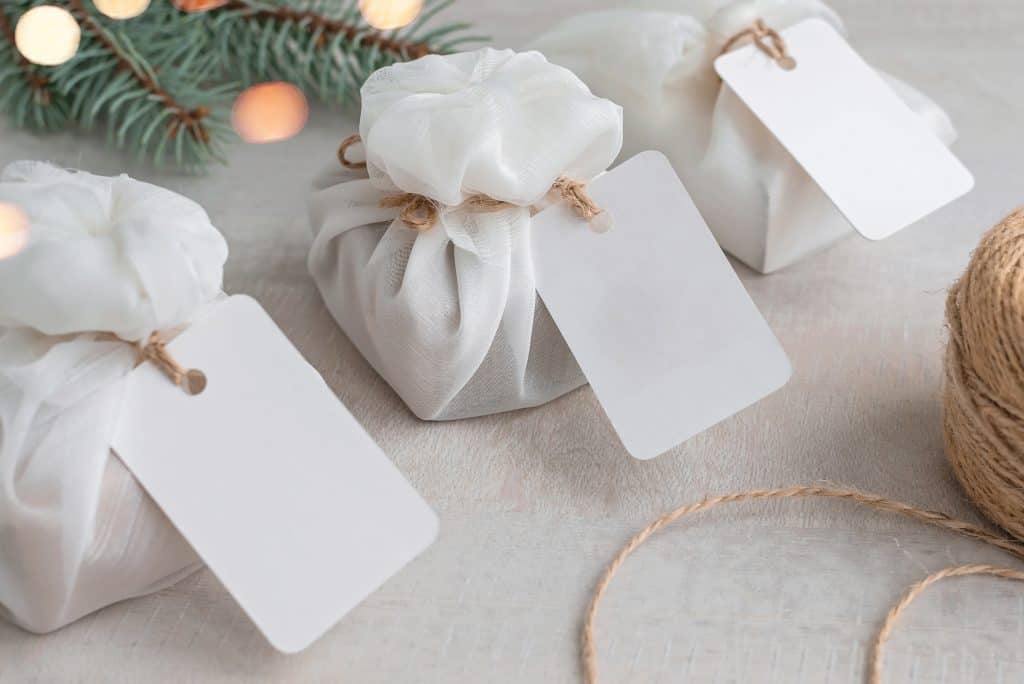 Furoshiki is a Japanese eco-friendly wrapping cloth technique. The easiest way to wrap using your fabric is to bring each opposite end over the gift and tie a knot. There are many variations to it as well.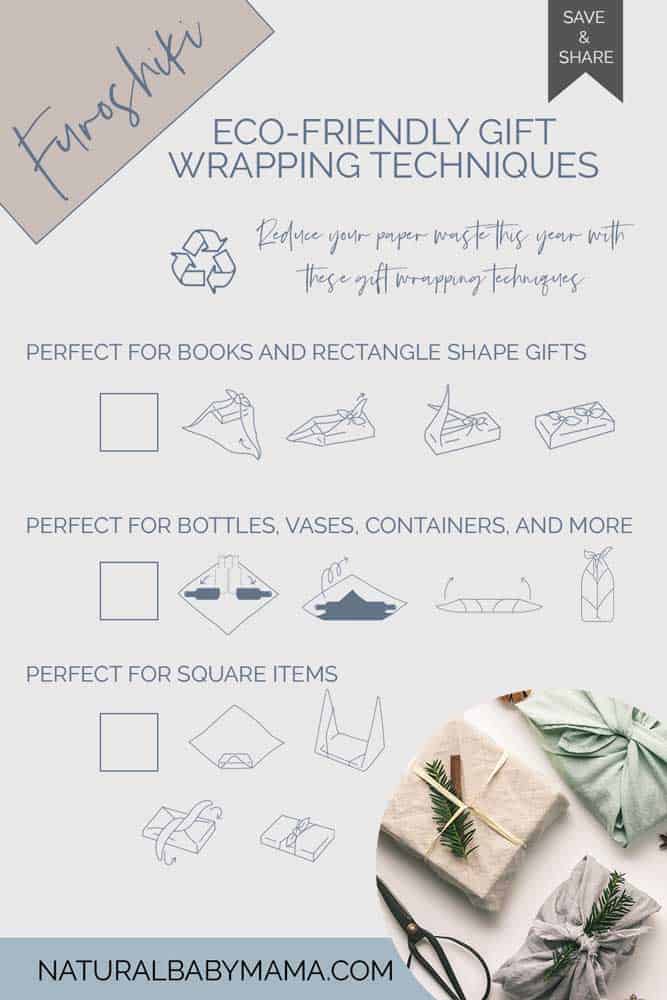 This YouTube video on Furoshiki is a great video to get you on your way. Visually seeing how this is done, and seeing variations, makes it much easier to understand.
Wrapping gifts with this method is so simple, you'll only wonder why you haven't been doing this sooner!
2. Repurpose Old Clothing
It's common for my children to wear their pants' knees or tear holes in their shirts when playing outside. Instead of throwing away fabric, I save cut up pieces to wrap small gifts like these stocking stuffers.
Another great idea is if your sheets get holes in them, cut it up to repurpose as gift wrap.
This is a great way to use fabric that would otherwise end up in the landfill.
Sarah's Silks are one of our favorite open-ended toys and make a fantastic alternative to gift wrap. They're available in bright colors and both large and small sizes.
These gift wrap play silks include a beautiful winter card and instructions on wrapping your gifts with Furoshiki—traditional Japanese wrapping.
For those who prefer minimalist holidays, glass jars are a perfect reusable solution. Ball glass jars are durable and heavy-metal free.
They're perfect for homemade gifts like my vanilla coconut sugar scrub, stocking stuffers, preserved food gifts, and homemade beeswax candles. After gifting, they're perfect for canning and soup storage.
We use beeswax wrap as a staple in our non-toxic lunch box, but the reusable wrap isn't just for food. Made from organic beeswax cotton and jojoba oil, Bee's Wrap is a washable, reusable, and compostable alternative to wrapping paper.
Include a small notecard on how to use Bee's wrap with your gift and tie it with organic hemp twine for a 100% sustainable gift wrap idea.
Tying an organic cotton ribbon at the top makes pillowcases perfect for gift wrapping.
These organic cotton pillowcases have adorable patterns that you can use on the bed after. However, just using what you already have is a perfect solution.
Using baby blankets or swaddle blankets is a great eco-friendly gift wrap idea. The best part is that you can keep using these blankets year-round.
Under the Nile products are 100% GOTS certified organic, Egyptian cotton. This veggie print muslin swaddle blanket makes a great gift wrap idea.
See the Fabric section above for how to wrap using the Japanese Furoshiki eco-friendly wrapping style.
If you've been waiting to start using sustainable storage solutions, special occasions are a great time to start. Simple Ecology organic produce bags are my favorite.
We use them to keep fruits and vegetables fresh in the fridge, for clothing storage while traveling and for gift wrapping with hemp twine or cotton ribbon on top.
Produce bags make a simple and very easy gift wrap solution.
9. Scarves
Reuse your old scarves (or current scarves!) or cut used clothing into thin strips to make the perfect sustainable gift wrap.
Recyclable Gift Wrap Materials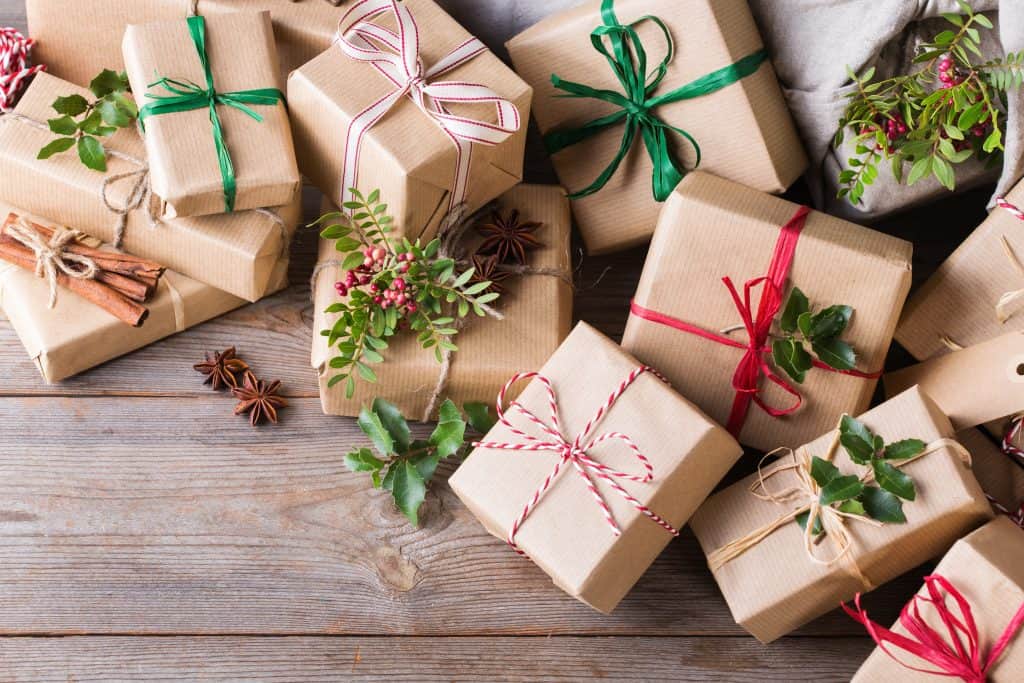 These are the best eco-friendly recyclable gift wraps you probably already have on hand. Using materials you have on hand is always more eco-friendly than more consumption.
These are the best eco-friendly recyclable gift wrap ideas:
For gifts for teachers and large get-togethers, kraft paper is my go-to. When choosing kraft paper, I look for recyclable paper made in the USA like this kraft paper with no sticky wax or coating.
Children can draw or paint using non-toxic art supplies to make kraft paper more festive.
11. Children's Artwork
If you're anything like me, you have lots of artwork from your kids around the house. They're a thoughtful (and free) idea to wrap gifts. We keep our favorites and reuse the rest.
Use children's artwork to wrap up your gifts for family members and birthday parties. I recommend non-toxic art supplies for children.
If you love Christmas patterns, these drawstring burlap bags in deer, snowflake, and tree patterns are a good option. They're reusable and recyclable.
13. Brown Paper Grocery Bags
We store brown paper grocery bags to reuse on the next trip or to cut up for gift wrap. One bag is enough to wrap a medium-sized gift.
Paper bags are compostable and recyclable, unlike plastic bags, so request a paper bag next time you are at the grocery store if you didn't bring your own.
I also like using parchment paper since it is food safe and non-toxic. Usually, parchment paper is made with chlorine that ends up contaminating the water supply.
If You Care parchment paper is chlorine and bleach-free. They also make sandwich bags for smaller gifts like lip balms, toy cars, and socks.
Make Your Gift Wrap Festive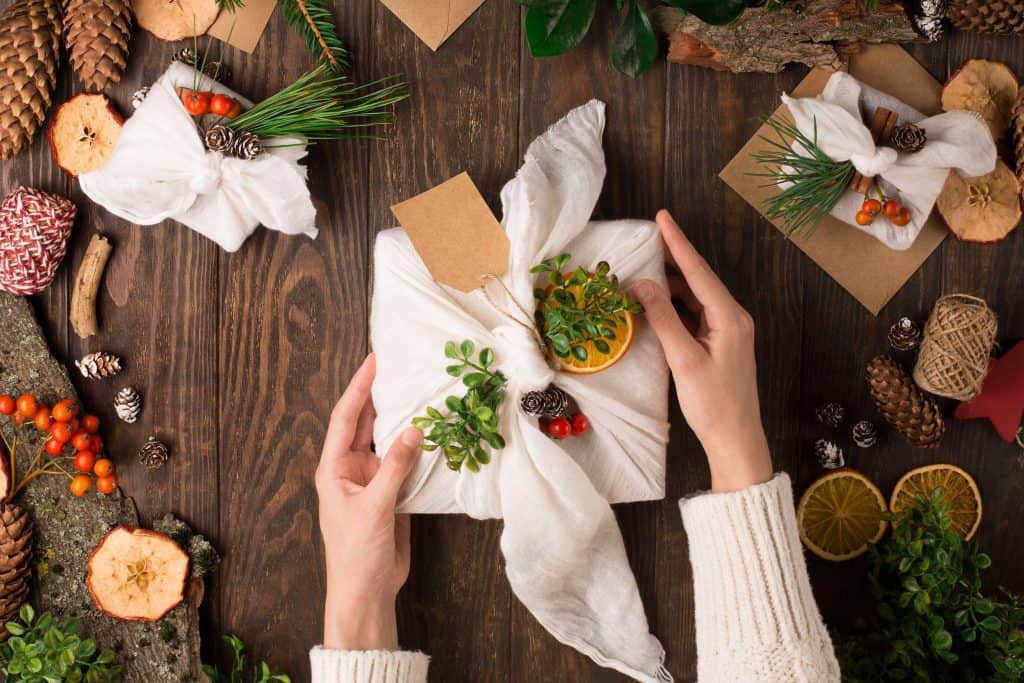 Now that you've chosen your eco-friendly gift wrap, it's time to make it festive.
Did you know—around the world, we use enough ribbon to tie a bow around the entire planet? That's impressive and not in the right way.
Most ribbon is made of plastic and not compostable.
Decorate your plain paper, fabric, and produce bags with these eco-friendly ideas and feel inspired with my list of 45+ non-toxic indoor crafts and activities for kids.
Finally, if you're set on traditional ribbons and bows, make sure to save them for next year instead of tossing them in the trash.
Creative Gifts, Non-Toxic Gift Wrap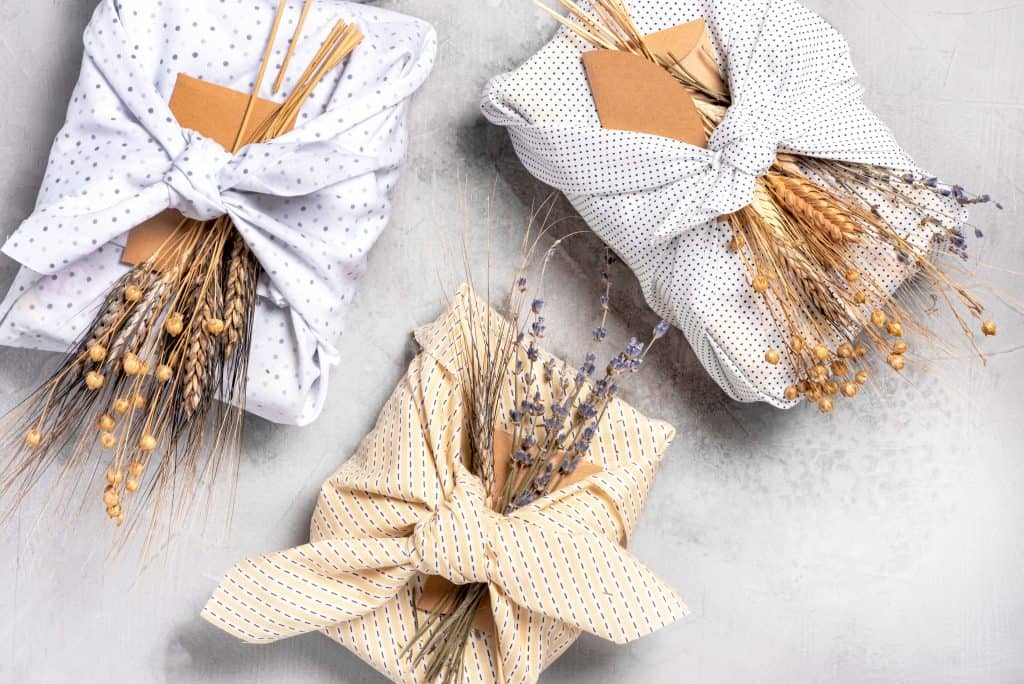 Recyclable and reusable gift-wrap is a creative way to save the environment and prevent waste. If every person uses a sustainable gift wrapping solution each holiday, think of how many chemicals we would remove from our air and much we would prevent going to the landfill.
And, if you're still looking for the perfect, eco-friendly gift to add to your gift wrap, these blog posts can help: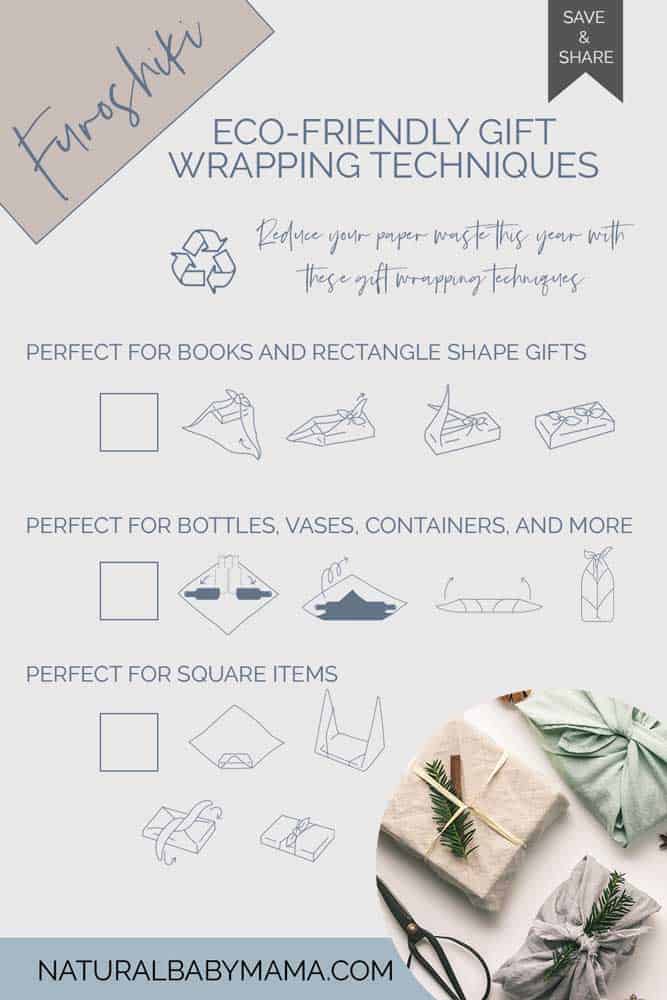 Final Thoughts
Making a switch from traditional wrapping paper to eco-friendly gift wrap doesn't have to be hard or complicated.
In fact, after you make the switch you probably will find it easier! You won't have to go out and purchase gift wrap or make sure you have enough tape on hand.
I hope these ideas brought some inspiration for you to try with your loved ones.
Do you have a favorite eco-friendly gift wrap idea, or have you tried one of mine? Share in the comments below with your favorites!
Check out the Natural Baby Mama Amazon Storefront for vetted non-toxic products for you and your family!
Pin it for later!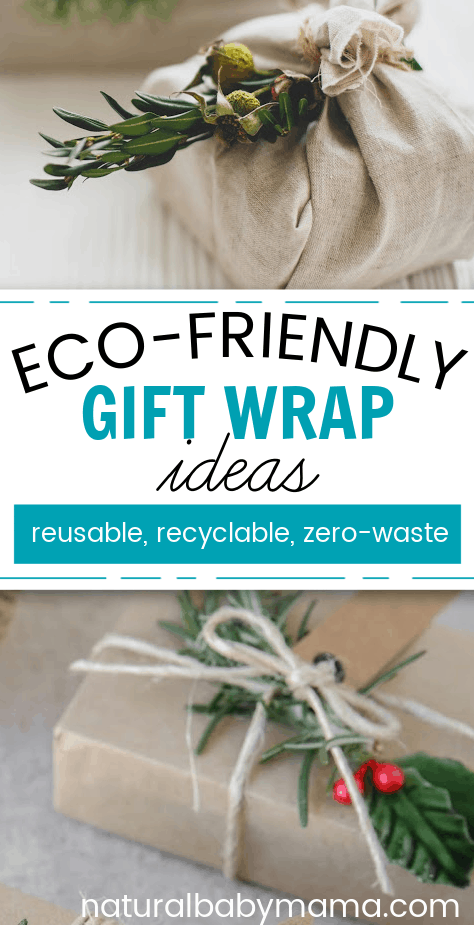 Related posts to Eco-Friendly Gift Wrap Ideas
Sources:
Greenfieldboyce, Nell. "Don't Burn The Gift Wrap." NPR. 25 December 2008. npr.org
Hartman, Eviana. "Using or Burning Holiday Gift Wrap Is Not Environmentally Friendly." Washington Post. 23 November 2008. washingtonpost.com
"Holiday Waste Prevention." Stanford University. lbre.stanford.edu
"Tis the Season to Recycle." Zero Waste DC. zerowaste.dc.gov
Hughes, Serina. "Glitter: A Sparkling Nightmare for Oceans." Blue Ocean Society for Marine Conservation. 14 February 2020. blueoceansociety.org