A quality organic pregnancy pillow can make a world of difference in improving your sleep experience during the second and third trimesters of pregnancy when your growing stomach renders many sleeping positions uncomfortable.
Choosing the perfect pregnancy pillow for sleep support can be challenging. Apart from an optimal shape and feel, you should also consider health and safety during this sensitive period of your life. Pregnancy is a time when one should be especially careful to avoid toxins and create a health-promoting environment.
Fortunately, the organic body pillow market includes some wonderful brands that offer high-quality, non-toxic, and eco-conscious products.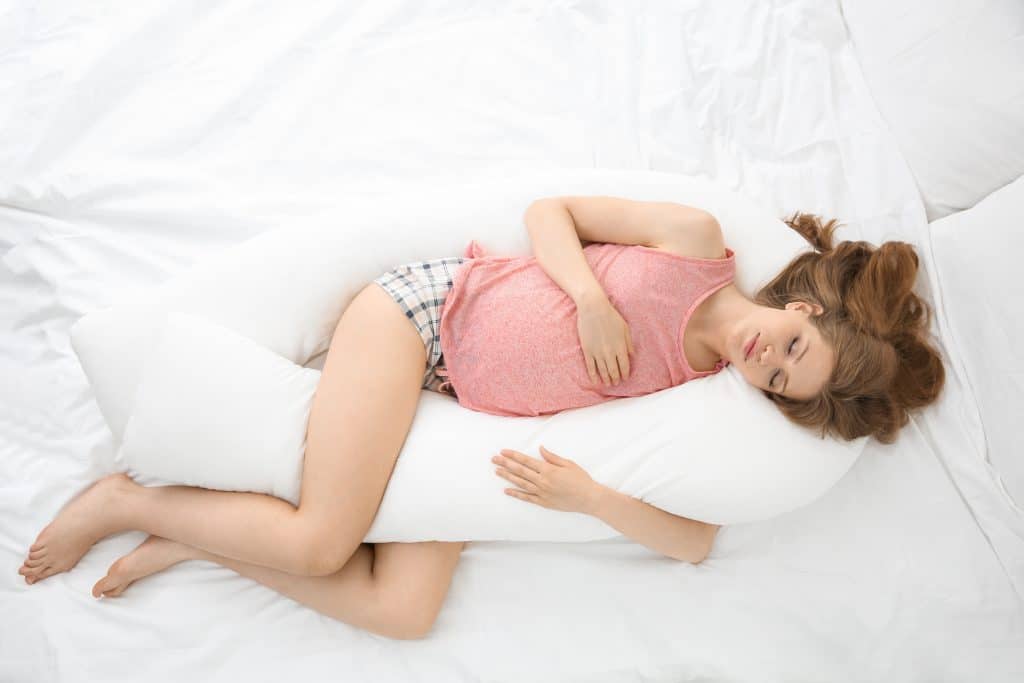 This post may contain affiliate links. Please see my full disclosure policy for details.
What to Avoid in an Organic Pregnancy Pillow
While you sleep, you remain in close contact with your pillow for many hours. If the pillow material contains any toxic substances, you could inhale them or absorb them through the skin. Unfortunately, most conventionally produced fabrics, including bedding and pillows, contain a long list of hazardous toxins.
When shopping for an organic body pillow, make sure you avoid:
Synthetic Fabrics
Synthetic fabrics are popular thanks to their low price and easy upkeep, but they are not good for our health and devastating for the ecology.
Synthetic fabric manufacturing involves known toxins and carcinogens that can wreak havoc on the immune, respiratory, and nervous systems.
Furthermore, with each washing, synthetic fabrics release harmful microplastics.
Poly Fiber Fill
Not all pregnancy pillows with an organic cover get an automatic pass. Unfortunately, the organic cover of some body pillows hides a petroleum-based polyester fill.
The hazardous petroleum components, such as polyethylene terephthalate, can enter your body via inhalation or absorption through the skin. Polyester also releases benzene and formaldehyde, both toxic volatile organic compounds.
Avoid organic cotton pregnancy pillows that are filled with polyester or other synthetic fibers.
Polyurethane Foam
While polyurethane foam readily adapts to body contours and provides good support, it also contains harmful petroleum-based substances that have been linked to allergies, asthma, neurological disorders, and cancer.
Non-Organic Cotton
The word "cotton" in a product description sounds safe. However, conventional cotton farming involves an overwhelming amount of toxic pesticides that eventually make their way into the groundwater.
Moreover, this polluting, unsustainable practice often exploits farm workers in developing countries.
In addition, pesticides and other harsh chemicals from processing can stay on the fabric even after washing.
What to Look For in Organic Pregnancy Pillows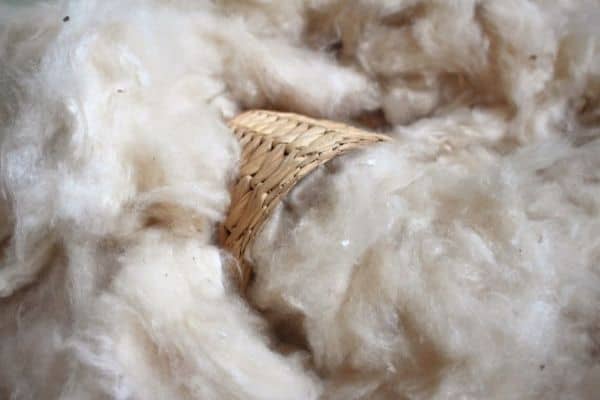 When choosing a non-toxic pregnancy pillow, look for natural, renewable, sustainably harvested, and ethically manufactured materials. Although this may bump up the cost, your well-being and peace of mind are well worth the extra investment.
The following materials are a safe choice for you and your soon-to-be baby:
Organic Cotton
Organic cotton farming does not use pesticides, insecticides, fertilizers, or other hazardous chemicals. It incorporates crop rotation, a sustainable practice that preserves the soil.
Be aware that some organic cotton crops go through a manufacturing process that involves toxic chemicals and dyes. That's why you need to make sure that the cotton in your pillow is not only organic, but also GOTS-certified (read on to learn more about this).
Organic or Eco-Wool
Wool is a natural, renewable fiber with fantastic thermoregulation properties that make it suitable for both warm and cool weather. Wool is flame-resistant and will repel dust mites and mold with proper upkeep.
Some people tend to think of itchy, scratchy fabric when they hear "wool". However, quality wool is soft, pleasant to the touch, and non-irritating. While wool allergies do exist, often "sensitivity to wool" is actually an adverse reaction to the harmful chemicals used in conventional wool manufacture.
Unfortunately, wool farming can involve cruel practices. When choosing a wool product, it's important to make sure the wool was harvested ethically. The GOTS certification ensures not only that the wool is organic but also ethical treatment to animals.
Kapok
Kapok has rightfully earned the title "vegan silk" or "vegetable cashmere" thanks to its smooth sheen and delicious softness. Kapok comes directly from the seed pod of Ceiba pentandra, a species of tree native to West Africa and Central America.
Kapok filling makes a hypoallergenic, lightweight, compression-resistant organic pregnancy pillow.
Organic Latex
Raw latex from certified organic plantations is a sustainable, renewable material that provides excellent support in pillows. Latex is hypoallergenic, easy to care for, durable, and highly compression-resistant. It comes in two options: whole (similar in feel to memory foam) or shredded.
You want to look for certified organic Dunlop latex with the GOLS certification (read below for more details).
Fiber and Fabric Certifications
Look for the following certifications to ensure you choose a sustainably and ethically produced non-toxic pregnancy pillow:
GOTS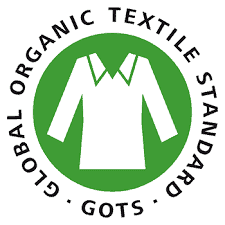 GOTS (Global Organic Textile Standard): To get this certification, the fabric must be free of hazardous AZO dyes, flame retardants, phthalates, formaldehyde, and other harmful chemicals. The product must also undergo an ethical manufacturing process that does not involve animal cruelty or worker exploitation.
Oeko-Tex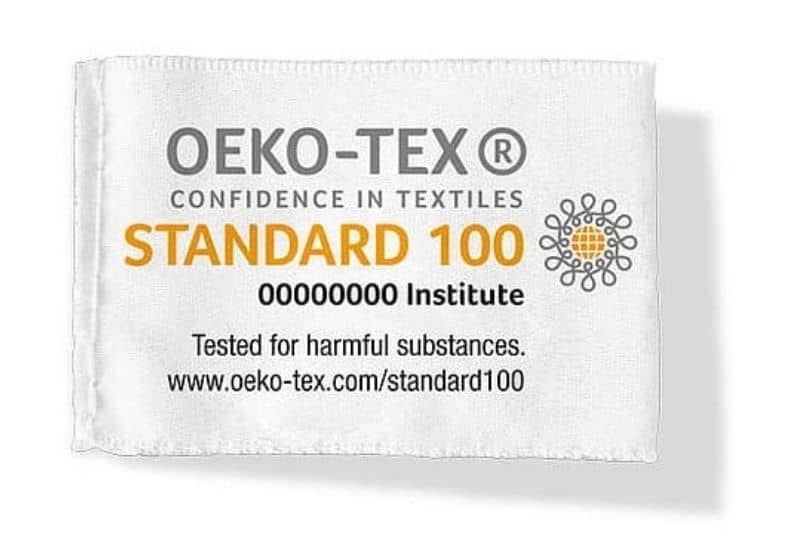 Oeko-Tex: Oeko-Tex certification standards are a little less rigorous than GOTS requirements. While Oeko-Tex-certified products do not contain most of the harmful substances widely used in conventional fabric manufacture, this certification does accept the use of flame retardants and pesticides and does not guarantee that the product is organic.
ZQ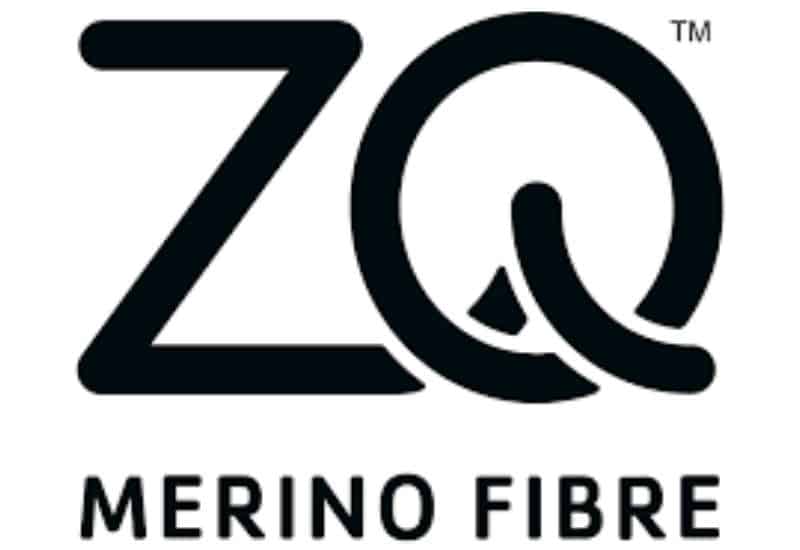 ZQ: This certification is specific to wool fibers and fabrics. To comply with ZQ standards, wool products must follow the most stringent regulations of sustainable farming, animal welfare, and fair working conditions.
GOLS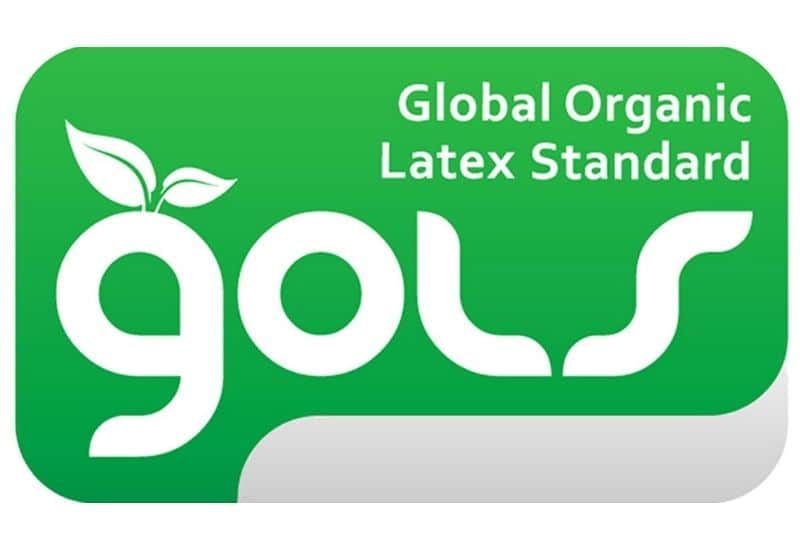 GOLS (Global Organic Latex Standard): the GOLS certification is the GOTS equivalent for latex. GOLS-certified latex products follow stringent safety, environmental, and ethical regulations.
Are Body Pillows Good for Pregnancy?
If you're a back or stomach sleeper, you might have a problem during pregnancy. Starting from about halfway to full term, side sleeping is pretty much your only option. Without adequate support for the growing baby bump in this sleeping position, many women suffer from back and hip pain, stiffness, cramps, and restless sleep.
A quality body pillow improves spine alignment and provides pressure relief for the lower back and hips. Depending on its shape, it can support your belly, your back, or both. It can improve circulation, relieve heartburn, and ease leg cramps.
How to Use a Pregnancy Pillow?
Depending on your pillow's shape, you can use it in several ways:
Under your belly to improve spinal alignment
Under your head for heartburn relief
Behind your back to keep you from rolling over, or to provide extra support while you are sitting up
Between your legs to reduce pressure on the hips and pubic bone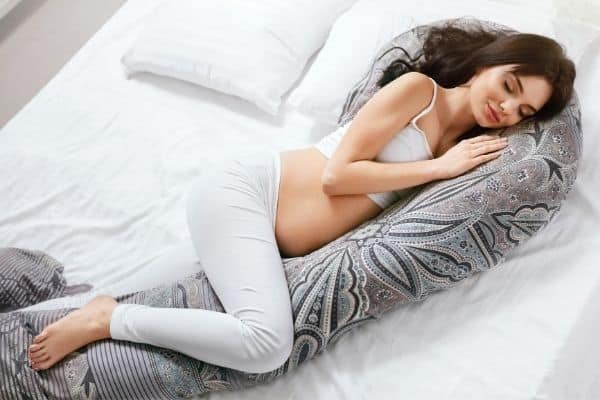 Which Body Pillow is Best During Pregnancy?
With so many pregnancy pillows on the market, it might be difficult to decide which one is right for you. Here are some characteristics you'll want to keep in mind while shopping for your perfect pillow.
Shape
Most pregnancy pillows come in the following shapes:
C-shape. Depending on its placement, a C-shaped pregnancy pillow will support your belly or back and keep your legs parallel.
U-shape. A U-shaped pillow provides balanced support for all body parts, including the belly, back, neck, hips, and legs.
Wedge. If you only need support for your belly, a wedge pillow will do the job without taking up too much space. This compact option is also great for traveling.
Elongated shape. A basic rectangular or cylindrical body pillow can provide support for the back, belly, or between the legs. It's versatile and you can continue using this shape for years to come.
Size
While a large, comfy body pillow feels great to snuggle up to, you might have limited space in your bed or just prefer a less bulky pillow.
Firmness
A soft, squishy pregnancy pillow may be enough for a bit of extra support, but if you suffer from severe back or hip pain, you will probably need a firmer pillow that offers extra resistance.
Material Type
During the third trimester, you may feel especially hot and uncomfortable. If you're expecting a summer baby or live in a warm climate, be sure to go for a pillow that feels cool and allows sufficient airflow.
Ease of Washing
Night sweating can be common during pregnancy. When you wake up to sweat stains on your pillow, you'll be grateful for an easily removable pillow cover you can pull off and toss into the washer with no extra hassle.
Versatility
Depending on its shape, a pregnancy pillow can also provide much-needed back support during the postpartum period. A flexible U-shape model can double as a nursing pillow.
The Best Organic Pregnancy Body Pillows
The following are the best non-toxic, organic pregnancy pillows on the market. These are all Natural Baby Mama approved!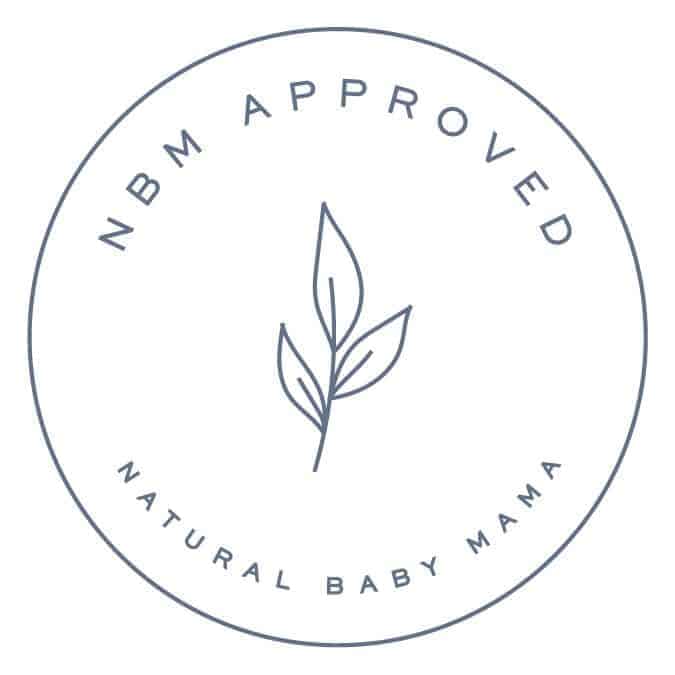 Holy Lamb Organics Body Pillow
The Holy Lamb Organics GOTS-certified, cozy body pillow is my personal favorite. Its elongated shape makes it wonderfully practical and versatile.
To this day, I use my Holy Lamb Organics body pillow to keep my 5-year-old from rolling out of bed. I simply place it under the sheet to create a safe bumper.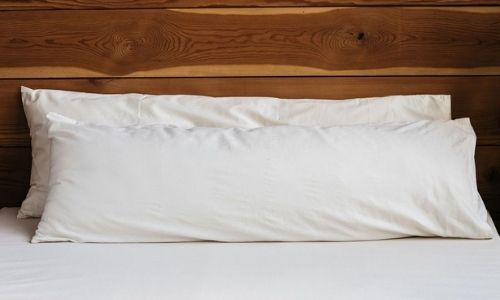 Pillow characteristics:
Weight: 3.49 lb. Size: 17" X 53"
Premium organic wool filling
A dense, firm feel
Excellent support without excessive bulk
Price range from $195-$274 including washable case
Made in the USA
While this pillow calls for spot clean only, you can purchase it with or without a separate machine-washable case.
The starting price for the Holy Lamb certified organic body pillow is $274. You might consider the Holy Lamb Organics natural body pillow – an almost identical product, except that the filling is eco-wool rather than GOTS-certified organic wool. You can purchase the natural body pillow for $195.
---
Lifekind Certified Organic Body Pillow
Lifekind offers two organic body pillow versions: all-wool and all-cotton.
The soft, springy wool pillow provides medium support, while the cotton pillow is firmer, flatter, and cooler.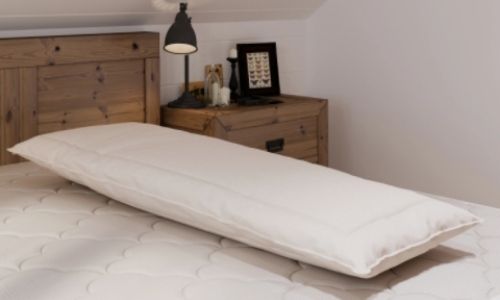 Pillow characteristics:
Size: 20" X 60"
Envelope-style washable pillowcase available separately
Starting price: $239 for the all-wool pillow, $179 for the all-cotton pillow
Handmade in the USA
Lifekind recommends airing the pillow in the sun to refresh it and sprinkling baking soda to eliminate any odors. Spot clean only.
---
Soaring Heart Premium Organic Body Pillows
Soaring Heart body pillows are available in two sizes: large and small, and in two fill options: organic wool and organic kapok.
The wool pillow is denser and springier, while kapok gives a lighter, fluffier feel.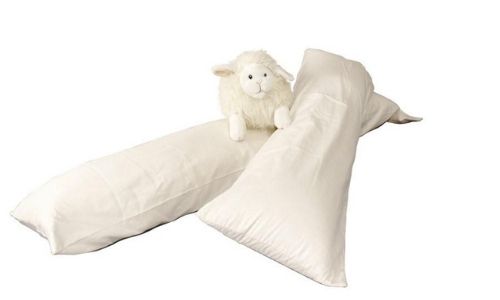 Pillow characteristics:
GOTS-certified
Size: 14" X 64". Weight: 5 lbs (large pillow)
Starting price: $261 for organic wool, $209 for organic kapok
Made in the USA
Care instructions call for spot clean only. A 100% organic cotton pillowcase available for extra protection.
Discount code: 5% off with code Natural Baby Mama
---
White Lotus Home Kapok Body Pillow
With a silky, fluffy kapok fill and soft organic GOTS-certified sateen cotton casing, the White Lotus body pillow is a great choice.
White Lotus offers a zippered pillow option, which allows you to remove or add filling at your preference.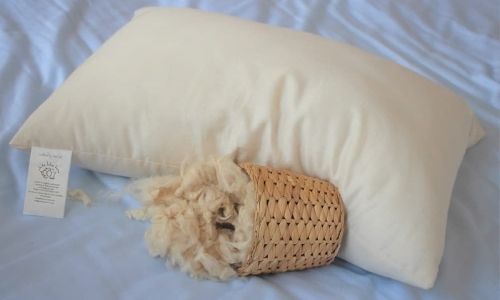 Pillow characteristics:
Size: 20" X 72" (Body) or 20" X 52" (Body Jr)
Weight: 9 or 5.6 lbs
Starting price: $202 for Body Pillow with zip, $128 for Body Jr Pillow with zip
Care instructions: spot clean only. Barrier cloth pillow cover available.
---
Organic Textiles Natural Latex Body Pillow
This springy, comfortable cylindrical pillow has a 100% natural Dunlop latex fill that offers medium-firm support and never compresses or needs readjustment like wool or cotton fillers.
It has a pinhole design for easy cover removal.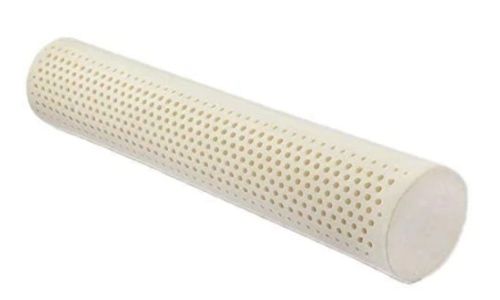 Pillow characteristics:
Size: Length: 48", diameter: 8"
Price: $99.95 including double premium cotton cover
100% pure natural latex with no memory foam or toxic chemicals
Care instructions: the pillow is encased in a thin cotton cover. It is highly recommended to use the additional easily washable premium organic cotton cover over the top.
---
The Organic Mattress: Pure Joy Organic Pregnancy Wedge
The Pure Joy compact support pillow comes in two filling options: hand-stuffed shredded latex or kapok. The convenient zippered cover is 100% GOTS-certified cotton.
The Pure Joy organic pregnancy pillow is a great, affordable option for traveling or for moms-to-be who want belly support without a bulky full-body pillow.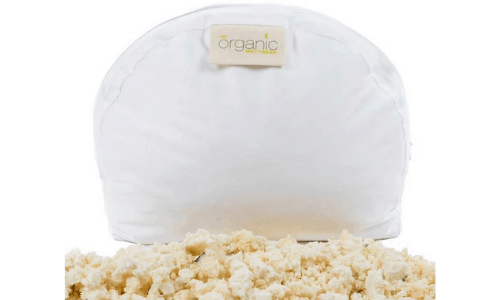 Pillow characteristics:
Size: 12" X 10" X 4"
Starting price: $69
Handmade in the USA
Care instructions: the pillow comes with a machine-washable removable cover. The shredded latex pillow is fully washable in the permanent cover, which makes it and easy upkeep organic pregnancy pillow.
SHOP PURE JOY ORGANIC PREGNANCY WEDGE
---
Final Thoughts
A quality organic pregnancy pillow can help you sleep better, maintain a healthy posture during the night, and wake up rested and refreshed in the morning.
Many of these pillows you can continue to use well after pregnancy so I consider that a good investment!
Finding safe, non-toxic products can be hard. The Natural Baby Mama Amazon Storefront is filled with vetted non-toxic products from baby to home.
OTHER POSTS RELATED TO ORGANIC PREGNANCY PILLOWS:
Pin it for later!