A quality comforter can do wonders for restful, revitalizing sleep. You can doze off in peace when you know that your comforter is not just soft and cozy but free of toxic substances and unsustainable materials. Plus, if you choose an organic comforter made in the USA, you're encouraging local farming and manufacture.
Enhance your sleep experience with a snuggly, breathable comforter that is good for your health, eco-friendly, and ethically produced.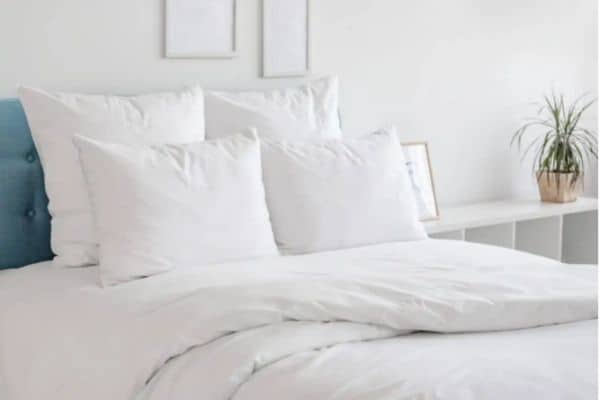 This post may contain affiliate links. Please see my full disclosure policy for details.
What to Avoid in Comforters
Unfortunately, the most innocent-looking fluffy comforters can expose you to toxic dyes, formaldehyde, and other hazardous substances that may be absorbed into your skin while you sleep. Learn to avoid these pitfalls by educating yourself and reading the labels.
Toxins in Comforters
– VOCs
Many synthetic materials and even conventionally produced cotton release VOCs (volatile organic compounds), harmful chemicals that can cause respiratory irritation, skin irritation, headaches, fatigue, and nervous system damage.
– Formaldehyde
Formaldehyde makes fabric stain- and wrinkle-resistant, but these convenient traits come with a hefty price. Formaldehyde can cause skin and respiratory issues. Worse, the National Toxicology Program has listed it as a human carcinogen.
– AZO Dyes
In addition to being environmental pollutants, AZO dyes contain heavy metals and produce aromatic amines, dangerous compounds linked to cancer and allergies.
AZO dyes are banned from USA-based manufacture but may be present in imported bedding from developing countries.
– Flame Retardants
Flame retardants, chemical compounds that inhibit flammability, are linked to respiratory problems, endocrine, thyroid, and immune system disruption, reproductive toxicity, and cancer.
– Phthalates
Phthalates, common in synthetic fabrics and commercial dyes, are notorious for their association with endocrine disruption, asthma, ADHD, reproductive development, and breast cancer.
Comforter Materials
Apart from specific toxic and hazardous compounds, be sure to avoid the following materials:
– Synthetic Fabrics
While synthetic fabrics are popular, cheap, and easy to maintain, they are unhealthy and environmentally unsustainable. Synthetic fabrics are derived from petroleum (ie, oil).
Synthetic fabrics undergo a manufacturing process that involves an array of toxic, carcinogenic compounds that can affect the respiratory, nervous, gastrointestinal, and immune systems.
With every washing, synthetic fabrics shed microplastics, spreading these particles across the home and beyond it.
– Poly Fiberfill
When purchasing a comforter, look deeper than the cover (which may carry an "organic" label). Many comforters are filled with poly fiber, an artificial petroleum-based material that is harmful to human health and the environment.
Ethylene glycol, the main component of polyester fibers, can damage the nervous system and kidneys when inhaled or absorbed through the skin.
– Non-Organic Cotton (Conventional Cotton)
Cotton may seem like a safe option, but non-organic cotton farming relies on an overwhelming amount of toxic pesticides – about 1/3 pound for every pound of cotton. Conventional cotton farming uses a lot of water and often involves worker exploitation.
– Down
Down is natural and renewable, and makes super soft, warm bedding with excellent insulation. However, its production often involves live-plucking, an inhumane practice that causes suffering to geese and ducks.
Furthermore, down usually undergoes sanitizing with harmful bleach or formaldehyde.
If you really like down comforters, look for the Responsible Down Standard, a certification that ensures no cruel practices like force-feeding or live-plucking were involved in obtaining the down.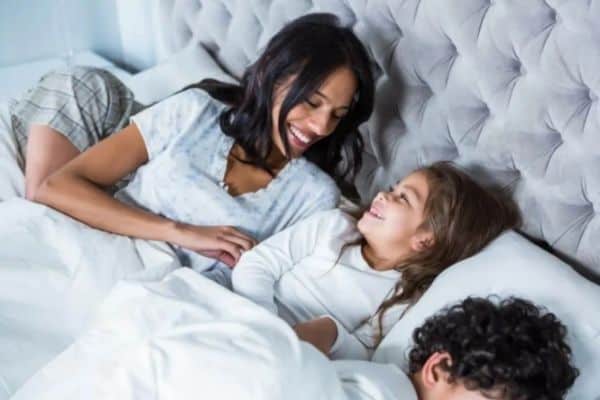 What to Look For in Organic Comforters
When you shop for an organic comforter, choose a combination of natural materials grown and manufactured through eco-conscious, sustainable procedures. It's a truly worthwhile investment for your health and peace of mind.
Organic Cotton
Organic cotton farming does not use pesticides, chemical fertilizers, or other hazardous chemicals. It utilizes beneficial crop rotation that makes the practice sustainable, unlike conventional cotton farming.
A word of caution: some organic cotton products are labeled "organic" but undergo a manufacturing process that uses toxic chemicals and dyes. Keep reading to learn about certifications that will help you choose an organic comforter.
Organic or Eco Wool
Wool is a natural, renewable fiber with super thermoregulation qualities. It wicks away moisture and prevents overheating and sweating. Wool is naturally flame- and mold-resistant.
Although some people complain of itchiness or irritation upon contact with wool, they often experience sensitivity to the harmful chemicals used in conventional wool production. High-grade organic wool is soft, comfortable, and non-irritating.
It's essential to make sure that the wool used as comforter filling is sustainably and humanely harvested.
Certifications
How can you be sure that the comforter you consider purchasing is really organic and sustainably produced, without adverse environmental effects or worker exploitation? Look for the following certifications:
GOTS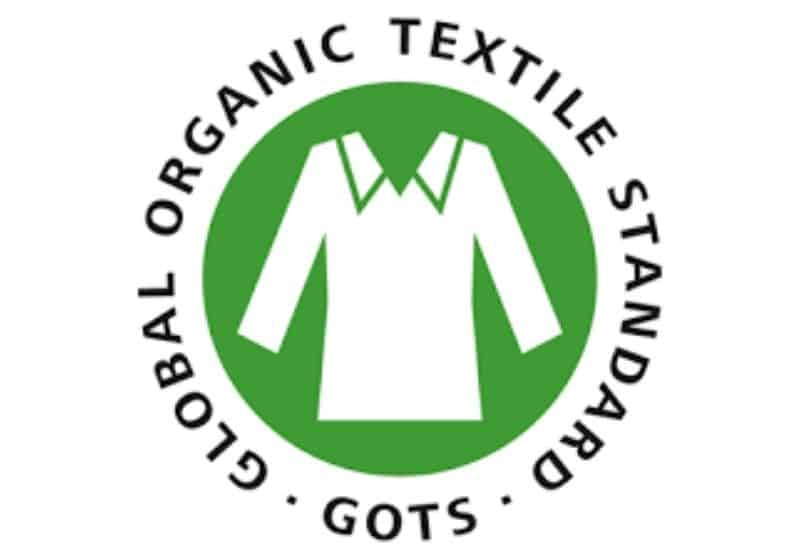 GOTS, Global Organic Textile Standard, is the most stringent certification that lets you know the product does not contain any hazardous elements such as AZO dyes, flame retardants, phthalates, or formaldehyde. GOTS also demands an ethical manufacturing process that avoids animal cruelty or unfair working conditions.
Oeko-Tex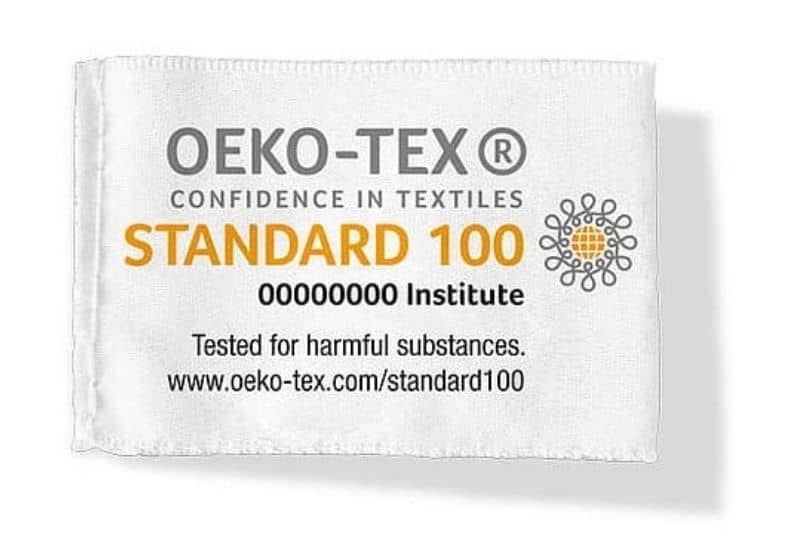 Oeko-Tex is a bit more lenient than GOTS but still a good standard. Non-organic fabrics and fabrics that contain flame retardants can still be Oeko-Tex certified. However, this certification does guarantee that your non-toxic comforter is free of a long list of hazardous compounds.
ZQ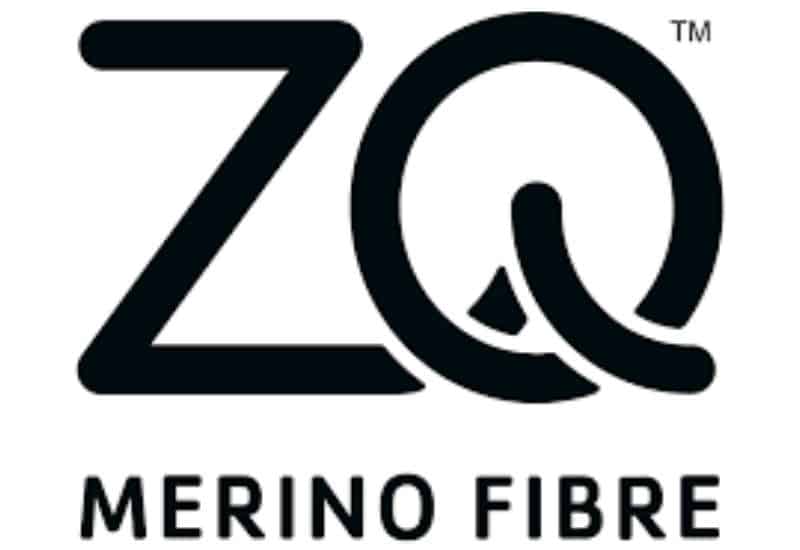 ZQ refers specifically to wool fabrics and fibers. To get the ZQ certification, wool farmers must adhere to the most exacting requirements of animal welfare, sustainability, and fair employment.
How to Decide Which Organic Comforter is Right?
When choosing a comforter, you will likely look into several qualities and decide based on your individual preference, the climate in your area, and budget.
Weight
Depending on the fill material, some comforters will be heavier than others. Some people enjoy the secure cocoon of gentle pressure a heavy comforter provides – somewhat similar to a weighted blanket, which may improve sleep quality and relieve anxiety. Others prefer a lighter comforter as it feels less restrictive.
Seasons and Climate
An organic wool comforter is a great year-round choice thanks to its temperature control properties. Wool will provide warmth in the winter and keep you from sweating in the summer. In contrast, down comforters are highly insulating and super warm, but you will probably need to pack them away as spring comes.
If you live in a very warm climate, your best option might be an organic cotton comforter.
Organic Certification
You don't buy a comforter every day, so I highly recommended investing in a GOTS-certified organic comforter made in the USA.
Cost
The cost of organic comforters varies depending on the materials, size (twin, queen, or king), and brands. The more expensive option isn't necessarily better – one of two similar brands offering a high-quality organic comforter made in the USA can be much more affordable.
Ease of Washing
At some point, you will need to clean your comforter. You might have a problem if the comforter is too bulky for your washer's capacity or if the stitching is too weak to withstand washing.
An organic comforter from minimally processed fibers may call for spot-clean only, so peruse care instructions before you make your choice.
The Best Organic Comforters
Here are the best high-quality, cozy, comfy, organic comforters that will promote quality sleep without posing risks to your health or the environment.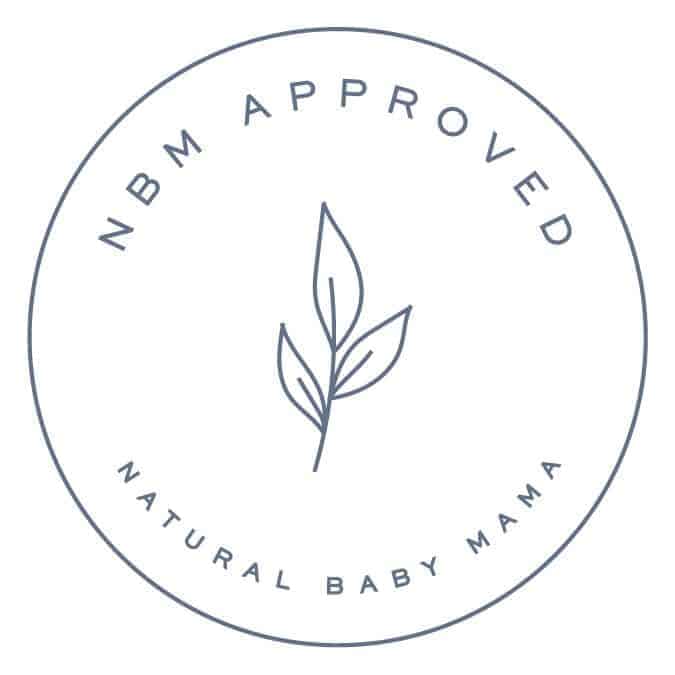 Organic Wool Comforters
Holy Lamb Organics
Our personal family favorite, Holy Lamb's warm and cozy, GOTS-certified organic wool comforter, has GOTS certified wool filling and a GOTS organic cotton sateen cover.
This organic comforter made in the USA comes in all standard sizes and three weight options (Cool Comfort, Perfect Comfort, and Extra Warm).
Holy Lamb Organics also sells organic cotton comforters with eco-wool that is more affordable.
Starting price: $419 for twin size.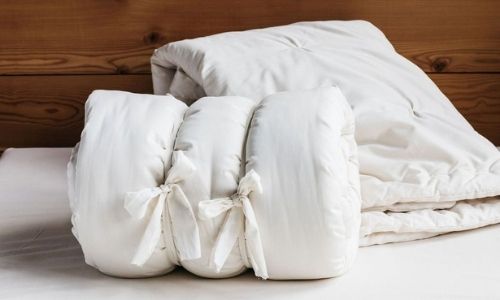 ---
LifeKind
Lifekind's all-season GOTS certified wool comforter with organic cotton sateen is quilted to keep the organic wool in place.
This is perfect for year-round use in most climates. This is spot clean only and handmade in the USA.
Starting price: $479 for twin size.
---
PlushBeds
The luxury organic wool comforter from PlushBeds has a cotton sateen cover and premium USA-grown eco-wool filling that makes it a perfect year-round choice. GOTS-certified.
Starting price: $281 for twin size.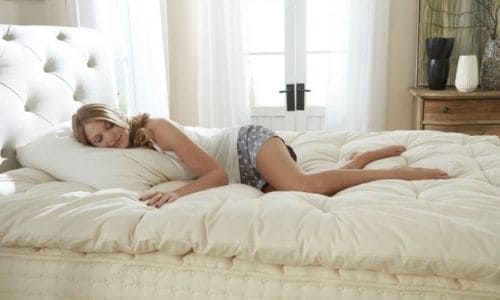 ---
Shepherd's Dream
Handmade in Northern California, the All Seasons organic wool comforter from Shepherd's Dream provides the perfect happy balance for restful sleep year-round. Check out their summer and winter weight options if you want a more season-specific comforter. GOTS-certified.
Starting price: $355 for twin size.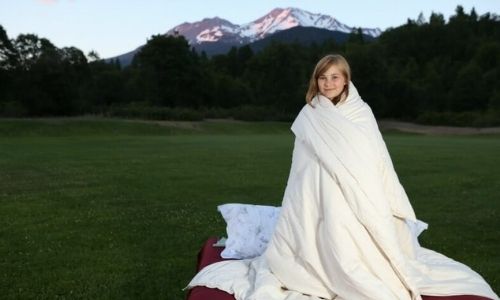 ---
White Lotus Home
The plush organic wool comforter from White Lotus Home has a super soft, GOTS-certified organic cotton cover.
They also carry an all organic cotton comforter as well.
Care instructions call for spot clean only – no machine washing. Handcrafted in the USA.
Starting price: $404 for twin size in wool.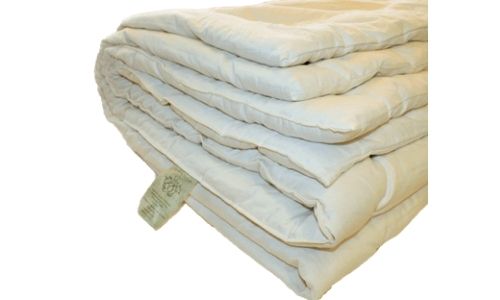 ---
Organic Cotton Comforters
Soaring Heart
This GOTS-certified organic cotton comforter has a filling of USA-grown, hand-tufted cotton batting, covered by 100% organic cotton sateen.
Soaring Heart is a great, substantial, and breathable comforter.
Starting price: $504 for twin size.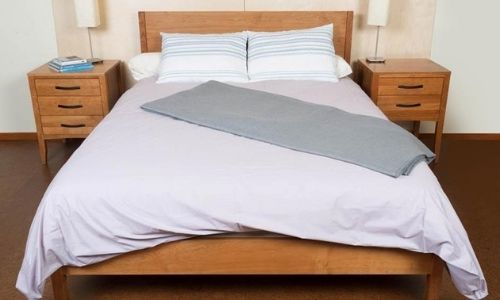 Discount code: 5% off with code Natural Baby Mama
---
Coyuchi
Coyuchi's lightweight GOTS-certified organic cotton comforter is perfect for warm summer nights. It has a pleasant drape and sturdy diamond-shaped stitching. Made in India.
Coyuchi also sells an organic comforter filled with down that was humanely raised. The down is from the USA, the organic cotton shell is GOTS certified from China on this comforter.
Starting price: $248 for twin size.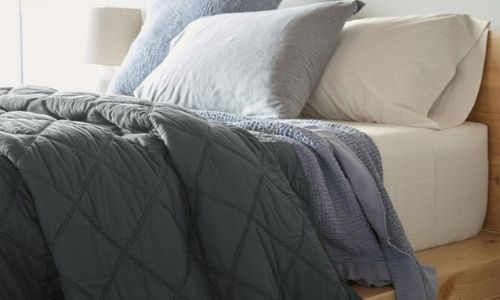 ---
Rawganique
This soft and smooth 100% certified organic cotton comforter is great for all except the coldest regions of North America. Rawganique's organic comforter is not machine washable. Handmade in Texas.
Starting price: $327 for twin size.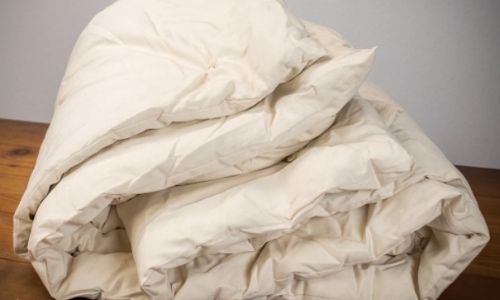 ---
Final Thoughts
Picking the right comforter is a big step towards refreshing sleep. For a healthy, ethical choice, make sure that all your bedding is non-toxic and sustainably sourced.
An organic wool comforter will offer cozy warmth and excellent thermoregulation year-round, while a light organic cotton comforter will keep you cool throughout balmy summer nights.
If you are looking for a quality organic comforter made in the USA, you have several great brands that offer wool- or cotton-filled comforters.
Check out the Natural Baby Mama Amazon Storefront for vetted non-toxic living products for your home and family.
Other Posts Related to Organic Comforters
Pin it for later!