Sunscreen is a necessary essential for those warm summer days. However, some sunscreen can be not only harmful to the environment but also to your health. This guide will help you sort out the toxic conventional sunscreen and find the best non-toxic sunscreen for your family.
Whether your family uses sunscreen once a week or every day, the toxic chemicals quickly absorb into your system. This year, the FDA published a study showing the absorption of sunscreen chemicals into the body—the findings are shocking.
Not only do sunscreen chemicals absorb into the body at amounts triple over the threshold, but they circulate in the bloodstream for days, if not weeks.
Unfortunately, one sunscreen application before a beach day is enough for toxins to enter your body. Children have thinner skin than adults so absorption can potentially be at higher rates for children.
Long-term, daily use of conventional sunscreen brands may mutate cells, especially sunscreen with cancer-causing compounds like oxybenzone. As you spend more time outside during the summer months, it's essential to understand the risk and benefits of slathering your family in conventional sunblock.
The FDA didn't find enough data to conclude if chemicals in sunscreen are harmful to your family's health. Instead, they continue to debate new regulations and ask the sunscreen industry to fill in the safety gaps. Unfortunately, that leaves us as consumers to take the matter into our own hands
In this article, I'll explain the dangers of sunscreen and help you choose a gentle alternative for your family. Read to the end to find out my top five family and reef-safe non-toxic sunscreen recommendations.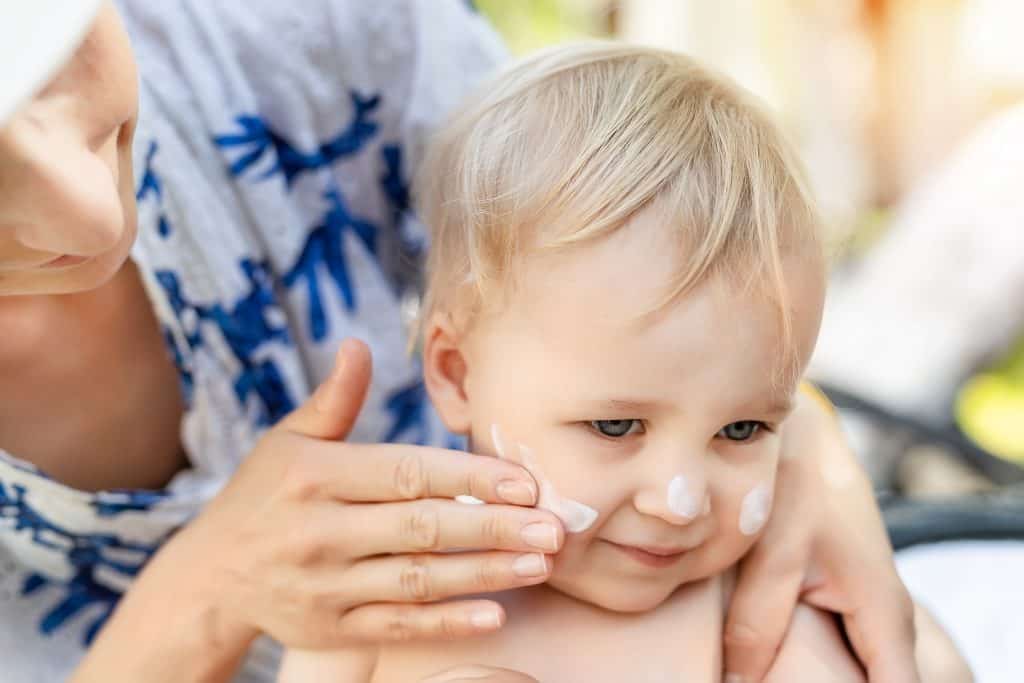 This post may contain affiliate links. Please see my full disclosure policy for details.
The Dangers of Toxic Sunscreen
Only two sunscreen ingredients out of sixteen are considered safe and effective. The others, in addition to numerous preservatives and additives, remain in the products you can buy today.
Toxins in Sunscreen
Here are some of the major toxins in sunscreens and a few of their toxicity concerns:
Oxybenzone: endocrine disrupter (see more information below)
Octinoxate (Octyl methoxycinnamate): endocrine disrupter and significant wildlife and environmental disruption
Homosalate: Toxic or harmful to organs and an environmental toxin
Octisalate: Environmental toxin
Octocrylene: Biochemical or cellular changes when exposed to sunlight and accumulation in humans and fish
Parabens: Disrupts hormone function and links to cancer
Oxybenzone is especially dangerous. Sunscreen and nail polish are among the 3,500 beauty products that use oxybenzone. Studies show oxybenzone:
Alters birth weight
Disturbs Hormones
Irregularly influences the growth of male genitals
Affects sperm cells and fertility
Mimics progesterone
The Environmental Working Group found oxybenzone in 40 percent of the sunscreen products they tested for 2020. Children and breast-feeding mothers are especially vulnerable.
Take the extra step to eliminate oxybenzone from your household with my non-toxic body care and hair care recommendations.
Is Sunscreen Bad For the Environment?
Not only is toxic sunscreen toxic to your family but marine life, too. Toxic sunscreen chemicals cause DNA damage and deformities in baby coral and animals like dolphins and mussels.
Hawaii has passed a bill to ban oxybenzone and octinoxate in sunscreen to protect their coral reef. This law goes into effect on January 1, 2021.
If it takes the equivalent of one drop of a chemical like oxybenzone to harm an entire coral reef, what could it be doing to your family's health?
Purchasing reef safe non-toxic sunscreen is not only good for you but good for the environment.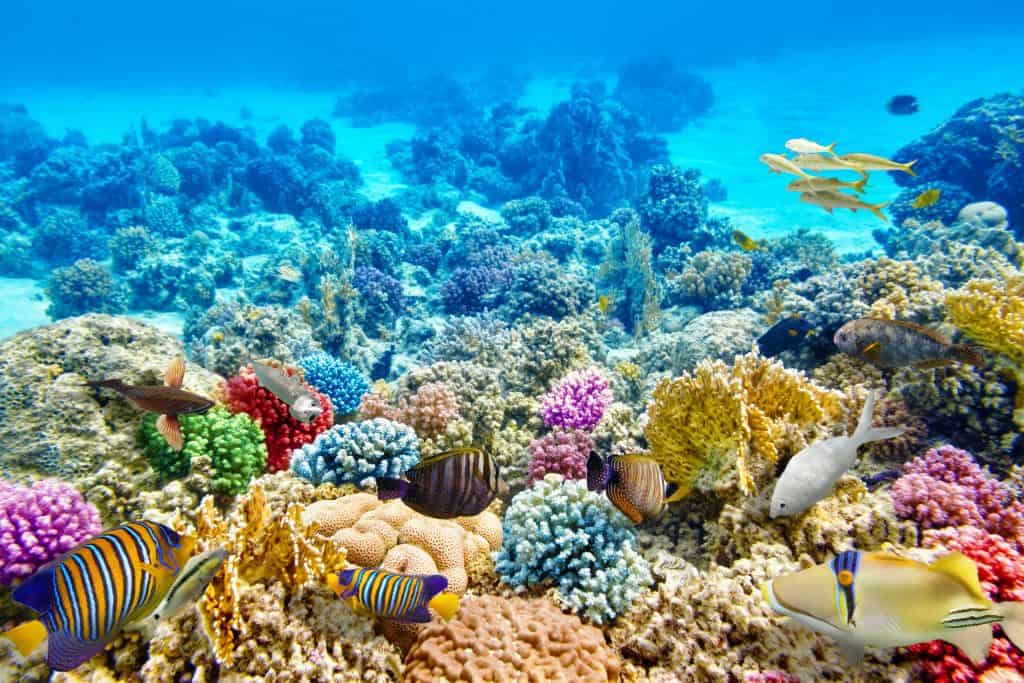 Nanoparticles in Sunscreen: Why You Should Care
Like chemicals in sunscreen, the safety of nanoparticles is questionable. These particles are smaller than light wavelengths and may interfere with your health. Because of the size, nanoparticles easily enter the bloodstream and circulate through the body.
The United States FDA doesn't classify or have guidelines on nanoparticle or nanotechnology but allows these in cosmetic products—including sunscreen.
Studies show adverse health effects, especially when inhaled and damage to the marine environment. I recommend only non-nano sunscreen lotion. Non-nano particles are bigger and sit on top of your skin instead of being absorbed by your skin.
My top pick is Badger Brand Sunscreen. This one ingredient sunscreen is backed by third-party independent labs to show no detectable nanoparticles.
Is Spray Sunscreen Safe?
Don't underestimate the dangers of spray sunscreens. When it comes to spray, even organics brands aren't a safe choice.
In 2018, the European Commission on Safety (EU SCSS) confirmed insufficient data to allow nanoparticles like zinc and titanium inside spray sunscreen. Zinc oxide is the main ingredient in all non-toxic sunscreen brands but quickly becomes dangerous on inhalation.
Popular sunscreen brands like Hawaiian Tropic and Neutrogena contain alcohol, synthetic fragrances, and other chemicals. A small spray creates microscopic particles of these chemicals that little (and big!) lungs easily inhale.
No matter how safe you think you are by spraying sunscreen away from your body, those microscopic particles are still in the air. The only way to not inhale your sunscreen is by not using a spray formula.
Because of the lack of safety evidence and possible dangers, I don't recommend spray sunscreen in any form—even organic.
The Benefits of Sunshine
It's disheartening to see so many dangers in common sunscreen brands, so is sunscreen worth it? To be honest, we don't use sunscreen daily. I live in the Pacific Northwest, where sunshine doesn't happen every day. During the sunny months, my children alternate between full sun and shady spots in our backyard.
Without sunscreen, your family gets the benefits of Vitamin D from sun exposure. This vitamin is important for bone health, immunity, and reducing the risk of chronic disease.
Instead of sunscreen, there are other ways to protect your family from the sun. Check out my guide on non-toxic swimwear for kids.
Vitamin D isn't the only sun benefit. A new study in the Journal of the American Heart Association that sun exposure leads to lower blood pressure. While the number was small, it correlates with a 10 percent decrease in a cardiac event.
When examining the risks and benefits of sunlight, think about your family history of skin cancer, skin tone, and age.
For our family: we cover up with GOTS certified organic clothing when possible and supplement with vitamin D drops in the winter months. Occasional sun exposure with sensibility is your best decision-maker.
When we have direct sun exposure for long periods of time, like the beach we absolutely use non-toxic sunscreen.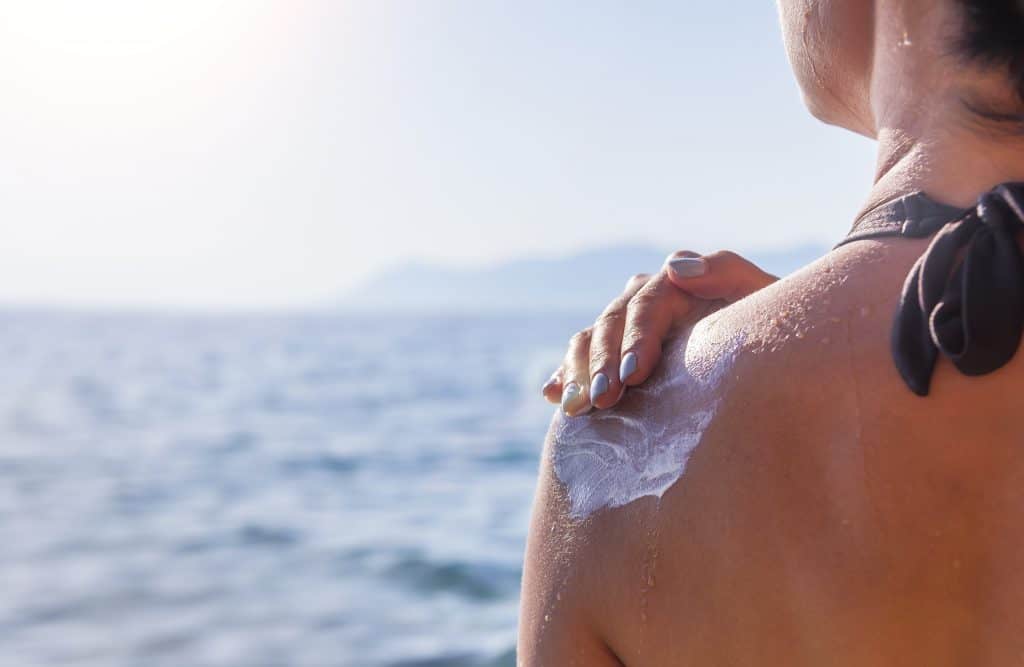 Top 5 Non-Toxic Sunscreen Brands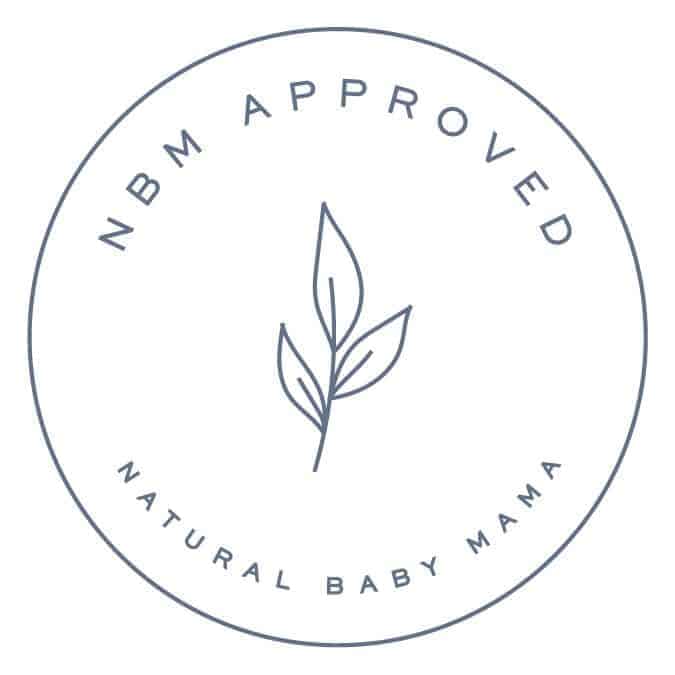 Every product listed below meets NBM guidelines to be free of toxins and made with safety-tested ingredients. These non-toxic sunscreens:
Don't have potentially harmful nanoparticles
Are free from cancer-causing oxybenzone and phthalates (and other harmful chemicals)
Tested by third-party labs, pediatricians or dermatologists
Are safe for children and adults
You'll notice the same ingredient in the sunscreen in this guide. Non-nano zinc oxide is more difficult to spread and leaves a white residue, but it has a great safety record.
Both the US and stricter European regulations approve it for sunscreen. Non-nao zinc oxide isn't an organic active ingredient, so it's important to choose brands that use organic herbs, plant-based oils, and no preservatives along with minerals.
Instead of absorbing into your skin like toxic brands, the mineral sunscreens in this guide sit on top, creating a protective barrier between you and the sun. The top 5 non-toxic sunscreens are: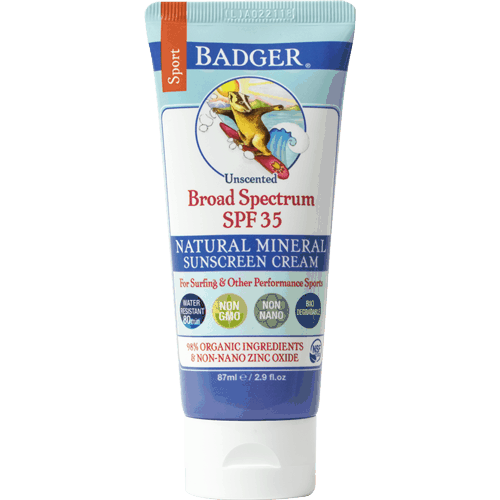 This small family-run operation is a pioneer in using safe and effective organic products. My favorite is the unscented sunscreen with non-nano zinc oxide.
Badger also offers a clear zinc formula that my husband prefers. It's less chalky and rubs in easier for an active lifestyle. You'll notice the clear zinc does not state it is non-nano zinc. Badger explains on their website how the zinc used in the clear formulas is fused together to create larger particles that don't absorb into your skin.
The active ingredient—zinc oxide—is the same in both kid and adult formulas. Badger uses organic plant extracts like olive oil from Spain and European Roses from Bulgaria for their products. Not only is this brand a safe choice, but you can feel confident in your environmental footprint, too.
Bader makes reef safe sunblocks, is cruelty free, and made in the USA.
Raw Elements is a sustainable, non-GMO project verified brand for the sports enthusiast. It's a low footprint and coral reef-safe brand. My favorite product is their Tinted Facial Moisturizer. I use this instead of makeup for a sun-kissed glow in the summer months.
The tinted line also comes in a Tinted Face Stick. Unlike Badger, the zinc oxide mixed with USDA organic skin butter and coffee beans won't leave a white sheen on your skin. The plastic-free packaging is a bonus.
Raw Elements also has a Babies and Kids line as well as non-tinted Face + Body sunblock for adults.
Raw Elements is reef safe, non-GMO project verified, cruelty-free, and made in the USA.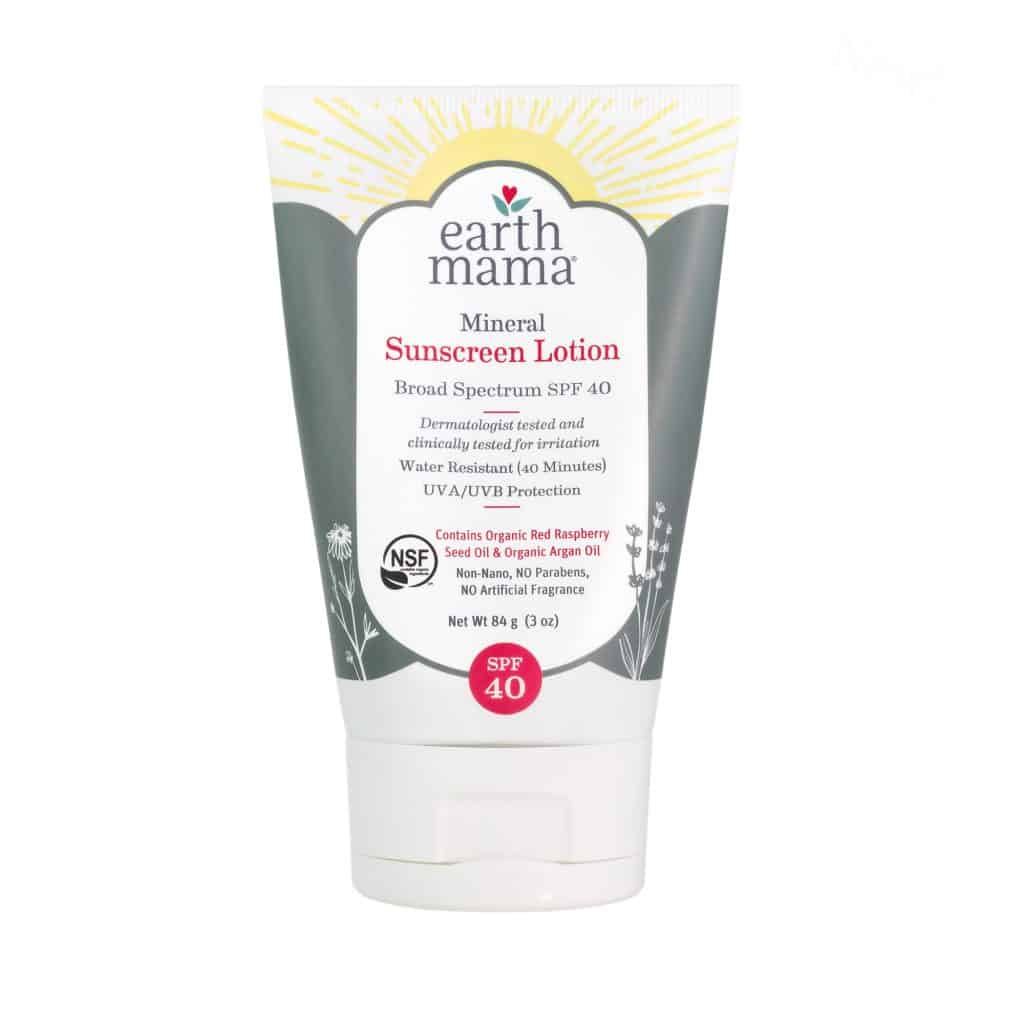 Earth Mama (formerly known as Earth Mama Angel Baby) is a staple in our household. They use organic plant-based ingredients to formulate products, especially for sensitive skin.
The Kids Uber-Sensitive Sunscreen Lotion stands out as the best choice for dry skin. Not only is this a sunscreen, but it uses more colloidal oatmeal than the standard eczema creams on the market.
Earth Mama also has a tinted face sunscreen to go along with the full line of sunscreen for babies, kids, and adults.
Their non-toxic sunscreens use non-nano zinc oxide with organic ingredients like organic Shea Butter and organic calendula.
Earth Mama sunscreen is reef safe.
This small family-owned business is 100 percent transparent. THE Sunscreen is an eight ingredient formula with moisturizing oils. Poofy is one of the only companies to publish their Sun Protection third-party testing, so you can rest assured that your family has sun protection.
Poofy also sells a stick sunscreen called THE Sunscreen Stick.
Poofy uses non-nano zinc oxide along with organic ingredients like organic jojoba oil and organic unrefined shea butter.
Poofy sunscreen is made in the USA.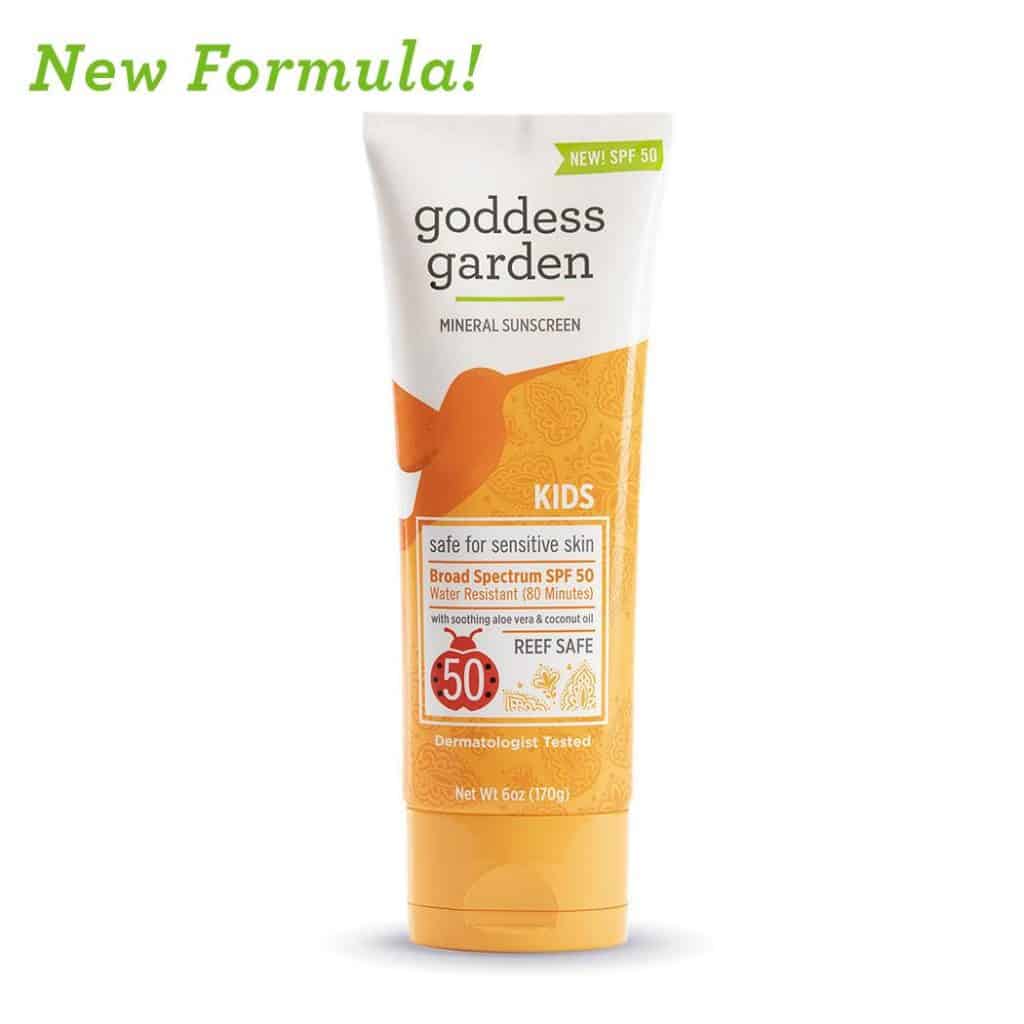 Goddess Garden has vegan sunscreen formulas that are easier to find than the other brands on our list. This brand ranks worse for toxins in the Environmental Working Groups analysis compared to others on this list, however. The ingredients are a blend of plant-based oils with "safe" chemicals like sorbitan oleate (rated a safe 1 on EWG).
Some Goddess Garden sunblocks contain coated Titanium Dioxide as well as coated Aluminum Hydroxide which they claim makes it stable and therefore not a health risk. Personally, I would choose their sunscreens without both of these ingredients.
Goddess Garden's Kids Sunscreen is worthy of mention since it's widely available and a good option if you're in a pinch.
Goddess Garden is reef safe, vegan, and cruelty-free.
---
For easy shopping, you can find many of the NBM recommended non-toxic sunblock brands in the Natural Baby Mama Amazon storefront.
Final Thoughts on Non-Toxic Sunscreen
Americans have fewer choices when it comes to sunscreen than their European counterparts.
As of 2013, there are 1,328 chemicals banned in European cosmetics (including sunscreen) versus 11 in the United States.
Aside from heavy metals, phthalates, fragrances, alcohol, and other toxins, Americans should also worry about the effectiveness of big sunscreen brands. Of the sixty sunscreen brands Consumer Reports tested in 2013, twenty-three didn't meet their marketing claims.
That's why it's essential to choose a trusted, non-toxic sunscreen brand like the ones on our list. What about your family—How often do you use sunscreen and are our brands already on your list?
Don't forget to check out our non-toxic, sustainable swimwear for kids and eco-friendly outdoor and beach toys!
---
Posts Related to Non-Toxic Sunscreen
Pin it for later!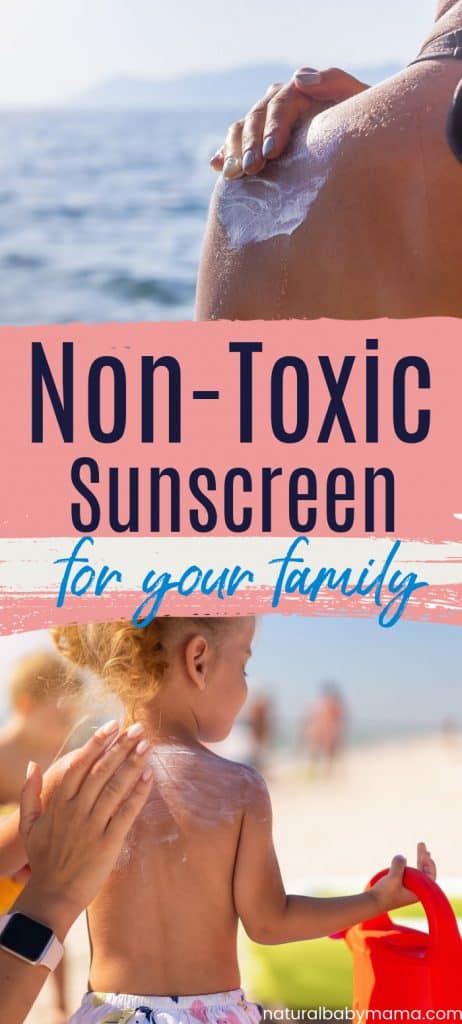 Sources:
---