This post may contain affiliate links. Please see my full disclosure policy for details.
Where we live we never have a nice June except for this year! I love being outside and being outside with nice weather is a bonus. Everyone needs a little vitamin D but too much exposure to the sun is a bad thing. Most of your skin damage is done in your first few years of life. It is really important to make sure our little ones are protected. Besides not being in the sun there are three options – Sunscreen, Sun hats and UV protective clothing such as rash guards. I've been on a search high and low for a rash guard that didn't use chemicals, harmful dyes and that wasn't made in China. I finally found it and I am so happy!
Sunscreen
First, you really need to make sure you have sunscreen that isn't full of toxic chemicals. There is a GREAT resource – EWG's Skin Deep. You can search pretty much anything on this database and it will let you know how toxic (or not) the product you are using it. It will then drill down each ingredient and tell you the concern. Seriously, check it out. Look up your sunscreen, baby wipes, your make up, shampoo, etc.. I personally think the cleanest, commercially available sunscreen for you and your kids is Badger. They have Badger baby, kids and for adults. All of it is equally safe. It is organic and rates very low on Skin Deep plus when you read the ingredients you actually know what they are! Badger also uses non-nano zinc oxide which is important versus using zinc oxide. If you want to know the difference you can read more about it here. Here is the link to Skin Deep for Badger. Look up what you are currently using. Some sunscreen is so toxic. It's like rubbing chemicals on your body that are known to cause cancer, and other types of toxicity, to prevent getting skin cancer. It's crazy, especially when there are safe, effective alternatives. Also, the spray sun blocks are horrible. Don't ever use them, you won't after you look them up anyways, but all those chemicals get sprayed into the air and get in your children's lungs (and the lungs of anyone nearby!). Even if you use the spray and spray it in your hands before applying to your children, it still gets in the air. Here is the link to Skin Deep for Coppertone Kids Spray sunblock. I'm not picking on Coppertone but it was just the first spray sunscreen that came to my head.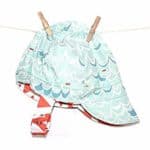 Sun Hats
Sun hats are very important for little ones. Luckily I have a little boy who loves wearing hats! He even puts his sun hat on in the morning when he wakes up. For infants, I loved the gender neutral, GOTS certified organic sun hat from Under the Nile. Another place I've been eyeing but having purchased from yet is Urban Baby Bonnets. I love them. Especially if I had a girl but they make some pretty great boy hats too. They have a good selection of organic fabric (and GOTS certified fabrics). I love how much coverage the front provides. The current sun hat I have is from Kite Kids. It's organic and GOTS certified. They are based in the UK but I purchased the hat on Zulily.
Rash Guard & Swim shorts
Rash Guard & Swim wear – I really am super happy to have found City Threads. They are made in the USA and use a tight weave of their fabric to obtain their UV protection. I love natural materials and when you are looking for swim gear you obviously aren't going to find cotton. Knowing that, I just wanted to find a company that wasn't using toxic dyes or spraying chemicals on the clothes to obtain the UV protection. It took me a really long time to find this company but I'm very happy that I continued my search until I found the best option in swimwear. I talked with the owner in length to confirm that they don't use any concerning chemicals. They have rash guards in solid prints and with designs in both short and long sleeves. They only make swim shorts which they have both solid colors and prints. I have a boy so this is great but I also think it is equally great for girls. I mean little girls look ridiculously cute in little swimsuits but it's really not that practical. If you goal is to protect them from the sun then the best option is covering them up.
Enjoy the summer!