You may already know how important it is to look for all-natural toothpaste when it comes to dental health. But did you know that you should also be using non-toxic dental floss as well? Believe it or not, you may inadvertently be ingesting toxins like Teflon chemicals if you aren't using natural dental floss. Below you will find the best natural dental floss brands!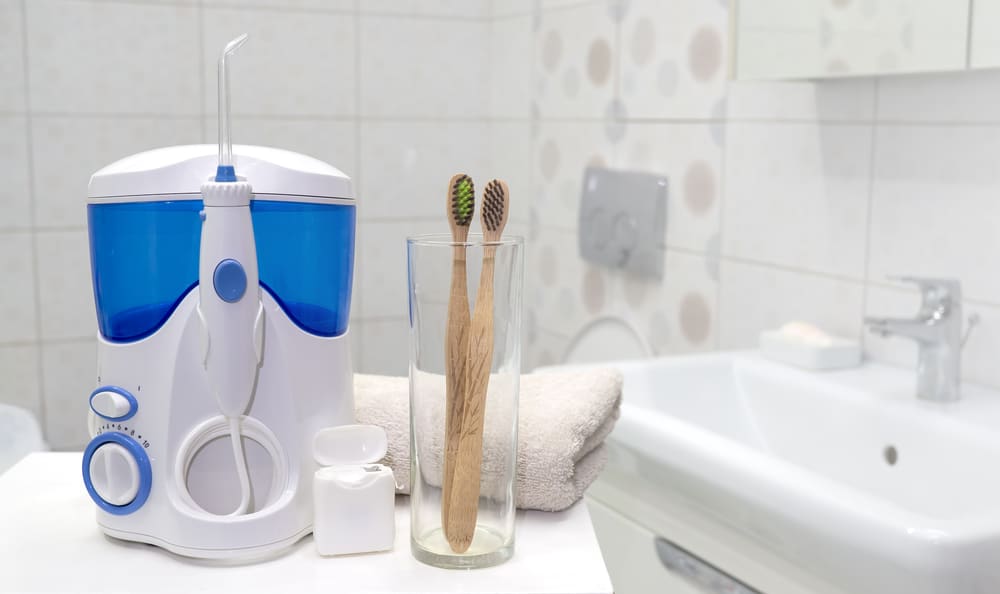 Dental floss is much more comfortable when it glides evenly between your teeth. Unfortunately, what makes it glide easily is often PFAS which is what makes it "non-stick."
Keeping up with flossing every day can be a bit of a chore, but it's essential for the health of your mouth, gums, and teeth. Plus, when you don't floss at least once a day and only brush, it's basically like washing your car without doing the windows! Can you ever imagine doing that?
Even though dental floss isn't something that can easily be ingested, like toothpaste, the toxins and/or chemicals standard variations contain can get into your bloodstream when mixed with saliva or when small pieces of the floss break off in between your teeth and remain in your mouth.
On top of that, think about how much dental floss is thrown into the trash every day by millions and millions of people. So for those who aren't using biodegradable dental floss, it can contribute to the harm being done to our planet by all of the waste we produce on a daily basis.
In this article, I'll give you a good overview of what to look out for when purchasing dental floss. I'll also provide a breakdown of safe dental floss brands, including dental floss without PFAs, and eco-friendly, zero-waste dental floss.
Not only will you make your dentist happy by keeping up with your regular flossing, but you'll be doing a favor to the environment as well. It's a win-win!
This post may contain affiliate links. Please see my full disclosure policy for details.
Toxins in Dental Floss:
Some common toxins and chemicals found in dental floss include:
PFAS (Per- and Polyfluoroalkyl Substances):
PFAS are found in many common brands of dental floss because when the dental floss is coated with them, it slides a lot easier between the teeth. Unfortunately, PFAS are harmful to the environment since they aren't substances that naturally break down – they are known as forever chemicals.
They can also be harmful to your health because they build up in your system over time since your body doesn't know how to break them down.
PFAS can potentially have a wide array of negative health effects, including damage to the liver, kidneys, and immune system, increased risk of certain types of cancer, and increased blood pressure, and possible low birth weight for pregnant women.
When you floss, small amounts of PFAS are ingested into your system, and over time, they can build up and may lead to health problems.
PFAS exposure has been linked to thyroid disease, autoimmune disease, cancer, hormone imbalances, and even Alzheimer's.
Plastic:
Plastic is also used to coat dental floss, namely in the form of phthalates and bisphenols. Both of these toxic chemicals are known endocrine system disruptors and can contribute to health issues.
Plastics are also not biodegradable, so they have an equally devastating effect on the sustainability of our environment and planet.
Petroleum:
Many of the go-to brands of floss are made using petroleum. Petroleum has been shown to be an endocrine disruptor and has also been linked to cancer.
Artificial Flavors:
While mint or other flavored dental flosses may lead to a fresher taste in your mouth, keep in mind that most flavoring added to floss is artificial.
There are hundreds of artificial flavorings that are approved by the FDA. The flavorings also give off a fragrance, which, again, is added artificially.
Artificial flavorings may also contain parabens, which may be added as preservatives. However, they have been linked to an increase in cancer risk and also to fertility problems and birth defects.
The problem is that the ingredients in the flavoring are often not specified, so there's really no way of knowing what types of toxins might be leaving their mark on your teeth while you try to get them sparkly clean!
It's also important to note that some natural flavorings still include preservatives and/or other unnatural substances.
What to Avoid in Dental Floss: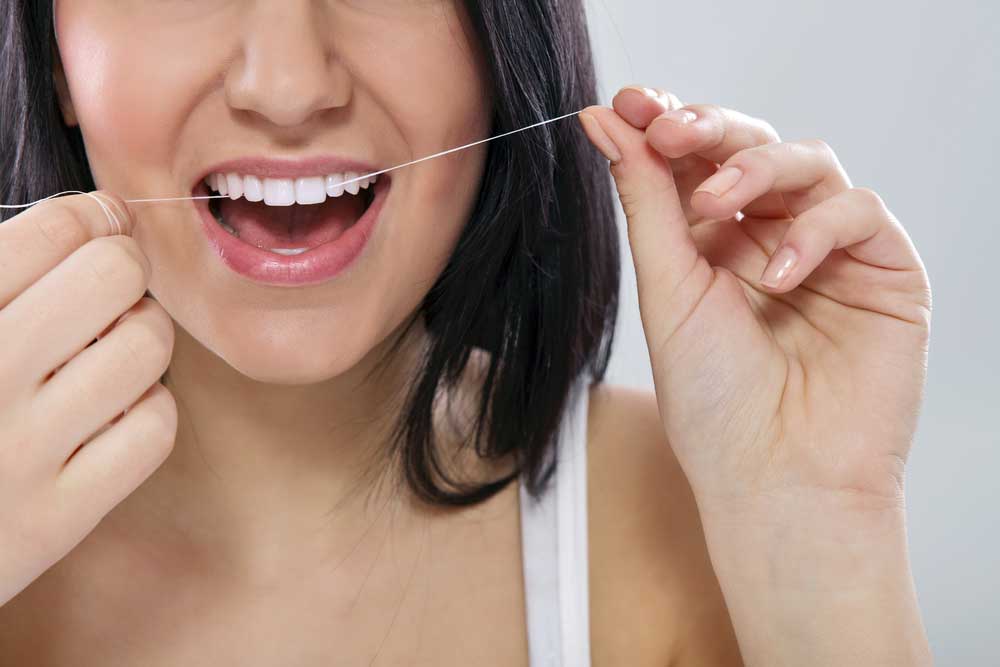 PFAS, Nylon, and Polyester:
The most toxic type of dental floss that you can choose is one that's made with PFAS.
While Nylon and Polyester flosses aren't as toxic as Teflon, both are still made using petroleum, which can make its way into your system during use. These types of flosses are also not biodegradable.
Your best bet is to look for natural and biodegradable dental floss, however, even some natural brands will still contain components of polyester.
What to Look for in Natural Dental Floss
When choosing PFA-free dental floss, here are some materials you'll want to look for.
Silk:
Silk dental floss is biodegradable, so it's very sustainable and safe for the environment.
However, some people are concerned about the unethical treatment of the silkworm insects that are killed while the silk is harvested. If this pertains to you, look for Peace Silk when choosing silk products.
Peace Silk means the breeding and harvesting of the silkworms is safer so that they can complete their metamorphosis into a butterfly and are not harmed or killed during the process of harvesting the silk.
Bamboo:
Bamboo floss is not only safe dental floss that's non-toxic to your health, but it's also extremely eco-friendly and sustainable. For starters, bamboo is highly compostable and is easy to grow. As a result, it takes a lot less energy and water to grow and manufacture. Plus, it's very biodegradable, so you need not worry about adding excess waste every time you throw a strand away after use.
However, getting bamboo into usable form can be a chemically intensive process. Therefore, it's always a good idea to find out how the bamboo you are buying is getting into its usable form.
Corn:
Some eco-friendly dental floss is made out of corn fiber, which is natural, vegan, sustainable, and is another good alternative to bamboo and silk.
However, if you choose a floss manufactured with corn fiber, it may not be specified whether or not non-GMO corn was used. The only way to know for sure is if the label specifies that the dental floss comes from non-GMO corn.
Different Types of Non-Toxic Dental Floss:
A few different labels that natural dental floss may be marked with indicate its safety and sustainability level. There is also greenwashing that you need to be aware of.
Here are some of the things that differentiate them to make an informed choice based on what aspects of the floss are most important to you.
Most importantly, when you see these labels, it gives you an idea, but you still need to do your research to find out if it fits your needs.
Non-Toxic Dental Floss:
Non-toxic dental floss is dental floss that does not contain any toxins or chemicals like PFAS. However, this should always be confirmed with the company.
Non-toxic is added to so many products, but it doesn't necessarily mean it is fully safe and toxin-free. Bottom line, ask the company questions instead of relying on the non-toxic claims on the packaging.
Eco-Friendly Dental Floss:
Eco-friendly dental floss is produced in a way that's both biodegradable and sustainable. The production of this floss does not disrupt natural ecosystems or their inhabitants.
If floss is labeled eco-friendly, it also indicates that it's made from renewable resources.
Zero-Waste Dental Floss:
Zero-Waste dental floss is floss that is 100% biodegradable and compostable. When discarded, it will break down, and the materials will be naturally reabsorbed into the environment.
Recommended Brands of Natural Dental Floss:
Silk Dental Floss:
Radius Natural Biodegradable Silk Floss:
Radius silk floss is 100% biodegradable and compostable, unflavored, and it's also non-toxic. It's coated with candelilla plant wax. In addition, the floss has 100% plastic-free packaging.
Radius also offers non-toxic USDA organic floss that's made with organic carnauba wax. This floss is coated with organic coconut oil & erythritol.
In addition to floss, the company makes toothbrushes and toothpaste for adults, kids, and pets.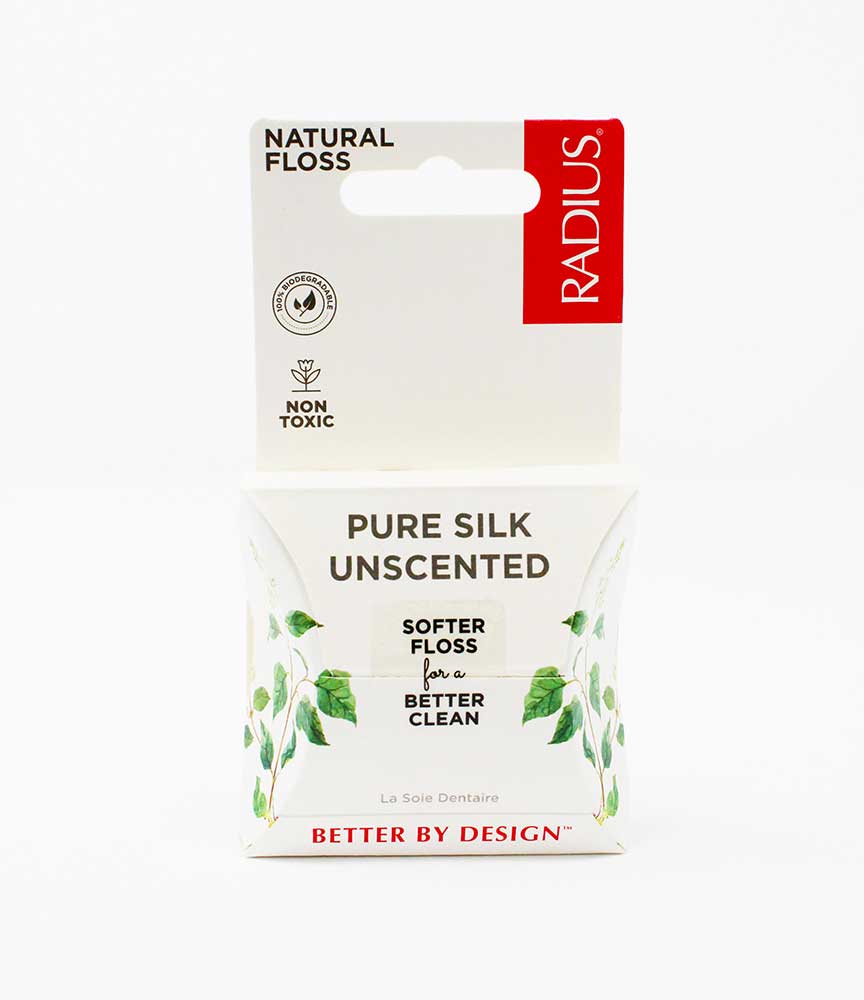 Vegan: No
Starting Price: $3.99
Discount Code: On the Radius website use code NBM
SHOP RADIUS OR ON AMAZON
---
Etee Waxed Silk Dental Floss:
Etee floss comes in plastic-free, glass packaging. It's made with 100% Mulberry peace silk, which is not vegan but is sourced ethically.
It's coated with candelilla wax and has a natural peppermint flavoring. The boxes used in the packaging are also printed with soy-based inks.
The company is plastic-free, and refillable floss comes in 100% biodegradable cornstarch baggies.
Vegan: No
Starting Price: $10.00
---
Wowe Natural Biodegradable Silk Floss:
Wowe floss is 100% biodegradable and is made using peace silk that's ethically harvested.
It's also coated with natural candelilla wax. It also contains a natural mint flavor.
It comes in a stainless steel floss container, and all of the packagings for the floss is plastic-free.
Wowe aims to offer products that are natural and reusable. They also sell toothbrushes, water bottles, stainless steel straws, and safety razors.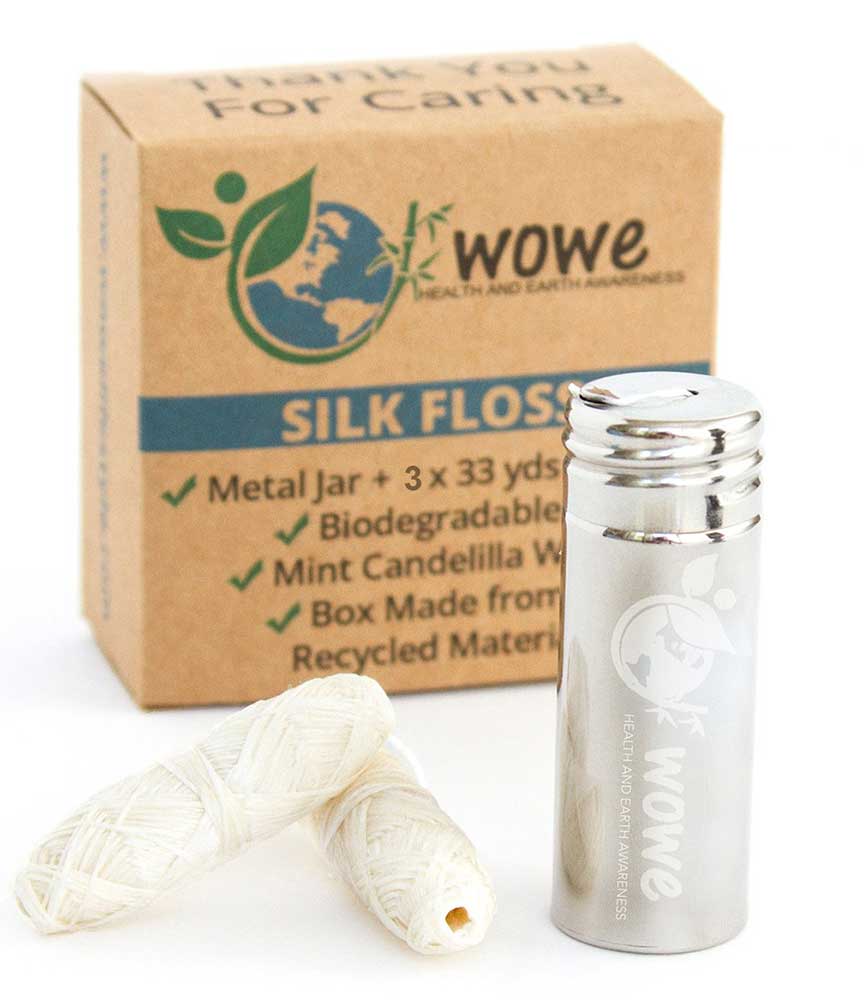 Vegan: No
Starting Price: $14.95
Discount Code: 10% off with code NBM directly on the Wowe website
---
TreeBird Pure Silk Eco Floss:
TreeBird floss also comes in a glass container and has plastic-free packaging. It's made with plant-based candelilla wax and infused with a mint essential oil, so the flavoring is also natural.
TreeBird's floss is also cruelty-free and is made with Ahimsa peace silk.
The company also carries a line of bamboo toothbrushes.
Vegan: No
Starting Price: $9.99
---
Bamboo Dental Floss:
Lucky Teeth Organic Bamboo Floss:
Lucky Teeth floss is made with organic charcoal, bamboo and is coated with a natural, vegan candelilla wax.
The floss is eco-friendly and biodegradable, and the company uses glass, refillable jars instead of plastic packaging. In addition, the minty flavor comes from essential oils, so it's 100% natural.
Lucky Teeth also carries bamboo toothbrushes, mouthwash, and toothpaste.
Vegan: Yes
Starting Price: $9.99
---
Hello Activated Charcoal-Infused Floss:
Hello Floss is made from sustainable bamboo and is infused with activated charcoal to absorb bacteria and plaque.
It's PFAS-free and is coated with vegan candelilla wax, which is also formulated with xylitol.
Hello Floss is leaping bunny certified to be cruelty-free. It is also Non-GMO.
The packaging is a plastic floss container.
Vegan: Yes
Starting Price: $17.45 for a 3-pack
---
Corn Dental Floss:
EcoRoots Vegan Eco-Friendly Floss:
EcoRoots floss is both vegan and biodegradable and natural, and free of preservatives, artificial colorings, and flavors.
It's made with non-GMO compostable corn and is coated in a plant-based candelilla wax. Mint essential oils and tea tree oils are used for flavoring, which is all-natural.
EcoRoots also offers other bath and beauty and home and kitchen products.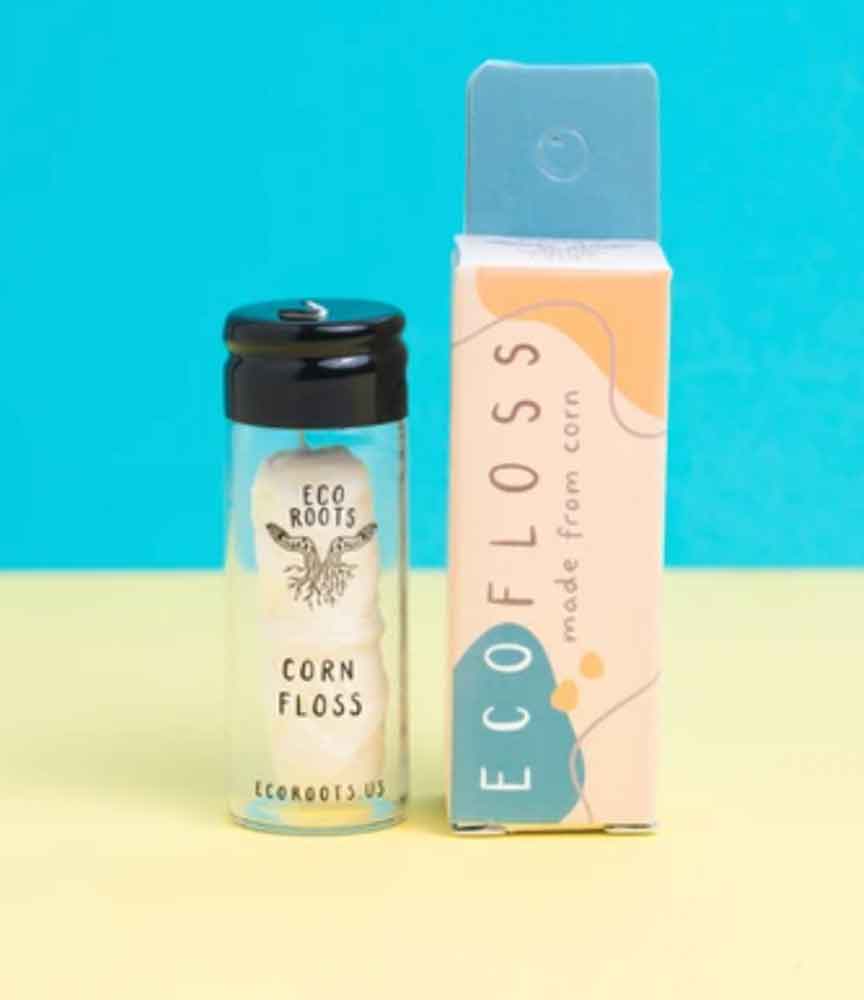 Vegan: Yes
Starting Price: $9.99
---
Nylon and Polyester Dental Floss:
While these types of dental floss are not quite as eco-friendly, there are some brands that are PFA-free and are a much better option if you don't wish to use silk, bamboo, or corn.
Cocofloss:
Cocofloss is eco-friendly, vegan, and free of parabens and PFAS. It's also Leaping Bunny certified, which guarantees that it's cruelty-free and not tested on animals.
It's made of polyester fiber and is coated with microcrystalline wax, coconut oil, and natural fragrances. It comes in a variety of flavors, all of which are derived from natural fruit oils. Flavors include strawberry, dark chocolate, orange, vanilla bean, mint, and coconut.
The floss is offered in compostable packaging that's refillable instead of plastic, and it's manufactured in Italy.
Vegan: Yes
Starting Price: $10.00
---
Desert Essence Tea Tree Oil Floss:
Desert Essence floss is PFA-free nylon-based floss that is coated with sustainably sourced beeswax. It's also gluten-free and flavored with Australian tea tree oil.
The company also carries toothpaste and mouthwash, plus a line of hair, beauty, and body care products, all of which are cruelty-free and Leaping Bunny Certified. Desert Essence products are also certified to be non-GMO, USDA organic, and made in the USA.
Desert Essence also offers Tea Tree Oil Dental Tape. It's thicker in width so that it can clean wider spaces between teeth and gums.
Vegan: No, but vegetarian
Starting Price: $3.99
---
Tom's of Maine Dental Floss:
Tom's of Maine dental floss is also nylon-based, and it's coated with natural beeswax, carnauba, and jojoba waxes. It has a natural spearmint flavor.
It's PFA-free, and there are no artificial sweeteners, preservatives, colors, flavors, or animal ingredients.
All of Tom's products are cruelty-free and packaged with eco-friendly materials.
Vegan: No
Starting Price: $3.19
---
Eco-DenT Floss:
Eco-DenT floss is PFA-free, cruelty-free, and 100% vegan. It's nylon-based, is coated in vegan wax, and comes in a plastic-free container.
The box that the floss comes in is actually the dispenser, and it contains no artificial sweeteners, parabens, or colorings.
Vegan: Yes
Starting Price: $4.04
---
Dr. Tung's Activated Charcoal Vegan Floss:
Dr. Tung's Activated Charcoal Vegan Floss is made from polyester coated with a natural plant wax. The activated charcoal helps to absorb bacteria and plaque.
The floss is flavored with natural lemongrass oil and Curcuma xanthorrhiza extract. It's non-GMO, cruelty-free, and is packaged in paperboard that is recyclable, so it's eco-friendly.
The company also offers Smart Floss if you'd rather use floss that does not contain activated charcoal. All of Dr. Tung's flosses are PFA and PTFE-free.
In addition to floss, Dr. Tung's also carries toothbrushes and tongue cleaners.
Vegan: Yes
Starting Price: $13.07
---
Waterpik:
If you really want to ensure that you're using a zero-waste option, a Waterpik might be the way to go.
You refill the canister on this tool with water, which then shoots between your teeth to dislodge particles of food that may be stuck.
While the Waterpik is made of plastic, the materials that come in contact with water are BPA-free.
Starting Price: $36.99
SHOP WATERPIK AT TARGET OR ON AMAZON
---

Final Thoughts on PFA-Free Dental Floss
It's so important to go beyond brushing when taking care of your teeth, your mouth, and your overall health. By choosing non-toxic dental floss, you can rest assured that your pearly whites will stay in tip-top shape, and you won't be ingesting any harsh chemicals that could result in potential health issues.
Get rid of the toxin-filled, non-eco-friendly floss old pillow you've been using and opt for a brand of natural dental floss that's safe for you and your family but that's also manufactured in a way that's sustainable and beneficial to the life of our planet and ecosystems.
It can be overwhelming to find truly safe products. So I have created my Amazon Storefront for vetted, non-toxic living products for your family and home.
Other Posts Related to Natural Dental Floss
Pin it for later!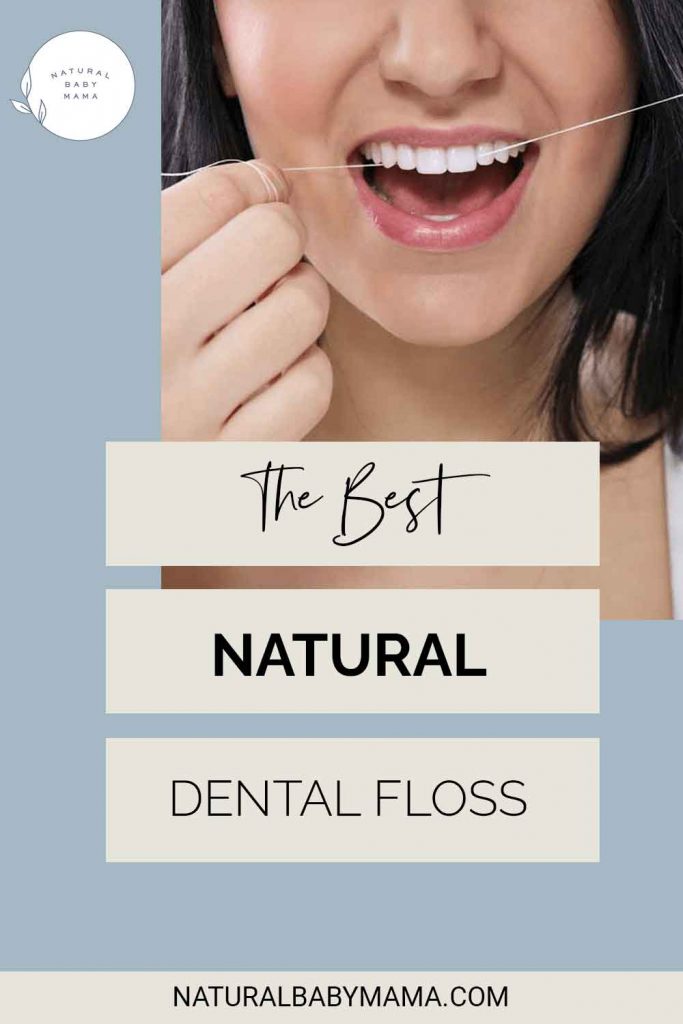 Sources: