Christmas is one of my favorite times of the year. But sadly, Christmas decorations, trees, lights, and ornaments come with a host of toxins. Let's go over what to avoid, what to look for, and what you can do to minimize your family's exposure to toxins during the holiday season. There are some great non-toxic Christmas decorations available!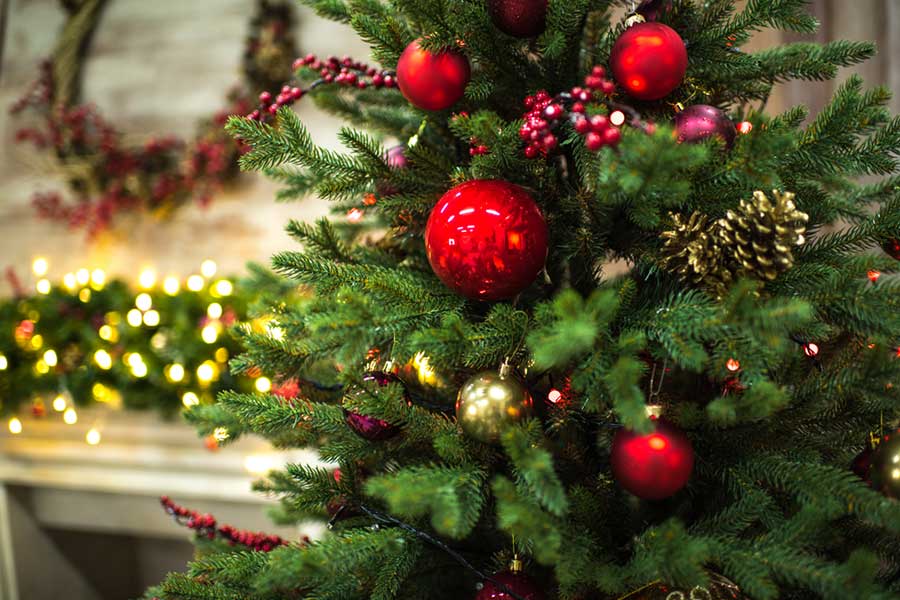 This post may contain affiliate links. Please see my full disclosure policy for details.
Toxins in Christmas Decorations, Lights, and Ornaments
The main toxins that lurk in our Christmas items are:
Lead – a neurotoxin that causes lower IQ and learning disabilities. It is commonly found in Christmas lights, fake Christmas trees, Christmas ornaments, as well as decor items.
Flame Retardants – a carcinogen as well as endocrine disruptors (hormone disruption). Flame retardants are found in Christmas lights, artificial Christmas trees, and decor items.
PVC – is a known carcinogen and well as an endocrine disrupter. PVC is found in fake Christmas trees, Christmas lights, and some decor and ornaments (soft plastic).
Christmas Trees
Real Christmas Trees
The best option is a real Christmas tree that was grown organically or without the use of pesticides. You don't want to be bringing a tree into your home that was sprayed with pesticides. Pesticides are linked to a host of health issues that are well-known and researched.
If you are concerned about potential mold from a live tree, purchase it as close to Christmas as possible to limit the time it is indoors. This is not something that has been an issue for us.
>>>> You can find Organic Christmas Trees by State here <<<<
Artificial Christmas Trees
Most artificial Christmas trees are made of PVC, and often also contain lead and flame retardants. For this reason, artificial trees should be avoided.
If you can't avoid an artificial tree, wash your hands after touching it and keep children away from the tree. Also, wet dust and vacuum regularly.
When looking for artificial Christmas trees, look for Polyethylene (PE) or Polypropylene (PP) instead of PVC. Unfortunately, PE or PP Christmas trees are harder to come by.

IKEA does sell a safer, artificial Christmas tree made of PE/PP. It has been tested and was found to be lead free. The IKEA Christmas tree is the only fake Christmas tree I can recommend. It doesn't mean this tree is entirely free of all toxins, but it is a much safer alternative.
Christmas Lights
Lead-free or ROHS-compliant Christmas Lights
Not all of these brands sell exclusively ROHS compliant Christmas lights. You will want to search for ROHS on their site and read the descriptions carefully.
ROHS Certification
ROHS is a certification that limits heavy metals, including lead, cadmium, and mercury, as well as some of the most toxic flame retardants.
ROHS does not mean they are fully free of toxicants like lead or flame retardants. It means that it is under the threshold allowed for each specific item.
I have seen lead-free Christmas lights, though, but without testing each brand regularly, it is hard to know (and state) if they are lead-free.
Christmas lights are made of PVC, there is no alternative. So the only true non-toxic alternative to Christmas lights is not using them (which is a bummer!). ROHS is the next best alternative. You will have fewer toxins.
I previously had my Christmas lights tested for lead, and they were lead free. I bought from a company, Environmental Lights, which no longer sells Christmas Lights.
When they stopped selling Christmas lights, they referred me to Reinders, who sold the same brands. We have purchased from Reinders since then, but I have not personally tested the lights since buying from them.
Companies that Sell ROHS Compliant Christmas Lights
Tips for Safely Handling Christmas Lights
Wear gloves that are specific for Christmas Lights (don't reuse them for another purpose during the year).
Let the adults hang Christmas lights.
Teach children not to touch Christmas lights. Lights are best for looking at.
Wash hands after touching Christmas lights (and other Christmas decor).
Natural Christmas Tree Skirt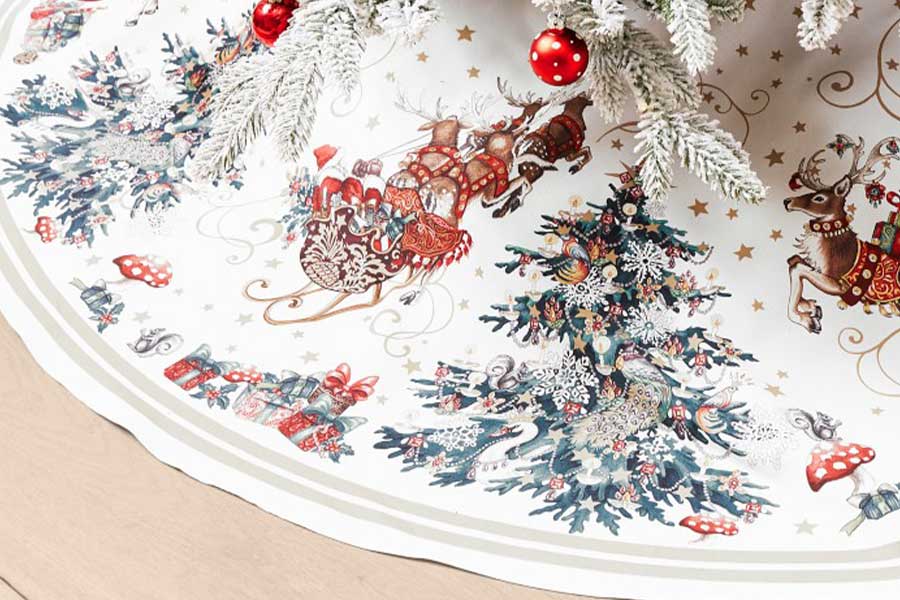 Look for natural materials (like organic cotton, cotton, wool, and linen), and avoid synthetic fibers like polyester. Polyester is made from oil and is an endocrine disruptor. Natural fibers are better for your health and the earth.
Several brands below have certifications like Oeko-Tex, which deem them safe from 100's of different chemicals.
100% Cotton, Oeko-Tex, Twas The Night Before Christmas Tree Skirt
100% Cotton, Oeko-Tex, Snowman Tree Skirt
100% Wool Felt, Red Berry Christmas Tree Skirt
100% Linen Embroidered Tree Skirt
Non-Toxic Christmas Decorations
Below are some amazing Christmas decorations made of natural materials like wool, paper, and wood.
Wool (Felted) Mistletoe Wreath
Wood Nutcracker Made in Germany
Large Wood Santa Nutcracker Made in Germany
Paper Holiday Village Craft Set
Merry & Bright Wood Wall Bunting
Large Wool Christmas Scene / Nativity Set
Large 12 Piece Wood Nativity Set made in Germany
Non-Toxic Christmas Ornaments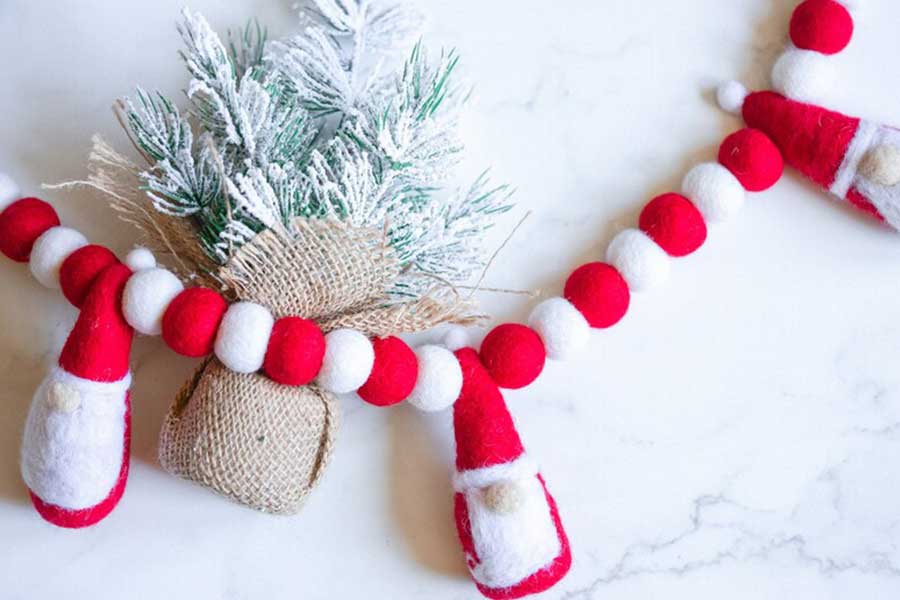 Christmas ornaments are notorious for containing lead. It's really unfortunate since children love helping decorate the tree (as well as touching ornaments once they are on the tree!). I like having a safe tree that I can feel comfortable with my children touching.
You can feel safe using natural materials like wool, cotton, wood, paper, etc.
Red & White Wool Felted Ball Ornaments
Wood Nutcracker Ornament (made in Germany)
Felted Wool Ball Christmas Garland
Personalized Wood Ornaments for Kids
Boiled Wool Sloth Christmas Ornament
Wool Angel Christmas Tree Topper
Eco-Wool 100% Organic Wool Christmas Ornaments
Vintage Ornaments
Avoid vintage ornaments as they are likely to have higher levels of lead.
Safe Handling of Ornaments
If you have bins full of ornaments that aren't made of natural materials, you can either transition to safer alternatives or continue using your current ornaments with safer protocols, such as:
Let adults hang the ornaments. If it feels safe, you could consider wearing gloves while hanging the ornaments.
Wash hands directly after touching the ornaments.
Talk to children about not touching the ornaments.
If ornaments break, clean the area well with a wet paper towel and soap. Don't vacuum or dust first, as it will disperse the toxins in the air.
Have your tree become a no-touch tree after the ornaments are hung
Wet dust and vacuum regularly.
Consider keeping presents off to the side of the tree vs. underneath the tree.
Organic Christmas Sheets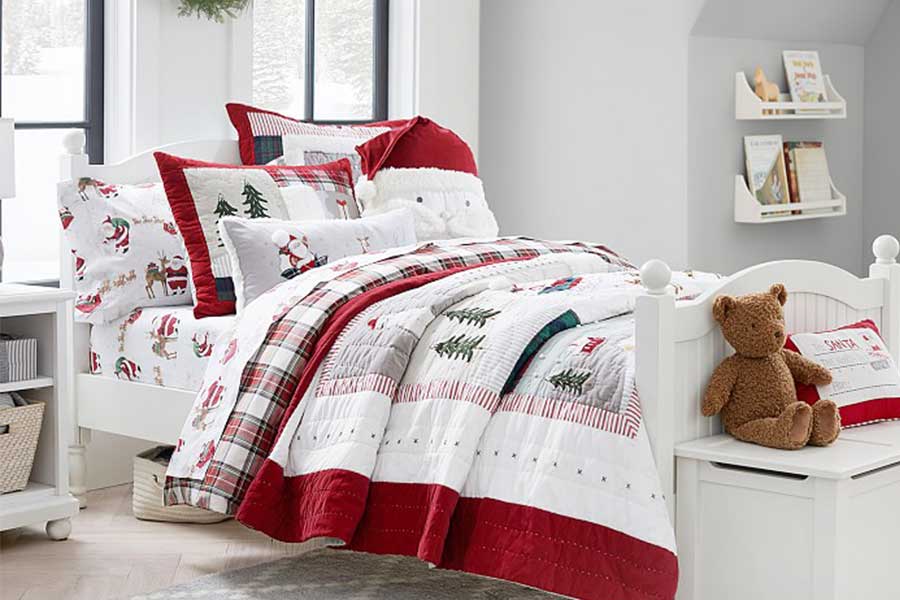 Christmas sheets are always fun way to add some holiday cheer. A less expensive way to make your bed more festive is just buying pillowcases.
Organic Santa Sheets (GOTS certified)
Organic Minnie & Mickey Sheets (GOTS certified)
Organic Christmas Pajamas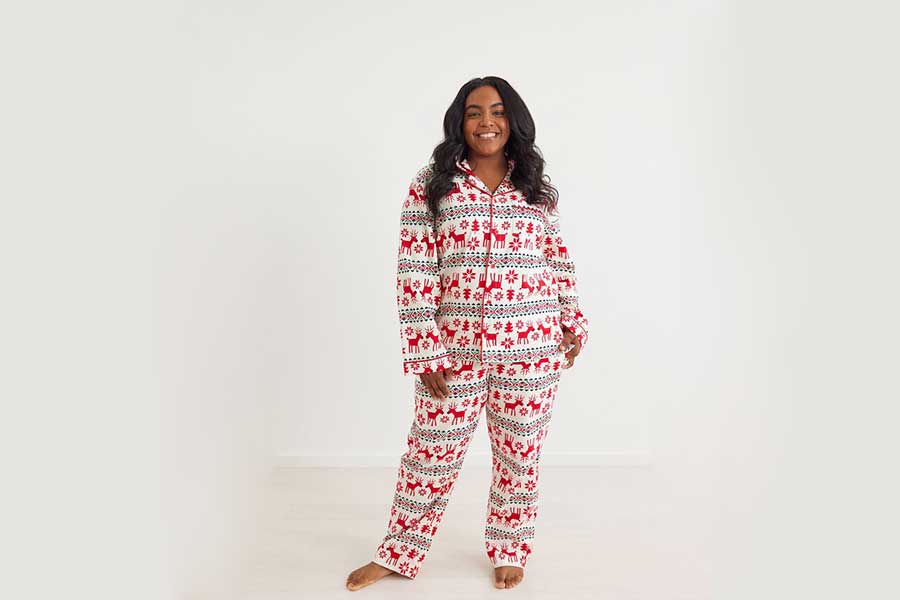 Who doesn't love matching Christmas pajamas? These are organic and GOTS certified to be free of harmful toxins.
Matching Family Christmas Pajamas, 100% Organic Cotton, GOTS Certified
Holiday Pajamas, 100% Organic Cotton, GOTS Certified
Non-Toxic Stockings
These stockings made of wool and linen are a great alternative to the polyester stockings widely available.
Linen Christmas Stockings, Oeko-Tex Certified
Non-Toxic Gift Ideas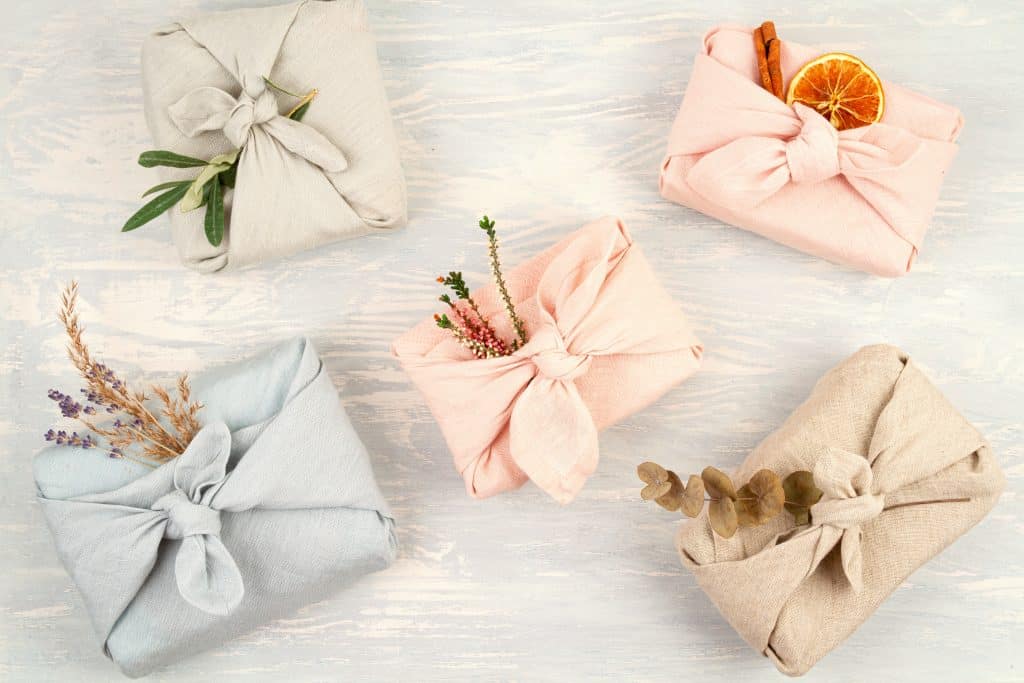 Now that your home is decorated for Christmas adding some non-toxic gifts under the tree is always a good idea!
Must-Haves for Non-Toxic Living
Pin it for later!