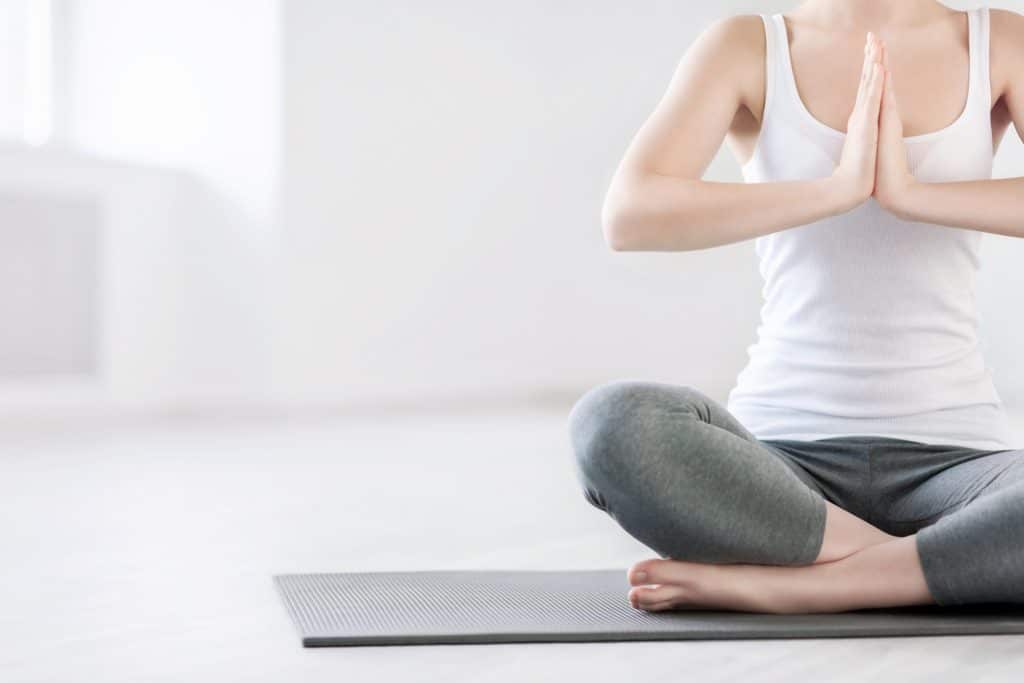 Did you know most yoga mats are made with chemicals harmful to your family and the environment? Choosing a non-toxic yoga mat made with natural materials instead of hormone-disrupting plasticizers and cancer-causing preservatives is a better choice for the earth and your family.
When the Öko-Test, a German consumer magazine, tested eighteen yoga mats, they found pesticides, nitrosamines linked to cancer, phthalates, and chlorine. Only eight of the yoga mats they tested were non-toxic.
Between school, work, and busy schedules, it's essential to find the time for self-care. It shocked me to find out one of my favorite forms of exercise was a health hazard for my family.
In this guide, I'll share what to avoid and what to look for in a non-toxic yoga mat. At the end of the post, you'll also find some of my favorite non-toxic yoga essentials.
This post may contain affiliate links. Please see my full disclosure policy for details.
Toxic Yoga Mats
Yoga has plenty of health benefits from stress reduction and improved balance to better posture, but do the benefits outweigh the risk? Many yogis don't know they are breathing in toxins as part of their yoga practice.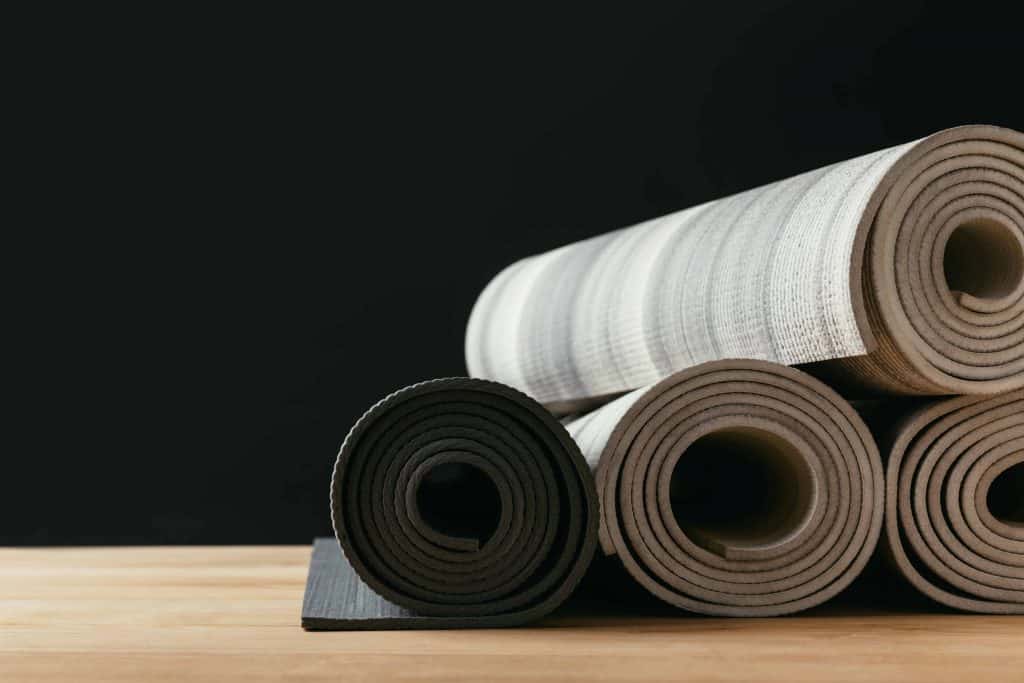 PVC (Polyvinyl Chloride)
Most commonly, yoga mats are made from PVC, or polyvinyl chloride, a toxic plastic that off-gases.
PVC is bad for your health and the environment. Still, it's cheap and easy to use, making it the perfect addition for manufacturers to use in everything from food packaging and children's toys to yoga mats.
PVC manufacturing also poisons the water supply and air quality. Since it's non-recyclable, PVC burns cancer-causing dioxins when incinerated.
If that's not bad enough, to make PVC easier to work with, heavy metals and other chemicals are added like:
Lead
Cadmium
Phthalates
Chlorine
Nitrosamines
In a shocking investigation, the German Oko Test found that the same compounds found in tobacco contaminate yoga mats, even natural rubber options.
When looking at non-toxic yoga mats, you'll often see vulcanized rubber, a hardened rubber. Unfortunately, hardening rubber creates chemicals like nitrosamines suspected of causing cancer through skin contact, inhalation, and ingestion.
Oko Test found some rubber yoga mats contain nitrosamine precursors that the body converts into chemicals.
With eco-friendly, PVC, and nitrosamine free options on the market, why wouldn't you chuck your toxic yoga mat?
What Should You Look For In a Non-Toxic Yoga Mat?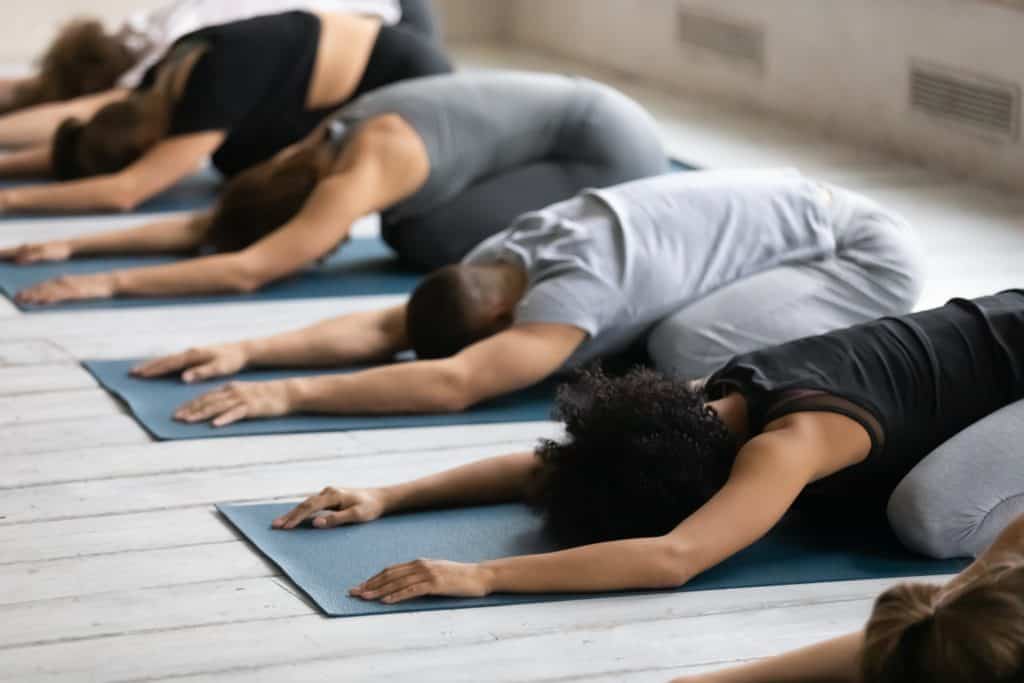 Now that you know what to avoid, what should you look for in a non-toxic yoga mat? Research on the dangers of yoga mats isn't standard, but their chemicals are proven to cause reproductive harm and toxicity.
When looking for your next non-toxic yoga mat, avoid:
PVC yoga mats (even eco-friendly PVC)
Chemical smells
Unknown brands
Synthetic Rubber (recycled or not)
Recycled tires are used in yoga mats, avoid at all costs
Formaldehyde emitting glues
Antibacterial claims
Flame retardant foam
Black rubber often contains carbon black which is highly toxic and derived from coal tar. Avoid mats that are black.
Instead, look for non-toxic yoga mats with:
Natural materials (cotton, wool, jute, cork)
Natural rubber (unless you have a latex allergy)
No chemical smell
Water based-inks (for patterned yoga mats)
Nitrosamine, phthalate, and PVC free
The 4 Best Non-Toxic Yoga Mats
When you choose a safe and long-lasting yoga mat, you can feel good about your environmental impact and family as you journey through your yoga practice.
I contacted the manufacturers and read the fine print to find the safest yoga mats for your family.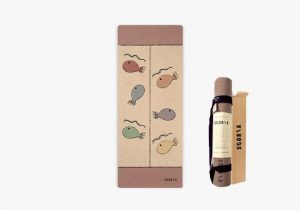 Scoria makes both adult and kids yoga mats from cork with a natural rubber backing. The kid's yoga mat comes in adorable patterns.
Scoria does use water-based adhesives to bind the cork and rubber.
I consider this a great option for you or your little yogi who is longing for their yoga mat.
Pros:
Natural rubber backing
Cork sourced from Portugal, rubber sustainably sourced from Vietnam
Non-Slip
Fun patterns
Water-based inks
Mat strap included
Made in: China
Discount code: 10% off with code NBM10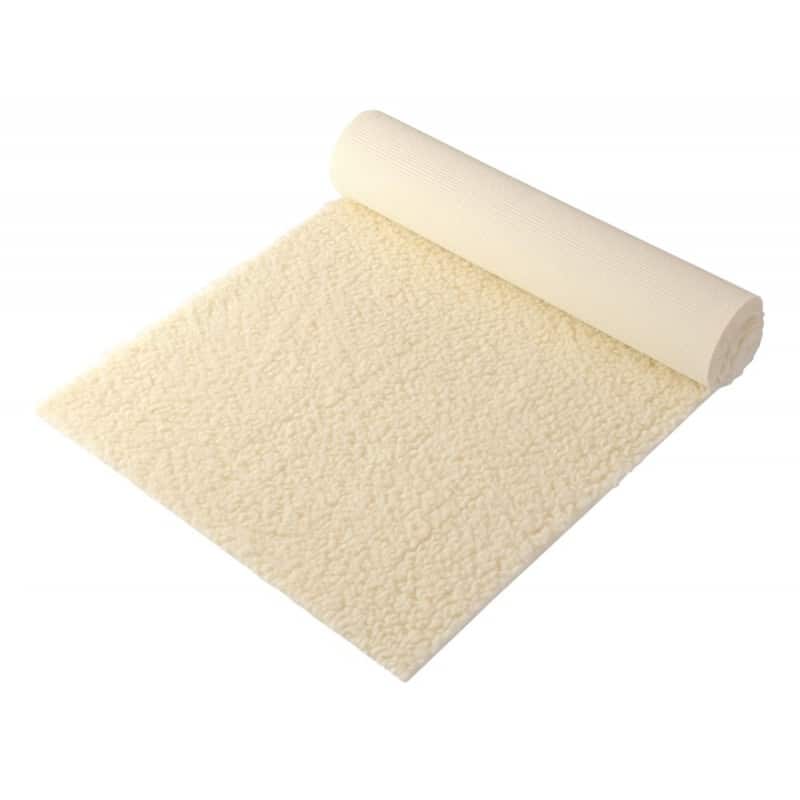 Bausinger yoga mats are an unconventional and organic option for your yoga practice. Bausinger passed the Oko Test as 100 percent toxin and pesticide-free.
Pros:
Made in Germany
Virgin wool
Slip-resistant
10-year guarantee
Non-latex
Oeko-Tex standard (clothing certification) approved
Made in: Germany
Bausinger usually ships within Europe, but shipping is possible to the US when you contact them using the information found here.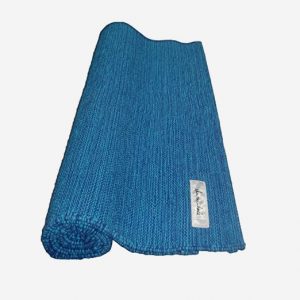 Ekaminhale yoga mats are expensive, at $99, but are one of the best non-toxic options without latex. The company traces the production of their yoga mats from farm to master rug weavers.
Pros:
GOTS Organic cotton
Hand-loomed
Natural dyes
I recommend this rubber and jute backing from Rug Pad USA if you'll be using your cotton yoga mat on smooth surfaces, like hardwood.
Made in: India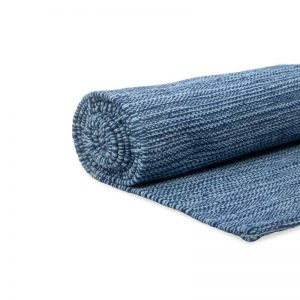 The Live Well yoga mat is made of GOTS organic cotton, handwoven by artisans in India. Organic cotton farms use fewer chemicals and pesticides and don't harm the land or water supply like conventional crops.
Pros:
Machine washable
GOTS organic cotton
Biodegradable and long-lasting
Chemical and latex-free
I recommend this rubber and jute backing from Rug Pad USA if you'll be using your cotton yoga mat on smooth surfaces, like hardwood.
Made in: India
The 5 Next Best Non-Toxic Yoga Mats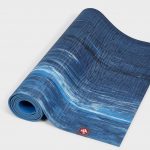 The Manduka eKO line is nitrosamine, PVC, and phthalate-free. Beware of a strong natural rubber smell that goes away with time. I've found a mixture of apple cider vinegar and water helps the smell fade.
Pros:
Made with Natural Rubber
Glue-free
Long-lasting
Super light travel options
Great for kids
This is not on the best list because Oko Test found that while this mat is nitrosamine-free, they found a precursor to nitrosamine which your body could convert to nitrosamines. Oko Test has this mat listed as good but not best.
When choosing your Manduka yoga mat, avoid the PRO series made with PVC and the GRP series made with rubber and polyurethane foam.
Made in: Taiwan
Buy on Amazon or Manduka's website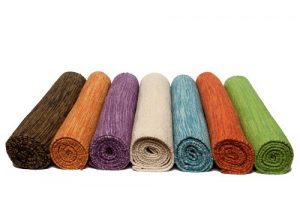 A cotton yoga mat like the Yogasana is a great alternative to plastic or those allergic to latex.
Yogasana mats aren't organic, but the company claims their local farms in India don't use synthetic finishes and limit chemicals when growing their cotton.
Cotton yoga mats absorb sweat, providing a non-slip, grippy surface for your practice. I recommend this rubber and jute backing from Rug Pad USA if you'll be using your cotton yoga mat on smooth surfaces, like hardwood.
Pros:
Washable
Handwoven
Eco-friendly, heavy metal-free dyes
15-year warranty
Made in: India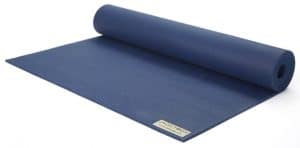 Jade Yoga was the first manufacturer of yoga mats in the United States. Today, they manufacture natural rubber Yoga Mats in the US without added PVC or nitrosamines.
There was controversy a few years ago when the Oko Test found nitrosamines in the Jade Harmony Yoga Mat. Jade Yoga claims they eliminated all nitrosamines three years ago.
The company is next best because they won't disclose their proprietary formula in their yoga mats or "man-made" components.
Pros:
Biodegradable
No PVCs, phthalates, heavy metals, or flame retardants
Widely available
Eco-Friendly–they plant a tree for every yoga mat sold
Made in: United States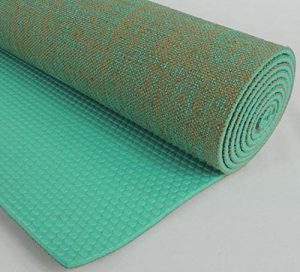 Using a mix of jute and rubber, Kakaos creates yoga mats that are non-slip and eco-friendly.
There are no independent tests for this yoga mat, but it's the most affordable option on the list and a better choice than conventional brands.
Pros:
Jute and rubber
Good cushion
Biodegradable
6mm thickness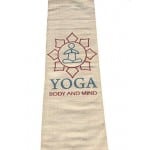 The Suvinyas cotton yoga mat is an affordable option. It includes a storage bag and is fully washable.
Suvinyas is next best because it's not organic (even though the Amazon title says it is). If you're on a budget, this yoga mat won't break the bank.
Pros:
Latex-free
Affordable
Washable
100% cotton
Caring for a Yoga Mat
You've chosen to invest in a non-toxic yoga mat, and here are my best tips to keep your mat clean and well-maintained:
Use a natural laundry detergent for cotton mats like Eco Nuts.
Try a combination of Dr. Bronners non-toxic liquid soap and baking soda for rubber mats
Air your mat outside unrolled to get rid of any rubber smell
Use a damp cloth and air dry cork yoga mats
Avoid leaving your rubber or cork mat in the sunlight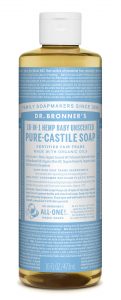 The Best Yoga Essentials
In addition to a non-toxic yoga mat, these are my top essentials for your yoga practice. When looking for non-toxic products, choose natural materials and trusted brands.
Yoga Clothes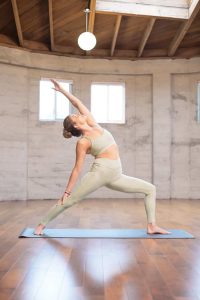 All of the brands below make eco-friendly, long-lasting yoga clothing.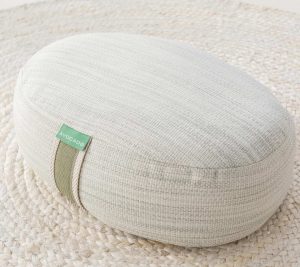 The Avocado meditation pillow is wrapped in GOTS organic cotton and filled with vegan buckwheat hulls. It's a chemical and pesticide-free alternative to sitting on the floor.
Meditation pillows help align your spine and support the natural curve of the back.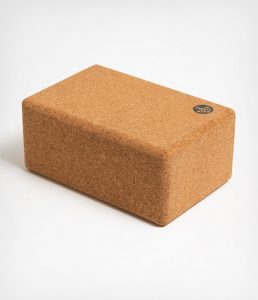 Manduka Cork yoga blocks are a great alternative to foam blocks that are contaminated with flame retardants or other chemicals during production. Cork is long-lasting, eco-friendly, and sturdy to practice on.
Made in: China
Buy on Amazon or on Manduka's website
Are you looking to supplement your yoga practice? Take a look at my exercise plan and sign up for my newsletter for up to date product guides and advice.
Also, check out my Amazon storefront for vetted non-toxic products for your entire family! You can also find many of my yoga recommendations there as well.
Posts related to Organic Yoga Mats
Pin it for later!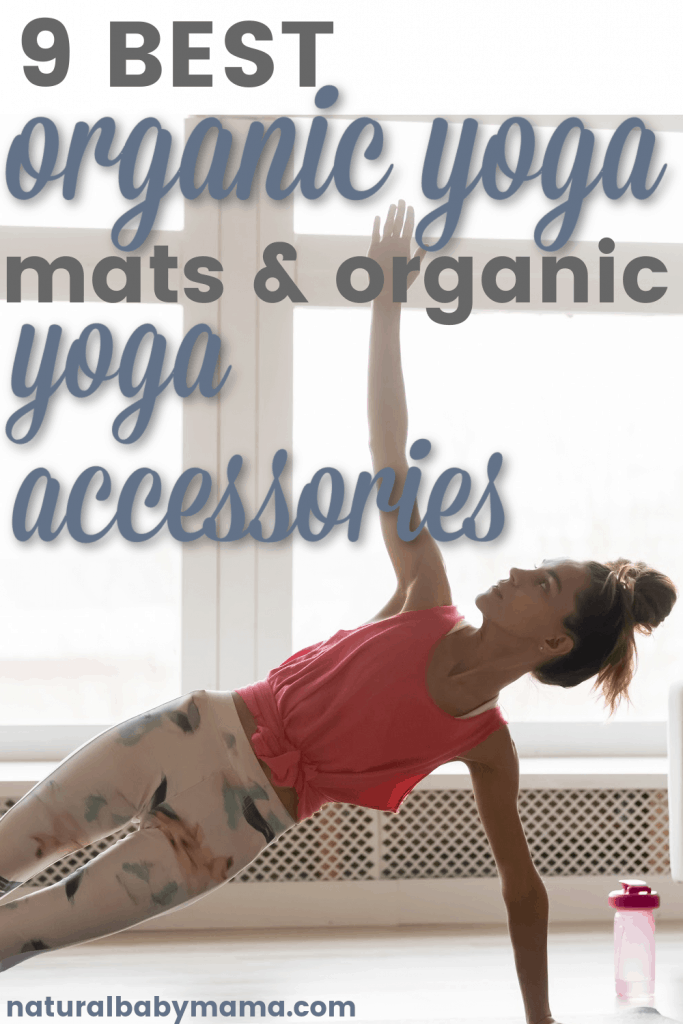 Sources:
Nitrosamine. National Cancer Institute. Cancer.gov
Manduka. mandukasupport
Gonçalves F, Correia P, Silva SP, Almeida-Aguiar C. Evaluation of antimicrobial properties of cork. National Center for Biotechnology Information. 2 December 2015. pubmed.ncbi.nlm.nih.gov