Working out with kids is hard. It's hard to make the time for you. It's hard to get away to go to the gym. I've outlined an exercise system below that can be used while you are with your kids. It's easy, achievable, and can be done anywhere or anytime! It's also fun so your kids might like to join in too. Let's get you working out at home with your kids!
There is no special equipment that you need or a certain amount of time.
The goal of this is to help you get your body moving most days. Above all, it will have a positive outcome on your happiness and can reduce stress.
Do what you can. It can be a timed goal or a set number of reps. I set a goal for myself each day.
I've broken this into six main sections:
The Benefits of Exercising
The Ways to Exercise gives you options on how to actually do the reps or exercises. This is how to spice it up so you aren't doing the same thing daily.
The Exercise Routines helps you put together your workout. You, of course, can add more if you love a different exercise not mentioned.
Exercise Sample Plans will give you some pre-set workout routines that you can jump into right away!
How to Lose Weight will discuss another tool in your toolbelt besides working out.
I have some Workout Motivation for you at the end!
This post may contain affiliate links. Please see my full disclosure policy for details. All exercises are done at your own risk. This is not considered medical advice. Please consult with your doctor.
Benefits of Exercising
We all know exercising is good for us. It helps make us stronger. It also reduces stress. Stress is one of the biggest toxins and determents to our health. In addition, stress impacts our daily life and can lower your immune system, change your gene expression, and alters your brain.
Sweating is a natural detox, we need to sweat to keep our body healthy.
Last but definitely not least exercising improves our mental state.
Many people exercise to lose weight, and it can help with that. I have some additional tips at the bottom for losing weight.
Working Out At Home With Kids:
This section will provide you with variety in how you do your workouts. I personally get bored doing 25 reps of 4 exercises on repeat daily. However, sometimes this fits my day and that is what I choose but I like having variety!
X number of reps per exercise: You pick your number of reps for each exercise. There is no wrong answer here. You can pick 10 or you can pick 100. I often pick 20 or 25. You will then choose 4 exercises and go through those exercises at least once. To get a good workout, repeat the first cycle of all exercises 3-4 times. With children, this may have to be broken up throughout the day.
X number of reps total: I set my reps total at 500 and I will pick out 5 exercises for 100 reps each. You can modify the number and the number of exercises to fit your needs.
Pyramid reps: You will pick out 5 exercises and then do the following reps 10, 20, 30, 40, 50. For example, your first exercise you will do 10 reps, your second 20, and so on. At the end of your 50 reps take a rest and repeat 3-5 times as time allows.
100 reps timed: (For this exercise you will need a timer, paper, and pen). Do 1 minute each of cardio, strength, and core. You will select 3 exercises for each of the type above (cardio, strength, and core) and write them down on your paper. Start your timer and start on your first cardio item. During that minute count your reps and write down how many you did. Once the minute is up, reset your time and move on to the 2nd exercise which would be a strength. Each minute you are going to move down the list from cardio then to strength and then to core. If you finished 100 of your strength before your minute is up then move on to the next strength in line. Your goal is to reach 100 of each of these exercises. Once you are done you will have done 900 reps!! Another option is if you can't keep time then just do 25 of each in rotation until you get done.
12 Days of Fitness: This is best explained in song! Sing a few lines of the 12 Days of Christmas. Now that is how you are going to exercise. Just like the song you always come back to the first one. You will need 12 exercises. Start with the 1st (day) exercise, then next the 2nd (day) exercise and then back to the 1st (day) exercise, then do the 3rd and 2nd & 1st, etc. In the end, you will do exercise 12 all the way back down to 1. I will put a sample of this exercise at the bottom for you! It's fun but you might want to write it down so you don't get confused as to where you are at!
Kids help choose: You pick out 4 exercises then your kids pick out one, rotate through. This can get silly and I try and both encourage them but also not let it get too out there!
Exercise Routines:
How to Pick Exercises:
Below you will find the exercises, but how do you know which ones to pick?
I like to keep a rule that I always start with cardio, then I do strength (legs and arms), then abs. Then rotate through those.
The reason to start with cardio to get your heart rate and to burn more calories.
Cardio:
Jumping jacks
Burpees – these are a great overall workout and killer. Make a point to add them in even if you don't like them!
Jump rope (pretend if you don't have one)
Cross Jacks (a variation of jumping jack)
Inner Toe Taps, these are hard and a bit awkward but a good workout! Bring your right knee up as you hop up and your left hand will go down and touch your right inner ankle. Hop and bring your left knee up and your right-hand touches your left inner ankle. R/L = 1 rep.
Booty kicks – try and kick your bottom while you run in place
Line runs – decide on two points (I often use the lines of our grass) and run to one side, touch the line, then turn around and run back. Touch the line on each back and forth. You can do an alternative method and instead of running go across sideways in a shuffle.
Run around your yard (make a specific path you run each time)
Run stairs in your house (if this safely can be done)
High knees (knees at 90 degrees)
Dance party with your kids
Tag with your kids. This might not be a workout when your kids are younger but by the time my son was 7 years old he could outrun me (I like to think he is fast and not that I am slow!) I promise you I am out of breath when I play tag with him.
Legs:
Lunges
Walking lunges
Side lunges
Wall squats
Calf raises
Frog leaps – always fun with kids
Frog leaps then run backwards to where you started
Jump squats
Squat Pulse – a squat where you slightly pulse up and down in a small movement
Back leg extensions – balance on one leg, bend other knee at a 90-degree angle, tilt body slightly forward, extend bent knee out straight behind you.
Skaters – think of fast ice skaters. Standing up, right leg out to the right on the ground, left hand going down and touching your right foot, then hop up and put your left foot out to the left and right hand down to your left foot.
Arms:
Pushups
Tricep dips (push a chair against the wall to do dips)
Arm circles (big and small)
Abs:
Crunches
Bicycles crunches
Knees up at 90-degree crunch
Plank
Spiderman plank – in plank, bring your knee up and foot out to the side. It looks like you are climbing like spiderman (your knee does not stay tucked straight under you). Alternate legs.
Mountain climbers – plank then bring knee straight up and tuck it to your belly then back down. Alternate legs.
Mason Twists – sit in a V and pretend like you are holding something (or actually do hold something!) in your hands. Move your hands and pretend to set it down on your right, lift hands up, and bring it down to your left).
Hip Bridge
Scissors (on back, lefts slightly lifted, crossing feet like scissors)
Stroller Workout:
If you have a younger child, you can do many of these exercises while you are using your stroller. If you are out on a walk or run with your stroller you can stop and do many of these exercises.
You can also do lunges while walking!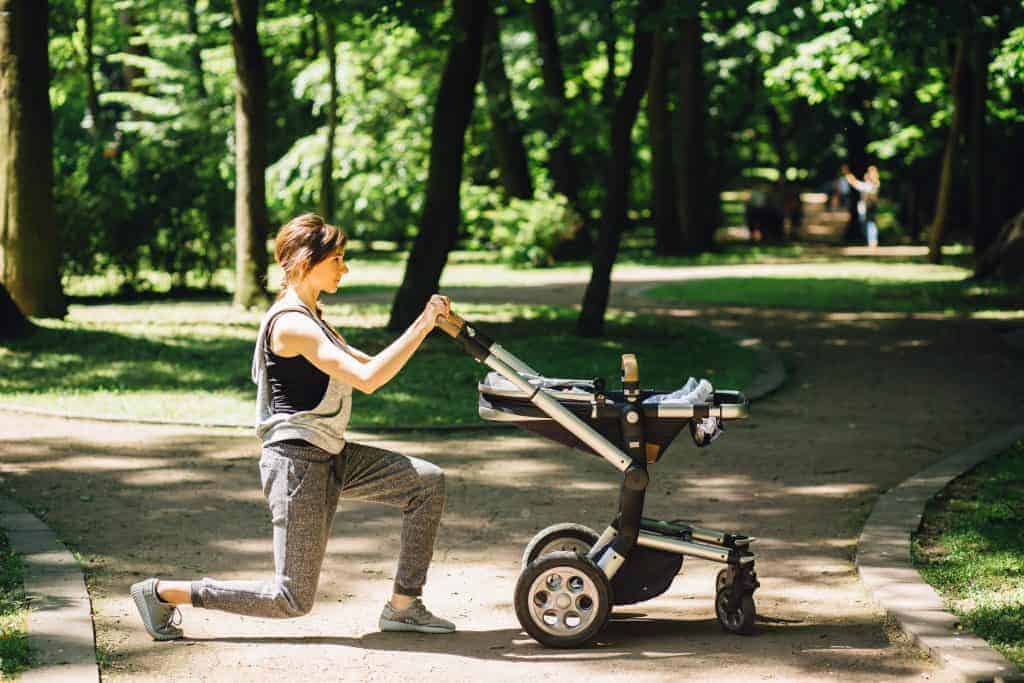 Workout Sample Plans:
12 Days of Fitness Workout
See above in Ways to Exercise for specific details but just like the song (12 Days of Christmas) you always count back down to the first exercise while doing each workout. I'm going to call the exercises "days" here to help with the visualization.
Start by doing the 1st exercise, then next do the 2nd exercise on your list and also do the 1st exercise, then 3rd exercise and 2nd & 1st exercises, etc. At the end, you will do the 12th exercise and every single other exercise all the way back down to 1.
This can be long so either plan for a longer chunk of time or work at it over the day.
1st Day – 40 reps of cardio (run, jumping jacks, pretend to jump rope, whatever gets your heart rate up).
2nd Day – 10 bicep curls (if you don't have resistance or weights then switch this to another arm workout).
3rd Day – 7 frog leaps (huge leap forward, run backwards to where you started).
4th Day – 10 tricep dips
5th Day – 7 Burpees
6th Day – 10 Mountain Climber Planks
7th Day – 10 side lunges (5 each side)
8th Day – 50 high knees
9th Day – 20 crunches
10th Day – 25 squats
11th Day – 15 push-ups
12th Day – 20 Skaters
100 Reps Timed
See the details above in Ways to Exercise for how to do the 100 Reps Timed workout. When you are done with this workout you will have done 900 reps! Nice work!
Cardio: jumping jacks, jump rope, high knees
Strength: squats, push-ups, lunges
Core: knees up at 90-degree crunch, scissors, bicycle crunches
Set Number of Reps per Exercise
Do 25 reps each of:
High Knees, Walking Lunges, Push-ups, Crunches.
Repeat 3-4 times
How to Lose Weight:
It's hard to manage it all and lose weight. With my second child, I could not shed some of my pregnancy weight. Working out is fantastic for your health but not everybody loses weight when working out. Sometimes you need something else.
Noom was recommended to me. I highly recommend checking it out. You start with a 2-week free trial. If you don't like it cancel at any time. I can tell you though that it works to help you re-program how you eat.
With Noom, you don't have to deprive yourself but you do get to re-think some of your eating habits and you are held accountable by their charting systems. Go check them out!
With this Noom link, you will get a free 2-week trial!
Workout Motivation:
Do you only have 5 or 10 minutes? Do it! It doesn't need to be an hour. Small amounts of time add up over time. Do as little or as much as you can do given your time.
I promise you if you just carve out time for yourself to workout set days a week you will never regret it. Even if you are too tired or too burnout. It will never make you feel worse. You will feel better and be in a better mood. This will translate only in positive ways for your family.
The hardest part is just doing it. Take that step and do it. Then take the next step and do it again!
I hope I made it a bit easier for you to come up with ways to incorporate time into your day to workout at home while your kids are around.
Pin it for later!