Rugs can help make your home feel super cozy and are great for adding color and comfort to a nursery or kids' room. The trouble is that many rugs are riddled with toxic chemicals! Definitely not something you want your baby to learn to crawl on. Organic and non-toxic rugs are the solution!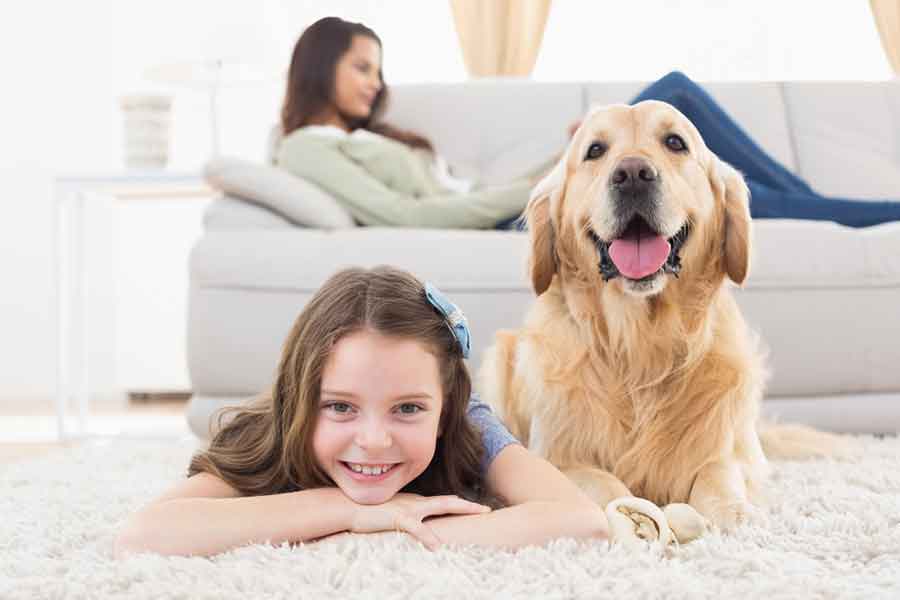 Whether you want a small rug for your home's entranceway, a runner for the kitchen, or a huge area rug, there are good options that are made with natural fibers and zero nasty chemicals. But before I get to my recommendations for the best organic rugs and non-toxic rugs, here's a quick summary of what to avoid when choosing a chemical-free rug.
This post may contain affiliate links. Please see my full disclosure policy for details.
---
What To Avoid When Choosing a Rug
It's pretty easy to spot (and avoid) a synthetic rug made with petroleum products and coated with stain repellents and other nasty chemicals, but what about rugs made with natural materials? Even wool, cotton, jute, hemp, and sisal rugs can be rife with harmful chemicals such as moth repellents, stain repellents, toxic dyes, flame retardants, and more.
Even when you think the bulk of the rug is toxic-free, the base layer might be glued on with formaldehyde-releasing glues to the base, which could be synthetic and toxic.
Rug padding and non-slip base layers are often made with plastic or synthetic latex, which can be carcinogenic and contain phthalates. Vinyl, polyurethane, and PVC backings are also common.
All of this to say, it pays to make no assumptions when choosing a rug and to ask many questions until you're totally satisfied.
VOCs
VOCs (volatile organic compounds) are commonly off-gassed from rugs and carpets, and the closer you are to the rug, the more you breathe in. VOCs also off-gas at higher levels in warm and humid environments, making it extra important to find non-toxic rugs for the nursery.
VOCs can cause various symptoms, such as headaches, nausea and dizziness, allergies, and respiratory and skin irritation. These chemicals can also lead to cancer, nerve damage, and damage to your liver and kidneys, and may even contribute to miscarriages and fertility issues.
The most common sources of VOCs in rugs are stain repellents and water repellents, as well as anti-static treatments, antimicrobial treatments, and flame retardants. Some rugs off gas VOCs from adhesives and dyes.
Stain-resistant rugs may have been coated with perfluorinated chemicals (PFCs) – the chemicals in Teflon and Scotchguard. These are linked to birth defects, problems with child growth and development, reproductive issues, immune system problems, and cancer.
Some synthetic rugs made with polyester, and some rugs made with wool, have a degree of 'natural' stain repellency, meaning that these may be easier to keep clean without the rugs having been treated with chemical coatings.
Flame Retardants in Rugs
Flame retardant chemicals are also common in rugs, especially those made from highly flammable synthetic materials like nylon and polypropylene. Because wool and cotton don't easily burn, these tend to be free from flame retardants, but it's always worth checking.
Dyes
Toxic AZO dyes, which are carcinogens, are an absolute no-no for natural non-toxic rugs. Unfortunately, because some natural fibers, such as wool, are naturally stain resistant, rug makers may decide to use harsh chemicals and dyes on the fibers to create a colored design.
It's best to look for natural, undyed wool rugs, as wool rugs treated with natural dyes can transfer dye residue to your floor, other textiles, and to anyone using the rug, including kids and pets.
Earth Weave and Organic Weave are the exceptions, as these companies figured out a way to dye wool naturally and effectively, creating some gorgeous designs with no toxic chemicals involved!
Fumigants
When researching rugs and other topics years ago, I discovered that many imported products that are actually non-toxic are then fumigated when they arrive in the US. If a rug is shipped in a wooden crate, for instance, then this might be fumigated or heat treated to kill any bugs.
Personally, this means I favor products entirely made in the US or that have been imported in a way that means they haven't been treated with toxic fumigants (via metal shipping containers instead of wood crates).
Moth Repellents
Wool is resistant to stains and dust mites, but moths love to chomp on wool. This means that many rug makers treat the wool with moth repellents like permethrin as standard. Some clearly state that they don't do this, and with others, you can ask them not to treat the rugs with these kinds of chemicals.
Permethrin is a neurotoxin (that's how it kills insects) and can cause skin irritation, itching, swelling, redness, mild burning, or stinging. Although adults can detoxify some levels of permethrin typically found in clothing and other textiles, infants, children, and pets may have a harder time, especially as they tend to have higher exposure by rolling around on rugs and carpets. Again, this means getting a non-toxic rug for the nursery or where children play is super important.
Cotton
Compared to petroleum-based synthetic rugs, cotton can seem relatively harmless. The truth, though, is that non-organic cotton is likely laced with pesticides, bleached with chlorine, and contaminated with carcinogens like dioxanes. Cotton is also bad for the environment, making huge demands on water as well as using approximately 20% world's pesticide use on this crop alone. This is why organic cotton is superior to conventional cotton.
---
The Best Non-Toxic Rugs and Organic Rugs
If you're looking for a non-toxic rug that is also an organic rug, Organic Weave is the best option by far. Other companies such as Under the Nile and Coyuchi offer GOTS certified organic cotton rugs, but for a GOTS certified wool and/or cotton rug that's cushiony and cozy, Organic Weave gets top marks from me!
---
Organic Weave
Organic Weave is my top choice for non-toxic rugs and organic rugs. They make 100% organic cotton rugs, and wool rugs that are GOTS certified and offer custom colors, sizes, and designs.
The rugs are handmade in India by master weavers and are GoodWeave certified, meaning you can feel good about the working conditions for those making them.
The handwoven and hand-knotted rugs contain just GOTS certified organic cotton or GOTS wool and are reversible. The hand-tufted rugs are not reversible as they are made with GOTS cotton or GOTS wool and FSC certified natural rubber to secure the pile to the organic cotton canvas base layer.
Organic Weave only use GOTS certified organically grown natural dyes, and you can even get a monogrammed rug!
Off-the-rack rugs take about 2 weeks to ship, while custom rugs can take 8-12 weeks to make and ship (the latter are non-refundable).
Organic Weave doesn't use any toxic chemicals when making their rugs or other products. I asked about moth repellents and fumigation, and a company representative (Thanks, Linda!) said: "Excellent question! Our rugs are shipped by air and there is no fumigation on air shipments. Goods shipped by sea on wooden pallets are subject to fumigation. We do not use moth repellents."
Only non-toxic materials and processes are used to make these GOTS certified rugs, meaning that Organic Weave only cleans or scours raw materials using biodegradable cleansing agents, doesn't use synthetic agents or oils when spinning yarns, and doesn't finish rugs with harmful chemicals or detergents.
---
Under the Nile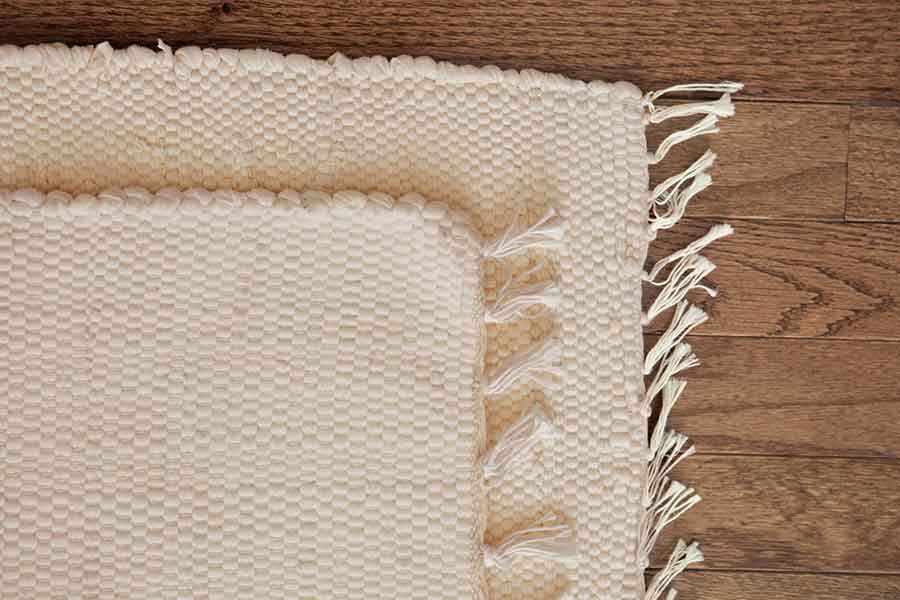 When we were looking for rugs for the kids' rooms and our entranceways, Under the Nile was our top choice. We have the 4 x 6 feet rugs for the kid's areas and front door and the smaller rugs for elsewhere, and we love them! They're super easy to throw in the wash, which is a must for those doorway rugs because they aren't thick. They are GOTS certified and made of organic cotton.
The downside to Under the Nile's Big Rug and Small Play Rugs is that they're small. Some readers of this blog and members of our Facebook group have bought two or more of these and sewn them together to make a bigger area rug. If you did this, you would notice the seam.
Under the Nile's GOTS certified organic cotton rugs are made by hand using scraps of organic Egyptian cotton from Under the Nile's own factories, where they make clothes, sheets, toys, and other great non-toxic products.
These rugs are free from Azo dyes, BPA, flame retardants, formaldehyde, fragrance, PVC, or lead. And because Under the Nile makes these rugs in their Fair Trade factory, they know exactly what has happened to the cotton all the way through the manufacturing process.
These rugs aren't thick like typical rugs, but they are one of the few organic rugs that are machine washable!
---
Willaby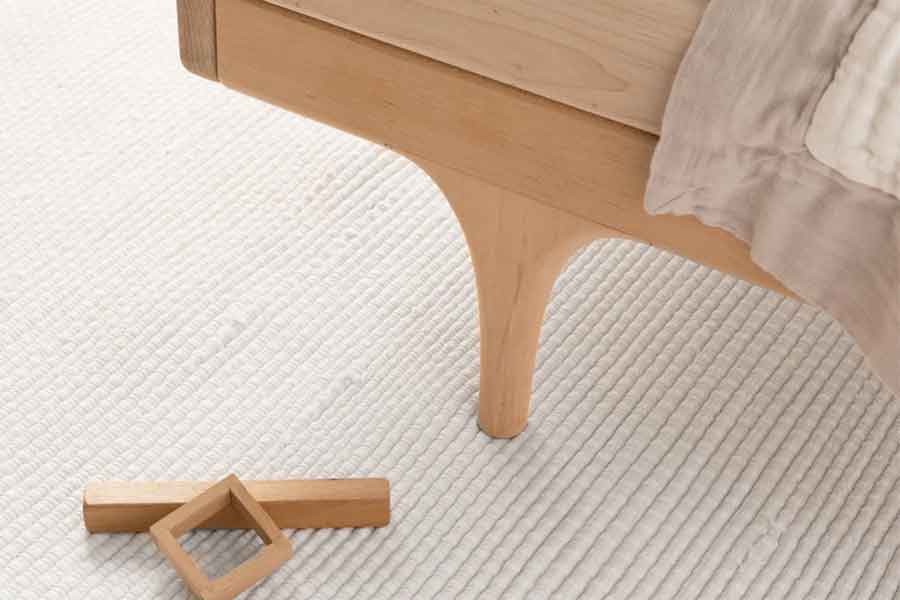 Willaby is based in Georgia and makes 100% GOTS organic cotton rugs and other great products. The actual manufacturing of the rugs happens in Ohio at an Amish family workshop, with hand weaving and treadle sewing machines.
The rugs are about 3/8 of an inch thick, and you can order fabric swatches to find a perfect match.
Prices start at around $440 for an area rug, and these organic cotton rugs are machine washable, can be dried on low (though this will shrink them a little), and are super soft.
Smaller rugs perfect for a door mat, bath rug, small play rug, or even a changing surface start at $50, and there are runners and a medium sized rug available too.
Because these are cotton, you'll probably want to get a non-toxic rug pad to keep the rug in place.
For the area rugs, you'll have to pre-order and wait 4-6 weeks for the rug to be made by hand. Personally, I love that this means these rugs aren't just sitting around in a warehouse getting moldy and dusty.
And because these rugs are made with GOTS organic cotton milled specifically for the company with manufacturing taking place in the US, there are no fumigants, azo dyes, formaldehyde, flame retardants, or other nasty chemicals of concern.
---
Earth Weave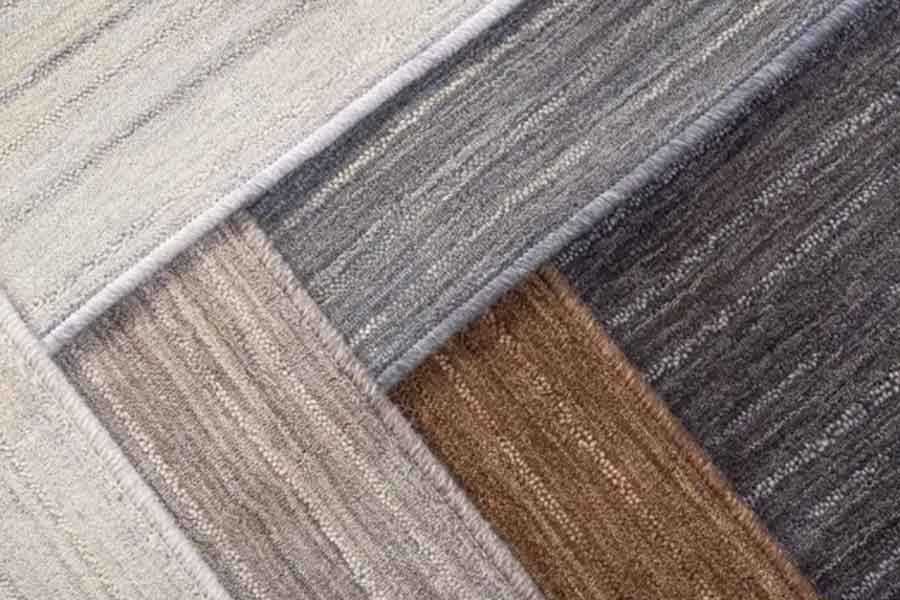 Earth Weave rugs are another great option for non-toxic rugs, including area rugs. They are organically dyed and are made in the US with wool and cotton, natural latex, jute, and hemp.
Prices start at around $350 for 4' x 6' rugs and include standard rug sizes and a custom option.
The company offers various pile weights, colors, and patterns.
The Earth Weave Catskill Collection of non-toxic, super-soft rugs are made with organically dyed wool in six light and dark earth tones. These rugs are made without toxic dyes, moth repellents, stain repellents, synthetic adhesives, formaldehyde, or other hazardous chemicals.
The wool itself comes from free-range sheep in the UK, and the primary backing is made using hemp and cotton, bound to the wool pile with rubber. The secondary backing is made of jute. These backings help stop the rug from slipping, making them a great choice for high traffic areas. The company also makes a natural rubber pad for their rugs.
The Catskill rug collection is higher quality than a lot of natural fiber rugs and is thicker than the other wool rugs in the Earth Weave range. That means they'll probably last much longer and be easier to maintain. And because they have a higher pile (65 oz), they're great sound absorbers and can help insulate a space.
The McKinley collection comprises mid-weight wool rugs (44 oz) that are tufted, textured loop pile, and zero-VOC. They have the same cotton, latex, and jute backing as the Catskill collection.
The Pyrenees collection has a slightly lower weight (38 oz) but is still mid-weight and suitable for cushioning in a nursery or elsewhere in the home.
The Dolomite collection is the lowest weight available from Earth Weave at 30 oz. These rugs are better suited to lower traffic areas and are still durable and cushioned but less so than the other collections.
Earth Weave rugs are LEED qualified, including for EQ 4.3: Low-emitting materials.
Area rugs are custom-made and not returnable but do have a 5-year warranty.
---
Nature's Carpet Dark Green Collection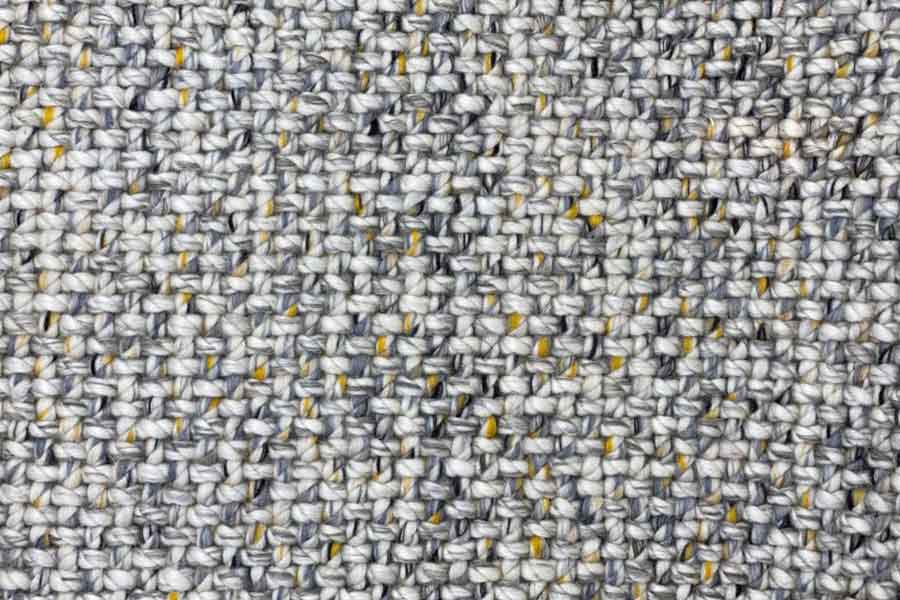 In addition to making carpets, Nature's Carpet makes rugs! There is only one rug in their collection that I recommend, though.
Very similar to Earth Weave, these rugs are made from undyed wool with jute backing attached using natural rubber adhesive. These rugs are free from hazardous chemicals, including no synthetic dyes, pesticides, moth repellents, stain repellents, or toxic glues.
Nature's Carpet Dark Green collection is made in Australia entirely from 100% British Wool and is cleaned in a dedicated cleansed scour without any moth-proofing chemicals.
The wool is spun in a dedicated plant, meaning it isn't at risk of contamination from other materials and chemical processes. These rugs are not dyed, with the patterns created instead from the natural fleece color variations.
Make sure to get a rug from the Dark Green collection only. The Medium and Light Green collections are made with some synthetic materials and have insecticides applied.
---
Coyuchi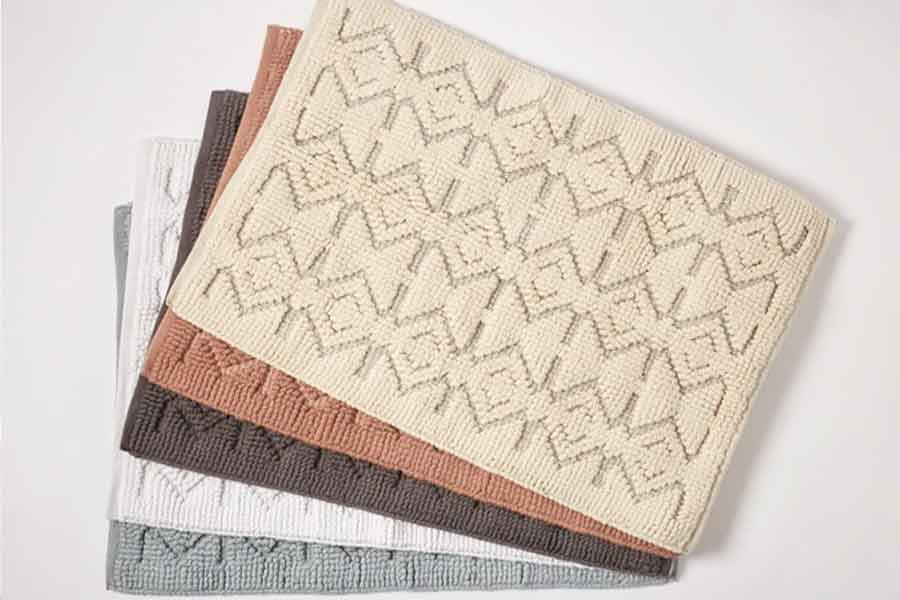 Coyuchi makes organic, GOTS certified bath rugs that are handwoven in India and available in various styles and colors. These machine-washable rugs are smaller so they are best for bathrooms, entryways, by the kitchen sink, etc.
A few of the rugs available at Coyuchi are Mosaic Canyon and Pebbled Chenille Bath Rug and Runner. Several of their rugs are thicker and have a nice absorbent pile. They are machine washable and can be dried low with wool dryer balls.
Coyuchi sources products and materials from European manufacturers who adhere to the REACH regulations. The company also follows the Restricted Substances List (RSL) of the American Apparel & Footwear Association (AAFA). Most of their products are GOTS certified.
---
The Next Best Organic and Non-Toxic Rugs
These brands are better than most but don't have all the qualities of the best recommended above.
---
Hook and Loom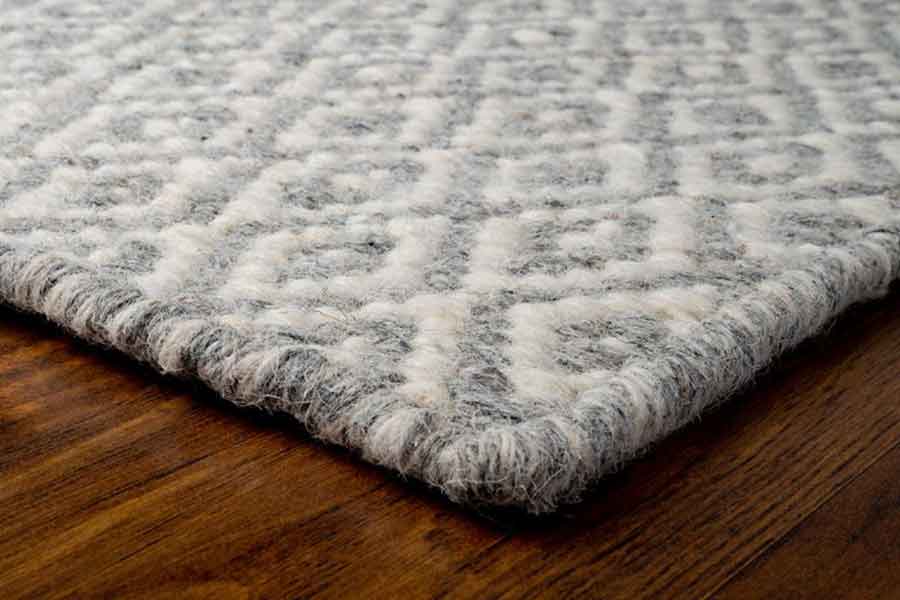 I'm torn on whether or not to include Hook and Loom rugs here, as several of my readers have had bad experiences with these rugs. I did want to include them as an option and share the experiences I have heard firsthand.
The wool rugs are made in India using undyed, natural wool, with patterns created from the different natural shades of sheep's fleece. While these rugs aren't subjected to any chemical treatments (including no mothproofing), and the shipping avoids fumigation at the ports.
There are many reports of a lingering bad "musty" smell over and above the typical 'sheepy' smell of wool rugs. Many readers, of course, have had a wonderful experience too. I don't have any personal experience with this brand.
If you like the company and designs though, Hook and Loom cotton rugs are a decent option. These are made in India with recycled cotton (which isn't organic) and with unknown sources of where the cotton was recycled from. They are machine washable (depending on the size and your machine!).
They cotton rugs don't seem to have the same issue with odor (I've heard from only one reader that she did) and are free from latex and adhesives, azo dyes, fire retardants, stain repellents, and other chemical treatments. The recycled cotton is pre-shrunk too, meaning you don't have to worry that washing it will alter the size, shape, or color.
One thing to bear in mind, though, is that because these rugs are made with genuinely recycled cotton from clothing donations and such, there may be small bits of polyester and other fibers in the final product. We also don't know if the recycled cotton was treated with any harsh chemicals in its prior life.
Rugs start at $24 for 2′ x 3′ and are available in various sizes, colors, and designs.
---
West Elm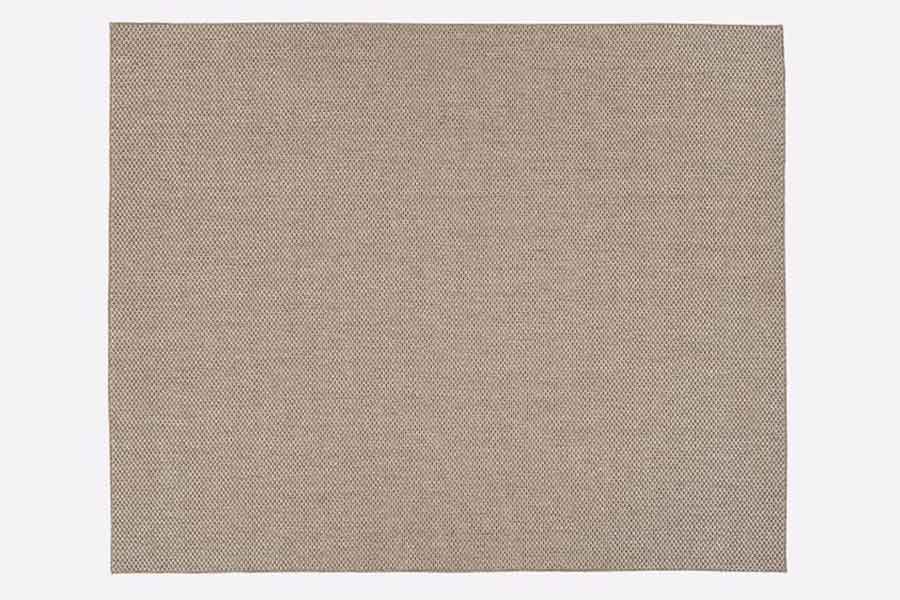 West Elm makes a couple of decent rugs from jute, a natural fiber that's hardwearing and relatively inexpensive. These rugs are made in India, by hand, and are available in a variety of sizes ranging from 2 foot by 3 foot to 9 by 12 foot.
Because they have no backing, the Boucle jute rugs are reversible and with proper care, could last decades as jute is super durable. They shed a bit, especially at first, but they can be vacuumed and beaten and spot cleaned. Thanks to the natural flax color, they're also pretty good at hiding stains.
West Elm also has a cotton-backed jute rug made with jute and recycled cotton. It's not clear where the recycled cotton comes from, though, and that raises unknown questions about any toxic dyes or treatments before it was recycled.
West Elm's wool and jute rugs are FairTrade, handcrafted, and high quality, comprising 82.8% wool and 17.2% jute. These rugs are made in India and start at around $60.
You will likely want to add a rug pad under this rug to improve durability and prevent slipping, and the rug will shed quite a lot of loose fibers for the first few months, so be sure to vacuum it regularly (no beater bar!).
All in all, West Elm is an OK option for a non-toxic rug, but these are not organic rugs, and while they don't appear to have been dyed, there's no guarantee they haven't been treated with other chemicals.
I've reached out to West Elm to ask questions about their processes but did not hear back. Before ordering, I would ask them all the questions you read about in this post above.
I would opt for undyed, natural rugs from West Elm, and I would email to ask questions before ordering.
---
Lorena Canals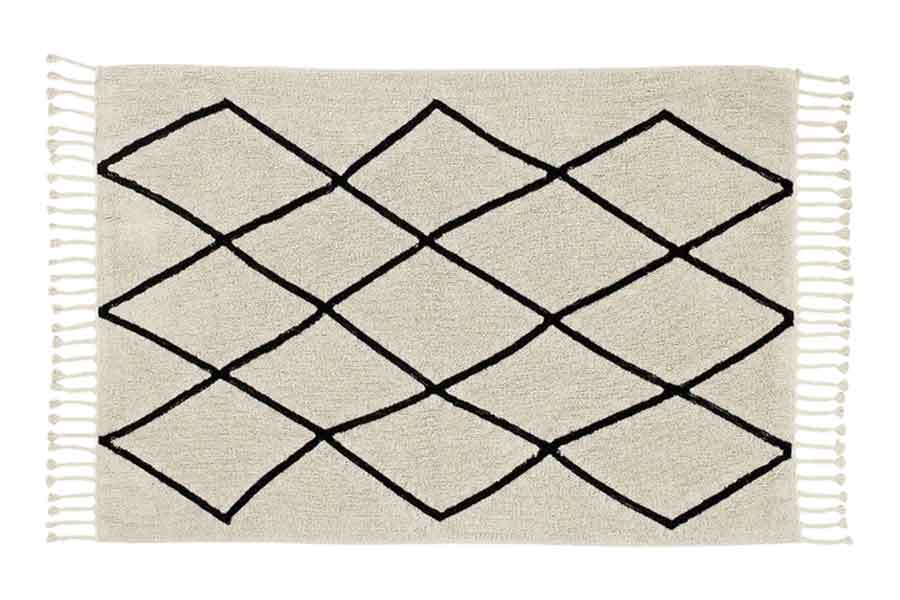 Lorena Canals makes wool rugs with recycled cotton backings that they state are free from toxic dyes and contaminants.
The rugs are not GOTS certified, however, and it's not clear if these rugs are treated with moth repellents. I've asked the company for clarification on how the cotton backing is attached to the wool pile and about insecticides, and will update when/if I hear back.
Lorena Canal also makes cotton rugs, they rugs are 97% cotton and 3% other materials. A recycled material backer is used on these rugs which is mostly cotton.
These rugs are washable which makes them great for high traffic areas.
---
Final Thoughts on Non-Toxic Rugs
A good rug can make or break a room's design and offers a cushiony, cozy place for kids, pets, and everyone else to play. But finding a genuinely non-toxic rug is hard! The best option is Organic Weave, with Under the Nile, Coyuchi, Earth Weave, and Willaby also good choices.
Because it can be overwhelming to find truly safe products, I have created my Amazon Storefront for vetted non-toxic products to help you find safe choices for your home.
Posts Related to Organic Rugs
Pin it for later!