Summer break wouldn't be the same without spending time at the pool. Swimming is fun at any age, and as the temperatures rise, everyone flocks to the water. Swimming is a traditional summer pastime, and most of us can smell the chlorine just thinking about it. Although chlorine has become a marker of fun in the sun, chlorine itch and skin sensitivity can rain on your parade. This DIY Vitamin C Swim spray will neutralize the chlorine so you can't continue having fun swimming!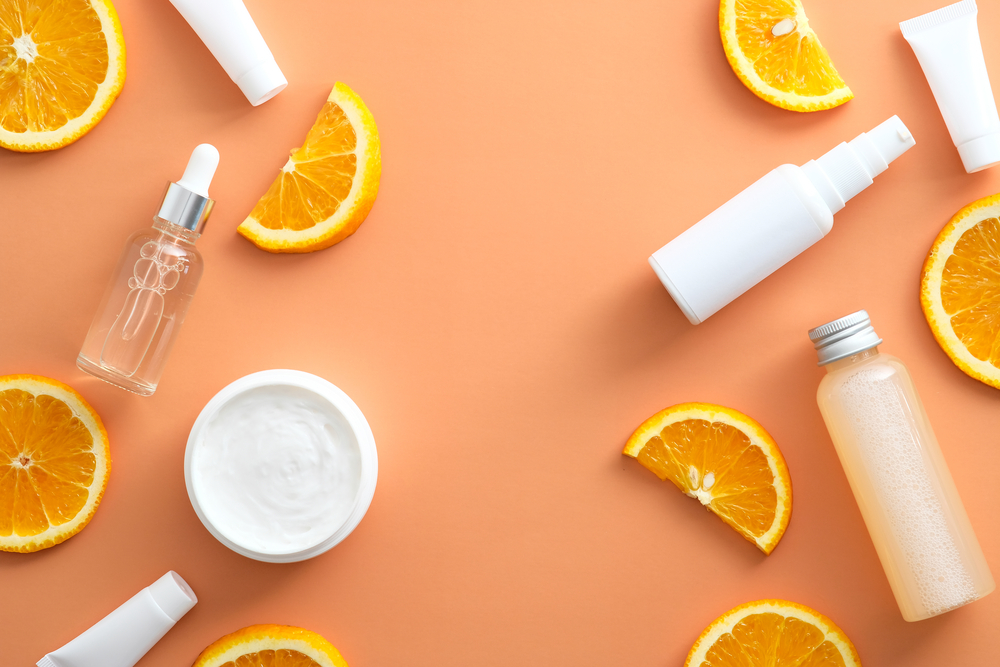 It's common for pools and hot tubs to be treated with chlorine to prevent bacteria and water-borne illnesses, but there are adverse effects to this cleaning method. Whether it's a stuffy nose, skin irritation, or bloodshot eyes, most of us have had a negative run-in with chlorine.
Thankfully there is an answer for your chlorine toxin concerns in DIY swim spray. Vitamin C spray for chlorine can neutralize the toxin and keep you swimming all season long.
This post may contain affiliate links. Please see my full disclosure policy for details.
Health Effects of Chlorine
Chlorine is a standard cleaning agent found in water. It can prevent bacterial growth and harmful pathogens from reproducing in the water we're exposed to, including the water we drink.
Many public pools and hot tubs rely on chlorine to keep a clean swimming environment, but not without a few toxic effects of this common chemical.
The government highly regulates chlorine in our drinking water, but chlorine (and how it reacts with other substances) isn't regulated at all in pools. This means it's our responsibility to understand how chlorine can affect our health and the health of our families.
When Chlorine is mixed with water, it creates a bleaching compound called hypochlorous acid. Hypochlorous acid is responsible for more than just faded swimsuits.
Chlorine sits on top of the water, making it easy to inhale into your lungs and ingest into your body. But water isn't the only thing chlorine reacts negatively with.
When combined with sweat, urine, skin, hair, makeup, or lotions, chlorine creates a harmful chemical known as haloacetic acids or HAAs. HAAs are linked to a host of health problems, including cancer, asthma, liver damage, damage to the nervous system, hormonal disruption, congenital disabilities sites, skin, eye, and throat irritation.
A study conducted by the American Chemical Society suggests HAAs are present in the urine of swimmers 30 minutes after they've left the pool. Even more concerning, the levels were even higher in children.
Unfortunately, finding chlorine alternative pools (like saltwater or UV disinfectant) isn't always an option. Thankfully, there is something you can do to protect your skin from chlorine, and that's using vitamin C spray for chlorine.
What Neutralizes Chlorine?
Vitamin C spray for swimming can neutralize chlorine. When you spray vitamin C on chlorine, it forms hydrochloric acid and dehydroascorbic acid, effectively destroying the harmful toxin.
The resulting acids carry no effects compared to HAAs, so they're of little concern.
However, although vitamin C spray for chlorine is the most effective choice for protecting you against harmful toxins in the pool, not all Vitamin C is created the same, meaning not all vitamin C can neutralize chlorine on the skin.
What Kind of Vitamin C to Use
There are two types of vitamin C spray for swimming that will neutralize chlorine and the toxins that come with it. Even more good news, you can make vitamin c swim spray for chlorine at home. The recipe is straightforward and super cheap.
Ascorbic acid
Ascorbic acid will neutralize chlorine on your skin in the same way sodium ascorbate will. However, ascorbic acid is more acidic, so if you have sensitive skin, it could cause irritation. It also doesn't dissolve as quickly as sodium ascorbate, but it can be cheaper in price, and it does work.
Sodium Ascorbate
Sodium Ascorbate is my first choice when choosing a vitamin c for my DIY swim spay. It's my favorite for a few reasons. First, sodium ascorbate is much less acidic than its ascorbic acid sister. Secondly, it absorbs much easier into water.
How to Make a Vitamin C DIY Swim Spray
Making vitamin C swim spray is super easy and affordable. Follow the directions below to create your DIY swim spray. Remember, this swim spay needs to be remade often to uphold its effectiveness.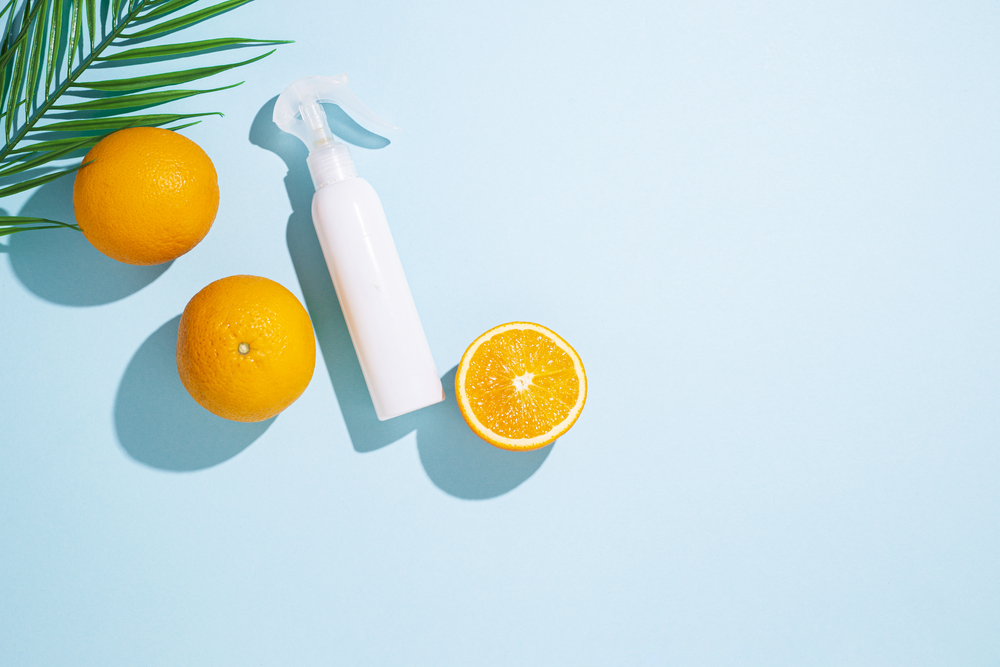 Ingredients
½ cup filtered water
½ tsp sodium ascorbate
1 high-quality glass spray bottle
Essential Oils (optional)
Directions
Add water and sodium ascorbate or ascorbic acid to a sturdy spray bottle. Close the lid firmly and shake to combine ingredients.
Once your DIY swim spray is done, spray it on before and after you get into the pool and shower as usual. Make sure to cover all of your skin with the DIY swim spray so that you have full coverage. Do not spray directly on the face or in the eyes, especially for children.
What Type of Bottle to Use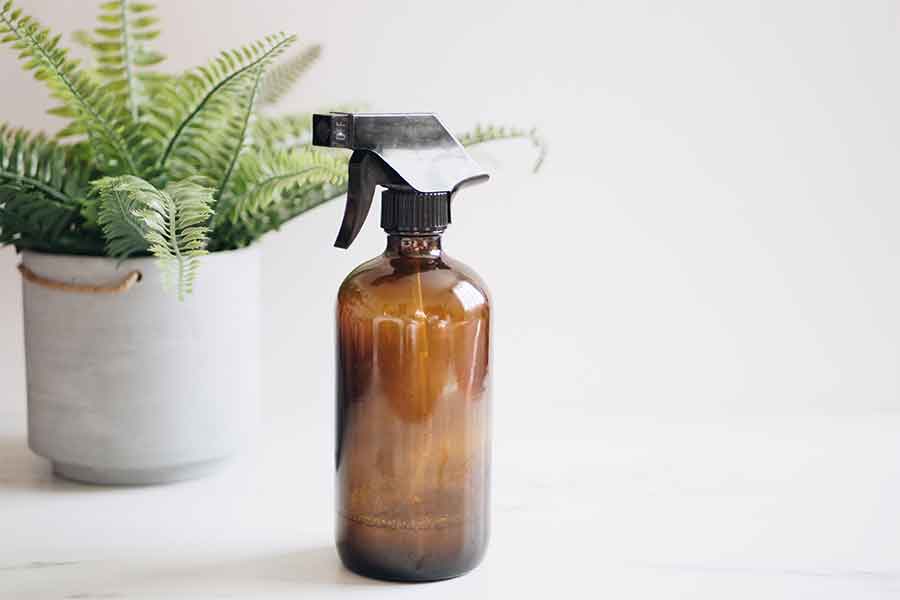 Plastic
Plastic spray bottles can leach into your vitamin C spray because vitamin C is acidic. But since your vitamin C spray won't last long, there is less chance of leaching when using a plastic spray bottle.

Glass
Glass bottles will not leach into your vitamin C spray, but there is a chance they could break. Broken glass and swimming pools don't usually mix. If you do choose to use a glass bottle, one with dark glass would be ideal.
Other Ways to Protect Your Skin from Chlorine
There are several ways you can protect your skin from chlorine. Some are more effective than others, like using a DIY swim spray. 
Coconut Oil
Coconut oil can act as a protective barrier from chlorine. Lathering yourself in coconut oil before getting into the pool will keep your skin hydrated and toxin-free. Coconut oil also has a very low-level SPF 6, but it's important to wear at least SPF 30 while in the sun. Coconut oil is effective, but it won't totally protect you against chlorine, and you will have to reapply if you're having a long swim day.
Goggles and Nose Plugs
Goggles and nose plugs can help protect your eyes and nose from chlorine irritation. So if you come out of the pool with red eyes and a stuffy nose, goggles and nose plugs should remedy that. However, while these swim tools are great to protect the sensitive areas of your face, they won't protect your skin like vitamin C spray for swimming.
Vitamine C Spray for Chlorine
Vitamine C spray for swimming is the most effective for protecting against chlorine. Vitamin C spray can eliminate Chlorine on your skin and hair from either the pool or your tap water, making it the most effective at protecting you and your family from the adverse effects of chlorinated water.
Final Thoughts
Summertime is meant for splashing in the water and lounging by the pool. Unfortunately, too many swimmers come away with skin irritation, bloodshot eyes, stuffy noses, and chlorine itch. Unfortunately, chlorine itch isn't the worst thing you have to worry about when swimming in a chlorine pool.
Chlorine creates a bleaching agent when mixed with water that sits on top of the surface, making it easy to breathe chlorine in our lungs. However, when combined with organic material like sweat, urine, skin, or hair and products like lotions or makeup, chlorine creates harmful toxins known as HAAs.
HAAs have been linked to numerous health problems, including hormonal disruption, liver damage, nervous system damage, congenital disabilities, and disruption of the gut biome. There are several ways you can protect yourself against chlorine. Wearing goggles and nose plugs can protect your eyes and nose; slathering coconut oil on your skin can create a barrier, but it's not 100% effective.
Vitamin C spray for chlorine is the most effective way to protect your skin from chlorine because ascorbic acid and sodium ascorbate (aka vitamin C) can neutralize chlorine. Just dissolve it in water and spray on your skin before and after the pool, and shower as usual. See the recipe above for more details.
It can be overwhelming to find truly safe products. I have created the Natural Baby Amazon Storefront for vetted non-toxic products to protect the health of you and your family all summer long.
Pin it for later!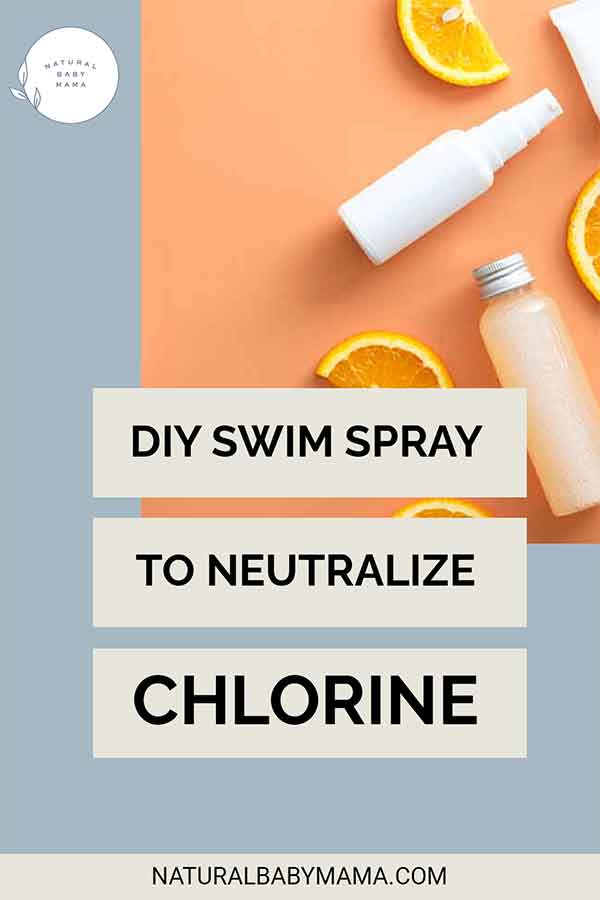 Posts Related to DIY Swim Spray