Summer months are meant for fun in the sun, time spent outside with family, and of course, swimming in the pool. Summer wouldn't be the same without cooling off poolside, complete with floaties, pool toys, and plenty of SPF. While protecting your family from the sun while relaxing by the pool is important, unfortunately, it's not the only thing you have to worry about. There are some very easy tips on ways to naturally protect you from chlorine in swimming pools.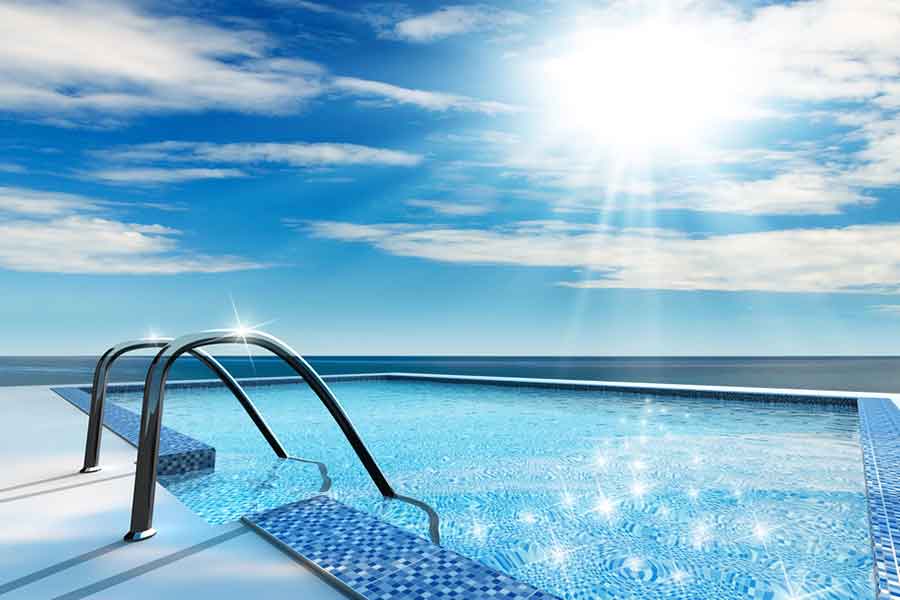 Chlorine swimming pools pose several health risks to you and your family. As a mom, I know that cutting out pool time isn't an option. Kids want to swim and need to learn how to swim (it's an important safety skill).
Thankfully, there is a happy medium between minimizing exposure to toxins while letting them enjoy their time in the water.
This post may contain affiliate links. Please see my full disclosure policy for details.
Types of Swimming Pools
There are three types of swimming pools you are likely to encounter in your area. Some contain more toxins than others.
Chlorine
Chlorine swimming pools are the most toxic of the three most common pool types. Most pools and hot tubs are treated with chlorine to prevent bacteria-born illnesses found in water.
Our tap water is also treated with chlorine, but it's highly regulated. It's important to filter your water for drinking as well as showering for this reason as well!
Too much exposure to chlorine can cause skin and eye irritation, lung irritation, and several health problems.
Research from the American Journal of Epidemiology suggests chlorine pools increase your risk of cancer, asthma, and irritation of the skin and throat. When pools are treated with chlorine, the chemicals sit on top of the water, making it very easy to breathe them into your lungs.
When chlorine mixes with water, it creates a bleaching agent called hypochlorite. This agent is responsible for fading swimsuits and causing itchy skin and irritated eyes.
While chlorine in swimming pools poses some concerning hazards, but there are ways you can protect against swimming pool chemicals.
Saline
Saline, or saltwater pools, are much healthier for you than a chlorine pool. Despite the name, swimming in a saline pool isn't like swimming in the ocean because it's much less salty.
Its low level of salinity makes it easier on the lungs, skin, and eyes. Because of this, it's a safer option than swimming in a chlorine swimming pool.
Saltwater pools work by pushing the salt through a cell or salt chlorinator. The salt chlorinator sends an electric charge through the salt, making it into a chlorine-like disinfectant that can kill germs and bacteria similarly to chemically derived chlorine.
UV Disinfectant
Like a saltwater pool, a UV disinfectant pool uses little to no chemicals. Instead, UV disinfectant pools use UV lights to eliminate microbes and bacteria in the water.
These UV lights are self-contained and are not harmful to swimmers.
In addition, the UV lights alter the DNA of microorganisms and bacteria, preventing them from reproducing. As a result, this type of pool poses little risk of skin irritation or illness.
UV light alone is not enough, you also need an additional disinfectant for bacteria that might not get back to the UV filter quickly enough. Some UV pools still use chlorine but at significantly less levels. Others may opt for a truly no chemical pool and use saline or hydrogen peroxide as the bacterial disinfectant.
Health Issues Linked to Swimming Pools
Health issues linked to swimming pools are almost always connected to chlorine exposure. When combined with water, chlorine creates a bleaching agent that can cause several health issues, including links to cancer, hormone disruption, asthma, and irritation of the throat, skin, and eyes.
In addition, chlorine was designed to kill bacteria, so it can disrupt your gut biome by killing your good gut bacteria.
The American Chemical Society suggests that exposure to chlorine swimming pools can cause harmful HAAs (haloacetic acids) in the body. HAAs can are linked to congenital disabilities and an increased risk for some cancers.
HAAs are created when chlorine mixes with organic matter like skin, hair, sweat, and urine. The same happens when chlorine comes into contact with lotions, makeup, and other topical products.
The United States regulates the level of HAAs in our drinking water but not in our swimming pools, making it our responsibility to understand the risks of chlorine.
The study conducted by the American Chemical Society showed HAAs were present in the urine of swimmers thirty minutes after exposure to chlorine pools. Levels in children were higher than in adults. Long-term exposure to HAAs has been linked to liver and reproductive damage along with nervous system damage.
While these claims are incredibly concerning, there are steps you can take to protect against swimming pool chemicals.
Look for Non-Chlorinated Pools
Choosing a non-chlorinated pool is the best way to protect against chlorine in swimming pools.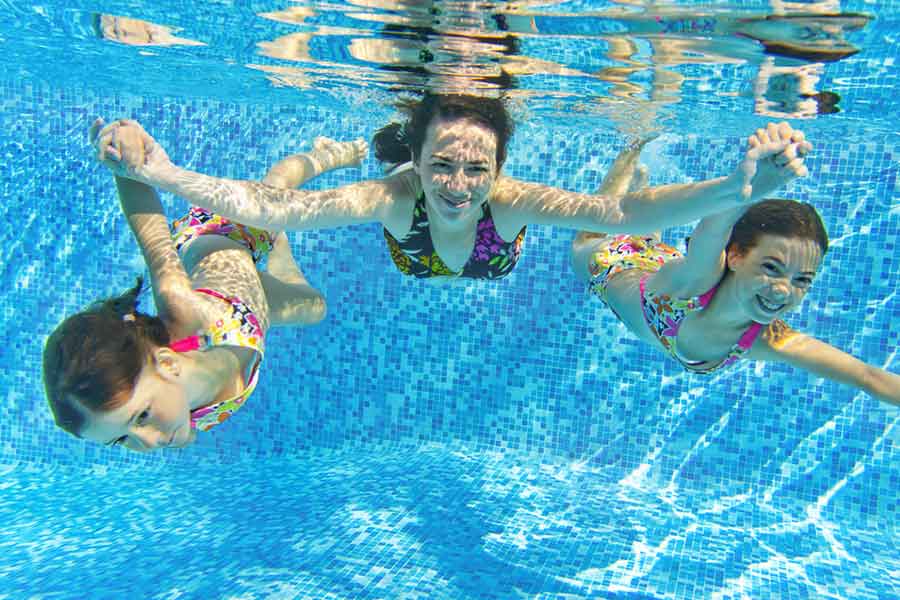 You're most likely to find a saltwater or saline pool local to you, but you may find a UV disinfectant pool, as well. Both of these options are chemical-free and will eliminate the need to worry about your family being exposed to chlorine.
Unfortunately, you won't always be able to find a chlorine-free pool. Whether you don't have a chlorine alternative pool in your area, or you have family members and friends with chlorine pools, you're likely to come face to face with swimming in chlorine.
Luckily, you can take steps to protect against chlorine in swimming pools while actually swimming in them.
How to Naturally Protect from Chlorine Swimming Pools
Follow the steps below to reduce your toxic exposure when swimming in a chlorine pool.
---
Rinse off Before Swimming
Our hair and skin are very porous and absorbent. In fact, our skin is our largest organ. So if you rinse off before getting into the pool, your hair and skin will absorb the clean water.
This leaves little to no room for your body to absorb harmful chemicals like chlorine. Rinsing off will also remove sweat and products that can combine with chlorine to create HAAs.
Rinsing off before hopping in a chlorine pool is a simple way to reduce toxins, but it won't stop chlorine completely.
---
Use Coconut Oil to Create a Skin Barrier
Our skin has a layer of protection on top called the acid mantle. This layer is slightly acidic, where viruses and pathogens are typically alkaline. When you submerge in a chlorine pool, the acid mantle is stripped away, leaving you susceptible to bacteria and toxins from the chlorine itself.
You can create an extra layer of protection by applying coconut oil to your skin and hair before getting in the pool. Coconut oil was also found to have a minimal SPF rating of 8, but you should always wear a non-toxic sunscreen SPF 30 or higher when spending time in the sun.
---
Use a Vitamin C Spray
Vitamin C can neutralize chlorine, making it ideal for protecting against chlorine in swimming pools. Just spray it on your hair and skin before hopping into a chlorinated pool to neutralize your chlorine exposure.
You can make your own vitamin C spray with the recipe below.
---
Vitamin C Spray Recipe
Combine the following ingredients in a spray bottle of your choice and shake to combine. Remember to remake this mixture often because it loses potency rather quickly.
½ cup filtered water
½ teaspoon powdered ascorbic acid (vitamin C)
Remake often
If you don't have the time to make your own vitamin C spray, you can purchase one online or in stores. However, making it is just so simple. Just make sure to look for non-GMO ascorbic acid or sodium ascorbate vitamin C when purchasing.
If you want further details on making your own vitamin C spray, see my post on DIY Vitamin C Spray.
---
Use a Swimming Nose Plug to Help with Nose Irritation
If chlorine irritates your nose and makes you stuffy, a swimming nose plug could help with irritation and inflammation in the nose.
---
Use Goggles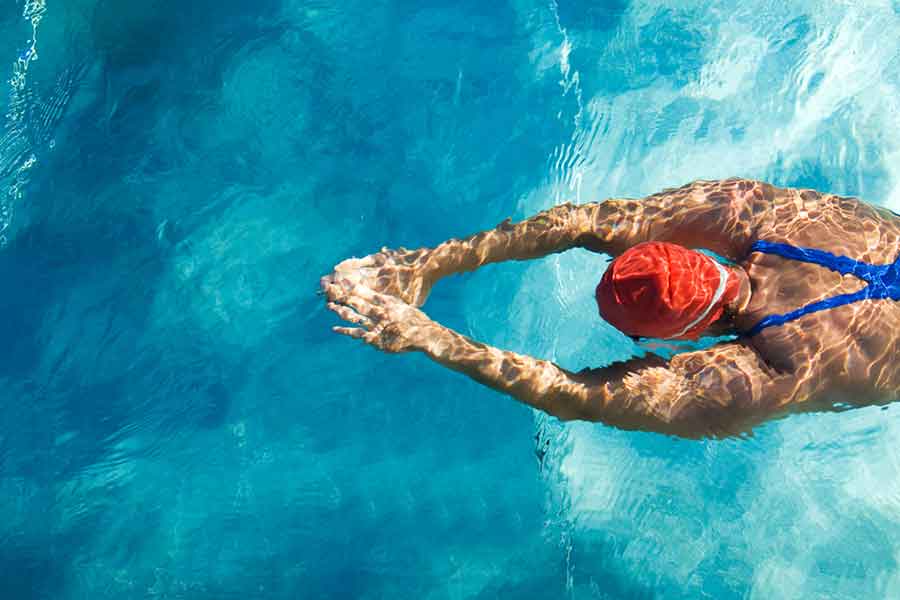 Goggles can prevent chlorine from getting in your eyes and causing irritation. So if you come out of the pool with bloodshot eyes, goggles could be your solution.
---
Shower After Swimming
Showering after your swim is a great way to ensure all the chlorine is off your skin.
Once you're done with your shower, you can spray vitamin C spray to neutralize any remaining chlorine.
It's important to know you don't need to do all of these steps unless you want to of course! Do what you are comfortable with while keeping your sanity!
When my children were younger it became too much for me to get them to swim lessons and do all of the things. I prioritized what I felt was most important. If I were to pick just two of these I would make sure everyone showers (before and after) and use the vitamin C spray.
Final Thoughts on Naturally Protecting Your Family From Chlorine
Summer is a time for playing in the water and enjoying outdoor adventures. Unfortunately, swimming in chlorine pools can cause a host of health problems like skin and eye irritation, asthma, hormonal disruption, liver damage, nervous system damage, disruption of the gut biome, and cancer. You can avoid these effects by looking for chlorine alternative pools like saltwater or UV disinfectant pools.
If you can't find a chlorine alternative, you can protect against swimming pool chemicals by taking these steps. Start by rinsing off before entering the pool, using coconut oil and vitamin C spray, using nose plugs and goggles, and showering after your swim.
Chlorine in swimming pools shouldn't prevent you or your family from enjoying your summer holiday. With a few tips and tricks, you can outsmart the effects of chlorine and swim with peace of mind. These tips will help protect you from chlorine naturally and will leave you just enjoying some pool time with your kids!
Since it can be overwhelming to find truly safe products, I have created the Natural Baby Mama Amazon Storefront for vetted non-toxic products to keep your family safe all summer long.
Other Posts Related to Protecting from Chlorine Naturally
Pin it for later!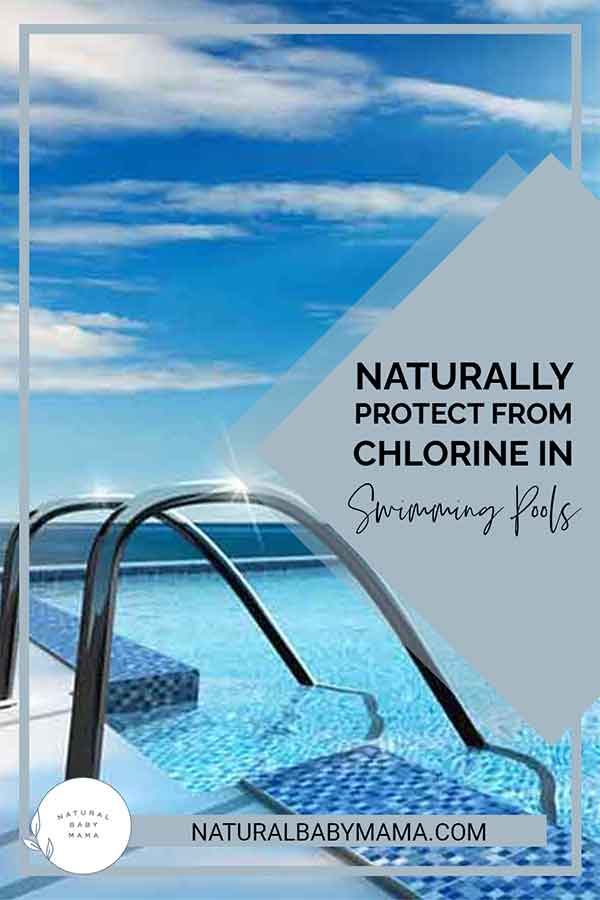 SOURCES