Coloring is a favorite activity for kids, and it's also such a great way to let them express their creativity. To keep their arts and crafts time safe, you'll want to be sure they're using non-toxic crayons.
When it comes to products that are filled with toxins and chemicals, crayons probably aren't the first thing that pops into your mind. But believe it or not, some crayons have been found to contain things like heavy metals, petroleum, and even arsenic.
These toxins can get onto a child's skin while coloring, and if they put their fingers into or near their mouths, there's a chance that those toxins could be ingested.
While older children know not to put crayons in their mouths, babies and toddlers are another story! They just can't resist chewing on whatever they can get their little hands on, including crayons.
In this post, I'll walk you through what you need to know about toxins and chemicals found in mainstream crayons, what to look for in natural crayons, and I'll give my recommendations for the best non-toxic crayons I've found.
By choosing natural crayons instead of the bigger name brands for your child, you'll never have to worry about whether or not their art supplies are safe.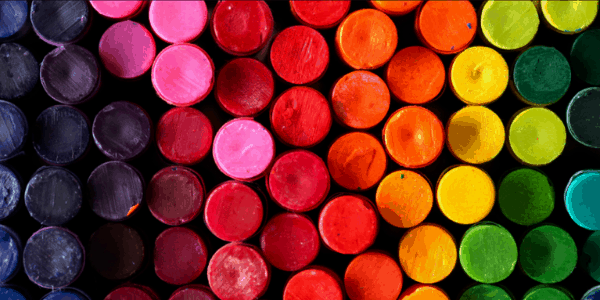 This post may contain affiliate links. Please see my full disclosure policy for details.
Are Crayons Non-Toxic?
While most crayons are deemed "non-toxic" and safe for children, there still may be chemicals and toxins lurking underneath the surface.
Just because crayons are made of wax doesn't mean that they don't have hidden toxins. It's the type of wax they're manufactured with that you'll want to pay attention to. Most mainstream crayons are made of paraffin wax, which is made from petroleum, which is a byproduct of oil.
You may have heard about paraffin wax candles being dangerous, as they can give off Volatile Organic Compounds (VOCs) while burning. Even though paraffin wax crayons don't come into contact with heat, there's still the possibility of off-gassing happening as the compounds in the wax break down.
On top of that, petroleum is not biodegradable, so crayons made with paraffin wax are not sustainable and are harmful to our planet.
Crayons have also been found to contain heavy metals like lead and cadmium, which have been found in popular crayon brands. Heavy metal poisoning can lead to neurological conditions, cancer, lung disease, respiratory issues, and even behavior problems.
Arsenic has been found in mainstream crayons as well. If arsenic builds up in the body over time, it can contribute to health issues such as growth problems, breathing issues, cancer, and also neurological impairment.
Some major crayon brands were even found to contain asbestos, which, as you may know, has been linked to illnesses like lung disease and cancer.
What are Non-Toxic Crayons Made of?
Non-toxic crayons are made of all-natural materials. They're made of beeswax, soy wax, or sometimes, a combination of the two. They also contain natural pigments and no artificial dyes.
With soy wax crayons, it's ideal if the brand of crayons also states that the soy is non-GMO.
What to Look for in Non-Toxic Crayons
Ingredients: When choosing a brand of natural crayons, you'll want to carefully read the ingredients to be sure they're made from beeswax or soy wax. Keep in mind that some major brand crayons might be labeled as "non-toxic," but that doesn't mean they're 100% chemical-free and safe for children.
Durability: You'll also want to take into account the age of the child who will be using the crayons. For example, younger kids who haven't yet developed dexterity might apply more pressure while coloring, so you'll want to be sure that the crayons you select for them are highly durable. After all, crayons that break all the time take all the fun out of coloring! Beeswax crayons are generally more durable than soy wax.
Feel: Even though natural crayons are safe, a lot of them don't feel exactly like mainstream crayons. Take beeswax, for instance. It has a much stickier texture to it, so if you have a child who is sensitive to the way things feel on their skin, you may want to opt for soy wax, or a blend, instead.
Ease of Use: Some non-toxic crayons glide across the paper much easier than others. Soy wax is typically smoother than beeswax, though natural crayons made with a soy and beeswax blend generally work well, too.
AP Seal: The Art and Creative Materials Institute has a designated "AP Seal" for art materials that are safe and that are certified by medical experts to be non-toxic and safe for children.
Recommended Non-Toxic Crayons
These brands are the best natural and non-toxic crayons for your toddlers up to your older kids.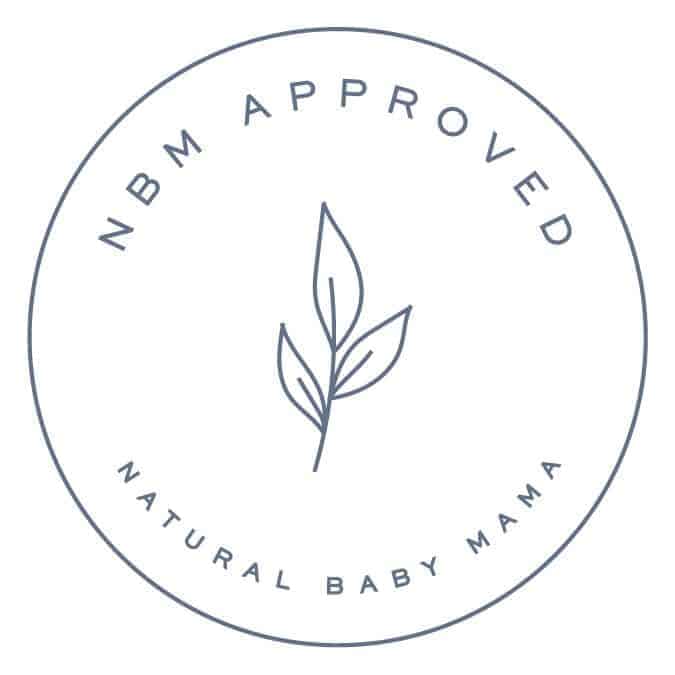 Filana
Filana is my top recommendation for non-toxic crayons. I've tested these personally with an X-ray fluorescence (XRF) analyzer, and they are lead and cadmium-free.
They're made in the USA with natural organic beeswax, though they do contain some GMO-free soy wax as well. They have FDA-approved pigments, and they're also certified non-toxic.
My kids love these crayons. They work well, write beautifully, and as a bonus, they are available in both sticks and blocks. I've found that sticks are better for older children, since they aren't as durable, and the blocks work well for little ones with smaller hands.
---
Honeysticks
Honeysticks brand is my second choice for natural crayons. They're handmade in New Zealand with 100% pure New Zealand beeswax. They are one of the only non-toxic crayons on the market that contain 100% beeswax.
They come in jumbo sized crayons (shown above), shorter thick crayons for toddlers, and regular sized crayons.
I have these tested as well with an XRF, and one of my red crayons tested for low levels of cadmium. I reached out to the company, who stated that their independent testing showed the crayons to be cadmium-free.
These crayons are fully lead-free, and after corresponding with the company, I have no concerns about them. They're durable and have a thick, ergonomic shape, so they're perfect for toddlers. They smell good, too! They are slightly sticky to the touch.
All of the packaging and ingredients for Honeysticks are reusable, recyclable, or biodegradable, making them sustainable as well.
---
Crayon Rocks
Crayon Rocks are made of a blend of soy wax and other plant waxes, and they're produced in the USA, in Kentucky. All of their ingredients and packaging are biodegradable, non-toxic, and renewable. These natural crayons contain non-toxic, powdered pigments for color.
They were developed by a special education teacher who noticed that children had trouble passing their exams because they could not write adequately. Since the first thing kids write with is a crayon, she came up with the idea of designing a crayon that has a unique shape, where the child can hold it between their thumb and first and second fingers.
Crayon Rocks write smoothly and create a texture that's similar to oil pastel.
---
Eco Kids
Eco Kids crayon sticks are made from all-natural beeswax, soy wax, and stearic acid, which is a fatty acid that naturally occurs in animal and plant fats. These non-toxic crayons come in a pack of 20, and each crayon is three-sided, which stops it from rolling across the table. They're handmade in the USA, in Portland, Maine.
The pigments in these crayons all come from natural minerals, and they have a more toned-down, less glossy color than some other crayon brands. The sticks are more pencil-like, so they're better for older children.
---
We Can Too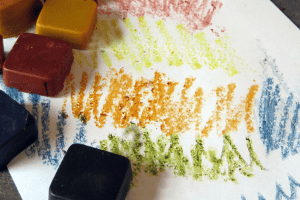 Wee Can Too Veggie Crayons were invented by two moms who wanted to create non-toxic crayons geared specifically for babies and toddlers. These natural crayons are made in the USA from soy wax and other plant-based ingredients. They're 100% organic, and they're totally safe for curious babies who might put them in their mouths.
Wee Can Too crayons have a square shape, so they're very easy for tiny hands to grasp. They also have fun, fruity flavors like blueberry, pomegranate, tangerine, and lemon.
---
All of Us Crayons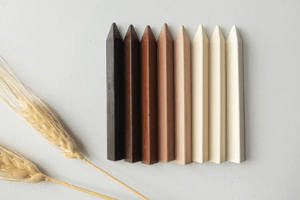 All Of Us Crayons were created by a mom who wanted to do something about the lack of representation in crayons that are intended to depict skin color. The crayons are made from beeswax, plant wax, and all-natural pigments, and they come in a variety of natural colors that match different skin tones to inspire diversity.
As is stated on their website, "When a child honors their skin color and the skin colors around them, it plants the seed for developing confidence and empathy for the world."
---

Final Thoughts on Non-Toxic Crayons
Choosing the right brand of natural crayons will depend on your individual child's age and needs, but with any of these brands, you can rest assured that your child is using crayons that are safe and non-toxic.
However, keep in mind that there are plenty of places outside the home where your child may be offered crayons, including school, daycare, and even when you're out to eat at a restaurant. There isn't one family-friendly restaurant that I can think of that doesn't have one of those little four-packs of crayons to go along with the kids' menu.
It's best to keep non-toxic crayons on hand in your purse and pack them along with your child's school supplies to ensure that any time they color, they're safe, sound, and protected.
It can be overwhelming to find truly safe products, so I have created the Natural Baby Mama Amazon Storefront for vetted non-toxic living products from babies to adults to your home goods.
Other Posts Related to Natural, Non-Toxic Crayons
Pin it for later!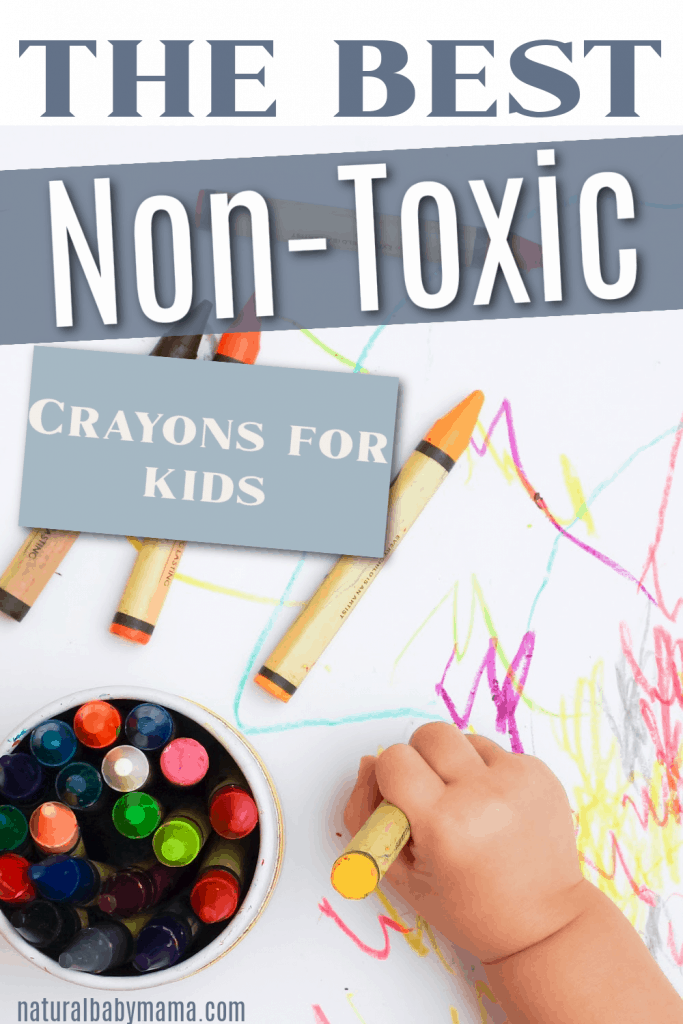 Sources
" School Supplies Laced with Toxic Chemicals: Make Sure Your School Avoids These Products" August 23rd, 2018 www.ewg.org
" Is Asbestos in Your Children's Toys?" July 9th, 2015 www.ewg.org
"Is Burning Candles Safe or Bad for Your Health?" www.healthline.com
Front Public Health- "Risk Assessment to Evaluate if Crayons Complying with the Consumer Product Safety Improvement Act of 2008 for Lead, Also Comply with California Proposition 65" www.ncbi.nlm.nih.gov
CNN Health- "Asbestos, lead and other dangerous chemicals found in children's school supplies, report says" www.cnn.com
Stearic Acid- "Learn all about stearic acid, including how it's made, and why Puracy uses stearic acid in our products." www.puracy.com