An organic Christmas tree!? Really? Yes! Most trees are sprayed with toxic chemicals. The main driver is I didn't want to bring a tree into our house that had been sprayed with pesticides and herbicides, including Roundup (which is often used). Find organic Christmas Trees in your state below!
Our entire family touches the tree, we put our children's non-toxic presents under the tree, particles from the tree fall on our floors and toxins accumulate in the dust of our home. These are all reasons I don't want to bring a Christmas tree sprayed with chemicals into our home.
If you know of a Christmas tree farm that doesn't use chemicals, please let me know so I can add it to my list.
It's so important to always verify information so please double check with these farms before you go.
This post may contain affiliate links. Please see my full disclosure policy for details.
Quick Navigation
Organic Christmas Trees by State:
Below you will find organic or no-spray Christmas trees by state.
Arizona:
California:
Silver Tip Tree Farm – grown organically, not certified but working towards certification.
Black Road Christmas Tree Farm – per my email with them, they are not certified organic, but their trees have not been treated with chemicals or pesticides.
Hagle Tree Farm – organic practices, no spraying. U-cut in Southern California.
Hidden Springs Tree Farm – not certified organic, but they do not spray. Atascadero, CA.
Georgia:
Illinois:
Pioneer Tree Farm – website states organically grown and pruned by hand
Ben's Christmas Tree Farm – organic farming practices, and all trees are pesticide-free. Watch for the correct signs as there is another Christmas tree farm nearby that is not organic.
Kentucky:
Miles' Christmas Tree Farm (phone: 859-824-3727) – follows organic methods
Maine:
Maryland:
Feezers Farms – website states organic (also states small amount of fertilizer used on roots when first planted then that is it)
Environmental Evergreens – the owner stated grown organically and no chemicals, sprays, or fertilizers are used.
Massachusetts:
Michigan:
New York:
Ohio:
Oregon:
Misty Ridge Tree Farm – Woman owned Misty Ridge Tree farm in Oregon City. Also available for purchase at Blooming Junction Garden store in Cornelius, OR. No spray. Nordman/Turkish and Nobles.
TGSA LLC, SHERIDAN OR 97378, 50 Miles SW of Portland OR, 503 383 6329. Call to confirm.
New York:
Pennsylvania:
Spring Hills Farm – U-Cut no chemicals per website. Pre-cut does not say no chemicals.
Tennesse:
WildWood Christmas Tree Farm – they don't spray, they only use fertilizer
Hope Christmas Tree Farm – they follow organic practices but are not certified
Erin's Farm – per a reader, they try to never spray, they do not use anything for pesticides or herbicides but this year (2020) they had to spray a few trees with a fungicide.
Texas:
Virginia:
Washington:
This is my home state so the list is much larger due to the amount of time I spent researching for our family. I go into more detail about each farm in my Organic Christmas Trees in Washington State post which you can find here.
Wisconsin:
Online Organic Christmas Trees:
Silver Tip Tree Farm – grown organically and working on becoming certified organic. Order online and have them ship it to you. They sell out quickly so you want to pre-order.
Christmas Trees Now – order online and they ship. According to my email with them, no spraying, herbicides, pesticides, or colorants are used on their trees.
National Forest:
Another option for the adventurous is always getting a permit from the national forest service and getting your tree that way. It's an inexpensive to get a Christmas tree but hike in and out to get your tree.
Live Tree:
A live potted tree you can re-use yearly until it is too big to bring into your home.
Wood Trees:
Etsy sells numerous wood trees. You could spend hours looking for options. Here are a few options: a pine Christmas tree, and a minimalist Christmas tree.
Please let your friends know about organic Christmas tree farms near them. We need to support these farmers that are doing the right thing! If you know of a tree farm that is no spray please let me know so I can add them to this list.
Merry Christmas!!
Pin it for later!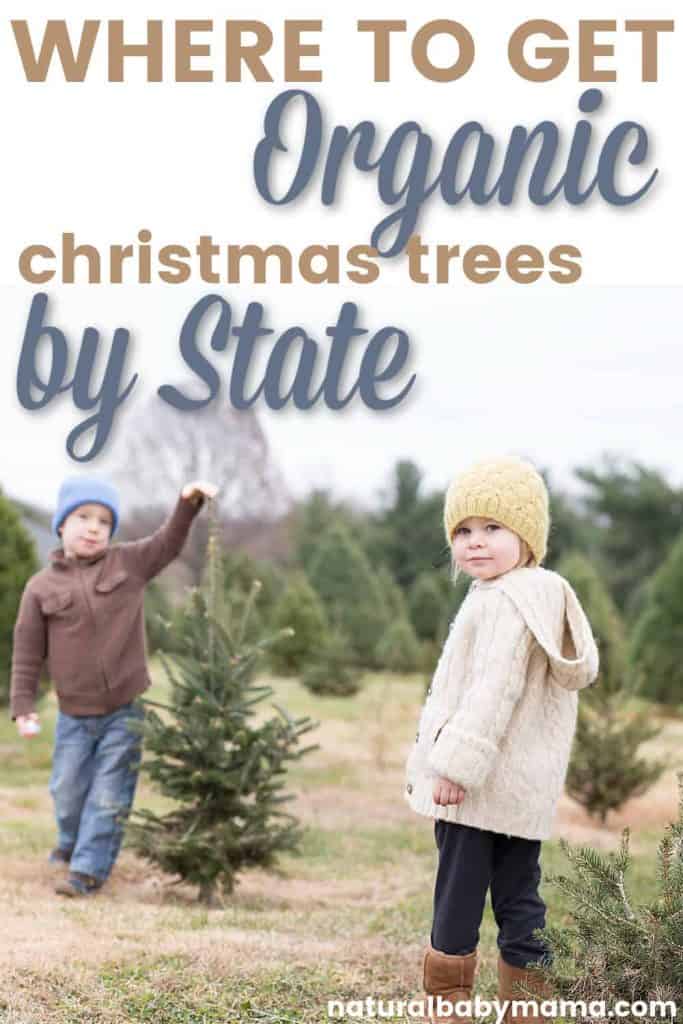 Posts related to Organic Christmas Trees