Seeing how my post posts went viral these last few weeks made me really appreciate how awareness brings change. Whether that change is in the form of companies making safer products or where consumers spend their money. The power of information is amazing. The power of people expecting safe products for themselves and their family is also equally amazing.
This post may contain affiliate links. Please see my full disclosure policy for details.
Recently my blog post about Green Spouts sippy cups having lead as well as Planetbox, Pura and others containing exposed lead solder on the bottom exterior of the water bottles made headlines. Julie Watts, KPIX reporter, picked up on my blog posts and it made the news. Click here to see the story.
These stories are not complete. Parents are still using these products, not aware of an issue. Please continue to share as you have done to reach as many parents as possible. If I was a parent using one of these products with my child I would want be aware so I could make the right choice for my family.
Thank you to all of you that read my previous blog posts and have shared these posts. Thank you to Julie Watts for covering this and continuing to spread awareness!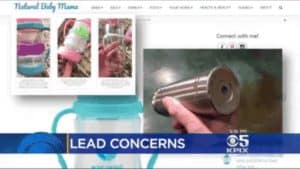 News coverage on Natural Baby Mama and lead exposure in children's water bottles