This coconut garlic chest rub is my go-to when my kids have a chest cold. It works very well to boost immunity and break up mucus with colds and flu-like symptoms.
I apply to my kid's chest, back, and bottom of their feet (then cover with socks). Garlic is a natural immune booster and works to get rid of viruses and bacteria. The garlic is absorbed through the skin and starts going to work.
This post may contain affiliate links. Please see my full disclosure policy for details.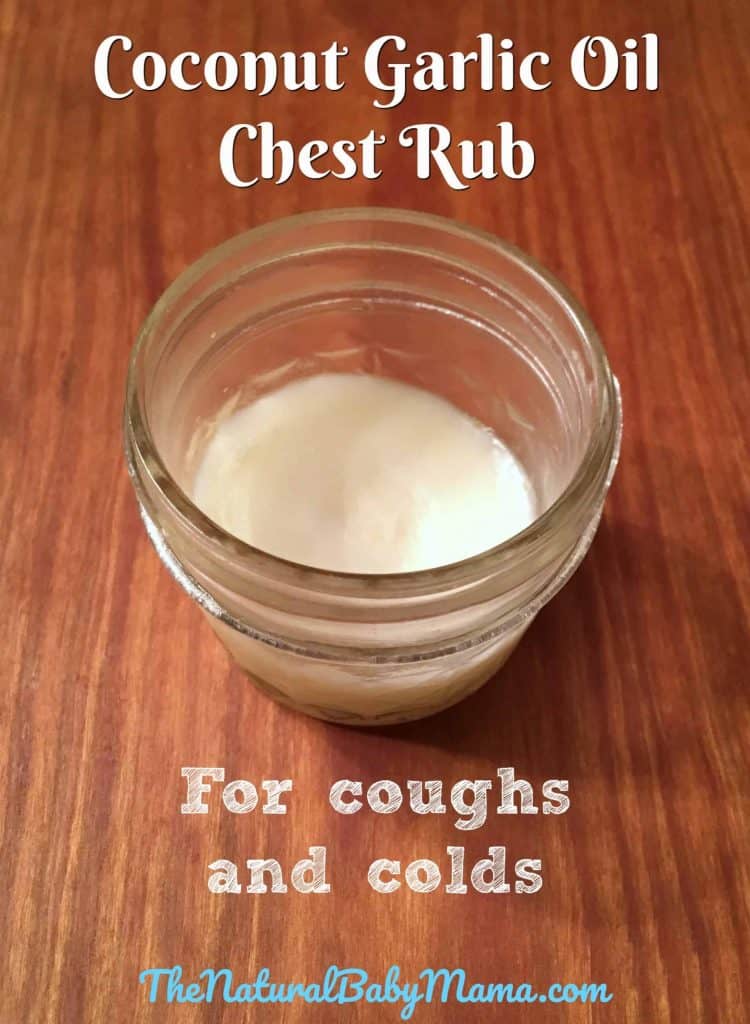 Use organic ingredients – your skin is your biggest organ and absorbs whatever you put on it!
This rub smells like garlic… and so will anyone you use it on.
Coconut Garlic Chest Rub
Coconut Garlic Chest Rub | Natural Baby Mama
This chest rub is great for coughs and colds
Materials
10-12

garlic cloves peeled

1/2

cup

coconut oil
Instructions
Heat coconut oil on very low heat until it is liquid

Add garlic cloves and liquid coconut oil to your blender

Strain through a fine mesh strainer, into jar, to remove any garlic chunks.
Notes
Apply to chest, back, and to feet every 2-3 hours as necessary.
It can sit a room temperature for a few days. Store in the refrigerator when you do not need it.
I use a Vitamix but any blender or food processor will work.
This is the mesh strainer I use.
---
This post has been medically reviewed by Allison Eble, a Registered and Licensed Dietitian with a Master's degree in Nutrition Sciences. This is not considered medical advice, and you should consult with your medical providers.
---
Pin it for later!