This post may contain affiliate links. Please see my full disclosure policy for details.
I am so excited!  This is my favorite time of year – from about summer on can't wait for the upcoming holidays. I love the holidays so much that I've been working to get you all some great items from non-toxic companies that I LOVE!  I own products from each of the companies below and they are all some of my favorites.
Whether you win or not, please remember to support companies that are doing good things and making non-toxic products. The giveaway will take place on my main Facebook page (not here so please don't comment here).  Make sure you like my public Facebook page and sign up for my newsletter on the home page of my blog (check your email and click the confirmation) so you can participate!  Please see the RULES & TERMS at the bottom of this page.  These companies will be in my holiday giveaway
CLOSED – Day 1 – Smiling Tree Toys: $25 gift certificate.  Wooden toys for children and babies as well as kitchen items such as cutting boards and spatulas.  Smiling Tree Toys makes wonderful wooden toys and household items.  Their name puzzles are on the top of my list to get!  The wooden name bunting is too adorable and most likely will make it's way to our home too 🙂  We have many of their toys and several spatulas.  There isn't anything from Smiling Tree Toys that I don't love.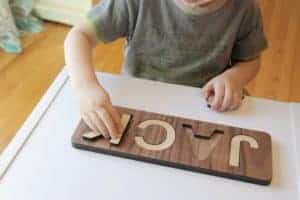 CLOSED – Day 2 – Little Sapling Toys: $30 gift certificate. Wooden toys for children and babies as well as home decor.  Little Sapling toys makes beautiful wooden toys and home decor.  We have their growth ruler chart and love it.  We have many of their toys, step stools and ornaments as well.  Everything is non-toxic from start to finish (including if they use any glue).  I love everything they make!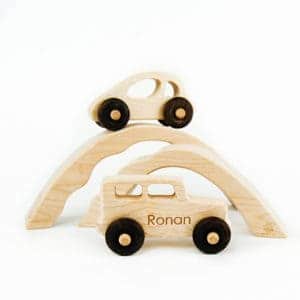 CLOSED – Day 3 – Manzanita Kids: $25 gift certificate.  Wooden toys for children and babies.  Manzanita Kids makes cool toys and puzzles for kids.  We've been happily playing with their toys for years.  Not only do my kids love them but adults alway comment on how cool they are.  We are big fans of Manzanita kids in this house!
CLOSED – Day 4 – Under the Nile:  You choose one – either Blue striped pajamas and Buddy the blue dog OR the red striped pajamas and Tilly the red cat.  Pajama size is 6 months to 6 years old – you get to choose size.  All of their products are organic, GOTS certified.  I don't think I can express how much I love Under the Nile.  The fact that they make organic, GOTS certified clothing and pajamas is just the start.  Everything they sell is organic and GOTS certified on the final product.  This is the standard that I always look for when buying.  I love that I can get clothing, stuffed animals & toys, and rugs all from Under the Nile.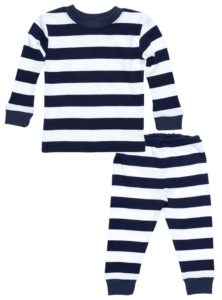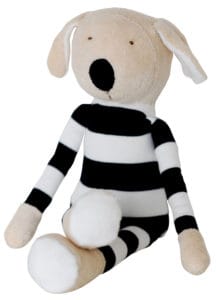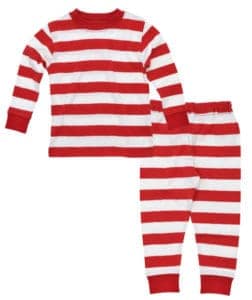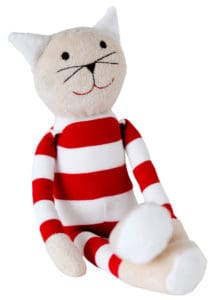 CLOSED – Day 5 – Ecojarz:  Fermenter kit and stainless steel mason jar lid with a silicone cap.  When I found Ecojarz years ago I was so happy.  I love their stainless steel mason jar lids.  My kids love drinking their smoothies out of their ecojarz lids and stainless steel straws.   Both of the items below I'm going to try in my own house, they both look amazing!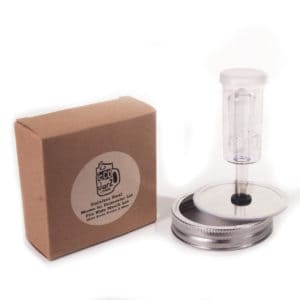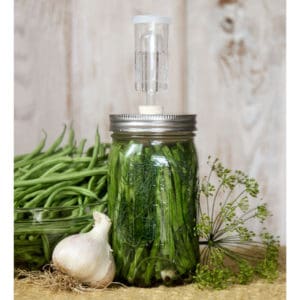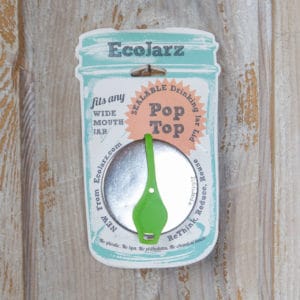 CLOSED – Day 6 – Under the Nile: Small organic, GOTS certified rug in Navy Chevron color (shown below).  I love these rugs and own many of them.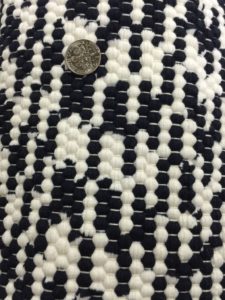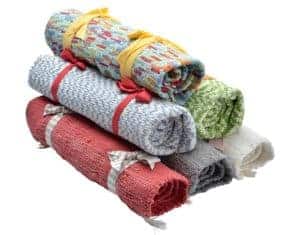 LIVE – Day 7 – Soaring Heart: organic wool, machine washable, toddler pillow (or travel size pillow).  Soaring Heart is the store where we buy our mattresses, comforters and pillows.  Everything is certified organic and made locally in Seattle.  They carefully select all materials used in their products.  I'm one of their biggest fans.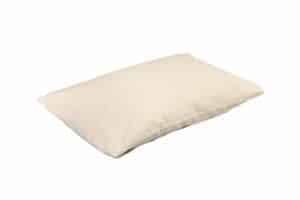 LIVE – Day 8 – Camden Rose / Palumba: unfinished cherry step stool / chair.   We have amassed quite a few Camden Rose items (Palumba owns and sells Camden Rose.).  I love them all – seriously our Camden Rose toys make me happy looking at them.  We have this step stool and my son brings it everywhere. Currently it is sitting under our Christmas tree incase he needs to add any ornaments up higher than he can reach :).  They are offering an unfinished step stool since they know my love for unfinished wood items.  I either finish with the organic jojoba & beeswax blend or you could finish with a walnut or coconut oil.. or leave unfinished.  Cherry wood looks the most beautiful finished.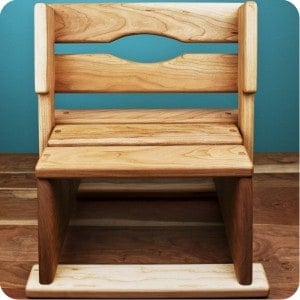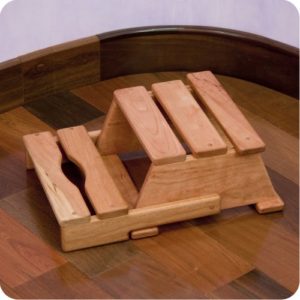 LIVE – Day 9 – Plan Toys:  Doctor's kit.  Plan toys makes wonderful non-toxic toys and has a great selection of toys for babies to older children.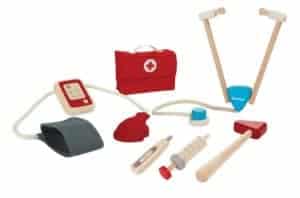 Day 10 – Finex: 2 piece cast iron cooking set – 10 inch grill & sear set.  This is the ONLY cast iron pan that is made in the USA and seasoned with an organic oil.  I love my Finex cast iron!  I actually think my husband might love it even more than I do.  It's great to cook with and beautiful to look at.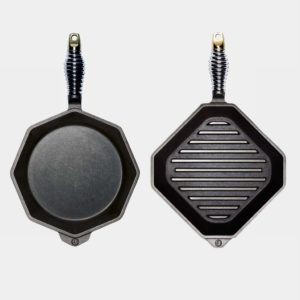 RULES & TERMS:
To be entered to win you must:
Like my Facebook page
Sign up for my email subscription on my blog – you won't overwhelmed by emails from me, promise :).  You can reach the sign up page on the home page of my blog.  You will receive an email that you will need to confirm to subscribe.  It's a two-step process.
Like the participating companies Facebook page (For the Finex giveaway you will need to like their page and sign up for their newsletter).  I will link their Facebook pages on my Facebook page once the giveaway is live.
Once you have done all of these, just comment that you did all 3 (or all 4 for Finex)
You can get 2 extra entries by tagging two additional friends.  Tag each person in a new comment as each comment will count as an entry.
You must be a resident of the USA.  All gifts will be mailed to a USA address only.
There will be one giveaway per day.  Each giveaway will be open for 2 days.  The winner will be selected randomly.
There is no guarantee that any of these giveaway gifts will reach you before Christmas.
Again, the giveaway will take place on my main Facebook page so make sure you like the public page so you can participate!  It will NOT be here on my blog so if you comment here you will not be entered into the giveaway.